July 28th, 2010
Recently, while browsing Ravelry, I read a thread all about scrumptious cakes decorated to look like yarn and yarncrafting accessories. Some of these cakes were SO incredible, I just had to share them with you. (Click on the photos or highlighted text below to learn more about the cakes and their creators.)
The first was an amazing detailed yarn basket cake created by Charm City Cakes (of Ace of Cakes fame) and shared by EndlessSimmer: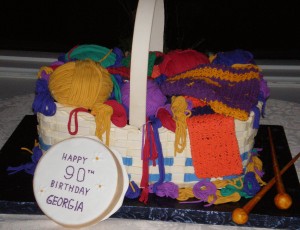 The second was an delectable creation by Pink Cake Box (click the photo for more detailed photos!):
The third, by Louise of CakeJournal, even has a tutorial on how to make your own! (Click the photo to link to her tutorial.) I love that she gives you step-by-step instructions on how she made it: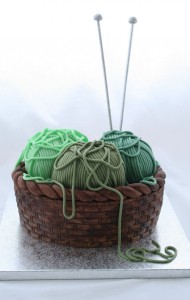 Not included in this thread, but amazing nonetheless, I also wanted to share these incredible cupcakes made of marzipan from VeganYumYum. (Click the photo to link to her blog post and see a video of her on the Martha Stewart Show explaining how she made them!) They are really adorable: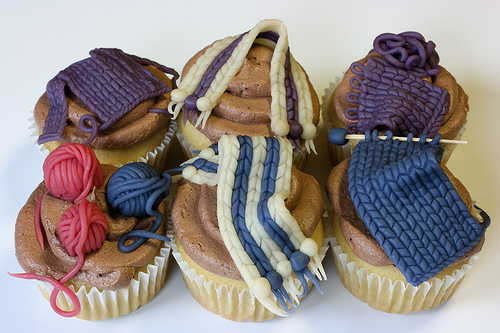 And finally, the thread made me think of our very own variegated-yarn-inspired cake from Patty's birthday last year: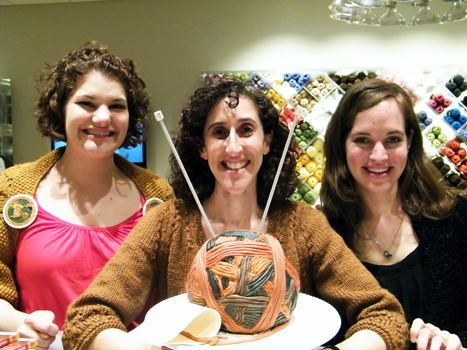 Mmm, who knew yarn could be so delicious?
Well, if cakes that look like yarn are a little out of your league, perhaps yarn crocheted up in the shape of cakes is more your style! Go to LionBrand.com and type "cake" or "cupcake" into the search box to find patterns.
What incredible look-alike creations have you seen made from yarn (or cake)? Let us know by leaving a comment!