February 1st, 2011
This summer I blogged about dyeing some yellow yarn for a sock project. I'm finally ready to show off my finished project, Batman socks!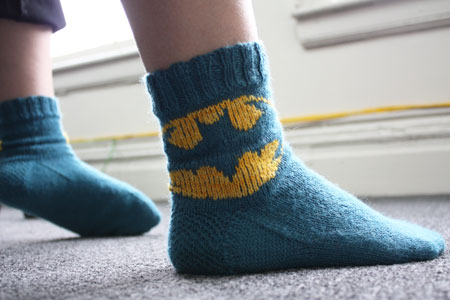 Everyone who knows me knows that I adore both Batman and knitting socks, so the combination seemed inevitable. To complete this project, I first knit a pair of plain cuff-down socks with Snow Cone Sock-Ease. Using this great chart created by Elizabeth Thomas, I then duplicate stitched the Batman logo with my dyed Marshmallow Sock-Ease. The best part about this project is that both parts were very fast and easy, but the results are amazing!
Have you used duplicate stitch to add a special touch to your crafting? Share your story in the comments!