April 18th, 2011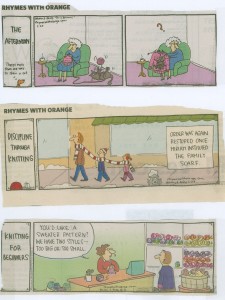 Earlier this month, I had the pleasure of meeting with the Long Island Knitting Guild. I always love speaking to ladies who are as passionate about yarn as I am; it creates such a wonderful rapport and allows for great questions. As I was leaving the meeting, one of the ladies presented me with three comic strips from her local paper, each of which were about knitting. [Click the photo above to enlarge.]
Not only was I excited because I collect knitting and crochet-related memorabilia, but I was also excited to see this because it reminded me of our very own Lola comic. Lola has been the most popular aspect of our Weekly Stitch newsletter for years and she's is an important lady here in Lion Country. To check out what funny thing she is going to do next, subscribe and stay tuned for our next newsletter or you can check our new Lola comic book.
Have you spotted other knit/crochet-related comics? Tell us about them by leaving a comment!
Want me to visit your group? Groups of 50 or more in the tri-state area can contact me at jack@lionbrand.com regarding speaking at an event.
Related links: