August 29th, 2011
Darn that Zontee. I was looking through past blogs for something to send to a customer and I happened on her blog post from last summer about upsizing the Bebop Cardi by using larger yarn. I've actually seen her sweater in person and it's fabulous. I meant to make it back then, but then I sort of forgot about it as other projects took priority. But when I saw the post again, I knew I had to go ahead and chain on.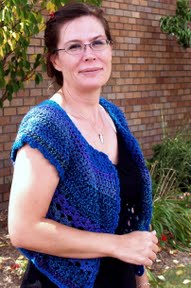 In the original blog, Zontee notes that she went up to a category 5 yarn and made the small. I'm a little larger than Zontee, so my choices were to either go all the way up to a category 6 yarn, or stick with the category 5 and make a larger size. Since I had two balls of Tweed Stripes in Caribbean handy, I went with the latter option. I did my swatch, found that the large was going to be the size for me and chained on.
The yardage from the two balls of Tweed Stripes should have been plenty, but I remembered that I'd used a bit of it for another project awhile back. Not much, though–just a few yards. That wouldn't matter, right? (Stop laughing. You know denial isn't just a river in Egypt.) Sure enough, I ended up about 3 rows short. Grrr. They were three short rows, too!
Now, in the interest of full disclosure, I could have just bought another ball of the Tweed Stripes when I got to the office the next day–it wasn't quite the same as when you run out of a discontinued yarn that you just can't get more of, or can't find a matching dye-lot or something like that. Working at a yarn company does have its privileges and sitting on top of a warehouse full of said yarn is one of them. But I wanted to be done with this thing, and I was mad! How dare my yarn betray me like that! I'd show it! Who needs the original yarn when you can just finish up with a coordinating yarn?
So that's what I did: grabbed a partial ball of Vanna's Choice that I'd had laying around for a long while and that also happened to coordinate perfectly with one of the colors in the Tweed Stripes. I finished off my three rows and it looked okay, but just okay. What I really needed to do to make it look as if I'd planned this all along was add more of the Vanna's Choice in another location. It's a bit of a cliche, but it's true: if it occurs once, it's a mistake; if it occurs twice or more, it's a design feature.
What I decided to do was add a border all the way around the outside edge (meaning the open sides and the bottom, since the color was already at the top of the sweater) and then also around the sleeves. I probably could have also done just a couple of rows of dc at the bottom of the sweater, obviating the need to do the sleeve edges. One more note: Vanna's Choice is actually a category 4 weight yarn and not a category 5. I know this, but I also know that Vanna's Choice is at the thicker end of the category 4 spectrum, so I was pretty sure it would work okay with the same hook. It did turn out to be a little tighter in gauge than the rest of the sweater — enough so that I ended up working one fewer round than called for in the pattern. So do definitely keep in mind your gauge and what weight yarn you need to work with to obtain that gauge when you're choosing a replacement yarn like this.  (Just in case you're wondering about the "design" I used for the border, it's just a simple *sc, ch3, sk next sc. rep from * all the way around the sleeves and on both side edges. The bottom edge I just worked a sc in each stitch across.)
I really love the way this one came out–it might be one of my favorite things I've ever made. So I guess instead of darning Zontee for leading me down this path, I should be saying, "Thanks, Zontee!"
Related links: