February 21st, 2013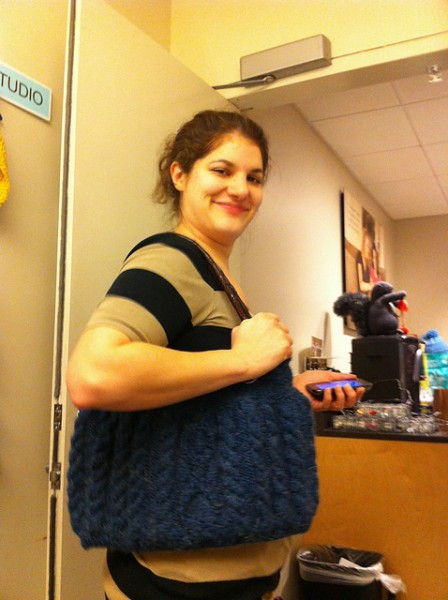 A few weeks ago, I was riding the subway on my way home, and I was working on my office, post-holiday gift-exchange project (pictured right with its recipient, Michelle). Hunched over my project, I crocheted the fabric lining into its cable knit shell. As I reached the end of my round, I reached into my bag, and lo—
No toolbox to be found. Which meant no scissors.
Just then, I looked up and I began to notice my fellow passengers. (Often, when I'm crocheting or knitting on the subway, I don't look up much at all.) Across the subway car from me, was a fellow yarncrafter, knitting a yellow creation on DPNs. My heart fluttered with joy.
"Excuse me," I hesitated. She didn't look up at first.
"I'm sorry to interrupt—do you have a pair of scissors? I can't find mine."
She looked up, a little surprised. Then she smiled, "I don't have scissors, but I do have this." She reached into her bag and passed me a yarn cutter pendant.
"Perfection." I cut my yarn and wove in the end. My gift project was finished.
Share Your Story With Us
Do you have an interesting story of an encounter while knitting or crocheting in public? Ever run into someone making the same project or surprise a non-yarncrafter with your zeal? We're looking for funny, heartwarming, or just surprising stories to share here on the blog! Fill in the survey below or click here to access it.