January 10th, 2014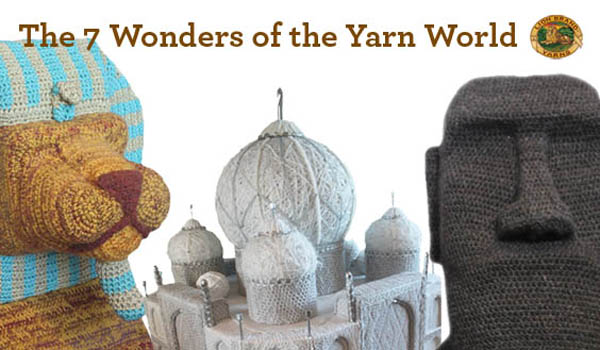 Lion Brand Yarn Company Showcases "The 7 Wonders of the Yarn World" at CHA Winter Tradeshow
We're at the Craft Hobby Association (CHA) Winter 2014 tradeshow in Anaheim, CA this weekend and our big secret is now out! Keep watching here as we reveal "7 Wonders of the Yarn World" — a fiber art installation that includes large-scale yarn sculptures representing the 7 wonders of the world.
The 7 Wonders of The World sculptures were designed by fiber artist Nathan Vincent. Each sculpture represents a different technique found in knit or crochet. The installations that represent the "7 Wonders of the Yarn World" theme stand about 5 feet high or taller, and include marvels such as the Great Wall of China crocheted with granny squares, an embellished knit Taj Mahal, a lace crocheted Leaning Tower of Pisa, a crocheted Lion Sphinx, and more.
Keep watching here as more photos get added to our gallery.