February 19th, 2014
Our most popular pattern this month was designed over 10 years ago by Nicky Epstein.  There is something timeless and elegant about this design. The Tree of Life Afghan has special meaning for me because I gave the pattern its name.  (Yes, I've been at Lion Brand well over 10 years!)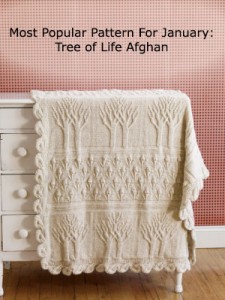 The phrase "Tree of Life" has been used by almost every religion and in philosophy and science.  I also like this design because as a person whose first name means "tree" I gravitate toward anything with a tree design on it.
When I think about this design I think about family: growth, roots, and being intertwined.  It makes it a meaningful gift for newlyweds, new parents, and housewarmings.
Below are some of the other popular designs this month.  The District 12 Cowl is still popular since it was inspired by the movie The Hunger Games and the birthday scarf for Aquarius is naturally one of our favorite Zodiac scarves.  What do you think makes the other patterns here popular?  I'd love to hear your thoughts.