May 23rd, 2013
Note: This is the fifth installment of our Spring 2013 Knit-Along. To view previous posts, click here.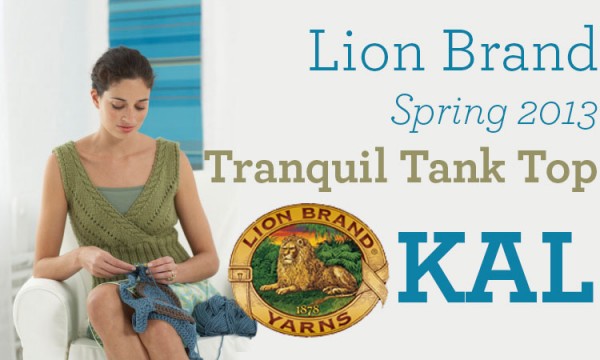 Last week, I finished the left front of the Tranquil Tank Top and this week I have knitted the right side. I really like how this pattern immediately proceeds to the opposite side of the fronts. The right front is the side that is on the outside and is completely worked from stitches that are part of the ribbing. For the left side, I had to cast on stitches, and although these cast on stitches may appear a little loose or uneven, there are no worries as the cast on edge of the left front will be sewn down and hidden on the inside:
May 21st, 2013
Technical editor and yarncrafting expert returns to share tips on finishing your crochet projects. Join her next month for tips on finishing your knitting project. Click here to yesterday's blog post; click here to see Sunday's blog post.
The final touch for many projects is an edging. Below are photos of three samplers showing a variety of edgings. Instructions for each of the edgings follow the photos. Most of the edgings are quick and easy, some require a little more patience and skill. The edgings are grouped by type.
Sampler #1: Firm Edgings
Sampler #2: Simple Decorative Edgings
Sampler #3: Dramatic Edgings
MATERIALS
Firm Edgings
Make an adjustable ring.
Rnd 1: Ch 1, sc in ring, hdc in ring, (ch 1, 2 dc in ring) 5 times, ch 1; do not join, work in continuous rnds (spiral) – 12 sts and 6 ch-1 sps at the end of this rnd. Place marker for beg of rnd. Move marker up as each rnd is completed.
Rnd 2: (2 dc in each of next 2 dc, ch 1, sk next ch-1 sp) 6 times – 24 dc and 6 ch-1 sps (4 dc each between ch-1 sps) at the end of this rnd.
Rnds 3-8: (2 dc in first dc, dc in each dc to 1 st before next ch-1 sp, 2 dc in next dc, ch 1, sk next ch-1 sp) 6 times – 60 dc and 6 ch-1 sps (10 sts each between ch-1 sps) at the end of Rnd 8.
Rnd 9: Hdc in next st, (sc in each st to next ch-1 sp, ch 1, sk next ch-1 sp) 6 times.
Edging Rnd:
Slip St: Sl st in next 10 sts, ch 1, sk next ch-1 sp.
Overlapping Sc2tog: Sc2tog, (beg in same st as 2nd leg of last sc2tog made, sc2tog) 9 times, ch 1, sk next ch-1 sp.
Slip St in Back Loop Only: Working in back loops only, sl st in next 10 sts, ch 1, sk next ch-1 sp.
Reverse Single Crochet on WS: Turn piece so that WS is facing you, ch 1, rev sc in next 10 sts, turn piece so that RS is facing you, ch 1, sk next ch-1 sp. Note: Reverse single crochet (rev sc) is worked like single crochet (sc) except that you work in the opposite direction (from left to right if you are right-handed, and from right to left if you are left-handed).
Crossed Single Crochet: (Sk next st, sc in next st, sc in skipped st) 5 times, ch 1, sk next ch-1 sp.
Reverse Single Crochet on RS: Cut yarn, draw up a loop in last ch-1 sp, ch 1, rev sc in next 10 sts.
Fasten off.
May 20th, 2013
Technical editor and yarncrafting expert returns to share tips on finishing your crochet projects. Join her next month for tips on finishing your knitting project. Click here to see her previous blog post.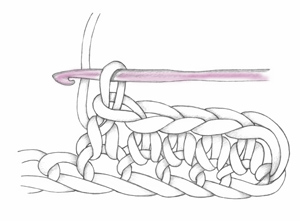 Weaving in well is so very important. If your ends are not woven in well, your ends could come loose and stick out making your piece look messy. Or worse, your work could come unraveled when the piece is used or laundered. There are two very important things to remember for successful weaving in; 1) Leave a long tail, 2) Always weave the tail in more than one direction.
Leave a LONG Tail
Always leave a long tail, at least 6″. When cutting the yarn, it is no time to be stingy. Cutting your tails short will not save you much money and is likely to cause you a great deal of frustration.
May 19th, 2013
Technical editor and yarncrafting expert returns to share tips on finishing your crochet projects. Join her next month for tips on finishing your knitting project.
A great crochet ending begins with fastening off and weaving in. It may also include a great edging. Over the next three days, we will cover these three topics as well as tips and tricks for each one.
Click on any of the images to enlarge them.
Fastening Off
You may think there's not much to say about fastening off, and if you think this you are a little bit right and a little bit wrong. After all, fastening off simply involves cutting the yarn, leaving a long tail, and ensuring that the tail is secured. But, there are subtle ways to vary the fastening off process, especially when working in rounds, to achieve different results.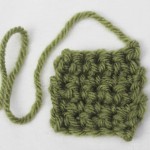 Fastening Off Leaving a Knot
Perhaps the most common way to fasten off is finish the last stitch of a row or round, cut the yarn, draw the tail all the way through the last loop on the hook, and pull to tighten the resulting knot. This method forms a small, knot near the top of the last stitch. This knot is usually pretty secure and after carefully weaving in the tail the piece is at little risk of unraveling.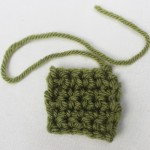 Fastening Off Without Leaving a Knot
Sometimes the little knot can leave a noticeable bump on the edge of a piece. Accordingly, some people fasten off without leaving a knot. Instead of completing the last stitch and then drawing the tail through the last loop on the hook, the tail is drawn all the way through when working the final yarn over of the last stitch. This omits the knot and tiny bump. To be sure that this type of fastening off is sufficiently secure, extra care must be taken weaving in the end.
May 17th, 2013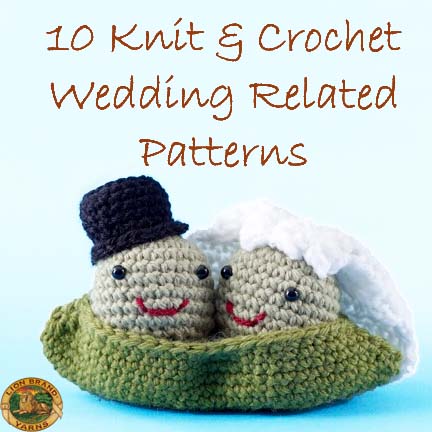 Flowers have bloomed, the sun is out longer, the temperatures have risen, and – we're at the beginning of wedding season!
Since many of you are probably looking for handmade elements to include in the ceremony or reception, I've gathered a roundup of some of our lovely wedding patterns to help you or the bride-to-be find the perfect wedding project.  From bridal accessories, to reception decor and gifts, there's surely a pattern to help inspire you!
*Pattern in image: Amigurumi Two Peas in a Pod
Shawls and Shrugs for the Bride
May 16th, 2013
Note: This is the fourth installment of our Spring 2013 Knit-Along. To view previous posts, click here.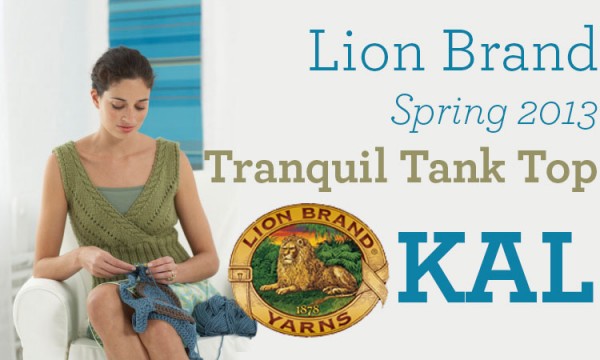 This week, I have been working on the front of the Tranquil Tank Top and after nine inches of ribbing at the bottom, I'm ready to tackle the lace and cable part of the top! Before I started the lace, I made sure my ribbing for the front was not only the same length as the back, but that the right side (RS) of my ribbing was the same as the RS of my back ribbing. I had two knit stitches on each side edge of the back ribbing, and I made sure I did the same for the front. Double checking this will allow me to sew side seams that will look seamless when finishing.
The left and right upper sides of the front are written in chart form instead of written instructions in this pattern. When I first glanced at the instructions, I was surprised to see six pages of charts! Then, when I looked a little closer, I saw that there are actually two charts for each of the three sizes. This will make for easier chart reading, rather than having all the sizes included on just one or two charts. I happened to print out all the pages of this pattern before I saw this, so I took out the four pages of charts that I will not need to make my size. That way there will be less chance of confusion as I start the charts. We need to start with the left front, so here is the left front chart of for the Large size: (Note that you can view charts for all sizes by clicking on the pattern link.)
May 14th, 2013
Lion Brand's Design Department shares tips on one of their favorite tips for creating a unique (and quick-to-make) project.
Yarn blending is the technique of stranding together several yarns to create a knit or crochet fabric. It takes all of the beautiful qualities of its component yarns and blends them into something that is greater than the sum of its parts.
HOW TO DO IT:
Take a few yarns and hold them together.
Judge the combined thickness and select an appropriate needle or hook.
Knit or crochet all yarns at once.
Yarn blending is so simple, yet it can yield infinite varieties and unexpected results. You can never predict what a yarn blend will look like until it is worked up. Therefore, an integral part of this process is creating swatches. After a few rows, you will get an idea of how the fabric will look and can evaluate the combination. Then you can adjust your work, adding in new yarns that you like. Since blends tend to be bulky, a swatch can be made in no time.
[Pictured: Knit Simple Cowl.]
May 13th, 2013
It's National Bike Month! Whether you like to cruise through beach towns during vacation or use your bicycle as a primary mode of transportation, there is something so lovely about the riding of a bike. You can cruise carefree, go on an intense workout ride, or travel around knowing you've reduced your carbon footprint. Whatever the reason for your ride, why not celebrate Bike Month with a little bicycle yarn-bombing? As we know, temperatures are (finally!) rising, and big, heavy projects can seem even more daunting in the warmer months, but these quick and easy knit and crochet projects are a perfect opportunity to try out new yarns or color combinations and work on great pocket-sized projects. The best part is, when you're done, you'll have a truly customized bike that shows off your creative side!
May 9th, 2013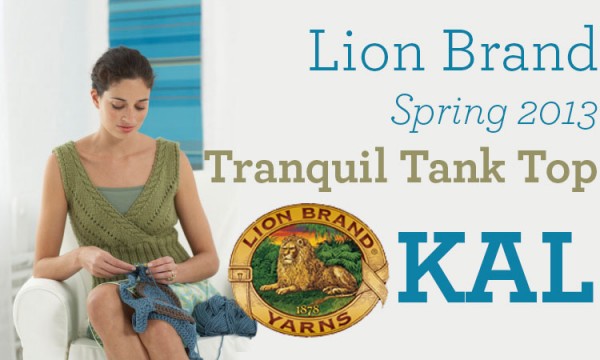 Note: This is the third installment of our Spring 2013 Knit-Along. To view previous posts, click here.
This week the weather where I live seems to be right on cue for our Spring Knit Along with sunny, warm days all this last week. Working with Cotton-Ease for this project has been perfect for these days where my windows are open and I can already be found knitting on my porch. This week I finished the back of the Tranquil Tank Top.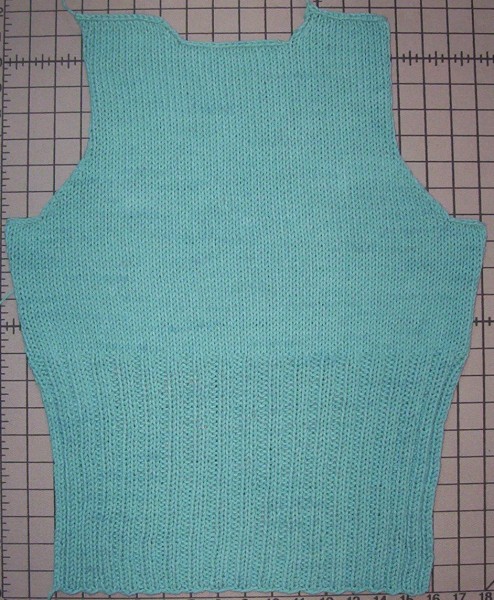 The back is the simpler half of this top with only ribbing and stockinette stitch (and a little shaping thrown in.) The lace will appear after we finish the bottom of the front. As I was knitting the back, I remembered a few things that will make sure this top will fit and look great. All of the sizes of this pattern call for the bottom ribbing to measure 9" before starting the stockinette stitch pattern for the upper part of the back.
When I thought I had knit the full 9" of ribbing, I remembered that measuring ribbing can be a little tricky as ribbing should be measured slightly stretched before I measure. What I thought was 9" was actually not even 8 ½" when I measured it slightly stretched. Working a longer piece of ribbing can create this effect, so it is always good to just slightly stretch your ribbing before measuring the length. Take a look at this picture below – I have just stretched the ribbing a little and it measures 9".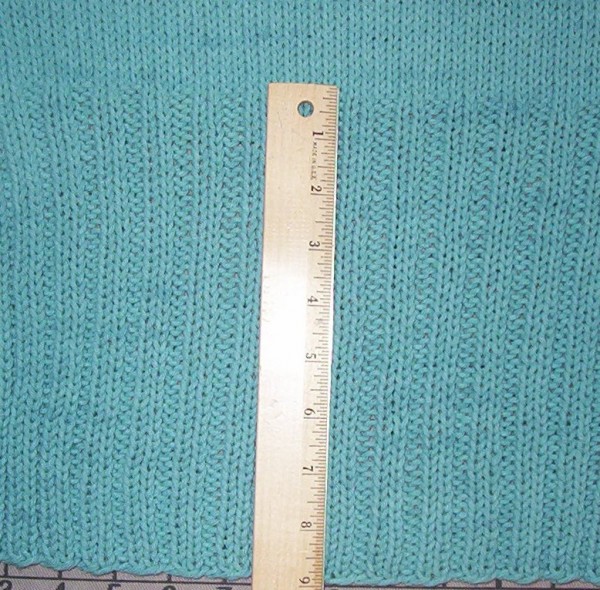 My last row of my ribbing was a wrong side (WS) row, which started with 2 purls and ended with 2 purls. I want to make sure that the ribbings to both my back and my front will have 2 knits on each side of the right side (RS). (You can see this is in the first picture above.) Making sure the ribbings of the front and back are worked the same will make it much easier to sew up the sides for a very nice finish. The stockinette stitch started with a knit row on the RS, where there are 2 knit stitches on each edge of the ribbing. I will keep this in mind when I start the lace part of the front.
After binding off for the armholes, there are some decreases that I can see will be very important for the lace patterns on the front. The back is a good place to try these decreases – especially if you have never done an "ssk" before.
May 8th, 2013
If you're anything like me, you probably think an event of any sort that actively encourages hours of knitting or crochet is the best kind of event. Though I have some sort of yarn-craft project going during every baseball game we watch or attend, few days are more exciting to look forward to during the baseball season than Stitch 'n Pitch days. If you're not already familiar with Stitch 'n Pitch, it's a series of events put on by TNNA–The National NeedleArts Association–that encourage all needlecrafters to come on out to Major and Minor League Baseball games for "the perfect double play". Crafters sit together in dedicated section and spend the game making new friends and often get the chance for special giveaways. The Stitch 'n Pitch season kicked off in Atlanta on Saturday, May 4, and the next game scheduled is with our hometown team, the New York Mets!
Mets Stitch 'n Pitch at Citi Field, Flushing, NY (vs. Pittsburgh Pirates)
Saturday, May 11
1:10 pm
Click here for tickets
Discounted tickets in the Promenade Reserved section are available for $25 each, and–perhaps best of all–the first 1,000 attendees to purchase tickets will be receiving this really awesome limited edition Mr. Met Knitting bobblehead. I'll admit I'm biased, as a Mets with a growing collection of bobbleheads, but I think it's pretty cool to see a team mascot crafting!