December 1st, 2015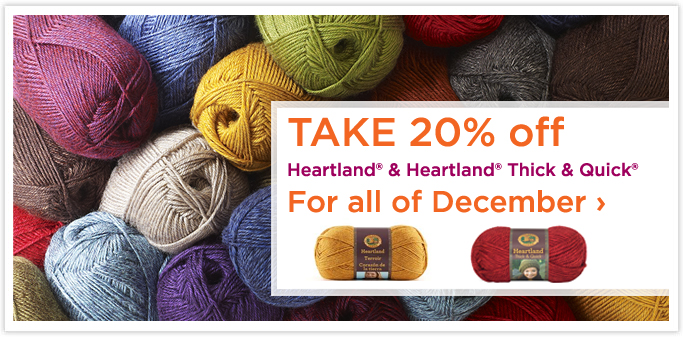 The dusty orange of Yosemite, the grassy green of the Everglades… you'll find them both along with many other nature-inspired colors in our
Heartland®
and
Heartland® Thick & Quick®
collections!
These easy care yarns — which come in a worsted and bulky weight — feature deep jewel tones inspired by American landscapes and national parks! You'll find vibrant solids and classic tweeds; mix and match them for a harmonious palette.
Check out our Lookbook for these yarns below, and head over to lionbrand.com for many more free patterns!
November 30th, 2015
Today's guest post is brought to us by Tamara Kelly, author and designer of Moogly Blog. Tamara is sharing 15 of her favorite quick and easy gift patterns that can be completed before Hanukkah or Christmas. The patterns she's sharing come from a variety of sources and can be made for all of the wonderful people in your life. We hope you find some inspiration below!
The holidays are sneaking up fast! It's fun sitting down with your gift list and filling it out with pattern ideas… at least until you realize there are only a few weeks left to get it all done! These one and two skein patterns featuring Lion Brand® yarns can help you stay on track, on budget, and make it a handmade holiday!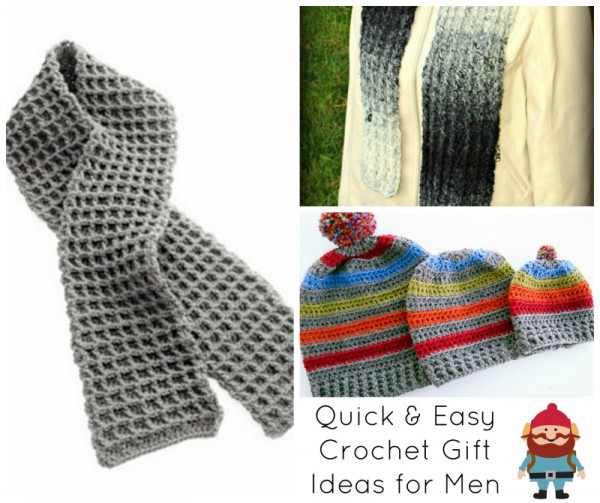 Quick and Easy Crochet Gift Ideas for Men: Men are notoriously difficult to crochet for – but keeping the stitches simple, and the color palette neutral, goes a long way!
Waffle Stitch Thermal Scarf (knit): Just 2 balls of Wool-Ease® and a 2 row repeat!
Ombre Ridges Scarf (crochet) by Beatrice Ryan Designs: One ball of new Lion Brand Scarfie – photo tutorial included!
A Very Good Hat (crochet) by Moogly: Wool-Ease® comes in so many colors, you're sure to find the ones he loves – this hat can be as simple or colorful as he prefers!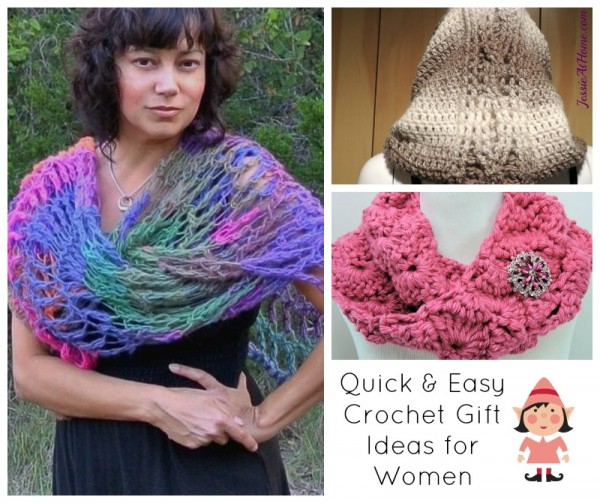 Quick and Easy Crochet Gift Ideas for Women: Crochet is right on trend for women this winter – here are just a few fast and fabulous options!
Penelope's Lacy Wrap by Simply Collectible: Can you believe just one ball of Amazing® makes this wrap – it's… well, amazing!
Hoodie Cowl by Jessie at Home: One skein of Scarfie makes a cowl that works as a hood – with gorgeous detailing!
Passion Fruity Cowl by CrochetKim: With 2 skeins of Hometown USA®, you can whip up a feminine neck warmer!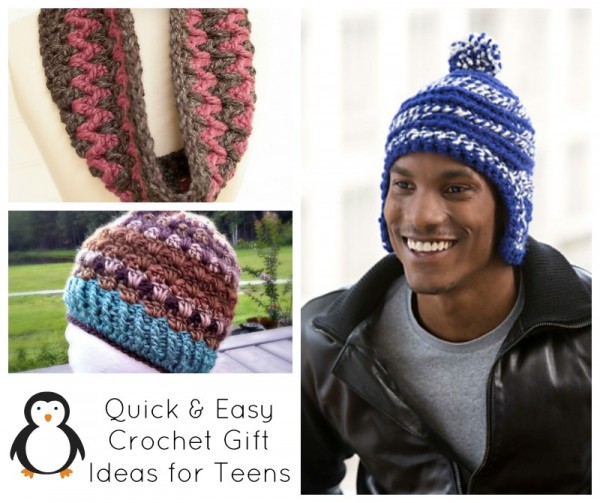 Quick and Easy Crochet Gift Ideas for Teens: For teens, think fashion looks in fun colors!
Havemeyer Helmet: Only 1 ball of Wool-Ease® Thick & Quick® – in team colors!
Stormy Weather Cowl by Moogly: Two skeins of Wool-Ease® Thick & Quick® and one evening are all you need for this chunky cowl!
Lookin' Lovely Beanie by ELK Studio: Colorful Landscapes® makes this fun toque – only 1 or 2 skeins needed!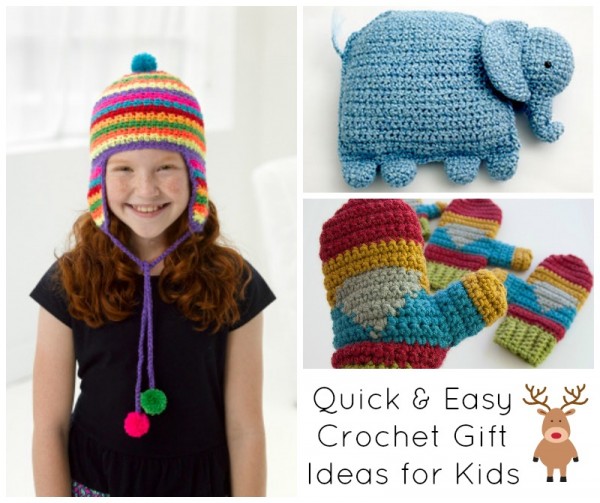 Quick and Easy Crochet Gift Ideas for Kids: Fun, durable, and colorful are all on the menu for kids!
Amigurumi Elephant Pillow: With 2 balls of Homespun® you'll have something they'll love for years to come!
Colorful Earflap Hat: A package of Bonbons® gives you all the colors you need to make this fun hat!
Hello Gnome Mittens by Moogly: Keep their hands warm with fun mittens made with Lion's Pride® Woolspun®!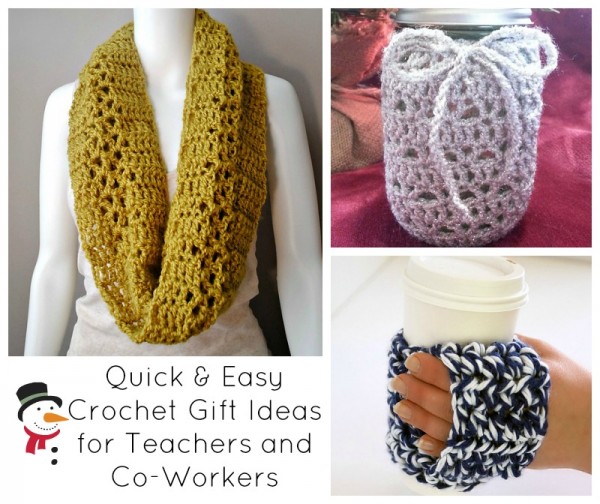 Quick and Easy Crochet Gift Ideas for Teachers and Co-workers: Share the holiday spirit with the people who make your day easier!
Off Kilter Infinity Scarf by Cre8tion Crochet: With 2 skeins of Jiffy you can create a bright fashion forward scarf that's sure to fit (and won't irritate any unknown allergies)!
Sparkly Jar Cover by M2H Designs: Vanna's Glamour® makes a gorgeous jar cover – fill it with something yummy or a handmade candle for extra credit!
Happy Handle Coffee Cozy by Moogly: Hometown USA® Twist gives you a great look with just one skein – with a coffee shop gift card it's the perfect pair!
What's your favorite go-to crochet pattern for gift giving? Mine seems to change every year! There are just so many wonderful Lion Brand® yarns and patterns to explore, it's too hard to choose!
November 30th, 2015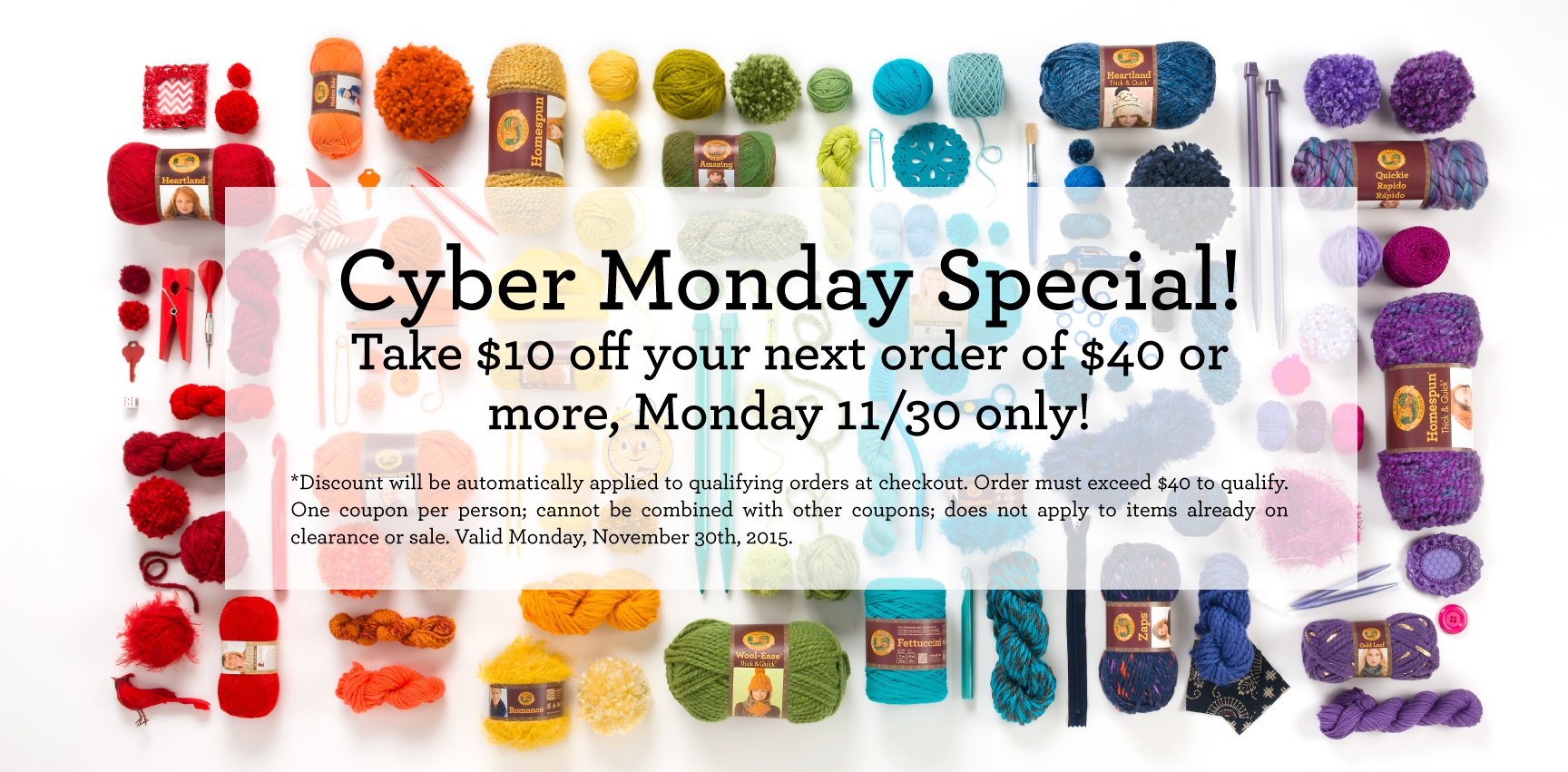 * CYBER MONDAY SALE ON NOW! Discount will be automatically applied to qualifying orders at checkout. Order must exceed $40 to qualify. One coupon per person; cannot be combined with other coupons; does not apply to items already on clearance or sale. Valid Monday, November 30th, 2015.
November 28th, 2015
Selma Moss-Ward writes and knits in Rhode Island. She is a regular contributor to the Notebook.
You're in an airplane before takeoff; the flight attendant is saying that in the unlikely event of a loss of cabin pressure, oxygen masks will drop from the ceiling, and those traveling with children should don theirs before assisting others. Maybe that seems counter-intuitive, because generally we're trained to help children before adults … but on second thought, you understand that you have to take care of yourself in order to effectively care for others.
Needlecraft, too, is often like that. Right now many of us are racing to make gifts for the holidays, and we've put our personal projects on hold. I've come to believe, though, that this operating procedure is counter-intuitive—maybe even backwards.
One recent morning the temperature fell into the twenties, and getting ready to walk my dog, I yearned for a new winter hat. I already have several hats, though they've seen better times, so I didn't technically need a new one. I thought of all the gift projects lined up—a baby sweater, cowls for friends, a scarf for my sister—and I couldn't see how to pause that procession. Feelings of mild frustration ensued. Why hadn't I been realistic about what I could accomplish before the year's end?
Then I recalled the Parable of the Oxygen Masks. Maybe I really should take time for myself before attending to others. That seemed potentially beneficial to all, and likely I'd return to my gift projects in a great mood. A hat would work up quickly, without causing much delay. I went to Lion Brand's Pattern Finder database and looked for inspiration.
The Seed Banded Slouch Hat offered everything — clear instructions, clever construction, a stylish yet classic look. Best, the yarn required was that Queen of Fibers, LB Collection® Cashmere. To me, cashmere equals bliss. Its texture and gentle warmth are unparalleled.  I ordered supplies and began as soon as they arrived.
Knitting this pattern was almost as wonderful as wearing the finished hat. It took only a weekend to complete.  Every time I worked a few rows, I'd eagerly check the emerging fabric.  Supremely soft, and in a twilight shade called Pewter, it would become a hat I'd love for years. When my sister saw the final result—and tried it on—she asked me to substitute a Seed Banded Slouch Hat for the earlier-promised scarf. This time, the cashmere was a rich shade of terracotta, and since I already knew the pattern, the knitting went even more smoothly.
A great pattern like this slouch hat is always interesting to knit, and trying a new color the second time around sustains the novelty. Similarly, the Loop Scarf, entirely in garter stitch, cleverly mixes different yarns — LB Collection® Silk Mohair and LB Collection® Superwash Merino — for a lively, graphic look. It's a good pick-up-and-go project, with stunning textures and color changes. After finishing my sister's hat, I started working on the Loop Scarf as a kind of side interest, but its design was so compelling I once again put aside my main projects so I could see, quickly, its finished beauty. As with the Seed Banded Slouch Hat, the Loop Scarf garnered its share of admirers among my friends.
Looks like I'll be making two more Loop Scarves in the very near future! I'll use different colorways for two different friends, the pattern will become even more familiar, and as each project progresses I'll enjoy watching how the colors uniquely interact. That's one of the best things about knitting: you never really make the same thing twice, so it's always wonderfully compelling.
***
The LB Collection® is 20% off until Monday, November 30th, 2015.
November 27th, 2015
Here is the latest installment of Lola, from its creator Todd Clark.

*** *** ***
*** *** ***
Subscribe to The Weekly Stitch Newsletter
Get a FREE weekly email featuring patterns, articles and special offers. As a bonus for subscribing, we'd like to offer you 15% off your first order! *
:: Sign up now ::