August 2nd, 2015

In this guest post by Phyllis Alberici, we discover how we perceive color, and how it affects us.
I'm wearing my bright yellow sweater today. The sun is shining and the daises are blooming. I'm loving life. Yellow does that to me. How do different colors affect you?
In the Fifties, as America emerged from two wars, color was making a comeback. Remember those big saucer sized clip on earrings in bright yellow, red lipstick, and poufy skirts and pedal pushers in summer colors? If you don't, that's OK because the Sixties were just ahead.
The Sixties were a time of tremendous change in the way we looked at color palettes. Colors were thrown together in the same paint pot and the result was an eye melting psychedelic interpretation of the color wheel. Tie dyed red, pink, purple, teal, yellow and orange walked the fashion runway together. Color had gone wild.
Color theory, which gained popularity in the Fifties and Sixties, along with Technicolor films and glossy movie star magazines, tells us that certain colors affect us more than others. Yellow is cheerful, red sparks strong emotion, peach is sublime, blue is calming and lifts our spirits, green centers us, black is sophisticated.
But what if there is no such thing as color? What if I told you that color is just a bunch of light wavelengths that hit the back of our eyes? It can't be!
It's all about physics. Light travels in wavelengths and those waves hit the back of our eyes in an area where the cones are gathered. These tiny receptors are each color coded so that one "sees" red, the other blue and so on. Our brain gets involved by interpreting the signals the cones send to it and the brain says, "Hey, that's red."
Our brains give us some pretty sophisticated data to work with and we interpret what it sent out as bright red, maroon, or even pink. All that really exists is those light waves. There isn't any color. Color is a product of our amazing neurological system.
The light source under which we view color signals is important. If we're in low light colors darken until navy blue looks like black. Our system shuts down. If we're in fluorescent light then everything seems to wash out. How many crafters say, "I wish we had better lighting so you could see these colors better?" Artificial light causes colors to shade and confuses our color perception so that white might have a pink or blue hue. But it's not real. If it wasn't for the cones in our eyes we wouldn't see color at all.
And this is where memory comes in. We carry a memory of color from our childhood, from clever marketing, from memorable events in our lives. We gravitate toward certain colors and shun others. Our brains store color memory in an intricate filing system that we can pull out when we buy clothes, decorate our homes, buy a car, or buy yarn. So go ahead, try new colors. Remember, you're making memories.
Have you ever had a change of heart when it comes to color preferences? What colors do you gravitate to when selecting a pattern?
August 1st, 2015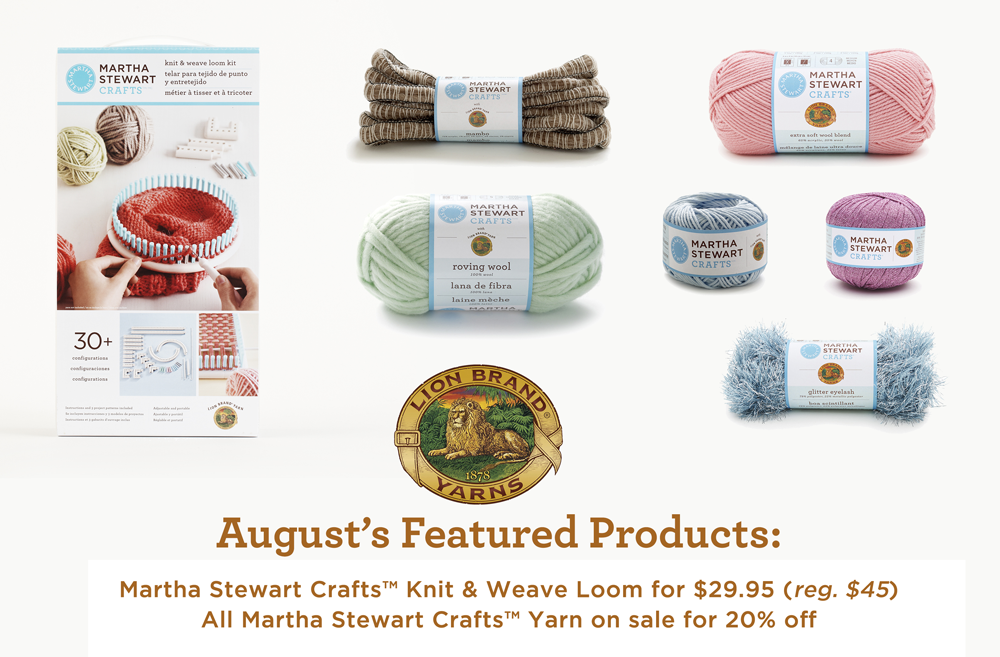 Compact enough to take anywhere, the Martha Stewart Crafts™ Knit & Weave Loom Kit makes knitting and weaving easy for both beginners and pros. Use the instructions that come with it to create scarves, hats, blankets, and crafts, or explore other possibilities on your own – we even put together a look book for you, see below. The best part? The Martha Stewart Crafts™ Knit & Weave Loom Kit is on sale for $29.95 for all of August – that's a savings of 33%!
And if that's not enough, our collection of fabulous Martha Stewart™ Crafts yarns is marked down 20% – Cotton Hemp Yarn, Extra Soft Wool Blend, Glitter Eyelash, Glitter Ribbon, Mambo, Roving Wool.
Below is collection of our most popular Martha Stewart Crafts patterns – enjoy!
July 31st, 2015

The smell of fresh erasers, wood shavings, and crisp mornings — for most, it can only signify one thing. It's almost time to head back to school!
For some, it's a bittersweet time, sending their little ones off to kindergarten for the first time. For others, there's a sense of nostalgia as their teens head off to their final high school years. The first day of school is a special time for both parents and their children — why not make a special gift beforehand? Show school pride by making hats in team colors; send them off with healthy snacks in a personalized lunch bag.
Gather the school supplies and set your student up for success with these fantastic back to school patterns!
July 29th, 2015
Just a few weeks ago we all joined together along with Lion Brand Yarn to begin our Summer 2015 Crochet Along!! The Sabrina Tunic was voted by the fans as the project we would all be making. I was so excited; it was my first choice too. We gathered our supplies, made gauge swatches, stitched a beautiful yoke, started the body and now here we are… Ready to put on the finishing touches!!
Below is my finished Sabrina Tunic! I absolutely love it and I know I will be wearing it over and over again. Vanna's Glamour® gives this fashionable piece just the right amount of sparkle, while remaining very comfortable to wear… I can't wait to see yours too!!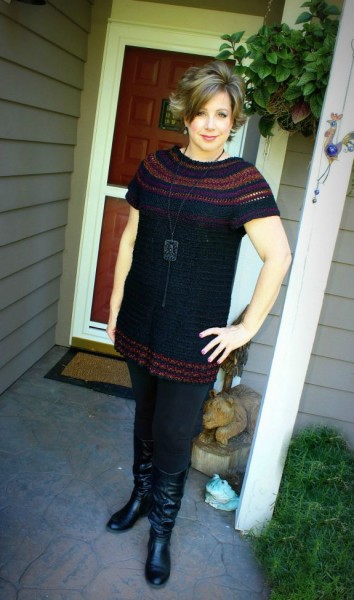 This week you will be finishing up any remaining rows of the body. Remember, before you start the bottom edging try on your garment and make any length adjustments you want! I followed the directions exactly and mine fits perfectly. I think one of my favorite parts of crocheting my own garment is that you can adjust it and make it custom to your own style. So if you want it longer or shorter… Go for it!!
Next, you will you will finish your edging… I love the way this decorative stitch pattern using all the colors finished off my tunic!! I think the edging might be my favorite part of this pattern, simple yet elegant!! Below is a close up picture of my edging, this would also make a great boarder around an afghan… What do you think??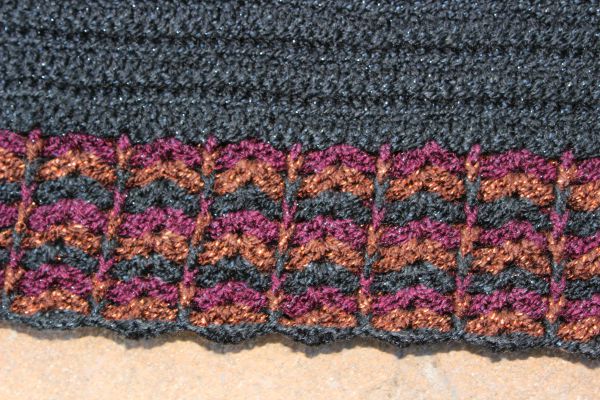 Once you finish the edging you will work on the armholes and the neckline to complete your
Sabrina Tunic
!! Both the armholes and the neckline finish up very quickly!! Before I added the neckline rows, my neckline was a bit loose; the stitching made it work out just right!! The last step after you weave all your ends in is to block your garment; there are several methods you can use… Steam Blocking and Wet Blocking are my two favorites. Blocking will make your garment smooth out and give it a nicely finished shape! You can find instructions for blocking by doing an internet search.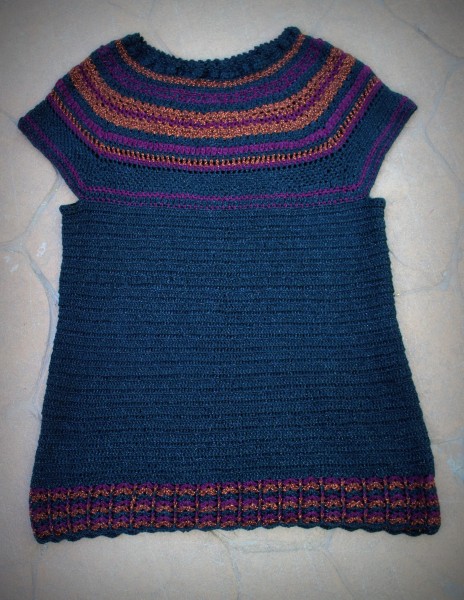 Once I was done and tried on my
Sabrina Tunic
, I was very impressed with the fit… I hope your project turns out just as nicely!! Make sure you post your project pictures over on
Ravelry
so we can have a chance to see them all! I have loved working with Lion Brand throughout this project; they have wonderful yarns and great patterns too!! Make sure to check out all their yarns right here on the website… They will ship it directly to you and you will find some yarns that are not available in stores!! Thank you all for participating in this year's Summer Crochet Along!! I hope to see you around the crochet community!!!
Happy Crocheting!!
Elena
---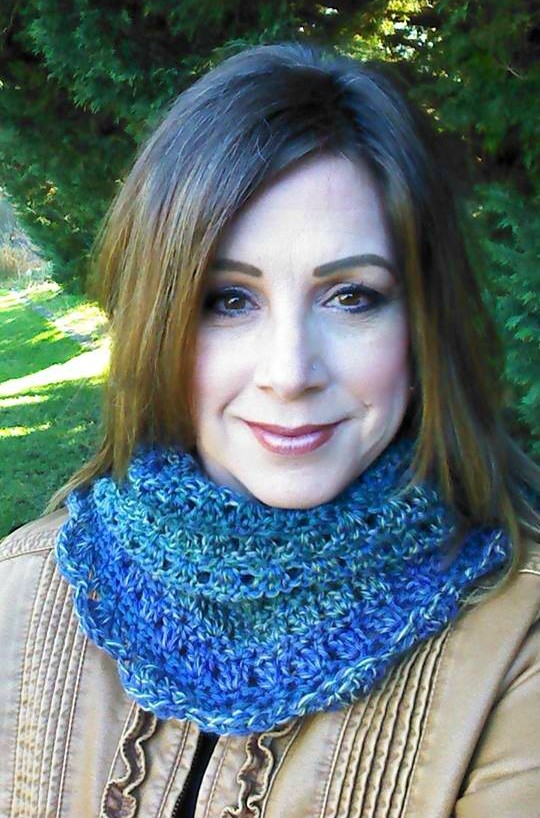 About Elena Ramshaw Hunt:I'm an avid crocheter and yarn-a-holic! My Grandmother taught me the art of crochet when I was 10 and as a young woman the bug really caught me. With 40 years of crochet experience, I have taught and shared my love of crochet to many people in my community and in 2013 I began Beatrice Ryan Designs (named after my grandmother) where I design free crochet patterns including my Amazing Grace Free Crochet Pattern Series that is dedicated to Breast Cancer Awareness.I live in a small Northern California mountain community. I have 3 grown children and 2 beautiful Grandchildren! I work full-time as an Administrative Assistant for a Forest Products Company and I love to spend my time with my family, crocheting and gardening.
July 28th, 2015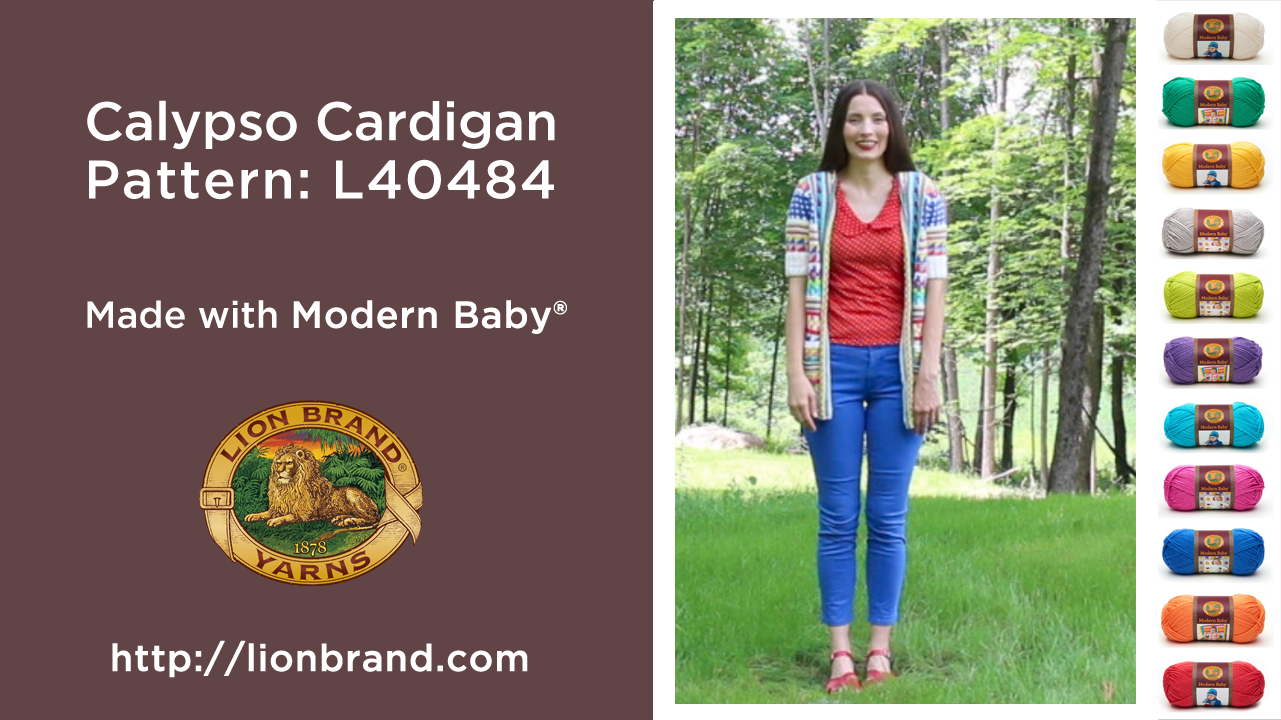 Our good friend and knitter-extraordinaire Kristy Glass, leader of the Glass Posse, spotted one of our newest and most popular summer sweaters — the Calypso Cardigan — and loved it for it's amazing versatility. Made with Modern Baby®, Kristy shows you how to style it in a variety of ways and makes alternate color suggestions too … let's hear from Kristy!

★★★

Can't see the video above? Click here: https://youtu.be/9Pgy3f9urCk
Get the pattern: http://lby.co/1MsydBg
Get the yarn: http://lby.co/1ggX6Uk
July 28th, 2015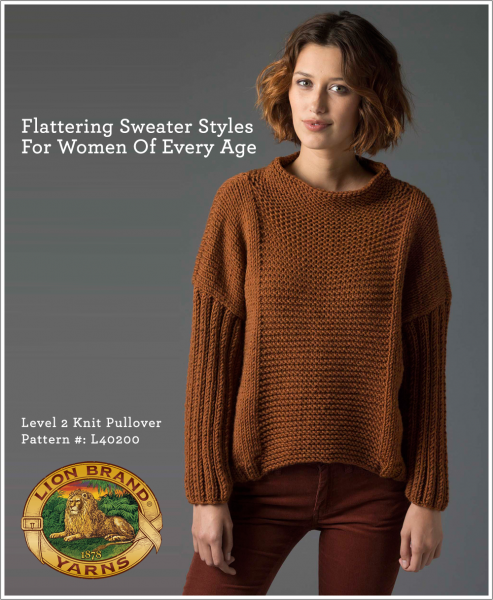 Selma Moss-Ward writes and knits in Rhode Island. She is a regular contributor to the Notebook.
As we get older our bodies change. The clothes I wore in my 20s and 30s wouldn't suit me now and they wouldn't fit. But, why should I scold myself because the clothing I wore years ago no longer flatters?
As knitters and crocheters, we're privileged.  Rather than settling for something cloned and off the rack, we can select customizable designs, choose yarns in colors we love, and craft sweaters that are gorgeous, practical, and absolutely right for us.
That's where Lion Brand comes in.  There's an abundance of great designs in the huge Lion Brand pattern database, and so many are flattering to women of a certain age.  Each pattern keys to a perfect match of Lion Brand yarn, so guesswork about gauge and fit is minimal.
I'll highlight some of the Lion Brand designs I've discovered.  They're comfortable, crafted in lovely yarns, and range from easy to moderately challenging.  All are absorbing to work and beautiful to wear.  When you wear them, you'll feel attractive and relaxed, as well as accomplished, delighted, and in control of your fashion destiny!
Let's consider two cardigans, knitted and crocheted.  The knitted Seaside Kimono Cardi requires only 5 skeins of Fishermen's Wool®.  Its basic shape is squared and loose, but dense cables at the wrist, collar, and lower edge create a gentle blouson that complements many different figures.  The cardigan's natural tones and rich textures convey an elegant, slightly ethnic sensibility that's great with jeans, a simple dress, or a skirt.
The crocheted Retro Swing Cardi, in Wool-Ease® Thick & Quick®, packs a lot of style into a quick project.  Done with a large hook, it works up swiftly into a gentle A-line jacket that floats over the torso.  This design is great for petite figures, as it doesn't overwhelm.
There are many reasons to favor cardigans, as they're easy to slip on and off, and useful if you like to layer.  Much as I enjoy cardis, though, the Level Two Knit Pullover really captured me.  I love the dropped shoulder of the loose, yet sculpted design.  I love the textural interest of the front and sleeves, and the adorable band collar.  For such a sophisticated pattern, it's hard to believe the skill rating is "easy."  I can't wait to knit it in several different colors!
July 27th, 2015
Inspired by stonework found in Dunfallandy, Perthshire, Scotland, designer Terry de Roulet created this gorgeous baby afghan which features cables that turn horizontally and meet – a seemingly impossibly feat!
Using Pound of Love®, she wanted to make a machine-washable heirloom baby blanket that baby fingers and toes couldn't get trapped in and it looks like she succeeded:
We all fell in love with this afghan as soon as we saw it and we're so pleased to tell you that this is a FREE pattern,
available through Knitty.com
.
:: Pound of Love® comes in 16 different colorways – color seen here is Denim. ::
July 27th, 2015
Over the last 12 days of Christmas in July, we've shared over 75 of our favorite projects for holiday gift-giving! From prayer shawls, to children's afghans, patterns for men, and Christmas home decor, we made certain to offer plenty of patterns to cover everyone on your list.
Best of all, these patterns are all FREE and available to save or look up any time on our PatternFinder. With projects for all skill levels of knitting and crocheting, we hope you've found inspiration to get started on your holiday gifts early this year.
Here's our full Christmas in July gift giving guide. Pin your favorites for easy access, and don't forget to follow us on Pinterest too! Share a handmade item with a loved one!
When you finish your holiday crafting, wrap your handmade masterpieces with our Artisan Gift Wrap! 6 of our most beautiful patterns have been transformed into bold and stately wrapping paper. From brightly colored prints, to jewel tones, and a sophisticated neutral, there's a design to suit a variety of aesthetics. Get yours HERE!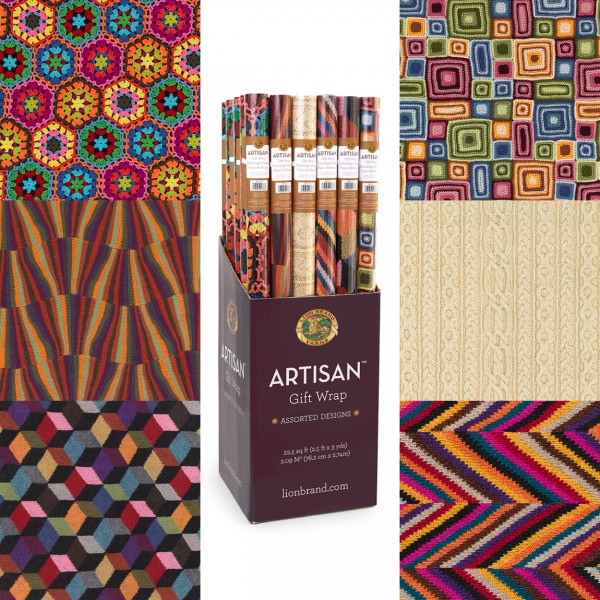 July 26th, 2015
Our newest bulky weight yarn is Scarfie, a soft and lofty wool blend yarn with enough yardage to knit or crochet a full length scarf – really, one ball is enough for one whole scarf which is very useful when you're planning out gifts … which you're doing, right?
While working with Scarfie, you'll see a unique self-striping ombré effect emerge (ombré is everywhere!), with gradual shading from one color to the next. The ombré pattern is a sophisticated and tonal blend of solid and heathered hues.
You'll adore working with Scarfie to knit and crochet stylish garments, accessories, afghans and of course, scarves!
Here are some of our favorite patterns from the new Scarfie collection, each a perfect gift for someone on your list. Scarfie has your back!
July 25th, 2015
Do you have some free time this summer? In our Christmas in July series, we'll be rounding-up our favorite gifts to make and give, including ones you can get started on now. Trust us – you'll be thanking yourself between holiday parties when you've got all your gifts blocked and wrapped.
Stocking stuffers are my favorite gifts to give! I love surprising my friends and family with little gifts that I can personalize in their favorite colors. These projects are a fun place to practice techniques that you might be trying for the first time like colorwork or embroidery. Yarns like Bonbons and Vanna's Palettes lend themselves perfectly for stocking stuffers or make small gifts by stash-busting! Making gifts is a great excuse to make room in your stash for new yarn.
Even though these small gifts might not take long to complete, I like to get started early! I can throw a small project in my purse and work on it when I'm on the train or in the waiting room. It's a great way to get my holiday knitting and crocheting done without any effort! No need to stress about quick gifts in those hectic days after Thanksgiving!