April 27th, 2015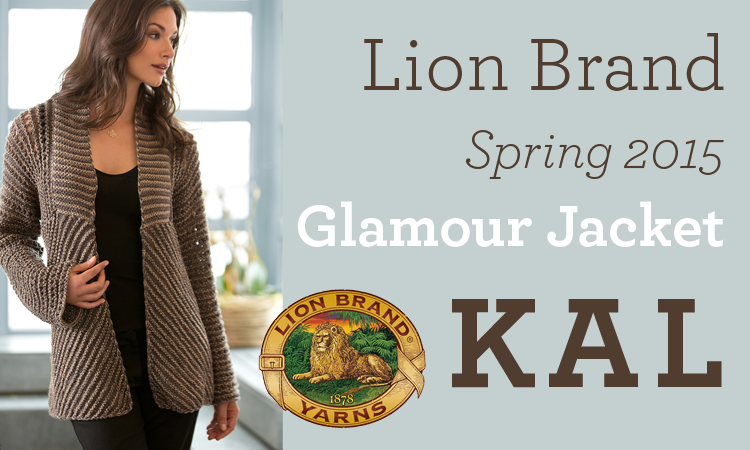 Editor's note: There's still time to get your Knit-Along Kit, get your kit here now – there are four to choose from! Also we have a hashtag for this KAL, use #LBspringKAL2015 when you share your progress on social media. Have fun!
---
Hello my fellow knitters! It's Kristy Glass here and I'm hoping you're still having fun!
I want to talk about the two lower sections for a minute.
PAY ATTENTION! After knitting SUCH a large piece (Right Lower Section), you are going to get into a groove and think you know how to repeat the lower section once more. Back in my novice days, I TOTALLY would have just knit the exact same side and ended up with 2 RIGHT lower sections instead of one of each. So I thought I would just point out the very subtle differences between the RIGHT and LEFT lower sections, with my Pink Arrows below: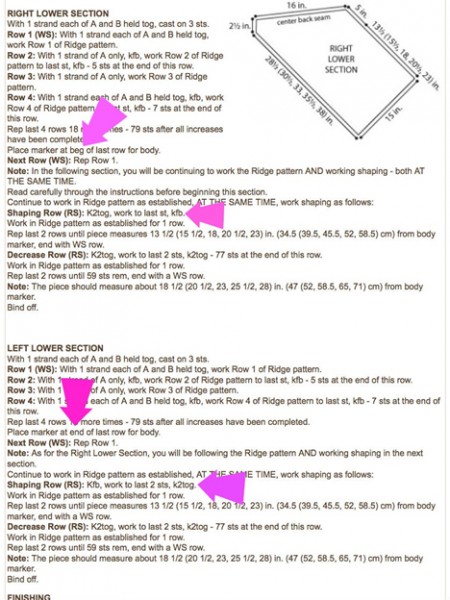 Compare your pieces as you go to make sure the bias stripes are sitting in opposite directions from each piece. After you have knitted your pieces, it's time to put it all together. This is where your SEWING AN ACTUAL GARMENT skills come into good use. Knitting and Shaping is one skill, but taking these pieces of fabric we have made and forcing them into a wearable sweater is a whole different set of skills that sometimes challenge different parts of your brain (different from the parts that were challenged while you were trying to remember your ridge pattern increases! HA!)
For all aspects of sewing this together, I highly recommend using a flat surface. We are not sitting on the couch watching our favorite tv show and knitting anymore. Now we are down to business!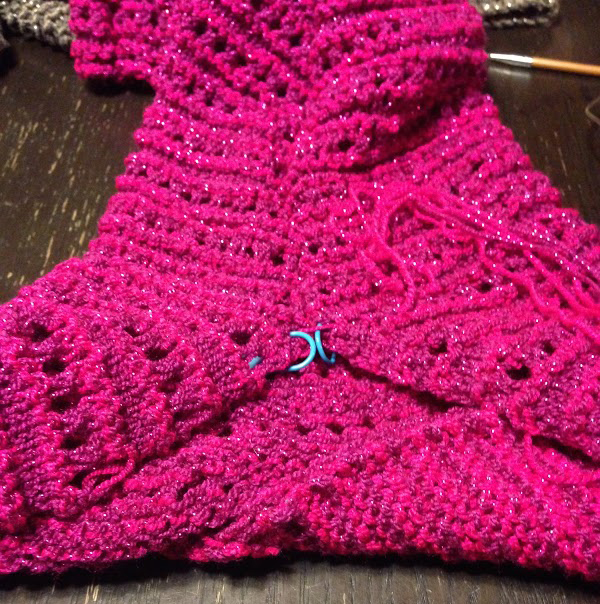 Step 1: Sleeves! If you remembered to keep your stitch markers in place, this will be easy. Fold your fabric in half (right sides together) and sew from wrist to the markers. As you sew make sure you are checking in with those markers. You might want to use one of them to pin both sides of the fabric TOGETHER so that they don't move. Try to keep tension the same on both sides while you sew it up. What stitch are you using? I used a running stitch. When you reach the markers, leave the tail of your yarn for now. Where the two sides come together will end up being a straight edge for the lower sections later.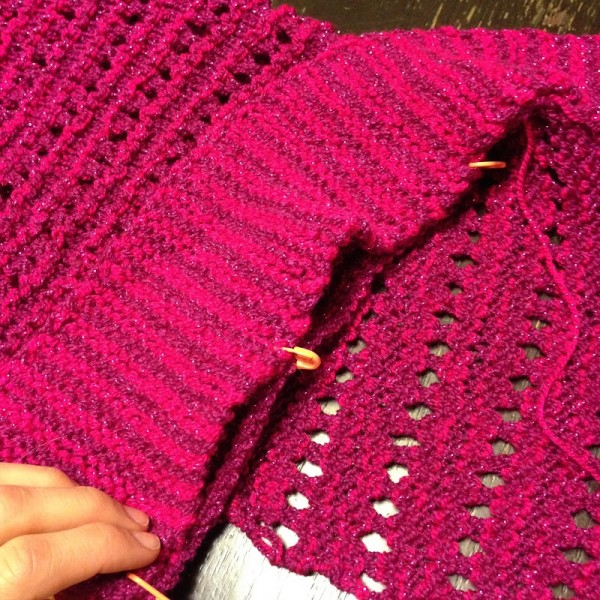 Step 2: Collar! If you left your collar live, now is the time to assess if you need to make any changes. With right sides together, pin the collar to the collar notch of the upper body. Since this is curved, it will seem a little awkward. There may be a bit of stretching here and there as you try to make it match up, but if the collar seems VERY short or VERY long, this is where you will adjust it and finish it off. I found I only needed to bind off my collar, I didn't need to change the length after all!

April 26th, 2015
This story is from our newsletter called Pattern Journal which brings a warm-hearted, wholesome story to your inbox to read every month. If you enjoy it and would like to subscribe, click here.
One Thing Leads to Another
If Kathy's sister hadn't been named Dorothy, and if Dorothy hadn't been expecting a baby, and if Kathy hadn't crocheted a blanket for Dorothy's baby, Kathy would never have knitted herself the most sophisticated sweater ever. It was as simple as that.
| | |
| --- | --- |
| | She'd gone to the crafts store, where the blanket was on display. Its upbeat colors–cream and soft grey, vivid yellow and purple–immediately appealed. She also loved the whimsical layout of squares, diamonds, and circles, as rhythmic and happy as a children's song. When Kathy saw the pattern was titled "Dotty Dots," that clinched it! The family had called her sister Dorothy "Dottie" since forever. A Dotty Dots blanket for Dottie's baby—the coincidence was pure serendipity! |
It was crocheted from a subtly-chained, petal-soft yarn, Modern Baby®, which had a lively, bouncy quality that her fingers loved. The Modern Baby® palette was joyous, the yarn a pleasure to use. After finishing the blanket, Kathy wondered what else she could do with it. Too much fun to stop now!
Maybe, she thought, it's time to focus on me. Making something just for her — that was when her creativity peaked. She could play with color, shape, and structure. She could express herself.
| | |
| --- | --- |
| | The Tribeca Tunic, a sophisticated look in two shades of Modern Baby® and one of sparkle-inflected Vanna's Glamour®, was the perfect next project, Kathy discovered. Its construction appeared complicated, but was surprisingly straightforward. Yet there were enough changes in direction and color to keep things interesting. Knitting that sweater was as fascinating as crocheting the Dotty Dots afghan had been. She marveled at Modern Baby®'s versatility—it worked equally well for adults' and kids' clothing. |
At the baby shower, Kathy wore the chic Tribeca Tunic, worked in cream and two shades of black, over velvet leggings. She gave Dottie the Dotty Dots Afghan, and her sister was enchanted. "Thank you so much!" Dottie enthused. "I've never seen anything as adorable! And by the way, that's a fabulous sweater you're wearing. Is it new?"
Kathy smiled, and considered how lucky she was to be a sister and an almost-aunt, as well as someone who loved to crochet and knit. It had been so rewarding to follow her intuition from baby blanket to Tribeca Tunic, as one creative project led to another, in natural succession — just like life itself.
Nothing is more fashionable than a handmade accessory you've made yourself. Save 20% off these kits for a limited time:
1) Tribeca Tunic
2) Dotty Dots Afghan
—
All characters appearing in this work are fictitious. Any resemblance to real persons, living or dead, is purely coincidental.
A story by Selma Moss-Ward.

Selma Moss-Ward writes and knits in Rhode Island. You can find her work on our blog, as well as Lion Brand's monthly newsletter, Pattern Journal, which you can subscribe to here.
April 25th, 2015
Blogger and author Kathryn Vercillo is an expert in the area of using crafting to heal, having researched the topic extensively for her book Crochet Saved My Life. In this post she explores how prayer shawls help both the maker and the recipient of the handmade item. Read Kathryn's previous blog posts on the Lion Brand Notebook here.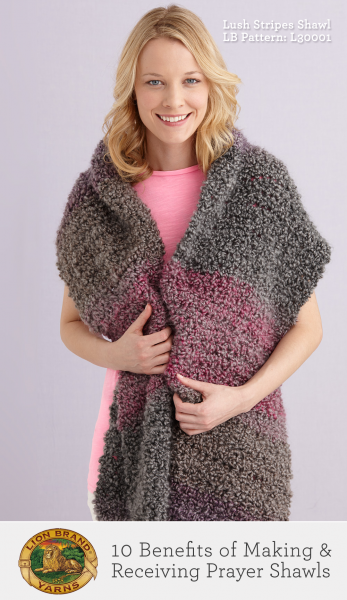 A knit or crochet prayer shawl is intended as a gesture of warmth and comfort for the person who receives the item. The maker prays (or sets their intention) for that person with every stitch. When the item is done, a special prayer or ritual may be done to add emotional value to the item before it is sent to charity or given to the person in need. However, it's not just the person receiving the shawl who benefits from the act; the crafter also heals.
Benefits of Receiving a Prayer Shawl
People who receive prayer shawls often consider them to be special items that they will keep forever. A prayer shawl can be given to help someone who is going through a difficult illness, grieving the loss of a loved one or reeling from a disaster. The item provides physical comfort, actual warmth and a tangible reminder that there are others in the world that care for them.
Wrapped in the snug hug of a prayer shawl, the person can feel the love that went into those stitches. Barbara, who commented on a previous post we did about prayer shawls shared, "When I had surgery the pastor brought one to the hospital and prayed for me and wrapped it around me. It was very comforting. When I feel anxious I wrap myself in it and I feel the love that was knit into each stitch."
Benefits of Making a Prayer Shawl
Making a prayer shawl has as many benefits as receiving one. Oftentimes when someone we care about is hurting, we desperately want to help but don't know how. Making a prayer shawl is a way to channel that stressful energy into something positive. Other benefits people cite of making a knit or crochet prayer shawl include:
It takes your mind off of your own stress as you help someone else.
It can heal old wounds. For example, someone who has been through cancer herself might crochet prayer shawls for chemo patients and heal their own pain with each stitch.
Prayer shawl crafting can be done in groups, which offer camaraderie and companionship to the maker.
Some people find it easier to make time for crafting when they have a purpose, such as charity crafting, which allows them to reap many health benefits.
It is a way to bring prayer or meditation into your daily life. Research shows that there are numerous benefits to prayer.
Making a prayer shawl is a great way to connect you to your own community. Linda Kennedy finds this is true as she makes baby blankets for the women at her church. (Although we call them prayer shawls, intentional crafting items can be anything at all!) She shares, "I know them and think about them often as I am working on theirs. I have heard some of the women talking about how they can't wait to get their blanket for their baby. It makes me so happy!" Linda put special attention into a white crochet baby blanket that she made for a mother whose baby had heart problems and they weren't sure whether or not she would make it and found that this was a way to connect to her during a difficult time. Each experience of prayerful crafting is unique and special. Speaking of another item she made for someone from church, Linda says, "When they gave it to her, she cried because she didn't think anyone would do something like that for her. Seeing how I can touch someone's heart is so comfort to me!"
Anja's Squares: A Story of Making and Receiving
Katinka Steyn shared a story about the healing power of both making and receiving intentionally crafted items. It all began in December 2013 when her eldest daughter Anja had to undergo open-heart surgery after a stent lodged in her heart. She posted in her South African Facebook Group Ons Hekel (which means "we crochet") about what was happening and "countless messages of prayers and encouragement started pouring in". Anja made it through surgery and was discharged but continued to have chest pain. On January 22, 2014, Anja passed away in her home.
April 24th, 2015



Mother's Day happens on May 10th this year – that's a little over two weeks away!


Still wondering what to do for Mom?

Below is a collection of crafty items we know Moms would love this year – all at great prices!

Free Pattern: Amigurumi Momma Bird

April 24th, 2015
Spring has officially sprung, which means warmer weather and longer nights – and we're excited! With the warm breezy days and cool nights, finding the right outfit can be a little tricky. The key to staying comfortable in this fickle weather is to dress in layers.
Shawls are a great layer to have when you want to go out in a cute dress or maybe just short or long sleeves with no jacket. Throw a shawl over your shoulders, and you'll certainly be comfortable and cozy on a spring day or night – while showing off your handiwork. The openwork in the Daylight Tweedy Shawl in Heartland yarn is perfect for spring because it lends itself to being light and airy, perfect for those "in between" weather stages.
We're happy to share this tutorial with you today in which Yolanda Soto Lopez shows you how to crochet this easy shawl that you'll be able to work up in no time!
April 23rd, 2015
There's something irresistible about baby booties! Their tiny size means they work up fast (and who doesn't love a fast-finish project?), but I think we love to make them because they are just so cute! Baby Day is May 2nd. Even if you don't have a baby or grandbaby to celebrate, chances are you know someone who does. Those little feet need booties! Of course, booties make fantastic shower or new mom gifts too, and if you're feeling extra crafty, why not make a whole baby set? We've rounded up some of our favorite free patterns to get you started.
* not a Lion Brand pattern
April 22nd, 2015
Well I have some exciting news!!!
Lion Brand has decided to get curvy!  That's right.  Lion Brand is creating a collection of patterns specifically designed with curvy ladies in mind.  I've had the opportunity to be part of the design process, from the beginning planning stages, all the way to modeling the end garment.  I used to hate my curves but as I've matured, and might I add, become much wiser, I've learned there's nothing to hate just more to love!
The Process
I sat down with Susan Haviland, Design Editor, who asked me some great questions to help her develop the perfect garment. What do I look for when I shop? What does my mom (who's also a curvy lady) look for?  I always wear flowing tops and garments that hide what needs to be hidden and accentuate all the right parts! Susan borrowed a lot of my tops for inspiration. I was flattered that she liked my taste in clothes so much! She took my measurements and I really felt like Cinderella — all we were missing were some squirrels, birds and mice helping Susan and then it would have been perfect. Based on many of the tops I left Susan, she came up with some really awesome knit and crochet garments.
Perfect fit for Cinderella… That's me
I can't get over how perfect the garments fit! They covered my tush perfectly. They fit my arms just right, and the colors of course were PERFECT! I wish all of my clothing was made to fit my shape. This collection will inspire you to craft for your curvy shape. Don't deny your curves hand knit or crocheted sweaters or cardigans, because we all need to be crafty. . .  and fabulous too!
More pictures and posts coming soon!  Can't wait to share!
April 22nd, 2015
There is no better way to shop at home for yarn than using color cards.  If you're one of those people who wants to plan your purchase before you actually start shopping, you'll get the feel of the yarn, and the color with these handy mini-samples.  Some people take one thread off the card from each of the yarns they want to use in a project and hold them together.  Some people look at a color card and get inspired to make a gift for someone special.
We just updated the color cards for six of our most popular yarns (priced from about $1.00 to $3.00) so you can start dreaming about your next project.  Why not have your own collection on hand so you'll be ready when inspiration strikes!
:: Review Lion Brand's color card collection today! ::
April 21st, 2015
We've teamed up with Todd Clark, creator of the ever-popular Lola series, to bring you "Out of the Loop," a regular one-panel comic featuring humorous takes on the world of yarn.
Enjoy and please share widely!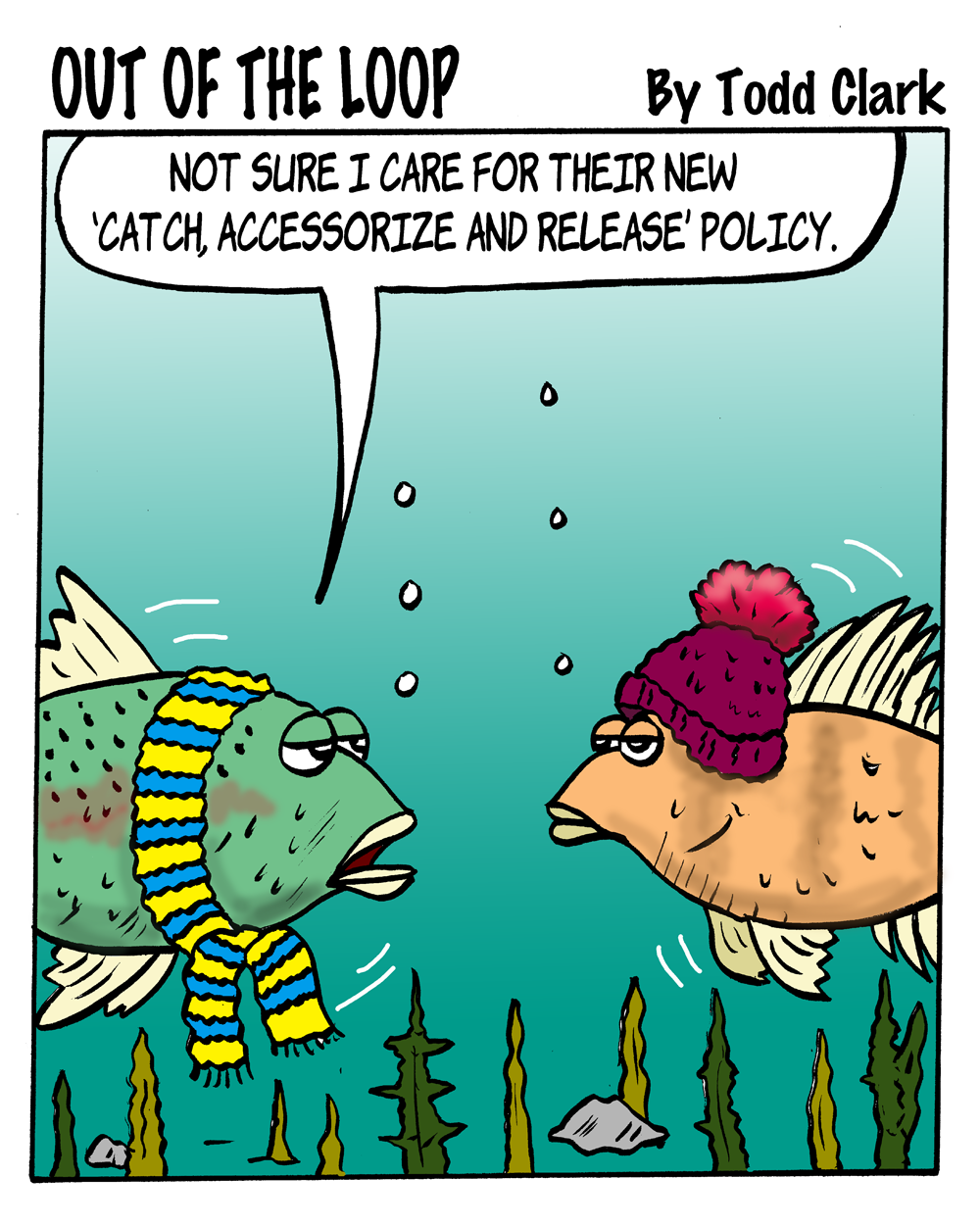 *** *** ***
Here are a few "fishy-wishy" patterns to inspire you!
*** *** ***
Subscribe to The Weekly Stitch Newsletter
Get a FREE weekly email featuring patterns, articles and special offers. As a bonus for subscribing, we'd like to offer you 15% off your first order! *
:: Sign up now ::
* offer valid only for first-time email subscribers, one coupon per person.
April 20th, 2015
When I was a little girl my dad said to me, "Shira, when you find a job you love, you will never work a day in your life." He really is a wise man.  So, when I meet people and ask them what they do and they tell me they love what they do, I'm really taken by them. Last week I had the chance to meet a whole roomful of people who were passionate about what they do when I had the privilege to be a judge in a competition called Enactus.
Where Do You Find Hundreds Of People Passionate About What They Do In One Place?
Enactus is an organization that gives students at different colleges and universities a platform to present entrepreneurial ideas and business plans to better their community and empower others. It really is wonderful to see the ideas that these kids come up with.  But they're not only ideas — they actually put them into action.  You see how much effort and time they've put into creating business plans and making them come to life! You see their passion when they present. One group talked about how they raised money and started a relationship with a family in Cambodia to help them grow crops and teach them how to sell what they grew.  The group traveled to Cambodia to help one farmer sell his crops and a help him develop a new watering system that they created especially for him. These students love what they do and are looking for that future job that they will be passionate about.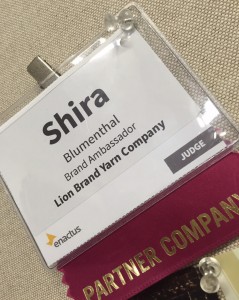 Judge-y Judge
It was not easy to judge this competition, and I have to admit I felt like Christina Aguilera on The Voice — their future was in my hands.  Not really, but I for sure felt super important.  It's not easy making decisions like that, deciding if different schools go through or not.  But hearing out all the wonderful business plans, charity work and so much more that these students do, put my mind at ease, knowing our future is made up of people who are super passionate about what they want to do in life or at least what they are doing now and how they want to better the world!
Then off for some fun in Saint Louis. 
I had a day to explore the Saint Louis area. I had never been to Saint Louis, MO.  Beautiful City.  I went to the Saint Louis Zoo! Did you know that the Zoo is free? Well it is and it's truly beautiful! I stopped at the famous Arch of St. Louis but chose not to go to the top because there was something a bit more pressing to see.  On every trip I go on, wherever I am, I look for yarn. When I was little, when my dad went away he would bring back a snow globe from each place he went to, there began my snow globe collection. I even continued it as I got older. But now I look for yarn wherever I travel! I go into stores that sell Lion Brand to see how the selection looks and I go into small yarn shops as well.
What kind of traveler are you?
What have your best travel experiences been? Do you talk to the locals, see the famous landmarks or go off the beaten path? Do you make it a point to shop for yarn when you're away from home?
Can We Meet?
I'll be doing a lot more traveling this year and hope to meet many of you.  I know we share a passion for knitting and crochet so we'll have a lot to talk about.  Here's my schedule.
Appearance Schedule for 2015
May 21- Atlanta, GA- North Georgia Knitting Guild and Chain Gang Crochet Guild
May 28- Long Island, NY- Eastern Long Island Knitting Guild
June 15- Greyslake, IL- Greyslake Crochet Guild
June 16 – Chicago, IL- Windy City Knitting Guild
June 29- Caldwell, NJ- Caldwell Crafting Groups
July 22-24- San Diego, CA- Knit and Crochet Show
October 8-Merrick, NY- Long Island Knit and Crochet Guild
October 19- Chappaqua, NY – Westchester Knitting Guild
Appearance Schedule for 2016
February 8- Madison, WI- Madison Knitters' Guild