May 30th, 2015
Memorial Day weekend has passed, we're jumping in pools and beach waters, and thinking about… vacation! With all of the summery goodness happening, don't forget to keep those needles and hooks going. To keep you crafting through the summer, we've got this great crochet Beach Cover Up tutorial for you today, from Yolanda Soto Lopez (All Crafts Channel). Watch below, and start crocheting your summer garment! (pattern is completed in 3 videos).
P.S – We've got a great sale on select colors of Cotton-Ease® right now, so be sure to check that out as well.
Can't see the video below? Click here to watch.
May 29th, 2015
Here is the latest installment of Lola, from its creator Todd Clark.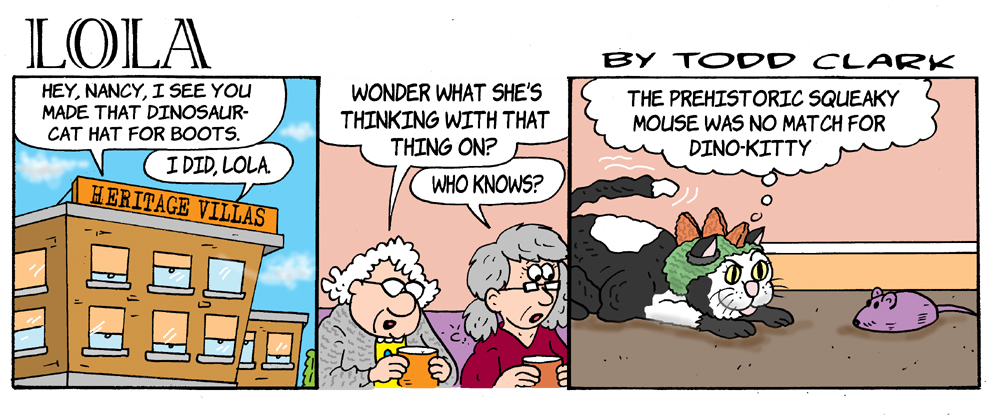 *** *** ***
Subscribe to The Weekly Stitch Newsletter
Get a FREE weekly email featuring patterns, articles and special offers. As a bonus for subscribing, we'd like to offer you 15% off your first order! *
:: Sign up now ::
May 28th, 2015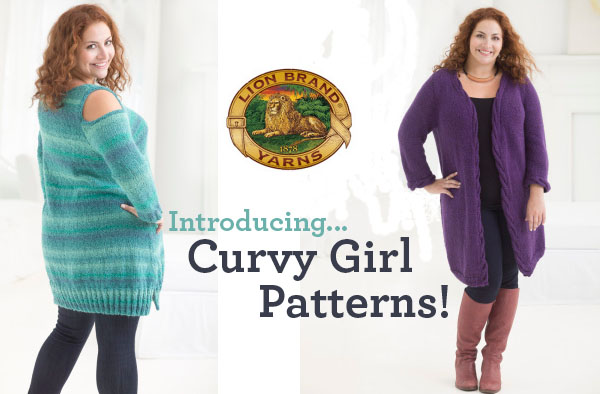 In my life I've modeled for Lion Brand a total of three times. The first two times I was a little girl and I didn't care much about the garments I modeled. I really love the floppy hat I wore when I was seven-ish but the bobbly cardigan before that — not so much.
The third time, just recently as a fashion-conscious adult, I had the opportunity to give input into the garments beforehand and let me tell you, I'm thrilled with the results. Today, I'm ecstatic to share the new Curvy Girl collection! With Susan Haviland, Lion Brand's Design Editor, the Design team and some of my own clothes as inspiration, I really believe we hit the nail on the head with this fabulous collection.
:: Can't see the video above? Watch here: https://youtu.be/uRyjXmNboxI
When I get dressed in the morning, as much as I am a proud curvy girl, there are parts I want to cover up. My tush, my stomach — muffin top anyone? And I have to admit, I'm never the first to go sleeveless …
There are four new patterns designed especially for women like us, women who have curves — two knit and two crochet — and I think you'll be excited to knit and crochet these garments. We're confident you'll feel good and comfortable in your finished products. Since I was the fit model as well, they were designed to look great on a real-world curvy girl, not just a size 10-12 the fashion industry often uses for plus-size garment modeling.
I love the tunic and the open shoulder tops. The tunic is crochet and the open shoulder is knit. It was also really important in this process to make the patterns easy, yet intricate. The patterns are simple enough for beginners while allowing for pro- knitters and crocheters to add pizzazz with more complex finishing touches!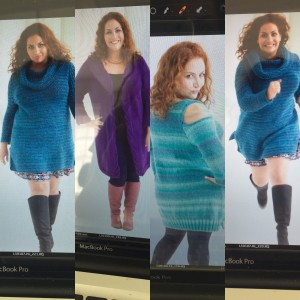 :: these are some of my favorite action shots from the shoot ::
I hope that you all love this as much as I do! It was a pleasure to model these garments and I hope that we continue making more
Curvy Girl
patterns because I like ice cream and chocolate and I am not willing to give those up!
May 28th, 2015
In this episode of "Tea with Shira", our brand ambassador Shira Blumenthal sits down with two Lion Brand Studio regulars, Patricia and Verna! They've been visiting our studio since 2008, participating in classes & workshops, gushing over new yarn releases, and just hanging out with the staff. They share their latest projects, favorite yarns, and even favorite teas!
:: Having trouble viewing this video? Click here to watch on YouTube ::
Yarns discussed in this video:
Lion's Pride® Woolspun®
Heartland® 
Hometown USA®
Do you have a question for Shira? You can leave them in the comments below or tweet her at @shiraroars and she just might answer your question in her next video!
May 27th, 2015
Each month the Pattern Journal newsletter features a story inspired by an irresistible pattern. We know you love to knit and crochet, so you must have stories to share about your favorite patterns, right? To see past Pattern Journals, visit the archive.
Submissions: To submit your story, complete and submit form below.
Photos: Send photos to yarncraft@lionbrand.com or links to photos in the form below. Photos should be in .jpg or .png format, and no larger than 1000 x 1000 pixels.
Publishing: Stories may be edited for length and or clarity. We will consider all submissions but regretfully, not all submissions will be published.
Terms and Conditions for submitting a story to be considered for a Pattern Journal feature:
By choosing to submit a story to Lion Brand Yarn Company, you acknowledge and agree that any information you provide, including any photo(s) may be viewed by the general public. You further agree that the company may use your story and photo in any manner it deems necessary or appropriate. Lion Brand Yarn Company reserves the right to edit, abridge or format stories for any reason and to remove or decline to post any story or photo. Lion Brand Yarn Company does not endorse or make any warranties or representations with regard to the accuracy, completeness or timeliness of any statements in your story. By submitting a story, you agree to each of the these terms and conditions.
May 27th, 2015
The 1970s have been having a moment in fashion lately, and with it comes a trend we're familiar with… Granny Squares!
Although the pattern's always been a favorite for afghans and throws, we love the idea of wearing this dynamic pattern. Combine your favorite colors to make a vibrant square, or go for a monochromatic look with a single color, like Alison Craftland's bolero project below. Even fans of high fashion will want to get their hands on a Granny Square piece — top designers have incorporated the pattern in their European fashion shows!
Crocheters rejoice; the beloved pattern is making a comeback this spring and summer and we've got a few projects to match.
* Not a Lion Brand pattern
May 26th, 2015
Blogger and author Kathryn Vercillo is an expert in the area of using crafting to heal, having researched the topic extensively for her book Crochet Saved My Life. In this post she explores the benefits of having pets and other animals in our lives and how we can craft for them as a way to heal ourselves. Read Kathryn's previous blog posts on the Lion Brand Notebook here.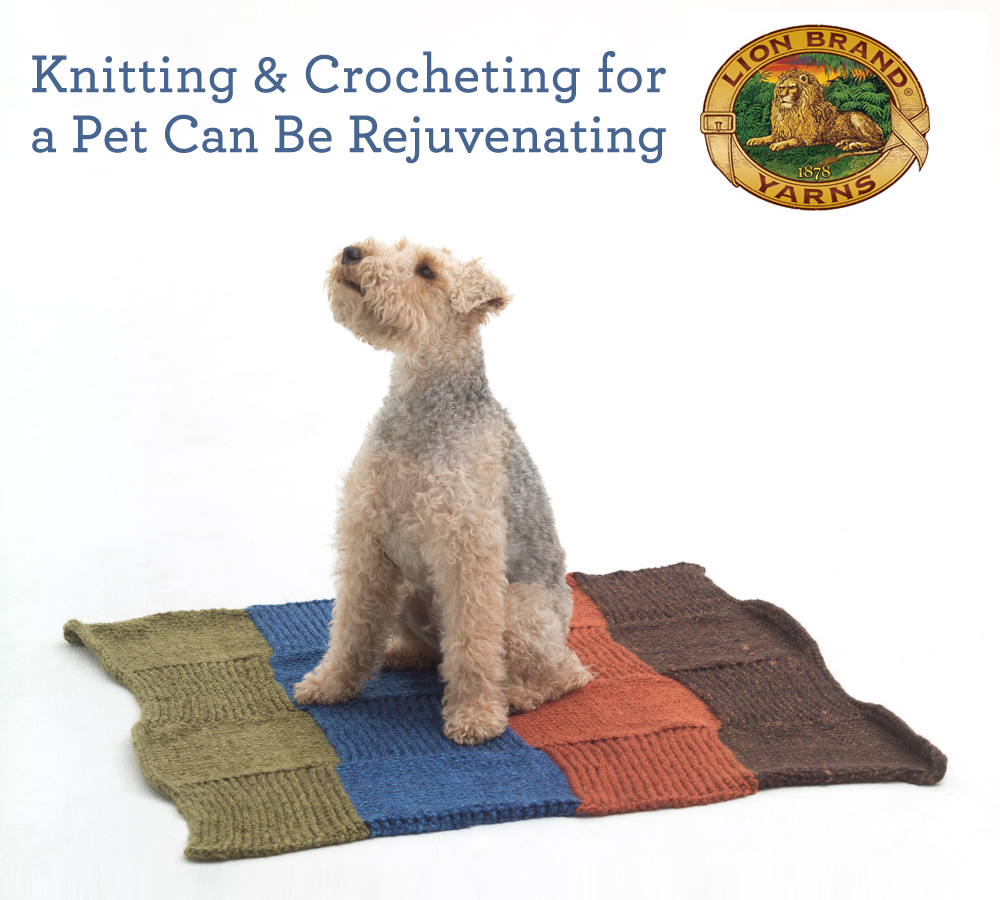 Pattern: Barkley Loves His BlanketEvery week I pick up a friend's Golden Retriever and together we volunteer through the SPCA doing animal-assisted emotional support therapy. We visit hospitals, schools, housing shelters, community organizations, transitional living residences … and no matter where we visit, the energy of the room changes as soon as the puppy walks through the door. People relax. People smile. People play.
One of the most underlooked ways that animals can help us is through our knitting and crochet. Whether or not you have a pet of your own, you can find ways to crochet for animals that help to benefit them as well as yourself.
1) Crafting for Pets That Are Ill
It can be so difficult on us when our pets get ill, especially with a chronic illness. Animals with long-term illnesses require a lot of care and support. People sometimes reduce their hours at work or change their social schedules for years at a time in order to accommodate the special needs of a sick animal. We do this because we love them but we shouldn't underestimate how stressful it can be for us.
Having a pet that is chronically ill can lead to the same kind of caregiver stress experienced by people who are taking care of elderly parents or special needs children. Knitting and crochet help to relieve depression in caregivers. Making items for your own pet in need can be a way that you give to them while sustaining yourself. It can feel especially healing to make something that will comfort the animal – a soft new pet bed, a cuddly new pet toy – because it really feels like the time that you're taking for yourself is also giving to the animal.
May 25th, 2015
What better way to celebrate a new addition to the family than a gift made with love? Blankets and hats remain popular projects to make and give, but we like to think of all the essentials new parents may need.
Gifting a car seat? Make a canopy to match!
Crocheting an afghan? Consider a matching lovey for the baby to play with.
Bath wraps and washcloths make for a smart addition to a gift set of baby washes and lotions.
The possibilities are endless! Here are our picks for gifts to give to expectant mothers at their baby showers:
* Not a Lion Brand Pattern
May 23rd, 2015
Everyone's going "bananas" over Lion Brand Yarn Studio's newest window display! Chock-full of knit and crochet fruits and vegetables, the Farmer's Market-themed display features pineapples, apples, eggplants, cauliflower, corn, sunflowers and more!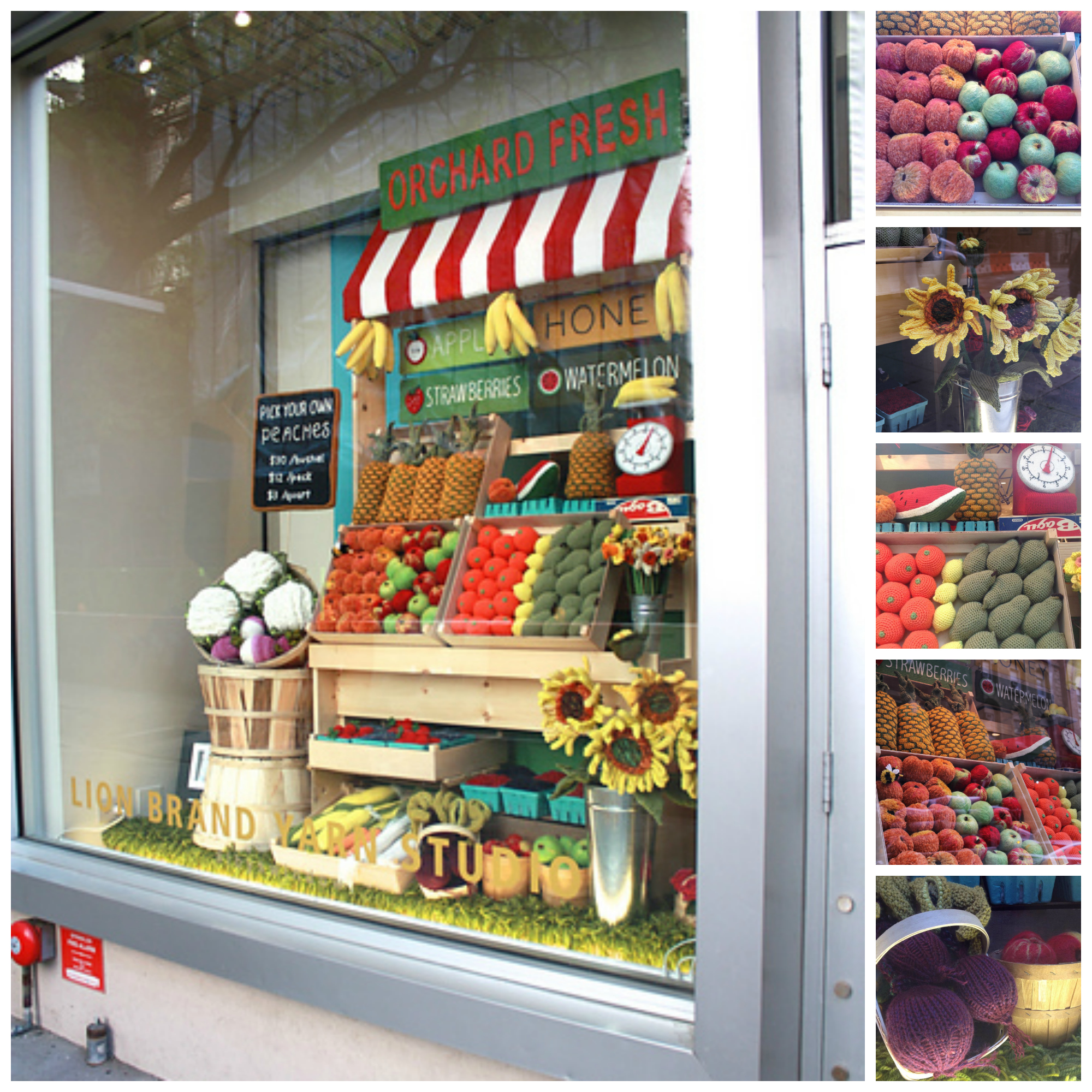 You can read all about it over at the Lion Brand Yarn Studio, "Our New Window is Orchard Fresh!"
Inspired by this tasty treat, we collected our favorite food-inspired knits – make a few for your market basket!
* Not a Lion Brand Pattern
May 22nd, 2015
If you knit and crochet, you are likely to want to do it all year.  That sense of satisfaction that comes from accomplishing something with your hands would be missed if you give it up when the warm weather comes.  And, what would you do if you didn't have knitting or crocheting to de-stress for months at a time?
I've searched through our selection of patterns to find a variety of summer totes that will keep your hands busy and your nerves calm while you travel or just relax on the porch or the beach this summer.  They are all made with lighter weight yarns and can be finished quickly and given as gifts (or to yourself!)
These market bags and totes can be stuffed in a suitcase and used as a bag to carry your souvenirs and gifts after a trip,  or you can take these sturdy bags to the grocery store and use them instead of disposable bags.  They are lightweight and casual, so they'll work with the relaxed style we all enjoy in the summer. Whether you take them to the beach, the store, or on a trip, you'll find the perfect tote for every occasion.
* Not a Lion Brand Pattern