December 12th, 2013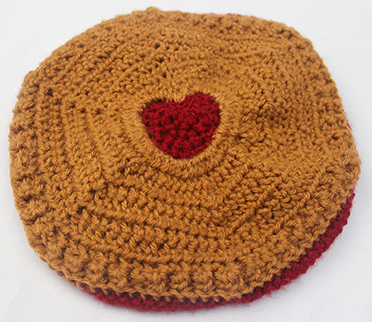 A lot of my projects often are related to food because I'm inspired by a concept I like to call "good enough to eat."  I've made berets that look like strawberries and pancakes and recently I crocheted a beret that looks like a "Jammie Dodger," a jam -filled sandwich cookie.
December 11th, 2013
(It's going to take a moment to get to the yarn content today. Stick with me.)
It's football season. I need not have to tell you this if you live in the United States. It is impossible to live in the United States during football season and not know it is football season.
I don't especially care that it is football season.
My father, a native Pennsylvanian, rooted for the Steelers in a laconic and slapdash way; but we never gathered around the television to cheer. He believed that spectator sports were a waste of a healthy body. If you could run and jump and throw, you didn't watch other people do it, you did it yourself.
My partner Tom shares my lack of interest. It's one thing that brought us together. Here in the Midwest it's difficult to socialize for half the year if you don't want to watch football. "Come on over! We're getting together to watch the game!" the neighbors will say. If you admit you'd rather not watch the game, they thereafter regard you as a person of suspicious character, telling their children to come indoors when they see you on the sidewalk.
Tom doesn't care about football but he does enjoy socializing.  So he often finds himself surrounded by jolly enthusiasts in colorful jerseys. Just this weekend, some of his friends, who had ties to Ohio State University, invited him to hang out at a sports bar during the game with the University of Michigan. Tom is a get-along guy, a real social chameleon.  He happily put on the bright red shirt and the necklace made of buckeyes and settled in for the duration.
The trouble was that, like me, he not only does not care about the sport–he doesn't understand it. We both know what a "touchdown" is: when the ball has made it to one end of the field and somebody does a funky little dance, his team gets points. Beyond that, we have no idea what's going on.
I could try to learn the rules, I suppose, but a brain has only so much capacity. I'm afraid that if I commit to memory what "first and ten" means, it will push a piece of vital knowledge out of my other ear and suddenly I'll forget how to do a Kitchener stitch.
December 10th, 2013
Here in NYC, the holiday spirit is definitely in the air! Windows have been lit and adorned with festive figurines, trees have been decorated, and the shoppers are out and about in the streets.
Today, I've got some patterns to help you spread your holiday cheer – from festive hats, to ornaments and stockings, there is plenty for you to choose from to get crafting for the holiday!
Festive Hats:
December 9th, 2013
We are excited to announce our partnership with Maggie Weldon of Maggie's Crochet! Maggie is a crochet expert who will be creating a series of tutorial videos for our customers!
How many times have you carefully counted your chain stitches when starting a crochet project to find that you've come up short or have extra? With the Chain-Less Foundation Row, also known as a Foundation Single Crochet, you'll never have to count chain stitches again! Watch the video below to learn this easy technique:
If you're reading this blog post in your email or an RSS reader, please click on the title to view the full blog post and video on our website.
December 8th, 2013
Last week I put up my Christmas tree, a tiny two-feet tall plastic tree that was the perfect size for a cozy apartment in New York City.   Since I started working at Lion Brand a few months ago, I've been thinking about adding some handmade ornaments to reflect my love of yarn and crochet.
When one of our readers had mentioned she had used baby booties as ornaments, it gave me the inspiration to crochet amigurumi!  They would be small enough to fit on my tree and could also fit in a shoe box once the holiday season was over. Cute and functional!
Here are some ideas for decorating your tree:
December 6th, 2013
For over 30 years working at Lion Brand as a traveling salesperson, it has been one of my greatest joys to witness the growth of the many crafting communities all over the United States. I have always felt immeasurably proud to be a part of a company that enables people to find happiness in each stitch and a sense of accomplishment in every final product.Recently, I was given the opportunity to speak at the Happily Hooked on Crocheting Club, the Connecticut Chapter of the Crochet Guild of America. This group started in 2001 as a bunch of crafters who wanted to get together and share their love for crochet. Now they have expanded to an organization "dedicated to preserving, promoting, and teaching crochet" within the Tri-State Area; it was like looking into Lion Brand's past.At the end of my talk, the president presented me with a personalized honorary membership, for all of the hard work, passion, and inspiration Lion Brand has helped give the crafters of today.
 
Irene and Ariel in a sweater she made.
Following the event, there was a "show and tell" parade of garments made by members who used Lion Brand yarn, ending in the biggest surprise of all: my longtime, good friend Irene Iannelli had brought her young daughter, Ariel, that day to model some of her own garments!
Nothing gives me more pleasure than seeing how our product has transformed itself into a handmade sweater thanks to an imaginative crafter. Seeing members of Happily Hooked on Crocheting Club enthusiastically welcome Lion Brand and myself into their community makes visiting knit and crochet guilds across the nation all the more worthwhile.
December 5th, 2013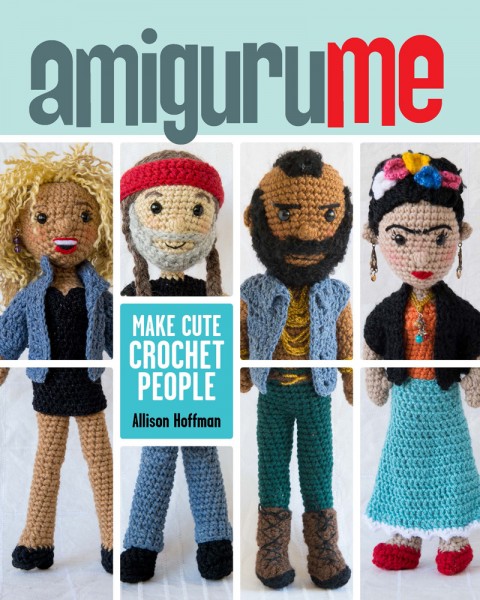 You can crochet animals, food, and practically anything you can think of as amigurumis, but have you ever thought of crocheting an amigurumi version of Mr. T or Bob Dylan?
We've teamed up with Lark Crafts and Allison Hoffman to bring you a great giveaway. AmiguruMe is all about taking amigurumi to the next level and creating mini-celebrities or even a mini version of yourself! The book goes through techniques on how to customize your doll from skin tone to facial shapes to the clothes so you'll have an amigurumi that is right for you.
One lucky winner will receive a copy of the book, as well as their own amigurumi of Frida Kahlo!
*Contest ends December 12th.
Related Links:
December 4th, 2013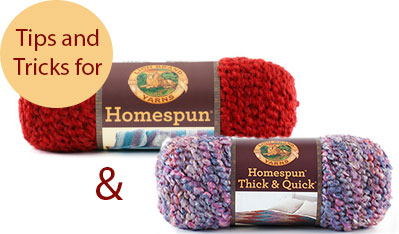 Homespun® and Homespun® Thick & Quick® have become two of our most popular yarns because of their softness, colorways, and versatility. Whether it is the unique painterly shades or the bouclé texture, people are just drawn to it. Before trying out a new yarn it's always good to know the best ways to use it in order to create amazing projects. Here are some things that we at Lion Brand think you should know when it comes to handling this plush yarn
December 2nd, 2013
We're celebrating Cyber Monday with 40% off the Martha Stewart Crafts™ Knit & Weave Loom Kit — so it's the perfect time to try this versatile tool!
With over 30 different configurations, the kit is compact and easy to transport. It's so adaptable that different members of your family can all be using it at the same time. While you're knitting a hat, your son or daughter could be weaving a dishcloth! Learn more about this kit by watching the video below:
December 1st, 2013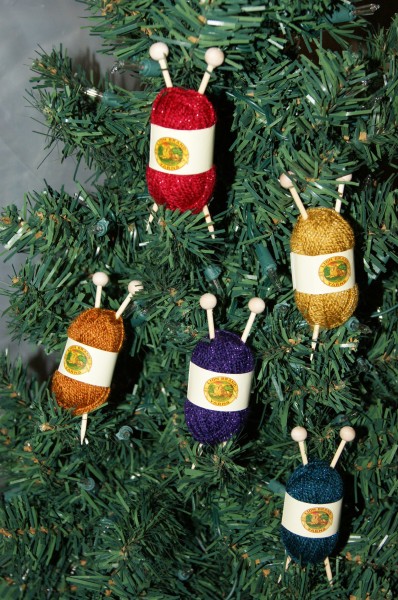 With less than a month to go until Christmas, it's fun to make quick and easy little projects to add a festive touch to your home. Friend of Lion Brand, Chris Zimmerman, of the Midwest Fiber & Folk Art Festival sent us this photo of his great ornament idea from the last holiday season. Here's what he had to say about it: 
We were invited to bring an ornament to trade instead of a gift to trade with other attendees at the party.  The ornament was suppose to be related to something that was important in your life or related to you life in some way. Of course since my partner and I do so many things with fiber arts we automatically thought of something with yarn. Being only a day or so before the event there was no time to actually knit something so our thoughts were running into dead ends. While walking through Joann Fabrics I spotted the last few packages of Bonbons that they had. A little imagination  and what I came up with are seen in the pictures.
Enjoy!!
For more ornament ideas from LionBrand.com, click here.