April 23rd, 2014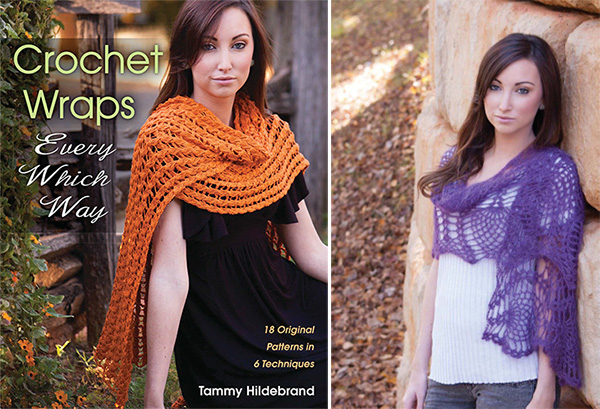 Some of my favorite garments to crochet are shawls, or wraps if you prefer to call them that, because of how easy they are to throw over your shoulders whenever there's a slight chill … and that's why I'm extremely excited to announce this great giveaway, courtesy of Stackpole Books and Tammy Hildebrand:
Crochet Wraps: Every Which Way by Tammy Hildebrand features 18 original designs for you to try for yourself or make a gift just in time for Mother's Day! We're selecting 3 lucky winners who will receive a copy of the book, as well as enough LB Collection® Silk Mohair to make the Purple Passion wrap, a pattern we've made available to our readers here.
Contest ends May 7th, so enter now and good luck!
April 21st, 2014
This column by Barbara Breiter, author of The Complete Idiot's Guide to Knitting & Crocheting, originally appeared in The Weekly Stitch newsletter.
You have a throw pattern with a beautiful stitch pattern, but you'd like to make it wider or narrower. Or perhaps you'd like to make it into a scarf. Maybe the converse is true…you'd like to change a scarf into a throw.
It's not as difficult as it may seem, even if you are a beginner!
There are two vital concepts that must be understood to accomplish this.
Calculating the Repeating Pattern
The first is the stitch multiple, or the number of stitches needed for one repeat of the stitch pattern. A multiple of 5 stitches means you can cast on any number of stitches that is divisible by 5 such as 25, 30, etc. A multiple of 6 + 1 means you need to cast on any number of stitches that is divisible by 6 plus 1 extra stitch; examples include 25, 37, etc.

Sometimes the pattern will tell you the multiple of stitches used which makes it much easier to make adjustments. If the information is not included, you will need to determine this yourself. You do this simply by adding up how many stitches are used.

Here's a stitch pattern called Twin Rib:

Row 1: *k3, p3; rep from *
Row 2: *k1, p1; rep from *

 Leaves of Grass Stitch
Row 1 uses 6 stitches (3 + 3) while Row 2 uses 2 stitches (1 + 1). The pattern is a multiple of 6 because that is the larger number and you need 6 stitches for Row 1 to work correctly. Since 6 is evenly divisible by 2, the 2 stitches in Row 2 are more frequently repeated.
Calculating Your Desired Gauge.
The second concept is gauge. You might hate working a gauge swatch, but it really is important. Work your swatch in the stitch pattern. Measure how many stitches you get over 4 inches. Now divide by 4 to determine stitches per inch.

The "magic formula" is stitches per inch x desired width=number of stitches to cast on.Keep in mind that given a certain set of parameters, the exact width you wish to make your project may not be possible without making further adjustments to, for example, your gauge by switching either yarn or needle size.

Let's say your gauge is 5 stitches per inch, you are using a stitch pattern that is a multiple of 12 and you wish to make a throw 33″ wide. 5 (sts per inch) x 33 (desired width)=165, so you would cast on 165 stitches. However, 165 is not evenly divisible by 12, so that won't work for your stitch multiple of 12. You'll need to choose the number closest to 165 evenly divisible by 12, which is 168.

Crochet Cable Stitch
Armed with that bit of knowledge, you can now easily adjust any throw or scarf pattern you have, even if it's not written at the size you really wanted!
–-
To sign up for the Weekly Stitch and get columns like this, free patterns, how-to videos and more, click here.
April 20th, 2014
Writer and avid knitter Selma Moss-Ward joins us for a series of blog posts about becoming a first-time grandmother and knitting toys. Click here to read her previous blog posts.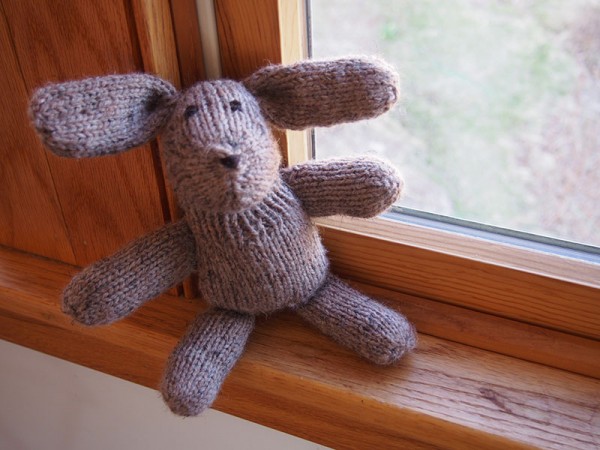 Maybe because I'm a serious sock knitter, I found this pattern irresistible. Sock construction from cuff to toe cleverly shapes Bouncy Bunny Sock Critter from his neck up. Equally clever is how his legs and body, which are knitted first, flow into the ribbed neckline.
I knitted Bouncy Bunny in a heathery Wool-Ease® color called "Mushroom." The naturalness of this shade is augmented by subtle black fibers, resembling guard hairs, spun into the yarn.
April 19th, 2014
We've teamed up with Todd Clark, creator of the ever-popular Lola series, to bring you "Out of the Loop," a regular one-panel comic that will feature humorous takes on the world of yarn-crafting.
Enjoy and please share widely!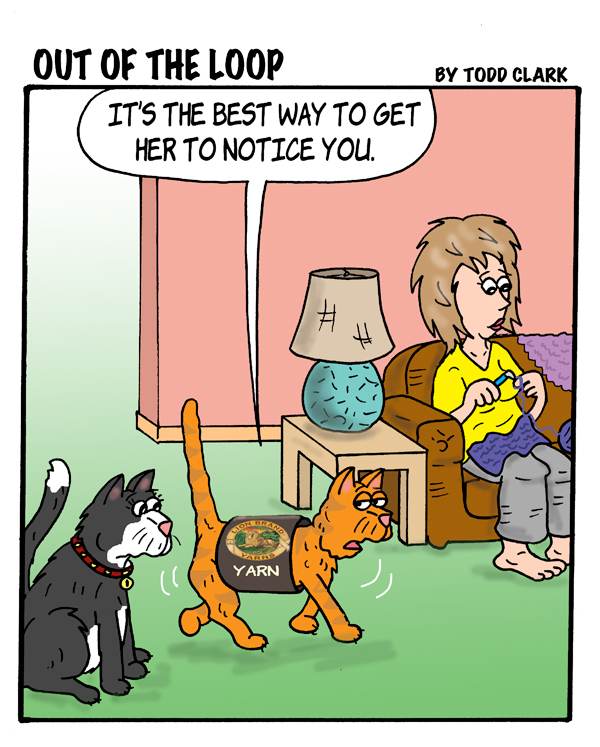 April 17th, 2014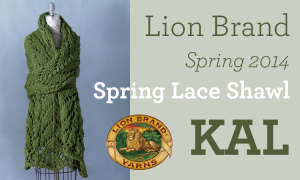 Welcome back everybody! I hope you all had a fun week of swatching and getting started. This week I want to focus on something that is inevitable with lace knitting and many of you may have already run into…mistakes. The most common mistake in lace knitting is missing a yarn over. It is such an easy mistake to make that even veteran lace knitters make it from time to time. How do you know if this has happened to you? If you get to the end of a row and don't have enough stitches to complete the pattern, you have missed a yarn over. Although it may be tempting to just add a stitch and move on this will throw off the whole look of the pattern. To fix it you'll have to get to the root of the problem. I'm going to give you a couple tricks to help find the offending missed yarn over and fix it.
The first thing you'll want to make sure of is that you don't go too far past the mistake. One good thing to do is to count your stitches at the end of each lace row. Being able to "read" your knitting is another helpful skill. This is like retracing your steps to find the spot where things went wrong. Just read through the pattern stitch by stitch and try to recognize those stitches in your row. The yarn overs are the easiest to recognize, just a big hole. If it says YO in the pattern and you don't see a hole, bingo! You have found it! This can be difficult to do so don't worry if you can't see it at first.
April 17th, 2014
Here is the latest installment of Lola, from its creator Todd Clark.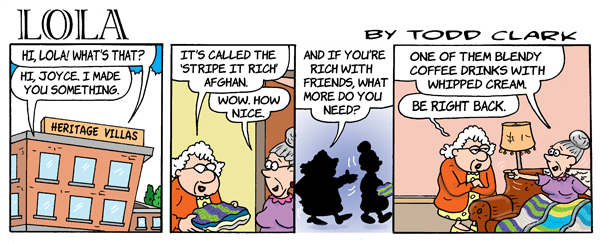 Want to crochet the Stripe it Rich afghan? Get the free pattern here.
Enjoy other installments of Lola here.
April 15th, 2014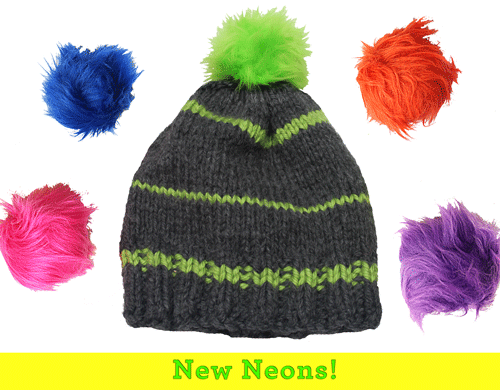 I love that our basic yarn lines such as Homespun,Vanna's Choice and Hometown USA come in such a wide variety of colors; sometimes it's hard to select colors for a new project!
Before the weather finally warmed up, I knew I wanted to work on a fun, color-pop project as I awaited spring's arrival, so I started knitting a hat in Hometown USA in Chicago Charcoal and Key Lime. I thought the green would pair nicely with The Pom in Limelight, and that the bright green would have a nice contrast with my base color, gray. My hat is now finished, and I absolutely love it.
After I made my hat, I saw that we were adding new striping colorways of Hometown USA that already pairs the neon and grey for you, and I was so excited. I think the bright intensity of neon colors always pairs nicely with a darker, neutral color in the grey-to-black tone range. But, for a truly bright and summery feel, neons could also be paired with white. Below, I've rounded up our neon colors in Hometown USA, and have included a few neutral options to select from as well.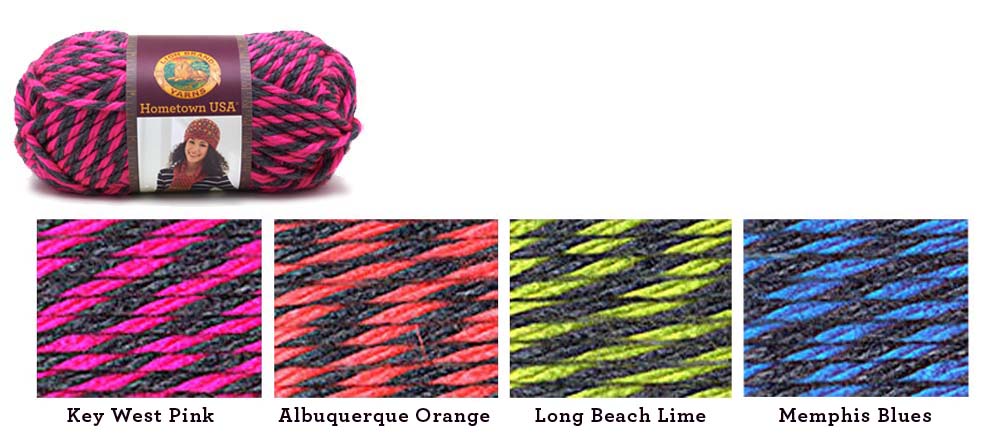 April 14th, 2014
This column by Barbara Breiter, author of The Complete Idiot's Guide to Knitting & Crocheting, originally appeared in The Weekly Stitch newsletter. 
Last week I went over how to read an afghan pattern. Today we're going to look at a sweater example.
Inez Cardigan
This pattern has a series of increases to shape the collar and decreases for the armholes and shoulders but it's not tricky to break down the number of stitches you should have. To make this example easier to follow, I've eliminated the multiple sizes in the pattern.
Shape Collar
Next Row (RS): K 6, inc 1 st in next st, place marker, sl 1, place marker, inc 1 st in next st, k to end of row – 43 sts.
Next Row: Purl.
Next Row: K to 1 st before first marker, inc 1 st in next st, sl marker, sl 1, sl marker, inc 1 st in next st, k to end of row – 45 sts.
Rep last 2 rows 21 more times
There are 2 increases each time the increase row is worked so 21×2=42
You had 45 stitches to begin; 42+45=87 stitches
The pattern continues: and AT THE SAME TIME, when piece measures 17 in. (43 cm) from beg, end with a RS row and shape armhole.
Shape Armhole
Bind off 7 sts at beg of next WS row. Work until armhole measures same as Back to shoulders, end with a RS row and shape shoulder.
You've eliminated 7 stitches.
87-7=80 stitches
Shape Shoulder
Bind off 6 sts at beg of next WS row and 6 at beg of following WS row – 68 sts.
You've eliminated 6 stitches 2 times.
80-12=68 stitches
Conclusion
Once you understand the pattern line by line, it will be easier for you to follow it and maintain the right stitch count. Stitch markers can be helpful when there are repeats, so that you can mark each section and keep track of them. If you determine that there is an error, you can send a note to the pattern's publisher so they can correct it in the future. By breaking down the pattern as we have above, you can also often determine what the correct stitch count will be so that you can continue working on your project.
Finally, if a pattern is frustrating you at the moment, take a break! Leave it and look at it with fresh eyes the next day. Often, when you come back to a pattern later on, it becomes obvious what the issue may have been.
–
To sign up for the Weekly Stitch and get columns like this, free patterns, how-to videos and more, click here.
*Editor's note: While we triple-check each pattern for errors here at Lion Brand, an occasional one may slip through. If that happens, you can contact us via LionBrand.com. When we issue a correction, we include a note at the top of the pattern (for people who may have previously printed out the pattern, but we also incorporate the changes into the body of the pattern for new people downloading the pattern so that you don't have to worry about the correction.
April 13th, 2014
With spring finally here, we're ready to start fun and colorful patterns like this Geometric Afghan made with Heartland, which was one of our most popular patterns in March. Today, we're featuring some of the top patterns from last month, and by the looks of it, it seems that many of you might be working on afghans.
In addition to seeing afghans, it's nice to see that people are still fond of the District 12 Cowl Wrap, and seeing the popularity of the Emily Bronte Topper inspires me to write the next "Great American Novel" while wrapped in Homespun® (wouldn't that be a cool story to tell).
Check out the rest below and start adding to your crafting wishlist!
April 11th, 2014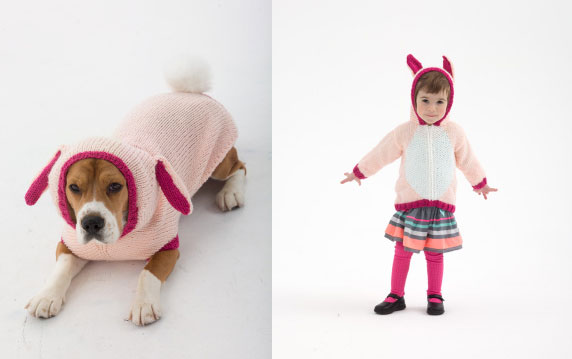 It's really adorable to see your child and their furry best friend get excited over anything and everything. Whether it's some fun at the park or a drive to Grandma's house – these two are an inseparable pair!
Celebrate their love and friendship with Lion Brand's knit Bunny Hoodie and Bunny Dog Costume this Easter!  They'll be the best-dressed couple at the annual Easter Egg hunt!