September 30th, 2014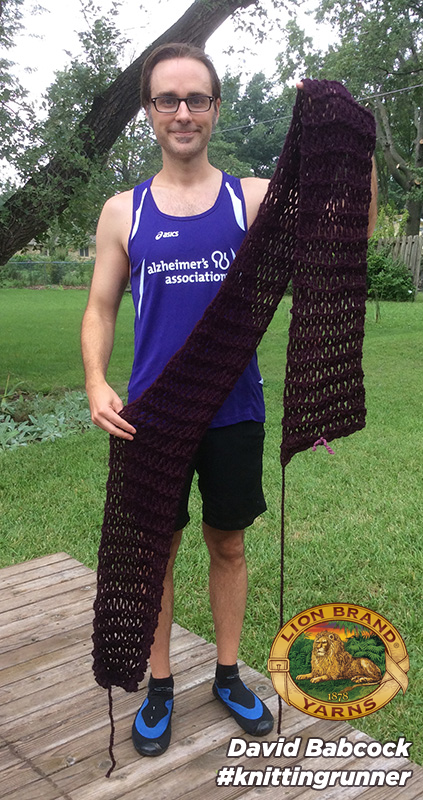 Featured in the New York Times and around the world, David Babcock is the Guinness World Record holder for knitting the longest scarf (12 feet!) while running a marathon, which he did in Kansas City last October. Coupled with a great deal of skill and endurance, David credits his choice in using Lion Brand's Hometown USA as a factor in his amazing accomplishment! Lion Brand is sponsoring David in the New York City Marathon on November 2nd, 2014 and lucky for us, he's agreed to write for us leading up to race day!
Greetings from the Knitting Runner. I have some knit-while-running scarves I want to give away, keep reading …
It's hard to believe that the fall marathons are nearly here — it's just starting to get cool enough that I'm thinking about knitting some new hats. I'll be running the Kansas City Half Marathon on October 18th and the New York City Full Marathon on November 2nd. And yes, I'll be knitting as I run! I'm deep into my training runs and testing my multi-tasking dexterity.
I've also joined the NYC Athletes To End Alzheimer's team and am actively fundraising – please donate!
So, about those scarves I mentioned …
I want to hear your stories about Alzheimer's and knitting. Are you a knitter or crocheter who has Alzheimer's? Do you care for someone with Alzheimer's and still find the time to knit or crochet? Please share your story in the comments below. If I have your stories in my head and heart as I run/knit, they will lend me more strength and purpose.
On October 30th, Lion Brand will randomly select five people who have shared stories to receive one of my scarves. At least once a week I knit a scarf while on the run and they're stacking up!
I really want to get connected with my Alzheimer's community. I know you're out there and that, like me, knitting (or crocheting) is something you do while doing other hard things too. I am cheering for you!
Sincerely,
David Babcock
knittingrunner.com
***
Since its creation in 2009, the Alzheimer's Association's NYC Marathon teams have raised well over $2 million. The Chapter offers free support and education to the more than half a million New York City residents who either have Alzheimer's or a related dementia or are caring for someone who does.
Photo: David with a recently-made scarf, finger-knit with Hometown USA while running 10 miles in 80 minutes on September 10th!
September 28th, 2014
This story is from our newsletter called Pattern Journal which brings a warm-hearted, wholesome story to your inbox to read every month. If you enjoy it and would like to subscribe, click here.
Once upon a time, fall was when everything happened. Zack and I delighted in returning to school, the glorious autumn foliage, Halloween and Thanksgiving. But years passed, and after college I worked in a series of generic offices. Day in and out, everything was the same. From windows on the fortieth floor, the world looked unreal. I felt disconnected, without a calling.
I missed my twin brother, too. Zack had moved to Seattle to design software. "I love my job, and the outdoor activities here — kayaking, biking, fishing, hiking. Come visit," he repeatedly urged.
A temp assignment ended, and I flew to Seattle for a long October weekend.
Naturally, I took my knitting — I can't imagine going anywhere without it. It was a cabled vest of the most luminous yarn, Heartland Thick & Quick®, in a shade called "Katmai," the color of pearls. "It's really great," Zack said, inspecting the cushy fabric. "Why a vest, Zoë?"
"I want a transitional piece," I said. "Something for between seasons, an extra layer to pop on when I'm chilly. Something to hug me when I'm feeling down." And I burst into tears, just like that. Apparently I was sadder than I knew.
Next thing, Zack was hugging me. He said, "Zoë, what's keeping you in Boston? You can temp anywhere. Seattle's great, and I'm here."
That was six years ago. I lived in Seattle for four years, temping and going to grad school. With my new degree in Forestry, I moved to Alaska for a career in natural resources management. I wear my Deep-V Cabled Vest year round — even in the summer you need extra layers. Warm and snuggly, it's more than clothing to me — it's like an omen that showed me my path. Because, as I later learned, its colorway honors Katmai National Park and Preserve, four million acres of pristine, awesomely beautiful Alaskan terrain.
—
All characters appearing in this work are fictitious. Any resemblance to real persons, living or dead, is purely coincidental.
A story by Selma Moss-Ward.
Selma Moss-Ward writes and knits in Rhode Island. You can find her work on our blog, as well as Lion Brand's monthly newsletter, Pattern Journal, which you can subscribe to here.
September 27th, 2014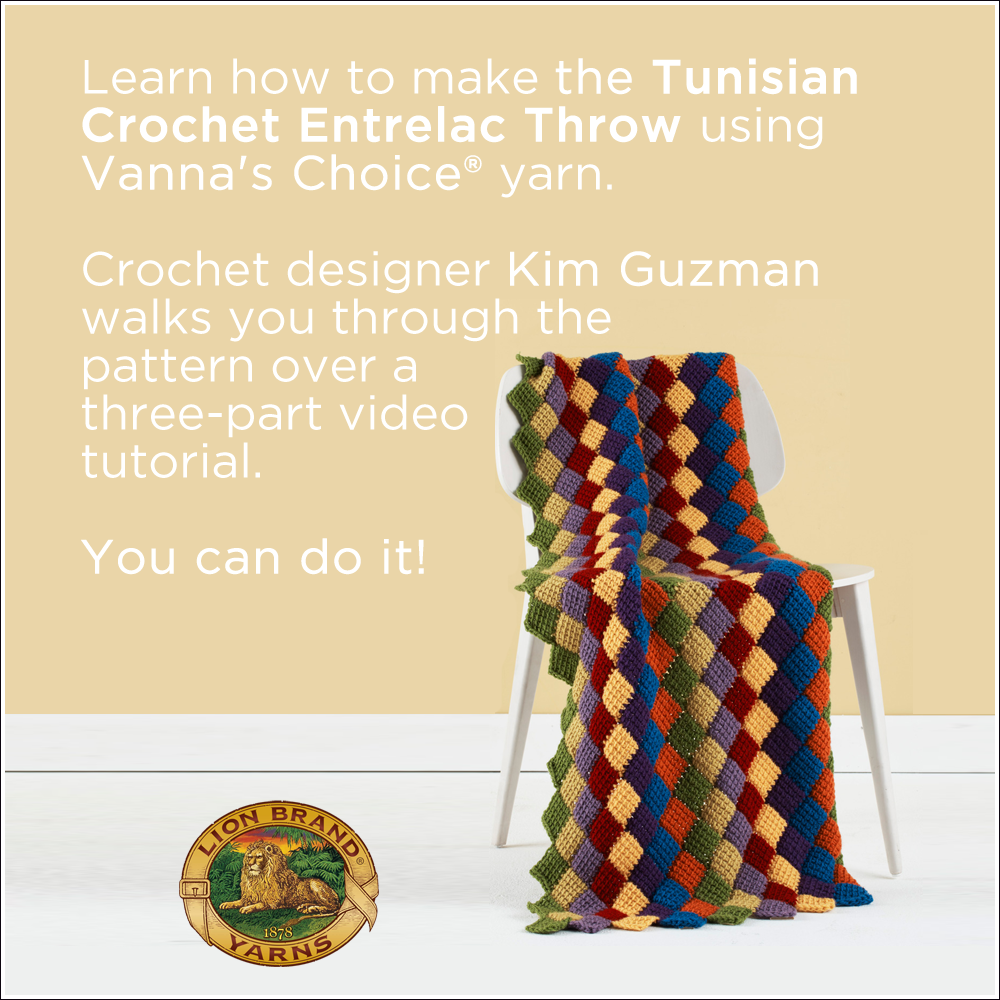 We're so happy we found Kim Guzman's three-part tutorial for the Tunisian Crochet Entrelac Throw. Considered to be an intermediate level three pattern, Kim's tutorial will guide you though this special technique.
Get the kit!
Get everything you need to make this afghan in one kit (in the colors seen in the photo to the right) OR we have an alternate version with different colorways available too.
***
Kim's easy tutorial is below in a three-part playlist.
Make a Tunisian Crochet Entrelac Throw with Kim Guzman
If you enjoyed Kim's tutorial and are interested in Tunisian crochet techniques, check out her YouTube channel for more tutorials .
September 26th, 2014
Writer, illustrator, and knitter Franklin Habit joins us for his monthly column featuring humor and insights into a yarncrafter's life.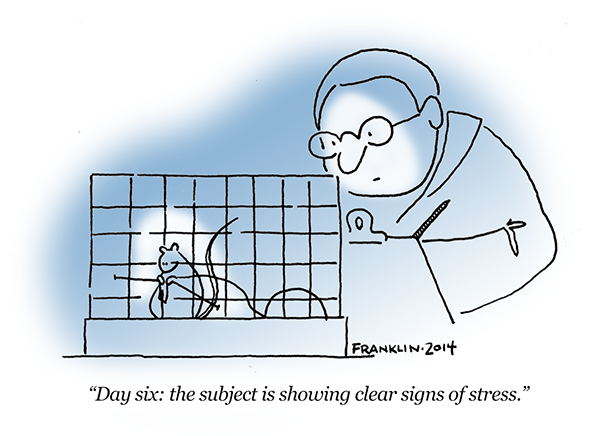 It is said in my family that my grandmother heard the government was planning to send a man to the moon and her entire response was, "Why? All they're going to find up there is an ash heap. We have one of those over by the railroad tracks."
Apollo 11 touched down and it was revealed that the surface of the moon does, in fact, look remarkably like the ash heap by the railroad tracks. She was gratified. As Armstrong talked about a giant leap, she talked right over him. "I told you so, " she said. "Didn't I tell you? I told you." Science had merely confirmed what she already knew.
After several generations of being thought quaint, weird, slow, backward, old-fashioned, and obsolete, knitters have reason to feel gratified. Science has confirmed what we already knew. Knitting isn't just quaint, weird, slow, useful, and beautiful. Knitting is good for your health.
When a rash of articles like this broke out in the mainstream press recently, non-knitters of my acquaintance choked my inbox with eager messages.
This specimen is typical.
Hey Franklin, have you seen this? I thought of you when I read it. I guess you are onto something after all. Maybe I should try it if it helps your brain, ha ha ha! Send me some yarn! Ha ha!
Laugh it up, friend. I told you so. Didn't I tell you? I told you.
One of my less jocular acquaintances didn't just send the link, he asked a question:
When you're knitting, can you feel it working?
I wrote back,
I can't speak for all knitters, of course; but for me the answer is yes.
And he wrote,
Okay, what does it feel like?
September 25th, 2014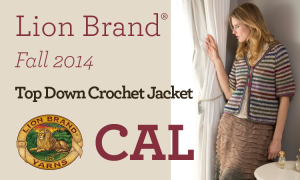 Welcome back! We're half way through the CAL this week, now that we've gotten our start and worked out the kinks it's time for the rows to start flying by. After working through the raglan, the body of the sweater follows suit. As you go you can try it on just as you did before and work to your desired length.
The next place where we will do something new is the sleeves. Here we will shift from working back and forth to working in the round. Here is a visual guide for starting the sleeve.
Read the rest of this entry »
September 24th, 2014
Halloween is a family affair – so include your dog! To make it easy to do, we've put together an adorable collection of matching costume sets for your child and your dog. Think of the photo opportunities!
Check out some of the fun pairings below:
September 23rd, 2014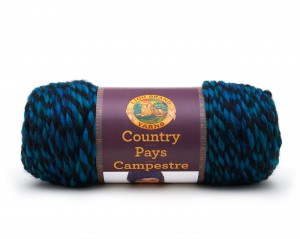 It's the first day of fall – a perfect day to introduce one of Lion Brand®'s newest super-bulky yarns, Country®! A classic 2-ply super bulky yarn, this silky roving combines a palette of painterly striping colors with contrasting solid black or off-white shades. The colorways are aptly named after iconic American symbols and landmarks: Adirondack Green, Lobster, Campfire, Hampton Sunset, New England Granite, and Nantucket, just to name a few.
This soft, lofty yarn has the look of a hearty wool, and is ideal for fast finish projects, afghans and chunky accessories. It's 100% premium acrylic with the touch and feel of real wool, making it a great alternative for people who are sensitive to natural fibers.
I love how this yarn's striping effect adds life and texture to projects. To see what I mean, take a look at the Side to Side Cardigan and the Tasseled Hooded Cowl below. Gorgeous!
Best of all,  Country® is made in America!
Below is a selection of my favorite patterns which use Country® . Click here for more patterns that use this hearty yarn.
In love with American-made yarns? Lion Brand has a large selection of yarns made in USA.
September 22nd, 2014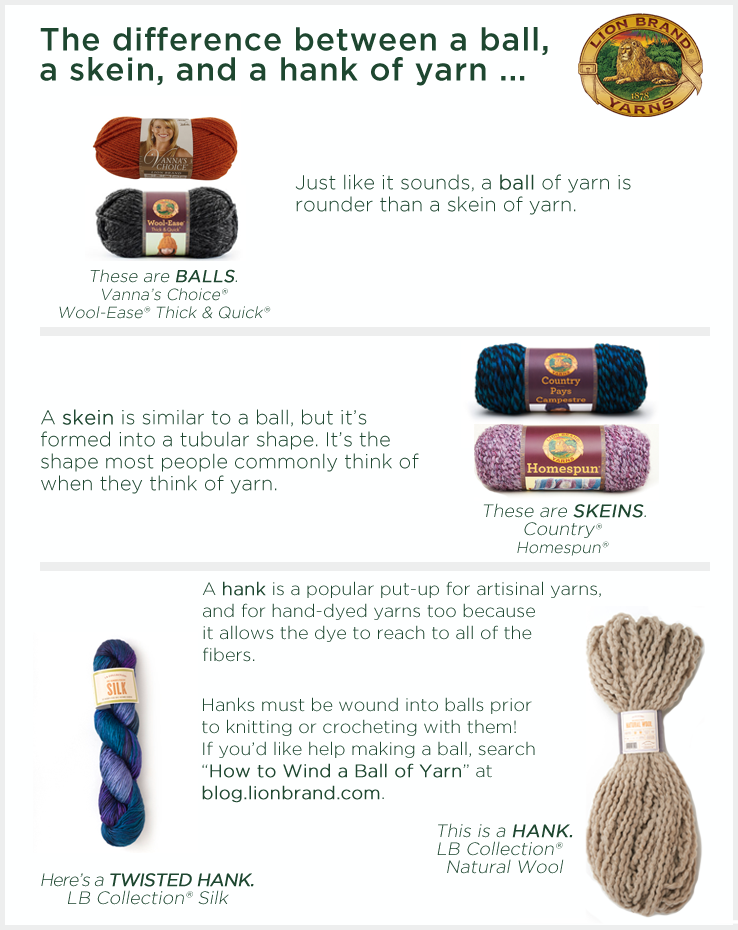 Some Further Reading Related to Balls, Skeins and Hanks
September 19th, 2014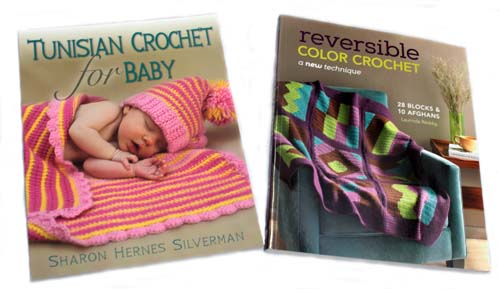 Today, we've got a wonderful double whammy of a giveaway for you: two books each, for two winners!
Thanks to our friends over at Stackpole books, we are able to give away copies of Sharon Silverman's newest release: Tunisian Crochet for Baby. This book is chock-full of adorable – yet modern designs, perfect for babies and toddlers. Take your Tunisian crochet to the next level with Sharon's wonderful patterns.
And – courtesy of the good folks over at Interweave/F+W , we are able to share copies of Laurinda Reddig's new book, Reversible Color Crochet: A New Technique. Laurinda's reversible intarsia technique earned her an award from the CGOA at the Knit & Crochet Show in 2012, and she continues to gain success along the way.
Both of these books feature awesome designs that are sure to be great additions to your pattern libraries! Read below for details on the giveaway.
Contest ends Friday October 3rd; only open to U.S residents
Rules and guidelines:
1. Entries must be received by October 3rd, 11:59p.m. EST
2. Must be 18 and over to enter.
3. One person per entry
*All winners will be announced on the blog and social media. If you do not respond to the e-mail indicating that you were selected as the winner within 7 days, another winner will be selected to receive the prize.
»Click here to enter« if the box below does not work for you.
September 19th, 2014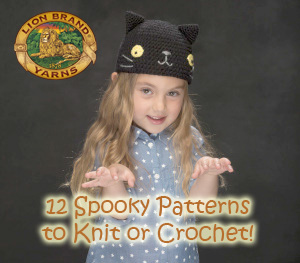 Our Design department has outdone themselves again. What I love about these patterns is that you can easily use them again and all year round – like the Meow Hat seen above, for instance. The Jolly Roger Poncho is perfect for "Talk like a Pirate Day" or a punk-style outfit. The Spooky Spider Afghan is a great gift for the kid who loves everything bug-related. I can easily imagine our Ghoulish Treat bag (we have a ghost version too!) hanging on a bedroom doorknob to scare away "unwanted" visitors once Trick or Treating is over. And you can leave the Autumns Leaves Wreath hanging on your door right up until the first snowfall!
I've selected some of my favorites below: