December 21st, 2014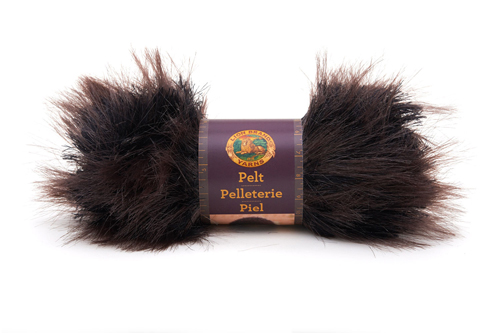 Pelt is our newest faux fur yarn and it's made in natural and dyed shades – great for fashion-forward accessories and garments.  For people who love our Fun Fur®, but prefer a yarn that is a bit more glamorous, Pelt is the yarn for you!
It's the perfect yarn to use if you like the look and feel of real fur, but want to be eco-conscious. You can make textured projects like the Simple Hat, or you can use it as trim for items like the Color Pop Felted Crochet Stocking and the Bristol Bay Hat.
Below, I've put together a collection of our favorite patterns that use Pelt – enjoy!
For more patterns using Pelt click here.
December 20th, 2014
This article series was featured previously in our Weekly Stitch newsletter. The Weekly Stitch features new products, tips, and more, so if you enjoy this article and would like more content like it, subscribe!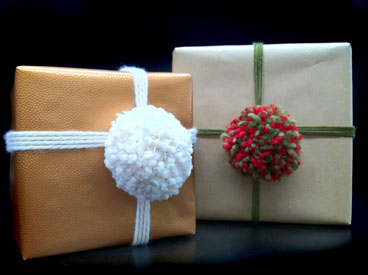 Make a big statement with a fluffy pom-pom! Make it one color for a classy look, or combine two colors for something bolder! Once the gift is unwrapped, the pom-pom can also be used as a luggage tag.
For this project, you will need yarn (for the gift on the left, we use Wool-Ease® Thick & Quick® in the color Fisherman, coupled with Vanna's Glamour® in the color Diamond; and for the gift on the right we use Alpine Wool in the colors Chili and Olive), along with a pom-pom maker.  For the tutorial below we used Wool-Ease® Thick & Quick® in Starlight.
To make your pom-pom follow the directions on the pom-pom maker package or see below on how to make one using cardboard.
Step 1


Take a rectangular piece of cardboard about 2″ X 4″ and use scissors to cut two, half-inch slits. Cut a piece of yarn to a desired length — I cut mine about a foot to wrap around my present — and secure the ends in the slits.
Read the rest of this entry »
December 19th, 2014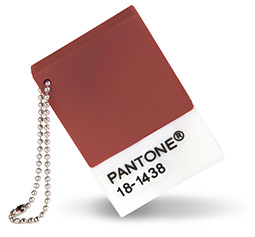 Pantone is a global color authority, located in Carlstadt, NJ (coincidentally, Carlstadt is also the home of Lion Brand's corporate offices). Many industries use Pantone's service to determine which colors to feature on their products – everything from housewares to fabrics.
How is the color of the year determined? The experts at Pantone immerse themselves in the culture, pulling together colors that organically seem to pop up everywhere. They find the common denominator and it is then identified as the most important color trend for the next year.  Pantone also considers how the meaning of the color relates to cultural events and the overall mood at the time.
The color for 2015 is Marsala, a rich, deep color that indicates stability. It's wonderful for fashion because it is flattering against many skin tones and appeals to both men and women. Spotted on the runways this past season, Marsala is an earthy, 70s throwback, basic, and a neutral color that makes an interesting alternative to black, grey and off-white. In a wardrobe, this color is considered a staple, and it's wonderful as an accent in the warmer months.
December 18th, 2014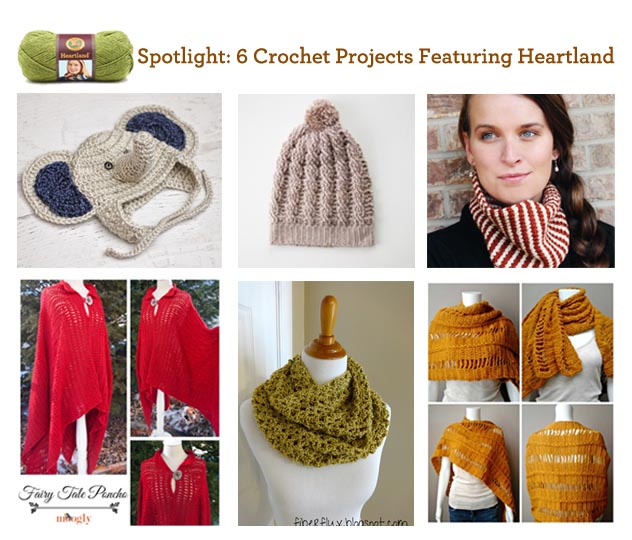 Today, I'm excited to share 6 awesome crochet patterns from some wonderfully talented bloggers and designers. Some of you may be familiar with the works of these bloggers already, and if not – be sure to browse through and check out each site; I'm sure you'll find something that piques your interest! All of the links below feature projects from crafters who made items with our yarn of the month, Heartland (which is now 20% off).
(Top left to right)
December 17th, 2014
The newest rendition of Annie comes out in theaters this Friday. Whether you grew up with the film or plan to see it for the first time – it's a great movie to inspire little girls to believe in themselves.
One of my favorite songs from Annie is "You Are Never Fully Dressed Without A Smile," so in honor of my favorite song, here are a 8 patterns to inspire you to knit or crochet for your favorite little girl.
December 16th, 2014
The Hobbit: The Battle of the Five Armies comes out tomorrow, December 17th, marking the last installment of a long-loved trilogy.  The Hobbit features magical creatures – elves, dwarfs, dragons, oh my! – stunning landscapes, and epic battles.
Will you join Bilbo, Dwalin, Balin, Kili, Fili, Dori, Nori, Ori, Oin, Gloin, Bifur, Bofur, Bombur, and Thorin (phew!) on the final leg of their journey as they battle Smaug for Middle Earth? If so, you may want to add a little something to your wardrobe to get in the mood …
If you're feeling inspired to take a trip to the Misty Mountains of Middle Earth, here are nine knit and crochet patterns for you!
December 15th, 2014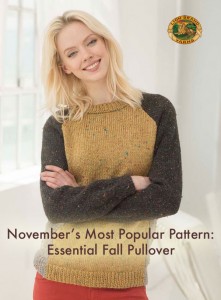 This past November, knitters and crocheters alike were deep in gift-making mode. Some of the most popular patterns focused on simple silhouettes like the Canyon Shrug and the Emily Bronte Topper. And whether it was a cat and mouse, reindeer or penguin, novelty mittens were also must-have addition to the project list.
It appears that colder weather was also on the minds of many – the Essential Fall Pullover, made with Heartland, took the lead as the most popular pattern to knit for November! Super-bulky yarns like Wool-Ease® Thick & Quick® and Homespun® Thick&Quick® were also popular, likely because they work up quickly and will bring you closer to finishing your gift list for friends and family faster.
Here is a collection of popular Lion Brand patterns that inspired crafters in the month of November:
Read the rest of this entry »
December 13th, 2014
No time to make a gift? We've got you covered! For a limited time, save 15% on select Bags, Books, Hooks, Needles, Kits and more! We'll throw in FREE SHIPPING too!* Order by December 15th, 1pm EST for Christmas delivery.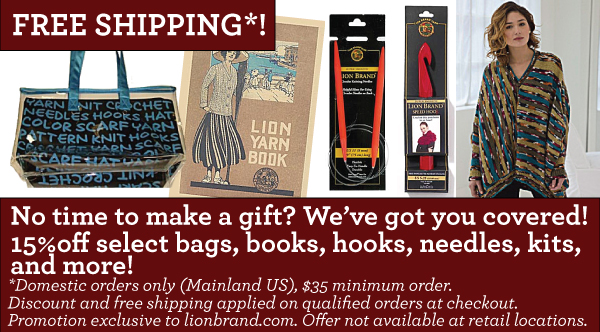 * Domestic orders only (Mainland US), $35 minimum order. Discount and free shipping applied on qualified orders at checkout. Promotion exclusive to lionbrand.com. Offers not available at retail locations.
For the full selection, visit lionbrand.com!
December 13th, 2014
Here is the latest installment of Lola, from its creator Todd Clark.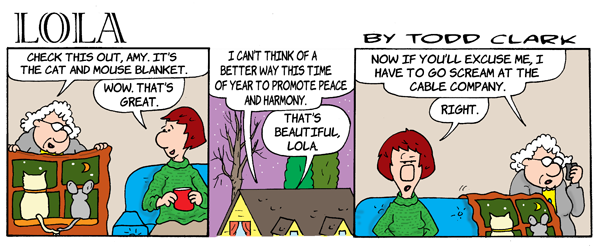 Visit lionbrand.com for more holiday patterns.
*** *** ***
Subscribe to The Weekly Stitch Newsletter
Get a FREE weekly email featuring patterns, articles and special offers. As a bonus for subscribing, we'd like to offer you 15% off your first order! *
:: Sign up now ::
December 12th, 2014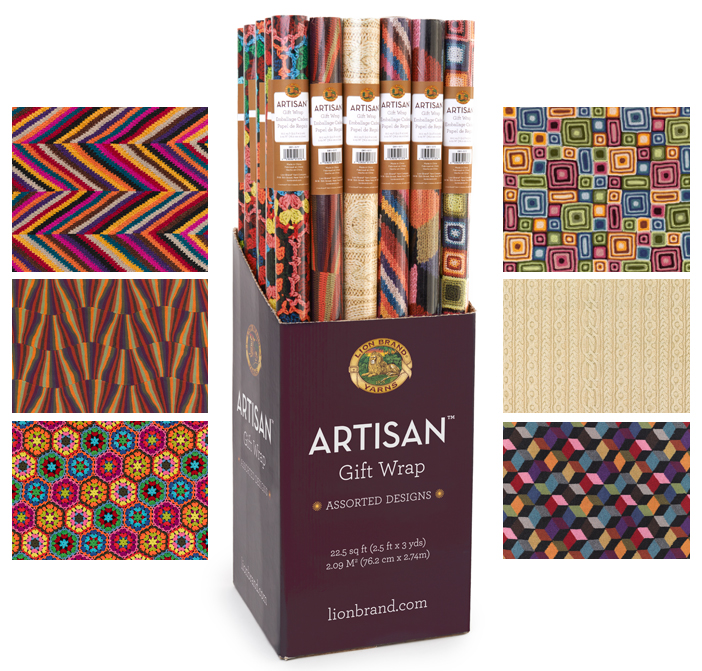 Don't you wish you could wrap all of your loved ones in gorgeous afghans and sweaters this holiday season? Well now you can … well at least their gifts anyways!
Some of Lion Brand's most beautiful patterns have been transformed into selections of bold and stately Artisan Gift Wrap. Designed from variety of knit and crochet projects — ranging from funky crocheted hexagons to a classic cream-colored cable — each wrapping paper design (there are six all together) is so gorgeously detailed, we think you'll have trouble tearing into your gifts! It's perfect for wrapping hand crafted gifts – or, it can be used on its own for wall art, scrapbooking and origami designs!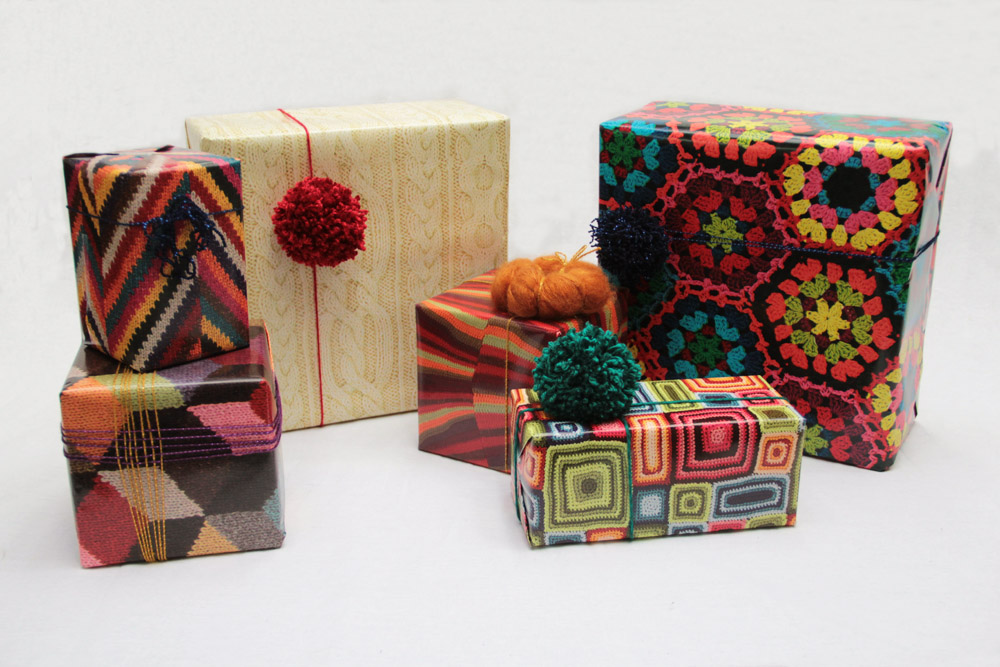 Each wrapping paper is based on one of our favorite patterns, featured below:
Lion Brand's new Aristan Gift Wrap is available in an assorted 6-pack or 36-pack.