August 30th, 2015
This summer I crossed off a major dream from my bucket list when I threw out the first pitch at a Major League Baseball game for the New York Mets at Citi Field.
For the last eight years I've been very involved with Stitch 'N' Pitch. The event is a wonderful opportunity for the knitting and crochet community to come together and share their passions — stitching and baseball. Each summer, crafters fill the stands and bring their current projects with them. It's magnificent to look out onto the manicured lawns of the playing field and around the stadium at the knitting and crochet enthusiasts enjoying their labor of love.
The New York Stitch 'N' Pitch group has orchestrated some very special events. One year, we yarn bombed Citi Field, and another we were added to the Guinness World Records for the most people crocheting at one time. In 2015, crafters were challenged to make squares with Lion Brand® yarn for Warm-Up America, a charity that I'm involved with which distributes handmade afghans to those in need.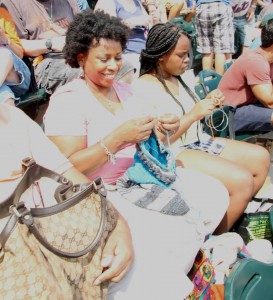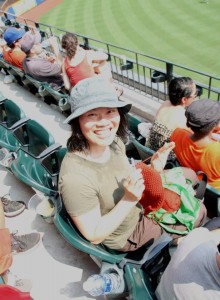 At the end of the day, a good time was had by all; Lion Brand associates and their families, crafters who came from far and wide, our friends at AC Moore, and all the many designers and others from the knitting and crocheting community. I can't wait till next year … but until then, LETS GO METS!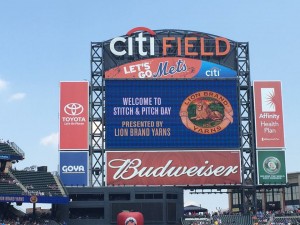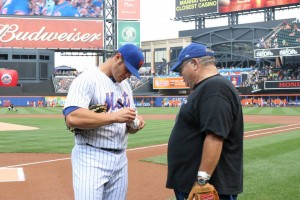 August 30th, 2015
Cables are a great way to take your knitting (and crochet) to the next level. Using a cable needle (or double pointed needle), stitches are worked to create an overlapping motif that adds a braided or rope-like element to your project. While you could add cables to just about everything you make, these patterns really shine on tops, afghans, and hats. Incorporating cables into your knits gives your projects a touch of elegance, and makes each piece unique.
Knitting cables is easier than it looks! Check out a few of our resources — we'll help you get started.:
We have 24 cables to choose from in our Stitchfinder. You can learn how to do them step by step, and be able to make them when your pattern calls for it!
Once you've got basic cable techniques down, try your hand at a new pattern! Below, a few of our favorite cabled projects.
August 29th, 2015
For beginners who are interested in weaving, a cardboard loom is a great way to learn and practice designs before deciding to invest in a sturdier loom – like the Cricket Loom or Martha Stewart CraftsTM Knit & Weave Loom Kit. This step by step tutorial will help you get started on your new journey into weaving!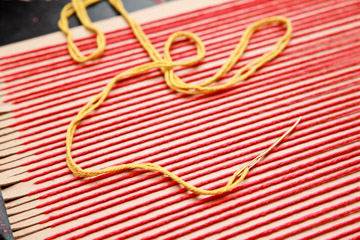 Materials
You will need a 14 X 20 in. (35.5 X 51cm) piece of cardboard, a ruler, a large-eye blunt needle, pencil scissors, and, of course, yarn.
The tutorial below is for a placemat made with Lion® Cotton, but we also recommend Bonbons, Vanna's Choice®, Cotton-Ease® for beginner weavers.
Making Your Loom
With the ruler and pencil, mark a line 1 in. (2.5 cm) from each short end of cardboard. Beginning 1/2 in. (1.5 cm) from one end of line, and ending 1/2 in. (1.5 cm) from opposite end of line, make 53 evenly spaced (about 1/4 in. (6 mm) apart) marks along length of line. Cut a slit in cardboard at each mark, down to the 1 in. (2.5 cm) border.
Step 1
We are showing you the over 2, under 2 weaving method.
Wrap loom with base yarn, placing one strand in each notch then around the back of the loom to the next notch. At last notch cut yarn, leaving a 6 in. (15 cm) tail. There should be 53 strands. Thread blunt needle with about 10 in. (25.5 cm) of working yarn.
Note: Use a length of working yarn that feels comfortable to you. The longer the yarn, the more chance for tangles! The shorter the yarn, the more ends you'll have to weave in!
Read the rest of this entry »
August 28th, 2015

Arranging a color palette for your project is easier than ever with new colors of Lion's Pride® Woolspun®! This wool-blend yarn is already a fan favorite for its softness and bounce — you'll love the new color additions.
We've added mixes and prints to the Lion's Pride® Woolspun® line — these skeins stitch up to create beautiful color work easily without the trouble of having to switch yarns. Create your own color palette, or choose from 6 color families to make coordinating sets!
Watch as our brand ambassador Shira introduces our new Color Made Easy program!:
:: Can't see the video above? Click here to watch – https://youtu.be/59upD_Td4Q0 ::
Find our latest patterns for this yarn below: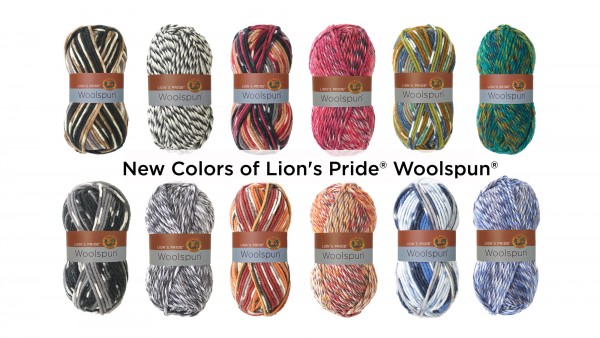 August 27th, 2015

With seasons changing soon, we're tempted to get started on scarves and hats — but it's not that chilly yet! Fall is a wonderful time to experiment with layers – try adding a vest over a button down, a poncho over a simple top, or knee high socks or legwarmers over tights. Accessories like these a great ways to try out new patterns and introduce a new style to your closet. You'll also be able to dress up existing outfits without having to buy a new seasonal wardrobe!
Vests and wraps are trendy alternatives to simple cardigans. They're versatile, pairing well with both billowy blouses and solid basics. Keep one on your office desk chair to layer on your work outfit!
We prefer ponchos over pullovers for walks in the park, cheering on the team from the sidelines, or just wearing as a statement piece. With their simple construction, they're a great project for beginners not yet ready to tackle on shaping sweater sleeves.
Use up the rest of the summer to get started on these fall knits!