December 18th, 2014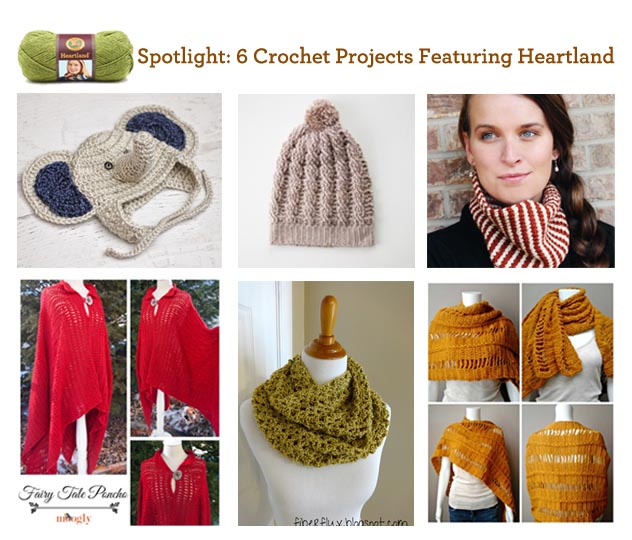 Today, I'm excited to share 6 awesome crochet patterns from some wonderfully talented bloggers and designers. Some of you may be familiar with the works of these bloggers already, and if not – be sure to browse through and check out each site; I'm sure you'll find something that piques your interest! All of the links below feature projects from crafters who made items with our yarn of the month, Heartland (which is now 20% off).
(Top left to right)
December 17th, 2014
The newest rendition of Annie comes out in theaters this Friday. Whether you grew up with the film or plan to see it for the first time – it's a great movie to inspire little girls to believe in themselves.
One of my favorite songs from Annie is "You Are Never Fully Dressed Without A Smile," so in honor of my favorite song, here are a 8 patterns to inspire you to knit or crochet for your favorite little girl.
December 16th, 2014
The Hobbit: The Battle of the Five Armies comes out tomorrow, December 17th, marking the last installment of a long-loved trilogy.  The Hobbit features magical creatures – elves, dwarfs, dragons, oh my! – stunning landscapes, and epic battles.
Will you join Bilbo, Dwalin, Balin, Kili, Fili, Dori, Nori, Ori, Oin, Gloin, Bifur, Bofur, Bombur, and Thorin (phew!) on the final leg of their journey as they battle Smaug for Middle Earth? If so, you may want to add a little something to your wardrobe to get in the mood …
If you're feeling inspired to take a trip to the Misty Mountains of Middle Earth, here are nine knit and crochet patterns for you!
December 15th, 2014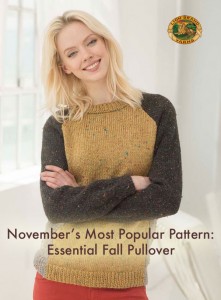 This past November, knitters and crocheters alike were deep in gift-making mode. Some of the most popular patterns focused on simple silhouettes like the Canyon Shrug and the Emily Bronte Topper. And whether it was a cat and mouse, reindeer or penguin, novelty mittens were also must-have addition to the project list.
It appears that colder weather was also on the minds of many – the Essential Fall Pullover, made with Heartland, took the lead as the most popular pattern to knit for November! Super-bulky yarns like Wool-Ease® Thick & Quick® and Homespun® Thick&Quick® were also popular, likely because they work up quickly and will bring you closer to finishing your gift list for friends and family faster.
Here is a collection of popular Lion Brand patterns that inspired crafters in the month of November:
Read the rest of this entry »
December 13th, 2014
No time to make a gift? We've got you covered! For a limited time, save 15% on select Bags, Books, Hooks, Needles, Kits and more! We'll throw in FREE SHIPPING too!* Order by December 15th, 1pm EST for Christmas delivery.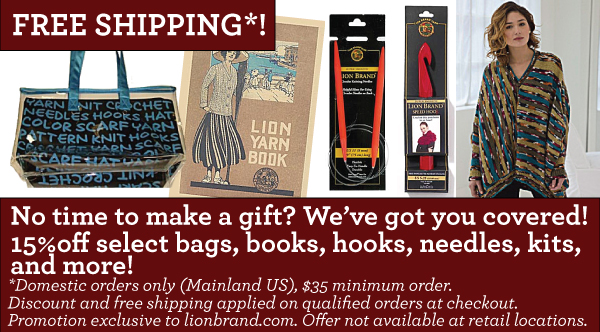 * Domestic orders only (Mainland US), $35 minimum order. Discount and free shipping applied on qualified orders at checkout. Promotion exclusive to lionbrand.com. Offers not available at retail locations.
For the full selection, visit lionbrand.com!
December 13th, 2014
Here is the latest installment of Lola, from its creator Todd Clark.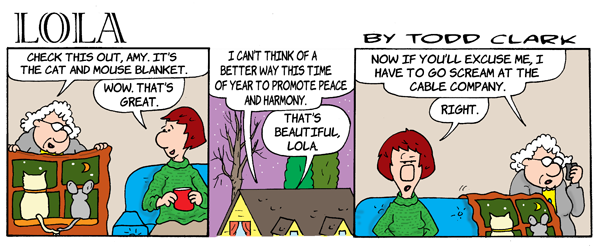 Visit lionbrand.com for more holiday patterns.
*** *** ***
Subscribe to The Weekly Stitch Newsletter
Get a FREE weekly email featuring patterns, articles and special offers. As a bonus for subscribing, we'd like to offer you 15% off your first order! *
:: Sign up now ::
December 12th, 2014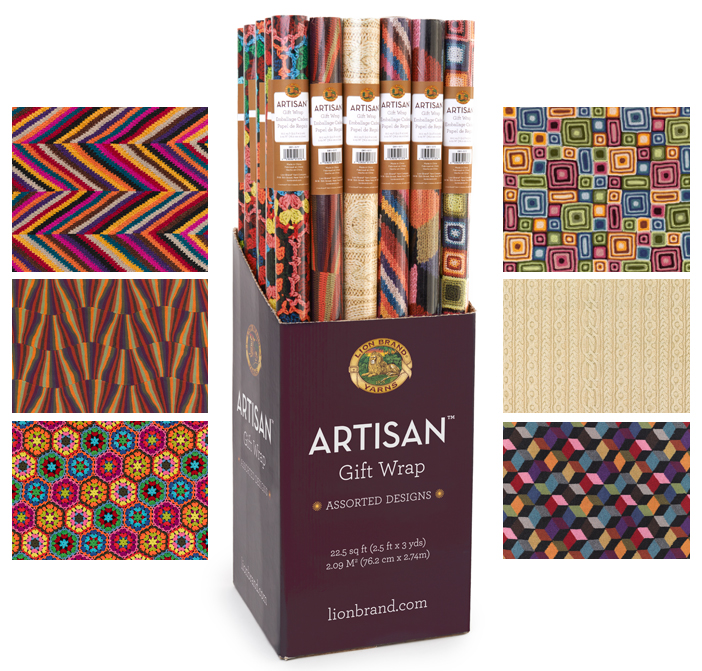 Don't you wish you could wrap all of your loved ones in gorgeous afghans and sweaters this holiday season? Well now you can … well at least their gifts anyways!
Some of Lion Brand's most beautiful patterns have been transformed into selections of bold and stately Artisan Gift Wrap. Designed from variety of knit and crochet projects — ranging from funky crocheted hexagons to a classic cream-colored cable — each wrapping paper design (there are six all together) is so gorgeously detailed, we think you'll have trouble tearing into your gifts! It's perfect for wrapping hand crafted gifts – or, it can be used on its own for wall art, scrapbooking and origami designs!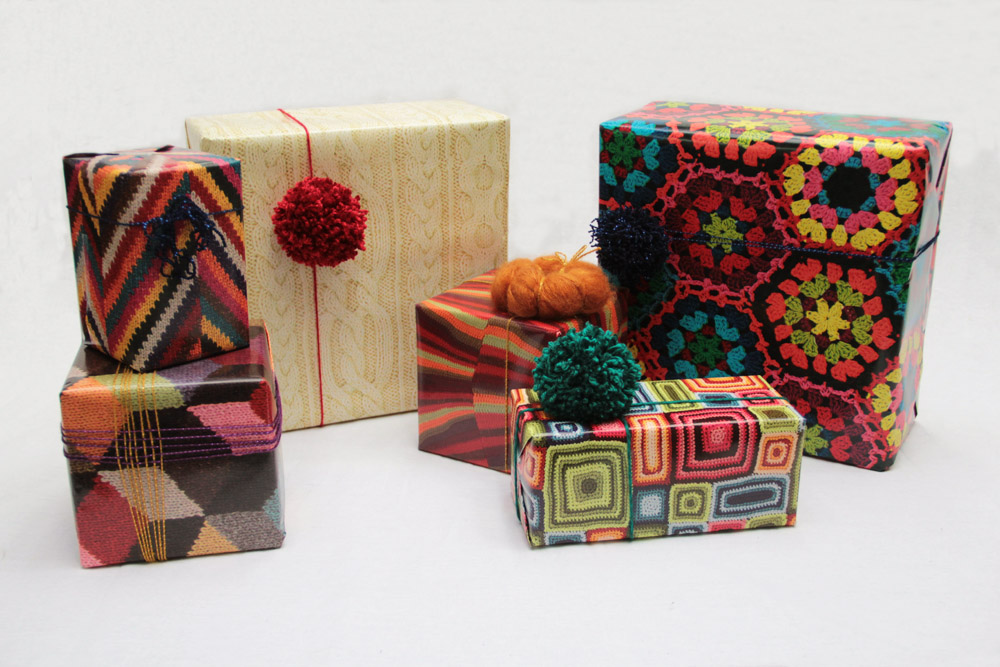 Each wrapping paper is based on one of our favorite patterns, featured below:
Lion Brand's new Aristan Gift Wrap is available in an assorted 6-pack or 36-pack.
December 11th, 2014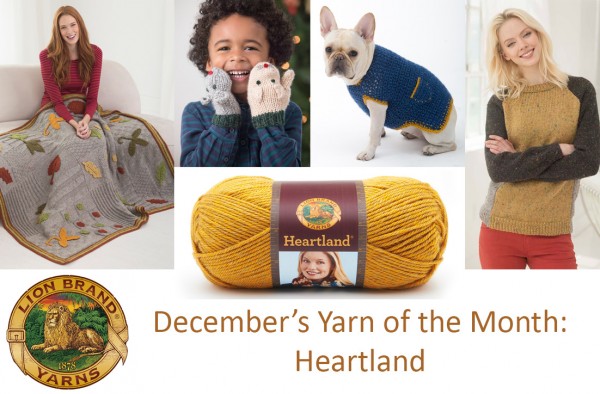 As you can probably tell by the name, Heartland is inspired by prominent American landmarks and landscapes — Kings Canyon, Mammoth Cave, Glacier Bay, and Shenandoah to name a few. Composed of deep heathered and even tweed shades, I often refer to them as jewel-like because of the yarn's vibrant colors. It is an easy-care yarn perfect for garments, afghans and accessories for kids and adults – best of all Heartland is made in the USA!
Even better, from now until the end of December, Heartland is 20% off!
There are many wonderful patterns that use this yarn — and many are just perfect for the holiday season.
Below you'll find a lookbook of our favorites. Want more? Visit lionbrand.com.
December 9th, 2014

#Scarfie = A selfie with a scarf
This great #scarfie project comes from Sarah, the creative mind behind the blog, Repeat Crafter Me. So cozy for this time of year, Sarah's Crochet Hooded Cowl works up fast with 3 balls of Wool-Ease Thick & Quick, and the toddler version only requires 2. This project is quite easy to crochet and assemble, and Sarah has even included some lovely pictures to help you visualize the process!
Make matching sets for you and your little one with Sarah's awesome patterns: Crochet Hooded Cowl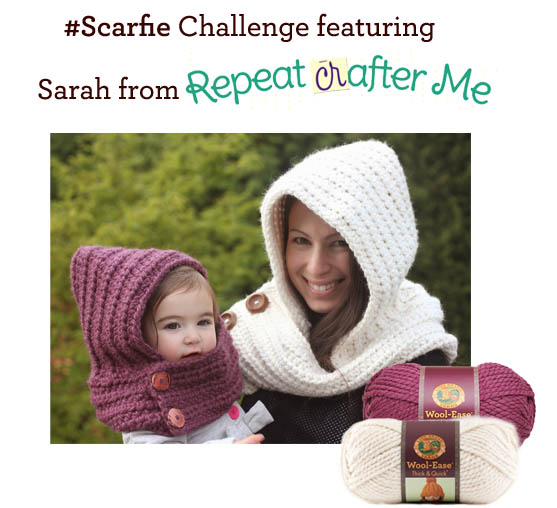 December 9th, 2014
Writer, illustrator, and knitter Franklin Habit joins us for his monthly column featuring humor and insights into a yarncrafter's life.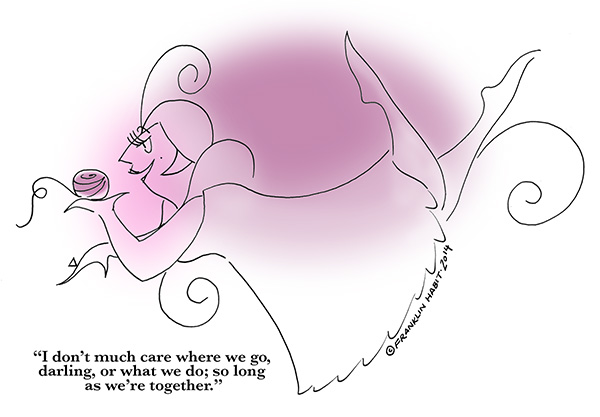 In my career I have reached the stage at which total strangers not infrequently write to me to ask for advice. My mother, to whom I am and will ever be The Little Boy Who Somehow Got Tomato Soup on the Kitchen Ceiling, finds this hilarious.
"Not cooking advice, Ma," I tell her. "Knitting advice."
"I know," says my mother. "But still."
Usually the questions are straightforward:
Q. Should I put lifelines in my lace shawl?
A. Yes.
Sometimes the questions raise an eyebrow:
Q. Do you have any tips on re-sizing a woman's sweater to fit a guinea pig?
A. You may omit the waist shaping.
Sometimes the questions raise two eyebrows:
Q. Have you ever blended male chest hair into handspun alpaca?
A. Not on purpose.
Questions like these are easily answered.
But then something landed in my inbox that brought me up short:
Q. I have been knitting for almost twenty years and I have always loved it. But lately I've lost the urge. I can't remember the last time I didn't have a project on the needles, and now suddenly nothing is exciting to me. I just don't feel like knitting. I went to the yarn store twice last week and didn't even touch anything. Please help. How can I get my mojo back?
Whoa.
Read the rest of this entry »