September 4th, 2015
Here is the latest installment of Lola, from its creator Todd Clark.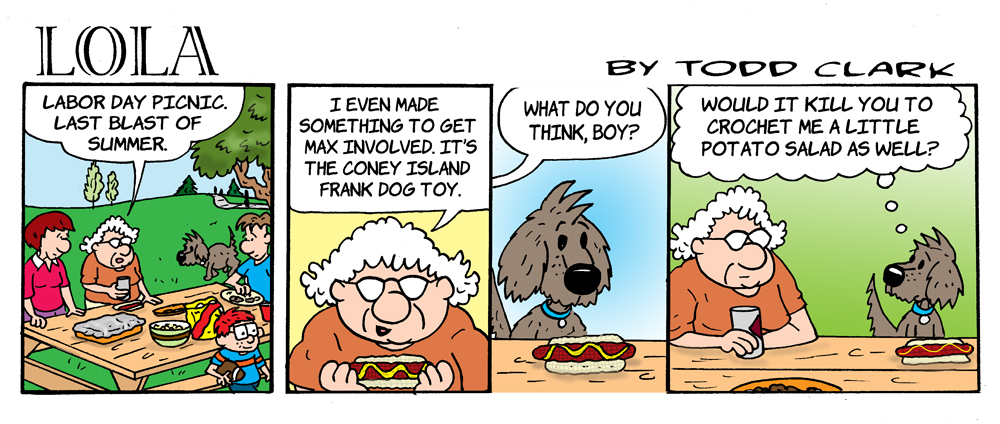 For more great pet patterns, visit PatternFinder.
*** *** ***
Subscribe to The Weekly Stitch Newsletter
Get a FREE weekly email featuring patterns, articles and special offers. As a bonus for subscribing, we'd like to offer you 15% off your first order! *
:: Sign up now ::
September 3rd, 2015
See it … make it!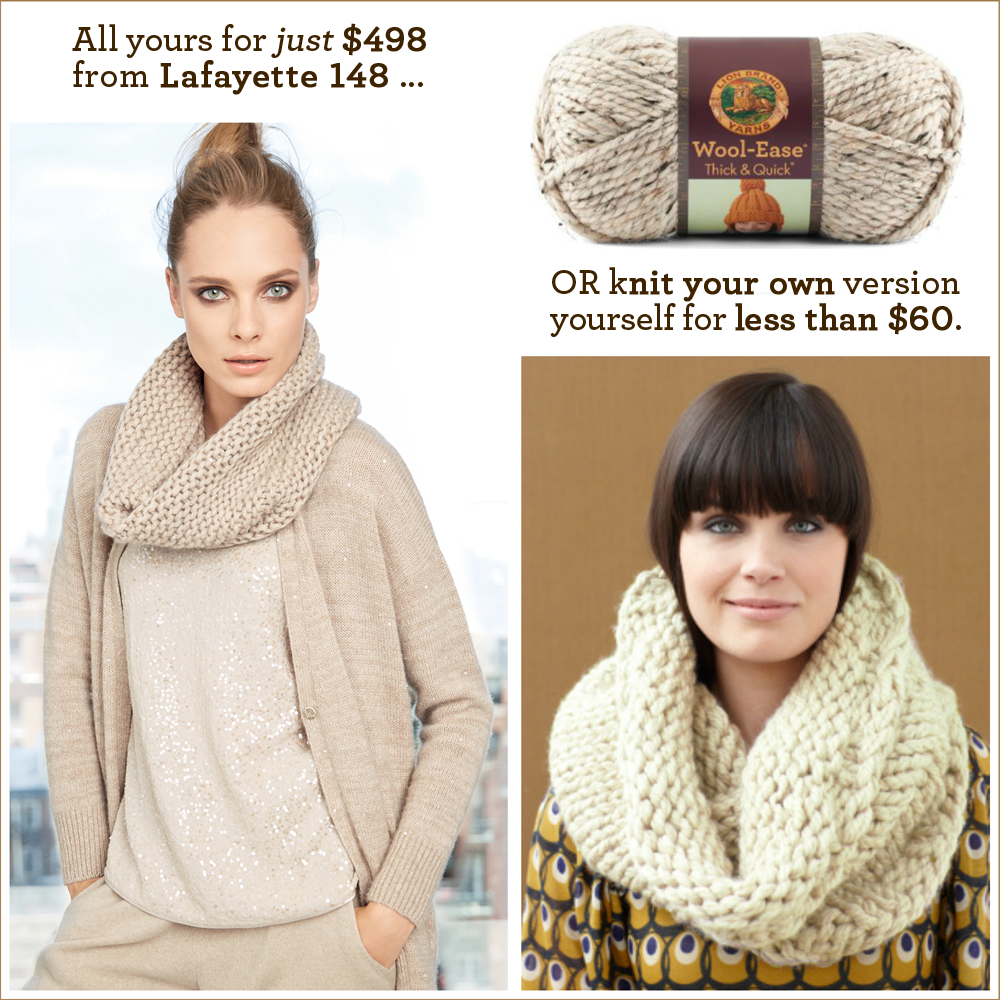 We spotted this Nuage Paillette Hand-Knit Tube Scarf in the latest Lafayette 148 catalog (on the left) and it's gorgeous … not to mention it immediately reminded us of the Dobbs Ferry Cowl (on the right) made in Wool-Ease® Thick & Quick®.
You can buy the pre-made cowl for $500 OR you can make one yourself for under $60 – which option will you choose for your wardrobe this fall?
September 3rd, 2015

With homework already being doled out, we bet your kids are daydreaming about what they'll be for Halloween. Some may have had the perfect costume idea concocted months ago, while others are still weighing their options. Robot? Zoo Animal? Rock Star? Whatever they may choose, we yarncrafters know that the sky's the limit when it comes to DIY costumes!
We also know that Halloween, always at the end of October, teetering into cooler November, can be a chilly holiday depending on where you live. Why not do double duty and make your child's Halloween costume something they can wear after the holiday? Have fun creating more elaborate hats that kids can dress up for trick-or-treating, then continue to wear as winter comes along.
Below, find a few of our favorite animal-themed hats to get the creative juices flowing. What kind of costume will you help design?
*Please note, this is not a Lion Brand pattern.
September 2nd, 2015

August saw the launch of two fantastic yarn collections! Lion's Pride® Woolspun® — the wool-blend yarn you love for its feel and ease — debuted 14 new colors! Our newest program, Color Made Easy, constructed new color families and made even the simplest projects look fashionable and unique. The Level-2 Easy Knit Cardigan was a favorite without a doubt. Available in 5 sizes, it's also rated as an Easy-level pattern. Beginner and expert knitters alike will love this project.
Also trending in August – Scarfie. It's the solution to the conundrum all yarncrafters face: how much yarn do I need for a pattern? We crunched the numbers and found the perfect yardage for this new yarn. One ball will make a full-length knit or crocheted scarf, but don't stop there… Garments like the Free Spirit Topper show off Scarfie's gorgeous ombre coloring and are perfect transitional pieces for your wardrobe. Available in 9 richly toned ombre colors, it's a perfect fit for fall.
Below, find some of August's top patterns; don't forget to use our Pattern Finder to find more!
September 1st, 2015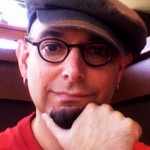 Writer, illustrator, and knitter Franklin Habit joins us for his monthly column featuring humor and insights into a yarncrafter's life.
I have learned from experience that the best way to respond when a stranger at a party asks me, "So, what do you do for a living?" is to start a small fire, then run away while everyone is distracted.
I teach knitting for a living. Most folks are not prepared to hear that an ostensibly grown man spends his days teaching knitting.  It smacks of frivolity. There is always an awkward pause, lasting anywhere from five seconds to an hour, during which we stand blinking until the follow-up question.
"What?"
It all, as Hannibal said from the top of the Alps, goes downhill from here.
Occasionally one of the guests turns hyperenthusiastic and begins spreading word of my vocation through the room. "Listen to this, Maude," he says. "Listen, this guy–you'll never believe it–this guy teaches people to knit. To knit!"
"What?" says Maude.
"To knit!"
"What?" says Maude.
He then, without setting down his gin and tonic, mimes "knitting" by wiggling his fists in proximity. It looks less like knitting than snapping the neck of a prairie dog, but never mind. Maude has caught on.
"Isn't that something!" says Maude. "Hester, listen to this!"