May 29th, 2016
Shawl in a Ball is not just for shawls! We've mixed this new yarn with Vanna's Choice® to make the amazing texture of the Licorice Cardigan. This cardigan is so on-trend! The boxy shape and black-on-black is looks great in the office or out for date night.
Check out this video featuring the Licorice Cardigan!
Having trouble viewing this video? Click here: https://youtu.be/GDlbO4s5ZbU
Get the pattern!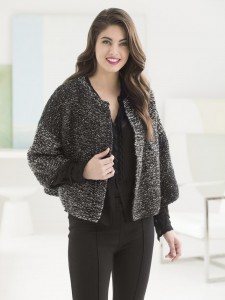 May 28th, 2016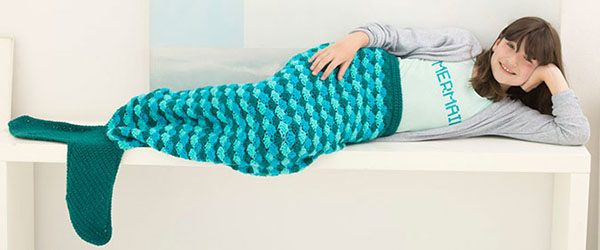 Just look at the world around you
Right here on the ocean floor
Such wonderful things surround you
What more is you looking for?
Do you know what's even hotter for summer than the rising temperatures? MERMAIDS! From under the sea inspired hair color to ocean home decor, nautical legends are the reason for the season. We couldn't be more thrilled our childhood memories of Disney adventures are swimming back to shore, and to celebrate these mythical tales we've created a mermaid tail for you! Check out our newest favorite: the Mermaid Tail Cocoon Crochet Kit made with the bright sea colors of Aqua, Aquamarine, & Peacock Vanna's Choice® and make one for your little mermaid today.
Want to make a complete mer-costume? Learn how to make a coral reef headpiece today!
May 28th, 2016
24/7 Cotton comes in 24 vivid colors. We combined five of them for the San Mateo Shell Top. This project not only shows off the lustrous hues but highlights the fantastic stitch definition of 24/7 Cotton.
You'll love wearing the San Mateo Shell Top out on the weekend with your favorite jeans or pairing it with a cute skirt for date night!
Check out this top in the video below!

Having trouble viewing this video? Click here: https://youtu.be/G4NHGtKaXAY
May 26th, 2016
I have grown up knitting my whole life. But a few years back I started to crochet, but get this, I was crocheting lefty! Yep lefty. I am a lefty. I knit righty, taught myself to crochet so obviously learned with my left but most recently I learned how to crochet righty! Which brings me to what's on my hook!
A very very dear friend of mine had a baby. For her first baby who is now two and half, I made him a beautiful knitted blanket- he doesn't sleep without it now! But for her second baby I wanted to challenge myself! I wanted to crochet righty (eek) a granny square blanket for her daughter. I decided to use a cotton yarn because they live in Florida, so I thought that 24/7 Cotton would work perfectly. It is a mercerized cotton so it's great for blankets and garments! Not to mention the 24 colors it comes in!
I spent a lot of time picking out the colors because they symbolize the bubbly personality of who her grandmother was. Unfortunately this beautiful baby girl never had the chance to meet her grandmother but I did. I know she would have loved to see her granddaughter wrapped up in this colorful blanket made with so much love!
Check out this video to learn more about my process!
Having trouble viewing this video? Click here: https://youtu.be/_JDRKkNjWtU
Feeling inspired? Here are three granny square afghans you'll love!
May 25th, 2016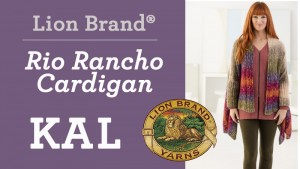 It's time to put together the Rio Rancho Cardigan!  I suggest laying out the finished pieces and making sure the pieces are the right size and length etc.  I found I did not need to block my pieces, as the nature of this yarn, along with the seed stitch, give the fabric a lot of flexibility.  My pieces also knit up uniformly.  If you find a certain section is a bit shorter or longer, it may be worth it to block before constructing.
When I finished my 5 pieces it took me a few tries to understand the construction, but once I did, it came together with ease.
I suggest pinning the pieces together. I like doing this before sewing just to make sure EVERYTHING is working.  Too many times I have started seaming, only to realize a big mistake that sometimes requires re-knitting something or pulling out all the ends I had woven in, etc.  Try it on, make sure everything is going to line up and look the way you pictured it!
Start with the shoulder seams.  These are the gradually sloped top portions of the two fronts and the back.  I started on the left shoulder.  Once I got to just before the center back, I left the tail of my seaming yarn and concentrated on the neckpiece.  I seamed it up quickly and then went back to my tail of yarn and continued along the back with the neckpiece and right on to the right shoulder seam.  I liked how this was one continuous seam.  It worked out great. You can sew the neckpiece up as a first step, I just happened to do it in this order.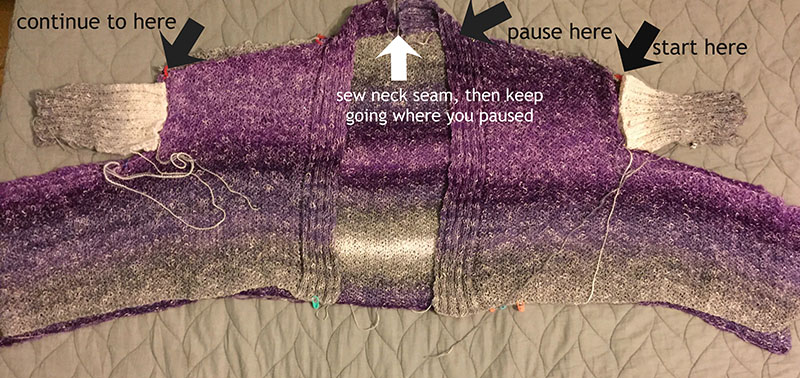 Next the sleeves!  Fold the sleeve in half, wrong sides together. Line up the center with the shoulder ends. It's easy to see because it is the seam you JUST sewed together!  Pin it there. I found the ribbed sleeves accordioned much more than the seed stitch sleeve holes.  As a result, I had to make sure I was spreading out the sleeve quite a bit as I was sewing it to the sleeve hole.  If you lack coordination in this area, I suggest properly pinning the entire sleeve INTO place. It may not reach all the way to that 90 degree angle created by the tails of the cardigan, but stretch it as much as you can.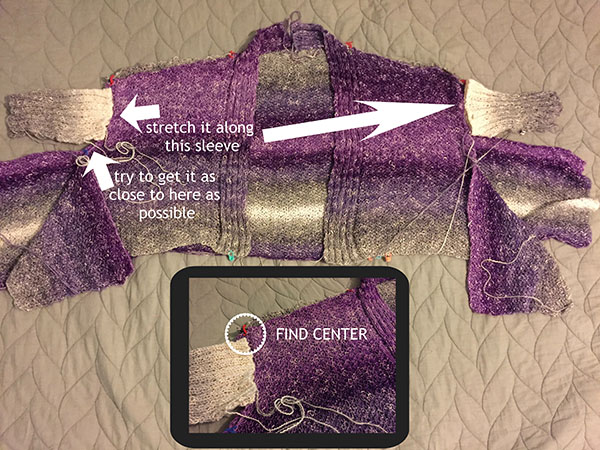 Once you finish sewing the sleeves to the sleeve openings, just sew the bottom edge of the sleeve together! Weave in ends and you are done!
It's THAT simple.
I used mattress stitch on all of my seams.  It creates the perfect ridge INSIDE the garment.  It makes it much less confusing to have to pin right sides together and inside out.  Using the mattress stitch helps because you can sew the garment in place, right-sides out, and know it is in the exact right spot.
Due to the nature of our seed stitch and ribbed stitches, it is NOT going to be as clean and simple as a traditional stockinette or garter stitch mattress seam-up.  The tricky part is our seed stitch is not being lined up vertically, but rather in a wonky horizontal way….but it's okay.  Look for bars within the work (like you would in a more traditional mattress stitch setting) and work with what you can find. If you are not successful with that, just make sure you are entering where you last came out as you switch between sides.  If you are new to mattress stitch—there are many tutorials on YouTube.  Click here for a tutorial on mattress stitch in a traditional seed stitch setting.
I hope you love your Rio Rancho Cardigan. I am slipping mine on every chance I get. It is the perfect spring into summer garment as it breathes and also provides that extra layer of warmth to take away the chill. I am wearing it on this cold, rainy morning as I type up our last post!  I can't believe it's over!  But let's remember each other as we wear our Rio Rancho Cardigan on those mild spring and summer mornings and evenings, deal?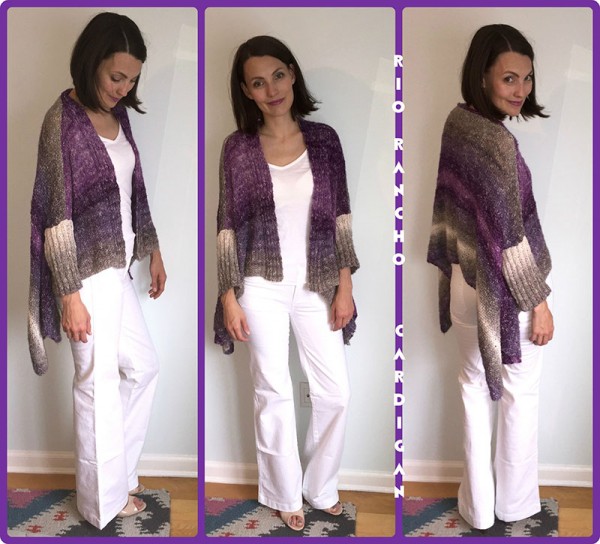 Never stop knitting!