About Ashley
What do you do at Lion Brand?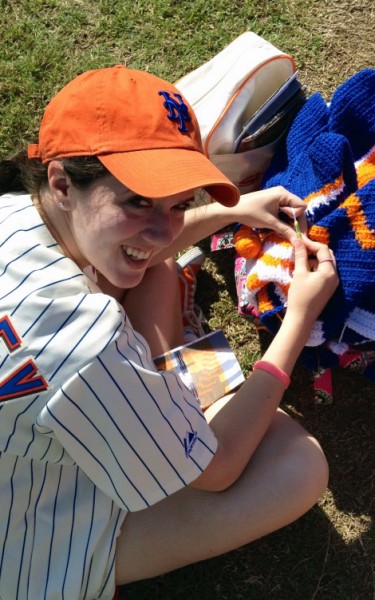 I'm one of the Media Marketing Coordinators. I work with the team to engage with the knitting and crochet communities on Facebook, Twitter, Pinterest, YouTube, and a growing list of new social media platforms every day! I'm also a trained writer, so I spend as much time as possible writing longer-form, like blog posts and marketing copy.
When did you start working at Lion Brand?
I started January 28, 2013, but I was born to be here.
What is your favorite thing about working at Lion Brand?
Playing with all the yarn is actually part of my job! (I know, I still don't believe it either!)
What do you do when you're not working?
I live in South Jersey, so when I'm not working, I'm commuting. When I get home at night, all I want to do is enjoy a nice home-cooked dinner with my boyfriend and play with our awesome little pup, Murphy. On weekends, you might find us at a Mets game, chasing Murphy around the dog park, or enjoying life at home on Long Beach Island.
What kind of yarn crafter are you? What do you like to make?
I'm an every-kind-of-crafter, but my first love has always been crochet. My grandma Sadie taught me when I was a very little girl, and I picked it up seriously around fourth grade. I learned to knit in high school while working at a local yarn shop, and my first knitting project after the sampler block was a cabled sweater, because I'm ambitious like that. The vast majority of my projects are baby blankets, because I consider it my duty to crochet a blanket for every new baby in the family, as my grandmother once did. In between baby blankets, I spend a lot of time crocheting doilies and a lot more time willing myself to finish an oversized Mets throw that was my boyfriend's Christmas present in 2010.