About Brandyce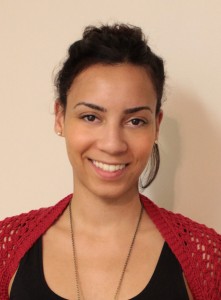 What do you do at Lion Brand?
I am the Marketing Communications Coordinator.  I assist the Marketing team by reaching out to different people in the (yarn) crafting industry about Lion Brand products and services, and I stay on top of current crafting trends.
When did you start working for Lion Brand?
I started working for Lion Brand in July 2011! It's been great experience so far, there's so much about this crafting industry to learn about.
What's your favorite thing about working for Lion Brand?
Definitely witnessing all of the interaction on our social media sites.  Lion Brand has some very loyal and dedicated fans; it's amazing to see how excited they get for our yarns and patterns.  I like that Lion Brand itself has created its own knit/crochet community–it's inspiring.
What do you do when you are not working?
I like finding new places to eat and hang out in the city that never sleeps.  I enjoy spending quiet time in parks throughout the city to read, which eventually leads to some rock climbing.  Every so often, I find myself in downtown Brooklyn or near the Hudson river to appreciate the breath taking views of the areas that surround us (and then I'll probably eat some Mexican afterwards).