About Zontee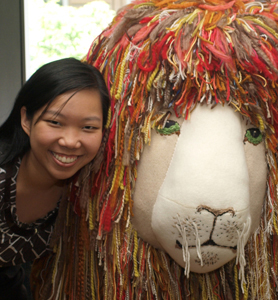 What do you do at Lion Brand?
I oversee content on LionBrand.com, our various newsletters including The Weekly Stitch e-newsletter, organize our participation in and sponsorship of events, and I write/co-host/produce the YarnCraft podcast. You can listen to me and my co-host every two weeks talk about knitting, crocheting, and more.
When did you start working at Lion Brand?
I joined Lion Brand in late spring of 2007.
What is your favorite thing about working at Lion Brand?
As any knitter, crocheter, or yarncrafter might expect, I love all of the yarn! It's nice to just be able to walk past a bin of yarn and run your fingers over the top. I also love the friendly, family-like atmosphere here. Everyone is down-to-earth and we really try to be helpful to each other.
What kind of knitter/crocheter are you? What do you like to make? Why do you knit and/or crochet?
I like little, portable projects, because living in New York, I ride a lot of subway trains and use that time for knitting and crocheting. I make a lot of gifts for other people, and am often offering to make hats, mittens, bags, and other things for my friends and family. I think I enjoy knitting and crocheting because I am such a multi-tasker. It allows me to do something productive in front of the television, or on the subway, or even while waiting in line at the cash register!