February 17th, 2014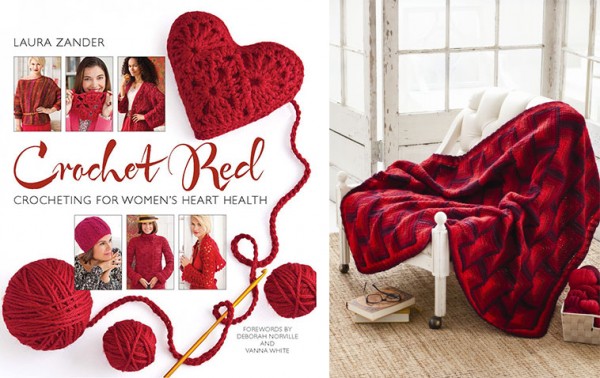 In recognition of American Heart Month, we've partnered up with Laura Zander and Sixth & Spring Books to bring you a very special giveaway.  Stitch Red is a book series created to raise awareness around heart disease and preventive heart health in general. A portion of each sale goes towards HeartTruth®, a public awareness program sponsored by the National Institutes of Health.  
Their most recent book, Crochet Red is full of beautiful crochet projects paired with heartwarming stories from prominent faces within the crochet world, including our beloved Vanna White.  
To celebrate Laura Zander's third book, we have two offerings: 1) we're sharing an exclusive pattern: the Mitered Brick Throw, and 2) we're giving you a chance to win a copy of the book and enough yarn to make the Mitered Brick Throw! We'll be picking three lucky winners on February 28th–enter now and good luck!
Updated 3/3/14: Congratulations to Elaine Harper, Shannon Sowalter, and Jan Bennett! We'll be contacting you shortly to get your prizes to you!
February 15th, 2014
Maggie Weldon is a crochet expert who loves to share her expertise with those wanting to master the art of crochet.
Make beautifully textured colorwork projects with this simple stitch! Maggie Weldon illustrates how to do front and back post double crochets, half double crochets, and single crochets. Watch the video below to learn these easy techniques:
If you're reading this blog post in your email or an RSS reader, please click on the title to view the full blog post and video on our website.
February 14th, 2014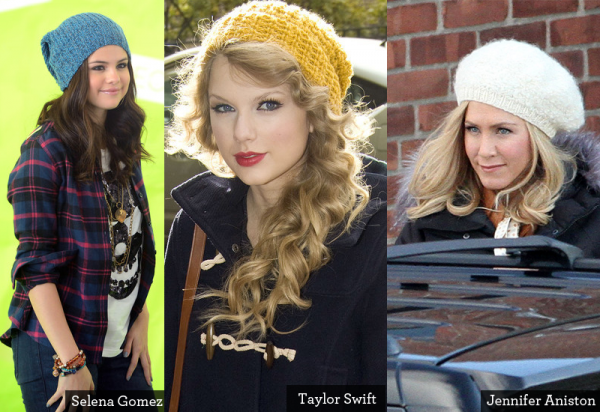 Hats are a more important fashion accessory than ever and the slouchy hat is the most popular style of all.  The slouchy hat is a beanie with an extra flap that hangs down in the back.  Some of the celebrities who have been photographed wearing this style include Selena Gomez, Taylor Swift, Jennifer Aniston, Sarah Jessica Parker, and Mary-Kate Olsen.  It's even popular with men, including Jake Gyllenhaal (who has been spotted in the Lion Brand Yarn Studio on 15th Street in New York City!)
For those of you who love to knit and crochet hats, the good news is that people are wearing them all year round, indoors and out. You can knit or crochet a slouchy hat with a seasonally appropriate yarn like Wool Ease® Thick & Quick® for winter or Cotton-Ease® for spring and summer.  Simply change up the colors and the patterns and you can have a new look every day.
Here are six of the most popular slouchy hats on our site to choose from.
February 13th, 2014
Next week we'll be leaving behind the NYC snow and cold to head to Santa Clara for the annual Stitches West show hosted by XRX, Inc – the company that produces Knitter's Magazine.  Lion Brand is a proud sponsor of Stitches West, and we'll be selling our newest yarns like Fettuccini, Keppi, Heartland and LB Collection Silk at 20% off!
Make sure you stop by booth 414 and check us out! Print out this coupon below for 50% off your marketplace admission.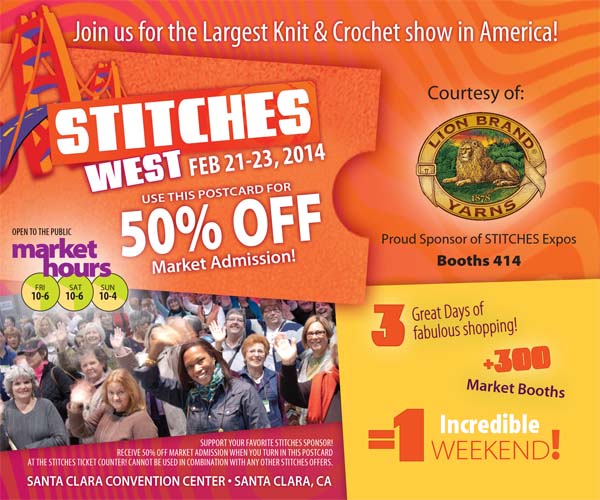 Will you be stopping by next week? What are some of your favorite shows to attend?
February 12th, 2014
When a non-knitter asks a questions about my knitting, that question is most often, "How long will it take you to finish that?" or the common variation, "How long would it take you to make me a [type of knitted thing]?"
So I explain that a hat may require several evenings, particularly if worked in a complicated technique or a fine yarn. I tell them the average number of stitches in a pair of socks (eight million) or a plain sweater (seven hundred trillion) and that completion of the latter may take months.
The gasps of astonishment are strong enough to suck the stitch markers right out of a raglan.
You will have noticed that we live in a world that idolizes instant gratification. What we want, we want now. (Did you scroll down to read the cartoon first? You did, didn't you?) Inevitably, the sight of a person voluntarily engaged in sustained concentration draws the sort of fascinated stares formerly reserved for lake monsters.
Not that I make any claims of superiority. During one of the first knitting classes I ever took, the redoubtable Galina Khmeleva held aloft a completed Orenburg lace shawl, roughly six feet square. The yarn was finer than a typical modern lace weight–the sort you often hear called "cobweb"–and the entire thing was absolutely riddled with yarn overs.
"How long–" one of the students (okay, me) said breathlessly.
"Six months," said Galina.
I said nothing, but my heart whispered, "Nope."
February 11th, 2014
In January, Lion Brand exhibited at Vogue Knitting Live NYC and it was such a fun-filled, "yarny" experience. We had knitwear designers Lily Chin, Franklin Habit, and Nicky Epstein stop by the booth for book signings, we sold some of our newest yarns like Keppi, Unique, Heartland and LB Collection Silk, and chatted with some Lion Brand enthusiasts who enjoyed posing for pictures. Take a look at some of the great moments we captured with folks who stopped by our booth!
February 10th, 2014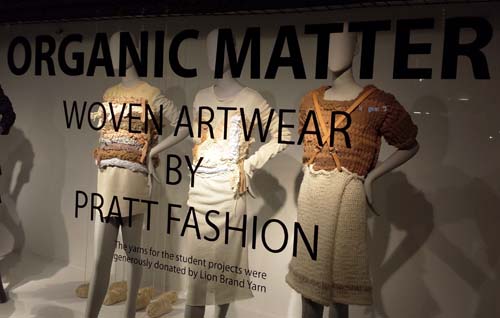 If you're in New York City this week, be sure to stop by Macy's in Herald Square for their special window in honor of New York Fashion Week. The window features selected pieces from "Organic Matter: Woven Artwork by Pratt Fashion" – a collaboration between designer Ralph Pucci and a selection of students from Pratt Institute. Lion Brand is proud to have provided the yarn used in the show and subsequent Macy's window display.
Using Pucci's signature gray mannequin as their muse, students designed and created handmade pieces faithful to Pucci's preference for clean, simple, and minimal design.
They used a variety of our neutral-colored yarns, from Homespun® to Heartland to LB Collection® Pure Wool to many of our made in America yarns. Many of the students played with texture and combined various yarns to create magnificent and astounding works of art.
Personally, I'm always amazed at the many things you can do with yarn and these students have really taken knitwear fashion to another level. Below I've included a selection of pieces that were on display at Ralph Pucci International's Gallery Nine last month.
Organic Matter: Woven Artwork by Pratt Fashion runs from February 6th to the 13th at Macy's Herald Square window displays on Broadway between 34th and 35th streets. This is a traveling exhibition with future planned destinations to Miami and Dallas.
February 7th, 2014
Join Audra Kurtz and learn how to create a 30 minute infinity scarf using a very simple arm knitting technique.
So easy, anyone can do it!
Made with Wool-Ease® Thick & Quick®. Brought to you by The Kurtz Corner.
February 7th, 2014
Our LB Collection® Cotton Bamboo yarn is a luxury fiber, now on sale at a bargain price.  Available exclusively from Lion Brand, this yarn is ideal for making garments that you can wear all year round.
The patterns shown below for Cotton Bamboo are some of our most highly rated patterns, and range from beginner to experienced.  Best of all, they  can be made for as little as about $10.
The blend of Bamboo and Cotton create a light and luscious fiber that has the soft, beautiful drape of bamboo rayon and the wearable comfort and lightweight warmth of cotton.  If you haven't tried this yarn, now's your chance to make something for yourself or a new baby expected to arrive this spring or summer.
February 6th, 2014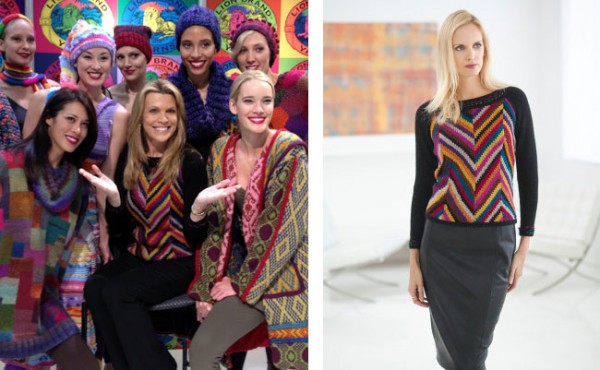 At the Craft and Hobby Association tradeshow earlier this year Lion Brand unveiled its "7 Wonders of the Yarn World," a larger-than-life art installation, designed and created by fiber artist Nathan Vincent. The response was wild – people loved it!
Then we went for the old one-two punch with a runway show to spotlight our newest line of knit and crochet fashions. Our lovely spokesperson Vanna White was on hand and people went crazy for the sweater she was wearing. Across Facebook, Twitter, and Instagram – people wanted to know, "where can I find that pattern?"
Well we have good news! We're so pleased to be able to share the pattern for our Stained Glass Sweater with you now. The dramatic use of  Vanna's Glamour® and a metallic colorway of Bonbons make the alternating chevrons on this piece really stand out against the black background.
This sweater is also very versatile – you can wear it to the office during the day and leave it on for a fancy dinner that evening. It's the perfect outfit sweater – dress it up, dress it down – wear it the way you feel best.
We'd like to say a special thanks to our fabulous Design team for the amazing details this sweater boasts – right down to the embroidered cuffs and collar – they did a fab job!