September 22nd, 2014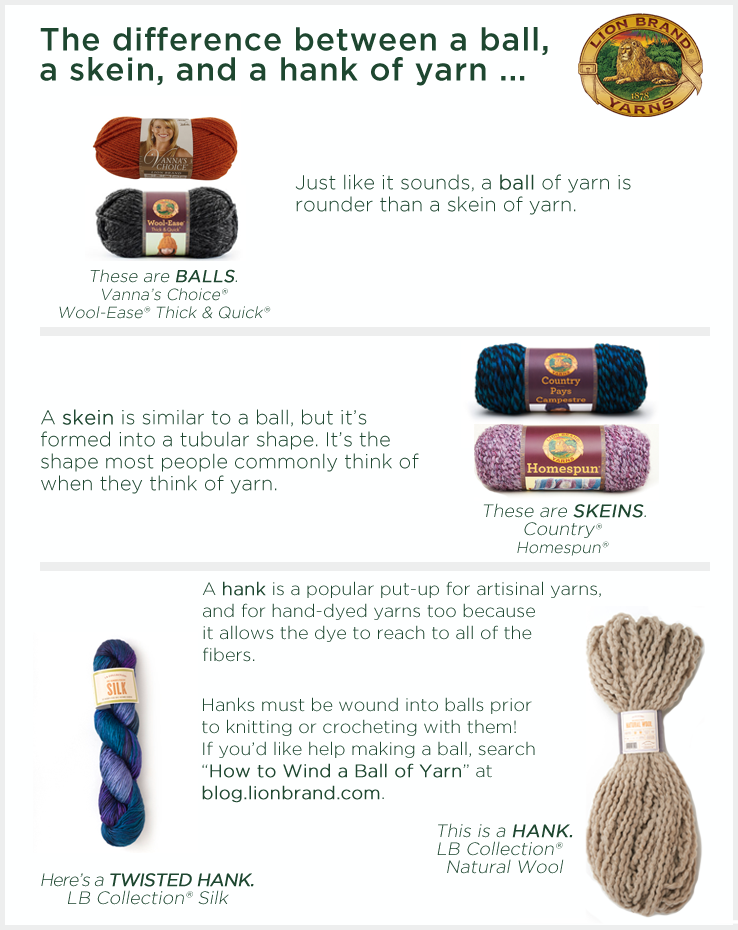 Some Further Reading Related to Balls, Skeins and Hanks
September 19th, 2014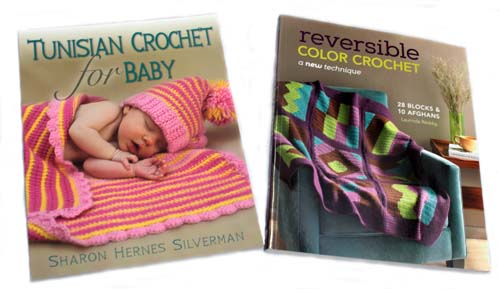 Today, we've got a wonderful double whammy of a giveaway for you: two books each, for two winners!
Thanks to our friends over at Stackpole books, we are able to give away copies of Sharon Silverman's newest release: Tunisian Crochet for Baby. This book is chock-full of adorable – yet modern designs, perfect for babies and toddlers. Take your Tunisian crochet to the next level with Sharon's wonderful patterns.
And – courtesy of the good folks over at Interweave/F+W , we are able to share copies of Laurinda Reddig's new book, Reversible Color Crochet: A New Technique. Laurinda's reversible intarsia technique earned her an award from the CGOA at the Knit & Crochet Show in 2012, and she continues to gain success along the way.
Both of these books feature awesome designs that are sure to be great additions to your pattern libraries! Read below for details on the giveaway.
Contest ends Friday October 3rd; only open to U.S residents
Rules and guidelines:
1. Entries must be received by October 3rd, 11:59p.m. EST
2. Must be 18 and over to enter.
3. One person per entry
*All winners will be announced on the blog and social media. If you do not respond to the e-mail indicating that you were selected as the winner within 7 days, another winner will be selected to receive the prize.
»Click here to enter« if the box below does not work for you.
September 19th, 2014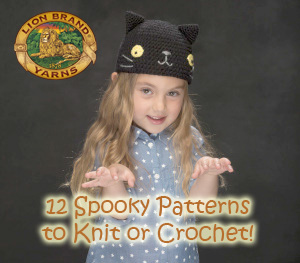 Our Design department has outdone themselves again. What I love about these patterns is that you can easily use them again and all year round – like the Meow Hat seen above, for instance. The Jolly Roger Poncho is perfect for "Talk like a Pirate Day" or a punk-style outfit. The Spooky Spider Afghan is a great gift for the kid who loves everything bug-related. I can easily imagine our Ghoulish Treat bag (we have a ghost version too!) hanging on a bedroom doorknob to scare away "unwanted" visitors once Trick or Treating is over. And you can leave the Autumns Leaves Wreath hanging on your door right up until the first snowfall!
I've selected some of my favorites below:
September 18th, 2014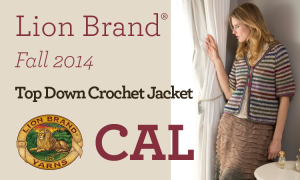 Welcome back everyone! I hope you all had a good week of swatching and are ready for the real fun to begin! There were some great questions and comments on last weeks post. It's great to see everyone jumping in to help each other out so keep those questions coming.
This week is all about raglan. Raglan is a sweater construction that extends the sleeve up into the neckline creating diagonal lines from the underarm to the neck. In this pattern we work from the top down which allows us to try on the sweater as we go and make adjustments if needed to fit perfectly.
As we get started careful reading for this pattern is the key to success. The sweater is divided into 5 sections: right front, right sleeve, back, left sleeve, and left front. Increases are worked in each section to make the shaping. The differences in the increases from row to row are very subtle. For instance, take a look at row 3 and notice how the increases are different in this row. These subtle changes will occur throughout the pattern.
September 18th, 2014
Here is the latest installment of Lola, from its creator Todd Clark.

Want to feel like a superhero too? Make the Cocoon Cape and you'll find your superpower in no time …

Made with our yarn of the month, Heartland Thick & Quick®, 20% off until September 30th.
Try Lion Brand's free Pattern Finder and find the perfect hat and scarf from a variety of free patterns.
*** *** ***
Subscribe to The Weekly Stitch Newsletter
Get a FREE weekly email featuring patterns, articles and special offers. As a bonus for subscribing, we'd like to offer you 15% off your first order! *
:: Sign up now ::
* offer valid only for first-time email subscribers, one coupon per person.
September 17th, 2014
Last Sunday was the perfect day to watch a ballgame but there was something particularly special about this game. Lion Brand sponsored Stitch N' Pitch with the Mets and hundreds of knitters and crocheters had the opportunity to sit together in the stands and enjoy the company of yarn lovers from all over the tri-state area.
It was a special day for everyone at Lion Brand. We were given an award on the field and our Sr. VP and Chief Operating Officer, Dean Blumenthal was interviewed. He discussed how Lion Brand has been able to thrive for over 136 years and we all proudly watched his interview featured on the Jumbotron.
Many Lion Brand associates brought their family and friends to the event to meet the folks they work with every day. It was a memorable and fun outing where sports-lovers and yarn-lovers came together to enjoy the last days of summer.
The next day when we shared the story of Stitch N' Pitch on our Facebook page and Instagram feed, we heard from you loud and clear — you'd love to see an event like this again and again!
September 16th, 2014
The three little kittens, they lost their mittens,
And they began to cry,
"Oh, mother dear, we sadly fear,
That we have lost our mittens."
"What! Lost your mittens, you naughty kittens!
Then you shall have no pie."*
If you're a parent, you understand Mother Cat's exasperation: kids, like kittens, have a way of repeatedly losing mittens—and many other things. And if you're a knitter—which undoubtedly Mother Cat was—you feel especially aggrieved because you painstakingly made three pairs of mittens, and those little miscreants lost them!
Few poems portray feelings of frustration in such truthful, charming terms. With some kids, no matter how firmly mittens are clipped to coat sleeves, no matter how many nametags affixed to hats and jackets, these items inevitably disappear into the Black Hole of Loss.
I recall searching for my son's mittens in his grade school's Lost and Found bin. It was shocking how much unclaimed clothing was there. Saddest were the hand-knitted mittens, scarves and hats, crushed at the bottom. Some loving person had made each one, and little Johnny couldn't have cared less. I felt like grabbing his shoulders, shaking him, and saying in my steeliest voice: "And YOU shall have…no…pie!"
Oh wait…that would be my kid, the son who could never retain a pair of mittens longer than a day. This situation was ultimately resolved, not by depriving him of pie, but by buying him the cheapest gloves I could find at the dollar store, reasoning that since I had nothing invested in them financially or emotionally, I didn't care about their fate. (Ironically, they rarely disappeared.)
September 15th, 2014
Sometimes there is nothing you can actually do when someone you care about is going through a difficult time.  Perhaps a friend is grieving the loss of a loved one. Or, maybe you know someone who is suffering from a serious illness. As much as we'd like to, it isn't always possible to do much. But there is value to letting that person know that she is cared for and supported.
That's why so many people who knit or crochet have discovered how helpful it is to use their skills to create a physical sign of caring in the form of a comfort shawl.  A person who receives a handmade gift understands this. A shawl is like a warm hug.
And, there's an extra benefit to giving something of yourself away. Why? Because it's difficult to feel poor or deprived when you are giving. People who knit and crochet shawls to comfort others say that they feel better as well.
So, when there isn't anything you can do to make things better for someone in need, there is something you can knit or crochet to offer comfort beyond words.
Here are a few patterns to inspire you when you want to knit or crochet a comfort shawl:
September 15th, 2014
We've teamed up with Todd Clark, creator of the ever-popular Lola series, to bring you "Out of the Loop," a regular one-panel comic featuring humorous takes on the world of yarn.
Enjoy and please share widely!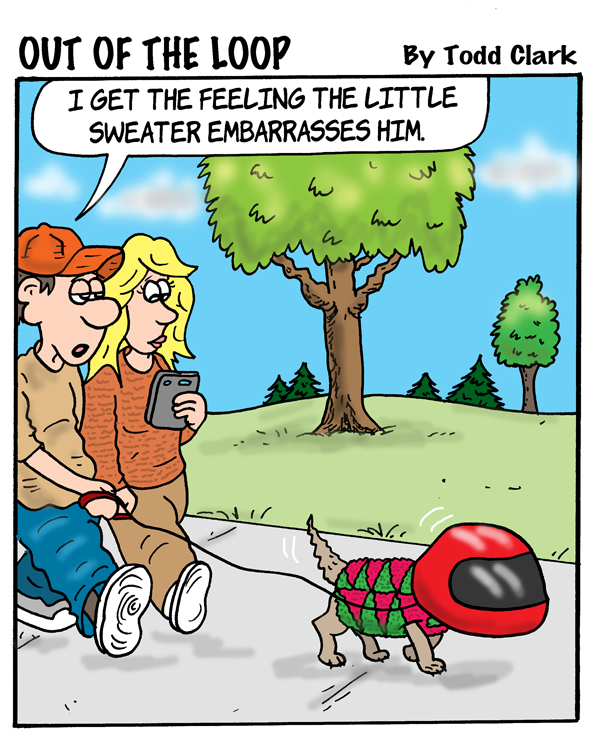 *** *** ***
Inspired to dress up your dog? Here are three of our newest doggy sweater patterns:
Click here for more dog sweater patterns.
*** *** ***
Subscribe to The Weekly Stitch Newsletter
Get a FREE weekly email featuring patterns, articles and special offers. As a bonus for subscribing, we'd like to offer you 15% off your first order! *
:: Sign up now ::
* offer valid only for first-time email subscribers, one coupon per person.
September 14th, 2014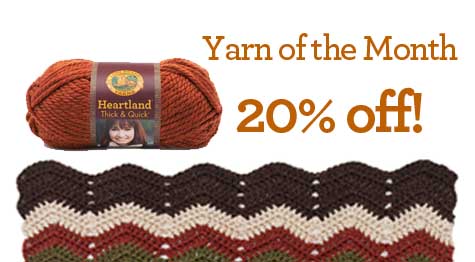 To get you ready for your fall and winter knitting and crocheting, we're featuring Heartland Thick & Quick® for our Yarn of the Month selection. For some inspiration, check out our knit and crochet patterns.
We've even got this great tutorial from Yolanda Soto-Lopez at the All Crafts Channel on YouTube to guide you through this Ripple Afghan pattern, check out the video below!
Have you tried working with Heartland Thick & Quick® yet? Share your experiences with us!