May 2nd, 2013
Vanna White joined Katie Couric on Katie's show this week to talk about her love of crochet, working with Lion Brand, and our $1 million donation to St. Jude Children's Hospital. She even shows Katie how to single crochet!
If you missed the segment, watch it below:
If you're viewing this blog post in your e-mail or an RSS reader, you may need to click on the title of the blog post to view it online and see the videos.
May 2nd, 2013
I'm a sucker for new yarns. I've been crocheting since I was eight and knitting since high school, and I've realized that sometimes I get myself into a rut: making the same patterns over and over again, using the same yarn or colors, or not stopping to learn new techniques. Each time I see a new yarn make its way into the department, it's a new opportunity for me to pet something new and dream up different projects. Our newest yarn, Heartland was no exception. I sat down on the floor in front of all of the colors on Friday afternoon, just before my lunch break, and snagged two skeins that looked too precious to pass up: Great Smoky Mountains, which is a gorgeous multi-dimensional tweedy charcoal gray, and Denali, a pale, heathery pink. Of course, anybody who knows me at all knows that pink is my go-to color for almost everything, but I decided that, for whichever project I chose, I'd let the gray do most of the talking. How could I not? With all those different shades in there, it seemed like it had a lot to say–you know, visually. I only talk to my yarn when nobody else is around.
May 2nd, 2013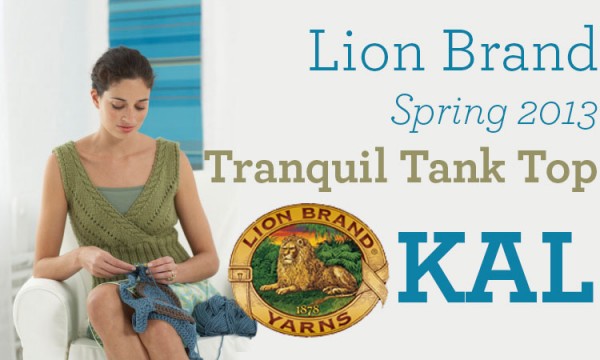 Welcome to our 2013 Spring Knit-Along! I am very happy to host this event and hope that many of you will join in and knit along with me. The Tranquil Tank Top is a winner of a project for many reasons! It is a great piece to add to a wardrobe and just as great a project to teach some new knitting techniques. This top is perfect for all-season wear. For spring, it would be great over a cooler-weather top or a sleeveless dress for a little added warmth. For summer, it will be perfect over a camisole top and even for fall and beyond, a perfect layer piece over another longer sleeved top.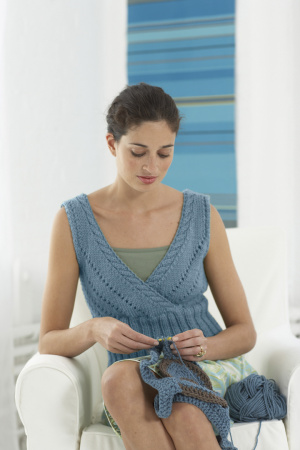 May 1st, 2013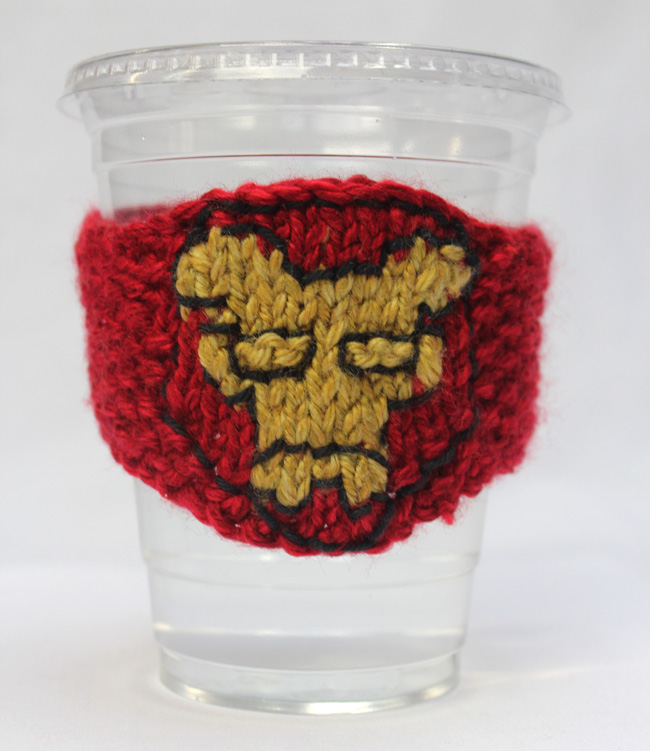 Since Iron Man 3 is premiering on May 3rd I thought that I would make a project to prepare with our new yarn, Heartland! Heartland officially goes on sale today but we've had a few skeins in the office to play with for weeks. One day I walked by them and realized that it came in the perfect Iron Man colors!
Read the rest of this entry »
April 30th, 2013
Looking for a fast, last minute gift for an anniversary, birthday, or baby shower? The secret is basic stitches and multiple strands of yarn, says Jackie Smyth, Lion Brand's technical editor. I asked Jackie to recommend two quick and simple patterns for beautiful afghans on the fly and all about why she likes them.
You've chosen two simple, speedy patterns for our readers. What's your first recommendation?
I love the Fast Finish Throw because it's just about as simple as they come. The beautiful colors in this afghan are soothing and it has a wonderful texture.
This project is easy and fast for two reasons: First, it's made using only stockinette stitch. And second, it's worked on Speed Stix, our exclusive size 50 knitting needles. When you work with Speed Stix the resulting fabric is quite forgiving so exact gauge is not a worry, making it simpler for knitters of all levels. When you knit with Speed Stix, it creates stitches that are an inch tall, which means that you see results quickly.
What about the gorgeous colors in this afghan? How did you get that blended effect?
The Fast Finish Throw is made with several different colors of Jiffy yarn held together, so it has the beautiful look of tweed. It's a gorgeous look without a lot of effort, something that everyone from beginners to designers can appreciate.
That definitely sounds like a great, simple project. What's the second pattern you'd like to recommend to our readers?
My second recommendation is our Speed Hook Baby Blanket. You only need to know how to do a single crochet stitch to make this one! This blanket is made with our size S-35 Speed Hook, which is an extra large crochet hook. Again, your gauge doesn't have to be exact with the Speed Hook. Like the first afghan, this adorable baby blanket also uses multiple strands of yarn—this time three strands of Cotton-Ease—which not only makes it extremely fast to crochet, but adds dimension to the color. You can make it in the recommended colors, our alternative color combination, or in colors of your own choosing. I think that this one is absolutely perfect to make for a last minute gift.
So what are the main things that our readers should remember about these projects?
Again, the key to the ease and beauty of both of these projects is simplicity. You can use basic stitches and super-sized needles and hooks, along with multiple strands of yarn worked together, to make these simple and satisfying blankets.
—
A version of this article first ran in The Weekly Stitch newsletter in July 2007. Click here to sign up for the newsletter and get articles, free patterns, and exclusive offers in your inbox each week. 
April 29th, 2013
This is a guest blog post by Carolyn, our customer support supervisor. Her first blog post about Ramon, the lion statue by our NJ office door, can be read here. 
Back at the Carlstadt office, Ramon was thinking that he needed something new for spring…
Something stylish and fresh…and bold like his roar. After all, his current neckwear was getting tired.
So, he tried out our new color of Neon Pink in our Hometown USA line—what do you think?
Looks like he is ready to kick it into spring with his new look!
The pattern I used was Crocheted Rosettes/Flowers (free on LionBrand.com) – I used the largest size and just didn't close up the Rosette.
P.S. I like to use this pattern for scarves for other things like stuffed animals and dolls—with a little imagination, the possibilities are endless.
Happy Spring!
April 26th, 2013
Yarn crafting is a great way to feel one with nature–creating something from scratch in a peaceful environment, instead of fighting mall crowds to pick up that mass-produced sweater, is one of the purest activities of them all. This is true no matter what fiber you've decided to use, but especially so with all-natural fibers. In our final ode to Earth Month, I want to tell you a little bit about two of our all-natural, organic yarns.
LB Collection Organic Wool is one of our affordable luxury fibers, and comes in five rich and beautiful tones to create stunning hand-knits. This worsted-weight yarn is a great choice for fall sweaters and bold felted projects. Not only is the fiber 100% organically produced, it is also dyed with low-impact dyes, and has been certified according to Global Organic Textiles Standards by the Institute of Marketecology. When you're ready to get knitting or crocheting, we have 20 patterns designed specifically for this yarn listed on LionBrand.com. Click here to see pattern inspiration for Organic Wool.
Read the rest of this entry »
April 25th, 2013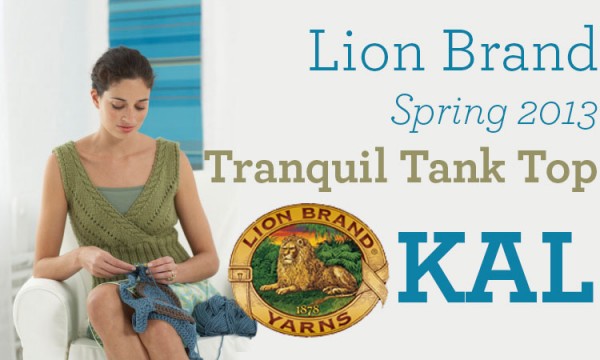 Each season we host a crochet- or knit-along, a virtual event in which yarncrafters come together here online to work on one pattern together, share their experiences, and to learn together. There's no need to sign up! Simply follow along with the blog posts at your own pace as you knit your project, and feel free to share your comments and/or photos as you progress.
The votes are in!
We asked you to vote on what knit project you'd like to make, and you picked our Tranquil Green Tank Top! More than 6,000 of you voted, and we're so excited to knit-along with you.

Click here to download the pattern for the Tranquil Tank Top.
To get this knit-along going, this week is about gathering your materials so that we can jump right in next week. This lovely tank top is made in our Vanna's Choice yarn, a versatile, easy-care, acrylic worsted-weight yarn that comes in a huge assortment of stunning colors. If you're more in the mood for a cotton blend, Cotton-Ease is a great substitute, and will be light and lovely as the temperatures get warmer. You can also opt for the eco-friendly choice and knit your top in Recycled Cotton, which is a blend of new and recycled materials.
As with any yarn substitution, you'll also need to figure out how many skeins of the yarn of your choice the pattern will require. Here are the number of balls for our other recommended yarns:
| | | | |
| --- | --- | --- | --- |
|  Yarn | S/M |  L |  1X |
|  Vanna's Choice |  4 skeins | 4 skeins |  5 skeins |
|  Cotton-Ease |  4 skeins | 4 skeins |  5 skeins |
|  Recycled Cotton |  4 skeins | 4 skeins |  5 skeins |
Click here for our FAQ on substituting yarns.
When choosing a size, sometimes it helps to find a top that you like the fit of and measure this garment to help you choose a size.
Starting next week, our KAL host Heather will be posting her progress through the tank top project, with updates coming every Thursday. You'll know it's a dedicated KAL blog post when you see our special badge in the upper right-hand corner of the post. Don't forget to join our Ravelry group for this KAL as well!
In the meantime, please introduce yourself below–let us know who you are, where you're from, and who you're making this top for!

April 24th, 2013
Hand-knit and hand-crocheted items make great gifts to be treasured and loved. Make them even more special by making them unique. Pick colors special to you or your recipient and you're sure to please, says Jackie Smyth, our technical editor. In this interview, Jackie shares more great tips. 
Knitting and crocheting are great for handmade gifts that really reflect the giver or the recipient. What's a simple recommendation about how to customize a project?
One word—COLOR. The great thing about patterns is that it's easy to choose other colors in the same yarns and get a totally different look. To make a pattern really personal, choose colors that you like or that have representative meanings to the recipient. Perhaps they love autumn colors or spring colors. The right colors can add a lot of depth to a project.
What if you are nervous about choosing colors that will go together?
Going with a yarn that has a great color range is often a good place to start. The Lion Brand Design team works to create yarn collections that are designed that coordinate beautifully.
What's a yarn you might recommend for someone looking for easy-to-match yarns?
Vanna's Choice is a great yarn for mixing and matching colors. All of the solid colors in this collection are designed to match and coordinate. You could use three colors in one family—say, Dusty Rose, Rose, and Antique Rose—to get a light-to-dark effect, or you could pick a few contrasting colors like Purple, Chocolate, Pea Green, and Rust that will really pop against each other.
It's good to look for inspiration from the things around you. Flowers are one place to find unexpected but beautiful contrasting colors. Fashion and architecture are other places to draw inspiration.
Crocheted Not-Your-Average
Granny Scarf

Crocheted Squares Afghan

Knit Boy's Striped Cardigan
Would you recommend a few colorful patterns for our readers?
For a simple project, I like the Not-Your-Average-Granny Scarf pattern. We've carefully plotted the colors for each square, so that it's an exciting color journey, but I would encourage you to be playful and experiment with your own color combinations. Feel free to exchange the colors between squares–have fun!
Next, I like the Squares Afghan. I think it's just stunning in the palette we chose, but you can choose also choose colors that go with your own home décor.
My third recommendation, the little Boy's Striped Cardigan, is a wonderful example of how just a shot of color can spice up a wardrobe basic. It shows that you can add a few or many colorful jolts of color with simple stripes that are easy to incorporate into any pattern.
Don't be afraid to change the colors in a pattern to suit you better. That's the great thing about knitting and crocheting; you can really make every item your own.
—
A version of this article first ran in The Weekly Stitch newsletter in August 2007. Click here to sign up for the newsletter and get articles, free patterns, and exclusive offers in your inbox each week. 
April 23rd, 2013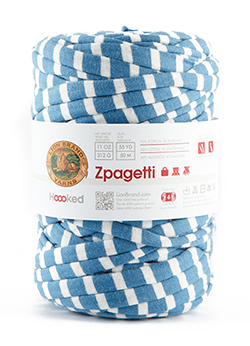 Our hugely popular yarn, Zpagetti, is finally back in stock after blowing off the shelves and selling out several weeks ago. And just in time! Earth Day may have been yesterday, but all of April is Earth Month, and every day is a great opportunity to be eco-friendly. As many Zpagetti enthusiasts already know, this unique yarn is made with remnants of jersey fabric used to create garments. The remnants would otherwise be discarded, so we're thrilled to breathe a little new life into this special fiber. In honor of its (re-)arrival, I've rounded up a handful of the great items you can knit, crochet or craft with this yarn. Click here to learn more about Zpagetti, browse colors and place your order today!