April 6th, 2014
We're reposting some of our favorite columns by Barbara Breiter, author of The Complete Idiot's Guide to Knitting & Crocheting, previously featured in our Weekly Stitch newsletter.
When knitting a project that involves a stitch pattern (something other than stockinette or garter stitch) and shaping, such a sweater or hat, you will likely run into the term "keeping to pattern". It may be written as "keep to established pattern", "work pattern as established", or "continue in established pattern"; they all essentially mean the same thing.
When working on the non-shaping section, you will knit your stitch pattern, following the written instructions for each row. But if you increase or decrease at each end of a row while shaping, those rows will no longer begin and end as written because you have added or subtracted stitches. But you need to keep the previous stitches aligned so the stitch pattern continues.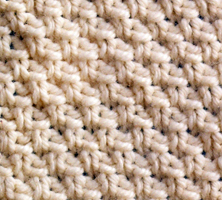 Many times, you can simply look at your knitting and see where you are within the stitch pattern. This is why it's important to learn to "read your knitting" and understand by looking at your work the sequence of knits, purls, yarn-overs, etc. Knitting from a chart is also an advantage here because you can look on each side of the pattern repeat and understand visually where you are in the row.
There are times when it's more difficult to follow where you are at or perhaps you are just starting out. So let's work through an example of Double Seed Stitch, sometimes known as Box Stitch:
Multiple of 4
Rows 1 and 2: *k2, p2; rep from *
Rows 3 and 4: *p2, k2; rep from *
Let's suppose you began with 16 stitches and you have increased one stitch on each end on Row 4. You now have 18 stitches and you can no longer begin Row 1 with a knit stitch because you no longer have a multiple of 8 and knits and purls will no longer align as intended.
How should you be keeping to pattern when you work Row 1 again? You would begin p1, then proceed to begin the row as written. The first stitch you work is the last stitch of the row as written. You are working backwards from the end of the repeat to the beginning of the repeat as you increase stitches.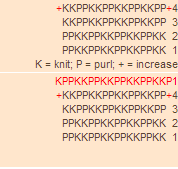 You will also have one extra stitch at the end of the row. As written, you ended Row 1 p2. Because you have an extra stitch, the row will now end with k1, which is the first stitch of the row as written. The last stitch you work is the first stitch of the row as written…the repeat is starting over again. However, you won't have enough stitches to complete the row as written.
So, the new Row 1 would be:
P1, *k2, p2; rep from *, end k1
Remember that where you begin and end each row will change each time you add more stitches. If you increased one stitch at each end again, Row 1 would now be:
P2, *k2, p2; rep from *, end k2
Or even more simply:
*p2, k2; rep from *
When you decrease you eliminate stitches, so again you need to recalculate how to begin the row and how it should end.
Let's suppose you were working over 16 stitches again but this time you decreased at the beginning of Row 1. You would have k2tog and this brings you to p2 as the next step. You would then continue k2, p2.
You don't need to worry about ending the row when you decrease. As long as you begin in the correct place, the row will end when you've run out of stitches and they will all be aligned as intended.
Remember, just as with increasing, where you begin and end will change each time you decrease stitches.
April 4th, 2014
One of our most popular patterns, the Simple Shrug, is an easy project that's perfect for beginners. The pattern is essentially a long rectangle seamed together at the ends to form a "one size fits all" shrug. Many of you have been excited to start this pattern, but wanted more of a visual explanation about seaming the ends and how the whole thing comes together. Now, we're happy to share with you this wonderfully detailed video that will help guide you on this pattern journey!
Check out this new video with Yolanda Soto-Lopez of "All Crafts Channel" as she walks you through every step of the way for this pattern.
April 4th, 2014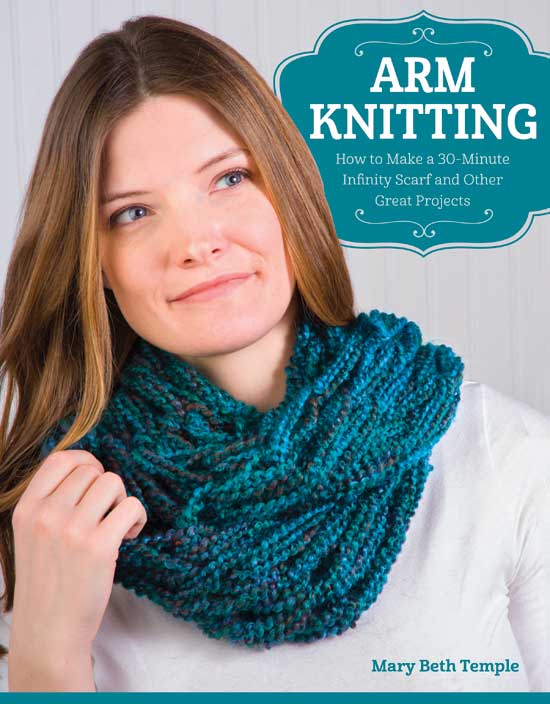 Arm knitting has taken the fiber world by storm. It's a quick and easy way to produce a chunky knit item, which could be anything from a cowl, to a scarf, or even a blanket. In about 30 minutes or less, you can knit a beautiful cowl or scarf, and you don't need needles!
Knitting expert Mary Beth Temple has put together a collection of 15 creative patterns in Arm Knitting: How to Make a 30 Minute Infinity Scarf and Other Great Projects . In this book, Mary Beth works with an assortment of Lion Brand yarns in various weights to get you started on your arm knitting journey. Also in the book are well-detailed, step by step photo instructions that will help you become an arm knitting master.
Arm knitting is a great way to introduce friends, children and loved ones to the wonderful world of fiber arts. Take a look at some of the cool projects found in Mary Beth's book below!

We're happy to be offering this book at 20% off the retail price at $7.99. Click here to purchase.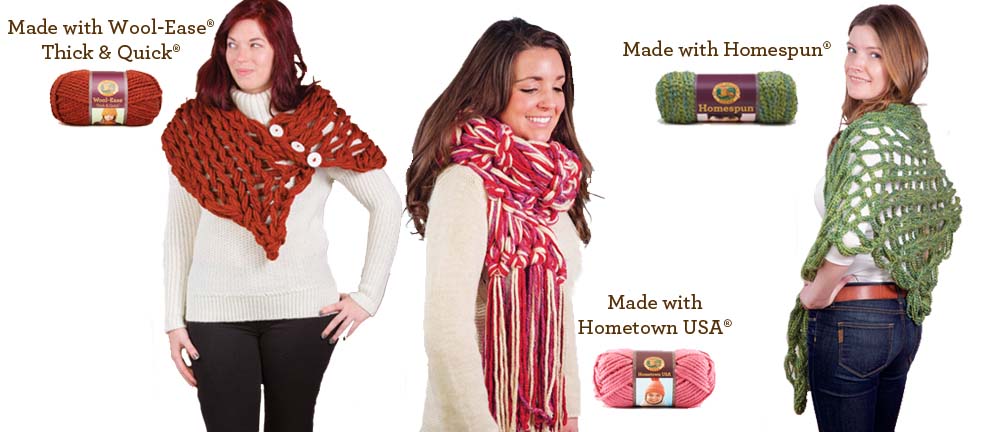 (pattern images courtesy of Mary Beth Temple: Arm Knitting)
April 4th, 2014
After a long, cold winter, spring is finally here — which means Easter is just a few weeks away! While this often means buying marshmallow Peeps and hunting for candy-filled eggs for children, crafters are starting their Easter and spring-related projects.
Living in New York, this is the time of year when I like to walk down 5th Avenue and see  people  show off the crazy-fun hats they made just for the "Easter Parade" — traditionally, this time of year was when Victorian churchgoers use to show off their best hats, jewelry, and clothes after church. The event is similar to red carpet movie premieres and award ceremonies you see on TV.
Whether you are crafting for children or yourself, it is a good excuse to think of cute bunnies, sheep, and bright colored eggs.  Here are a few inspirational projects to put in a child's Easter basket or decorating your home.
For more ideas check out Patternfinder and search under "Easter" or "Passover."  Also check out our Pinterest Board for more Easter inspiration!
April 2nd, 2014
Writer and avid knitter Selma Moss-Ward joins us for a series of blog posts about becoming a first-time grandmother and knitting toys. Click here to read her previous blog posts.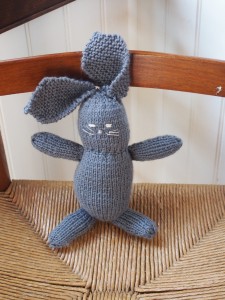 If you're a knitter who'd rather work with two needles than with double-points, this "Little Bunny" pattern is for you. Of a size easily grasped by small children, she'd make a wonderful gift for a baby or toddler, and be adorable in an Easter basket.
Little Bunny is knitted flat, and seamed up the back, using the mattress stitch. Ears, arms, legs, and tail are made separately and lightly stuffed before they're fully seamed and sewn together. The tail, knitted from a scrap of Pound of Love in Antique White, is an ingeniously constructed pouf that's more durable and shapely than a pompom—worth keeping in mind, as young children can be rough with their toys.
While this pattern specifies Lion Brand's Superwash Merino Cashmere, any medium weight worsted yarn may be used. The Lion Brand website has appropriate substitutions which you can find here.
When knitting toys, it's a good idea to work with yarn that's washable and soft. My preference would be for an acrylic like Vanna's Choice®, or an acrylic blend, like Martha Stewart Crafts Extra Soft Wool BlendTM/MC. I also tend to favor natural colors, like grey, brown, and off-white, for animals, but as the Lion Brand pattern photos often show, stuffed toys can also look great in pastels and bright yarns. The choice is really up to you!
When completed, Little Bunny has a direct, folk-art quality that's unique and appealing. I can imagine her crossing the prairies in a covered wagon as the dear companion of a small pioneer girl.
April 1st, 2014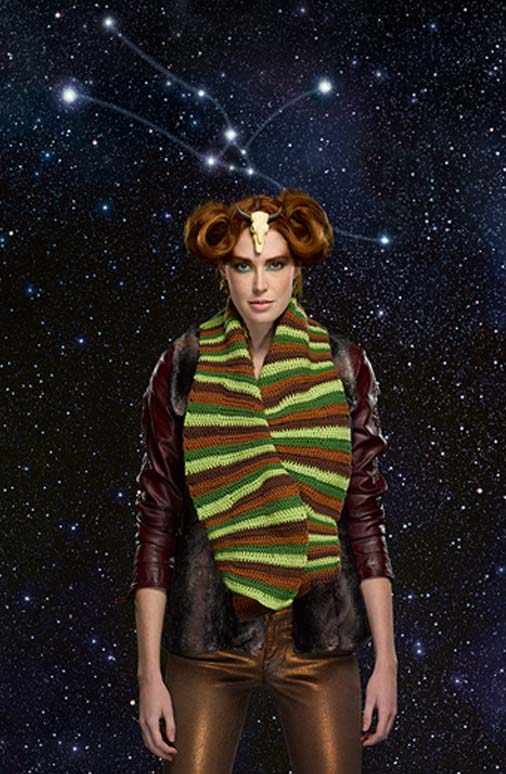 I think it's safe to say that most of us enjoy personalized gifts, or making things for ourselves that reflect a bit of our personality. For instance, I recently just picked up the Leo colorway in our LB Collection Silk because I'm a Leo and well, I thought it would be fun to work in a colorway that matched my sign's color palette, which also happens to complement my wardrobe. This post though, is about Taurus and the specific color representations chosen in the Zodiac Scarf that reflect certain qualities of those born under this sign.
Taurus is an earth sign, with birthdays that range from April 20th – May 20th. This zodiac scarf incorporates two shades of green, which are color representations of Taurus' generous and harmonious nature. Taurus really appreciates balance in life, and wants the people around them to be happy, so they might be more inclined to start a new project with someone else in mind.
A Taurus also tends to be a strong-willed individual who is determined to get the job done, which leads me to think that they may possibly have a lower UFO stash than some of us (can anyone attest to this?). The brown colors in the scarf also represent loyalty, and the Taurian's need for stability and structure. Could this also translate to having a more organized yarn stash?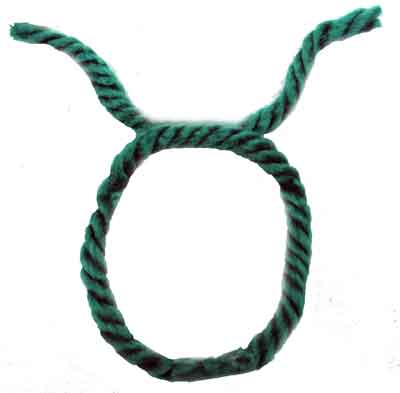 Crochet version of Zodiac scarf pictured, click here for knit version. Not a Taurus? Find your zodiac scarf here.
Hey all you Taurus yarncrafters, shed some light on some of these personality traits and how it affects your crafting styles, we'd love to hear your thoughts!
March 30th, 2014
This story is from our newsletter called Pattern Journal which brings a warm-hearted, wholesome story to your inbox to read every month. We're sharing the most recent story here in the blog. If you enjoy it and would like to subscribe, click here.
What do you give an expectant mother who has everything? Kerry had already furnished and decorated the nursery when she first told Jane the exciting news. She also announced her purchases on social media for the benefit of friends and family. It would be hard to find a shower gift that wasn't a duplicate of something Kerry already owned.
What Kerry couldn't buy, though, was the afghan Jane had crocheted. Jane had always known she'd make something unique for Kerry's baby and when she saw the Baby Squares Storyteller Afghan pattern on the Lion Brand website, everything clicked.
The blanket, of creamy yarn crocheted into twenty textured squares, softy back-dropped bright pictures of animals, numbers, flowers, trees, and objects. Illustrating the pictures had been a blast, from choosing images to the actual embroidery. Jane used the adorably bright Bonbons mini-skeins to outline the darling pictures from Lion Brand's motif library, creating a collage of color.
Nineteen of the afghan's twenty squares were illustrated. When the baby arrived, Jane would embroider the child's name and birthdate on the one blank square.
At the baby shower, Kerry opened Jane's present last. She held the afghan close, and studied the bright pictures. "This is an amazing gift." Kerry's voice was filled with emotion. "I'll show baby these pictures at bedtime, and make up special stories about them. We'll treasure this…I can't thank you enough."
"When the baby arrives, I'll embroider his or her name in the corner square," Jane said.
"Oh, I can tell you that now," Kerry replied. "It's Cameron."
"It's a boy!" someone cried.
"Maybe."
"What do you mean by 'maybe'?" Jane asked.
Kerry smiled and said, "That's the name we chose, for either a boy or girl."
That evening, Jane embroidered "Cameron" on the corner square. And a week later, she added:
Cameron Elizabeth Bennett
24 March 2014.
—
All characters appearing in this work are fictitious. Any resemblance to real persons, living or dead, is purely coincidental.
Selma Moss-Ward is a freelance writer who combines her love of writing and of knitting in her columns, stories, and blog posts. Selma is also an active classical musician and the caretaker of five wonderful pets. She lives with them and her husband in Rhode Island.
March 28th, 2014
Each season we host a crochet- or knit-along, a virtual event in which yarncrafters come together here online to work on one pattern together, share their experiences, and to learn together. There's no need to sign up! Simply follow along with the blog posts at your own pace as you knit your project, and feel free to share your comments and/or photos as you progress.
We asked you to vote on what knit project you'd like to make, and you picked our Spring Lace Shawl! Almost 6,000 of you voted, and we're so excited to knit-along with you.Click here to download the pattern for the Spring Lace Shawl and click here to get the kit in Kelly Green or in Silver Blue (free shipping for a limited time).

To get this knit-along going, this week is about gathering your materials so that we can jump right in the week of April 7th. This lovely shawl is made in our Vanna's Choice yarn, a versatile, easy-care, acrylic worsted-weight yarn that comes in a huge assortment of stunning colors. If you're more in the mood for a cotton blend, Cotton-Ease is a great substitute, and will be light and lovely as the temperatures get warmer.

As with any yarn substitution, you'll also need to figure out how many skeins of the yarn of your choice the pattern will require. Here are the number of balls for our other recommended yarns:

| | |
| --- | --- |
| Yarn | OS |
| Vanna's Choice | 12 skeins |
| Cotton-Ease | 12 skeins |

Click here for our FAQ on substituting yarns.

Starting the week of April 7th, our KAL host Grace DiLorenzo will be posting her progress through the lace shawl project, with updates coming every Thursday. You'll know it's a dedicated KAL blog post when you see our special badge in the upper right-hand corner of the post. Don't forget to join our Ravelry group for this KAL as well!

In the meantime, please introduce yourself below–let us know who you are, where you're from, and who you're making this top for!

About Grace: Grace DiLorenzo has been knitting for the last 10 years. What started as a hobby quickly grew into a passion. Her favorite things to make are garments and lace. As a teacher at the Lion Brand Yarn Studio in New York City she has been able to share her love of yarn crafting teaching beginning through advanced knitting and yarn dyeing classes. She has lead the first four in studio knit alongs and is excited to do it again!
March 27th, 2014
Spring has sprung! Well, it's still a bit chilly for us in NYC, but we're eager to start switching our wardrobes. With the sun shining and the cool chill in the air, now is a great time to work on a new transitional piece for the season.
Below is a round up of seasonally appropriate garments for you to browse in preparation for the warm weather!
March 27th, 2014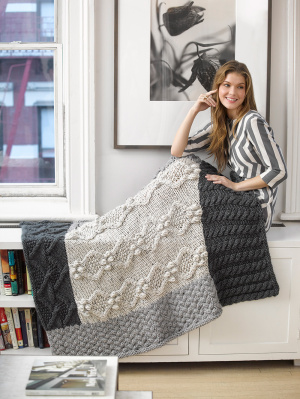 Jackie Smyth is a Technical Editor in Lion Brand's Design Department. Today she shares one of her favorite Lion Brand patterns. 
I work in Lion Brand's New York Design Department, where every day is a bit like a birthday! Wrapped packages arrive every afternoon – each holding a new and exciting design. On a daily basis, we're all inspired to add way too many new items to our project queues.
When we opened the box containing the Neutral Cabled Afghan, I knew it was something I should put at the top of my list.
A good friend recently moved from New York (a city of steam heat) to less well heated Dublin, so was clearly in need of something to wrap up in on chilly evenings. The colors of the Neutral Cabled Afghan are a perfect match for his color scheme and the cables are lovely nod to his Celtic surroundings.
I'm a big fan of interesting construction techniques, so I was super excited when I saw how this afghan was made. No sewing! And a different stitch pattern on each of the panels means I'll never be bored.