May 25th, 2016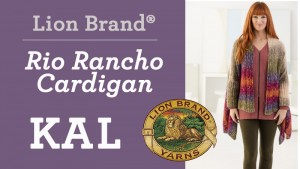 It's time to put together the Rio Rancho Cardigan!  I suggest laying out the finished pieces and making sure the pieces are the right size and length etc.  I found I did not need to block my pieces, as the nature of this yarn, along with the seed stitch, give the fabric a lot of flexibility.  My pieces also knit up uniformly.  If you find a certain section is a bit shorter or longer, it may be worth it to block before constructing.
When I finished my 5 pieces it took me a few tries to understand the construction, but once I did, it came together with ease.
I suggest pinning the pieces together. I like doing this before sewing just to make sure EVERYTHING is working.  Too many times I have started seaming, only to realize a big mistake that sometimes requires re-knitting something or pulling out all the ends I had woven in, etc.  Try it on, make sure everything is going to line up and look the way you pictured it!
Start with the shoulder seams.  These are the gradually sloped top portions of the two fronts and the back.  I started on the left shoulder.  Once I got to just before the center back, I left the tail of my seaming yarn and concentrated on the neckpiece.  I seamed it up quickly and then went back to my tail of yarn and continued along the back with the neckpiece and right on to the right shoulder seam.  I liked how this was one continuous seam.  It worked out great. You can sew the neckpiece up as a first step, I just happened to do it in this order.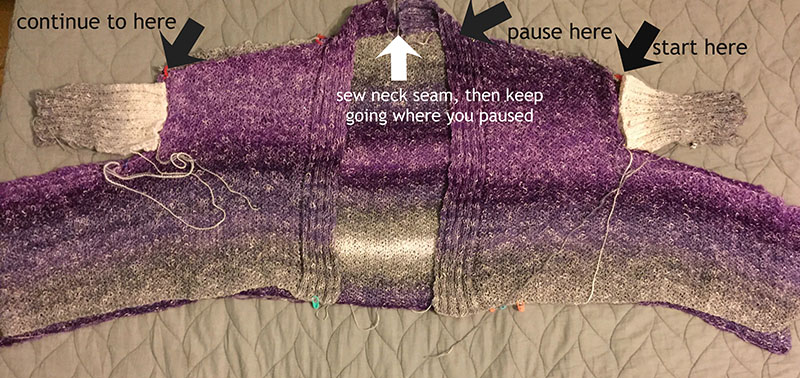 Next the sleeves!  Fold the sleeve in half, wrong sides together. Line up the center with the shoulder ends. It's easy to see because it is the seam you JUST sewed together!  Pin it there. I found the ribbed sleeves accordioned much more than the seed stitch sleeve holes.  As a result, I had to make sure I was spreading out the sleeve quite a bit as I was sewing it to the sleeve hole.  If you lack coordination in this area, I suggest properly pinning the entire sleeve INTO place. It may not reach all the way to that 90 degree angle created by the tails of the cardigan, but stretch it as much as you can.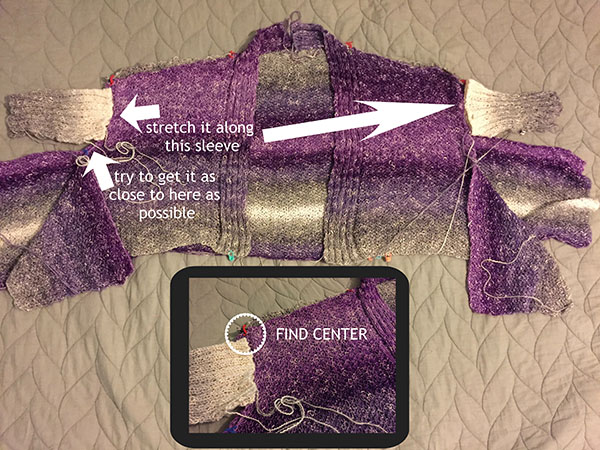 Once you finish sewing the sleeves to the sleeve openings, just sew the bottom edge of the sleeve together! Weave in ends and you are done!
It's THAT simple.
I used mattress stitch on all of my seams.  It creates the perfect ridge INSIDE the garment.  It makes it much less confusing to have to pin right sides together and inside out.  Using the mattress stitch helps because you can sew the garment in place, right-sides out, and know it is in the exact right spot.
Due to the nature of our seed stitch and ribbed stitches, it is NOT going to be as clean and simple as a traditional stockinette or garter stitch mattress seam-up.  The tricky part is our seed stitch is not being lined up vertically, but rather in a wonky horizontal way….but it's okay.  Look for bars within the work (like you would in a more traditional mattress stitch setting) and work with what you can find. If you are not successful with that, just make sure you are entering where you last came out as you switch between sides.  If you are new to mattress stitch—there are many tutorials on YouTube.  Click here for a tutorial on mattress stitch in a traditional seed stitch setting.
I hope you love your Rio Rancho Cardigan. I am slipping mine on every chance I get. It is the perfect spring into summer garment as it breathes and also provides that extra layer of warmth to take away the chill. I am wearing it on this cold, rainy morning as I type up our last post!  I can't believe it's over!  But let's remember each other as we wear our Rio Rancho Cardigan on those mild spring and summer mornings and evenings, deal?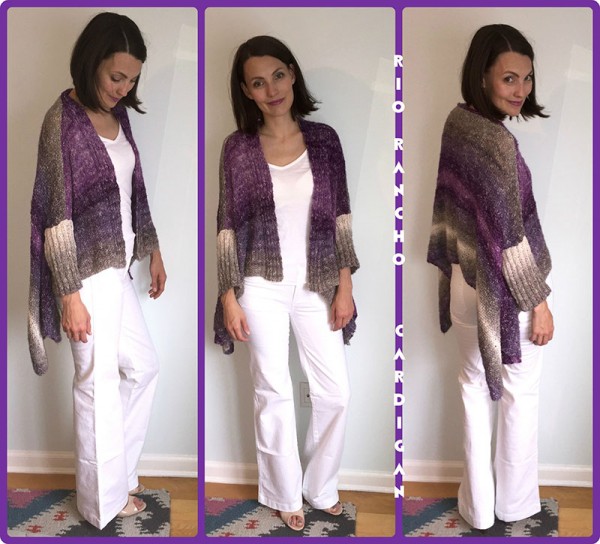 Never stop knitting!
May 24th, 2016
Don't you just love an accessory that you can pair with every outfit? The Clearwater Cowl is just that because there are so many ways to wear it! This cowl is made from wool-blend Color Waves and is half traditional crocheted cowl and half fashion-forward mesh. And, with that little bit of fringe, you can take your cowl game to the next level.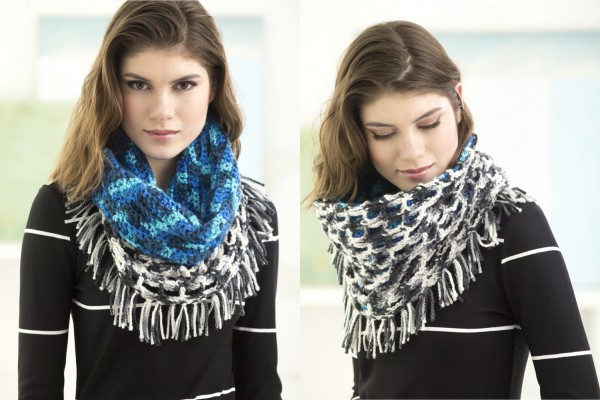 You can get lots of fun and functional looks out of this accessory. Check them all out in the video below!
Having trouble viewing this video? Click here: https://youtu.be/FhokS2gmQRM
May 23rd, 2016
Hello Out There!!!
One of the many things I get to do as a Brand Ambassador for Lion Brand Yarn is travel around the country and I to talk different knit and crochet groups or guilds.  Since I started my position as Brand Ambassador I have been to many groups, but the biggest guild I have spoken to was in Madison, WI — a knitting guild made up of over 300+ knitters!  (Fun Fact: it's really cold in Madison, WI in February!)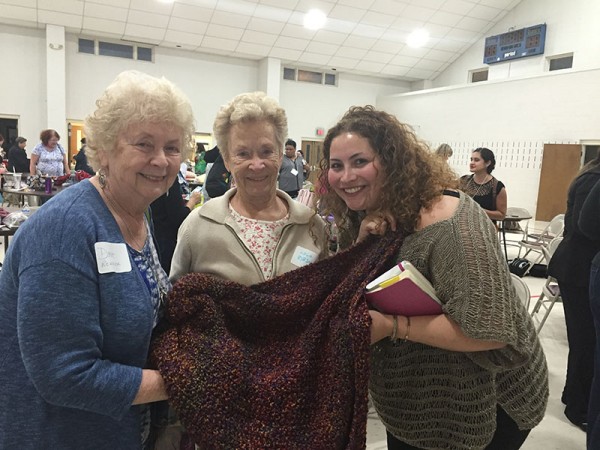 My Goal
When I talk to a group there are a three main things I talk about .
Lion Brand Yarn is not as big as you think! Sometimes people don't realize that our company is just under 100 people.  I convey the message, I love being able to see people's faces sometimes it's like their minds are being blown! t
We are also a family business.  Family business are rare these days especially one that is in its 5th generation (me being a part of the 5th).
I get a chance to let the knitters and crocheters feel and neck test all day long 😉  I bring new colors of yarns and new yarns for people to put their hands on and really get the chance to see what it feels like for themselves!  I also bring knit and crocheted garments with me out of the corresponding yarns so they can see how they work up!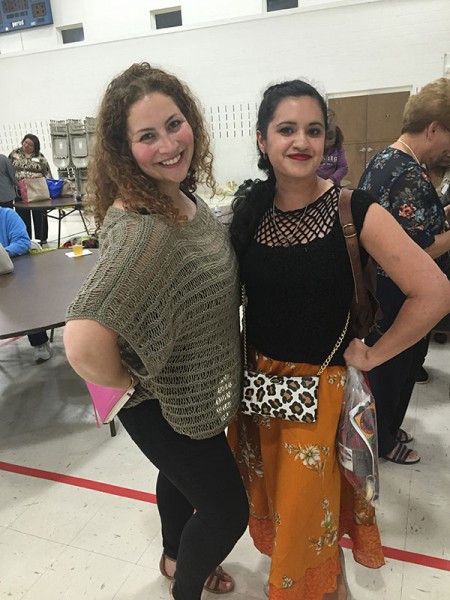 Feeling #Lucky
I feel honored to be able to talk to these crafters.  They are so talented to be able to see what they do with Lion Brand is amazing.  Some are avid users of Lion Brand and some, well, some admit to me "I didn't know you had such beautiful yarns until you came!  I can't wait to buy Lion Brand now!"
That's my end all goal.  I am there to inspire!  I am there get people excited about knitting and crocheting with Lion Brand Yarn!
These are some photos that I love from some of Guild adventures!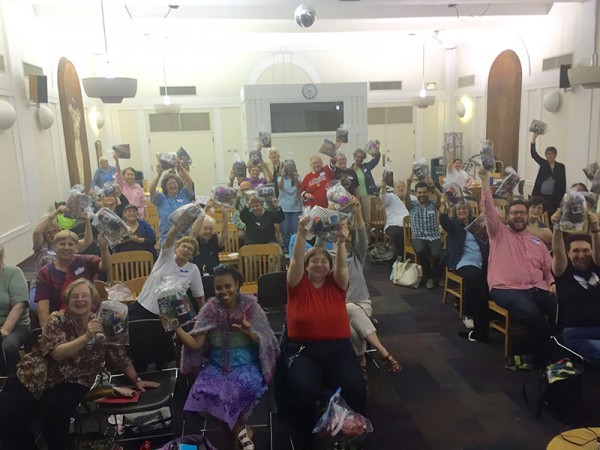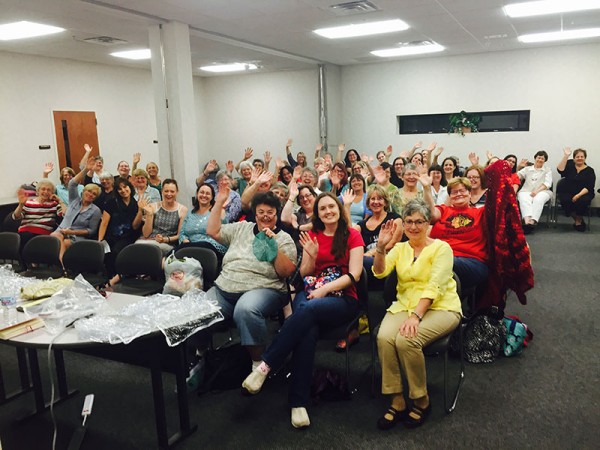 If you are interested in having me come visit your guild please email me at
Shiraroars@lionbrand.com
.  Please note, a minimum attendance of 70 people must be present for me to visit.
May 22nd, 2016
You love the gorgeous, colorful shawls that you can make with Shawl in a Ball. But when you combine skeins of this beautiful ombre yarn, you can make stunning garments, too! The Blue Mesa Tunic is a fabulous crocheted top that can be paired with jeans or a skirt for a great spring look.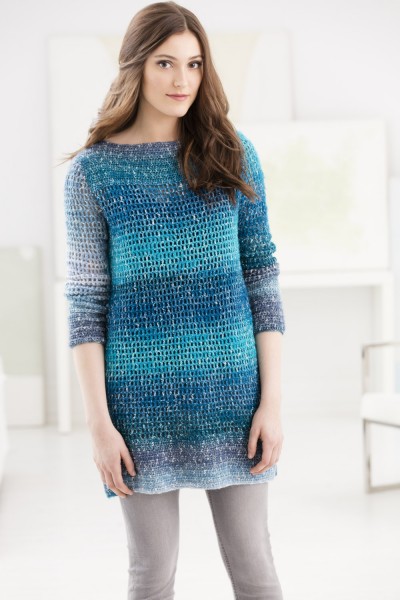 Take a look at the Blue Mesa Tunic in the video below!
Having trouble viewing this video? Click here: https://youtu.be/jjtSrAbK7-Q
May 21st, 2016
If you haven't gotten  your hands on 24/7 Cotton yet, you're missing out! This mercerized cotton yarn has a beautiful sheen and each stitch is absolutely stunning. We combined six of the 24 colors to make this dramatic Solstice Ripple Shawl. You'll love wearing this summer-weight shawl and, with fantastic fringe, it's totally on trend!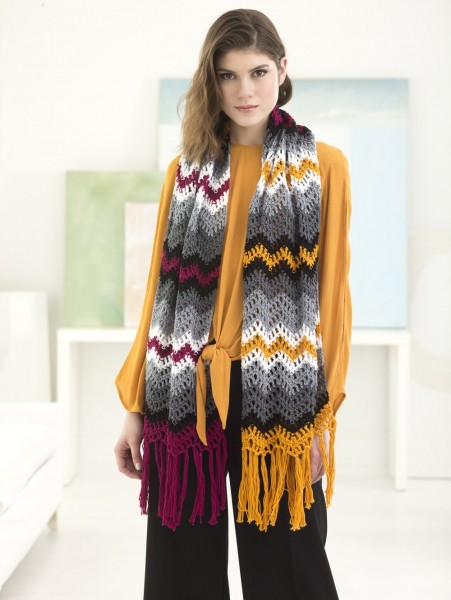 Check out some styling inspiration in the video below!

Having trouble viewing this video? Click here: https://youtu.be/9q16e_A8YVc