February 25th, 2015
We're celebrating Homespun®! As our yarn of the month, it's currently on sale for 20% off at lionbrand.com!
Today I'm sharing a few of my favorite Homespun® projects designed by bloggers and Ravelry users. These projects are so inspiring and they highlight the unique and beautiful color palettes of the yarn.
From accessories to home decor, Homespun® is a versatile yarn that can be used to create a wide range of projects – as you can see below!
Share with us, what patterns do you like to knit or crochet with Homespun?
February 24th, 2015
I've never been more determined to finish something I'm knitting in my whole life! I feel as though I am in the Knit-Along Olympics, competing against myself. It's not really a competition, but this week when I showed up with my ribbing, and everyone else had their back portion done and they were either finished or half way done with the front part of the sweater, I realized I needed to pick up my game. The group is spurring me on. I'm knitting like a fiend, trying to catch up to these ultra-fast ladies.
So I have run into a few hiccups.
As I was knitting, doing my increases every sixteen rows, I looked at my fabric and saw there was a big gaping hole in the back panel! I had dropped a stitch and it was ten rows back. How was I going to fix this? Will I have to rip it out?! How will I know where I was? I started to sweat. What to do …
LIGHT BULB!
I went through my collection of crochet hooks, and I'm going to be honest, I've never been so thankful for a crochet hook in my life! I took some calming breaths and saved the stitch, bringing it back up to the needle.
My next challenge? Counting rows …
I'm scared to find out what happens if I mess up the counting. Ann, the KAL instructor, had suggested I get a row counter, but what do you do about traveling?  How do you know it won't get pushed? That's all I need, to think I'm on row 16 but I've really done 25 rows. Then what happens?  I travel all the time with my knitting, how does one count rows while traveling on a subway?!

My mission and to end on a positive note!
 I am on a mission to finish my front and back panels this week because I cannot wait to start the side panels and sleeves of my sweater. The good news is that I love knitting with Heartland®. It can only get better from here right?
February 24th, 2015
Lion Brand®'s LB Collection® Silk Chiffon Ribbon is made from recycled silk sari fabric and I just love it. As a big fan of mori girl fashion – a Japanese street-style that focuses on forest-like aesthetics, layering, and upcycling – this handcut, artisanal yarn is a dream come true.
Thinking about the colder weather, I used the yarn to create a garment I call the "Chelsea Morning Cowl". With some help from our Design department, I've made this pattern available to you so you can make one yourself!
Since each skein of Silk Chiffon Ribbon is one-of-a-kind, I decided to pair it with Wool-Ease® Thick and Quick® in the color Grey Marble – it's a good neutral to use to emphasize the color scheme of the Silk Chiffon Ribbon. My skein featured beautiful blues and purples.
Mori girl focuses a lot on layering, so I created an eyelet design to highlight an outfit underneath the cowl. Since I'm a petite person, I normally wear it as a cape.
The best part of this pattern? It's a super quick project and can be finished in under four hours – that's about two movies or four episodes of your favorite television show!
February 23rd, 2015
As a person who's just learning to knit, I find Lion Brand's Learning Center to be very useful because of the step-by-step-videos that I can rewind as many times as I need to get a stitch right. In addition to the Learning Center, the Lion Brand® blog is another great resource for tips and little-known tricks to make knitting even more enjoyable.
Whether you're just learning to knit or would like to try a different method of casting on, check out these great posts: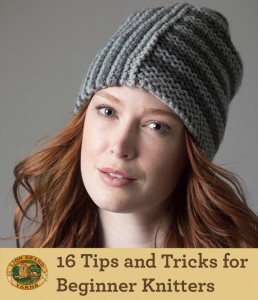 February 22nd, 2015
This story is from our newsletter called Pattern Journal which brings a warm-hearted, wholesome story to your inbox to read every month. If you enjoy it and would like to subscribe, click here.
In my family, Peggy, my big sister, weaves, Mom crochets–and I knit. For as long as I can remember, it seemed, we each had our piece of yarn turf, and we didn't trespass. Why it was like that, I don't know. Maybe we didn't want to compete with each other.
But one day I got this super strong urge to learn to crochet. Actually, I imagined myself crocheting something really cool for Mom's birthday.
Mom had sometimes offered to teach me before. "There's only one tool," she'd explained. "And things work up quickly." I always made excuses, so after a while she stopped. I guess I just wasn't ready then. But now I certainly was.
My urge to crochet just wouldn't disappear and I was too proud to ask her this time. I got a "How To" book at the library, but the diagrams made me cross-eyed. Then a light bulb went on — I'm a visual learner! If I just paid attention to someone crocheting, I'd certainly get the hang of it.
That's when the next light bulb illuminated. The Lion Brand Website! It has a Learning Center, with short instructional videos. So once my homework was done, I'd watch a How to Crochet video multiple times each night, practicing a chain stitch, or single or double crochet stitch. Pretty soon I could tell that I was ready for a real project.
Naturally I wanted something perfect for a beginner. In addition to the Learning Center, Lion Brand had a gigantic pattern directory and through it I found this amazing Sunset Throw design, crocheted in eight rich colors of Homespun®. That yarn has unbelievable qualities–it's loopy and lustrous, and really soft. It just makes you want to snuggle! I planned to crochet the individual sections in my room, sew them together, and give the throw to Mom for her birthday.
* * *
"Happy birthday!" I crowed, handing Mom my debut work, neatly folded. "I taught myself to crochet so I could make this for you."
"Oh wow," she laughed. "So that's where my K hook went." Then she hugged me so hard, it was like we were blanketed in love.
—
All characters appearing in this work are fictitious. Any resemblance to real persons, living or dead, is purely coincidental.
A story by Selma Moss-Ward.
Selma Moss-Ward writes and knits in Rhode Island. You can find her work on our blog, as well as Lion Brand's monthly newsletter, Pattern Journal, which you can subscribe to here.
February 21st, 2015

:: cant' see the video above? click here: http://youtu.be/HL0oKnVDfBo ::
"If you don't like the weather in New England now, just wait a few minutes." Mark Twain
Our American-made yarns draw inspiration from cherished American landscapes. Country®, for instance, is inspired by New England's picturesque scenery.  And like New England, where the weather can change if you just wait awhile, this striped yarn creates an unexpected but stunning heathered fabric as you knit or crochet with it.
It's super bulky which means it works up quickly and keeps you warm at the same time, especially if you're working on a large project like the Subtle Stripes Afghan.
It's the perfect yarn to get you through the last few weeks of bitter cold and snow. Knit up an afghan inspired by your favorite vacation towns with Kennebunk Teal or Mystic Purple or crochet a last-minute winter accessory.
Below is a collection of our favorite Country® patterns:
February 20th, 2015
We can't stop! There are just so many ways to turn a simple rectangle into a gorgeous garment. The Simple Shrug and Vegan Fur Poncho are perfect examples of that! Now we're taking it to the next level with the Tribeca Tunic.
This top is made from two rectangles seamed together at the sides. Although the pattern is for intermediate knitters, there's no shaping at the armholes or neck so it works up in a breeze! The front and back pieces are made up of smaller rectangular panels which a bold, geometric look that's very trendy right now.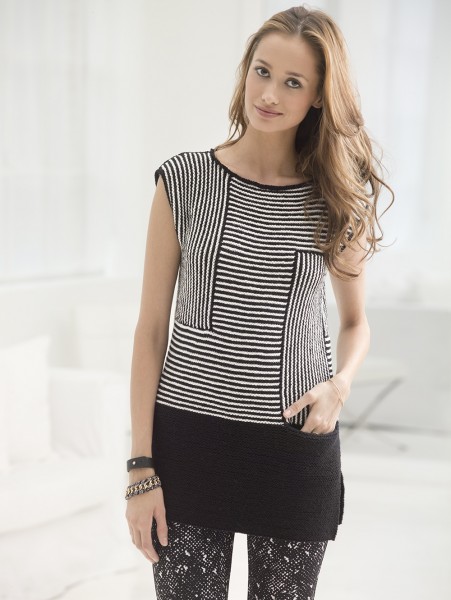 Made with Modern Baby®, you can see that the eye-catching contrast makes this yarn a fun choice to use for garments for children and adults alike! Plus, you'll love the sparkly detailing done with Vanna's Glamour®!
Design Editor Susan Haviland describes the construction of this unique piece in the video below:
:: Having trouble viewing the video above? Click here: http://youtu.be/nupttLNWYwQ ::
February 20th, 2015
Here is the latest installment of Lola, from its creator Todd Clark.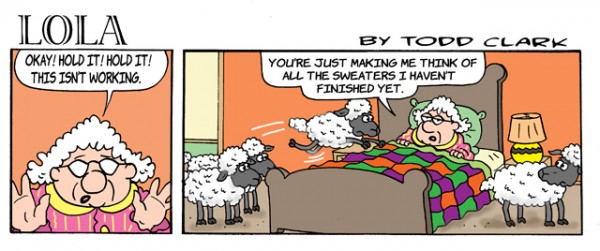 *** *** ***
Subscribe to The Weekly Stitch Newsletter
Get a FREE weekly email featuring patterns, articles and special offers. As a bonus for subscribing, we'd like to offer you 15% off your first order! *
:: Sign up now ::
February 19th, 2015
It's the middle of February, and many of us in the Northeast are still getting plenty of snow, cold, and wind – so it's the perfect time to get out those hooks (or needles) and work on something warm and cozy.
The Flattering Cowl is a popular pattern that's easy to make, and super snuggly because it's made with Lion Brand's plush Homespun® Thick & Quick® yarn. It's definitely a gratifying project because it works up quickly; you can easily finish this cowl in one day.
You'll love the feel of Homespun® Thick & Quick® as it keeps you nice and toasty in this super bulky cowl. Watch the video below for a tutorial that's great for beginners. Vanessa, from the Crafty Gemini, shares tips and tricks for working on this cowl, and offers advice for creating different variations. Enjoy!
:: can't see the video above? click here: http://youtu.be/lsuM-bx7f6o ::
February 18th, 2015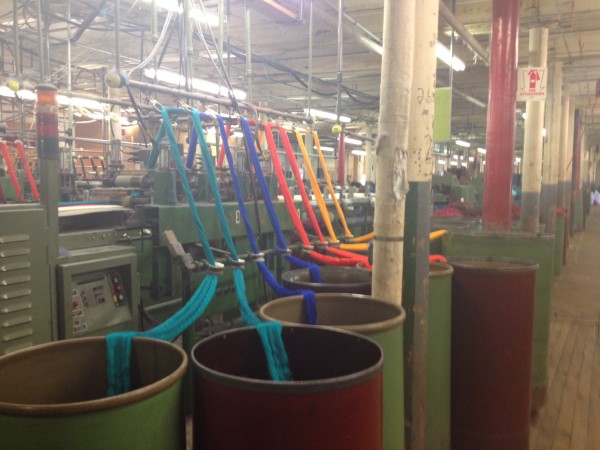 Did you know that many of Lion Brand®'s yarns are American-made? Some of them — Homespun®, Homespun® Thick and Quick®, Quickie, Country® and Spinnables — are all related because they're all made in the same mill in New Hampshire. I've had the pleasure of seeing these yarns being created first hand – it's magical!
When I first walked into the mill, I could envision what it looked like 135 years ago – the same. Even though the mill is so old, it still works, making lots of yarn each day. To make it run, there are many employees from the town. That's one of the most wonderful things about the mill — it supports hundreds of families!
I am so passionate about yarn and claim I have yarn for veins, so watching the whole process come to life was very exciting! I had the opportunity to see how the different colors come together to create a popular Homespun® color, Tudor, along with finding out how the dying process works. There were barrels of Quickie getting ready to be put into skeins. Near the Quickie were barrels of different colors of unspun yarn, used for Spinnables. It took a lot to hold myself from jumping in!