May 24th, 2016
Don't you just love an accessory that you can pair with every outfit? The Clearwater Cowl is just that because there are so many ways to wear it! This cowl is made from wool-blend Color Waves and is half traditional crocheted cowl and half fashion-forward mesh. And, with that little bit of fringe, you can take your cowl game to the next level.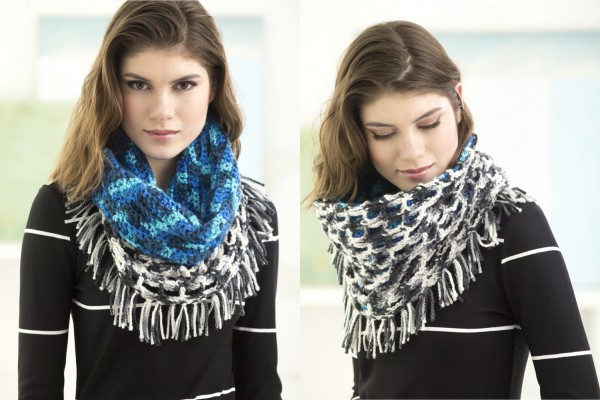 You can get lots of fun and functional looks out of this accessory. Check them all out in the video below!
Having trouble viewing this video? Click here: https://youtu.be/FhokS2gmQRM
May 23rd, 2016
Hello Out There!!!
One of the many things I get to do as a Brand Ambassador for Lion Brand Yarn is travel around the country and I to talk different knit and crochet groups or guilds.  Since I started my position as Brand Ambassador I have been to many groups, but the biggest guild I have spoken to was in Madison, WI — a knitting guild made up of over 300+ knitters!  (Fun Fact: it's really cold in Madison, WI in February!)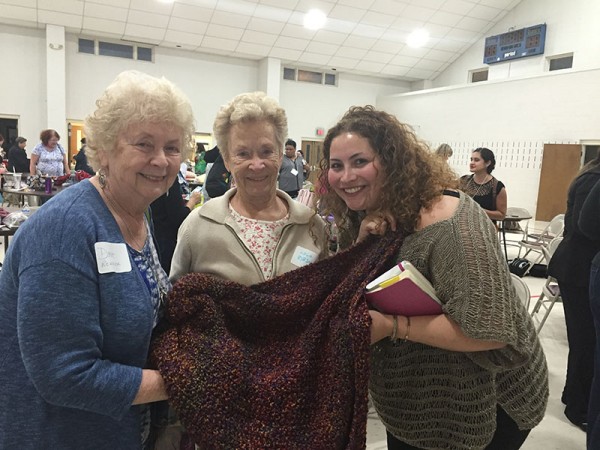 My Goal
When I talk to a group there are a three main things I talk about .
Lion Brand Yarn is not as big as you think! Sometimes people don't realize that our company is just under 100 people.  I convey the message, I love being able to see people's faces sometimes it's like their minds are being blown! t
We are also a family business.  Family business are rare these days especially one that is in its 5th generation (me being a part of the 5th).
I get a chance to let the knitters and crocheters feel and neck test all day long 😉  I bring new colors of yarns and new yarns for people to put their hands on and really get the chance to see what it feels like for themselves!  I also bring knit and crocheted garments with me out of the corresponding yarns so they can see how they work up!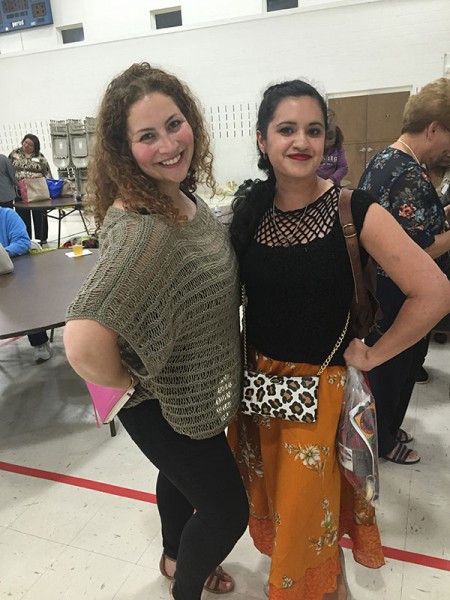 Feeling #Lucky
I feel honored to be able to talk to these crafters.  They are so talented to be able to see what they do with Lion Brand is amazing.  Some are avid users of Lion Brand and some, well, some admit to me "I didn't know you had such beautiful yarns until you came!  I can't wait to buy Lion Brand now!"
That's my end all goal.  I am there to inspire!  I am there get people excited about knitting and crocheting with Lion Brand Yarn!
These are some photos that I love from some of Guild adventures!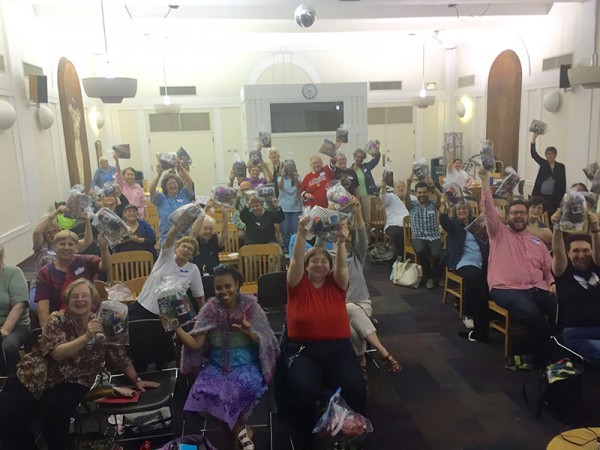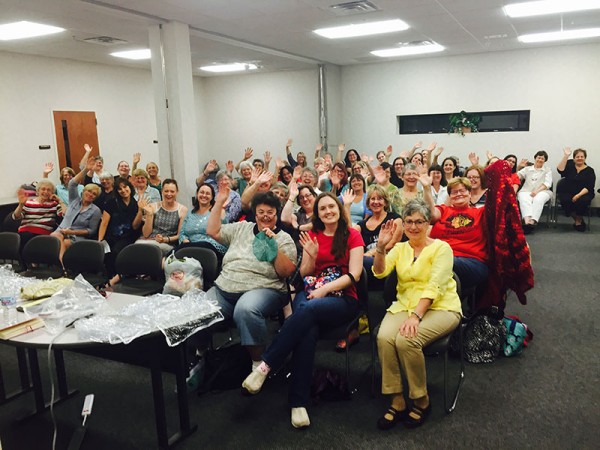 If you are interested in having me come visit your guild please email me at
Shiraroars@lionbrand.com
.  Please note, a minimum attendance of 70 people must be present for me to visit.
May 22nd, 2016
You love the gorgeous, colorful shawls that you can make with Shawl in a Ball. But when you combine skeins of this beautiful ombre yarn, you can make stunning garments, too! The Blue Mesa Tunic is a fabulous crocheted top that can be paired with jeans or a skirt for a great spring look.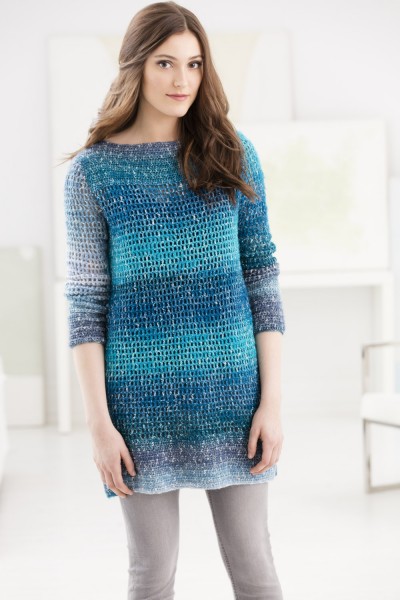 Take a look at the Blue Mesa Tunic in the video below!
Having trouble viewing this video? Click here: https://youtu.be/jjtSrAbK7-Q
May 21st, 2016
If you haven't gotten  your hands on 24/7 Cotton yet, you're missing out! This mercerized cotton yarn has a beautiful sheen and each stitch is absolutely stunning. We combined six of the 24 colors to make this dramatic Solstice Ripple Shawl. You'll love wearing this summer-weight shawl and, with fantastic fringe, it's totally on trend!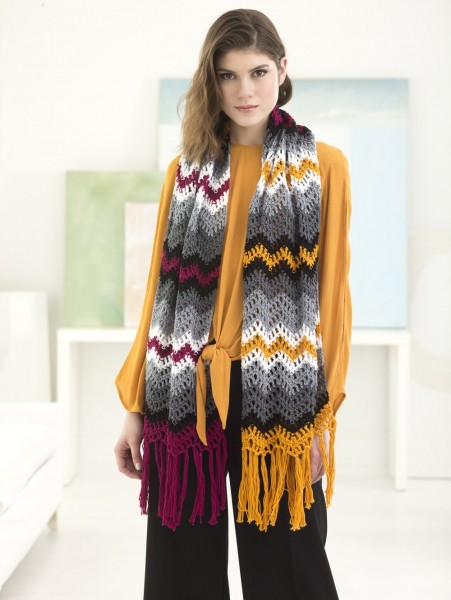 Check out some styling inspiration in the video below!

Having trouble viewing this video? Click here: https://youtu.be/9q16e_A8YVc
May 20th, 2016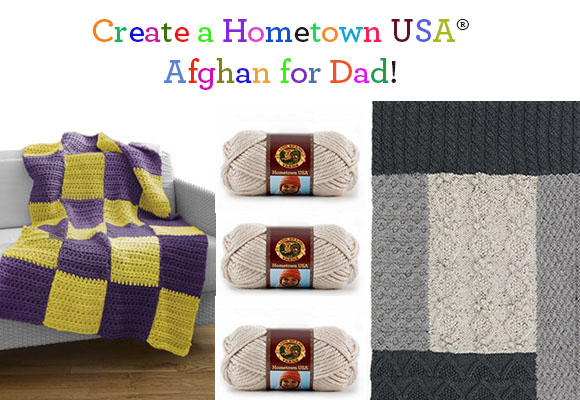 We have a public service announcement: Father's Day will soon be upon us! The day to honor dad this year is Sunday, June 19 and this week we aim to answer the eternal question What do Dad's want?  on their national day of celebration. Is it a tie? A wallet? A key chain? We think it's something more personal; a gift that not only shows you love him, but that you also know what he loves, too!
Enter: our color customizable Hometown USA® afghans. It's a simple project:
Step 1: Think of Dad's favorite colors. Perhaps his college pride hues, or his hometown sports team?
Step 2: Choose your craft. If you're a knitter, go with our Cabled Afghan pattern (below left); if you're a crocheter, the Rise & Shine Afghan is the pattern for you! (below right)
Step 3: Visit our Hometown USA® page to find Dad's favorite colors from the over 80 colorways available. Mix and match as you desire!
Step 4: Order all the yarn you need (15 balls for our knit afghan; 10 for our crochet afghan) in the colors Dad will love at 20% off!
Step 5: Knit or Crochet away, and give Dad a gift he'll never forget!
Happy crafting, Happy Father's Day, and please share your projects with us!