March 23rd, 2015
Each season we host a crochet- or knit-along, a virtual event in which knitters and crocheters come together here online to work on one pattern together, share their experiences, and to learn together. There's no need to sign up! Simply follow along with the blog posts at your own pace as you knit your project, and feel free to share your comments and/or photos as you progress.



Get Your Kit!

We asked you to vote on what knit project you'd like to make, and you picked our Glamour Jacket! Over 5,000 of you voted, and we're so excited to knit-along with you. Click here to download the pattern for the Glamour Jacket and see below for kits in four color options – all 20% off for a limited time!

To get this knit-along going, this week is about gathering your materials so that we can jump right in the week of April 6th. This lovely jacket is made in our Vanna's Glamour, a versatile, easy-care, acrylic and metallic polyester sport-weight yarn. It's also lightweight to give all your projects elegance and drape.

Starting the week of April 6th, our KAL host Kristy Glass will post her progress through the Glamour Jacket project, with updates coming every Tuesday. You'll know it's a dedicated KAL blog post when you see our special badge in the upper right-hand corner of the post. Don't forget to join our Ravelry group for this KAL as well!

In the meantime, meet Kristy through her video introduction below and please introduce yourself in the comments too! Let us know who you are, where you're from, and who you're making this top for!


:: can't see the video above? click here: https://youtu.be/6xtZihaKKiY ::

***
I am Kristy Glass and I am so thrilled to be infiltrating the Lion Brand blog to lead you in the 2015 Spring Knit Along! Even though I learned to knit as a girl, my passion for fiber arts has escalated at a very steep rate these past several years.

I returned to knitting and began crocheting about 8 years ago after I suffered an unexpected health setback leaving me feeling completely out of control. Hand work was a healing salve for my body and soul as I suffered through a long healing process. Thankfully I continue to use knitting to aid meditation, solace and a feeling of accomplishment. I knit year round, despite weather changes, and I am highly anticipating us all knitting together on this project.

I have completed over 100 projects including scarves, cowls, hats, hand warmers, phone cozies, afghans, pillows, sweaters and yarn bombing. My most recent passion has been making sweaters and actually wearing what I make!

March 23rd, 2015
It's National Puppy Day – the perfect opportunity to celebrate our furry friends! So go on, take the pooch out for a longer walk, give them an extra treat or two, and while you're at it, knit or crochet them a new sweater to show off at the dog run.
Here are eight of our most popular dog sweaters – from the Cabled Dog Sweater to the Dragon Slayer Dog Sweater to something simple like the Proud Puppy Sweater, there's something for every doggy!
Have you knit or crochet anything for your best furry friend lately? Share with us below!
March 20th, 2015
Here is the latest installment of Lola, from its creator Todd Clark.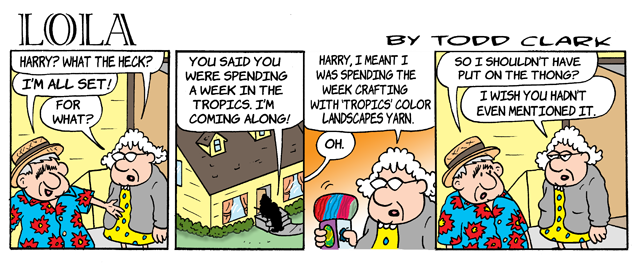 *** *** ***
Subscribe to The Weekly Stitch Newsletter
Get a FREE weekly email featuring patterns, articles and special offers. As a bonus for subscribing, we'd like to offer you 15% off your first order! *
:: Sign up now ::
March 19th, 2015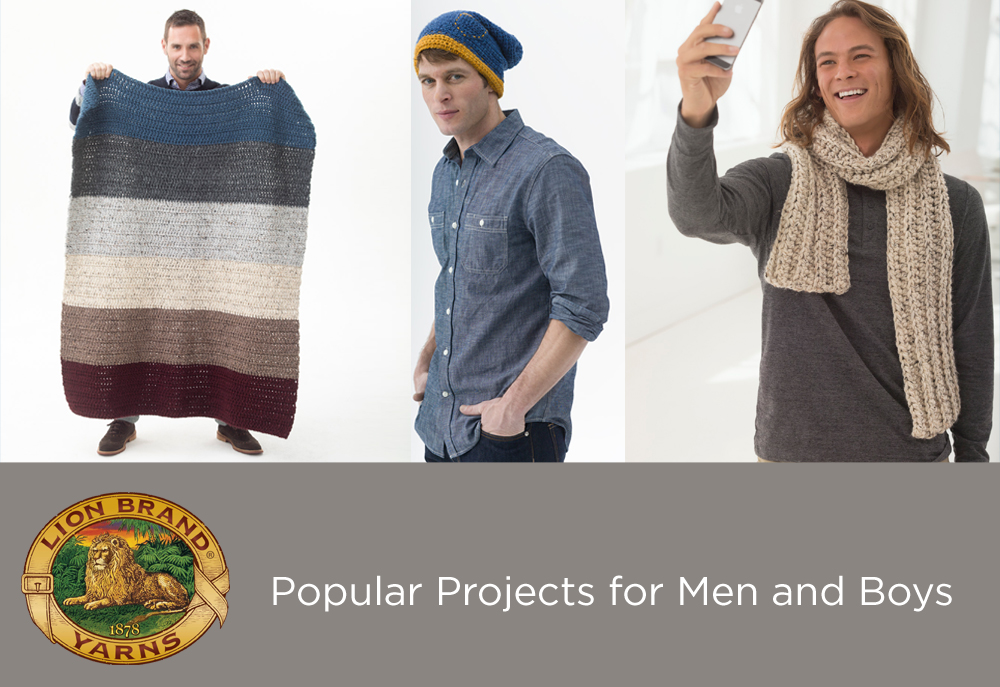 March 18th, 2015
In case you missed it, last week we highlighted the first section of our 2015 fashion collection, Simple Rectangles, which featured pieces made from, you guessed it, rectangles!
This week we're having fun with the second section, Rectangles Sewn Together, which features easy rectangle shapes that require just a little bit of simple seaming to become impressive garments! You can make runway-inspired garments with minimal shaping. If you've never made a cardigan before, this group of patterns is a great place to start – you really can do it!
See all of the patterns from part two: Rectangles Sewn Together!
Hear more about the idea behind this year's collection from Lion Brand®'s Design Director Adina Klein in the video below!
:: Having trouble viewing this video? Click here: http://youtu.be/EA_CcH2IoWc ::
March 17th, 2015
Arabia Temple works at the Lion Brand Yarn Studio and gives some of her favorite tips for crocheters who often come into the store asking for help.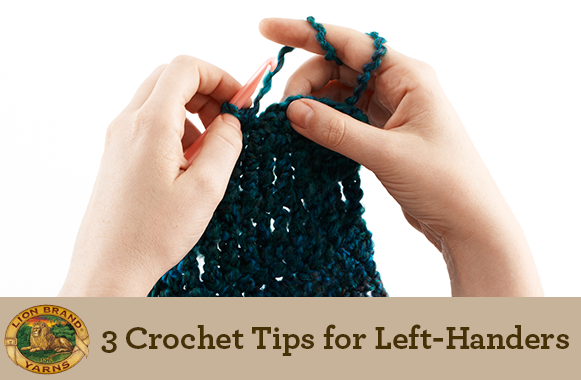 At least once a week, someone will come in and talk about how they'd love to crochet, but they're afraid to try because they're left-handed. Admittedly, the majority of crochet patterns, diagrams, and instructions are created for crafters who hold their hook in their right hand.
Here are a few tips that have proven helpful to those who hold their hook with their left.
Re-write for left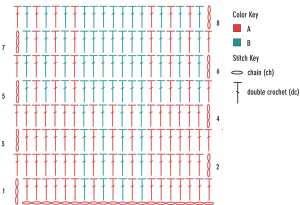 Before you even pick up a hook, you should read your entire pattern from start to finish. Once you've gone through it and understand what it's asking of you, go through it once more and make adjustments to the directional instructions to reflect crocheting from left to right.
Create a mirror image
If you're working with granny squares, motifs, or other patters using charts, symbols or illustrated stitch explanations, see if the images can be flipped horizontally (see example of St. George's variation on the right) before they're printed or photocopied to show the stitches being worked clockwise. Or, you can simply find an actual mirror and place it next to the image to follow the pattern.
Declare it Opposite Day!
Online instructional videos, like Lion Brand's Youtube Channel, are a great resource for crafters, but when the host is a right-handed, you'll want do the opposite of what you see the instructor doing. For example, right–handed instructors will turn their work from right to left – like turning the page of a book; you would instead turn your work from left to right-like going back a page.
While crochet doesn't exactly cater those who are left-handed, it certainly shouldn't scare them away. As long as you remember that patience, practice, and perseverance are all you really need to crochet, no matter what hand your dominant hand is, you'll be just fine.
March 16th, 2015
Wondering who the winner is?! Click here …
It's that time of year again! Come knit-along with us as we make one of the garments below. First, meet your Spring KAL leader, Kristy Glass (who's wearing the Granny Raglan Pullover, which she mentions in her introduction video below):
:: can't see the video above? click here: https://youtu.be/Uz29IwpNuoo ::
So let's get started! FIRST you have to help us pick the pattern! Learn more about each of the patterns by clicking on their photos/names below and then come back to cast your vote. They're all so good, we predict a very tight race!
Votes must be cast by 11:59pm Eastern Standard Time, March 22nd, 2015. You must use the voting tool below to vote; comments here on the blog do NOT count as votes.
Ready? Cast your vote!
Voting is now closed. Wondering who the winner is?! Click here …
(Can't see the voting tool above? Click here to vote.)
___
This knit-along is a virtual event, where all the participants make the same project together. Follow along with knit-along host Kristy Glass here on the blog and share your comments and photos. There's no need to sign up, and it's free to join! (New to knit-alongs? Check out our guide here.)
Remember, the winning pattern will be announced the week of Monday, March 23rd 2015 here on the blog and at that time we'll also give you details on picking up your supplies and getting started on the project!
—
Votes must be cast by 11:59pm Eastern Standard Time, March 22nd, 2015. You must use the voting tool above to vote; comments here on the blog do NOT count as votes.
Crocheters, look out for a crochet-along later this year, here on the Lion Brand Notebook.
March 14th, 2015
Happy Pi Day! It's a special one too because today is 3/14/15, which happens to be the first five digits of Pi (3.1415) and if you're super-into Pi, you know that this post went up at 9:26am, the next three digits (3.1415926)!
Don't know what the heck I'm on about? Pi is an irrational number relating to the circumference and diameter of a circle. It's approximately equal to 3.14, though the decimal places are believed to go on forever. You can learn a little more about Pi here, or you can just have fun with the collection of math and Pi-themed knitting and crochet patterns below!
*Note: Some of these patterns require a Ravelry account. Make sure you are signed up or create a free account to access.
March 13th, 2015
Was Cinderella your favorite Disney Princess when you were a little girl? Well, she's making a big comeback! Disney's new live-action Cinderella comes to theaters this weekend to bring magic to a new generation. Do you think this new film will be a fun update or is the classic version your all-time favorite?
Inspired by the new movie, I've put together some patterns that can bippity-boppity-boo your little one into a real princess. The projects include our new crocheted Topsy Turvy Princess Doll that transforms with a flip from day to night! And the adorable Fairytale Headband and Wand set requires no knit or crochet skills- a great project to craft with the kids!
Craft Fairytale Headband and Wand
made with Vanna's Glamour® and Bonbons
Crochet Topsy Turvy Princess Doll made with Vanna's Choice, Vanna's Glamour®, and Bonbons
Knit Baby Crown Hat
Made with Modern Baby®
Crochet Pumpkin Hat
made with Vanna's Choice® by Bowties and Fezzes
Knit Rats! made with Wool-Ease®
by Ravelry user 3secondfish
Knit Lavish Booties
made with LB Collection® Cashmere
Knit Fairy-Tale Blanket
made with Vanna's Sequins by Nicky Epstein
Craft Fairy Wands made with Martha Stewart Crafts

TM/MC

Extra Soft Wool Blend and Martha Stewart Crafts

TM/MC

Glitter Eyelash
Loom-Woven Apron with Pockets
Made with Martha Stewart Crafts

TM/MC

Cotton Hemp
March 12th, 2015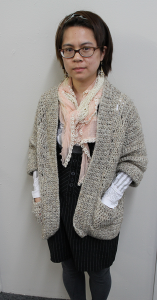 As the weather moves from winter to warmer, a cardigan can serve as a great transitional piece. I'm a very petite person, so fit is always a concern, especially when it comes to sleeves. I prefer tops that have 3/4 sleeves because they end up being regular-sized – perfect for a small woman like myself!
I'd been eyeing the Perfect Crochet Cardigan for awhile and since with March is National Crochet Month, I thought it would be the perfect opportunity to start this wishlist project. I had also needed an excuse to use the Fishermen's Wool® in my stash, which turned out to be a great substitute for Amazing® – I didn't even have to change hook sizes!
It really is the "perfect cardigan" –  it worked up quickly, taking only a week to finish, and it fits great. I can also roll up the sleeves, as you can see, to create my own 3/4 sleeve effect. As a crafter, I added pockets so I have someplace to put my yarn cutter and measuring tape when I need it. It can even serve as a coat on those cooler spring evenings.
For more ideas, I've selected four projects that work well for petites!