February 8th, 2016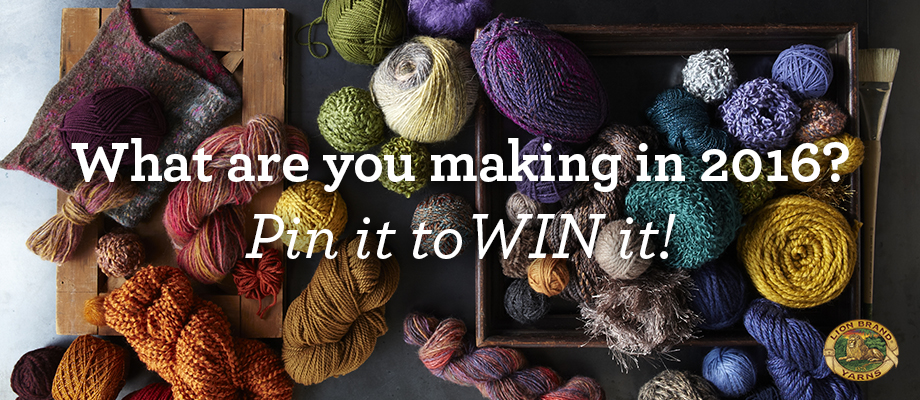 Hey yarn lovers! What are you knitting or crocheting in 2016? Share it with us and you could win all the Lion Brand® yarn you need to make it!
What to do:
1. Find your favorite Lion Brand® pattern on Pinterest, the Lion Brand web site, or from your favorite designer like Moogly (pattern must use Lion Brand® yarn) and pin it to a Pinterest board of your choice. Don't have Pinterest? Sign up now – it's free and fun!
2. Copy the Pin URL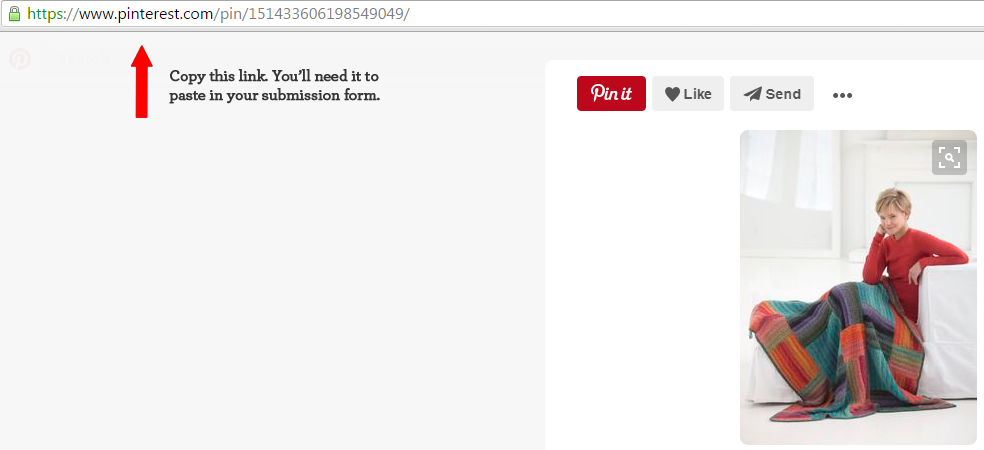 3. Then submit your Pin here: lby.co/PinItContest
The prize:
Once a month we'll randomly select a "Pinner" to win all the Lion Brand® yarn to make the project they shared!
Need some pattern ideas? Check out what others have been pinning!
Contest open to US residents only. Please read the official rules on the bottom of the submission form before entering.
February 7th, 2016
See it, make it! Model Gigi Hadid was recently snapped in Paris wearing this cool granny square duster. This 70s-inspired sweater-coat is totally trendy right now but its price tag might shock you. This Rosetta Getty duster retails for $1,400! But you can make one yourself without breaking the bank!
The crochet Graphic Statement Cardigan is made with Heartland®. It's a fun, bold cardi that's a must for your winter wardrobe! And, with so many amazing colors of Heartland®, imagine all of the possibilities!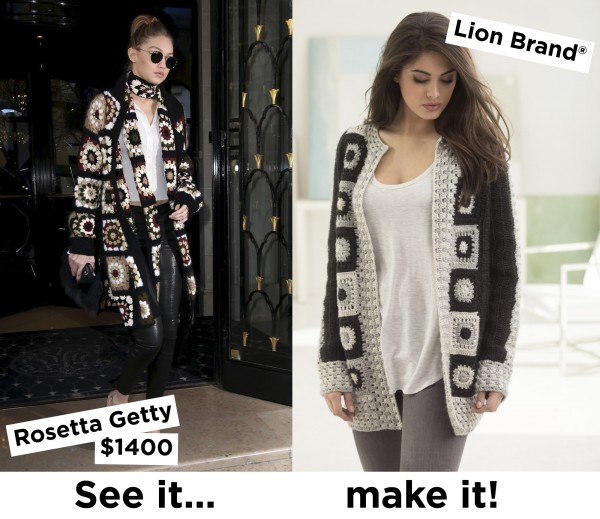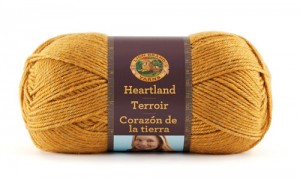 Shop for Heartland® here!
February 6th, 2016
Have you seen our newest yarn, Color Clouds? It's a Jumbo weight yarn which means it's perfect for quick-knit winter accessories that will keep you warm and wrap you in a pop of color! Big, chunky accessories are always in for the winter time! And Shira's found her favorite!
In this video, Shira shows off her latest project, the Hampstead Headband. It's the perfect project to give as a gift because it works up super fast. But your friends don't have to know that! Shira's knitting one for each of her friends and with so many colors to choose from, she'll never get bored!

::Having trouble viewing the video below? Click here: https://youtu.be/JkAg3OKiCEI::
See even more color possibilities!
February 4th, 2016
When my friend Ana (pictured at right) recently had to undergo a worrisome medical procedure, my automatic impulse kicked in.  "I'm going to knit you something," I announced.  That's what I do when people I love enter crisis mode.  Knitting is a way of coping, I suppose; it lets me feel helpful in situations I can't control.  It's also how I turn nervousness into productivity, and creative energy into caring.
Ana's situation deserved a big expression of my caring, I decided.  She was going to get a blanket.  Lion Brand's pattern for the Neutral Cabled Afghan, done in three shades of Hometown USA® yarn, immediately caught my eye.  Its soothing colors complemented the décor of the small apartment that Ana, a single mom, shares with her three-year-old son, and I knew the cabled designs would give the blanket pleasant weight and warmth.  That the afghan is knitted on size 15 needles suggested I'd finish the project within a reasonable time, too—no point in starting something like this in winter if she wouldn't get it until summer!
My hunch was correct.  The project moved quickly, and in a week I'd knitted more than half.  This is one of the most interesting patterns I've ever followed, and it's definitely a skill builder.  Knitters, listen up:  if you want to become a cable maven without tears, here's your education!
Viewed from above, the Neutral Cabled Afghan is a large log-cabin rectangle.  If you've knitted a log-cabin pattern, you know it's a modular construction that grows by attachment.  You start by knitting a central piece, and enlarge it, not by sewing it to other pieces, but by picking up stitches along an edge and working another rectangle outward.  The advantages of this type of modular construction are strength, potential variety of color, and potential variety of texture.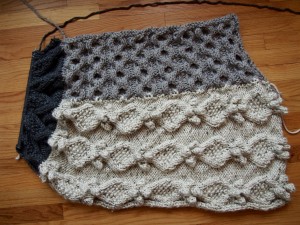 With the
Neutral Cabled Afghan
, another factor comes into play.  Textural variety develops, of course, from the qualities of the yarn, but most strongly, from the texture the cables give each section.  Since the design is worked on large needles, the cables assume mega prominence.  This blanket is all about them, and in the center section, it's all about cables and bobbles.  If you've never worked cables or bobbles, or if you want to improve your skills in the cables and bobbles department, here's your lifetime chance!
Cables aren't difficult, but like any process with multiple steps, they can be complex.  Rule number one:  Read the Pattern Carefully.  Rule number two:  Go Slowly.  As you move through the pattern, say the stitches aloud as you knit.  That will keep you on track.   And whether you follow the charted patterns or those written in words—Lion Brand provides both—please do this:  enlarge the pattern on your computer printer or with a copy machine, and use highlighter tape to mark where you are in the pattern.  Register your progress, too, by ticking off the lines as you finish them.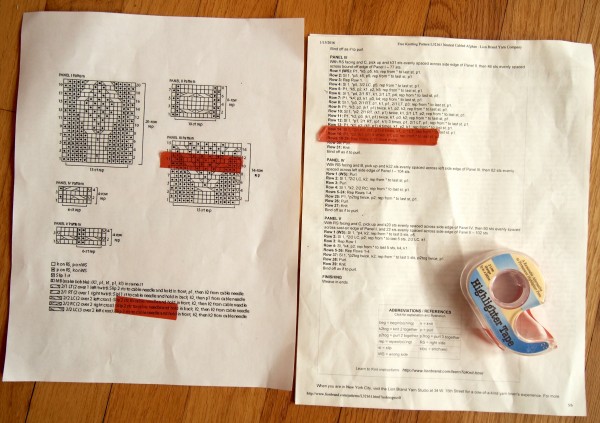 In my next post, I'll talk about the process of knitting each section, and share some results, both knitted and medical.
February 3rd, 2016
In this episode, I sit down with my friend London Kaye at this year's Craft & Hobby Association Mega Show and I am able to congratulate her on winning "Best Booth" at the show for Lion Brand Yarn.  Find out how she was inspired for her one of a kind mural that she crocheted out nothing but Lion Brand Yarn!
She even tells us the names of all the creatures… you'll never guess who the whale is named after!
:: Can't see the video above? Click here to watch – https://youtu.be/4i7ciqlwO5w ::