April 30th, 2016
Does knitting or crocheting give you pain in your shoulders? Does it prevent you from stitching on?
AJ's got another great stretch for you! This simple technique is surprisingly effective for working out tight shoulders, arms, and wrists. Try this out next time you take a break from you knitting and get your blood flowing!
Having trouble viewing this video? Click here: https://youtu.be/YqpQCQlt9A4
April 29th, 2016



Mother's Day is almost upon us! With

Sunday, May 8

just around the corner, it's time for a special sale on your favorite gifts for Mom! For a limited time, you can get the yarn-lover in your life presents she's been wanting- at 20% off. And all purchases $75 or over come with our best-selling yarn craft mug free as a gift for you. Happy Mother's Day!
April 29th, 2016
In this episode of Tea with Shira, our fearless brand ambassador sits down with Lion Brand intern Karin! A creative soul from Shenkar College in Israel, Karin has designed extraordinary patterns for Lion Brand using yarn in unexpected ways!
Meet Karin in the video below, then find three of Karin's latest patterns!
:: Can't see the video above? Click here to watch – https://youtu.be/nuIovJ9a-pE :: 
April 28th, 2016
Ever wonder what it's like to join Vanna White in front of the camera? Here's your chance to go behind the scenes!
Vanna modeled new patterns made with Vanna's Choice®, Vanna's Complements®, and Vanna's Glamour® and we were there to give you a sneak peek. She even snuck in some time between shots to crochet and chat with Shira about her passion for the craft and St. Jude Children's Research Hospital.
Having trouble viewing this video? Click here: https://youtu.be/2-8G4yGfYt8
Get all of the patterns featured in the video!
April 27th, 2016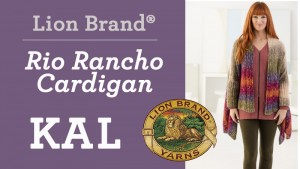 Welcome to the Lion Brand Yarn Spring Knit Along! This spring we will be knitting the Rio Rancho Cardigan. It is a lightweight, flowing pattern that marries love of cardigans with love of shawls.
If you are like me, you have been eyeing Lion Brand Yarn's newest yarn: Shawl in a Ball.  I had the opportunity to crochet up a shawl recently, and one ball was just not enough to satisfy me! I am thrilled to say that this pattern uses 3 balls of Shawl in a Ball.  It's the perfect amount for this one size fits all cardigan, and a wonderfully affordable project!
Check out the video below to see some footage of this cardigan in action at the CHA Fashion Show this past winter.
:: Can't see the video above? Click here to watch – https://youtu.be/36JTTXAp8SE ::
Every season and complexion is covered in the range of colorway offerings.  If you love autumn colors I suggest Calming Desert and Peaceful Earth.  If you are a neutral lover: Soothing Blue and Feng Shui Grey.  If you love the bright colors like me: Restful Rainbow, Mindful Mauve, Healing Teal and Community Coral are perfect for you.
I am knitting my Rio Rancho Cardigan in Mindful Mauve.  I love the purple hues paired with grey.
There's still time to grab your supplies — order your KAL kit today!  Join us on Ravelry so we can discuss it as we knit.  You can find us there and also here in the comments below, on Twitter and Instagram.  You will finish just in time to have the perfect garment for those chilly summer nights.
Happy Knitting!