December 8th, 2014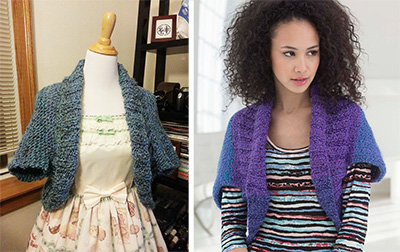 Every year I participate in a handmade Secret Santa gift exchange. Working at Lion Brand has definitely inspired me to learn to knit, and as a person who usually crochets, I wanted to make something different and challenging this year.
I found the Ribbed Bolero pattern to be a good place to start. It's a good beginner project to both improve knitting skills, and to make a great gift at the same time. It's just like making a scarf — just much wider and folded in half.  This pattern is perfect as I had also been looking for a 2-ball project that uses Homespun®.
One of the many skills I gained from this project was learning to differentiate between a stockinette (which the pattern called for) and a garter stitch (which I accidentally did). I was surprised (and relieved) that it still looked similar the picture, except with a different stitch – and it only cost $15!
Below I've selected several 2-ball projects that will let you practice your craft and make a great handmade gift at the same time. Let the gift knitting begin!
December 6th, 2014
This sale is now over but for more great kits, please visit lionbrand.com kits.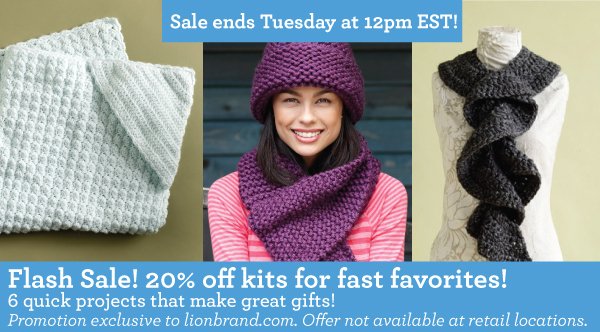 *** Click on the project you'd like to make and choose from two kits: one that contains the pattern and yarns; or one that contains everything – the pattern, yarns, needles and hooks. ***

December 5th, 2014
We've developed a new system for bringing you easy-to-follow patterns for knit and crochet projects. The new pattern style features simple diagrams and less text, plus simplified written instructions so you can both visualize and understand each step.
We believe that you'll find these patterns to be the easiest you'll ever use, so you can knit and crochet with newfound confidence.
But don't just take our word for it … below is a sampling of three popular patterns written in the new style. Click on the image or name and you'll be taken to a PDF file featuring the new pattern style. Give it a try, start creating the easy way today!
We'd love to hear your opinion of this new style of pattern writing, so please leave a comment below.
December 5th, 2014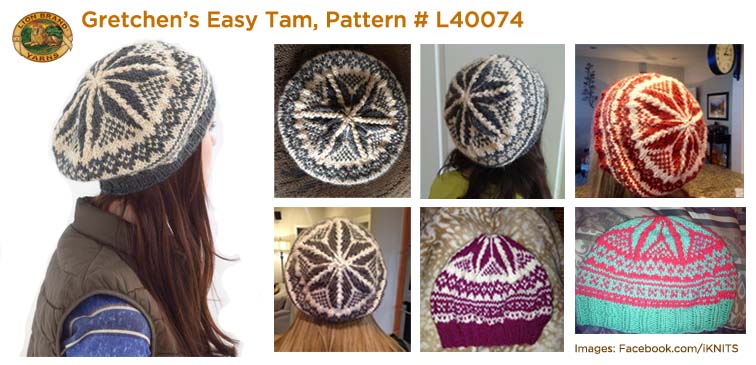 Christine from the iKNITS YouTube channel shows you how to work up Gretchen's Easy Tam using Heartland yarn – which, by the way, is 20% off until the end of this month.
This tutorial is great for those who may feel intimidated by fair isle knitting; Christine does a wonderful job of making the pattern and technique easy to understand. With a beautiful snowflake/star image at the center of the hat, it's the perfect winter accessory. There are plenty of colors in Heartland for you to choose contrasting hues that best suit your tastes. I personally like the red and white combination for a striking Christmas hat.
Watch Christine's video below and get started!
December 4th, 2014
Two of my good friends have recently had babies and while I'm still thinking about making gifts for my friends, I'm also thinking of their newborns this holiday season.
I love making baby gifts that are colorful or have a lot of texture – the extraordinary color palette of Modern Baby® is one of my favorite yarns for color, and for a touchable pattern with lots of texture, I always come back to the symbolic Tree of Life Afghan.  
Earlier this year, when Lion Brand introduced its newest yarn, Ice Cream, I got excited about the Confetti Color Blanket – the variegated colors and knitted indentations give it a touchable, fabric-like appearance – a delightful combination of both color and texture!
To inspire you this holiday season, I've selected some of my favorite patterns that feature color and texture:
Colors
December 3rd, 2014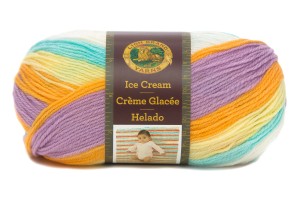 Destined to be your new favorite baby yarn, Ice Cream is a soft and easy care yarn that works up to create delightful, self-striping colorways that blend unique and cheerful color combinations.
It comes in eight delightfully tasty colors like Lemon Swirl, Tutti Frutti, Banana Split, and Cotton Candy. There's even Cookies & Cream, a sophisticated, tonal grey shade for the gender neutral projects.
This will be your go-to yarn for baby shower gifts, your own baby project and even big, bright and beautiful blankets like the Charleston Garden Blanket.
We've selected a few of our favorite Ice Cream patterns below. For the full selection, visit lionbrand.com.
Berry Pretty Hat, Booties and Mitts
in

Strawberry

Knit Panda Pullover
in

Cookies and Cream

Crochet One Skein Wonder Vest in Banana
Split
Knit Favorite Baby Blanket in Cotton Candy
Knit Confetti Color Blanket in Tutti Frutti,
Strawberry, and

Blueberry

Crochet Snips and Snails Hat, Booties and Mitts in

Blueberry

Knit Checkerboard Blanket in

Tutti Frutti

Crochet Stroller Blankie in Lemon Swirl
December 2nd, 2014
Today, we've got a wonderful giveaway – we're giving away two copies of Megan's book, one per person. We hope you enjoy this book as much as we did. So many fun and well designed little projects in here!
Guidelines for the giveaway:
Rules and Guidelines:
1. Entries must be received by December 9th, 11:59p.m. EST
2. Must be 18 and over to enter.
3. One person per entry
»Click here« to enter the giveaway if the form below does not work for you.
December 1st, 2014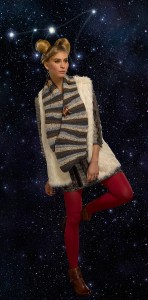 If you were born between December 22 and January 19, your zodiac sign is Capricorn. The Capricorn crafter is known to be very familiar with every stitch, their yarn stash is extremely organized, and their project wishlist is always completed.
As perfectionists, Capricorns love to try new stitches and projects and will practice their craft until they get it just right … before moving onto something more challenging.

Capricorns might appear to be private about their crafting habits, but it's actually that they are very shy. When it comes to displaying their feelings and emotions, they like to show their caring nature through handmade gifts – discreetly.
Show your favorite Capricorn how much you care with knit or crochet zodiac scarf in colors to match their amazing characteristics: charcoal grey for practicality, grey marble for ambition, barley for resourcefulness, and oatmeal for discipline.
Get the patterns for both knit and crochet!
Don't know a Capricorn?  Check out our entire collection of Zodiac scarves.
November 28th, 2014
Here is the latest installment of Lola, from its creator Todd Clark.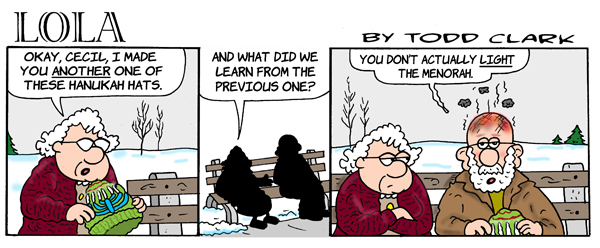 *** *** ***
Subscribe to The Weekly Stitch Newsletter
Get a FREE weekly email featuring patterns, articles and special offers. As a bonus for subscribing, we'd like to offer you 15% off your first order! *
:: Sign up now ::
November 27th, 2014
Lion Brand Yarn Company is a family owned and operated business. Currently, the fourth and fifth generation of the family are working in the company. The children below are all members of the sixth generation and they're dressed in fashions all knit and crocheted with American-made Heartland yarn. These patterns are easy to make and will delight the next generation in your family.
At this time of year, when families gather together, we wanted to share the faces that make us smile. Hoping you are fortunate enough to see the people who mean a lot to you this Thanksgiving. When you take a break from the traveling, and the cooking, and the cleaning, say hello in the comments below and tell us about your holiday meal.