May 16th, 2015
Here in the marketing department at Lion Brand, we talk a lot about knitting and crocheting and yarn and magic loops and swatches and yarn weights (we know our DK from our super bulky) and and and … bottom line is that we're all experts in one way or another when it comes yarn. We can talk about it all day — and we do! You may however be surprised to know that we're also fairly well-rounded with an excess of interests, hobbies and obsessions that go beyond the hooks and needles.
We thought you might enjoy a peek into our inner worlds. Have fun and please share some of your own personal interests outside of knitting and crocheting in the comments below.
---
Margaux:The place I like the most these days is my rooftop; it has nothing fancy but the view of the city is spectacular. On sunny evenings we like to relax there and share a nice bottle of wine with my neighbors. Recently, I had a great time at a low-key dance performance: Andy Warhol's 15 (Color Me, Warhol) at Dixon Place. This small theater is a non-profit organization committed to supporting the creative process by presenting original works of dance, theater, music, visual art… It's a very unique place! And continuing on my "discover NYC" tour, I discovered my favorite restaurant in the city: Hometown. It may sound a bit silly but this BBQ joint encompasses the exact image I had of traditional American food.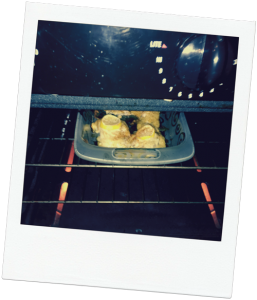 Shira: Well, I feel like I'm Kelly Clarkson preparing for my summer tour. I am starting my tour by heading to Atlanta to talk to the North Georgia Knitting Guild and the Chain Gang on May 21st! You can check out where I'll be next here.
On a more personal level I have been getting back into cooking. Life happened and I just put cooking to the side. However a friend came in from out of town and I was feeling very Martha Stewart sooo … A friend of mine told me about this delicious recipe for Hummus-Crusted Chicken. It is so yummy, a real crowd-pleaser and SOOOOO easy! I don't even use veggies as the recipe calls for! Here's what you do: 1) Preheat the oven to 450 degrees; 2) Season chicken breasts with salt and pepper; 3) Coat the chicken breasts in hummus, then sprinkle salt, pepper and paprika on top; 4) Squeeze on some lemon juice (I then take the lemon and slice it and put it on top of the chicken); 5) Bake for 25-30min and oulah … I guarantee that you will have re-occurring guests for dinner!


Lorena: My best friend from elementary school just got married to a guy we grew up with, and another old friend just proposed to his girlfriend! The wedding bug has officially hit my circle of friends and I've been inspired to read Galt Neiderhoffer's "The Romantics", about a group of friends reuniting for a wedding (art imitating life?) Since the weather's nice, I've been taking my reading outdoors to Riverside Park, Union Square Park, and, of course, Central Park. Up next for me? Exploring (and reading in) Brooklyn's Botanical Garden!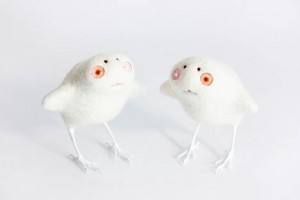 Zoe: I'm getting ready for my third solo exhibition and it's really crunch time now! Even after the artwork is finished, there is still photography, marketing, packing and shipping to be done before the show can finally be hung in the gallery. ORACLES opens Friday, June 5th at PSG Gallery in Philadelphia. If you are in the Philadelphia area and enjoy surreal sculpture in needle felted wool, I hope you'll check it out!


Brandyce: New York City has so many different museums and galleries, it's almost like you need to carry around a checklist just to keep track with what's going on! I just recently went to the Brooklyn Museum to check out the exhibition, Basquiat: The Unknown Notebooks. The museum itself currently has some exhibitions which are quite enlightening and make you think about how you interpret the world around you. I look forward to seeing a lot more art this summer; The MET has just unveiled its new rooftop garden piece and I can't wait to check it out.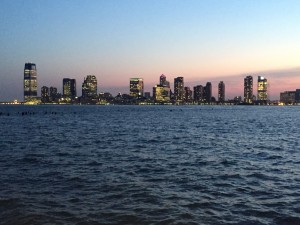 Ilana: After the winter we just had, all I want to do is be outside and soak up the warmth. As soon as the temperature hit the high 50s I started playing tennis. In a city where real estate is at a premium, you either have to wake up early to reserve a court or wait in line. Court time may be a scarcity but I don't mind waiting for a spot at my favorite location on the Hudson River where I can play under the lights and see a sunset. That's New York. You face a lot of challenges but the benefits are pretty amazing!


Danielle: I went to Cort Theater last Saturday to see Larry David in his new play, Fish in the Dark. It's a quirky show about a dysfunctional family facing the death of their patriarch. You'll laugh, you'll cry … it's great. Fans of Curb Your Enthusiasm will appreciate the hidden references (well, one is pretty, pretty obvious). If you're visiting New York in the next while, grab tickets if you can – I give this show a big thumbs up! (Pro tip: Larry David's run ends June 7th and Jason Alexander steps in on June 9th – great news for Seinfeld fans!)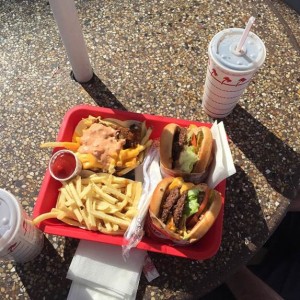 Sarah: I just got back from a vacation in Las Vegas. While I didn't do much gambling, I did a bit of eating.
Shake Shack has my favorite burger so I had to stop at the one in the New York New York casino. It was just as good as home! I also went to In-N-Out Burger since we don't have any on the east coast! Right now Las Vegas is the only place where you can get both cult favorites! There's a big rivalry.
Which one do you prefer?


Welcome Lorena!
May 15th, 2015
The Jurassic Park universe is back in a big way this summer! Jurassic World starring Chris Pratt and Bryce Dallace Howard returns to the updated Isla Nublar theme park with bigger, badder dinos. The movie is out on June 12th so we are getting in the mood with pterodactyls, triceratops, and, everyone's favorite, the t-rex!
Below are 9 patterns for every little dinosaur lover and even their furry friends!
May 15th, 2015
Here is the latest installment of Lola, from its creator Todd Clark.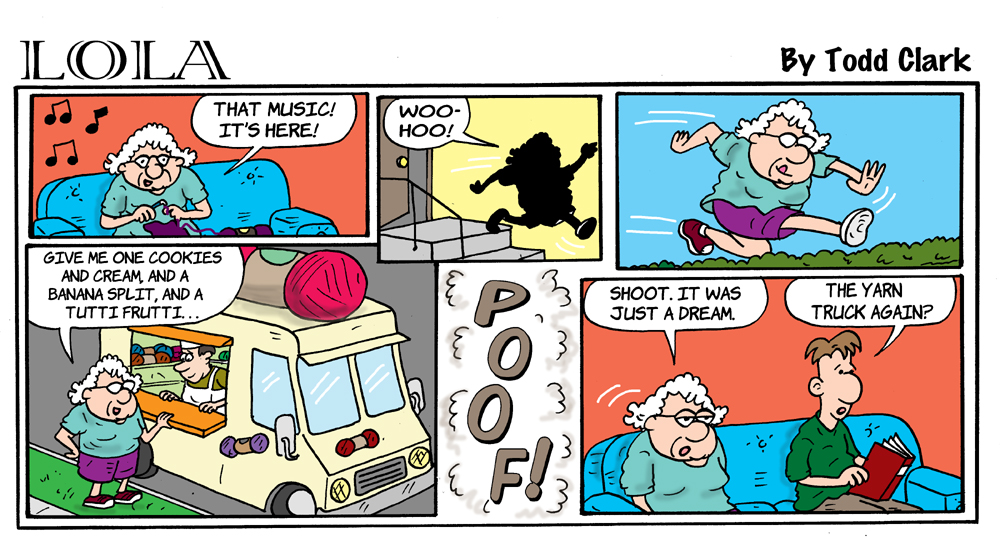 *** *** ***
Subscribe to The Weekly Stitch Newsletter
Get a FREE weekly email featuring patterns, articles and special offers. As a bonus for subscribing, we'd like to offer you 15% off your first order! *
:: Sign up now ::
May 14th, 2015
I'd never wanted to visit Vegas. I don't like to gamble and I don't like crowds (even after almost ten years living in New York City). Quite frankly, Las Vegas seemed like the opposite of my favorite thing to do which is curl up with my knitting and a good movie. But when I got the opportunity to go on a some-expenses-paid trip to Sin City, I felt like I shouldn't turn it down.
Since I spend a lot of my day perusing Lion Brand's free patterns, I'm often spotting new projects that I want to start. When I saw the Sparkle Slipon in our Fashion Show, I was totally in love. It was fun and summery and oh so sparkly! I felt like I needed to have a little glitz to wear by the pool if I was going to visit the land of showgirls!
But I was a little nervous. I'd just taught myself how to make granny squares after years of knitting. I'd never crocheted anything bigger than a coaster. When I read over the pattern, I realized that the Sparkle Slipon is a lot like a granny square. I've never shied away from a crafting challenge so I decided to dive in. I got some help (and a lot of encouragement) from Arabia in the Lion Brand Yarn Studio. I wanted to use fewer colors than the pattern called for so she helped me calculate how much yarn I would need and, after making the lower body too tight, she gave me advice on how to make easy changes.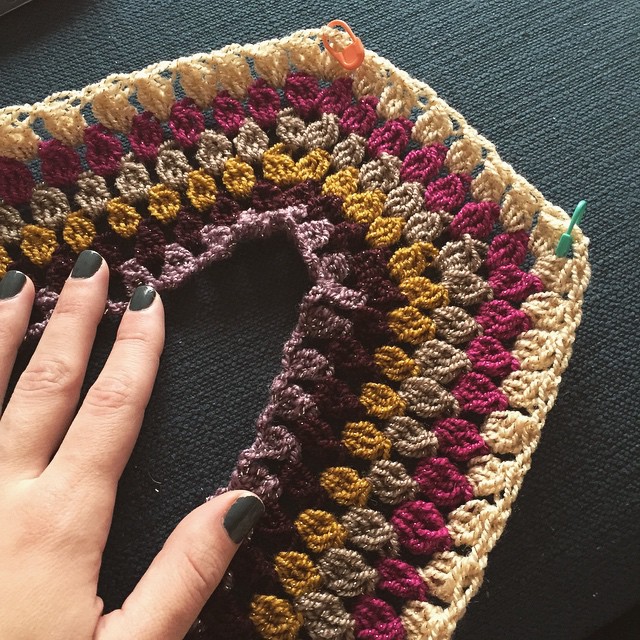 This was the perfect project for a novice crocheter! It certainly was a challenge for me and it's not perfect but this was a great way to translate what I knew how to do into a big project. I was able to pick up some new skills but I wasn't pulled too far out of my comfort zone since it had so little shaping. The color and fiber made this garment just the right weight for a swimsuit cover up. And since Vanna's Glamour® is machine washable and dryable, I won't have to worry about getting sunscreen on this top.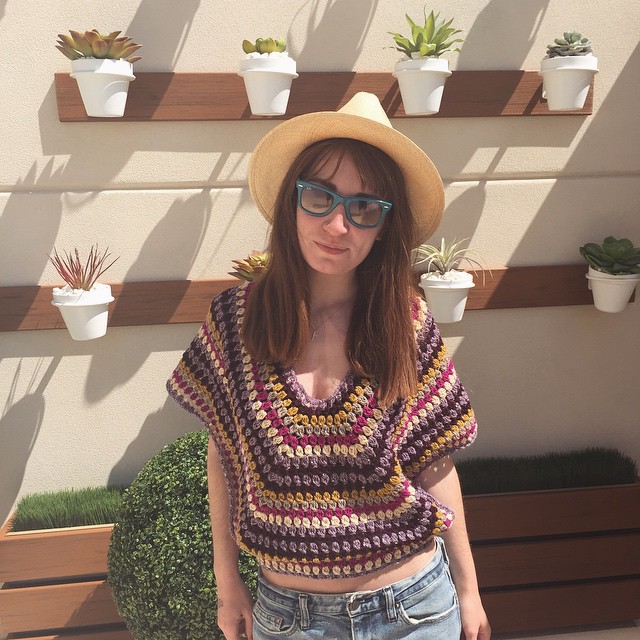 On my very first day by the pool, a woman stopped me to say how much she loved my top. I don't usually let people know when I'm wearing something handmade but this time, I was so proud, I had to let it spill! She said, "I'm a crocheter, too! I was looking at that top and I thought, 'I have to make one!'" I was so happy! I love inspiring other people with the things that I make!
I'm really looking forward to wearing this next time I get by the pool!
Have you ever gotten an unexpected compliment on something you made? Do you take baby steps when you're learning something new or do you dive in?
May 13th, 2015
"Someday we'll find it, the rainbow connection… the lovers, the dreamers and me." 
Just as Kermit the Frog once sang praises of rainbows, we celebrate the coming-together of every color with a few of our favorite multi-hued crafts!
* Not a Lion Brand Pattern
May 12th, 2015
Today, we're sharing the third installment of our four-part video series "Fancy Stitch" featuring Staci of Very Pink Knits. In our last video, Staci showed us how to knit the Granite Relief Stitch, a stitch that can be found in the StitchFinder section of our website (under the "Learning Center" bar at the top of lionbrand.com). We were very excited to see how much you all enjoyed watching the previous videos, so we hope you also enjoy Staci's newest video – the Sugar Cubes stitch.
Like the Granite Stitch, today's Sugar Cubes stitch produces a textured fabric which is great for washcloths, garments with slight detail work, afghans and more! Check out Staci's tutorial for the Sugar Cubes stitch, which has been worked in LB Collection® Superwash Merino, Cotton Bamboo, and Cashmere to demonstrate the varying looks in each yarn.
:: can't see the video above? click here: https://youtu.be/d2HzL4kW7do ::
May 11th, 2015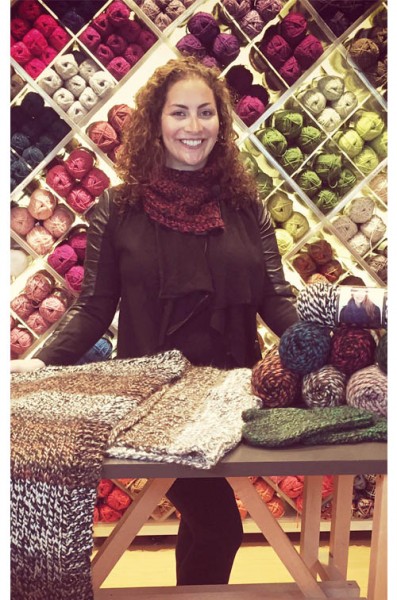 Lion Brand® Yarn, a family-owned and operated yarn company, announces the official launch of a new web series with its newly appointed Brand Ambassador, Shira Blumenthal, a fifth generation member of the family. The new web series, Tea with Shira, was created to share the story of this 137-year-old brand directly with crafters in person and online. Tea with Shira launches with three videos including a Mother's Day episode, where she interviews her mother, whose husband, David Blumenthal, is the President and CEO of the company.
Shira began working for the company in 2013 as an associate in the Lion Brand Yarn Studio, the company's Flagship retail location in Manhattan, which is a global destination for yarn lovers.  At the Studio, where customer service and education is key, she specialized in teaching children to knit and helped customers find the yarns and inspiration they were looking for.
Now, as an associate in the Marketing Department, Shira is part of a team that engages directly with consumers through conferences, email marketing and social media, including YouTube, Pinterest, Blogging, Facebook, Twitter and Instagram.  Shira will be traveling the country to speak with knit and crochet guilds, as well as appearing in videos about Lion Brand® products, behind the scenes videos about the company, and starring in a new video series called Tea with Shira.
:: can't see the playlist above? click here: http://lby.co/1KBThSq ::
Find Shira's upcoming schedule below:
2015
May 21- Atlanta, GA- North Georgia Knitting Guild and Chain Gang Crochet Guild
May 28- Long Island, NY- Eastern Long Island Knitting Guild
June 15- Greyslake, IL- Greyslake Crochet Guild
June 16- Chicago, IL- Windy City Knitting Guild
June 29- Caldwell, NJ- Caldwell Crafting Groups
July 22 – 24- San Diego, CA- Knit and Crochet Show
October 8- Merrick, NY- Long Island Knit and Crochet Guild
October 19- Chappaqua, NY – Westchester Knitting Guild
2016
February 8- Madison, WI- Madison Knitters' Guild
For further information, including how to arrange for Shira to speak, please contact Brandyce Pechillo.
About Lion Brand® Yarn Company
Lion Brand® Yarn Company is a 5th generation, family-owned and operated business, and a beloved American brand since 1878. The company is devoted to inspiring and educating knitters and crocheters with yarns, patterns, how-tos, and ideas that elevate their yarn crafting experience.
May 10th, 2015
How cute is this? Crochet designer Alyssa Voznak knocks it out of the park with this super-sweet amigurumi sunflower made with our popular Vanna's Choice® yarn.
This is a paid pattern, available through Ravelry for $5.
:: Vanna's Choice® colors seen here in Duckie, Sweet Pea, Chocolate and Rose. ::
May 9th, 2015
While you're hard at work on your project for Mom, don't forget about Dad! Father's Day is June 21st this year — leaving plenty of time for projects to be made for your loved ones.
We've rounded up a few of our favorite crafts for dads (and grandfathers!) that make for fun and useful gifts.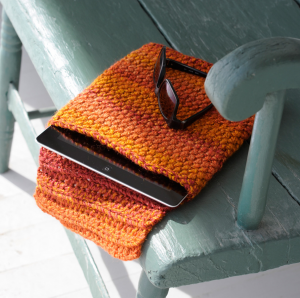 Dad always glued to his tablet? Keep all his apps handy and safe in this Digital Tablet Cozy. Made with Tweed Stripes®.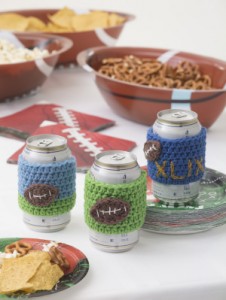 Whether he's court-side or couch-side, Dad will love this Big Game Cup Cozie. Made with Kitchen Cotton and Bonbons.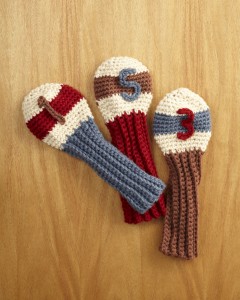 Customize these Golf Club Covers for the dad or grandpa in your life that loves to get out on the course.
Choose from a variety of colors of Hometown USA®.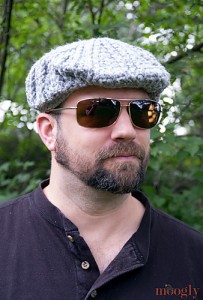 Keep the sun out of his eyes and focused on a hole-in-one with this Men's Cabled Golf Cap by Moogly.* Made with Wool-Ease®.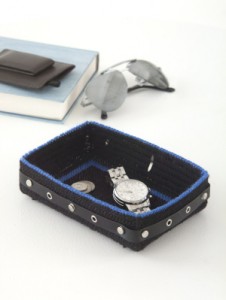 This Father's Day Catchall looks great on both Dad's dresser at home and his desk at the office. Made with Modern Baby®.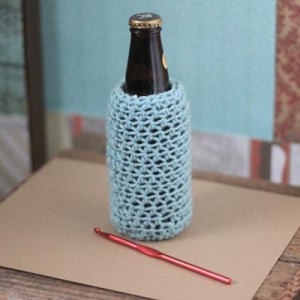 Keep the whole pack cool with these easy bottle cozies from Evermine.*
Crochet one together with Kitchen Cotton's range of bright colors.
* Not a Lion Brand Pattern
May 8th, 2015
Sara Thomas began selling her cat hats on Etsy years ago. She had no idea that her projects would become so popular! So popular in fact, that her cat hats, featured in a new book Cats in Hats (30 Knit and Crochet Hat Patterns for your Kitty), are a currently a viral sensation!
Thanks to Sara and our friends at Perseus Books, we're hosting a giveaway of this adorable book — we even have two free patterns from the book to share with you: Feline Fox (Crochet) and Dinosaur Kitty (Knit).
As we browsed through the book, we were inspired to test out one of the hat patterns for ourselves, and our wonderful Brand Ambasador, Shira (@shiraroars) tested the hat out on her kitty, Psy. Thanks to Shira, we have this awesome photo of her cat in a mohawk hat and want YOU to come up with a creative caption for this image.
Just click on the link below to enter (you'll be redirected to Facebook)!  Please note that captions in the comment section will not be considered. Contest ends May 24th, 2015.