February 28th, 2014
This article originally appeared in TreeHugger and is reprinted with permission from Katherine Martinko.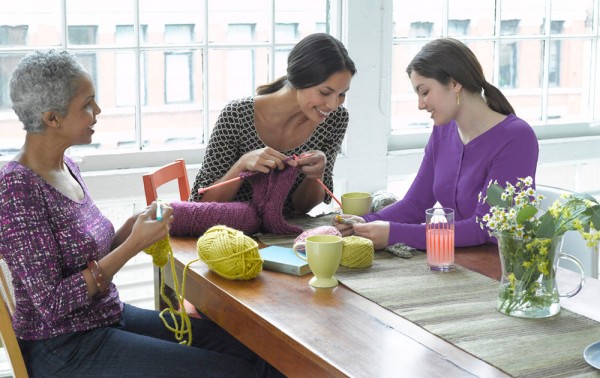 Last month I wrote an article called "Why bother knitting a scarf?" Much to my surprise, I received thousands of positive reactions from readers who share my love of homemade, local, and beautiful "slow fashion" items. Clearly, knitting is being embraced by people from all walks of life who benefit from its peaceful, relaxing repetition. It got me wondering – what's really going on when people knit? Why is it so tremendously popular?
It turns out that knitting has incredible health benefits. It makes people feel good in just about every way. A bit of research has revealed a wide range of ways in which knitting helps humans cope, physically and mentally.
1. Knitting is used for therapy. It's a powerful distractant, helping people manage long-term physical pain. For those who are depressed, knitting can motivate them to connect with the world. It is a conversation starter, allowing people to interact politely without making eye contact. It builds confidence and self-esteem.
2. Knitting is supremely relaxing, which is extremely important for reducing stress and anxiety. Dr. Herbert Benson, founder of Harvard's Mind/Body Medical Institute, wrote The Relaxation Response, in which he recommends the repetition of a word, sound, phrase, prayer, or muscular activity to elicit "the relaxation response" – decreased heart rate, muscle tension, and blood pressure. Knitting is likened to meditation, sometimes described by knitters as "spiritual" and "Zen-like."
3. Knitting connects people. By joining a knitting group, a solitary activity turns into a social one. One study, called "The Benefits of Knitting for Personal and Social Wellbeing in Adulthood" and published in the British Journal of Occupational Therapy, found that "knitting in a group impacted significantly on perceived happiness, improved social contact, and communication with others."
February 27th, 2014
Gabby Blumenthal, 20 year old college student and the daughter of Jack Blumenthal, Senior VP of Lion Brand Yarn Company, shares her story of growing up in the family that started Lion Brand Yarn Company. She recently attended the annual Craft and Hobby Association trade show with her Dad, and talks about her experience.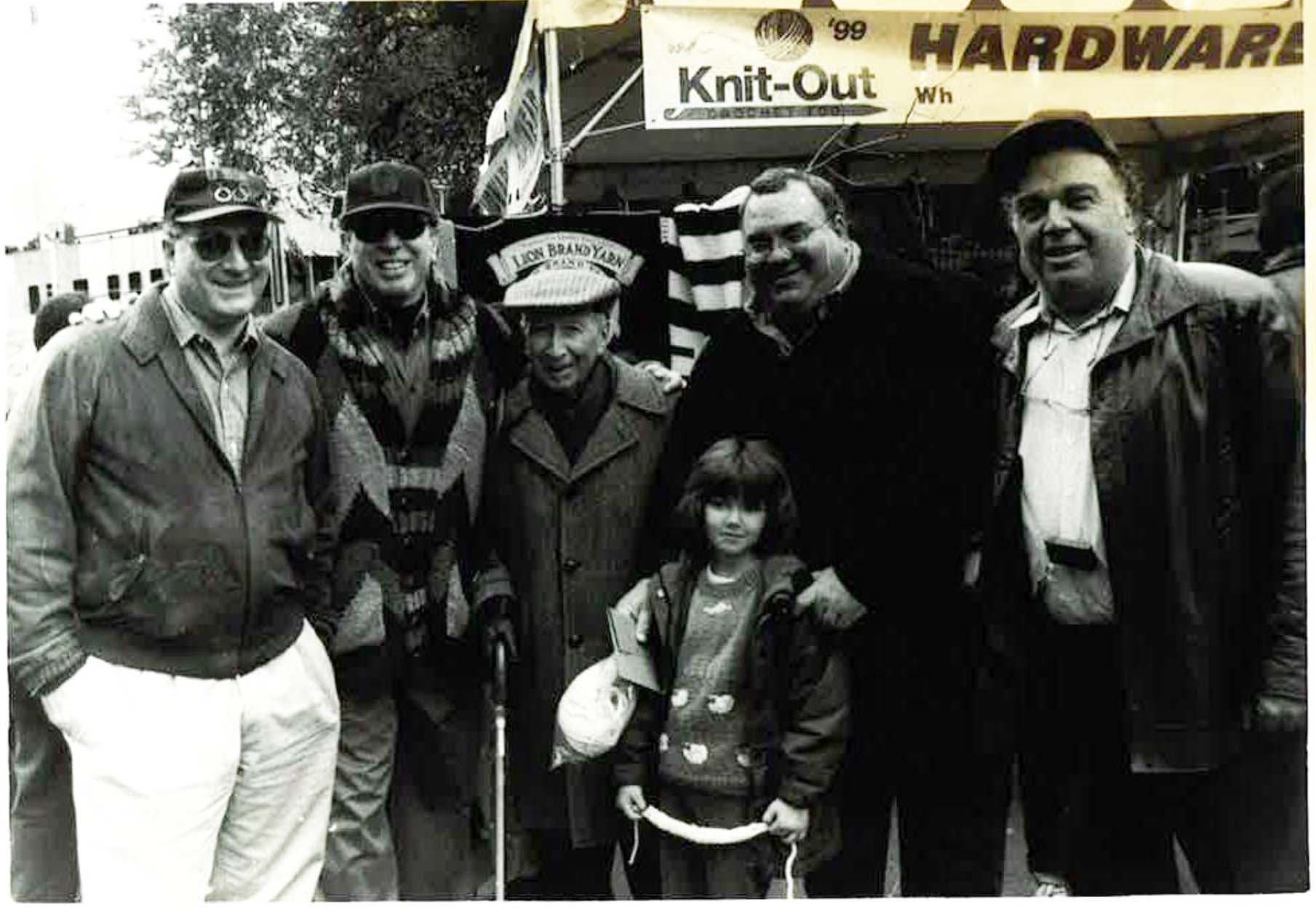 Family picture taken in 1999.  Pictured from left to right: Dean, David, Isidor, Gabby, Jack, and Reuben Blumenthal.
When I was a little girl, my Dad would come home from work, loosen his tie and tuck me into bed with a story. Now, my Dad's stories were far from conventional. For one thing, he was terrible at make-believe and couldn't tell a princess from a portal. So, telling me all he knew how to tell, my Dad would talk at length about his own life-long adventures. I can't tell you how many times I heard about how he got stuck in an international airport, or when he was babysitting a cat and, not to ruin the story or anything, but the poor cat died.
When these "epic" tales wore thin, my dad started on the family tree. I heard about everyone from Great, Great Grandpa Reuben to my own Grandfather, George, whom I never had the chance to meet and am honored to be named after. I heard about how Dad wanted to go into Lion Brand since he was four years old, always knowing that he was passionate about having a career in the yarn industry.
February 26th, 2014
Every year, Lion Brand presents an exciting booth display and fashion show at the Craft and Hobby Association Convention in Anaheim California. Past booths have included a Viennese table filled with yarn crafted cakes, cookies and other deserts and a menagerie of giant animal sculptures created with yarn.
Last month, we ramped up the excitement with the 7 Wonders of The World sculptures which were designed by fiber artist Nathan Vincent. Not only did each sculpture represent one of the 7 Wonders in yarn techniques, but we presented a fashion show where each technique was reflected in a variety of fashions.  Vanna White was there to emcee the show and all of the patterns we presented are now available on our website.
Our first highlighted wonder of the world is Stonehenge, which was designed to reflect texture and it's importance to knitting and crochet design, including felting.  There was even life-like looking moss around the base of the monument.
One of the best things about knitting and crocheting your own garments is the rich texture you can achieve by using yarns that are super bulky, sparkly, or furry.  You'll find that exceptional look in the yarns that these fashions were made of including Imagine, Homespun® Thick & Quick®, Vanna's Glamour®, Wool-Ease® Thick & Quick® and Romance®.
We hope you enjoy the ideas and unique designs represented in the popular textured fashions from our show. In the coming weeks we'll be present all of the 7 Wonders of the Yarn World — from lace to chevrons, granny squares to modern color work, you're sure to find inspiration in this amazing collection.
*Patterns coming soon
February 24th, 2014
We craft to inject the personal into the day-to-day and to infuse our lives meaning.  The yarn we choose speaks to us because we can instantly visualize it as a sweater or a scarf or an afghan, or simply because we like the color.  Color also speaks to us on a more mystical level – often symbolizing deeper meanings: red for love and passion; white for purity; yellow for cheerfulness, to name a few.
Lion Brand's Design team takes this concept further with it's Zodiac scarves collection.  Colors from the Vanna's Choice collection were chosen to represent attributes related to each astrological sign.  We thought you might be interested in learning what each of the colors we chose represents.
Make one for yourself or make one for a friend. As with all of Lion Brand's designs, our Zodiac scarves are a craft that encourages the personal to shine through.
Aquarius
Jan 21 – Feb 19
Knit or Crochet
Pisces
Feb 20 – Mar 20
Knit or Crochet
Purple – Independence
Dusty Purple – Inventiveness
Charcoal Grey – Practicality
Eggplant – Respect
Dusty Blue – Devotion
Kelly Green – Patience
Dusty Green – Adaptibility
Silver Blue – Intuition
Aries
Mar 21 – Apr 20
Knit or Crochet
Taurus
Apr 21 – May 20
Knit or Crochet
Linen – Idealistic
Scarlet – Instinctive
Black – Adventurous
Cranberry – Passion
Toffee – Sensibility
Chocolate – Loyalty
Radiant Lime – Generosity
Kelly Green – Patience
February 23rd, 2014
This story is from our newletters called Pattern Journal which brings a warm-hearted, wholesome story to your inbox to read every month. We're sharing the most recent story here in the blog. If you enjoy it and would like to subscribe, click here.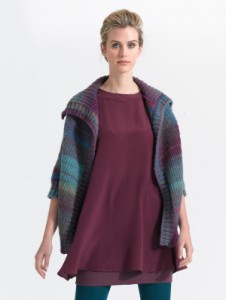 Some garments just call out to you, and this Raglan Sleeve Topper was one of them, Rose thought. But "raglan sleeve topper"was too modest a title for something so beautiful. To Rose it seemed a magical wrap that transformed the wearer into the best she could possibly be. It was obvious that your natural attributes—whether you were willowy or full-figured, long-or short-haired, enthusiastic or reserved—would be optimized by the form and colors of the gently curving sweater.
Rose didn't believe in love at first sight, but her attraction to the design she saw online was close to that. The more she studied the image, the more she felt compelled. This was a must-do project. Yet there was some half-completed knitting that should take precedence: two baby gifts, an almost- done afghan, a hat for Dad's birthday…
Uncharacteristically, she wasn't dissuaded. She knew those things would be finished eventually, and…she really needed a sweater.
Actually…honestly…she really wanted to knit something just for herself.
February 21st, 2014
Blogger and author Kathryn Vercillo shares five creative exercises that you can use to show your love through crafting. Read her previous blog posts on the Lion Brand Notebook here.
Crafters are a generous lot. We often crochet and knit for others. We craft gifts for birthdays and holidays. We knit and crochet prayer shawls for strangers. We infuse our handmade items with love, and hope that love comes through for the recipient. It's a wonderful thing. But we can go even further with this intention, choosing ways to craft for and with the people we love, so that the love comes through in deeper and more meaningful ways.
Here are five ideas for making that happen:
1. Appreciation Blanket + Journal. This is a twist on the crochet mood blanket, a popular project this year. Each day (or week) you crochet/ knit either one row or one motif (such as a granny square) that will go into a blanket intended for a special person. Select colors based on the feeling you have for the person each day you work on it. For example, the blanket will have rows of red when you feel love, pink for appreciation, and white for awe. Write down this color code in the front page of a journal. After each row, write a single line expressing why you chose that color for that day. In the end, you'll have a cozy blanket and this touching journal that will be treasured forever. This is a great gift for pregnant moms seeking to create baby's first blanket with intentional love.
Little Boy Blue Blanket
February 19th, 2014
Our most popular pattern this month was designed over 10 years ago by Nicky Epstein.  There is something timeless and elegant about this design. The Tree of Life Afghan has special meaning for me because I gave the pattern its name.  (Yes, I've been at Lion Brand well over 10 years!)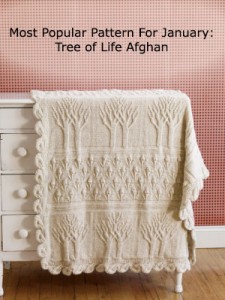 The phrase "Tree of Life" has been used by almost every religion and in philosophy and science.  I also like this design because as a person whose first name means "tree" I gravitate toward anything with a tree design on it.
When I think about this design I think about family: growth, roots, and being intertwined.  It makes it a meaningful gift for newlyweds, new parents, and housewarmings.
February 17th, 2014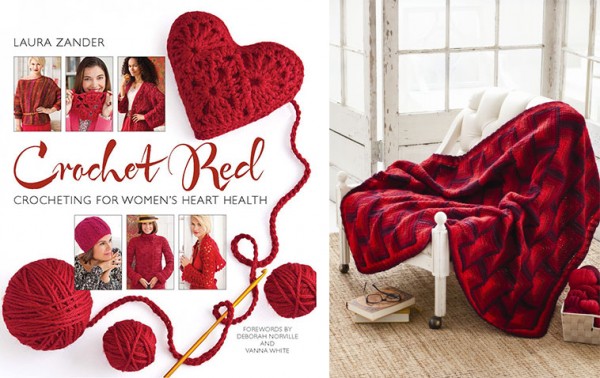 In recognition of American Heart Month, we've partnered up with Laura Zander and Sixth & Spring Books to bring you a very special giveaway.  Stitch Red is a book series created to raise awareness around heart disease and preventive heart health in general. A portion of each sale goes towards HeartTruth®, a public awareness program sponsored by the National Institutes of Health.  
Their most recent book, Crochet Red is full of beautiful crochet projects paired with heartwarming stories from prominent faces within the crochet world, including our beloved Vanna White.  
To celebrate Laura Zander's third book, we have two offerings: 1) we're sharing an exclusive pattern: the Mitered Brick Throw, and 2) we're giving you a chance to win a copy of the book and enough yarn to make the Mitered Brick Throw! We'll be picking three lucky winners on February 28th–enter now and good luck!
Updated 3/3/14: Congratulations to Elaine Harper, Shannon Sowalter, and Jan Bennett! We'll be contacting you shortly to get your prizes to you!
February 15th, 2014
Maggie Weldon is a crochet expert who loves to share her expertise with those wanting to master the art of crochet.
Make beautifully textured colorwork projects with this simple stitch! Maggie Weldon illustrates how to do front and back post double crochets, half double crochets, and single crochets. Watch the video below to learn these easy techniques:
If you're reading this blog post in your email or an RSS reader, please click on the title to view the full blog post and video on our website.
February 14th, 2014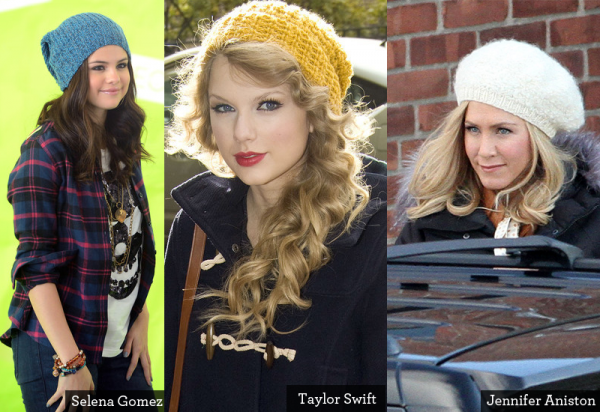 Hats are a more important fashion accessory than ever and the slouchy hat is the most popular style of all.  The slouchy hat is a beanie with an extra flap that hangs down in the back.  Some of the celebrities who have been photographed wearing this style include Selena Gomez, Taylor Swift, Jennifer Aniston, Sarah Jessica Parker, and Mary-Kate Olsen.  It's even popular with men, including Jake Gyllenhaal (who has been spotted in the Lion Brand Yarn Studio on 15th Street in New York City!)
For those of you who love to knit and crochet hats, the good news is that people are wearing them all year round, indoors and out. You can knit or crochet a slouchy hat with a seasonally appropriate yarn like Wool Ease® Thick & Quick® for winter or Cotton-Ease® for spring and summer.  Simply change up the colors and the patterns and you can have a new look every day.
Here are six of the most popular slouchy hats on our site to choose from.