January 20th, 2015
The Seattle Seahawks will defend their championship title against the New England Patriots at the Big Game this year – arm knit a scarf to show your support … or if you're a New England fan, how about a scarf in the Patriots' team colors?
Whether you're a big football fan or know a fan who's planning to watch the game, it's a great excuse to knit or crochet! I've selected some patterns below that are perfect for showing your team spirit on February 1st:
January 19th, 2015
We met up with Vanna White at the Craft and Hobby show in Anaheim, California earlier this month and she took a moment to share this special message:
:: Can't see the video above? Click here: http://lby.co/1CsMFl3 ::
Vanna's signature collection yarn is on sale for the month of January and as Vanna mentions, you make a difference with every purchase! Since 2007, Lion Brand Yarn Company and Vanna White have donated over $1,500,000 to St. Jude Children's Research Hospital and it's all thanks to you!
All of Vanna's signature yarns are 20% off through January 31st! Choose from Vanna's Choice®, Vanna's Choice® Baby, Vanna's Glamour®, Vanna's Palettes, Vanna's Sequins, and Vanna's Tapestry.
January 18th, 2015
Introducing Crafter's Coloring Pages, a brand new way to start yarn playing in 2015. Take out your crayons. Treat yourself to a set of brush pens or markers. Coloring pages can be a useful addition to your crafting. 
Here are some ideas for using these pages:
Scrapbook your finished page as a personalize record of gifts you've given or projects you've made.
Invite a child into your crafting world. Give them their own scarf to color.
Create a handmade #scarfie. Cut and paste a photo of the recipient into the blank face on the coloring page.  Share on social media.
Let your coloring pages help you plan your project. Use them to sketch out your ideas for colors or patterns.
Before you give a scarf as a gift, offer the recipient some colors to work with and get their design input. They can even add extras, like fringe, by drawing them on.
Relaxation! Coloring is a great way to unwind after a hectic day.
Getting started is easy. Just download the image, print and color.
#Scapbook Page: Use to archive details you'd like to keep below the image: pattern, yarn, colors, date, recipient, modifications, etc.
:: Click the image for print-size version ::
#Scarfie: Just add a face and color the scarf!
:: Click the image for print-size version ::
___
Michelle Edwards is a life-long knitter and the author/illustrator of A KNITTER'S HOME COMPANION and many award-winning children's books including CHICKEN MAN and STINKY STERN FOREVER. In her spare time, Michelle enjoys talking about books in schools throughout the US and beyond. Her newest book, MAX MAKES A CAKE is now available from Random House. To keep in touch with Michelle, visit her website, www.michelledwards.com. "Like" her on Facebook . Follow her blog and sign up for her newsletter .
January 17th, 2015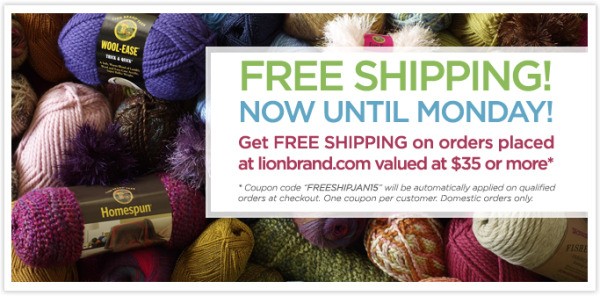 * Domestic orders only, $35 minimum order. Free shipping applied on qualified orders at checkout, standard shipping only. Promotion exclusive to lionbrand.com. Offer not available at retail locations.
January 17th, 2015
We've teamed up with Todd Clark, creator of the ever-popular Lola series, to bring you "Out of the Loop," a regular one-panel comic featuring humorous takes on the world of yarn.
Enjoy and please share widely!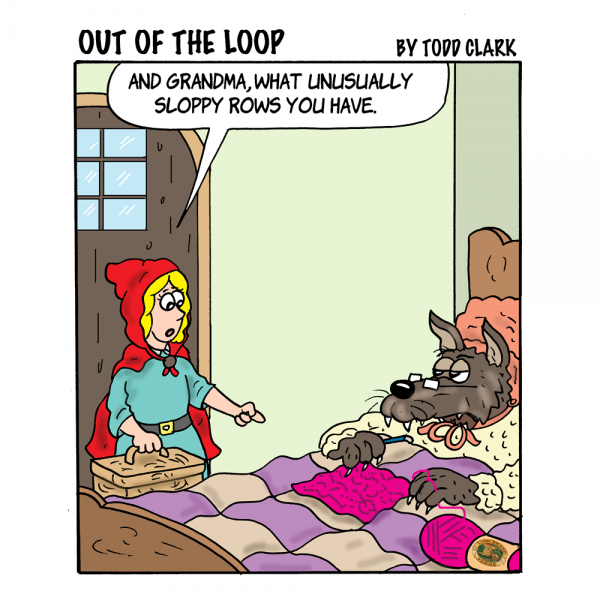 *** *** ***
Here are a few patterns to inspire you!
*** *** ***
Subscribe to The Weekly Stitch Newsletter
Get a FREE weekly email featuring patterns, articles and special offers. As a bonus for subscribing, we'd like to offer you 15% off your first order! *
:: Sign up now ::
* offer valid only for first-time email subscribers, one coupon per person.
January 16th, 2015
When I saw these new Valentine's Day patterns, I immediately thought of Galentine's Day! For those of you not in the know, it's the "holiday" that falls on February 13, the day before Valentine's Day. It was created by the sitcom Parks and Recreations to celebrate the amazing women in your life, whether they're single or not!
Galentine's or Valentine's, these new patterns are perfect for whatever date you choose to celebrate — the Cabled Heart Boot Cuffs for the friend who loves tall boots; the Heartfelt Cozy for the friend who likes to accessorize their phone; the Warm Heart Cup Cozy for the friends who meet up for coffee regularly; and the Valentine's Day Gift Bag for someone who loves sweets.
Below is a collection of our newest Valentine's Day patterns – enjoy!
Crochet Valentine's Day Gift Bag
in Modern Baby®
Crochet Warm Heart Cup Cozy
in Kitchen Cotton®
Knit Cabled Heart Boot Cuff
in Vanna's Choice®


( 20% off until the end of January)

Heart Key Chain
in Kitchen Cotton®
Crochet Hearts Aligned Necklace
in Vanna's Glamour®


(20% off until the end of January)

Crochet Heartfelt Phone Cozy
in Modern Baby®
Crochet Valentine Scarf
in Vanna's Glamour®


(20% off until the end of January)

Crochet Baby Love Booties
in Vanna's Choice®


(20% off until the end of January)
Search under "Valentine's Day" on our Patternfinder for more great Galentine's or Valentine's Day related ideas. What will you be making?
January 15th, 2015
When I'm heading out the door, I usually grab my yarn first and keys second. Now I've got a place to store my project, pattern, and notions along with my everyday essentials.
The 2-in-1 Yarn Tote has a removable, zippered inner pouch that's designed to keep your yarn safe and clean! If you're doing stripes or colorwork, feed your yarn through the two grommets in the pouch and never worry about tangles again! I love this bag because the pouch is big enough for those work-in-progress sweater pieces. We made a little video to show off all of the features of this great tote!
:: Can't see the video below? Click here: http://youtu.be/Up5L88a6aNs ::
The 2-in-1 Yarn Tote comes in four great colors. Which one is your favorite?
January 14th, 2015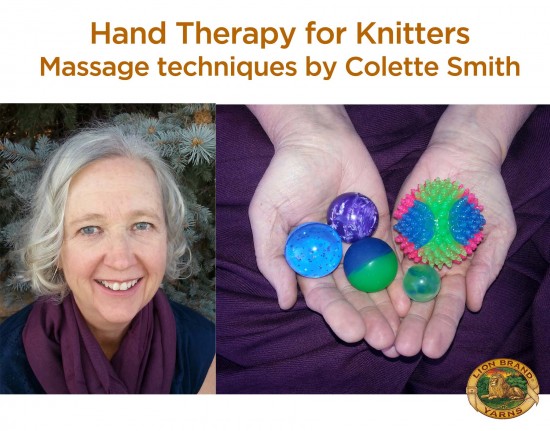 We're excited to have Colette Smith stop by the Lion Brand Yarn booth (Booth #213, 5th floor) at Vogue Knitting Live NYC this weekend to demonstrate Hand Therapy for Knitters. Colette is a knitter, knitting instructor and fiber artist whose work you've likely seen at other fiber art shows. Colette knits beautiful,
mythical dragons
with yarn and other materials and her work will be on display in the gallery area of VK Live (5th floor). She'll also be present at the Lion Brand booth on Saturday and Sunday to demonstrate hand massage techniques to help alleviate hand and nerve pain.
After consulting with doctors, acupuncturists, and massage therapists, Colette discovered and perfected useful massages for her hands using a rubber bounce ball – the kind you find in toy dispensers at the supermarket!
We hope to see you at our booth on January 17th and 18th to receive a ball and learn the techniques for yourself!
Saturday, January 17th: 12:30-1:30pm
Sunday, January 18th: 10:30-11:30am
Click here to see Colette talk about some of her massage techniques.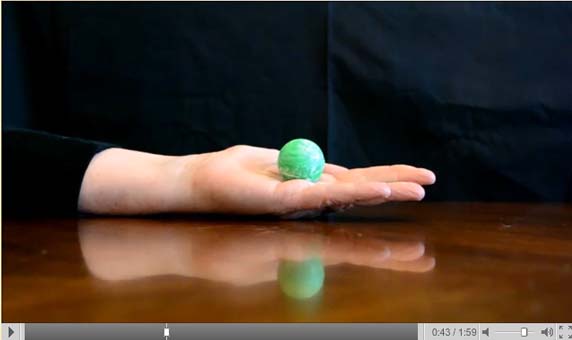 January 13th, 2015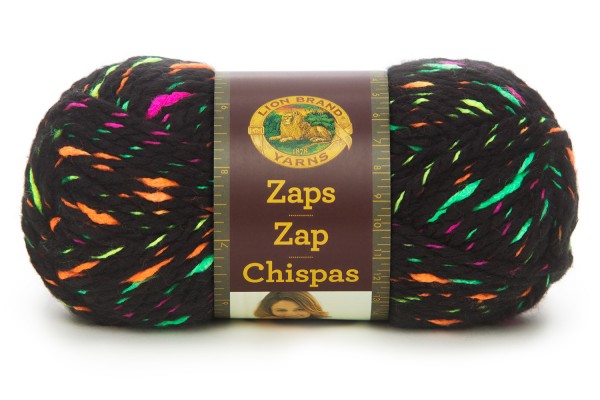 Meet Zaps, a colorful, super bulky weight yarn brand new to the Lion Brand family!
Zaps combines a two-ply strand of a solid color with a strand of contrasting, color changing yarn to produce a lightweight fabric with surprising pops of color. It's perfect for fast-finish projects and, like so many of your favorite Lion Brand yarns, it's machine washable!
Zaps comes in eight vibrant colors including Sonic Purple, Busy Burgundy, Quickfire, Espresso, Jet Setter, Supersonic, Lightning, and Atomic Blue!
Here's a selection of new projects you'll want to knit or crochet with Zaps!
January 12th, 2015
Now that the holidays are over, you might find that you have extra time to craft for yourself. Why not learn how to arm knit a cowl?
Arm knitting continues to increase in popularity because it's so quick and easy to complete a wearable project; a scarf or cowl will take an average of 30 minutes to make! Once you get the hang of the process, you'll realize how fun arm knitting is, and maybe you'll want to try experimenting with different colors and styles.
In her newest tutorial for Lion Brand, Vanessa from the Crafty Gemini demonstrates the arm knitting process for you to follow along. She even includes some slow-motion shots in the video, ensuring that you'll understand the process so that you can successfully create your own cowl with Wool-Ease® Thick & Quick® in 30 minutes or less!
(editor's note: The contest mentioned in the video is now over. Stay close, there will be more opportunities to win yarn from Lion Brand and The Crafty Gemini.)
Watch the video below!
Check out some more styles of arm knit cowls in Wool-Ease® Thick & Quick®!