December 12th, 2014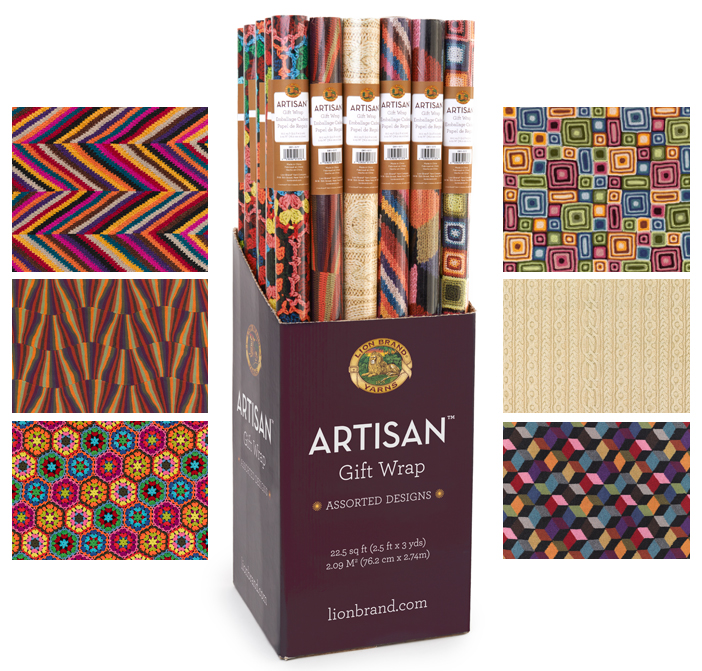 Don't you wish you could wrap all of your loved ones in gorgeous afghans and sweaters this holiday season? Well now you can … well at least their gifts anyways!
Some of Lion Brand's most beautiful patterns have been transformed into selections of bold and stately Artisan Gift Wrap. Designed from variety of knit and crochet projects — ranging from funky crocheted hexagons to a classic cream-colored cable — each wrapping paper design (there are six all together) is so gorgeously detailed, we think you'll have trouble tearing into your gifts! It's perfect for wrapping hand crafted gifts – or, it can be used on its own for wall art, scrapbooking and origami designs!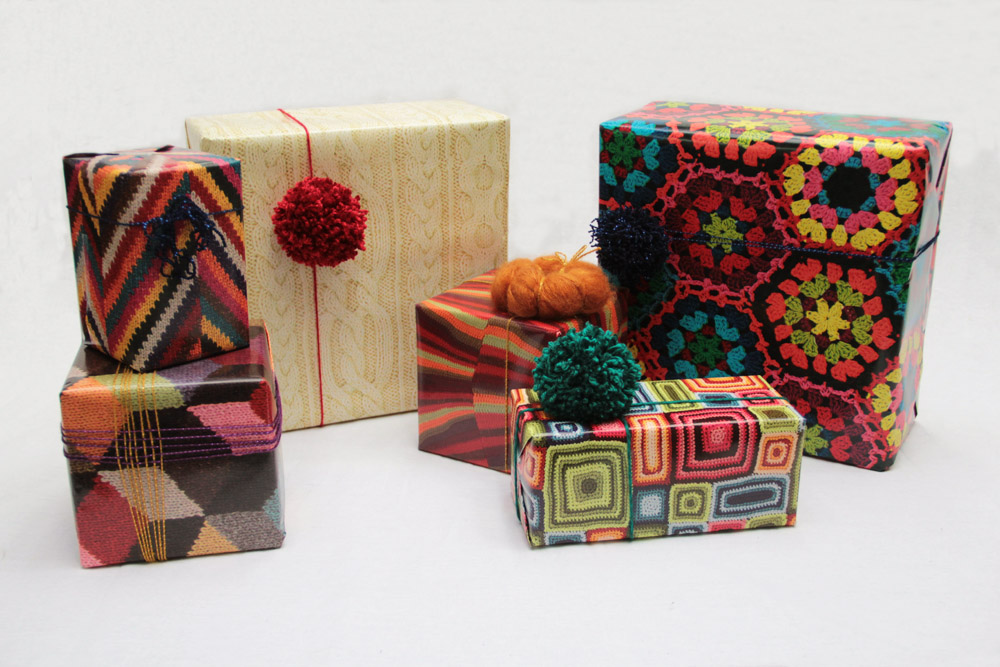 Each wrapping paper is based on one of our favorite patterns, featured below:
Lion Brand's new Aristan Gift Wrap is available in an assorted 6-pack or 36-pack.
December 11th, 2014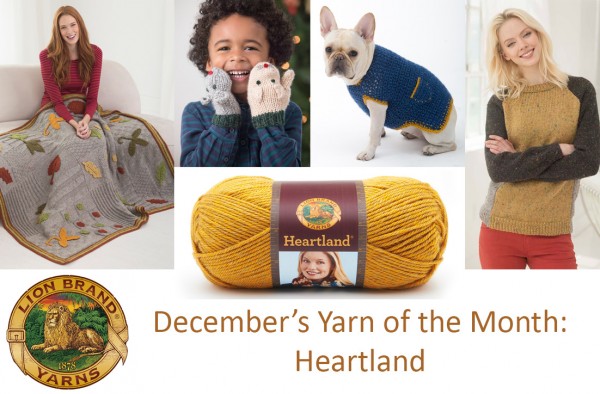 As you can probably tell by the name, Heartland is inspired by prominent American landmarks and landscapes — Kings Canyon, Mammoth Cave, Glacier Bay, and Shenandoah to name a few. Composed of deep heathered and even tweed shades, I often refer to them as jewel-like because of the yarn's vibrant colors. It is an easy-care yarn perfect for garments, afghans and accessories for kids and adults – best of all Heartland is made in the USA!
Even better, from now until the end of December, Heartland is 20% off!
There are many wonderful patterns that use this yarn — and many are just perfect for the holiday season.
Below you'll find a lookbook of our favorites. Want more? Visit lionbrand.com.
December 9th, 2014

#Scarfie = A selfie with a scarf
This great #scarfie project comes from Sarah, the creative mind behind the blog, Repeat Crafter Me. So cozy for this time of year, Sarah's Crochet Hooded Cowl works up fast with 3 balls of Wool-Ease Thick & Quick, and the toddler version only requires 2. This project is quite easy to crochet and assemble, and Sarah has even included some lovely pictures to help you visualize the process!
Make matching sets for you and your little one with Sarah's awesome patterns: Crochet Hooded Cowl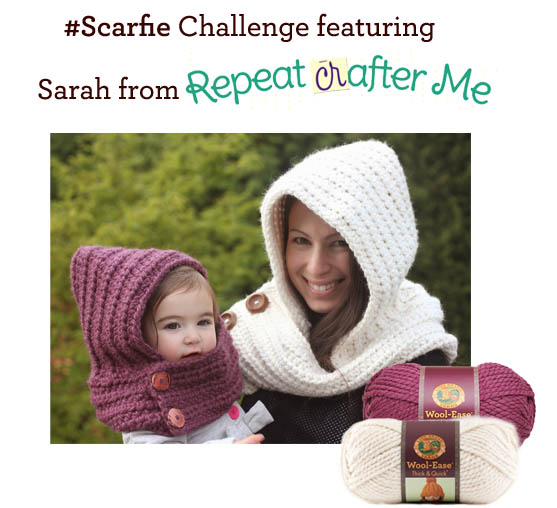 December 9th, 2014
Writer, illustrator, and knitter Franklin Habit joins us for his monthly column featuring humor and insights into a yarncrafter's life.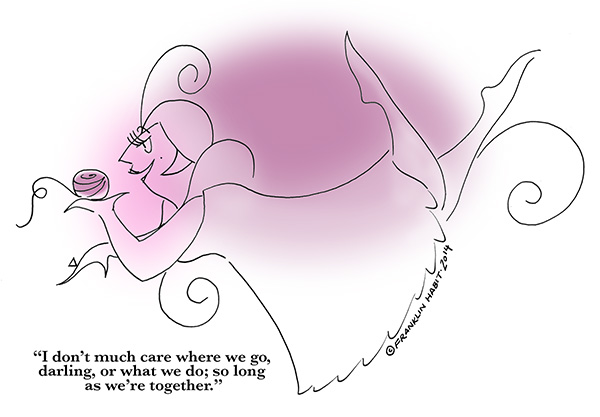 In my career I have reached the stage at which total strangers not infrequently write to me to ask for advice. My mother, to whom I am and will ever be The Little Boy Who Somehow Got Tomato Soup on the Kitchen Ceiling, finds this hilarious.
"Not cooking advice, Ma," I tell her. "Knitting advice."
"I know," says my mother. "But still."
Usually the questions are straightforward:
Q. Should I put lifelines in my lace shawl?
A. Yes.
Sometimes the questions raise an eyebrow:
Q. Do you have any tips on re-sizing a woman's sweater to fit a guinea pig?
A. You may omit the waist shaping.
Sometimes the questions raise two eyebrows:
Q. Have you ever blended male chest hair into handspun alpaca?
A. Not on purpose.
Questions like these are easily answered.
But then something landed in my inbox that brought me up short:
Q. I have been knitting for almost twenty years and I have always loved it. But lately I've lost the urge. I can't remember the last time I didn't have a project on the needles, and now suddenly nothing is exciting to me. I just don't feel like knitting. I went to the yarn store twice last week and didn't even touch anything. Please help. How can I get my mojo back?
Whoa.
Read the rest of this entry »
December 8th, 2014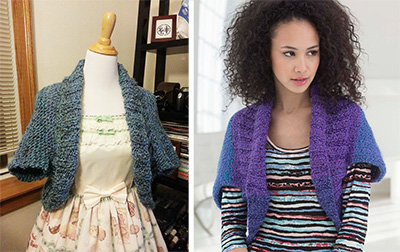 Every year I participate in a handmade Secret Santa gift exchange. Working at Lion Brand has definitely inspired me to learn to knit, and as a person who usually crochets, I wanted to make something different and challenging this year.
I found the Ribbed Bolero pattern to be a good place to start. It's a good beginner project to both improve knitting skills, and to make a great gift at the same time. It's just like making a scarf — just much wider and folded in half.  This pattern is perfect as I had also been looking for a 2-ball project that uses Homespun®.
One of the many skills I gained from this project was learning to differentiate between a stockinette (which the pattern called for) and a garter stitch (which I accidentally did). I was surprised (and relieved) that it still looked similar the picture, except with a different stitch – and it only cost $15!
Below I've selected several 2-ball projects that will let you practice your craft and make a great handmade gift at the same time. Let the gift knitting begin!
December 6th, 2014
This sale is now over but for more great kits, please visit lionbrand.com kits.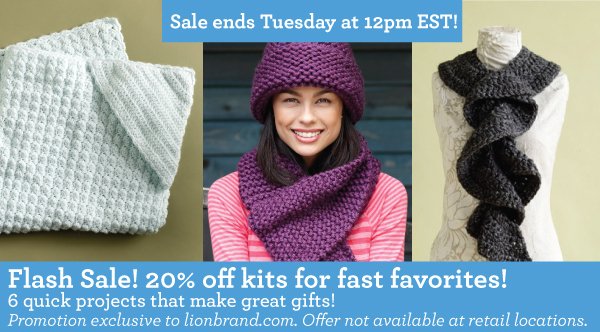 *** Click on the project you'd like to make and choose from two kits: one that contains the pattern and yarns; or one that contains everything – the pattern, yarns, needles and hooks. ***

December 5th, 2014
We've developed a new system for bringing you easy-to-follow patterns for knit and crochet projects. The new pattern style features simple diagrams and less text, plus simplified written instructions so you can both visualize and understand each step.
We believe that you'll find these patterns to be the easiest you'll ever use, so you can knit and crochet with newfound confidence.
But don't just take our word for it … below is a sampling of three popular patterns written in the new style. Click on the image or name and you'll be taken to a PDF file featuring the new pattern style. Give it a try, start creating the easy way today!
We'd love to hear your opinion of this new style of pattern writing, so please leave a comment below.
December 5th, 2014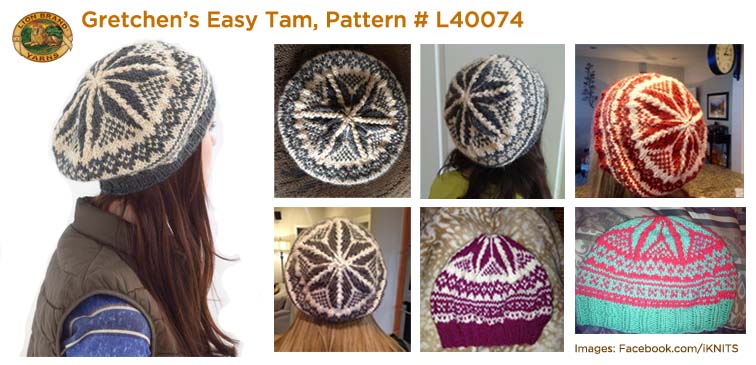 Christine from the iKNITS YouTube channel shows you how to work up Gretchen's Easy Tam using Heartland yarn – which, by the way, is 20% off until the end of this month.
This tutorial is great for those who may feel intimidated by fair isle knitting; Christine does a wonderful job of making the pattern and technique easy to understand. With a beautiful snowflake/star image at the center of the hat, it's the perfect winter accessory. There are plenty of colors in Heartland for you to choose contrasting hues that best suit your tastes. I personally like the red and white combination for a striking Christmas hat.
Watch Christine's video below and get started!
December 4th, 2014
Two of my good friends have recently had babies and while I'm still thinking about making gifts for my friends, I'm also thinking of their newborns this holiday season.
I love making baby gifts that are colorful or have a lot of texture – the extraordinary color palette of Modern Baby® is one of my favorite yarns for color, and for a touchable pattern with lots of texture, I always come back to the symbolic Tree of Life Afghan.  
Earlier this year, when Lion Brand introduced its newest yarn, Ice Cream, I got excited about the Confetti Color Blanket – the variegated colors and knitted indentations give it a touchable, fabric-like appearance – a delightful combination of both color and texture!
To inspire you this holiday season, I've selected some of my favorite patterns that feature color and texture:
Colors
December 3rd, 2014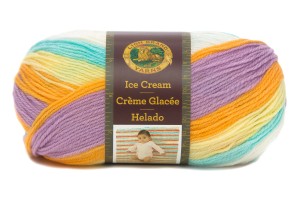 Destined to be your new favorite baby yarn, Ice Cream is a soft and easy care yarn that works up to create delightful, self-striping colorways that blend unique and cheerful color combinations.
It comes in eight delightfully tasty colors like Lemon Swirl, Tutti Frutti, Banana Split, and Cotton Candy. There's even Cookies & Cream, a sophisticated, tonal grey shade for the gender neutral projects.
This will be your go-to yarn for baby shower gifts, your own baby project and even big, bright and beautiful blankets like the Charleston Garden Blanket.
We've selected a few of our favorite Ice Cream patterns below. For the full selection, visit lionbrand.com.
Berry Pretty Hat, Booties and Mitts
in

Strawberry

Knit Panda Pullover
in

Cookies and Cream

Crochet One Skein Wonder Vest in Banana
Split
Knit Favorite Baby Blanket in Cotton Candy
Knit Confetti Color Blanket in Tutti Frutti,
Strawberry, and

Blueberry

Crochet Snips and Snails Hat, Booties and Mitts in

Blueberry

Knit Checkerboard Blanket in

Tutti Frutti

Crochet Stroller Blankie in Lemon Swirl