August 26th, 2015
A funny thing happened when my hair began to grey.  I was thirty-five and resented a situation that seemed premature and, well, unfair.  For every grey hair I plucked, ten appeared, suggesting that resistance was futile. So I began experimenting with different DIY hair colors offered by the neighborhood drugstore.  Experimenting was fun.  I could choose shades with cool or warm highlights, go auburn in the summer, or Goth when I felt dramatic.  After a while, though, I sadly realized I wasn't very good at covering what needed to be covered.  I sought professional help.
Between Brunette and Blonde…
My hairdresser worked for months to remedy the self-inflicted dye damage.  By now I was a decade older.  My underlying color was so grey that when brown dye was applied, my hair seemed blonde.  So, I became a dark blonde.  But it didn't stop there—I went lighter and lighter.  My hair is now honey-colored, and I'm satisfied with the results.
My point is about personal color, but it applies equally to clothing.  No matter what, I want to look my best—don't we all?  As I've gotten older, I've discovered that the colors most flattering to me aren't the brights I wore when my tresses were chestnut.  With light hair, I prefer neutral and natural shades.  Fortunately, I really like neutrals and naturals.  They seem serene, and they play well with jazzy accents.  I love a camel coat with a crimson scarf, a grey tunic with a cobalt shawl, and anything black with apple green.
…And Every Shade in Between
My knitting, of course, reflects this preference.  Right now I'm in the mood to knit a beautiful sweater to wear in the cold months ahead, and I want an interesting yarn, as enjoyable to work with as to wear.  And—total wish fulfillment!—I've discovered Lion Brand's Scarfie!
The Scarfie palette fits my personal color theory exactly. Scarfie is an ombré yarn that subtly moves from one shade to another.  It's dreamily dynamic, hypnotic, and outright magical as it transitions from light to intermediate tones, then darkens. Working with it is like watching clouds at sunset or morning haze over mountains, except it's you and your pattern, not Mother Nature, behind the changes!  The natural shades have a rustic purity, from cream to taupe in one skein, from silver to charcoal in another.  There are stunning low-key colors, too—rich cranberry to deep black, forest to deep black, denim to midnight.   All of them are in the palette most flattering to me.
It's called Scarfie because one generous skein makes one generous scarf.  But I'm determined to do something larger—a sweater.  The gorgeous "Free Spirit Topper" in the Lion Brand Pattern Finder is exactly what I had in mind.  But there's also a high-fashion crochet pattern, the "Duo Tone Throw" which is ultra simple to make but totally interesting at the same time, because two different shades of Scarfie, moving along their individual paths, create a rhapsodic interplay of colors.
I might have to make them both….
August 25th, 2015
I personally enjoy reading all the responses when we ask our Facebook fans, "What are you doing besides knitting and crocheting?" These posts are favorites of mine because they give me ideas on things to do and books to read. In the office here, it's fun to take a break and chat about upcoming personal plans and different hobbies that we're interested in; we tend to find that many of us have similar interests. So I was thrilled to read that many of you also enjoy bird watching!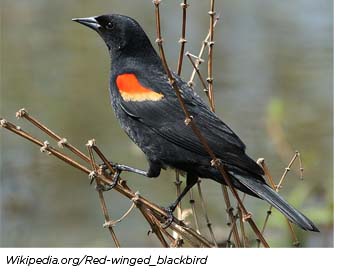 Bird watching can be so fun – I love walking down the street and seeing a beautiful array of colors flutter by. In my neighborhood and in the Northeast in general, the most common birds that can be found include cardinals, blue jays, sparrows, and mourning doves.
One day, as I was walking through Prospect Park in Brooklyn, a bird's call caught me by surprise, and when I looked to see where it was coming from, I saw a bird I never saw before. I was so intrigued by this bird and had to know what it was. Thanks to my colleague Danielle, I used my Merlin Bird ID app by Cornell Lab of Orinthology, and based on the description (black bird with red wings), I found out it was a male red-wing blackbird. I was so excited! The app also gave me more information on the bird's behaviors and sounds. I suggest you check out the app or play around on the website to see what birds in your area you can identify.
Share you love for birds by knitting or crocheting some amigurumi for your desk, shelves, or even friends!
NYC Bird watching sources:
Where do you like to bird watch, and has it inspired any of your crafting projects? Share your experiences with us in the comments!
August 24th, 2015

We admit it — we like to fawn over designer wear in magazines and blogs just like any other fashion-savvy person. As yarncrafters, however, we know some looks are just a few skeins away from being ours! When we spotted this Stella McCartney wrap-front cardigan, we immediately loved its high-low hem and chunky knit.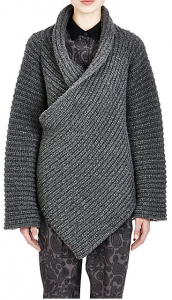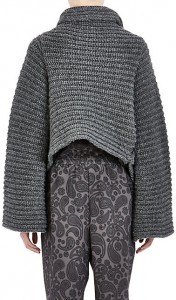 Get the look for less with a few of our coat and long cardigan patterns! Stay sleek and chic with shades of greys or mix it up with self-striping brightly colored yarns — either way, you'll turn heads this season.
August 22nd, 2015
This sweet hooded cowl, designed by Heidi May of The Velvet Acorn Designs, is the perfect fall project for little ones! Kids will love dressing up as a sneaky fox, and you'll love that they're staying warm. Knit with Wool-Ease® Thick & Quick®, this cowl will keep its wearer bundled up and cozy.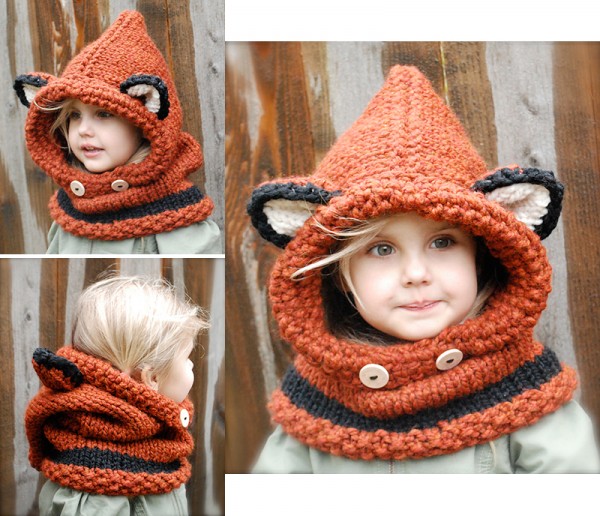 This is a paid pattern, available through Ravelry for $5.50.
:: Our line of Wool-Ease® Thick & Quick® has 67 colors!  Featured here are Fisherman, Pumpkin, and Black. ::
August 21st, 2015
Take a peek at what goes into our photoshoots! Brand ambassador Shira Blumenthal speaks with Karlye Mayer, our Photo Producer, about styling our many knit and crochet patterns for our website. We're going behind the scenes of the photoshoot for one of our newest yarns: Lights, Camera… Scarfie!
::Can't see the video above? Click here to watch – https://youtu.be/SDyfPi70-Fc::
Get the look with these free Scarfie patterns!