November 18th, 2014
When I'm invited to someone's home for Thanksgiving, I like to bring a gift. On Thanksgiving there's often such an abundance of food that bringing more food sometimes seems like overkill.  I prefer to contribute to the festivities by making something for the table or for the hosts' home. If you're the one hosting the meal this year, there are many ideas here for your own festive table.
These twelve gift ideas are super easy and most can be made by someone who doesn't know how to knit or crochet.  Get other family members into the spirit by working on them together.
We'd also love to hear your ideas for hand crafted Thanksgiving gifts and table decor.
November 17th, 2014
This article series was featured previously in our Weekly Stitch newsletter, which features new products, tips, and more. If you enjoy it and would like to subscribe, click here.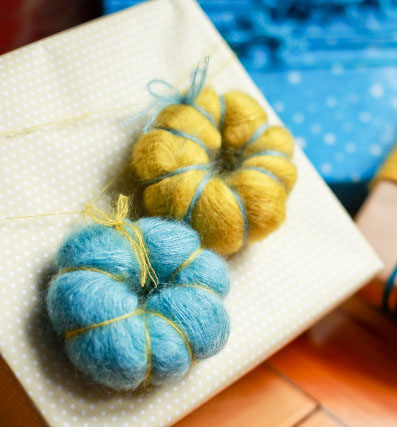 A great gift for a knitter or crocheter – turn two balls of yarn into two cute wreaths in minutes! Use them as ornaments, then knit or crochet them into fabulous projects.
For this project you'll need two balls of yarn (here we're using LB Collection® Silk Mohair in Azure and Sunbeam), as well a tapestry needle.
Step 1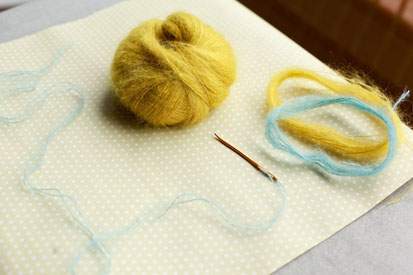 Remove labels from yarn, (hang on to them if giving to a yarncrafter!) and remove a little bit of yarn from each ball. If your yarn isn't already in a cake or doughnut shape, wrap it around a water bottle or cup to make "cakes." From the yarn you removed from each ball, cut 2 lengths of yarn (1 of each color), long enough to wrap around your package. Set them aside. Thread tapestry needle with remaining yarn in first color.
November 16th, 2014
Thanksgiving is often the best time to get the family together — how about having a Pre-Thanksgiving crafting hour!? It's also a great way to keep kids occupied, as you and the rest of the family make preparations for the main event.
Kids can decide what kind of fruit and vegetables go into the Cornucopia. Show them how to wrap yarn to make the Pompom turkey. Or my all-time favorite: play hide and seek with your very own Tom Turkey while waiting for guests to arrive or food to be served!
Display finished works in the hallway, living room, or dining room table for a handmade centerpiece that makes a great conversation starter at dinnertime. I've selected a few quick and easy inspirational projects to get you started on your handmade Thanksgiving:
Are you incorporating any handmade items for Thanksgiving? Feel free to share with us in the comments below.
November 14th, 2014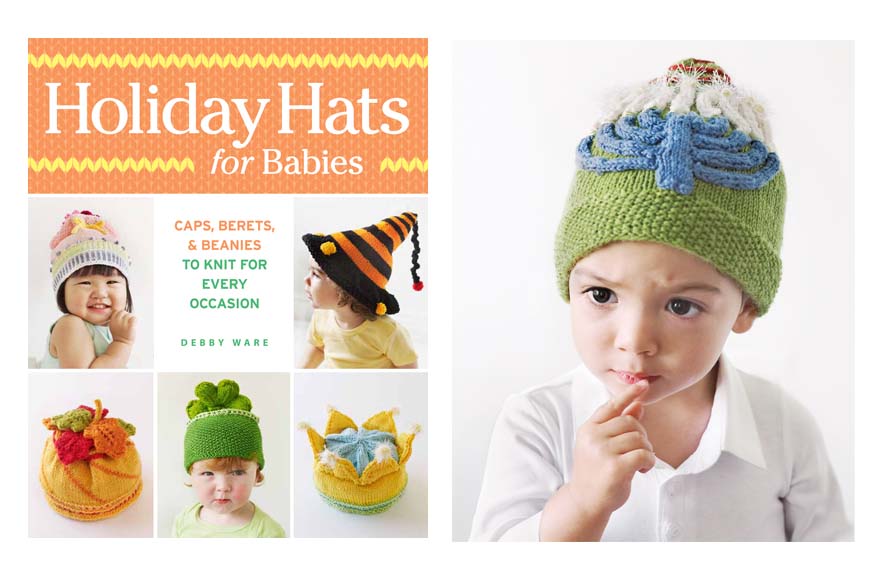 Debby Ware's latest book, Holiday Hats for Babies is on bookshelves now, and in it you'll find some seriously cute holiday hat projects for the little ones.
Thanks to our friends at The Taunton Press, we have an adorable hat pattern for the Festival of Lights, the Hanukkah Hat. Made in the LB Collection® Superwash Merino, this hat works up super soft, and it's easy to care for (machine wash, lay flat to dry).
AND, we've got two copies of Holiday Hats for Babies, one for each winner − see below for more details!
Guidelines for the giveaway:
1. Entries must be received by November 21st, 11:59p.m. EST
2. Must be 18 and over to enter.
3. One person per entry
*All winners will be announced on the blog and social media. If you do not respond to the e-mail indicating that you were selected as the winner within 7 days, another winner will be selected to receive the prize
»If you have problems entering through the submission box, please click here for the direct link to enter.«
November 14th, 2014
Here is the latest installment of Lola, from its creator Todd Clark.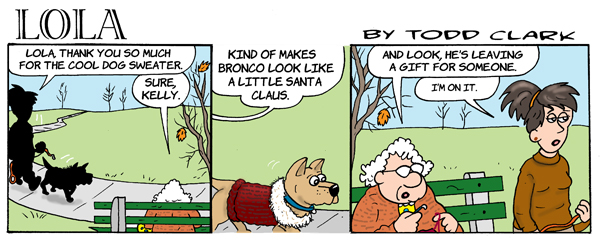 Visit lionbrand.com for more 12 Dogs of Christmas patterns.
*** *** ***
Subscribe to The Weekly Stitch Newsletter
Get a FREE weekly email featuring patterns, articles and special offers. As a bonus for subscribing, we'd like to offer you 15% off your first order! *
:: Sign up now ::
November 13th, 2014
Today, we're very excited to share a garment knitting tutorial with you. With the temperatures steadily dropping, it's the perfect time to start knitting… sweaters!
Staci from the YouTube Channel Very Pink Knits is a great instructor who makes knitting a garment look like a breeze. Check out the tutorial below as she explains and shows you how to make Lion Brand's Cropped Raglan Cardigan pattern in Wool-Ease®. After viewing the tutorial, many of you who've previously shied away from garment knitting may feel quite confident about giving this one a try.
Tell us what you think about the tutorial in the comments, we hope you're inspired!
November 12th, 2014
Writer, illustrator, and knitter Franklin Habit joins us for his monthly column featuring humor and insights into a yarncrafter's life.
When winter returns to Chicago, you have two choices: fight or flee. If that sounds overly dramatic to you, you have never spent a winter in Chicago.
Winter in Chicago is Mother Nature's way of saying that she hates you, and would like you to die. More than that, she would like to kill you herself. Hypothermia while waiting for a train? Frostbite while walking to the grocery store? Sleet poisoning? The method matters not, so long as you are reduced to a dry, frozen dust by time June slinks back into town.
For those who cannot flee, warm clothing is the first line of defense. If you're newly arrived and unsure of what is meant by warm, there's a rule of thumb. Let's say you're shopping for a winter coat and find one that might do. Try it on in front of a mirror. If it looks pretty cute, and makes you feel like you can't wait for the snow to fall, the coat will not be warm enough for February.
By February, Chicagoans have ceased to care what they look like when they go outside. Cut, style, color, fit? Not important. If it takes pairing filthy construction boots with a safety orange arctic exploration jumpsuit; then accessorizing those with two knitted hats, an army surplus balaclava and three pairs of gloves to get you to the opera with all your limbs intact, that's what you put on.
This is why if you pass me on the street in midwinter and don't say hello, I will not be offended. You won't recognize me. You'll think, "Did that raggedy pile of battered winter clothes just wave?" and keep going.
I wish I could tell you honestly that after more than decade of survival on the western shore of Lake Michigan I have grown accustomed to this annual renunciation of vanity. But no. The sight of winter ads from British tailors celebrating the elegance of classic overcoats and sleek leather gloves push me to the edge of rage. I live in Chicago, the city whose motto ought to be We Just Can't Have Nice Things.
Winter hats are the worst, because as a knitter I should be able to make any sort of winter hat I like. A universe of colors, weights, and fibers awaits my pleasure. I could design my own. In fact, I have done so.
The immutable fact is–and I here I lay bare my great personal tragedy–that I do not have a "hat face."
If you're not familiar with that term, possession of a "hat face" means you are able to put anything on your head–from a masterpiece by Lily Daché to an empty shopping bag–and carry it off. You know who has a hat face? My sister. You know who doesn't have a hat face? Me.
I have tried every standard and most non-standard forms of knitted hat and the results are never anything but unfortunate.
See for yourself.
Read the rest of this entry »
November 11th, 2014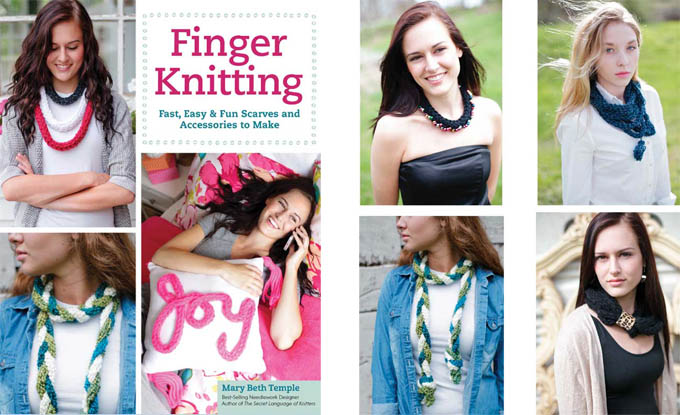 For the past year and more, we've all been raving about the simplicity of arm knitting and how the technique makes it so easy to create beautiful, chunky, oversized knits for the winter – but, did you know there are also plenty of projects that can be made with just your fingers?
Mary Beth Temple's newest release, Finger Knitting, highlights some cool and creative projects that can be made using just your hands. From home decor to funky accessories, there's a project in this book to suit every style. I personally love the necklaces designed with beads – yes, you can even incorporate beadwork similar to traditional knitting! Take a look at some of Mary Beth's designs below.
We're proudly carrying Mary Beth's Finger Knitting book at 20% off the retail price! Mary Beth's book comes with detailed, full-photo instructions on how to get started with your finger knitting, and of course, she's got a great selection of projects to work up.
| | | | |
| --- | --- | --- | --- |
| Button Love Scarf | Night Out Necklace | Spiral Rug | |
November 10th, 2014
This article series was featured previously in our Weekly Stitch newsletter, which features new products, tips, and more. If you enjoy it and would like to subscribe, click here.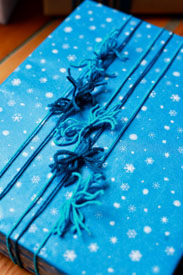 Pom-poms are easy, fast, and fun — add a couple of mini ones to your packages for a whimsical touch! This week we're showing you how to make a Mini Pom-Pom Gift Topper
For this gift topper, you'll need several colors of yarn (the example below uses Lion® Cotton in Turquoise and Lion Wool® in Dark Teal*).
*Editors' Note: Lion Wool® has been discontinued since this article was originally published. Try a color-changing yarn like Amazing® and Vanna's Tapestry or use the leftover yarn from the handmade gift inside.
Read the rest of this entry »
November 9th, 2014
This story is from our newsletter called Pattern Journal which brings a warm-hearted, wholesome story to your inbox to read every month. If you enjoy it and would like to subscribe, click here.
When Jessie thought about her life, it was as a series of moments. Sometimes these were big events, like holidays, but often they were small—a bluebird's late-winter visit to the garden, the way her husband smiled as she approached. Sometimes the moments were sad, like when she'd had the diagnosis, and when she'd begun chemo and radiation.
Of course family and friends had been there all along, but she'd needed a steady diversion from the symptoms and side-effects. Knitting had kept her anchored and calm. Knitting had let her feel capable even when she'd hit her lowest point.
The pattern was called Autumn Lace Afghan—beautifully textured, with a kind of embedded story in every repetition. Each knitted diamond framed a stylized tree of life and connected to another diamond and another tree; the border was seed-stitch, symbolic of growth and hope. The yarn, an autumnal Hazelnut shade of Wool-Ease® Thick and Quick®, was meltingly soft, and became a fabric both durable and comforting. To make the knitting magic last, Jessie knitted mindfully, just a few rows every day. Thus she managed to stretch the project over several months.
By then the treatments were over. Slowly she felt more vibrant, and increasingly grateful. The afghan was beautiful, but was so much more than that. It was a knitted diary of all those moments—when she'd felt awful, when she'd known for sure that the worst was over, when she realized her health was restored. And when she draped the completed afghan over her shoulders, she felt lovingly protected by its warm, inspiring embrace.
—
All characters appearing in this work are fictitious. Any resemblance to real persons, living or dead, is purely coincidental.
A story by Selma Moss-Ward.
Selma Moss-Ward writes and knits in Rhode Island. You can find her work on our blog, as well as Lion Brand's monthly newsletter, Pattern Journal, which you can subscribe to here.