November 20th, 2015
Homespun®, how do we love thee? Let us count the ways: from your painterly shades, to that famous poncho, we love the texture and depth you give our projects. We'll let brand ambassador Shira Blumenthal continue the list…
:: Can't see the video above? Click here to watch — https://youtu.be/I2Ux4n9kkn8 :: 
Happy 20th anniversary, Homespun®!
Until November 30th, save 20% when you purchase Homespun®, Homespun® Thick & Quick® and Holiday Homespun® at lionbrand.com! *
* Sale on through to Sunday, November 30th, 2015. Applies to Homespun® family yarns only, excluding yarn already on sale or clearance. Valid at lionbrand.com only.
November 20th, 2015

The holidays are here, and it's time to start decorating! Crochet designer
Salena Baca
has just released a new book,
Crochet for Christmas
– which has some seriously cute and modern holiday designs. Just look at the cover, how amazing are those crochet cabled stockings!
If you can, I suggest you get your hands on a copy of this book because Salena and her designing contributors did a wonderful job with the patterns. They're fun and modern and sure to put a smile on your face. The skill levels of the projects vary, so you're sure to find something for beginners and more advanced crocheters as well.
Thanks to our friends at Stackpole Books, we're bringing you a wonderful giveaway in which 2 winners have a chance to win a copy of this book along with a set of Bonbons® in the Nature colorway to make the reindeer mug cozy you see above. See details below for entering.
AND – as a lovely bonus from Salena herself, you can work up a Silver & Spice Crochet Hood made in Wool-Ease® Chunky, which is one of the patterns included in the book.
Rules & Guidelines:
1. Entries must be received by November 30 at 11:59pm EST
2. US entries only.
3. Must be 18 and over to enter.
4. One entry per person.
»Click here« to enter the giveaway if the form below does not work for you.
Create your own user feedback survey
November 19th, 2015
Blogger and author Kathryn Vercillo is an expert in the area of using crafting to heal, having researched the topic extensively for her book Crochet Saved My Life. In this post she introduces us to the Craft As Therapy community on Instagram, which is a daily visual celebration of the healing capacities of crafting. Read Kathryn's previous blog posts on the Lion Brand Notebook here.
When Mandy of the RedAgape Style & Design blog started using the hashtag #craftastherapy on her own Instagram account, it was just a personal thing. She had always loved crafting but after her mother was diagnosed with brain cancer and the diagnosis worsened Mandy's own illness, she realized just how important crafting was for her health. She began to intentionally turn to crafting as a way to distract herself from the anxiety of this period, and she began to tag her photos accordingly.
#CraftAsTherapy
People immediately took notice. Others started using the hashtag widely. Mandy says, "It became apparent to me how important craft is as a form of therapy, not just for me, but for many other crafters. Many have shared their stories about why they craft for therapy. Some are suffering with mental illness, infertility issues, chronic illness, physical illness … and some craft simply because it is cheaper than (traditional) therapy and keeps them smiling!"
Mandy was surprised by how much people loved this hashtag, although looking back she says she's surprised that she was so surprised. She says, "I'm not sure why I thought I was the only one. I mean; there is a reason that coloring books for adults are so popular right now. Everyone is looking for some time out for their minds and crafting is perfect."
November 19th, 2015
We're all feeling the holiday rush! Between coordinating family and friend visits and digging up old recipes, we know crafting's a great way to unwind.
Think you're running out of time to make gifts? Think again! In the latest episode of Tea with Shira, brand ambassador Shira Blumenthal asks a few Lion Brand staff members what projects they're making. Best of all, these projects are quick-finish, so you can make them in a weekend!
:: Can't see the video above? Click here to watch — https://youtu.be/oKBlyBlyW3U :: 
Check out the patterns featured in this video below!:
November 18th, 2015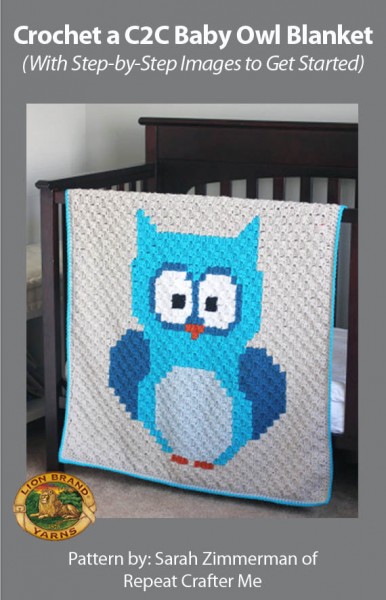 Are you familiar with the corner to corner crochet method? Corner to corner (C2C) crochet is a fun technique which involves working with a graph and crocheting your complete piece along a diagonal. In working the afghan, you start at one corner of your pixel square graph (typically the bottom right hand corner) and follow the graph row by row, building your stitches. You end up completing your afghan at the opposite corner (typically the top left hand corner).
These C2C blankets have become quite popular because of how quickly and easily they work up. They're also appealing because you can easily customize the look of your project by creating a picture graph to work off of. Today, we're excited to share with you Lion Brand®'s first crochet Corner to Corner blanket made by Sarah Zimmerman, from the popular blog, Repeat Crafter Me.
We worked with Sarah to bring you this exclusive Baby Owl pattern on lionbrand.com, so we hope you enjoy it!
Please »click here« for the COMPLETE pattern with materials needed.
Use code: BabyOwlAfghan for 20% off all of the Vanna's Choice® yarn needed to make this project.
*Good through 11/22; One coupon per person; cannot be combined with other coupons; does not apply to items already on clearance or yarn other than Vanna's Choice®. Minimum purchase quantity is 12 balls – enough to make the afghan!