April 10th, 2014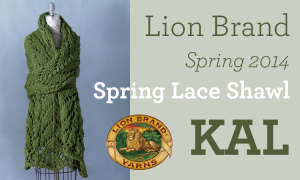 Hi, I'm Grace and I'm so excited to be leading the knit along for the Spring Lace Shawl.
This is a great project for both experienced knitters and beginners who are ready to advance beyond simple stitch patterns. With an elegant lace pattern and a chunky, multi-stranded construction, this quick knit will be the perfect addition to your wardrobe to curl up with on those cooler spring evenings.
I'll be posting every week giving you tips for getting through the project successfully.
April 9th, 2014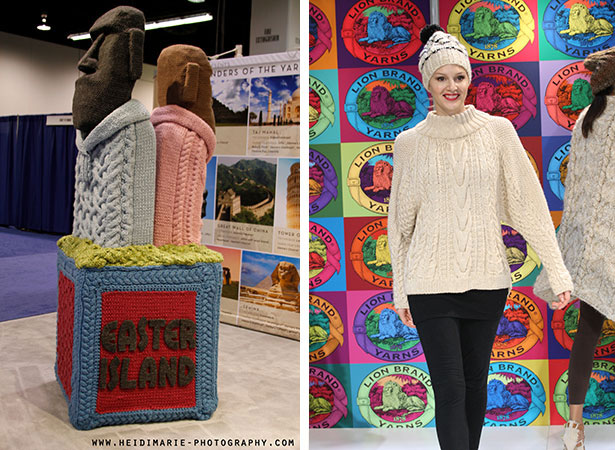 Nathan Vincent's sculpture of Easter Island Statues; model wearing knit Oversized Fishermen's Sweater
Last year, we asked Nathan Vincent to design several larger-than-life sculptures that could be associated with seven yarn techniques or, as we like to call them, "yarn wonders." Revealed at the Craft and Hobby Association show earlier this year, these sculptures were presented as Lion Brand's 7 Wonders of the Yarn World. Each yarn wonder was represented in our fashion show, displaying the variety of ways you can use and wear each one. We started with textures (Stonehenge) and stripes and chevrons (Mayan Ruins). Our third Wonder of the Yarn World, the Moai statues of Easter Island, represents timeless and awe-inspiring cables.
According to Creative Director Adina Klein, cabling may look complicated and mysterious but it's actually a very easy stitch to pick up. This collection of cabled-designs features classic and timeless pieces that you can coordinate with any wardrobe.
We presented several designs that range from classic cabled afghans, to more modern takes on the Fishermen's sweater. The garments featured were made in a variety of yarns like Heartland, Heartland Thick & Quick®,  Hometown USA®, Homespun®, Homespun® Thick & Quick®, Wool-Ease®, Wool-Ease® Thick & Quick®, Vanna's Choice®, and Vanna's Glamour®.
Below you can see a selection of some of the designs featured. Find your own cable inspiration and use this classic technique to make something new and modern.
*Pattern(s) coming soon
April 8th, 2014
Audra Kurtz shows you how to finger-knit a flower headband in less than 10 minutes using Hometown USA in the color Neon Pink — you can use any color you like, there are over 65 to choose from!
If you enjoyed Audra's tutorial, check out her finger-knit love sign tutorial!
April 8th, 2014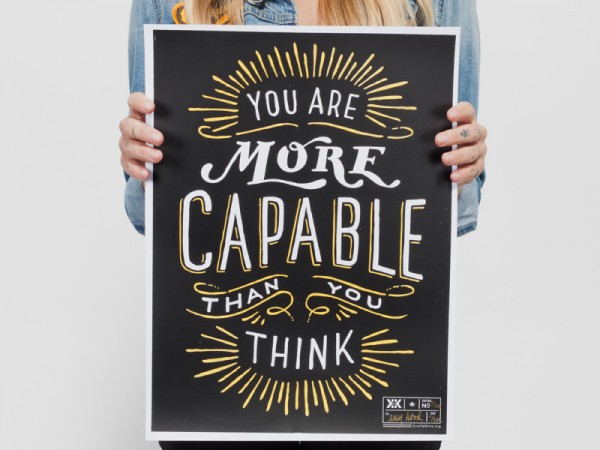 Krochet Kids International is an organization we are supporting this month by donating 10% of the sales from our LB Collection on this website. As you may know, the LB Collection is an exclusive line of 6 different yarns in a variety of fine fibers from cashmere to cotton bamboo.
What we love about the Krochet Kids organization is that they help women live better lives by giving them the opportunity to earn money through hand crafting. They don't believe in handouts, they believe in empowerment. Thanks to Krochet Kids, hundreds of women and many more hundreds of children have become educated and have learned they have the power to create a better life for themselves.
Krochet Kids sells more than hats and other clothing. They also offer inspirational posters. We selected our favorite to give away to one person at random who enters our contest, called "Who Empowers You?"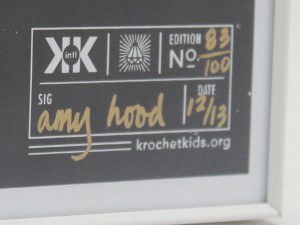 Simply answer the question, enter your name and email address so we can contact the winner and you'll have a chance to win this poster. It's a limited edition poster, signed and numbered by the maker. Lion Brand purchased it here so if you want to purchase one yourself, you can do so. There were only 100 posters made so order quickly if you want one! We also framed it for the winning entry.
The poster is a great reminder to all of us. You are more capable than you think.
April 7th, 2014
This column by Barbara Breiter, author of The Complete Idiot's Guide to Knitting & Crocheting, originally appeared in The Weekly Stitch newsletter. 
You've completed a row and something isn't right. You have 2 sts left. Or you've completed the row but the pattern still has instructions for the row you haven't worked. You try it again and there's still a problem. What do you do?
It's possible there is an error in the pattern…it does happen sometimes*. Or despite the fact that you've worked it twice now, you may be misunderstanding or skipping part of it.
If you break down the section or row by number of stitches used and number of stitches remaining (if there is an increase or decrease), it will be easier to determine if there is a pattern error or if it's a knitter/crocheter error.
Let's look at an example of how to do this.
Cromwell Court Afghan
This pattern is worked over 114 stitches. At the end of this row, you should still have 114 stitches.
Row 3: K3, (k2tog) 3 times, (yo, k1) 6 times, *(k2tog) 6 times, (yo, k1) 6 times; rep from * to last 9 sts, (k2tog) 3 times, k3.
First, let's look at
K3, (k2tog) 3 times, (yo, k1) 6 times,
There are 3 decreases (k2tog) and 6 increases (yo). You have used 15 stitches (k3, k2tog 3 times, k1 6 times [3+6+6]) and you have 18 stitches on the right needle now (3+3+12).
*(k2tog) 6 times, (yo, k1) 6 times; rep from * to last 9 sts,
This repeat has 6 decreases and 6 increases so the number of stitches used is the same as the number you have on your right needle for this section. The yo's compensate for the k2tog decreases.
There are 18 stitches used (k2tog 6 times, k1 6 times [12+6]) and 18 new stitches (6+12).
This section is repeated 5 times.
We know this because we started with 114 stitches, we used 15 stitches prior to the asterisk, and we will have 9 stitches left to work.
114-15-9=90 stitches worked over the repeat
90 divided by 18 stitches used=5
(k2tog) 3 times, k3.
There are 3 decreases and no increases. So the last section compensates for the 3 extra increases in the first section.
You have used 9 stitches (6+3) and there are 6 new sts (3+3).
So the total number of stitches used is 15+90+9=114
The total number of stitches you now have is 18+90+6=114
Conclusion
Here are four simple tips to help you think there is an error in a pattern:
Try to understand the pattern line by line so you can follow it and maintain the right stitch count.
Use stitch markers, which can be helpful when there are repeats. Mark each section and keep track of them.
If you do determine there is an error, send a note to the pattern's publisher so can correct it in the future.
If a pattern is frustrating you at the moment, take a break! Leave it and look at it with fresh eyes the next day. Often, when you come back to a pattern later on, it becomes obvious what the issue may have been.
Next week we'll be looking at another example: a sweater pattern.
–
To sign up for the Weekly Stitch and get columns like this, free patterns, how-to videos and more, click here.
*Editor's note: While we triple-check each pattern for errors here at Lion Brand, an occasional one may slip through. If that happens, you can contact us via LionBrand.com. When we issue a correction, we include a note at the top of the pattern (for people who may have previously printed out the pattern, but we also incorporate the changes into the body of the pattern for new people downloading the pattern so that you don't have to worry about the correction.
April 6th, 2014
Writer, illustrator, and knitter Franklin Habit joins us for his monthly column featuring humor and insights into a yarncrafter's life.
I figure this as good a time as any to begin this essay, as my knitting is temporarily on hold.
The pattern says to work in stockinette until the piece measures six inches from the cast on edge. I may have hit the target, but I won't know until I measure it, and I can't measure it because I can't find my tape measure.
By "my tape measure," I mean any one of the thirty or so tape measures with which I share a compact urban living space. How compact? Not New York compact, just Chicago compact–about 1,600 square feet. That means one tape measure for every 53.3333 square feet.
I should not have to look very far for a tape measure.
In fact, my tape measure was right here. I know it was right here because when I sat down to cast on I knew I would soon need to measure six inches of stockinette. So I found (hooray!) (one of) my tape measure(s) and put it right here.
So where is it?
I remember when I was a new knitter and every trip to the yarn store meant spending money on needles and notions. You remember that time in your life? You'd go to the yarn store, see the pattern, pick out the yarn. Then the nice person at the counter would say, "You're going to need a [stitch holder/row counter/tapestry needle/bag of stitch markers/size E crochet hook/16-inch size four circular]? Do you have a [stitch holder/row counter/tapestry needle/bag of stitch markers/size E crochet hook/16-inch size four circular]?"
You didn't, so you bought one of those, too.
April 6th, 2014
We're reposting some of our favorite columns by Barbara Breiter, author of The Complete Idiot's Guide to Knitting & Crocheting, previously featured in our Weekly Stitch newsletter.
When knitting a project that involves a stitch pattern (something other than stockinette or garter stitch) and shaping, such a sweater or hat, you will likely run into the term "keeping to pattern". It may be written as "keep to established pattern", "work pattern as established", or "continue in established pattern"; they all essentially mean the same thing.
When working on the non-shaping section, you will knit your stitch pattern, following the written instructions for each row. But if you increase or decrease at each end of a row while shaping, those rows will no longer begin and end as written because you have added or subtracted stitches. But you need to keep the previous stitches aligned so the stitch pattern continues.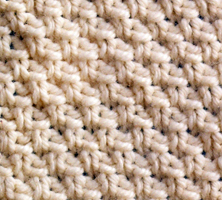 Many times, you can simply look at your knitting and see where you are within the stitch pattern. This is why it's important to learn to "read your knitting" and understand by looking at your work the sequence of knits, purls, yarn-overs, etc. Knitting from a chart is also an advantage here because you can look on each side of the pattern repeat and understand visually where you are in the row.
There are times when it's more difficult to follow where you are at or perhaps you are just starting out. So let's work through an example of Double Seed Stitch, sometimes known as Box Stitch:
Multiple of 4
Rows 1 and 2: *k2, p2; rep from *
Rows 3 and 4: *p2, k2; rep from *
Let's suppose you began with 16 stitches and you have increased one stitch on each end on Row 4. You now have 18 stitches and you can no longer begin Row 1 with a knit stitch because you no longer have a multiple of 8 and knits and purls will no longer align as intended.
How should you be keeping to pattern when you work Row 1 again? You would begin p1, then proceed to begin the row as written. The first stitch you work is the last stitch of the row as written. You are working backwards from the end of the repeat to the beginning of the repeat as you increase stitches.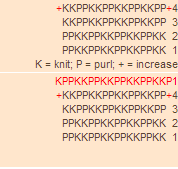 You will also have one extra stitch at the end of the row. As written, you ended Row 1 p2. Because you have an extra stitch, the row will now end with k1, which is the first stitch of the row as written. The last stitch you work is the first stitch of the row as written…the repeat is starting over again. However, you won't have enough stitches to complete the row as written.
So, the new Row 1 would be:
P1, *k2, p2; rep from *, end k1
Remember that where you begin and end each row will change each time you add more stitches. If you increased one stitch at each end again, Row 1 would now be:
P2, *k2, p2; rep from *, end k2
Or even more simply:
*p2, k2; rep from *
When you decrease you eliminate stitches, so again you need to recalculate how to begin the row and how it should end.
Let's suppose you were working over 16 stitches again but this time you decreased at the beginning of Row 1. You would have k2tog and this brings you to p2 as the next step. You would then continue k2, p2.
You don't need to worry about ending the row when you decrease. As long as you begin in the correct place, the row will end when you've run out of stitches and they will all be aligned as intended.
Remember, just as with increasing, where you begin and end will change each time you decrease stitches.
April 4th, 2014
One of our most popular patterns, the Simple Shrug, is an easy project that's perfect for beginners. The pattern is essentially a long rectangle seamed together at the ends to form a "one size fits all" shrug. Many of you have been excited to start this pattern, but wanted more of a visual explanation about seaming the ends and how the whole thing comes together. Now, we're happy to share with you this wonderfully detailed video that will help guide you on this pattern journey!
Check out this new video with Yolanda Soto-Lopez of "All Crafts Channel" as she walks you through every step of the way for this pattern.
April 4th, 2014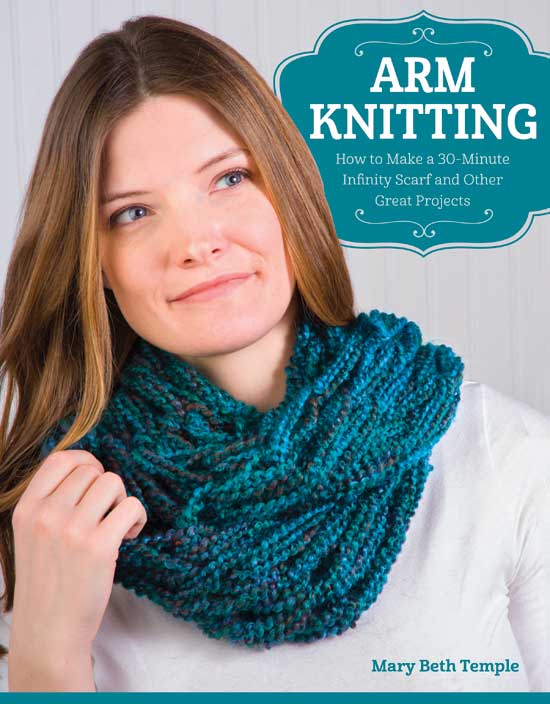 Arm knitting has taken the fiber world by storm. It's a quick and easy way to produce a chunky knit item, which could be anything from a cowl, to a scarf, or even a blanket. In about 30 minutes or less, you can knit a beautiful cowl or scarf, and you don't need needles!
Knitting expert Mary Beth Temple has put together a collection of 15 creative patterns in Arm Knitting: How to Make a 30 Minute Infinity Scarf and Other Great Projects . In this book, Mary Beth works with an assortment of Lion Brand yarns in various weights to get you started on your arm knitting journey. Also in the book are well-detailed, step by step photo instructions that will help you become an arm knitting master.
Arm knitting is a great way to introduce friends, children and loved ones to the wonderful world of fiber arts. Take a look at some of the cool projects found in Mary Beth's book below!

We're happy to be offering this book at 20% off the retail price at $7.99. Click here to purchase.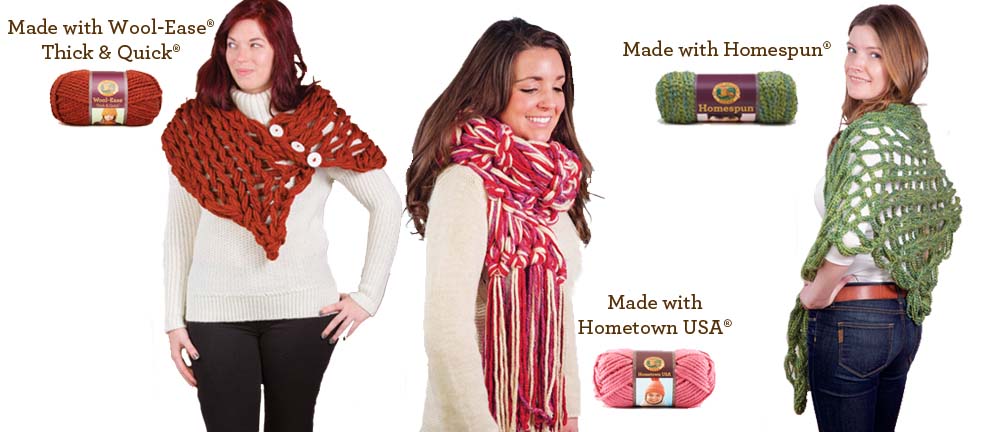 (pattern images courtesy of Mary Beth Temple: Arm Knitting)
April 4th, 2014
After a long, cold winter, spring is finally here — which means Easter is just a few weeks away! While this often means buying marshmallow Peeps and hunting for candy-filled eggs for children, crafters are starting their Easter and spring-related projects.
Living in New York, this is the time of year when I like to walk down 5th Avenue and see  people  show off the crazy-fun hats they made just for the "Easter Parade" — traditionally, this time of year was when Victorian churchgoers use to show off their best hats, jewelry, and clothes after church. The event is similar to red carpet movie premieres and award ceremonies you see on TV.
Whether you are crafting for children or yourself, it is a good excuse to think of cute bunnies, sheep, and bright colored eggs.  Here are a few inspirational projects to put in a child's Easter basket or decorating your home.
For more ideas check out Patternfinder and search under "Easter" or "Passover."  Also check out our Pinterest Board for more Easter inspiration!