April 23rd, 2013
In continuation of celebrating spring here on the blog, I have a new giveaway that I'm excited to announce.  One lucky winner will have the chance to win a set of 5 Vanna's Choice® Baby yarns, and 2 pairs of scissors, courtesy of Fiskars (The World's #1 Scissor Brand™): The Original Orange-Handled Scissors™ and the 4″ Folding Scissors™ to make the Bright Stripes Baby Afghan (Crochet Pattern).
The Vanna's Choice Baby colors included in the giveaway are sure reminders of the beautiful flowers and blooms currently decorating gardens and yards.  This afghan will be a pleasure to make, especially if you sit outside and enjoy nature as you work!
«Contest is now closed»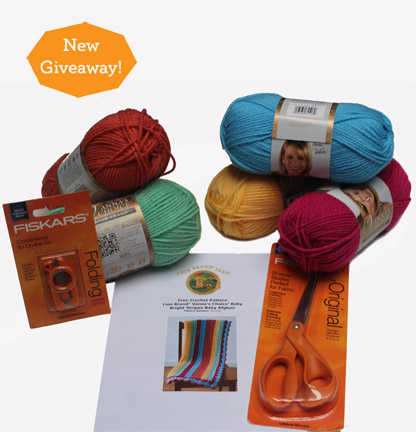 Good luck! Contest ends on Tuesday, April 30 at 5:00 p.m. EST
Please note: Comments left on this blog post do NOT count as entries. Please click on the link above to enter.

*Update 5/3/2013*: Congratulations to Eva Yee who has won this wonderful prize!
April 18th, 2013
Earth Day is less than a week away, and that means sustainability, eco-friendliness, and recycling is at the forefront of many people's minds. While crafting is by definition the creation of something new, there's no reason not to be sustainable while doing so! Lion Brand has an array of different fibers that are eco-friendly, whether that means all-natural, organic fibers or recycled materials. I'll be featuring all of these great green products over the next week. Today, let's take a look at Recycled Cotton! This worsted weight blend is made with 72% recycled cotton that is sorted by color to minimize the amount of dye needed to churn out the finished product. The cotton comes from leftover fabric from the production of tee shirts that would otherwise be discarded, much like our Zpagetti yarn. Ready to get started? Here's a round up of my top ten favorite patterns using Recycled Cotton.
April 17th, 2013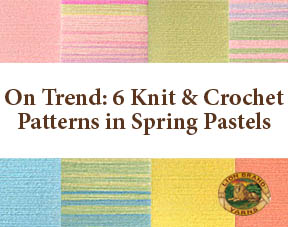 Spring has finally sprung, and it feels great to transition into a different wardrobe.  Spring is a fun season because you can show off multiple pieces with layered outfits, play around with bright and bold colors, or add just a touch of color with soft and sophisticated pastels.  Pastel colors aren't just for babies, as they have become quite popular this season, and they're an easy family of colors to incorporate into your knitwear.
Pastels add classic sophistication to an outfit, and they pair great with neutrals like gray, white and beige.  Below, I've gathered a few patterns already knit or crocheted in pastel colors to help you determine what kind of pastel piece you'd like to add to your wardrobe.  I personally love the Eyelet Swing Cardi in LB Collection Cotton Bamboo; it would pair very nicely with slim fitting khaki pants and a white top/tank.  Take a look at some of the options below for more pastel inspiration (click on the photos to access the patterns on LionBrand.com):

*For more pastel palettes, check out the colors in: LB Collection Angora Merino, Baby's First and Babysoft
Thinking of incorporating a pastel piece into your knitwear? Share your thoughts on what type of pastel project you'd like to work on in the comments!
Related Links:
April 16th, 2013
Designer and teacher Heather Lodinsky joins us to share tips on reading your knitting.
For the last two decades, I have been a freelance designer writing patterns for knitters and crocheters.   For just as long, I have taught knitting at my local yarn shop three times a week here in Buffalo, New York.  These two jobs of mine have always complemented each other.   Knitters (and want-to-be knitters) walk in for instruction and help with their projects.  I always want the knitters that come to my class to be happy with their knitting and not feel the urge to throw their projects in the back of a closet to become a so-called "UFO" (Unfinished Object).   From the very start, I like to get students familiar with "reading" their knitting, so that they can identify what stitches they are working, understand what they have already done and know where they are going with their knitting.   Think of this "reading" or identifying your stitches as your own knitting "GPS"…or compass for those of us "pre-techies".
Probably the most amazing revelation for me as a knitter was when I realized (after many years of knitting) that the knit stitch and the purl stitch are the exact same stitch—but they are done on the opposite sides of the fabric.    We are taught as knitters that if you knit every row you will get that wonderful, reversible ridge fabric named "garter" stitch—shown below.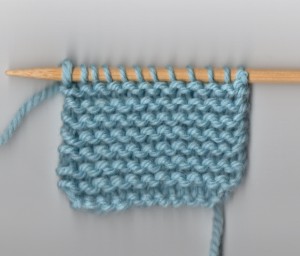 So, what happens when we purl every row?  Garter Stitch again!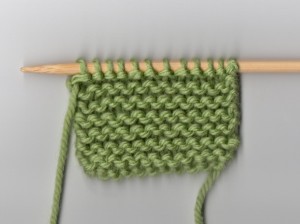 April 12th, 2013
It's the beginning of spring, and we're celebrating this joyous season on the blog with topics related to babies, nature, and more. Today, you'll have the chance to enter our giveaway, where you could win 5 different color skeins to make the beautiful, pastel toned Summer Stripes Baby Afghan. 
Thanks to Fiskars (The World's #1 Scissor Brand™), we're also providing you with scissors to cut your yarn as you move on to the next color.  You'll get the chance to win The Original Orange-Handled Scissors™, which is great for cutting yarn and fabric; and the 4″ Folding Scissors™ for crafting on the go (which I personally have and LOVE).
Summer Stripes Afghan: Vanna's Choice® and Fiskars® Scissors Giveaway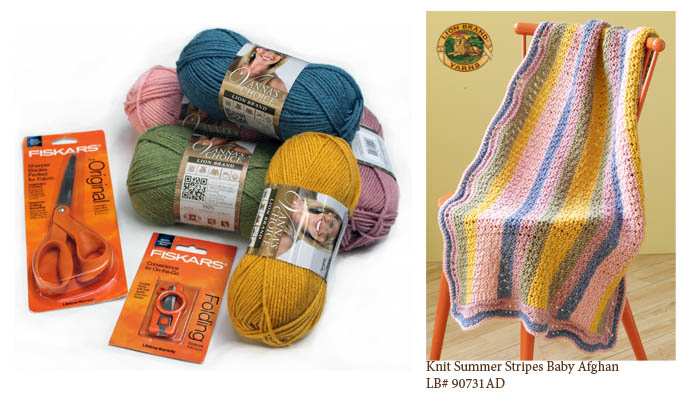 « Contest is now closed »
ONE LUCKY WINNER will receive this prize; Good luck! Contest ends on Friday, April 19 at 5:00 p.m. EST
Please note: Comments left on this blog post do NOT count as entries. Please click on the link above to enter.
*Update 4/22/13:  This contest is now closed, and the lucky winner is Sandra McClain!
April 11th, 2013
Author of The Complete Idiot's Guide to Knitting & Crocheting Barbara Breiter joins us for her monthly column on techniques that people frequently ask about. 

For super quick projects, nothing beats knitting (or crocheting!) with thick yarn or multiple strands and big needles. You can knit up an afghan in a fraction of the time it would take to make with worsted weight yarn and, for example, size 8 needles.

Larger needles are considered to be US sizes 15, 17, 19, 35, and 50. Particularly with the largest of needles, you may find them cumbersome at first…but remember how awkward knitting with any size needle was when you first began? With a bit of practice, you'll be handling these jumbo size needles just like smaller ones. Because of the heft, size 35 and 50 are almost always plastic, but as with any needle size, you'll find different options out on the market.

Knit 2 Hour Tweed Scarf
April 11th, 2013
Have you ever noticed just how many different ways there are to make a sweater? You could make it in one-piece from the top-down or bottom-up. You could make it piecemeal with a front, back, and sleeves. You could knit it from sleeve to sleeve. You could even make it in many modular pieces!
For those who are new to the world of garment-making, a great place to start is a baby sweater. They're small, so they don't take a lot of yarn or time commitment (and babies don't mind a mistake in the knitting here or there). Here are just a few of the different sweaters that we've designed–and if you click through to view their schematics, you'll get a sense of just how differently each one is made! Make one (or make them all) and get some practice so that you feel ready to take on an adult sweater of your own!
6 Baby Sweaters Featuring Different Construction Methods
Sunrise Stripes Pullover
Features a classic raglan construction, where you knit from the top-down, dividing for the bodies and sleeves.
One-Piece Baby Pullover
This sweater is created from the lower edge of the front, knit up to the top of the neck and  sleeves and back down to the bottom of the back.
April 10th, 2013
The holidays are over and your hand-knitted gifts (yes, even the stragglers) are all done. If you're like us, you can use some inspiration for a new knitting project. That's why we're kicking off our Spring 2013 Knit-Along! Help us choose the winning pattern and we'll work on it together, step-by-step, throughout the spring.
Vote by April 21, 11:59 pm Eastern. Remember, you must submit your vote through SurveyMonkey for it to count!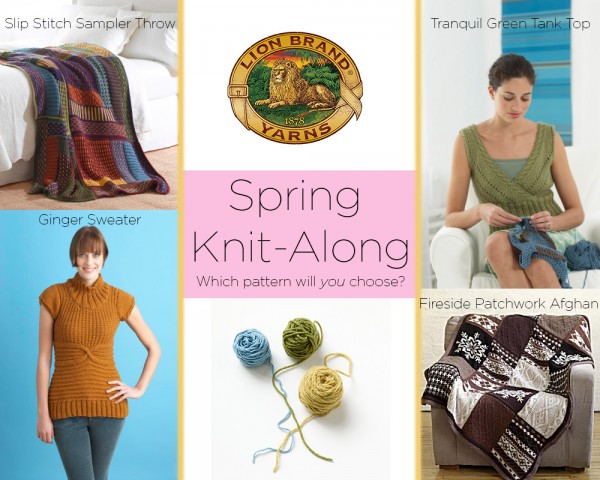 Want a sneak peek at the patterns? Click these links for the patterns shown above, clockwise from top left: Slip Stitch Sampler Throw, Tranquil Green Tank Top, Fireside Patchwork Afghan and Ginger Sweater.
We'll announce the winner here on Thursday, April 25th. We're excited to have our friend Heather Lodinsky hosting. We can't wait to see what the winning project will be!
New to knit-alongs? Check out our guide to knit/crochet-alongs for some helpful advice. Crocheters, we'll be having another crochet-along in the coming months, so keep an eye out for an announcement.
April 7th, 2013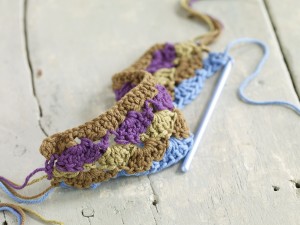 I think that every crocheter and knitter should be open to trying new skills–by challenging yourself as a crafter, you grow your abilities and open up the possibilities of making even more amazing projects.
On a recent episode of YarnCraft (that'd be our podcast or downloadable online radio show), we talked a little bit about 5 crochet techniques we think that everyone should try! Here they are:
1. Tunisian Crochet
This technique involves two passes of the crochet hook (one to pick up loops onto the hook–bearing a resemblance to knit stitches on a needle–and one to work those loops off the hook) and creates a fabric that can look woven or knitted. Click here to learn more about this interesting skill.
2. Broomstick Lace
Create beautiful lace stitches with just your basic single crochet and a large knitting needle (or a handle…like that of a broomstick)! Find out how in this easy photo tutorial.
3. Intarsia
Both crocheters and knitters can create wonderful colorwork simply by following a chart. See some examples in this blog post.
4. Hairpin Lace
This unique looking lace is created with a special tool and a crochet hook. See this helpful video to see how it's done.
5. Crochet Cables
Wonderful braids and raised textures are yours for the making with crochet cables. Learn just how easy this technique actually is with this blog post.
[Basic shell stitch pattern shown in swatch above can be found here; please note the photo above uses 4 colors and is shown sitting upside-down from the stitch pattern photo.]
To learn more about this episode of YarnCraft, click here. Use the player below to listen to the episode directly from this page (this particular segment starts at 27:24): 
Audio clip: Adobe Flash Player (version 9 or above) is required to play this audio clip. Download the latest version here. You also need to have JavaScript enabled in your browser.
April 5th, 2013
Writer/illustrator/knitter Franklin Habit welcomes spring with a humorous take on two of his favorite hobbies in this month's column.
A month since I last wrote, and a world of difference outside. The change has only come in the past day or so, and it's precarious change, but it looks as though we may yet have our spring here in Chicago. This morning, in one of the flowerbeds under my charge, I saw this.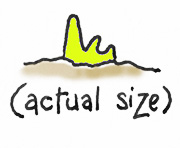 That's my first sight in six months of one common orange daylily (Hemerocallis).
My reaction to it was the reaction of the hero in one of those awful wartime romance movies where he thinks that his fiancée bit the dust when the bombs hit the old mill and afterwards he pulled from the rubble the bracelet she always wore that said My Heart Is Forever Yours but it turned out that no she flew clear into the next county and landed on a haystack and was physically fine but lost her memory and so spent the rest of the war working as a milkmaid and thinking her name is Phyllis when really it's Midge but just as he's returning home and wondering whether his heart will go on she gets smacked upside the head with a milk pail and her memory comes back and she screams MIDGE! MY NAME IS MIDGE! and runs all the way home across the county line and he sees her coming and drops to his knees in rapture while crying a single, noble tear that stops precisely halfway down his cheek.