October 2nd, 2015
Here is the latest installment of Lola, from its creator Todd Clark.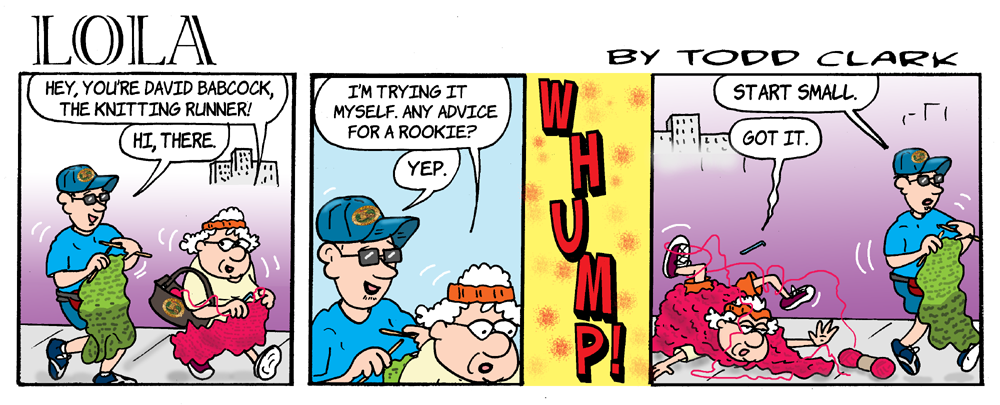 Please donate $10 to the Alzheimer's Association in support of David Babcock's upcoming New York City Marathon race. If every Notebook reader gives just $10, we'll reach our goal of $3500 before the race!
*** *** ***
Subscribe to The Weekly Stitch Newsletter
Get a FREE weekly email featuring patterns, articles and special offers. As a bonus for subscribing, we'd like to offer you 15% off your first order! *
:: Sign up now ::
October 1st, 2015
Our friend Kristy Glass from the Glass Posse channel talks up a few of her favorite costume patterns!

:: Can't see the video above? Visit https://youtu.be/vFrPxeA2Fs0 ::
Get the FREE patterns here:
For more great FREE costume patterns, visit Pattern Finder.
October 1st, 2015
The ease of acrylic with the warmth of wool — our Wool-Ease® collection has both! This month, save 20% on Wool-Ease®, Wool-Ease® Thick & Quick®, and Wool-Ease® Chunky!
The original Wool-Ease® is so popular (supported by over 400 FREE patterns), it inspired a whole family of blended yarns. With the additions of Wool-Ease® Chunky (supported by 82 FREE patterns) and Wool-Ease® Thick & Quick® (supported by over 500 FREE patterns), you get the same quality yarns in three different weights! Use the entire collection to dress your family and home this fall and winter; make afghans, socks, sweaters, cardigan, hats… the list goes on! With heathers, tonals, neons, and every color in between, you'll always find new ways to use these yarns.
Feeling inspired? Check out the look book below to see a sampling of what you can knit and crochet:

:: Can't see the look book above? click here. ::
September 30th, 2015

Before the rush of Halloween, Thanksgiving and — is it too early to say Christmas? — take a moment and enjoy the fall! The changing of the leaves, the urge to wrap up in our coziest knits… we're already there.
Maybe you've already picked out the perfect sweater pattern to work on, but, why not knit and crochet for your home? Fall-ify your home with touches of orange, browns and deep burgundies to bring that crisp outdoor feeling indoors.
Afghans are one of the easiest (and comfiest!) ways to dress up your living area for the season. We've also rounded up smaller projects, like yarn-bombed branches and napkin rings, that can be done in a single weekend.
Dress up your home with these 9 autumnal patterns!
September 28th, 2015
Two stitches, one piece — that's the Reading Room Cardigan in a nutshell! This cardigan knits up easily and in little time thanks to Wool-Ease® Thick & Quick®. With a brilliant variety of solids, heathers, and tweeds to choose from, this yarn is a go-to for sweater weather.
Design Editor Susan Haviland walks Brand Ambassador Shira Blumenthal through the simplicity of this pattern. Check out the video below and see just how easy it is to make this cardigan!
:: Can't see the video above? Click here to watch – https://youtu.be/m0DN-lApP58 ::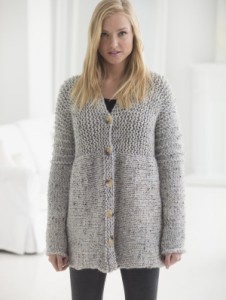 Knit Reading Room Cardigan made with Wool-Ease® Thick & Quick®
Click for the FREE pattern.