March 11th, 2015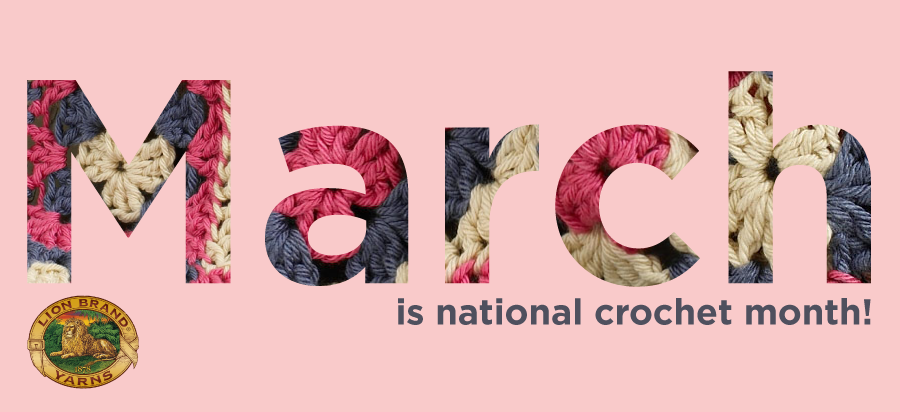 Celebrate National Crochet Month!
Vote for your favorite crochet block below and you could win the opportunity to have a Lion Brand afghan pattern named after you, we'll even throw in the afghan too! You can vote once a day! (Not a Facebook user? Don't worry, you can vote here).
We'll randomly select and contact the lucky winner no later than April 15th, 2015.*
To vote, click on the image or "like" button below and be sure to fill out the entry form. Thank you for voting and don't forget to come back to vote again tomorrow!
* One entry per person. Click here for the official rules.
March 11th, 2015
Recently we debuted our newest collection of patterns at a fashion show called, You Can Do It! The show was divided into five sections, the first of which, Simple Rectangles, featured pieces made from, you guessed it, rectangles. These patterns were designed to give even a novice knitter or crocheter the confidence to tackle a gorgeous garment!
Shira sat down with Lion Brand®'s Design Director Adina Klein to talk about the inspiration behind these inventive projects.
:: Having trouble viewing this video? Click here: http://youtu.be/EA_CcH2IoWc ::
See the Simple Rectangles patterns below!
March 10th, 2015
Writer, illustrator, and knitter Franklin Habit joins us for his monthly column featuring humor and insights into a yarncrafter's life.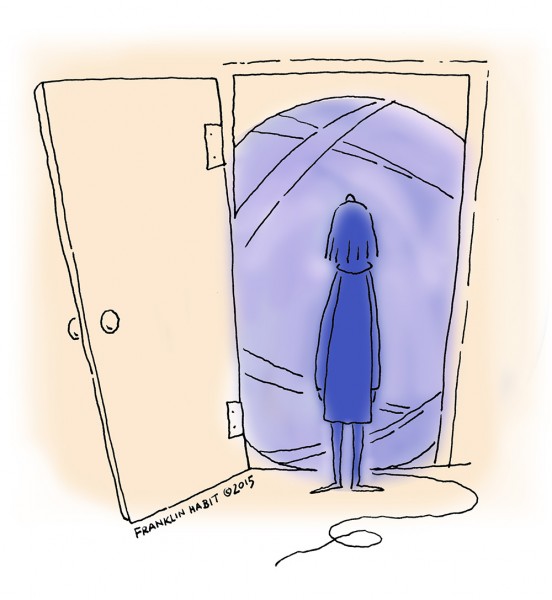 February 4. Abner was looking for the can opener today and found the sock yarn I've been storing in the flour canister. He asked where we keep the flour. We? When was the last time you whipped up a batch of cookies, Abner? I handed him the can opener–from the drawer it's been kept in since the Carter administration–and told him to get out of the kitchen.
February 5. Abner was snooping again. Found the lace weight in the big roasting pan on the top shelf. So what? We only use it every fourth year when it's our turn to host Thanksgiving. To keep the peace, relocated the lace weight to the canisters marked TEA and RICE. Wasn't much tea or rice left anyhow.
February 6. Out all evening, volunteering at the guild's learn-to-knit night. Terrific thank-you gift, two skeins of kid mohair/wool blend. Not sure what to do with it just yet, so it's tucked in with the Christmas decorations in the hall closet. Abner has been nice and quiet, holed up in the den clacking away on his computer. Crisis averted? Fingers crossed.
February 7. At breakfast, Abner handed me a typed list of one hundred and thirty eight places around the house that he has found stashed yarn. He wants me to think about what I should do. I'm happy he didn't look under the porch.
March 10th, 2015
I'm antsy. I don't like to have too many projects going at once because I know I'll never finish them. One might say I'm loyal to the project I start; I don't start another project until it's finished. However I've taken on a big challenge with my first sweater and I need mental break. I'm participating in the current Knit Along in the Lion Brand Yarn Studio and if you've been following my posts about it, you know that I've been working hard to keep up with the class.
Taking A Break From Knitting … By Knitting Something Else

I thought I'd take on a few small projects as a way to take a break from my sweater. My friends who are twins just celebrated their 30th birthday (they say they just turned 25 … but I digress.) I love making gifts for my friends because they're always made with love and they're one-of-a-kind. And they love when I make them something special; they refer to it as "Made by Shi Stuff."  So I suggested some wristers and to make them special they could choose any of our premium LB Collection® yarns they wanted.  They chose Angora Merino; Hadassah chose Pewter and Yaffa chose Blue Bell.
The Plan
Even though I need to make two pairs of wristers, it's a nice little break.  It's like Where is Waldo, sometimes you're looking so hard for Waldo you need a break and once you come back, you find him right away.  I'm hoping that these wristers are my break, and then I will come back to my sweater and zoom through.
How many projects do you have going at once?  Or are you like me, and are a one-at-a-time project kinda crafter?
March 9th, 2015
March is National Crochet Month – making it the perfect time to learn to crochet or perfect a stitch. Lion Brand offers many great resources to learn: there's our Learning Center for step-by-step instructions, Stitchfinder to find the perfect stitch to practice, and our YouTube Channel if you're a visual learner. We even have a Craftsy class to show you how to crochet your very first cowl.
Whether you're a beginner or a veteran looking for new tricks, here are some great tips to get you started on your next crochet project:
So pick up a hook, some yarn and learn a new skill!
March 8th, 2015
It's hard to believe that AMC's Mad Men has been on the air for over seven years, and it's even harder to believe that our final hours with Sterling Cooper & Partners are almost here. The second half of Mad Men's final season begins on April 5th! The show has followed Don Draper, his colleagues, and family through the 1960s and there are only seven episodes left.
Costume designer Janie Bryant's work has brought back mid-century styles, including a line at Banana Republic, and an official suit at Brooks Brothers.
To mark the occasion, I've put together a few patterns for the modern Joan, Peggy, and Betty in all of us!
March 7th, 2015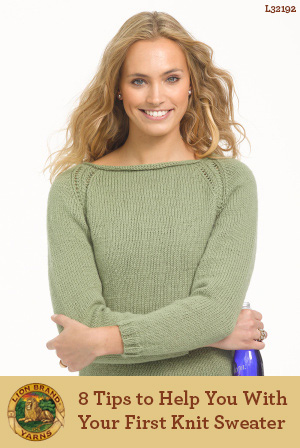 Love knitting scarves and afghans, but want to take your knitting skills to the next level? You might want to try your very first sweater!
We have several tips that can help you along the way, plus 4 of our most popular sweater projects — check them out below!
In addition to this, we even offer a Craftsy class that will show you how to make different types of raglan sweaters – perfect for visual learners!
March 6th, 2015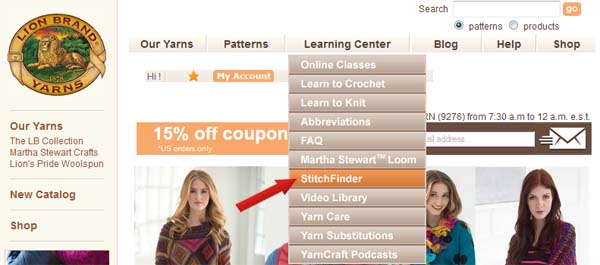 Have you ever checked out the
Stitch Finder
section of our website? Our Stitch Finder has a vast amount of knit and crochet stitch techniques, which are great starting points for larger projects like afghans or scarves. Different stitch techniques that can be applied to projects include ripples, cables, lace patterns, flower motifs, and more. The Stitch Finder is like a treasure trove of fun little designs, and today, we've got an awesome video from
Very Pink Knits
, which guides you through the
Knit Lace Stitch
.
Staci walks you through the Knit Lace Stitch pattern in 4 LB Collection® yarns: Baby Alpaca, Silk, Cashmere, and Superwash Merino. And, we're also happy to share this video with you today because when you spend $35 or more on yarns from the exclusive line, you get free shipping!
Take a look at the video below, and we hope you enjoy learning a new stitch.
March 6th, 2015
Here is the latest installment of Lola, from its creator Todd Clark.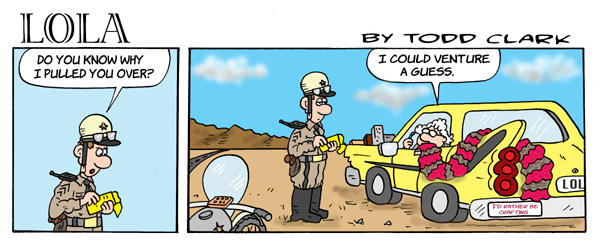 *** *** ***
Subscribe to The Weekly Stitch Newsletter
Get a FREE weekly email featuring patterns, articles and special offers. As a bonus for subscribing, we'd like to offer you 15% off your first order! *
:: Sign up now ::
March 5th, 2015
I now have a rhythm to my sweater. I've come to terms with the likelihood that I will probably not finish my sweater by March 18th, the last KAL meeting. As much as I would have loved to have finished a sweater in a month, a lot of things are going on, and sometimes while I wish all I could do is knit… that's not the case.
Why I Missed Week's Knit Along
This past week I didn't go to the KAL. My mom had a procedure so of course I visited her in the hospital. We're very close and I recently taught her how to knit. So, I decided we'd have our own knit along. She's a good student and very determined to finish her scarf. She has been working on it for a while, it's her first project: a simple scarf. She has gotten "crafty" as I like to call it, increased some stitches, done some yarn overs, as every beginner does, but no matter what, I'm very proud of her.
Learning From My Student
One of the things I love about how she has taken on knitting is that she has made it fun.  When she makes a mistake, she doesn't get upset or frustrated. For instance, when she purls instead of knits, or when she twists her stitches, she simply says "Oh, I have been wanting to do that for a while."  She embraces her mistakes as design elements. I think that's something us knitters and crocheters forget. It's not the end of the world if it's not perfect, you have made it by hand and with love, there have to be some design elements (that's what I now like to call mistakes).
Avoiding the UFO
I was afraid I might be procrastinating but the time I spent instead of going to the KAL was really important to me. Still, I have to finish and I cannot let this sweater become another UFO. The encouragement of all of you reading this and the need to keep up with a group are spurring me on. I'm off to knit!