September 12th, 2014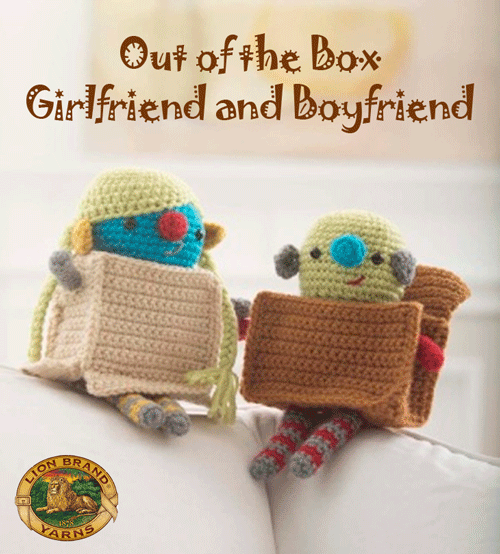 In celebration of the fun new movie Boxtrolls, which will be in theaters on September 26th, we've got these cute little critters for you to crochet for (or with) your children. You've even got enough time to make some and bring along to the movie premiere!
Boxtrolls are shy trolls who live and hide in boxes (similar to turtles with their shells). Despite living in the sewers, these boxtrolls are actually just peculiar, yet sweet little characters who are more than what their name implies. The story of this movie originated from the beloved children's book series, Here Be Monsters! by Alan Snow, so it will be exciting to see this story come to life.
This boyfriend and girlfriend set (pictured) will be the perfect companion for anyone who is just as shy and quirky as the boxtrolls in the movie. Check out the Out of the Box Girlfriend and Out of the Box Boyfriend, and get started on a fun and unusual project.
P.S:  Make it super special by customizing it to for the person you're making it for! Check out our previous post on making monograms.
September 12th, 2014
Today, we bring you a great tutorial by Vanessa from The Crafty Gemini. Watch as Vanessa works through the Serene Spa washcloth pattern with Kitchen Cotton, showing you just how easy it is to crochet a quick project and learn a new stitch.
Vanessa is also hosting a giveaway with a chance for one lucky person to win 3 skeins of Kitchen Cotton. Find more information on the giveaway by clicking here!
Check out more from Vanessa by visiting and subscribing to her channel, The Crafty Gemini.
September 11th, 2014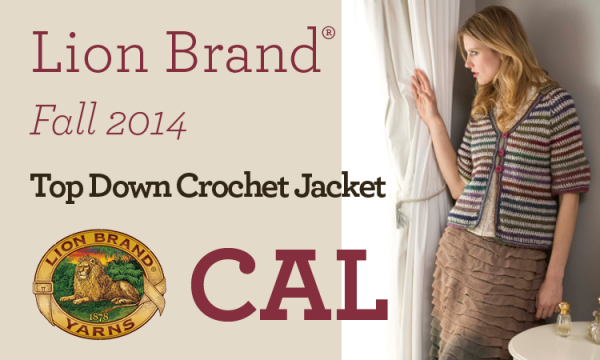 Welcome all to the 2014 Fall Crochet Along! I'm Grace and I will be guiding you through the Top Down Crochet Jacket. This is a great project that should give most a little challenge. (If you haven't acquired your materials yet, you still can: http://lby.co/1liJ1a1.) Throughout the next 5 weeks we will explore swatching, raglan shaping, working with multiple colors and much more. If you are a beginner don't let the skill level discourage you. We are all here to support each other. Throughout the project post your questions and I'll be here to help. I also invite other experienced crocheters to share their knowledge so we can all learn from each other.
There are so many things that excite me about this project. I love wooly yarns like Fisherman's Wool®. While at first is may seem a little rough it softens up wonderfully with wear, the longer you wear it the cozier it gets, perfect to cuddle up with this coming winter! The self-striping colors of Amazing® are beautiful and add so much interest without the extra work. For those of you who don't need such a warm wooly sweater there are plenty of yarns that you could substitute. For something wool-free and machine-washable I would suggest substituting Vanna's Choice® for the Fisherman's Wool® and Landscapes® for the Amazing®. For my project I will be using Fisherman's Wool® in Nature's Brown and Amazing® in Strawberry Fields .
September 11th, 2014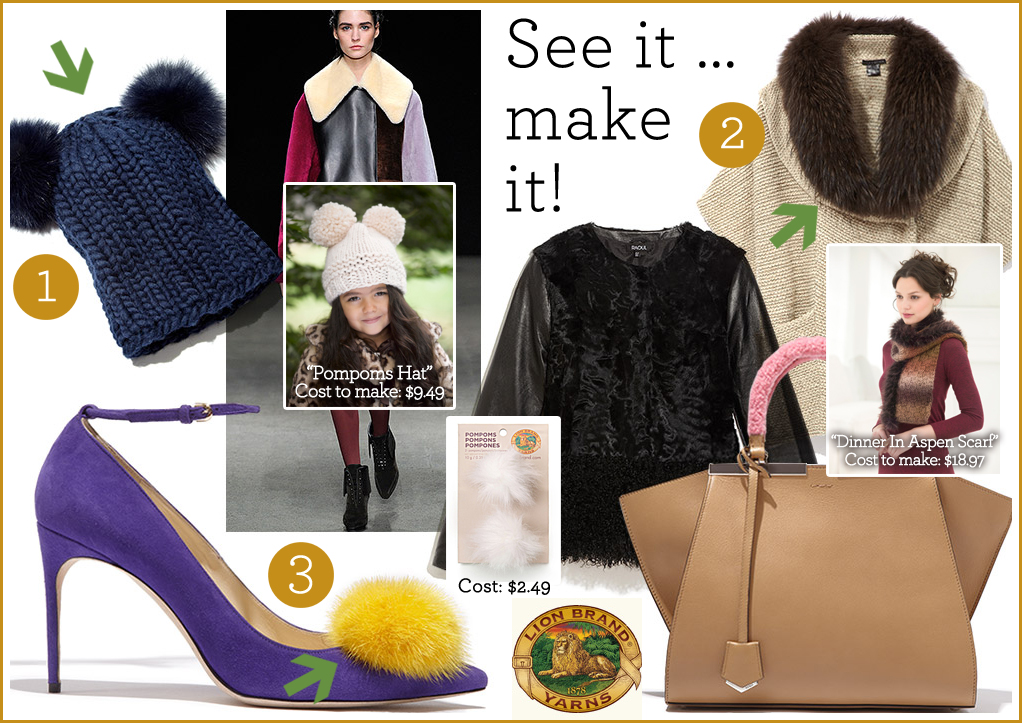 Saks Fifth Avenue recently released the latest edition of The Trendcaster, their monthly report on what's hot for the upcoming season.
We love all of the pieces they recommend and we realized gleefully that many of the furry fashion trends could be recreated with Lion Brand® products and patterns.
1) If you're inspired by the Eugenia Kim Pom-Pom Hat, knit your own version for just $9.49 using Lion Brand® yarn Wool-Ease® Thick & Quick® — available in 65 colors! Enjoy the FREE pattern, "Pompoms Hat (L32106)" and make the pompoms yourself, or try one of our faux-fur Poms in a variety of colors for $1.99 each.
2) Fur accents are a big trend this fall and no doubt that's why the Alice + Olivia Fur-Collar Jacquard Poncho is a big seller! To stay on trend and save money, we recommend Lion Brand®'s free pattern "Dinner In Aspen Scarf (L40312)," which uses two skeins of Pelt and one ball of Landscapes®, for a grand total of $18.97.
3) Easy, easy, easy … for $2.49, you can embellish any pumps or shoes you like with a set of Lion Brand® Pompoms.
Who says you can't be fashionable on a budget?
September 10th, 2014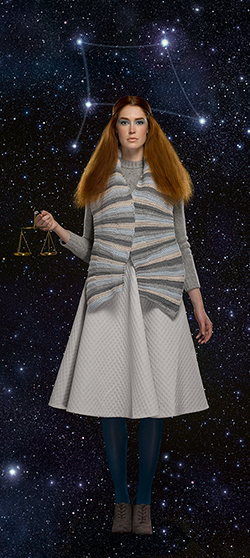 People who have birthdays which fall between September 23 and October 22 are born under Libra, the seventh sign of the zodiac. Commonly represented by scales, Libras are considered to be social and level-headed people.

Libra crafters will stick with their favorite go-to patterns: they might change colors, make it a larger size, or use a different yarn, but they like making the same pattern over and again with repeated pleasure.
They can sometimes be mistaken for shy and reserved, but their feelings tend to come through in their handmade gifts. They love to socialize and can often be found crafting in public or at their local knitting (or crochet) circle.
The colors used in Libra's zodiac scarf are inspired by opal, a gemstone associated with September birthdays. The scarf is composed of four shades of grey to complement Libra's harmonious and balanced nature: silver heather for grace, linen for idealistic, silver blue, silver grey for dependability.
Tip the scales for a change- reward your favorite Libra for all their generous crafting with a personalized gift and crochet or knit them a zodiac scarf. They deserve it!
Don't know a Libra? Check out our other zodiac scarves.
September 9th, 2014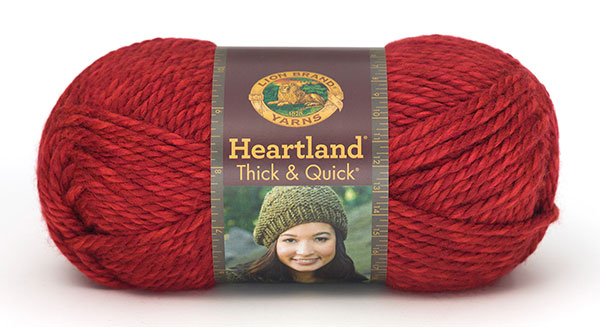 Do you harbor a soft spot for the deep-colors and heathered hues of Heartland? Do you love chunky weight yarns? Then guess what? You'll LOVE one of our newest yarns, Heartland Thick & Quick®!
Heartland, one of our most popular worsted-weight yarns, is loved for its soft and silken make. We super-sized it to create a super-bulky weight version, Heartland Thick & Quick® — perfect for soft-to-touch garments, quick afghans, and plush accessories.
For the month of September, enjoy Heartland Thick & Quick® at 20% off the regular retail price.
Below is a selection of Lion Brand's FREE popular knit and crochet patterns that use Heartland Thick & Quick® (scroll down to the bottom for a special pattern from The Crochet Crowd's Diva Dan):
| | | |
| --- | --- | --- |
| | | |
| Crochet Ridge Pattern Hat | Knit Capelet and Hat | Crochet Flower Power Hat |
| | | |
| Knit Chunky Cabled Hat | Knit Slouchy Ribbed Hat | Knit Deep V Cabled Vest |
| | | |
| Knit Striped Cabled Hat | Knit Ski Lodge Hat | Knit Mixed Ribbed Scarf |
And below is an inspired winter scarf pattern from The Crochet Crowd's Diva Dan:
Get the FREE pattern via The Crochet Crowd: http://thecrochetcrowd.com/winter/
September 8th, 2014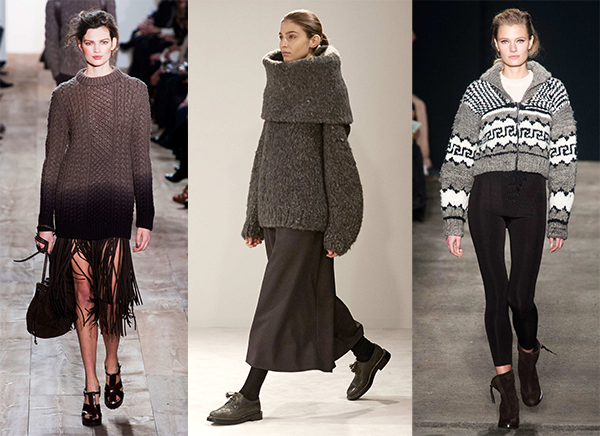 Micheal Kors, The Row, Rag + Bone

via NYMag
OK, well maybe Harper's Bazaar doesn't tell us what to knit or crochet, but they do offer great fashion guidance on what to wear … and we can make it! In the current issue, knitwear fashion designer Michael Kors shares his style advice on that one special piece to add to your closet this season — whether you're an avid fashion trend follower or a classic-wear kind of woman.
"For fall, it's all about statement making knits, anything with a lush texture …"
We've selected 5 patterns that fit the bill:  dramatic, statement-making garments that you'll love to make, and love to wear.
September 7th, 2014
This story is from our newsletter called Pattern Journal which brings a warm-hearted, wholesome story to your inbox to read every month. We're sharing the most recent story here in the blog. If you enjoy it and would like to subscribe, click here.
The knitting group was baffled by Roseanne. A first-time expectant mother, she was making a jazzy-looking rectangle in a self-patterning yarn called "Vanna's Tapestry," whose variegated hues—earth brown, leafy green, cranberry, birch-bark grey and white—were unusual for infant clothes.
"It's an edgy baby blanket, right?" asked Maddy.
"I think it's a car-seat cover," Jane declared.
Roseanne smiled.
"Come on, tell us," pleaded Grace.
"Why not be surprised?" Roseanne asked.
"Because we don't want to knit duplicate stuff," Irene, always practical, said. "If you're doing a blanket, I'd rather knit the baby a sweater or a cap."
Roseanne's coyness drove them crazy. She was the first of them to become a mother. "Roseanne's always been so sharing and giving. Pregnancy has changed her," they decided.
Meanwhile they knitted their friend a layette, favoring primary colors and neutrals—because if Roseanne knew her baby's gender, she also wasn't telling.
September 6th, 2014
Get ready for fall with a cozy and comfortable cowl. The Concerto Cowl is a great transitional piece, made with our soft, classic worsted weight, Heartland yarn.
In this tutorial, Christine walks you through the pattern step-by-step and shows you how easy it is to slip stitch.
So get out your needles and follow along with the video below!
If you like this video, check out more from Christine over on YouTube at iKNITS
September 5th, 2014
Knitters and crocheters really do save lives!
Earlier this year, WildCare, a wildlife rehabilitation hospital based in San Rafael, California, put out a call for knitted nests for the orphaned baby birds they care for. As of today, WildCare has received 3568 nests from 394 knitters and crocheters from all over the world, even as far away as Australia and the Ukraine!
We love this story so much because it shows the power that knitters and crocheters have when they come together to support a common cause. One ten year old featured in an NBC "Making a Difference" segment said, "I'm really glad that I made something and it's helping an animal live." His whole family – mom, dad, siblings – knitted nests together! You have to see the little girl knitting in the round on double pointed needles – already an expert at such a young age!
Even though the 2014 campaign for nests has been fulfilled, WildCare says you can make a nest for the 2015 season if you like (info here) or more preferable for right now, they suggest two projects to support for the winter season: The Mother Bear Project and the Red Scarf Project (Lion Brand friend Lily Chin is Red Scarf Project spokesperson).
To add to WildCare's suggestions, Lion Brand is involved with two great organizations that accept knitted and crocheted donations:
Warm Up America – accepts afghans and afghan sections to circulate to social service agencies, including homeless shelters, battered women's shelters, American Red Cross chapters, veterans homes, senior centers, hospices and religious organizations serving families and individuals in communities around the country.
Project Linus - accepts afghans for children who are seriously ill, traumatized, or otherwise in need. You can visit their web site for drop-off locations near you and if you're in the New York City area,  we're proud to say that until the end of November, Lion Brand Yarn Studio at 34 West 15th Street is accepting afghans on behalf of Project Linus. In fact, our Studio window is dedicated to knitting (and crocheting) for charity this month!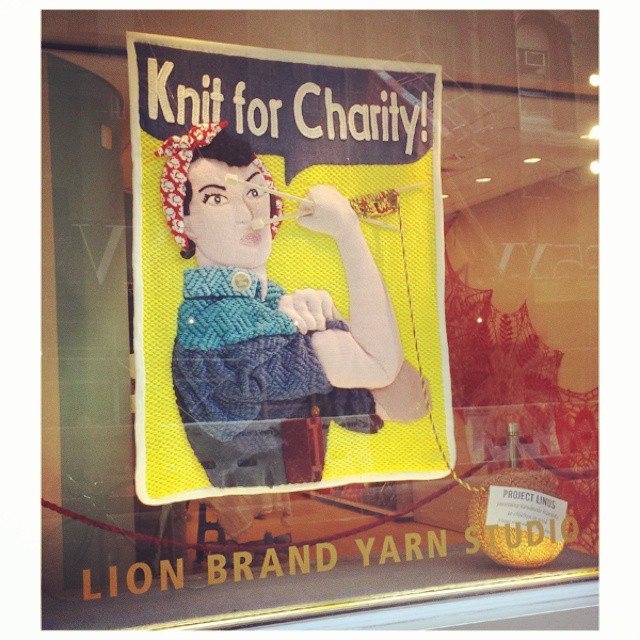 YOU CAN DO IT!
***
FREE PATTERN SUGGESTIONS