October 12th, 2014
This story is from our newsletter called Pattern Journal which brings a warm-hearted, wholesome story to your inbox to read every month. If you enjoy it and would like to subscribe, click here.
Hunter clasped Jill's hand at the bus stop, talking excitedly—his teacher, Ms. Randall, said he could hold the flag for the Pledge; a turtle lived in the science corner; could he buy lunch when there was pizza?
As the bus arrived, he wrenched away before the doors opened—so no one would know he liked to be close to his mom—then melted into the rambunctious cargo of school-bound kids.
She'd thought she'd feel wistful when Hunter started first grade, but sitting in the quiet kitchen with a cup of coffee, Jill was surprisingly cheery. Six open hours lay ahead—a gift! Her plan, formed during the summer, was to progress in knitting—to grow beyond the scarves and caps that had given her confidence. She'd knit her first sweater in this new-found time.
The pattern, a classic raglan of wheat-colored Wool-Ease® Chunky, was precise and clear. As the fabric swiftly grew on her needles, Jill wondered why she'd been timid. Sweater knitting was absorbing and fun! Already she was thinking about making herself another, and one for Jack. The yarn came in such luscious colors…
One evening she modeled her achievement for husband and son. "Looks great on you!" Jack exclaimed. Hunter, busy with crayons and paper at the kitchen counter, agreed.
Later, they tucked Hunter into bed, and went downstairs to talk over the day. Jack picked up Hunter's drawing. "Did you see this?"
Three stick figures represented the family holding hands. Hunter, the smallest, wore his favorite baseball cap and a red sweater, Jack, a brown sweater; Jill, the new wheat-colored raglan.
"There's a message here," said Jack.
"And a compliment," Jill added.
—
All characters appearing in this work are fictitious. Any resemblance to real persons, living or dead, is purely coincidental.
A story by Selma Moss-Ward.
Selma Moss-Ward writes and knits in Rhode Island. You can find her work on our blog, as well as Lion Brand's monthly newsletter, Pattern Journal, which you can subscribe to here.
October 11th, 2014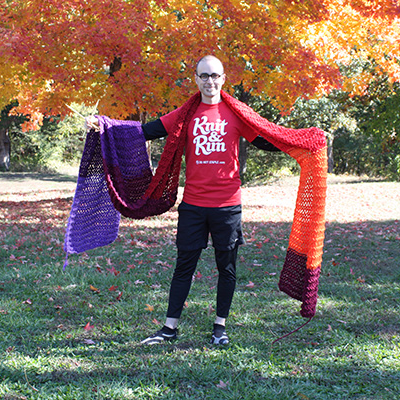 Featured in the New York Times and around the world, David Babcock is the Guinness World Record holder for knitting the longest scarf (12 feet!) while running a marathon, which he did in Kansas City last October. Coupled with a great deal of skill and endurance, David credits his choice in using Lion Brand's Hometown USA as a factor in his amazing accomplishment! Lion Brand is sponsoring David in the New York City Marathon on November 2nd, 2014 and lucky for us, he's agreed to write for us leading up to race day!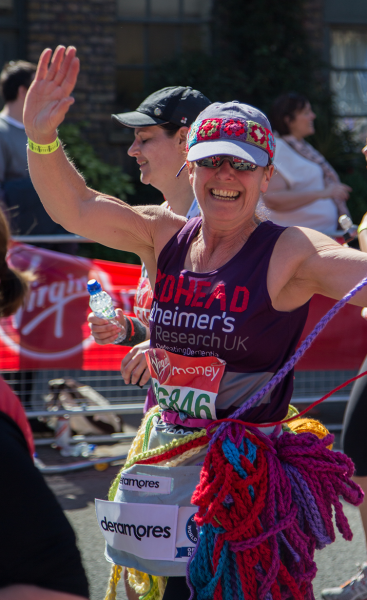 When someone discovers a person who knits or crochets while running, they're understandably surprised by the incongruous pairing, even more surprised when they learn that it's a phenomenon not limited to one person AND even has a bit of a history!
David Babcock interviews the pioneer of yarn-on-the-run, the original knitting runner, Susie Hewer. Susie held David's record previously and currently she is the Guinness World Record holder for the longest crochet chain made while running a marathon, achieved at the 2014 London Marathon in London, UK, on April 13, 2014.
David: On your blog you share the story of wanting to do something special for the 2005 London Marathon while running for the charity Alzheimer's Research UK when a friend said that you should 'act your age and stay at home with your knitting!'. Did you take this as a challenge? What was your process in figuring out how you would use your knitting with the marathon? Had you heard of anyone else that had tried anything like it?
Susie: I most certainly did take it as a challenge! I didn't act upon it immediately but I turned the thought over and over in my mind, thinking perhaps I'd run in fancy dress as a ball of yarn or a giant knitting needle or even running it dressed entirely in knitted garments, until the idea of actually taking my knitting with me on the run popped into my head. Of course I dismissed that idea straight away as that would be plain silly now wouldn't it! But the idea festered away in the back of my mind until I decided that I would in fact take my knitting with me with the intention of running for a bit and then stopping to chat to the crowd whilst knitting.
This concept caught the attention of the media and I was featured in a few articles in the Press which was spotted by the people from Guinness World Records who contacted me to suggest that I could turn it into a record attempt. After much tooing and frooing of ideas we came up with the concept of me knitting a scarf whilst running. This of course meant that I would actually have to knit whilst running. Oh my!
October 10th, 2014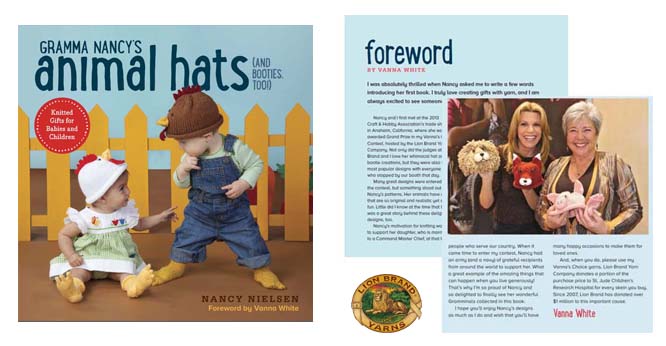 Every year, Lion Brand Yarn Company hosts the "Vanna's Choice Contest" in which participants submit a creative knit or crochet design made with Vanna's Choice yarn for the chance to travel to California to meet Vanna White. Our 2012 contest winner was "Gramma" Nancy Nielsen, who made adorable matching animal hat and booties sets as baby gifts.
October 10th, 2014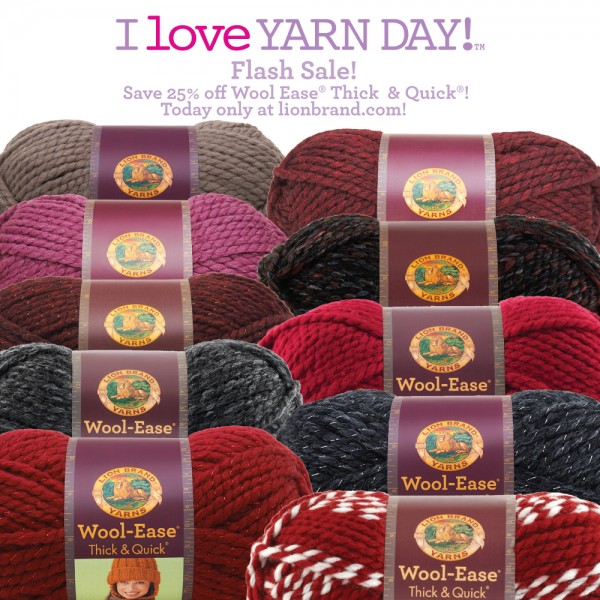 Here are some Wool Ease® Thick & Quick® patterns to inspire you on I Love Yarn Day!
October 9th, 2014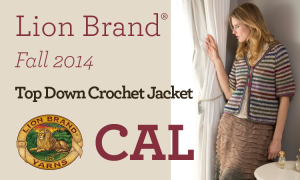 We've made it! It's the final week of the crochet along and all we have left now are a few finishing touches. Adding a few buttons and some blocking will make our projects perfect.
Blocking
Blocking is one of the final steps that should be used for almost every project. Blocking sets the stitches and gives you the chance to straighten edges and slightly reshape any areas that need it.
There are different methods for blocking but the one that I recommend for this project is wet blocking. To wet block take your garment and soak it in water for at least 30 minutes to make sure it is thoroughly wet all of the way through. If you think your sweater could use a cleaning add some wool wash to your soak.
Once soaked, carefully pull it out of the water and gently squeeze out the excess. Be careful not to agitate the sweater too much while it is wet to avoid felting. Lay it out on a blocking mat or stack of towels and pat it into shape. Pin down rolling edges if necessary. Allow a day or two for drying. Once dry your sweater will remember the shape it dried in.
Read the rest of this entry »
October 8th, 2014

If you were born between October 23rd and November 21st, your zodiac sign is Scorpio, the eighth sign of the Zodiac, represented by the scorpion. Folks born under this sign are often serious people who take great care to learn as much as they can about others.
Scorpios are not afraid of obstacles or challenges — whether it's something unavoidable or a competitive frenemy. In fact, they thrive on adversity and love trying to prove that no one can stop them!

The colors in this scarf match the essence of the sign of Scorpio: burgundy for strength of character, cranberry for passion, wild berry for their complex and secretive side, and terracotta for Mars (the planet Scorpio is ruled by).
Famous and fashionable Scorpios include: Julia Roberts, Katy Perry, Rachel McAdams, and Anne Hathaway.
If you have a friend who has a birthday coming up, a handmade gift is perfect, and since Scorpios are drawn to intense, rich colors, there's no doubt your friend will appreciate a new scarf made by a close friend. If you are a Scorpio yourself, make two – one for you and one for a friend!
The Scorpio zodiac scarf is available for both Knit and Crochet (pictured). Not your sign? Check out our other zodiac scarves here.
October 7th, 2014
Blogger and author Kathryn Vercillo is an expert in the area of using crafting to heal, having researched the topic extensively for her book Crochet Saved My Life. Read her previous blog posts on the Lion Brand Notebook here.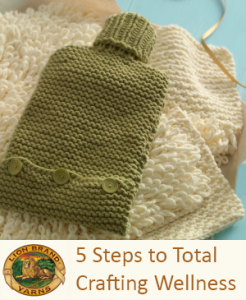 This is the final installment in my 6-part series on yarncrafting health and wellness. In this part I'll go over the highlights of the first five articles to provide you with a total crafting wellness plan.
Step One: Get The Full Scoop
It's important for you to know all of the different ways that knitting and crochet can help you to improve your physical health, mental health and general quality of life. The ten most important health benefits of yarncrafting include relief from depression and anxiety, boosts to self-esteem, community building and stress reduction. If you know how crafting helps people then you're in a better position to figure out the right ways for it to help you!
Read the rest of this entry »
October 6th, 2014
October is Breast Cancer Awareness Month, an annual campaign to increase awareness of the disease. About 1 in 8 US women (approx. 12%) will develop breast cancer over the course of her lifetime, so almost all of you are affected by breast cancer either directly or through someone you care about.
Throughout the month of October, Lion Brand Yarn Company will donate 20% of the purchase price of a selection of pink yarns (see below) and our Knit for Life and Crochet for a Cause Kits to The Breast Cancer Research Foundation®, while supplies last. BCRF's mission is to advance the world's most promising research to eradicate breast cancer in our lifetime. For more information about BCRF, please visit bcrfcure.org.
We're proud to support BCRF because 91% of the money they raise goes to breast cancer research and awareness programs. They also understand the importance of prevention and they're happy to share learning and helpful information from outside organizations such as this article from the Mayo Clinic, 9 breast cancer prevention tips from the Mayo Clinic.
Read the rest of this entry »
October 6th, 2014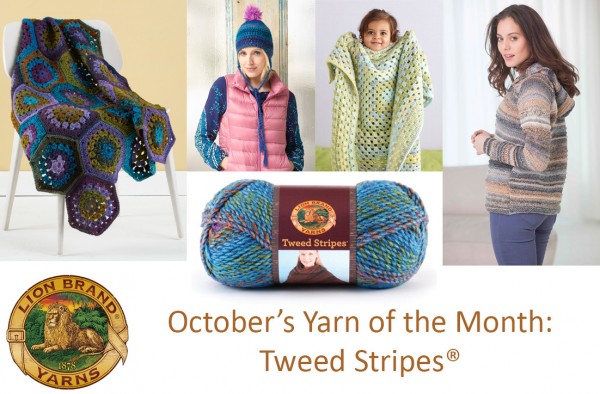 Tweed Stripes® is one of our self-striping yarns composed of radiant colorways. Though categorized as a bulky weight, you'll find it's a yarn that stitches up in a cozy, lightweight fabric — great for sweaters, scarves, accessories and more. A few simple stitches go a long way — the color gradient does most of the work, making it a great yarn for beginners.
Whether you're knitting or crocheting something for a child or an adult, there's a Tweed Stripes colorway for everyone — Mixed Berries, Tundra, Ozark Forest, Popsicle, Apple Mint, and Limeade!
And now until October 31st, you can buy Tweed Stripes for 20% off the original price.
Below are several of our favorite patterns that use Tweed Stripes — enjoy!
October 5th, 2014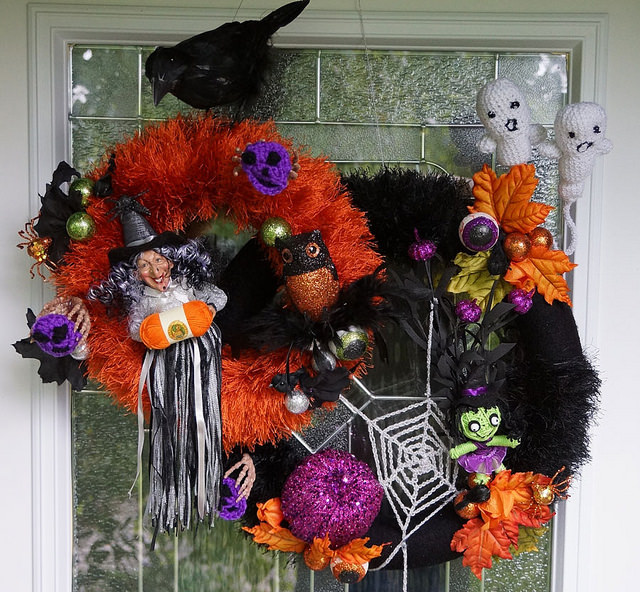 Sample Wreath by Diva Dan of the Crochet Crowd
We've partnered with The Crochet Crowd to bring you a super fun Halloween Challenge in which you use your crafting and crochet skills (or knitting) to create a spooky or fall themed wreath to adorn your door, and celebrate the season!
If you'd like to participate in this fun challenge, check out the Crochet Crowd's Grim Wreath Challenge page to find out more details.
The challenge ends on Halloween night, October 31st, and the winner will receive $150 worth of yarn from us – Lion Brand! The Crochet Crowd has created a Grim Wreather Flickr page to display the current wreath submissions, so be sure to take a look at the full collection for even more inspiration. I've selected a few images below to get you started!
| | |
| --- | --- |
| By Angel Morone | By Susan Springer |
| By Darrah Mitchell | By Amanda Weenk |
| By Diane L. Suder | By Sarah Daugherty |
Are you in the spooky spirit? How do you like to decorate for Halloween? Share with us in the comments!