January 25th, 2016
Grab your pencils, markers, and crayons – it's time to color again!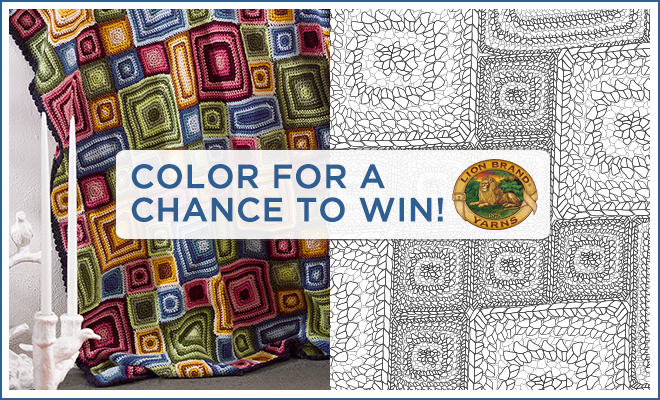 January 22nd, 2016
Here is the latest installment of Lola, from its creator Todd Clark.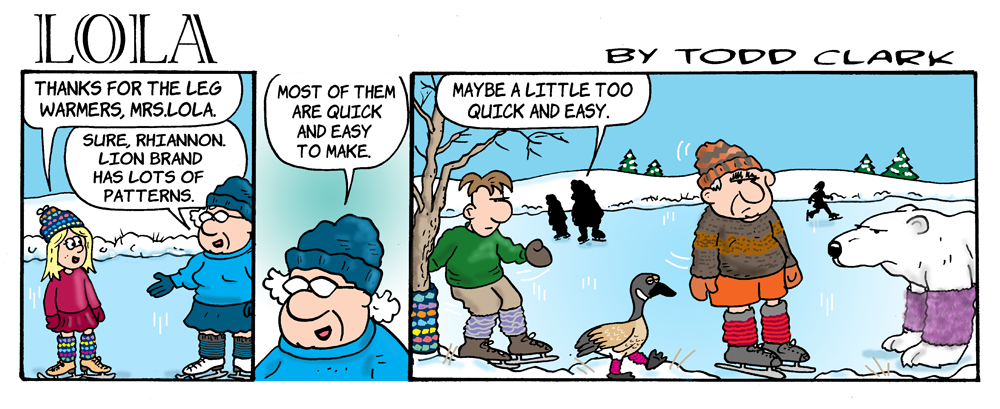 For more great pet patterns, visit PatternFinder.
***
Subscribe to The Weekly Stitch Newsletter
Get a FREE weekly email featuring patterns, articles and special offers. As a bonus for subscribing, we'd like to offer you 15% off your first order! *
:: Sign up now ::
January 21st, 2016
We had a blast at Vogue Knitting Live here in New York City!
#VKLive saw the debut of one of Lion Brand Yarn Studio's most magnificent window displays — the Fruit Stand! Lion Brand president David Blumenthal has always envisioned a fruit stand display and the result is a cornucopia of yarncrafting. Fans who stopped by couldn't stop marveling at the details, which included hand-felted apples, amigurumi vegetables and an ingenious use of textures!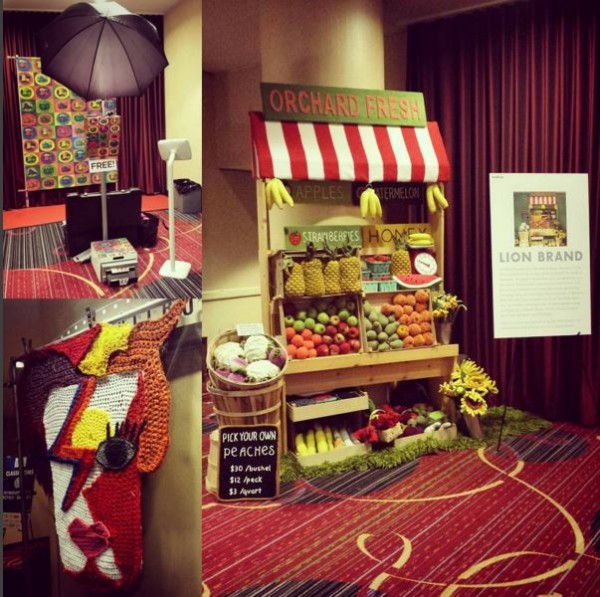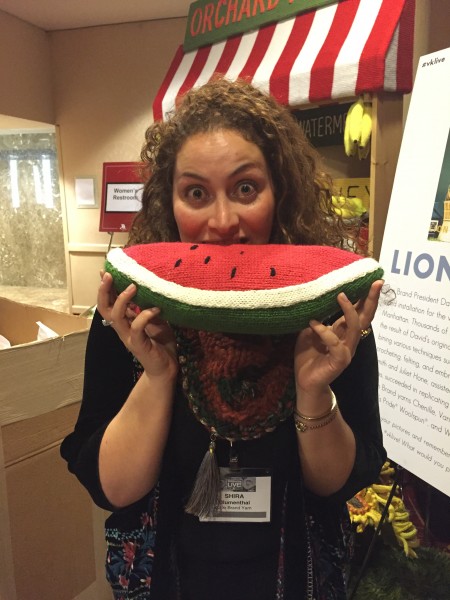 Fans of Lion Brand got a good laugh in our photobooth, where attendees were able to take home snapshots of their weekend! One of our featured writers Franklin Habit stopped by to join in: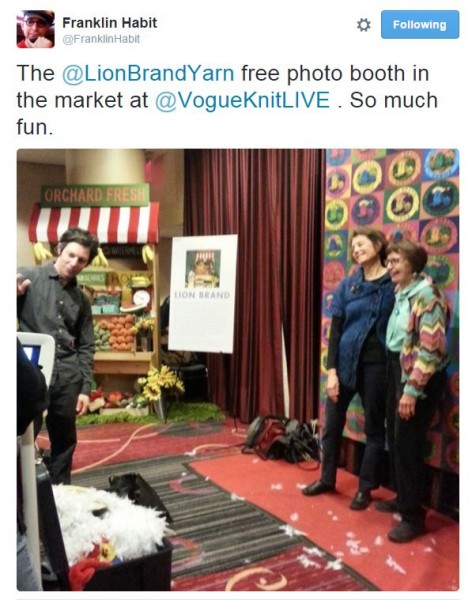 Our friend London Kaye was right at home with other yarn artists as she crocheted a piece commemorating David Bowie. Here's the finished piece!: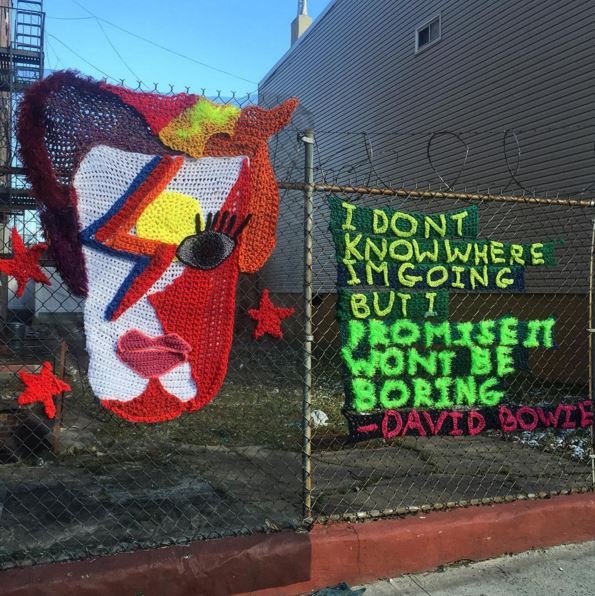 We brought some of our new favorite yarns to sell at Vogue Knitting Live. Yarn fans were able to grab
Color Clouds
,
LB Collection® Wool
, and
24/7 Cotton
!
 That's a wrap for us at Vogue Knitting Live.  We can't wait to see where we'll end up next!
January 20th, 2016
Today's guest post is brought to us by Tamara Kelly, author and designer of Moogly Blog.
New year, new resolutions – and one of the most common ones for us crafters is getting our stash and supplies organized! You can by bins and shelves and all sorts of sorting things… but you can also use your stash to make organizational supplies! Two in one, and so much more fun than store bought items. Here are some great free knit and crochet patterns using Lion Brand® Yarn to get you started!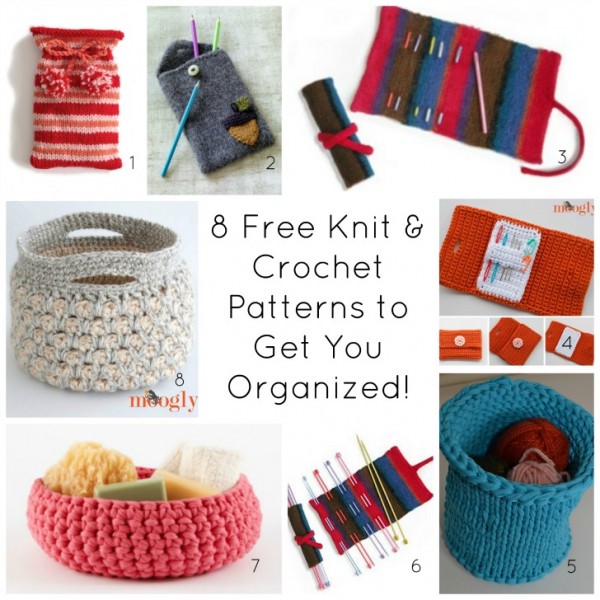 ---
1. Valentine Pouch (Lion Brand – Knit): You don't have to wait for a special occasion to make this pouch – made with Vanna's Choice®, it will keep all sorts of goodies organized and show your supplies some extra love!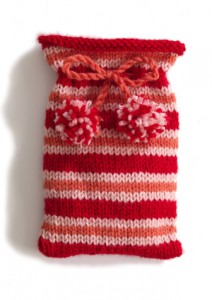 2.
Felted Acorn Pencil Case
(Lion Brand – Knit): This pouch, made with
Fishermen's Wool®
and
Vanna's Choice®
, is excellent for storing pencils, pens, cable needles, stitch markers, and all sorts of notions!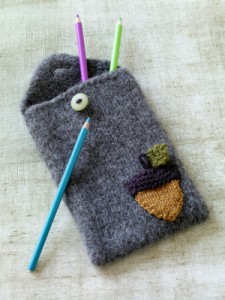 3.
Felted Hook Book
(Lion Brand – Crochet): What good is yarn without hooks? Make this pattern with
Fishermen's Wool®
or
LB Collection® Pure Wool
and try felting while giving your tools a pretty new home!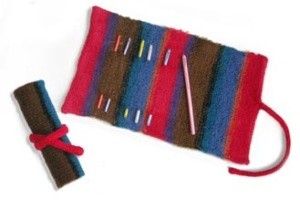 4.
Nifty Needle Case
(Moogly – Crochet): Keeping the yarn needles, scissors, and stitch markers out of the couch cushions and carpet can be tricky – but this pattern made with
24/7 Cotton
keeps it all under control!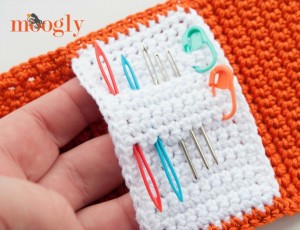 5.
Fettuccini Knit Bowl
(Sarah E. White – Knit): A simple knit basket/bowl worked from the circular bottom up with one ball of
Fettuccini®
– quick, easy and sturdy!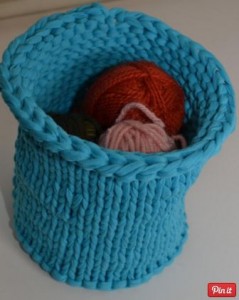 6.
Felted Needle Holder
(Lion Brand – Knit): Knit with your needles… for your needles! Perfect for
Fishermen's Wool®
or
LB Collection® Pure Wool
!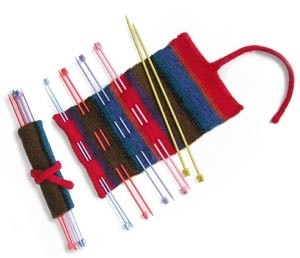 7.
Large Crocheted Bowl
(Lion Brand – Crochet): Featuring
Fettuccini®
, this quick crochet project will hold it all, and look good doing it!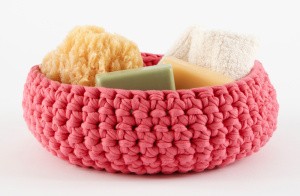 8.
Moroccan Basket
(Moogly – Crochet): This basket is sturdy, pretty, and big enough to hold several skeins of yarn – made with
Heartland® Thick & Quick®
!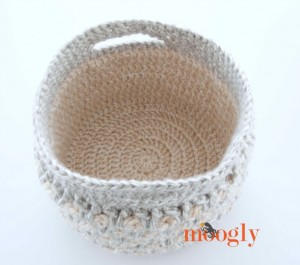 What are you doing to get your stash and supplies organized in 2016? Using Lion Brand Yarn to make new containers of course means you need new yarn to fill them – it's a win win all around! Happy Organized New Year!
January 19th, 2016
Tell us which one you think is crocheted, the Henniker Headband or the Hebron Headband, and you'll be entered into a draw to win a
2-in-1 Tote Lion Brand Bag
and five (5) balls of
Color Clouds
!*
Mobile users, click here if you can't access the voting tools below.
* Only one entry per person. Promotion ends Tuesday, January 26 2016 at 11:59pm EST. One (1) winner will be randomly selected and contacted by email before February 5th, 2016. Open to residents of the USA and Canada. No purchase necessary. Retail value of prize is approximately $55 USD.