April 18th, 2016
The brushed look of Vanna's Complement® makes it perfect for everything from hats to afghans! And you can get this yarn on sale all month along with all of Vanna's signature collection yarns.
Shira picked out the most popular patterns knit and crocheted with Vanna's Complement®. Which one is your favorite?

Having trouble viewing this video? Click here: https://youtu.be/4w3AuVm5OPI
April 17th, 2016
There's no piece of clothing I love more than a cardigan. Cardigans are the perfect addition to any outfit and it's so easy to dress them up and down. They're great for winter but also great to throw over your shoulders in the summer.
The Westport Cabled Cardigan is stunning! It's simple but features a bold cable made with Wool-Ease® Thick & Quick®.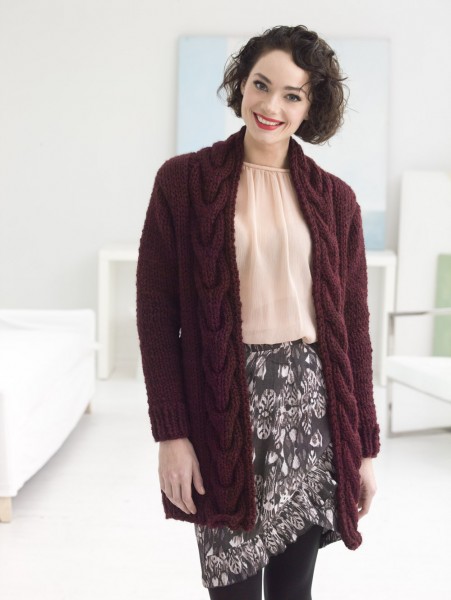 Check out a 360 degree view of this great garment below!

Having trouble viewing this video? Click here: https://youtu.be/yPVwDUFAZ4c
April 16th, 2016
Give a little twist and a little shout! I'm kidding no shouting.
This pose is going to help you out if have been sitting and knitting or crocheting all day. After doing this pose I felt like my body was longer! I know that sounds crazy but the idea of twisting and moving my arms that whole upper body movement really felt good!
Having trouble viewing this video? Click here: https://youtu.be/z7KxtALWyHc
April 15th, 2016
You know what they say: go big or go home! We want to add a bit though, and suggest you go big AT home… with our new size 50 knitting needle Afghan kits!
Choose from 3 fat and fluffy home decor patterns made on Lion Brand Super Circs, jumbo yet lightweight size 50 circular knitting needles. Make your Afghan with new and classic Lion Brand® yarns, from the long-time fan favorite Homespun®, to Homespun®'s bigger cousin Homespun® Thick & Quick®, to the roving-esque LB Collection® Wool Yarn. All kits are offered with or without the needles included, and all are 20% off!
Want to see more exclusive kits? Subscribe to the Weekly Stitch newsletter for access to brand new knit and crochet kits before the rest of the internet finds them!
April 14th, 2016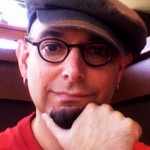 Writer, illustrator, and knitter Franklin Habit joins us for his monthly column featuring humor and insights into a yarncrafter's life.
Welcome, good people, to the Franklin Habit Home for Neglected Knitting Projects.
You're in luck. It's Adoption Week, during which time we waive all fees, background checks, and paperwork. It will be my pleasure to show you around. Petting is not only permitted, it's encouraged. If you see anything you like, simply speak up and it's yours.
If you don't see anything you like, we will stuff something in your bag and force you to take it home. We're that desperate. No backsies.
You'll find the home is divided into a series of pleasant, airy pavilions, each devoted to a different sort of neglected project. Let's begin with Slow Haven, where hours upon hours of patient knitting have brought these sad creatures no closer to completion.
May I interest you in…
One quarter of a blanket cunningly intended to use up the odds and ends of 150 partial balls of sock yarn? Such a charming concept. Not merely a blanket, but a blanket full of memories. All those different yarns jumbled together in one joyous samba parade of wild color. Who could resist?
Reasons for Surrender: Color mix looks less like samba parade than political riot. Grows at the rate of one inch per week, forcing the knitter constantly to contemplate how old she will be when it is finished.
Or perhaps…
A Shetland cobweb lace shawl comprising one repeat of center chart and six untouched balls of eensy weensy yarn. Purchased on impulse at spectacular fiber festival; best friend purchased same kit so that "…we can knit them together."
Reasons for Surrender: Chart has vanished. Pattern is out of print. Best friend finished hers in six weeks. (No longer speaking to friend.)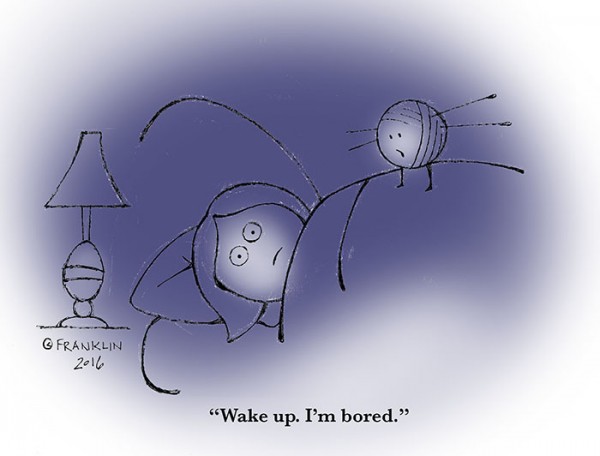 Now, if you'll please follow me over the hill, we'll take a peek into Twilight Garden, the shady grove wherein we place projects that have outlived their usefulness without leaving their needles.
Have you room in your heart for…
A baby sweater minus one sleeve and the button band? Such a promising beginning. Look at that darling two-color yoke. I'd go so far as to say the work is perfect. A small bag containing the perfect ducky buttons is included.
Reason for Surrender: Baby is now thirty-six years old, and like the sweater has failed to live up to its early promise.
Take a look at…
An unspecified amount of the bottom of a bottom-up sweater.
Reason for Surrender: Instructions state, "Work in stockinette until piece measures fifteen inches from cast-on edge." Somehow, knitter has never managed to get both this project and her tape measure into the same room.
Or please consider…
In white fingering-weight yarn, a charming congratulations on your wedding baby divorce retirement funeral shawl, lacking only the knitted-on edging.
Reasons for Surrender: The clue is in the name.
We shall now make several wrong turns and come to the Salon des Whoops. This, by far our largest building, is a secured area for projects that were pretty much doomed from the start. We don't tell them that, though. They've already suffered enough.
 Perhaps you might have some use for…
The half-finished body of a wool cardigan in eighteen colors?
Reason for Surrender: Upon returning from extensive tour of Shetland Islands, maker suddenly remembered that she lives in Miami Beach.
Or…
A single sock with an un-grafted toe?
Reason for Surrender: Maker suddenly remembered why she hates knitting socks.
Or…
Pattern, four skeins of top-quality merino/silk, wound into balls, and one circular needle. 
Reason for Surrender: Cast on for pattern is 537 stitches.
Or…
Afghan Block-of-the-Month Club January block, completed; plus half of February block, and two rows of March block, and all the yarns for April through December.
Reason for Surrender: If you have to ask, you must be new here. Excellent. You really should try a block-of-the-month club. Hold still while I stuff this thing in your bag.
—–
Writer, illustrator, and photographer Franklin Habit is the author of It Itches: A Stash of Knitting Cartoons (Interweave Press, 2008–now in its third printing) and proprietor of The Panopticon (the-panopticon.blogspot.com), one of the most popular knitting blogs on Internet. On an average day, upwards of 2,500 readers worldwide drop in for a mix of essays, cartoons, and the continuing adventures of Dolores the Sheep. Franklin's other publishing experience in the fiber world includes contributions to Vogue Knitting, Yarn Market News, Interweave Knits, Interweave Crochet, PieceWork, Cast On: A Podcast for Knitters, Twist Collective, and a regular column on historic knitting patterns for Knitty.com.
These days, Franklin knits and spins in Chicago, Illinois, sharing a small city apartment with a Schacht spinning wheel and colony of sock yarn that multiplies alarmingly whenever his back is turned.