January 16th, 2015
When I saw these new Valentine's Day patterns, I immediately thought of Galentine's Day! For those of you not in the know, it's the "holiday" that falls on February 13, the day before Valentine's Day. It was created by the sitcom Parks and Recreations to celebrate the amazing women in your life, whether they're single or not!
Galentine's or Valentine's, these new patterns are perfect for whatever date you choose to celebrate — the Cabled Heart Boot Cuffs for the friend who loves tall boots; the Heartfelt Cozy for the friend who likes to accessorize their phone; the Warm Heart Cup Cozy for the friends who meet up for coffee regularly; and the Valentine's Day Gift Bag for someone who loves sweets.
Below is a collection of our newest Valentine's Day patterns – enjoy!
Crochet Valentine's Day Gift Bag
in Modern Baby®
Crochet Warm Heart Cup Cozy
in Kitchen Cotton®
Knit Cabled Heart Boot Cuff
in Vanna's Choice®


( 20% off until the end of January)

Heart Key Chain
in Kitchen Cotton®
Crochet Hearts Aligned Necklace
in Vanna's Glamour®


(20% off until the end of January)

Crochet Heartfelt Phone Cozy
in Modern Baby®
Crochet Valentine Scarf
in Vanna's Glamour®


(20% off until the end of January)

Crochet Baby Love Booties
in Vanna's Choice®


(20% off until the end of January)
Search under "Valentine's Day" on our Patternfinder for more great Galentine's or Valentine's Day related ideas. What will you be making?
January 15th, 2015
When I'm heading out the door, I usually grab my yarn first and keys second. Now I've got a place to store my project, pattern, and notions along with my everyday essentials.
The 2-in-1 Yarn Tote has a removable, zippered inner pouch that's designed to keep your yarn safe and clean! If you're doing stripes or colorwork, feed your yarn through the two grommets in the pouch and never worry about tangles again! I love this bag because the pouch is big enough for those work-in-progress sweater pieces. We made a little video to show off all of the features of this great tote!
:: Can't see the video below? Click here: http://youtu.be/Up5L88a6aNs ::
The 2-in-1 Yarn Tote comes in four great colors. Which one is your favorite?
January 14th, 2015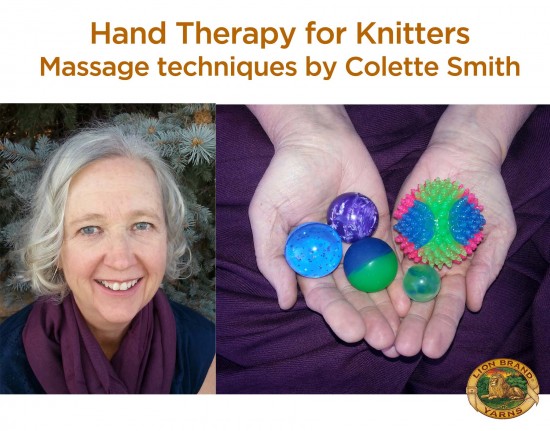 We're excited to have Colette Smith stop by the Lion Brand Yarn booth (Booth #213, 5th floor) at Vogue Knitting Live NYC this weekend to demonstrate Hand Therapy for Knitters. Colette is a knitter, knitting instructor and fiber artist whose work you've likely seen at other fiber art shows. Colette knits beautiful,
mythical dragons
with yarn and other materials and her work will be on display in the gallery area of VK Live (5th floor). She'll also be present at the Lion Brand booth on Saturday and Sunday to demonstrate hand massage techniques to help alleviate hand and nerve pain.
After consulting with doctors, acupuncturists, and massage therapists, Colette discovered and perfected useful massages for her hands using a rubber bounce ball – the kind you find in toy dispensers at the supermarket!
We hope to see you at our booth on January 17th and 18th to receive a ball and learn the techniques for yourself!
Saturday, January 17th: 12:30-1:30pm
Sunday, January 18th: 10:30-11:30am
Click here to see Colette talk about some of her massage techniques.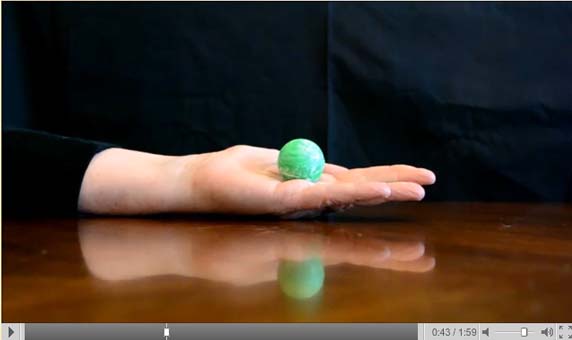 January 13th, 2015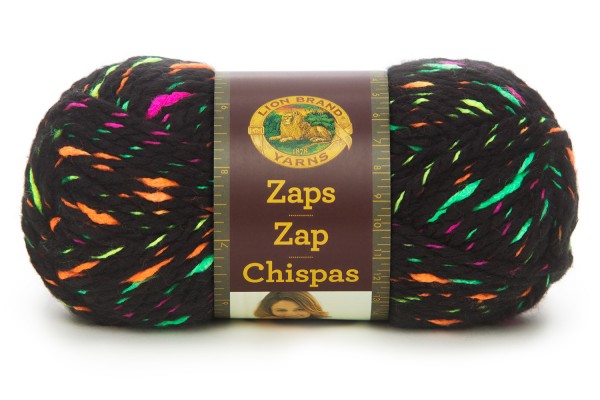 Meet Zaps, a colorful, super bulky weight yarn brand new to the Lion Brand family!
Zaps combines a two-ply strand of a solid color with a strand of contrasting, color changing yarn to produce a lightweight fabric with surprising pops of color. It's perfect for fast-finish projects and, like so many of your favorite Lion Brand yarns, it's machine washable!
Zaps comes in eight vibrant colors including Sonic Purple, Busy Burgundy, Quickfire, Espresso, Jet Setter, Supersonic, Lightning, and Atomic Blue!
Here's a selection of new projects you'll want to knit or crochet with Zaps!
January 12th, 2015
Now that the holidays are over, you might find that you have extra time to craft for yourself. Why not learn how to arm knit a cowl?
Arm knitting continues to increase in popularity because it's so quick and easy to complete a wearable project; a scarf or cowl will take an average of 30 minutes to make! Once you get the hang of the process, you'll realize how fun arm knitting is, and maybe you'll want to try experimenting with different colors and styles.
In her newest tutorial for Lion Brand, Vanessa from the Crafty Gemini demonstrates the arm knitting process for you to follow along. She even includes some slow-motion shots in the video, ensuring that you'll understand the process so that you can successfully create your own cowl with Wool-Ease® Thick & Quick® in 30 minutes or less!
(editor's note: The contest mentioned in the video is now over. Stay close, there will be more opportunities to win yarn from Lion Brand and The Crafty Gemini.)
Watch the video below!
Check out some more styles of arm knit cowls in Wool-Ease® Thick & Quick®!
January 11th, 2015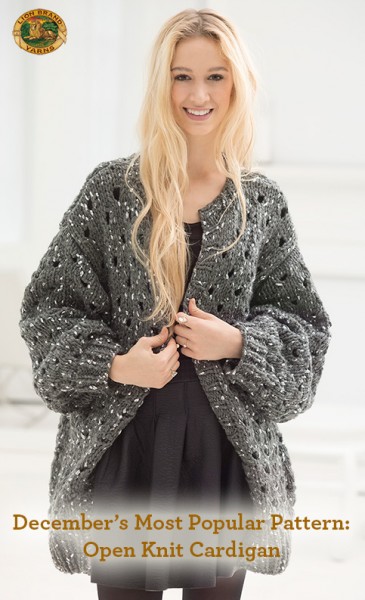 In December, cozy tops were in! Last-minute gift projects like the Fresh Bloom Circle #Scarfie and Holiday Mouse Slippers were also favored but sweaters and cardigans were most popular among knitters and crocheters! The winter chill has us all in the mood for over-sized tops such as December's most popular pattern, the Open Knit Cardigan.
It looks like 2015 will be about big, bold knit and crochet garments such as the Chelsea Morning Cowl and Popover Top. With comfy cardigans come the biggest yarns – stay extra warm wrapped up in Homespun® Thick & Quick®, Wool-Ease® Thick & Quick®, and Hometown USA®.
January 10th, 2015
Here is the latest installment of Lola, from its creator Todd Clark.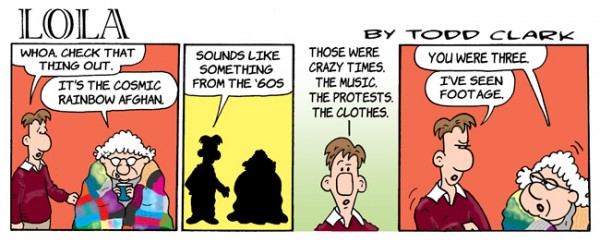 *** *** ***
Subscribe to The Weekly Stitch Newsletter
Get a FREE weekly email featuring patterns, articles and special offers. As a bonus for subscribing, we'd like to offer you 15% off your first order! *
:: Sign up now ::
January 9th, 2015
Knit and crochet designer Lisa Gentry is the creative talent behind Hook and Needle Designs and she's just created an eBook featuring 20 crochet scarf patterns — perfect timing, since winter has definitely arrived!
The scarf patterns in this book are suited to those who want more decorative, stylish scarves featuring openwork, and of course, there are bulkier versions perfect for braving the winter cold. Thanks to Lisa, we have 5 copies of her eBook to give away, AND each winner will also receive a skein of Homespun® to complete the Sweet Sixteen Scarf (pictured below – right). Information to enter is below, good luck!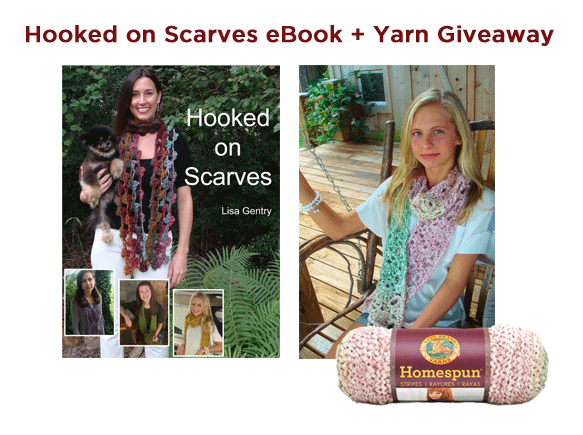 Rules and Guidelines:
1. Entries must be received by January 16th, 11:59p.m. EST
2. Must be 18 and over to enter.
3. One person per entry
»Click Here« to enter the giveaway if the form below does not work for you.
January 8th, 2015
Writer, illustrator, and knitter Franklin Habit joins us for his monthly column featuring humor and insights into a yarncrafter's life.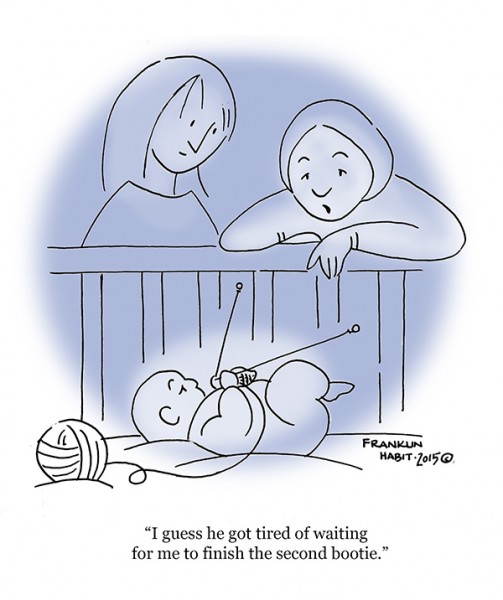 Chances are I am never going to knit anything for you.
It's not that I don't like you. Of course I like you. You're interested in yarn and you've come all this way to read something I've written; how could I not think well of such a person?
No, it's not about you. It's about time, and having too little of it. There is but one of me, and there are many of you. Even if I should promise to knit each of you a single mitten I couldn't keep that promise before I drop dead.
And what kind of off-kilter gift is one mitten, anyhow?
You make things, so you know how it goes. You learn to make things and are so excited at having learned to make things that you want to make things for everyone. But you are a novice, and it shows. Your work is earnest, but uneven. The things you make are not much in demand.
"Is that…a hat?" says the person in the next cubicle when she spots you merrily stitching away during your afternoon break.
"Yes!" you cry. "Yes, it's a hat. I'm making a hat. Would you like a hat? I'll be happy to make you a hat. What color hat do you want?"
"Uh…" says the person in the next cubicle.
With practice your work grows not only even, but accomplished–and possibly splendid. The person in the next cubicle changes her tune.
"Would you make me a hat?" she says. "I would totally pay you. Ten bucks!"
Read the rest of this entry »
January 7th, 2015
January is here and that means Vogue Knitting LIVE! The popular three-day event takes place at the Marriott Marquis in Times Square, New York, January 16th through 18th. Visit us at booth #221 for book signings and exciting demonstrations (scroll down for schedule and details).
We're also thrilled to announce that our fabulous 7 Wonders of the Yarn World art exhibit will be on display to the public for the first time!
Designed by fiber artist Nathan Vincent, each sculpture of the 7 Wonders of The Yarn World represents a different technique found in knit or crochet (cables, colorwork, textures and more). The installations stand about 5 feet high or taller, and include marvels such as the Great Wall of China crocheted with granny squares, an embellished knit Taj Mahal, a lace crocheted Leaning Tower of Pisa, a crocheted Sphinx, and more.
You don't want to miss this incredible display. Be sure to stop by the 5th floor art gallery to see these 7 Wonders of The Yarn World!
ALSO, stop by our booth on Saturday to get a free hand massage demonstration from fiber artist Colette Smith (12:30pm), and be sure to visit us on Sunday for book and DVD signings from legends such as Dora Ohrenstein, Lily Chin, and Margaret Hubert. Plus- we've got an extra special giveaway for the first 50 attendees to stop by the booth on Friday!
Meet these lovely women at our booth!: