May 15th, 2016
Gentlemen, this one is for you! The Harvard Square Pullover is a great sweater for men. It's a classic shape with those simple, handsome details. Made with 24/7 Cotton, it's breathable and machine washable. And there are so many gorgeous colors to choose from!
Don't worry, ladies! You can knit the Harvard Square Pullover for yourself, too! It's an easy shape that works for women as well!
Check out this video featuring the Harvard Square Pullover!
Having trouble viewing this video? Click here: https://youtu.be/zgA0ScSLhvU
Get the pattern!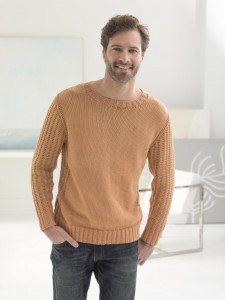 May 13th, 2016
From bright pops of color to flowing folk-inspired fabrics, the Boho Chic look is what's hot this spring. Mixing elements of vintage fashion, indie fantasy & organic tonal palettes, Bohemian style is the perfect portal for you to express your creativity this season!
So we invite you to open your eyes, look up to the skies, see the colors all around you and be inspired. And don't forget to share your creations with us!
Crochet Kit: Open Air Shrug

in

Kitchen Cotton
Knit Kit: Modern Luncheon Mats

in

Kitchen Cotton
Crochet Kit: Garden State Afghan in 24/7 Cotton
Loom Kit: Fiesta Wall Hanging available with or without loom!
Crochet Kit: Boho Poncho in 6 sizes in Homespun®
Knit Kit: Slip Stitch Mosaic Tote in Kitchen Cotton
Subscribe to The Weekly Stitch Newsletter
Want more round ups? Get a FREE weekly email featuring patterns, articles and special offers. As a bonus for subscribing, we'd like to offer you 15% off your first order! *
:: Sign up now ::
May 13th, 2016
For this episode of Tea with Shira I got to hang out with cats. Yep, cats!
I went to a cat café — yep that's a real thing — here in New York City called Little Lions. Lion Brand has some awesome cat toy patterns and I wanted to play with these little lions and so I did!  See how much these little meow-in-nators loved playing with these awesome quick patterns, no cat nip needed 😉
:: Can't see the video above? Click here to watch — https://youtu.be/gdEU4wTtq6g ::
May 12th, 2016
Did you know that May 13-15 is National Pet Adoption Weekend? In celebration of the thousands of animals who will get lucky this Friday the 13th weekend, we've rounded up your favorite patterns to make for four-legged friends! From toys to sweaters to beds, these quick-make projects will warm human, feline, & canine hearts alike. Make one for your companion or for an animal in need of some TLC today!
Want to see patterns for other furry critters? Let us know below!
May 12th, 2016
Spring is here! Time to break out the cotton yarn. And with 24/7 Cotton, you have so many amazing projects to choose from! This yarn is perfect for baby blankets, pullovers, and garments for both ladies and gentlemen!
Shira modeled your favorite patterns made with 24/7 Cotton. Which one is your favorite?
Having trouble viewing this video? Click here: https://youtu.be/Tc1b1RHb88Y