August 10th, 2014
This column by Michelle Edwards, author of A Knitter's Home Companion, originally appeared in The Weekly Stitch newsletter. To sign up for the Weekly Stitch and get columns like this, free patterns, how-to videos and more, click here.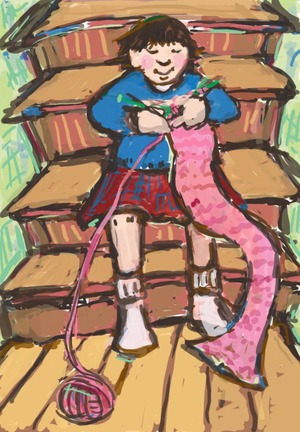 My mother, Lillian Edwards, was a life-long knitter. She was an attractive, well-dressed woman: tall and thin with dark black hair and almond-shaped brown eyes that almost looked Asian. She called them "laughing eyes," and that is how I like to remember them.
I'm told that as a young woman my mother knit socks, argyle ones. It was in the days before I was born, perhaps before she was married … maybe even as a young, single, working woman, living in Manhattan with her parents in a tiny apartment on Mermaid Avenue in Coney Island.
My mother grew up poor. Her parents were both Russian immigrants. My grandma Yetta, with a handkerchief soaked in vinegar, wrapped around her head, rested a lot. She suffered from migraines and was always carrying a large purse with her — as if she was waiting to be uprooted again. This time she would be prepared. I would often seen her stuffing sugar packets in her purse when we were at HoJo's.
My grandfather, Samuel, was as a quiet man. Hard to reconcile my gentle grandpa with the gangster he used to be. My grandfather and his brothers were the strongmen for a liquor smuggling ring during prohibition. When they double crossed the boss, two of my uncles were murdered in broad daylight at a Philadelphia street corner. My grandparents, my mother, and my uncle fled Philadelphia in a hurry and slipped into Coney Island where they could meld and blend into the mass of Russian Jews like themselves.
I don't know who taught my mother to knit. Maybe my grandmother did, when she was not resting. It wasn't a question I ever thought to ask my mother when she was alive. I know that she taught me how to knit and that she knit like a Russian Jew, with her yarn in left hand, wrapped around second finger, picking open the stitch and pulling the yarn through with her right hand needle. It is a very fast and efficient way to knit and I am often asked by knitters out here in the Midwest to teach them "my way" of knitting.
August 9th, 2014
Here is the latest installment of Lola, from its creator Todd Clark.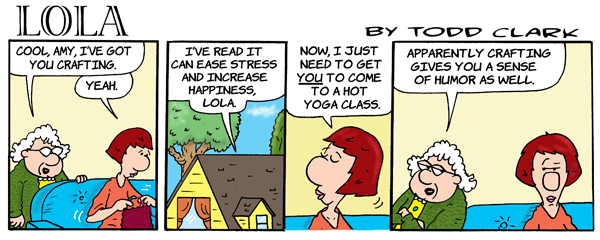 Want to relax? Knit a Neck Pillow using Lion Brand's luxurious LB Collection® Cashmere and LB Collection® Bamboo. Get the free pattern here and below.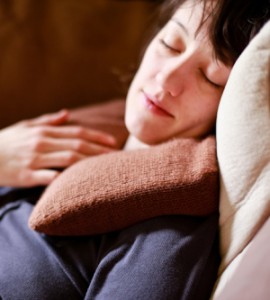 *** *** ***
Subscribe to The Weekly Stitch Newsletter
Get a FREE weekly email featuring patterns, articles and special offers. As a bonus for subscribing, we'd like to offer you 15% off your first order! *
:: Sign up now ::
* offer valid only for first-time email subscribers, one coupon per person.
August 8th, 2014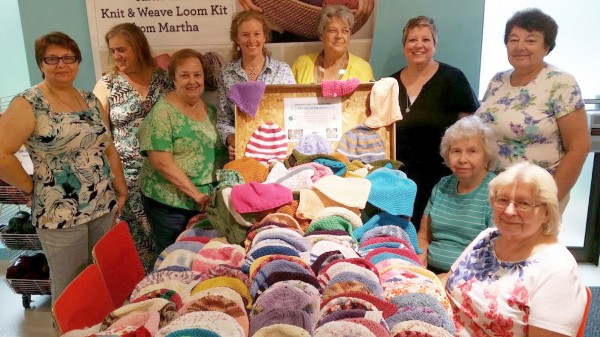 The Lion Brand Outlet in Carlstadt, New Jersey is more than just a place to get great bargains on yarn. We recently hosted the Summer Chemo Cap Project: a charitable knitting and crochet drive for the patients at Steeplechase Cancer Center in Central NJ, part of Robert Wood Johnson University Hospital. Lion Brand supplied the yarn and many enthusiastic volunteers provided the labor. Lightweight hats were made especially for patients who are undergoing chemotherapy during the warm weather months, when a woolen cap would be too hot. These caps were made with Cotton-Ease® and Nature's Choice Organic® Cotton yarn for maximum comfort and as you can see, they were knit and crocheted in a wide variety of colors and styles.
We are very pleased to report that the project, which concluded with a "finishing party" on August 4th, was a huge success! The final count is in and together we were able to make almost 350 caps. Thanks to everyone who volunteered – whether it was over the weekend, at the "finishing party", or by sending a cap in – and special thanks to Pam MacKenzie for organizing!
Read more about this fantastic charitable effort at MyCentralJersey.com!
Many of you have asked for the patterns we distributed so that you can do your own charitable knitting and crochet. Many of our patterns make excellent summer caps. Try the Tranquil Violet Hat (knit), the Spice Solace Hat (crochet), or the Lace Beanie (knit).
If you are in the New York or New Jersey area, we encourage you to come visit us at the Lion Brand Outlet!
August 8th, 2014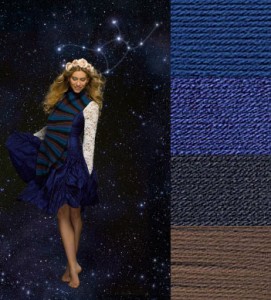 If you were born between August 23rd and September 22nd, your Astrological sign is Virgo, the sixth sign of the Zodiac. Virgo is represented by the Virgin Maiden, and like their namesake, people born under this sign are typically gentle and reserved. Virgos often gravitate to care-taking professions like healthcare and medicine and they make loyal friends and companions.
Virgos are known for their attention to detail. They are intelligent, analytical folks and great problem solvers. Careful Virgos prefer to take their time making decisions and with their slow and calculated approach, they are excellent communicators. For better or worse, people born under this sign are often perfectionists and while this quality may lead them to great professional success, it can also cause them to be too critical of themselves and others.
Famous Virgos include Beyoncé Knowles, Keanu Reeves, Sean Connery, and Sophia Loren.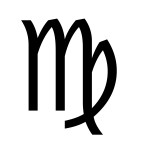 The colors used in this scarf are inspired by the attributes associated with the astrological sign: sapphire for eloquence, navy for intelligence, colonial blue for helpfulness, and chocolate for loyalty. If you have a Virgo friend with a birthday coming up, they will surely appreciate the time and skill that goes into a handmade gift. Since Virgo loves to analyze, an especially thoughtful gift would be to teach them your craft. Activities like knitting and crochet are great for Virgo's careful, methodical mindset, so don't be surprised if your friend wants to make you something in return!
The Virgo Zodiac Scarf is available for both Knit and Crochet (pictured). Not your sign? Check out our other zodiac scarves here.
August 7th, 2014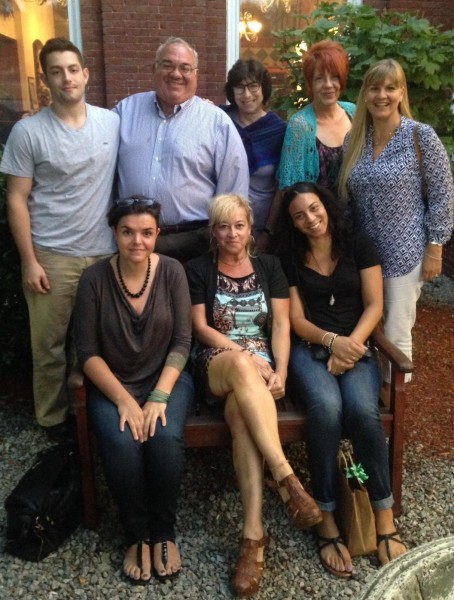 Dinner with friends, from left to right: Evan Blumenthal, Danielle Holke, Jack Blumenthal, Carla Horvath, Mary Colucci, Brandyce Pechillo, Tammy Hildebrand, Kimberly McAlindin.
The fond memories of last month's 2014 Crochet Guild of America (CGOA) conference and Knit & Crochet Show in Manchester, NH are still fresh in my mind. It was the 20th Anniversary of the CGOA and the Anniversary Celebration Committee planned a sensational event, chock-full of crochet pride.
Once I arrived at the hotel and saw the many crochet squares and yarnbombs decorating the courtyard and lobby, I knew it was going to be a great event.
As in years passed, I am always honored to be able to attend the CGOA Annual dinner and fashion show, an annual event that is always a crowd pleaser. This year it had 250 people in attendance!
I was blown away by the impressive talent of participating members; no surprise that plenty of door prizes and awards were given out.
The shopping floor was a flurry of activity, housing vendors from all over New England and beyond. It was also a great opportunity for me to catch up with all my friends in the knitting and crochet community. For instance, I was able to congratulate Gwen Blakely Kinsler in person on her induction to the CGOA Hall of Fame this year. Like a majority of crafters, she has tremendous love and passion for crocheting and the guild.
My college-aged son, who attended the conference with me for the first time, was quite impressed to see how many people I knew … and who knew me.
During the conference I attended my last in-person Board Meeting with the CGOA. It has been a great pleasure to have been a board member since 2011 and to have been able to participate in these meetings, but I know that I'm leaving the board in good hands.
To end on a brighter note: I took the opportunity to visit one of the mills that produces some of our yarn. I was able to see the process and production in which everything is made. Being able to see the very beginnings of a Lion Brand yarn and the attention to detail that is put into each skein makes me love being part of this family and company.
August 7th, 2014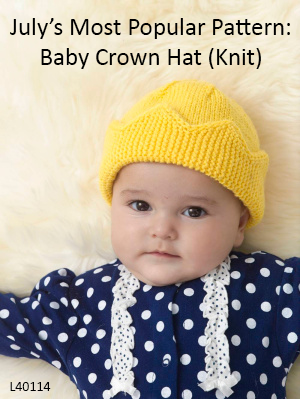 Every baby is a member of a royal family and deserves to wear a crown! This month's top pattern is an ingenious design knit in everyone's favorite new yarn, Modern Baby®.
There is definitely a theme to what's popular this month. Many of the other popular patterns were designed in the lively, upbeat colors of Modern Baby® and several were created with Sock-EaseTM, a fingering weight yarn, perfect for working with in the warmer months.
As you can see, you don't need to make socks to enjoy Sock-EaseTM.  The Crochet Candy Color afghan was made with this yarn.  It's bright and lightweight–perfect for a warm weather throw to keep you cool in an air conditioned room.
The stylish Crochet Boutique Laptop Sleeve was made with Cotton-Ease®, another popular yarn for summer.
So keep it light this summer and you can continue to knit and crochet even when it's 90 degrees outside!
August 6th, 2014
In her newest Lion Brand tutorial, our favorite crochet expert Yolanda Soto-Lopez guides you through our Market Bag pattern using one of our best warm-weather yarns, Cotton Ease ®.
Check out the video below!
If you like this video, check out more tutorials from Yolanda at All Crafts Channel!
August 5th, 2014
Blogger and author Kathryn Vercillo is an expert in the area of using crafting to heal, having researched the topic extensively for her book Crochet Saved My Life. This is part 4 in her 6-part series for us on the topic of yarncraft health. Read her previous blog posts on the Lion Brand Notebook here.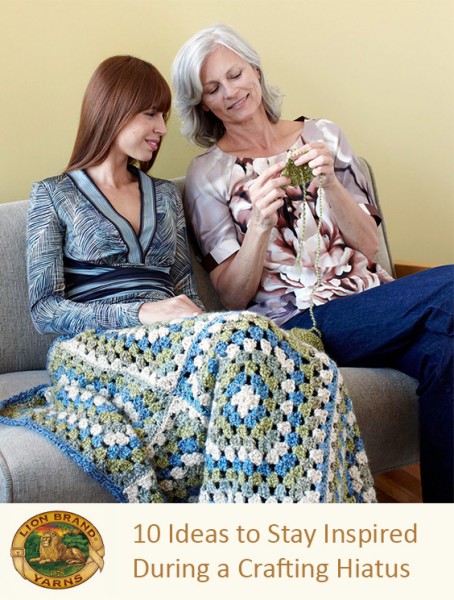 Many knitters and crocheters craft every single day. It's part of a good total wellness plan for a lot of us. But what happens if you have to take a crafting hiatus? An injury, crafting burnout (similar to writers' block) and health issues can force an unwanted break from knitting and crochet. Here are ten ideas for staying inspired in the event that this occurs to you.
1. Organize photos of your past craft work.
This can be a great way to celebrate the work that you've already done. It will remind you of all of the inspiration you've had in the past and get you re-excited for the time that you can pick up hooks and needles again. A big photo album works as does a blog or Facebook albums.
August 4th, 2014
This column by Barbara Breiter, author of The Complete Idiot's Guide to Knitting & Crocheting, originally appeared in The Weekly Stitch newsletter.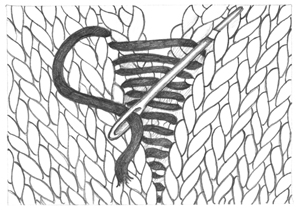 You may see patterns that talk about selvage stitches (sometimes spelled "selvedge") and wonder what they could be referring to. All fabric has selvages; they are simply the left and right edges of the piece, or the first and last stitch of each row.
Some patterns specify to work a selvage stitch; you may notice that directions tell you to always knit the first and last stitch of the row or to slip the last stitch of each row. In these cases, the designer has factored in the selvage as part of the design to make it easier for you. However, if you're creating your own design from a stitch dictionary or just winging it, understanding how to work those selvage stitches (or identify them, if you're modifying a pattern), will be very helpful.
1. Selvages for Seaming
When you have pieces you are going to seam together, such as the front to the back of a sweater, you will use these edge stitches for seaming. They won't be visible after the project is seamed. This is particularly useful when you're creating your own design for a sweater or shrug, which may otherwise end up with yarn-overs and decreases on the edges of the design. Regardless of the pattern stitch used, if you work a stockinette selvage it will make seaming much easier. To do so, simply knit the first and last stitch of every row on the right side and purl them on the wrong side. If a stitch pattern is used, you might check and be sure that the pattern has allowed two extra stitches for seaming so you have a full repeat across after seaming.
August 3rd, 2014
This story is from our newsletter called Pattern Journal which brings a warm-hearted, wholesome story to your inbox to read every month. We're sharing the most recent story here in the blog. If you enjoy it and would like to subscribe, click here.
Yarn is my candy, Stella thought. Enthralled by their beautiful colors and textures, she could practically taste the yarns displayed in the neighborhood craft shop.
Close in age and interests, Stella, who crocheted, and her sister Marie, who knitted, were like kids in a candy store whenever they yarn-shopped. They bought impulsively, trusting they'd find good projects later on.
Now, almost unconsciously, Stella had grabbed two colors of delectable Sock-EaseTM, called "Lemon Drop" and "Red Hots." I could do something cool with these, she thought, feeling her yarn cravings morph into a creative buzz. But what?
For years Stella had watched her sister knit Sock-EaseTM socks as automatically as her own crochet hook created scarves and hats. The variegated colors that emerged as the sock lengthened were magical. Stella wished she could crochet something as entrancing.
"Look at this," called Marie, waving a downloaded Lion Brand pattern placed by the store's owner near the Sock-EaseTM shelf. "It's for crochet!" she practically shouted. "You could make this adorable 'Candy Color Afghan' with that yarn you're holding!"
"I was thinking I'd buy this yarn so you could make me some socks," Stella replied.
"But this is more fun, Stell. Look at those colors— they're totally edible!"
Stella examined the crochet directions. Marie was right. The afghan's granny-square grid resembled an open box of sweets. This candy-colored afghan in four colors of Sock-EaseTM—Lemon Drop, Cotton Candy, Red Hots, and Rock Candy—would be a delicious project, Stella knew.
"And if you give it to me for my birthday," said Marie, "I'd knit you socks in any of the Sock-EaseTM colors you like."
"I knew you had an ulterior motive, Marie. What if I like all fourteen colorways?"
Marie grinned. "Then you might get birthday socks for the next fourteen years."
"Okay, sister," Stella said. "That's a deal too sweet to ignore."
—
All characters appearing in this work are fictitious. Any resemblance to real persons, living or dead, is purely coincidental.
A story by Selma Moss-Ward.
Selma Moss-Ward writes and knits in Rhode Island. You can find her work on our blog, as well as Lion Brand's monthly newsletter, Pattern Journal, which you can subscribe to here.