November 7th, 2014
This article series was featured previously in our Weekly Stitch newsletter, which features new products, tips, and more. If you enjoy it and would like to subscribe, click here.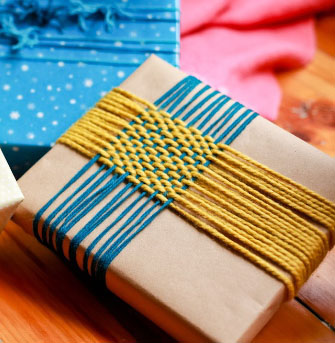 Turn any package into a mini loom! If you teach the recipient how to tie off the edges, they'll have a little coaster or place mat in addition to the gift inside.
For this gift topper, you'll need two types of yarn (the example below uses Wool-Ease® Thick & Quick® in Citron and Lion Wool® in Dark Teal*.), tape, and a tapestry needle, in addition to your wrapped gift.
*Editors' Note: Lion Wool® has been discontinued since this article was originally published. Try a color-changing yarn like Amazing® and Landscapes® or use the leftover yarn from the handmade gift inside.
Step 1
Tape the end of the first yarn to the back of your package. Wrap yarn around package lengthwise, keeping strands close together (aprox ¼" apart). Wrap about 20 times for a coaster, 50 for a placemat OR any even number of times. Once wrapped, cut yarn, remove the tape holding the other end of yarn and tie the two strands together, being careful not to distort the front lineup. Trim tails.
Read the rest of this entry »
November 6th, 2014

#Scarfie = A selfie with a scarf!
Get your crochet hooks out − because today, we've got another wonderful pattern from a blogger who participated in the #scarfie challenge! Kara, from the blog Petals to Picots, has created a beautifully textured cowl in the ever-popular Oatmeal colorway of Wool-Ease Thick & Quick. She even adorned her cowl (which only requires two balls) with a few metal buttons for a more rustic look, and we love it!
Check out Kara's pattern here: Quick and Comfy Crochet Scarf Pattern
For all the knitters, Kara has also created a lovely knit version of her cowl with the Barley color of Wool-Ease Thick & Quick: Quick and Comfy Knit Scarf Pattern
P.S − We thank you for continuing to share your #scarfie projects with us on Twitter and Facebook, it's so fun to see everyone getting in on the action. Read more about our #scarfie campaign here.
November 5th, 2014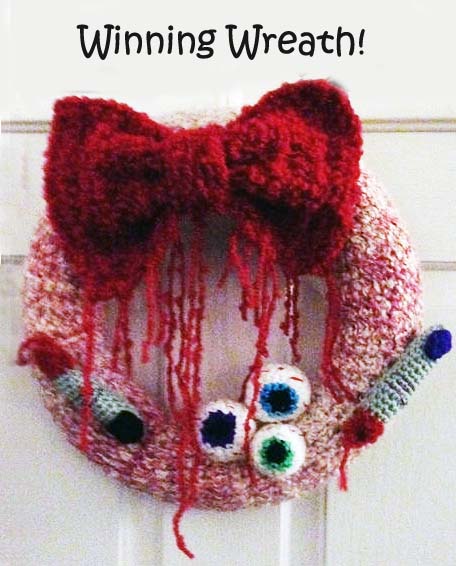 November is here and it's time to switch modes … out of spooky, Halloween decor and back into fall and Thanksgiving mode!
BUT just before we do, we want to share some news! The Crochet Crowd's Grim Wreath Challenge has just ended and the randomly-chosen, lucky winner of the $150 yarn prize goes to Crissi C. from New Hampshire! Congratulations and thank you for your entry Crissi!
There were so many great entries, we just have to share a few other great wreaths from the Grim Wreath Challenge submissions, so please take a look below!
| | |
| --- | --- |
| Fun colors, pumpkins, and other Halloween amigurumi adorn this wreath by Cristina Nelson | This is a great Autumn wreath to keep up until the holiday season starts, by Nicole Bergen |
| Love the skull couple and color combinations in this wreath by Addie Austin | An adorable family of creepy spiders by Michele Cook |
| Adorable ghostly characters in this lively wreath by Stephaney Williams | Of course, what's Halloween without an ode to A Nightmare Before Christmas, by Crissi Leigh Coko |
November 4th, 2014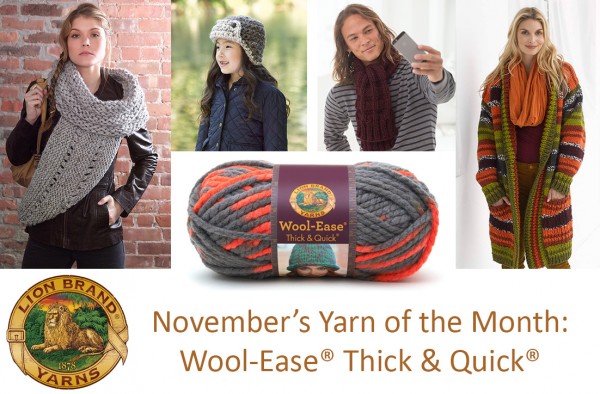 Winter is coming and Wool-Ease® Thick & Quick® is the perfect yarn for colder weather. It's a super bulky version of Wool-Ease® and it has the feel, warmth and softness of wool, with the easy care of acrylic – it's also perfect for those who are normally allergic to real wool!
This is a great yarn to use when you're learning how to knit: it works up quickly and easily for projects like sweaters, jackets, vests, slippers, hats, and, of course, scarves.
Two of our most popular projects use this yarn: our Hunger Games-inspired cowl, the District 12 Cowl Wrap, and one of our most popular sweaters, the Striped Boyfriend Cardigan!
AND For the entire month of November, Wool-Ease® Thick & Quick® is 20% off the original price!
Find some inspiration in the collection below and for more free patterns, search Patternfinder – it's time to get knitting and crocheting!
November 3rd, 2014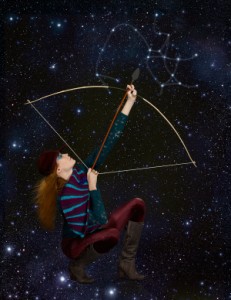 If you were born between November 23rd and December 21st, you are a Sagittarius. Sagittarians are known for being open, friendly, and outgoing, but their most outstanding trait is their love of freedom.  They tend to be innovators  in whatever they do, with imaginations that run free. They are often artists, writers, actors or entrepreneurs.
The ruling color of Sagittarius is purple. Purple is the color that represents creativity. The combination of blues and purples is perfect for those born under this sign because with such an outgoing personality, you need to balance it with colors that are not too bright and don't draw attention to yourself.
Famous Sagittarians include Willa Cather, Jane Austen, Woody Allen, Brad Pitt and John Kennedy, Jr.
If someone you care about is a Sagittarius, this scarf will be the perfect gift.  It's not just any scarf, but one that reflects their unique personality and mindset.
Looking to make a customized scarf for other birthdays?  Check out our entire collection of Zodiac scarves.
November 1st, 2014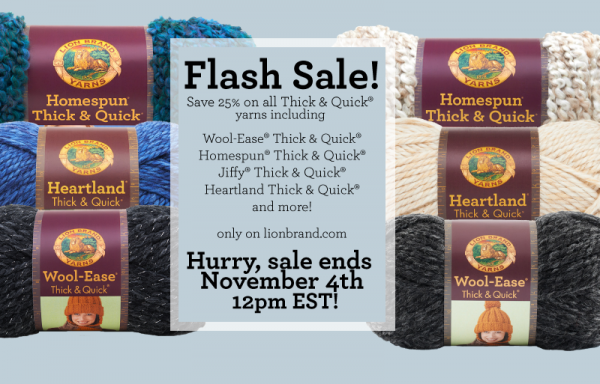 Save 25% on Thick & Quick® yarns on orders $35 or more, now through to November 4th, 12noon EST!
Coupon code 'FLASH25TQ' will be automatically filled into the coupon box at checkout on qualified orders. Only one coupon per person; cannot be combined with other coupons. ** Does not apply to Clearance Section yarns. **
October 31st, 2014
Here is the latest installment of Lola, from its creator Todd Clark.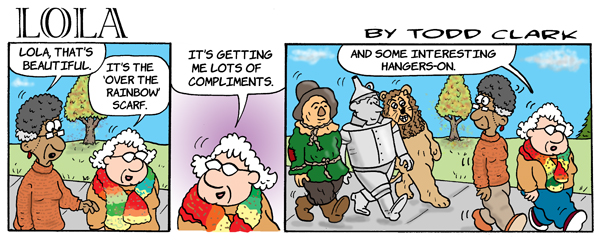 *** *** ***
Subscribe to The Weekly Stitch Newsletter
Get a FREE weekly email featuring patterns, articles and special offers. As a bonus for subscribing, we'd like to offer you 15% off your first order! *
:: Sign up now ::
October 30th, 2014

#Scarfie = A selfie with a scarf!
As you may have seen already, our #scarfie program is underway and plenty of you have been tweeting your #scarfies and sharing them with us on Facebook, so thank you!
Today, we've got a pattern from the amazingly talented Tamara over at Moogly. Tamara's Stormy Weather Cowl has been a big hit on her blog, and we're excited to share her pattern with you. Only 2 balls of Wool-Ease Thick & Quick are required for this project, so get your hooks and yarn ready!
Find Tamara's pattern here: Stormy Weather Cowl
October 29th, 2014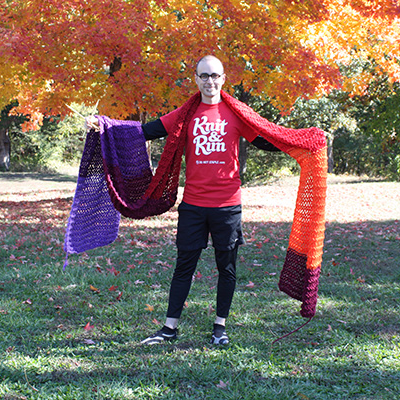 Featured in the New York Times and around the world, David Babcock is the Guinness World Record holder for knitting the longest scarf (12 feet!) while running a marathon, which he did in Kansas City last October. Coupled with a great deal of skill and endurance, David credits his choice in using Lion Brand's Hometown USA as a factor in his amazing accomplishment! Lion Brand is sponsoring David in the New York City Marathon on November 2nd, 2014 and lucky for us, he's agreed to write for us leading up to race day! Plus, you can meet David while he's in New York City!
This Sunday, I'll be running the New York City Marathon while knitting a scarf. I'm doing it to raise funds and awareness for Alzheimer's. While training for the New York City Marathon, I was faced with a problem. Due to security concerns I was told that I would not be allowed to bring knitting needles or a crochet hook with me on the run. I respect the great service that the New York Police Department provides and want to support their efforts. So I had to come up with a way to knit on the run without needles.
I tried arm knitting, but a 15 minute scarf doesn't fill my target 4 hour finish time and the giant loose gauge would not hold up well on the run. I was aware of what is commonly called finger knitting but I didn't feel that a 4 stitch stockinette would work well either. So I did a little experimentation of my own and in the process I learned more about knitting.
Knitting at its simplest level is just a series of loops inside of loops. Knitting needles are a very helpful tool for holding stitches and picking up and pulling loops through, but learning where to insert them and how to twist them was quite a challenge for me as a beginner.
October 29th, 2014
"… Go to the Fair, Templeton. You will find that the conditions at a fair will surpass
your wildest dreams. Buckets with sour mash sticking to them, tin cans
containing particles of tuna fish, greasy paper bags stuffed with rotten …"
"That's enough!" cried Templeton. "Don't tell me anymore. I'm going."
E.B. White, Charlotte's Web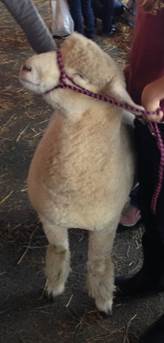 Convincing my cousin Janet to go to The New York State Sheep and Wool Festival wasn't hard. Unlike Templeton the rat in Charlotte's Web, she didn't need the lure of sour mash, stray particles of tuna fish, or even greasy paper bags. The mere mention of sheep and wool and she was on board.
I had been to Rhinebeck, as the event is known in the fiber world, when I was promoting my knitting book, A Knitter's Home Companion. My fair days back then were spent almost entirely signing books. This summer, after attending a small Iowa sheep and wool festival, I got the itch to go back to the big one, to Rhinebeck, to see what I had missed.
Rhinebeck is not only about wool. Among the offerings there were a bred ewe auction, an angora goat show, and an exotic breeds parade. In addition, there were demos of "blue ribbon hearth" cooking, canine Frisbee, sheepdog herding and more. Not to mention classes like Weave a Williamsburg Basket, Art and Science of Natural Dyeing, Needle Felting in 2-D and 3-D, Made in the Moment Jewelry, Double Knitting, Beginning Rug Hooking and Spinning for Socks.
Of course, Janet and I went straight for the wool. We cruised booth after booth, discussed the merits of projects and yarns on display. Often our eyes were drawn to the handwork worn by other fair attendees. We admired lacy shawls, cabled sweaters and the stunning green baby blankets covering a pair of adorable twins in their side-by-side stroller.
Read the rest of this entry »