September 3rd, 2014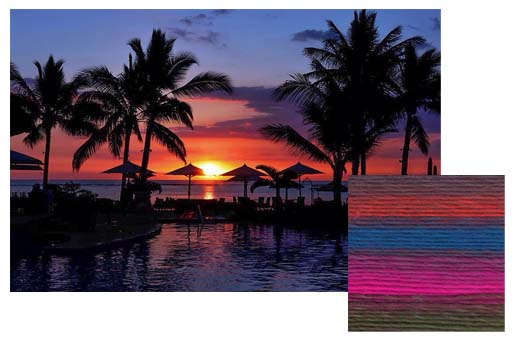 Tropics colorway// Image credit: Flickr/rich_f28
I absolutely love the color palette and feel of one of our newest yarns, Landscapes. Earlier in the year, I made a hat in Desert Spring, and my knitting went rather quickly because I was eager to see each new band of color appear. After seeing all of the beautiful garments for our patterns, and swatches of colors, I thought to myself – maybe I should go through all of the yarn names and compare real-life landscape shots, to match the colors of the yarns we have.
In my search, I came across some wonderful images on Flickr that were representative of the names and colorways of the yarn, take a look for yourself, and hopefully you'll be inspired to work with one of these gorgeous yarns!
September 2nd, 2014
Blogger and author Kathryn Vercillo is an expert in the area of using crafting to heal, having researched the topic extensively for her book Crochet Saved My Life. This is part 5 in her 6-part series for us on the topic of yarncraft health. Read her previous blog posts on the Lion Brand Notebook here.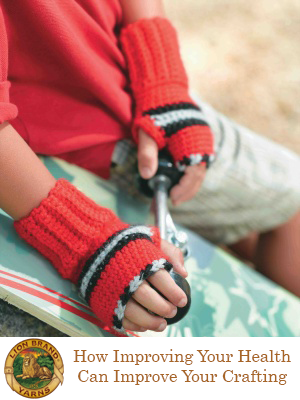 We have discussed a lot of ideas for using crafts to improve your mental and physical health. But what about the reverse – improving your health so that you can be a better crafter? It turns out that one can help the other in a cycle of ongoing self-improvement.
Hand Stretches for Easier Crafting
One of the main complaints that knitters and crocheters have is that their crafts can cause them hand pain. This includes carpal tunnel and other repetitive strain injury. You can reduce that by doing regular hand exercises. Keeping your hands limber will allow you to yarncraft for longer periods of time.
It's a case of one hand washing the other because as you do needlecrafting, you loosen certain parts of your hands. Many people have reported that crochet helps them reduce symptoms of arthritis for example. So you can do hand and finger exercises in order to crochet better and then the more you crochet, the less your hands are likely to hurt.
Here are 9 hand exercises for crafters' fingers, thumbs and wrists.
August 31st, 2014
This story is from our newsletter called Pattern Journal which brings a warm-hearted, wholesome story to your inbox to read every month. We're sharing the most recent story here in the blog. If you enjoy it and would like to subscribe, click here.
Megan loved the irony of living in Maine and knitting herself a "Semi-Tropical Shawl."
"I'm about as far from a semi-tropical climate as I am from winning the lottery," she laughed as she and Val, her best friend, sat at an outdoor café in downtown Portland, knitting and drinking iced tea. "But it's such a beautiful design."
Val said, "Well, someone always wins the lottery. Maybe this shawl is telling you something…like, maybe you'll go somewhere semi-tropical."
"It's telling me that I picked a great project," Megan replied. "I just adore the yarn—it's so soft; the colors remind me of sand dunes and sea shells." She admired the swath of lace cascading from her needles, a rich interplay of openwork stitches and soothing colors. The genius of the Semi-Tropical Shawl, Megan decided, was its alluring combination of beauty and comfort.
August 30th, 2014
We've teamed up with Todd Clark, creator of the ever-popular Lola series, to bring you "Out of the Loop," a regular one-panel comic featuring humorous takes on the world of yarn.
Enjoy and please share widely!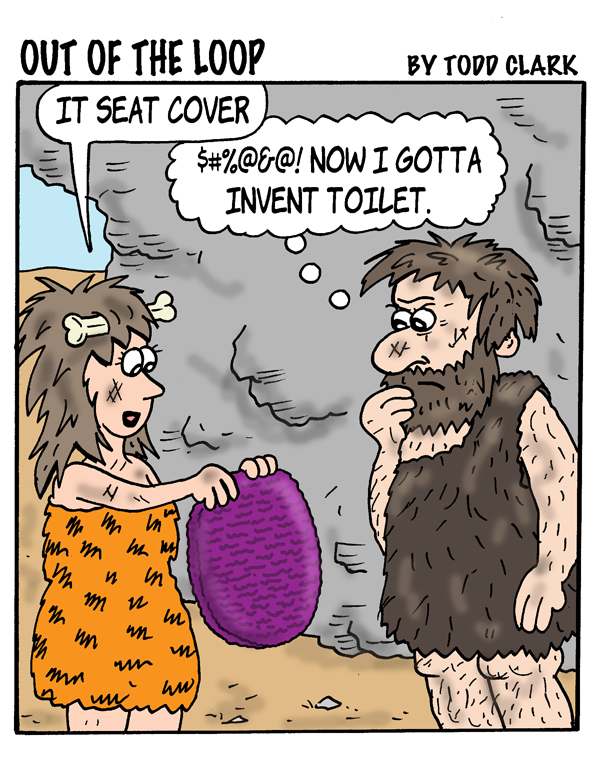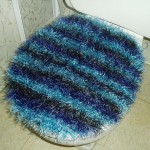 *** *** ***
Inspired to go retro and knit your own toilet seat cover? We found this Potty Mouth Toilet Seat Cover by Sarah Sumner-Eisenbraun pattern – it's FREE and it uses Lion Brand yarn!
*** *** ***
Subscribe to The Weekly Stitch Newsletter
Get a FREE weekly email featuring patterns, articles and special offers. As a bonus for subscribing, we'd like to offer you 15% off your first order! *
:: Sign up now ::
* offer valid only for first-time email subscribers, one coupon per person.
August 29th, 2014
| | |
| --- | --- |
| | |
| 32 inch Portable Amish Loom | 19 inch Portable Amish Loom |
About 12 years ago I received a call from someone who wanted to help an Amish friend sell his hand crafted looms.  It sounded like an interesting and unique way to use yarn so I decided to get in touch with him.  I was told that Joe was a carpenter who lived and worked on a farm in Mio, Michigan, where the population was somewhere under 2,000.  Joe did have a phone and I was able to call, but the phone was in the barn, since the Amish are not permitted to have telephones in their homes. So I had to call many times and let it ring a lot in order to reach Joe when he happened to be there.
Joe built his entire home himself, with help from neighbors, and made his living as a carpenter.  As a hobby, he started crafting looms from local wood.  They were beautiful works of art.  Eventually a few of his neighbors started using the looms to make shawls and blankets to sell.  The women who used the looms loved to work with Homespun® because of its silky feel and the fact that it worked so well with the loom.
Over the years we bought the looms to sell online, although the supply was not always easy to get.  There was the fact that Joe made every single one himself, which meant there was a limit to how many we could purchase, and there were life events that interfered.  One year there was a fire in the barn that put him out of commission for 6 months and one year his wife was ill so he stopped making the looms.
Joe is retired now, so there won't be any more looms. We're selling the last of the inventory, although we'll definitely be keeping one as a keepsake.  If you'd like a piece of history and a beautiful object crafted lovingly by hand, now is your chance. One of a kind made by one person in the world doesn't last forever.
(If you're interested in other looms, we have a selection which you can find here.)
August 29th, 2014
Maggie Weldon from Maggie's Crochet shows you how to make this Arm Knit Cowl with our newest super bulky yarn Quickie, which is soft, lofty, and perfect for arm knitting. Check out her video tutorial below!
If you like this video, check out Maggie's Channel at Maggie's Crochet!
August 28th, 2014
Several times a year we host a crochet- or knit-along, a virtual event in which knitters and crocheters come together here online to work on one pattern together, share their experiences, and to learn together. There's no need to sign up! Simply follow along with the blog posts at your own pace as you crochet your project, and feel free to share your comments and/or photos as you progress. Want to learn more? Click here for our guide.
The Votes Are In!
Thank you for voting for our crochet-along! The winning pattern is … the Top Down Crochet Jacket!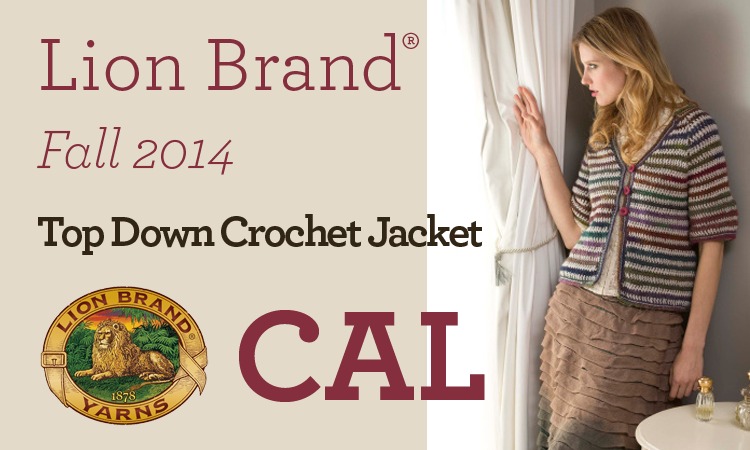 Feel free to pick up this badge to use on your blog, Ravelry, etc to show that you're participating! (Right-click on PCs or Ctrl+click on Macs to save it to your desktop and upload it to your site)
Crochet-Along Next Steps
1. This week, download the pattern (click here for the pattern) and read it through so you have a sense of how the project is going to take shape. We'll be walking you through a different element each week, so don't worry if you see anything you're not familiar with!
August 28th, 2014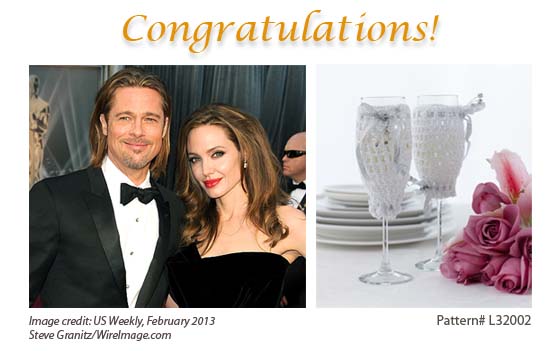 Congratulations to Brad Pitt and Angelina Jolie who just got married in France this week! In honor of the "Brangelina" marriage, we're rounding up some of our previous wedding pattern posts which include great ideas for handmade wedding attire, gifts, decor, and more!
"After all these years, we have history – and when you have history with somebody, you're friends in such a very real, deep way that there's such a comfort, and an ease, and a deep love that comes from having been through quite a lot together."
-Angelina Jolie (Elle Magazine)
August 27th, 2014
Writer, illustrator, and knitter Franklin Habit joins us for his monthly column featuring humor and insights into a yarncrafter's life.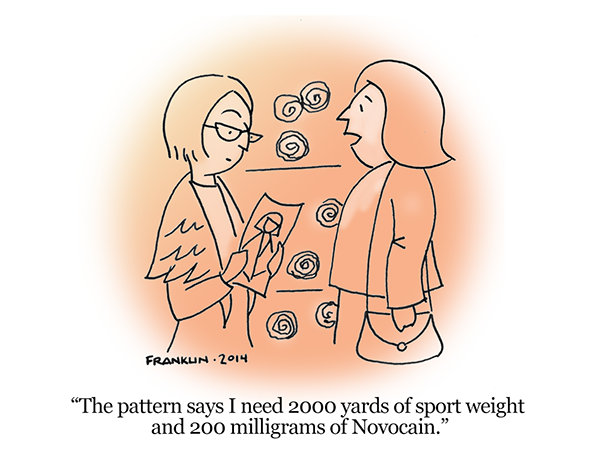 When at work, we all have our pet aggravations. Some folks grow tetchy when stuffed into a necktie or panty hose. Some folks hate office parties. Some would rather eat a bowl of broken glass than go to one more budget meeting. Me, I flinch when I'm asked to assign skill levels to needlework patterns.
I understand the rationale behind the practice of branding a project as easy, beginner, intermediate, difficult, complicated, spicy, yikes, @#!$%*, and so on. The goal, I recognize, is to pilot needleworkers (especially beginners) into safe harbors. There is such a thing as too much ambition. If you are as yet unsure of the difference between knit and purl, perhaps a project full of orders to "p5tog tbl" may not be for you. Perhaps it would make you cry, and flail, and kick people. If the pattern throws up a five-star flag to steer you away from torment, it will have done you a service.
In practice, however, I find that skill ratings tend to encourage the rank and file of the yarn world to be overly cautious, to grow bored, and–in the worst cases–to then drift entirely away from needlework.
I spend about half my life on the road, surrounded by knitters. Most of them wildly underestimate their levels of expertise.
"Is that your work?" I ask a woman whose exuberantly cabled sweater would look at home in a couture showroom. She says that yes, it is, and in the following breath tells me she doesn't feel ready to take on a certain pattern of mine because it was labeled by the magazine as being "intermediate," and she's just a beginner.
It happens all the time. Nervous crowds flock to patterns labeled "easy" because they fear they won't be able to cope with anything more. They cut their pleasure short because they fear failure. They doom themselves to hanging around at the bottom of the ladder. And that is silly.
What happens when a knitting project goes horribly, horribly wrong? What is the aftermath of a total crochet disaster? You grind your teeth. You glare at the cat. You rip out. You ball up the yarn and shove it back in the stash closet to wait for a happier day. You go to the store and just this once you buy a shower present like a normal person.
Nobody has died. Nobody has lost a limb. Nobody has taken your favorite bamboo needles and fashioned them into a wicker man and put it out on the front lawn and locked you into it and set it on fire.
So what, really, are you so worried about?
August 26th, 2014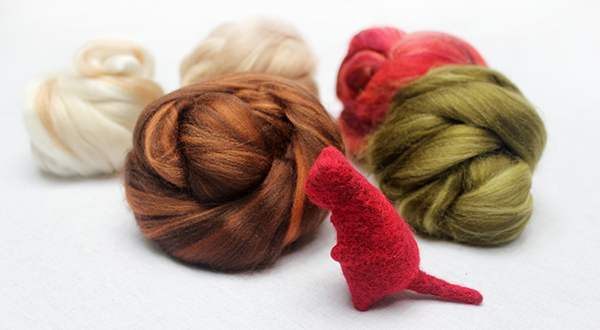 Felting and acrylic aren't usually words that go together, so when the opportunity arose to try out some of Lion Brand's "Spinnables" 100% acrylic fiber, I was skeptical. You might recognize this fiber because it's our Homespun® before it's spun into yarn! (We wrote about how Homespun® is made HERE.)
| | |
| --- | --- |
| Here is a look at the fiber. It's incredibly soft and silky. I frequently felt with superfine Merino wool, but even that does not compare to the softness of this fiber! It reminds me more of silk than of wool. | |
| | Next step was to try felting a simple object. I picked a cat, although I think the result looks more like a gummy bear. So let's say it's a gummy cat. The acrylic fiber felted surprisingly quickly and densely! The gummy cat feels very solid, although the surface texture retains some of the fiber's silky smoothness. I started with a coarse felting needle and moved on to a finer one as the fiber began to firm up. |
| All finished! I only had one color to work with, but with multiple colors it would be possible to add details like eyes if desired (of course, a gummy cat doesn't need them). Because of its extreme softness, this fiber is better suited to projects with simple shapes and rounded edges. | |
| | All-in-all, I think acrylic fiber is an excellent alternative to wool and a great way for those who forgo animal products to get into needle felting. I look forward to experimenting with it further and to seeing what others come up with. |
"Spinnables" fiber is available in 3 oz packages of assorted colors – more than enough for several small projects like this. You can find it at the Lion Brand Outlet and on our website. If you are new to needle felting, we also have everything else you need to get started. We hope you'll give it a try!