November 17th, 2013
Technical editor and yarncrafting expert Kj Hay joins us for a series on understanding the different elements of patterns. Click here to read her earlier blog posts.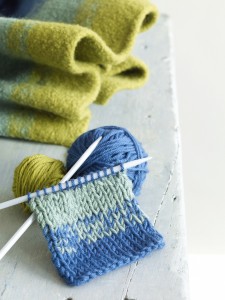 Obviously the most important information in crochet and knit patterns are the instructions. They are also the most challenging to decrypt. Instructions consist of two basic types, 1) row/round instructions, and 2) prose instructions. Row/Round instructions provide detailed directions for completing one row or round. Prose instructions are sentences or paragraphs that provide more general directions for completing a section, repeating sections, or finishing a piece.
Row/Round Instructions
Each Row/Round instruction consists of a name, a series of steps separated by commas or semi-colons, and as mentioned earlier, possibly a stitch count at the end of the instruction. Names of Row/Round instructions can indicate the order (e.g., Row 10, Next Round), purpose (e.g., Decrease Rnd, Set-Up Row), and/or relationship to the fabric (e.g. (RS), (WS)). Some of this information may be included in parentheses, e.g., Row 12 (Decrease – WS).
The series of instruction steps are usually arranged in a specific order.
November 16th, 2013
With Hanukkah and Christmas around the corner, many of you may be planning for hearty dinners and fun family gatherings, or just want to decorate to feel festive!  Today, I've gathered a few yarns perfect for holiday decor and holiday themed gifts.  Take a look at the roundup below for yarns with colors that can be used for traditional decor, modern and more.
| | |
| --- | --- |
| Holiday Homespun | Spun with a ply of metallic gold for a touch of sparkle, Holiday Homespun comes in a palette of bright holiday colors, making it perfect for all of your holiday crafting, from home décor like afghans and wreaths to garments like hats and scarves. And best of all, Holiday Homespun is easy-care and has the silky-soft texture as our classic Homespun. |
| Bonbons in Jingle Bells | Now your favorite collection of miniature skeins are available in fun holiday colors.  The pack includes solid colors, and metallic skeins with varying color combinations.To see some cute holiday patterns with Jingle Bells, click here. |
November 15th, 2013
The Lion Brand Yarn Studio is celebrating its 5th anniversary on Sunday! The brainchild of Lion Brand President and CEO David Blumenthal, David wanted to create an inspiring retail space that would embody the spirit of Lion Brand. Five years after opening, the Studio has become a travel destination for crafters from all over the world! If you live in the New York City area, we encourage you attend the big anniversary celebration this Sunday! If you can't make it, you can always check out this video about the Studio's history and celebrate from a distance!
If you're reading this blog post in your email or an RSS reader, please click on the title to view the full blog post and video on our website.
Join Us for a Celebration!
The store celebrates its 5th anniversary with a party on November 17th, and throughout the month of November, it will be offering special discounts. Visit its website here for more details.
Lion Brand Yarn Studio
34 West 15th Street, between 5th and 6th Aves.
New York, New York 10011
LionBrandYarnStudio.com
November 14th, 2013
Did you know that you can use your Martha Stewart Crafts™ Knit & Weave Loom Kit to make rubber band bracelets? The small configurations will fit perfectly into a purse so you can take a crafting break anywhere. What's great about the Martha Stewart Crafts™ Knit & Weave Loom Kit is that different members of the family can be using it at the same time! While your son or daughter is making bracelet, you could be using another configuration to make a hat or scarf!
If you're reading this blog post in your email or an RSS reader, please click on the title to view the full blog post and video on our website.
November 14th, 2013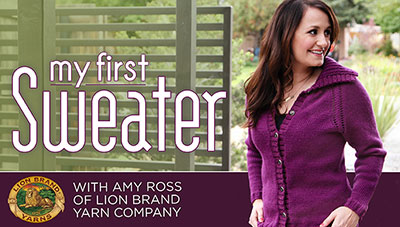 As you may know, Lion Brand has partnered with Craftsy, the premiere, online crafting education platform, to develop classes that will inspire you and take your yarn crafting skills to the next level.
One of the classes we wanted to develop first is a My First Sweater class.  Many of you have been knitting for years–20, 30 or more–yet there are some of you who've never felt confident enough to move from flat knitting (i.e. scarves and afghans) to garment knitting.  This class will give you the confidence to move to garment knitting.  You'll learn to follow a pattern, breeze through the process of shaping and create what will likely be your favorite sweater.
November 14th, 2013
Sister and brother duo, Elizabeth and Robby Miracle, first created this dyeing series for a Lion Brand newsletter several years ago. Although that newsletter is no longer around, we loved the idea of making kitchen-safe dyes so much, that we've updated it and reprinted the series here.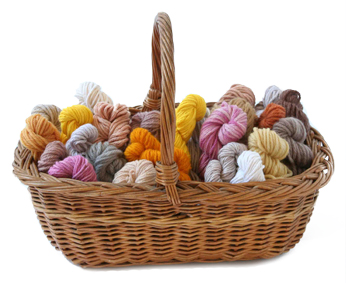 Creating your own dyes can be a fun and exciting way to personalize projects.  This month, we show you how to make all-natural dyes and use them with different cotton and wool yarns.
We used only edible items purchased at our local market, boiling water (and in some cases, salt or vinegar) to make beautiful, all-natural dyes.
After trying our dyes, you will probably want to experiment with other natural food dyes of your own.  Start by using fruits or vegetables that stain and experiment!  You can mix dye baths to make different colors.  You will probably find, as we did, that the colors are all — surprise — "earth" tones!
Because this project requires boiling water, adult supervision is required.
Turmeric Dye
This quantity of dye will easily color 2 skeins of LB Collection Pure Wool or , 2 skeins of Nature's Choice Organic Cotton. Other options include: Alpine Wool, Fishermen's Wool, LB Collection Organic Wool, LB Collection Superwash Merino, Martha Stewart Crafts™ Merino, Martha Stewart Crafts™ Roving Wool, Martha Stewart Crafts™ Cotton Hemp, Kitchen Cotton. Click here to see all Lion Brand yarns. 
| | |
| --- | --- |
| |   |
| Dyed Cotton | Dyed Wool |
Ingredients:
1 oz ground turmeric
3 quarts water
Bring mixture to a boil in a stainless steel or enamel pot and simmer for 30 minutes, stirring occasionally.  It will reduce in volume some what while boiling. As soon as it is finished cooking, you can use it.
November 13th, 2013

Today's story comes from Shira Blumenthal, a current employee at the Lion Brand Yarn Studio, and the daughter of our President and CEO, David Blumenthal. Shira is excited to share with us how she's getting ready for her upcoming wedding at the end of the month.
As I was in the final stages of getting ready for my wedding, I was also thinking of some way to thank my bridal party for all their support and hard work. They were a smattering of 11 close friends who I had known throughout my entire life, from 5th grade to the present. With all the last-minute planning, not to mention the overall nervous fact that the event was just weeks away, I just wanted to go away for a bit and relax.
When they had surprised me with a bachelorette weekend at our family house in Woodstock, I couldn't have been happier.
It was no secret that my family ran Lion Brand or that I loved to knit. So I decided the best thing was to make a thank you gift for everyone. I loved cowls for the sheer fact you could just put it on and go out the door. I am fond of knitting in the round, and knew I could whip up several in no time—which came in handy if I was making them for eleven people.
With the Lion Brand Yarn Studio's  distinctive wall of yarn, it made choosing colors a breeze. I'm traditional at heart and felt a range of natural shades would suit all of them. When we got to the house, I got a bit nostalgic as we drove up to the house—remembering all life's milestones I've had in that house: my first steps, my first words, and now my bachelorette weekend.
When the girls showed me the t-shirts they would all be wearing, complete with a picture of She-Ra and the date of the event. I couldn't help but laugh, and had wonderful flashbacks of when I first met each of my friends who thought I was named after the famed Princess of Power! Although this was not so, they knew that given any superhero to idolize it would be her!
In turn, I gave them their own goodie bag filled with fun weekend essentials and their own cowls with a customized label to commemorate the weekend. They all loved them and some traded them like friendship bracelets on the playground because of the variety of colors. As my wedding worries were quickly forgotten as we reminisced about the old days, I remembered the excitement that I was getting married and they were going to all be there as I said my vows.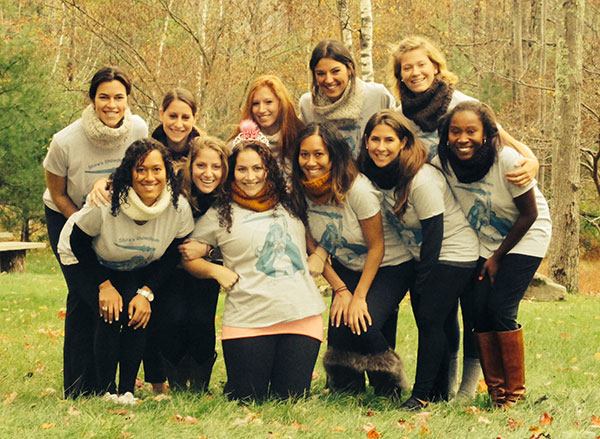 November 11th, 2013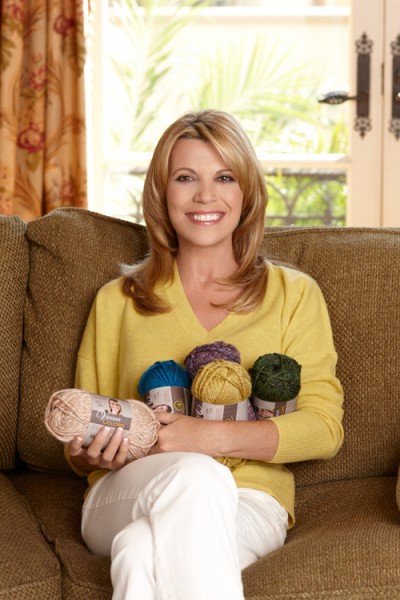 It's time for the annual Vanna's Choice Contest!
To enter all you need to do is knit, crochet or create a craft using any yarn from our Vanna collections: Vanna's Choice®, Vanna's Choice® Baby,  Vanna's Glamour®, and Vanna's Sequins.
Use your imagination! It can be anything you dream up — from "Gramminal" hat and bootie sets (which took last year's Grand Prize, made by Nancy Nielsen), to a Christmas-themed chess set (Aiqi Huang's winning entry from 2011).
There are 20 prizes to win, including the Grand Prize: a trip for two to meet Vanna White in Los Angeles!
Entries can be submitted into one of four categories:
Hats and Scarves
Baby items
Afghans, Blankets and Throws
Other
Celebrate color with Vanna White yarns – enter now!
*Note: restricted to residents in the US and Canada (excluding Quebec). One entry per person. See here for the complete rules.
November 10th, 2013
Technical editor and yarncrafting expert Kj Hay joins us for a series on understanding the different elements of patterns. Click here to read her earlier blog posts.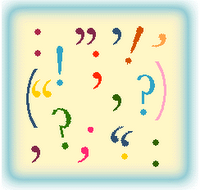 Punctuation differs from publisher to publisher, but in all cases is used to separate and group instructions. Typically, commas, semi-colons, colons, and dashes are used to separate. Parentheses, brackets, curly braces, and asterisks are used to group. Commas and semi-colons are used to separate each part of an instruction making the parts a bit easier to see and read.
Instructions and parts of instructions are grouped for several reasons; 1) To indicate that multiple stitches are to be worked into the same location and, 2) To indicate that instructions are to be repeated.
Parentheses are most often used to group stitches to be worked into one location. For example, "(k1, p1, k1) in next st" indicates that all 3 stitches within the parentheses are to be worked into the next stitch before it is removed from the left needle. Brackets, curly braces, and asterisks paired with "repeat" are used most often to group instructions to be repeated.
November 8th, 2013
Fall has arrived, temperatures have dropped, and some folks might've already had snow; ski season is now upon us! Of course it's fun engaging in all of those outdoor activities like skiing, snowboarding, and snowmobiling, but it's also fun coordinating those wintry outfits.  It's so cool to see everyone in their bright jackets, and funky hats adorned with pompoms against the contrast of the snow.  So today, in honor of the new ski season, I've rounded up 9 hat patterns in knit and crochet to get you thinking about how you'll stand out of the crowd in the sea of snow.