May 5th, 2015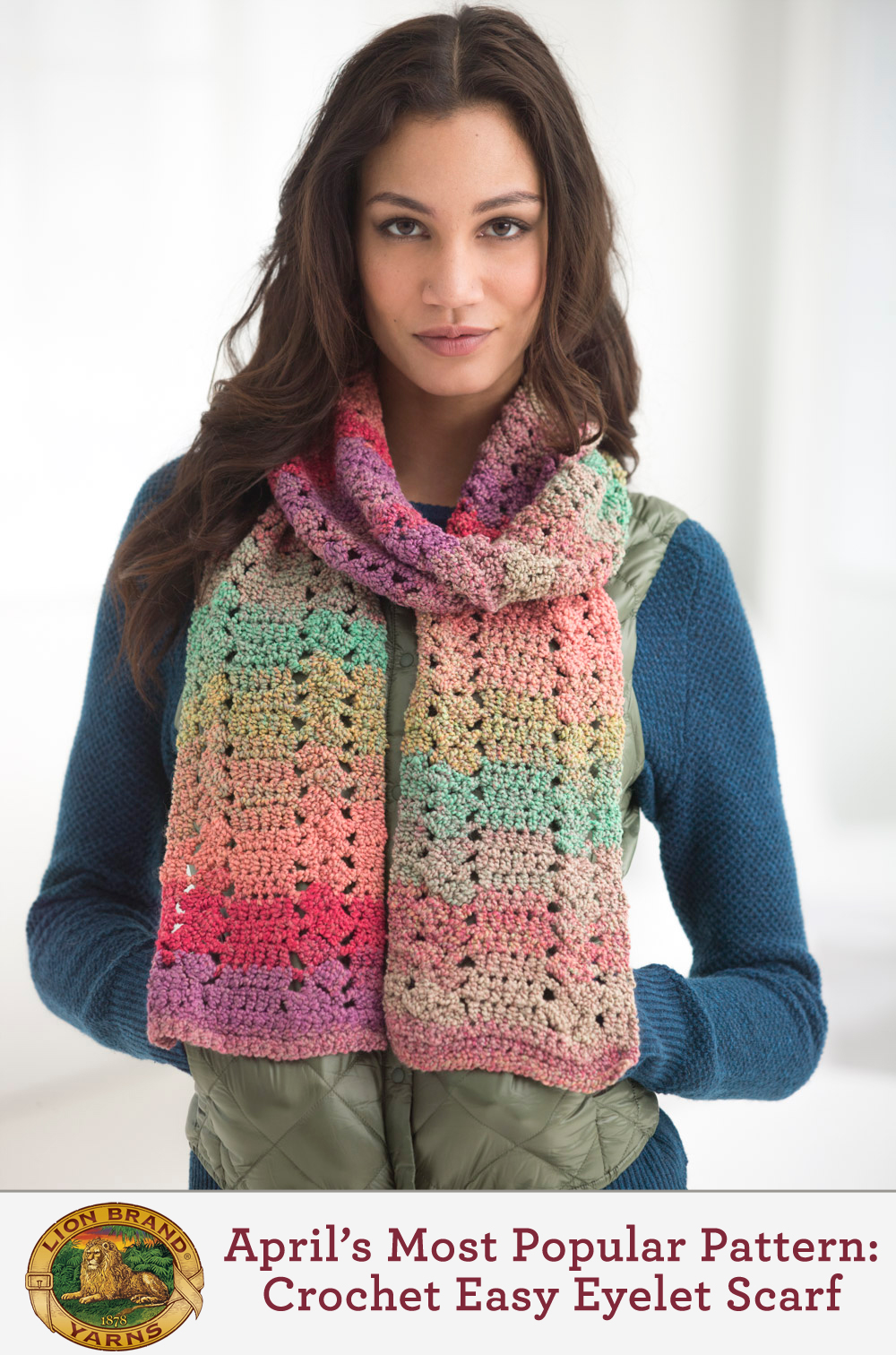 Textures® was the big hit yarn in April!
From scalloped waves, to classic stripes, to triangular patterns, Textures® looks exquisite in any geometric shape your pattern may call for. Textures® comes in eight colorways, including the deep russet of Sunset Rays and the cool tones of Enchanted Forest.
Our pick for spring? Textures® in Meadow Flowers, as featured in our Easy Eyelet Scarf pattern, the most popular pattern in April! The lace detailing of the stitches pairs well with this self-striping yarn. No matter your stitch of choice, these colors are sure to bring your project to light, just in time for spring.
Learn more about Textures® at lionbrand.com.
Below is a collection of the most popular patterns from April, as chosen by you!
May 4th, 2015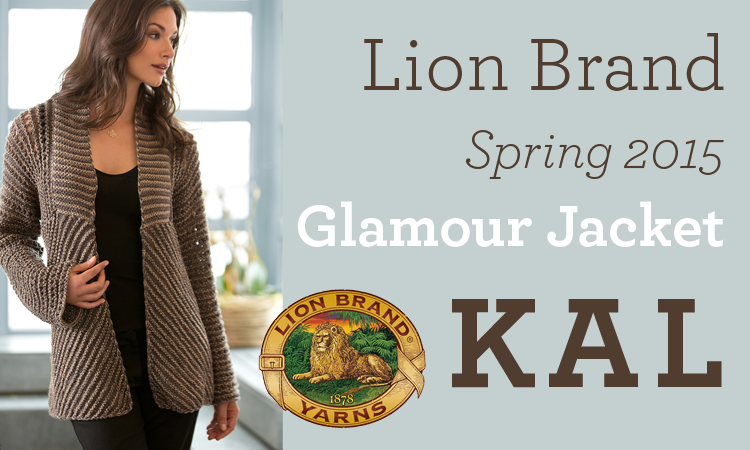 Editor's note: LAST CHANCE to get your Knit-Along Kit — get your kit here now before it's too late! There are four to choose from! Also we have a hashtag for this KAL, use #LBspringKAL2015 when you share your progress on social media. Have fun!
---
Hello my fellow knitters! It's Kristy Glass here – we're coming to the end of this KAL!
While I was knitting this Glamour Jacket in my crazy pink colors, I would NEVER have imagined how versatile this piece would end up being.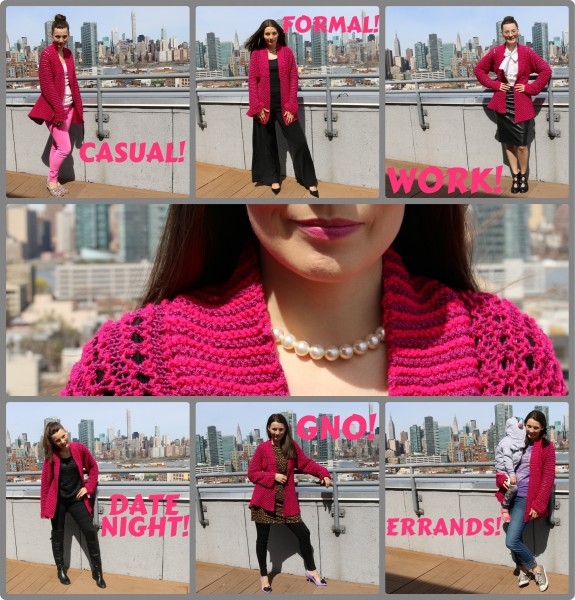 I legitimately cannot believe how many outfits this Glamour Jacket goes with, and this was just in a few minutes of scouring my closet. I honestly think I could come up with even more combinations!
:: can't see the video above? click here: https://youtu.be/Eju8uFHdAz8 ::
Since before the voting was even in, I have always been #teamtailback And look HOW awesome the back turned out: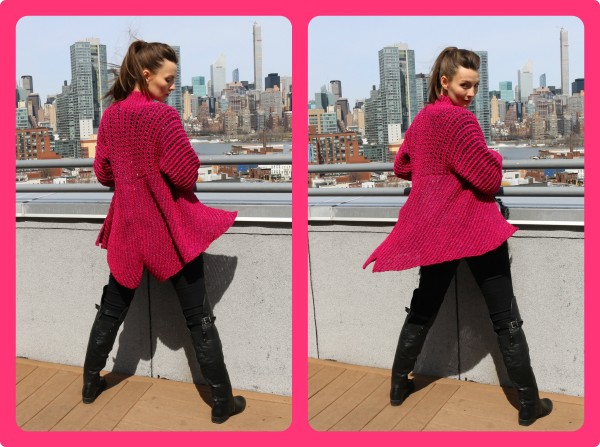 Thank you NYC wind for picking up the AWESOMENESS.
I want to see pix of your finished product and how YOU decided to style it! Post them in the comments below!
Thank you SO MUCH for participating, and if you haven't quite finished yet, don't give up! We can stay connected here and on Ravelry, Facebook, Twitter and YouTube and continue to support each other through the project.
Being your fearless leader this spring has REALLY made my year, and I look forward to knitting more together in the very near future!
NEVER STOP KNITTING!
***
I am Kristy Glass and I am so thrilled to be infiltrating the Lion Brand blog to lead you in the 2015 Spring Knit Along! Even though I learned to knit as a girl, my passion for fiber arts has escalated at a very steep rate these past several years.I returned to knitting and began crocheting about 8 years ago after I suffered an unexpected health setback leaving me feeling completely out of control. Hand work was a healing salve for my body and soul as I suffered through a long healing process. Thankfully I continue to use knitting to aid meditation, solace and a feeling of accomplishment. I knit year round, despite weather changes, and I am highly anticipating us all knitting together on this project.I have completed over 100 projects including scarves, cowls, hats, hand warmers, phone cozies, afghans, pillows, sweaters and yarn bombing. My most recent passion has been making sweaters and actually wearing what I make!
May 4th, 2015
It's May the Fourth, it's May the Fourth! Happy #StarWarsDay!
In observance of this great day of geekery, we've put together a collection of our favorite patterns. Enjoy!
* not a Lion Brand pattern
May 2nd, 2015
Hey everyone!  Welcome to the premier episode of Tea With Shira.  In every episode I'll invite a guest and you can have tea with us while we chat about anything and everything in the world of yarn.  I promise to bring you behind-the-scenes with me and, because I love tea, I may even share my favorite teas with you!  For my first episode of Tea With Shira I sit down with Arabia.  She is the crochet doctor of the Lion Brand Studio, and also my dear dear friend.   Arabia is a vegan so she tells us about some of her favorite Lion brand Yarns to work with that are vegan friendly.  I hope you enjoy and come back for the next episode. See you soon!
::Have trouble viewing this video? Click here: https://youtu.be/25Loc2FDYZQ::
Yarns discussed in this video:
Vanna's Choice®
Vanna's Palettes
Baby's First®
Unique
Do you have a question for Shira? You can leave them in the comments below or tweet her at @shiraroars and she just might answer your question in her next video!
May 1st, 2015
We're excited to announce a new partnership with New Stitch A Day! We'll be featuring helpful educational content to help you improve your knitting or crochet skills. As you may know, here at Lion Brand, we place a high value on education and learning, so working with Johnny Vasquez aka "Head Honcho", of NSAD is the perfect collaboration!
According Johnny, the goal and purpose of New Stitch A Day is to produce high-quality, easy to understand video tutorials that will help advance your knit or crochet skills. There's a wealth of information available at New Stitch A Day such as stitch tutorials, finishing techniques, and even left handed tutorials – plus, lots more.
Today we're featuring a video tutorial which demonstrates how to do a knit "yarn over (yo)". Yarn overs pop up quite frequently in patterns, especially for lace; they create the necessary holes for your openwork. Check out the video below to learn how to yarn over, and click here to learn the lefty method for knitting the yarn over!
Yarn used in video: Lion's Pride® Woolspun®

Can't see the video above? Click here: https://youtu.be/ZMQSp9foHvg
May 1st, 2015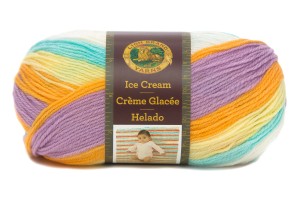 Already a popular baby yarn, Ice Cream® is a soft and easy care yarn that works up to create delightful, self-striping colorways that blend unique and cheerful color combinations.
It comes in eight delightfully tasty colors like Lemon Swirl, Tutti Frutti, Banana Split, and Cotton Candy. There's even Cookies & Cream, a sophisticated, tonal grey shade for the gender neutral projects.
This will be your go-to yarn for baby shower gifts, your own baby project and even big, bright and beautiful blankets like the Charleston Garden Blanket.
Best of all, you'll save 20% on purchases of Ice Cream® for all of May!
:: Can't see the video above? Click here: https://youtu.be/GZAouicErik ::
We've selected a few of our favorite Ice Cream patterns below. For the full selection, visit lionbrand.com.
April 30th, 2015
Here is the latest installment of Lola, from its creator Todd Clark.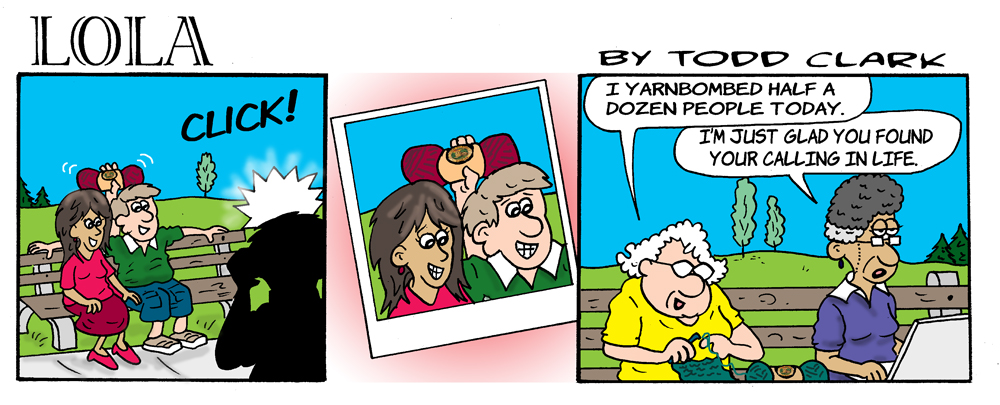 *** *** ***
Subscribe to The Weekly Stitch Newsletter
Get a FREE weekly email featuring patterns, articles and special offers. As a bonus for subscribing, we'd like to offer you 15% off your first order! *
:: Sign up now ::
April 29th, 2015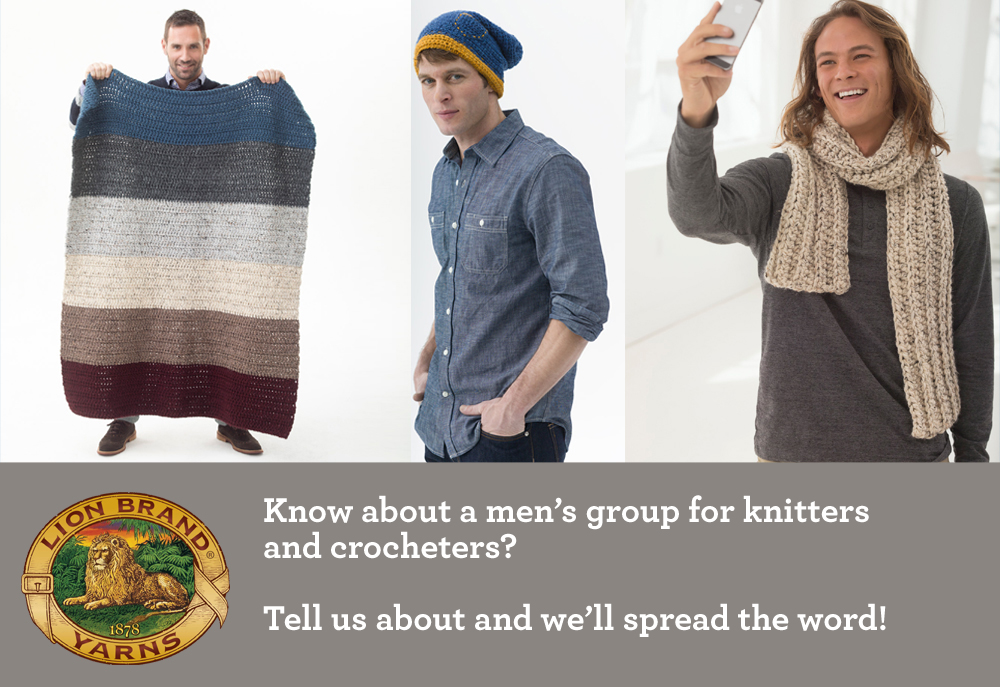 Here in New York City, the Lion Brand Yarn Studio hosts a monthly get together for men who knit and crochet – all skill levels welcome!
Hosted by Darrin Morris, it's a great group for beginners who want support and inspiration from their fellow men. If you live in the New York City area, rsvp to join in the fun!
For those of you not in New York City, tell us about the knitting and crocheting groups for men in your area in the comments below.
Let's get the word out!
Here's a round-up of five our favorite posts that feature patterns and stories for men:
April 28th, 2015
Susan Haviland is Lion Brand's Design Editor. She loves to knit and crochet in the company of her favorite films and televisions shows.
Do you find it impossible to sit in front of the television without knitting or crocheting? Are you attracted to projects with many mindless sections so you can stitch and watch the screen?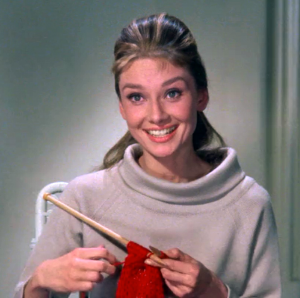 I find my appreciation of television entertainment increasingly linked to my daily stitching. And by that I mean watching movies and streaming reruns of my favorite television series surrounded by bags and baskets brimming with easy projects.
Costumers may rejoice – I am appreciating your work! How can one forget the countless knitted vests in "All Creatures Great and Small", the terrific crocheted shawls in "Babette's Feast", Holly Golightly's work in progress in "Breakfast at Tiffany's", Faye Dunaway's pullover in "Bonnie and Clyde", Greer Garson's bed jacket in "Random Harvest", the knitting hidden in the office drawer in "How to Succeed in Business Without Really Trying", Miss Lemon's outfits in "Poirot", Mr Ingelby's jumper in "Murder Must Advertise" … I could go on …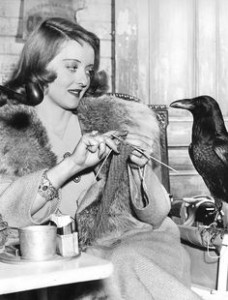 And then there's the thrill of the shared moment of catching a star with needles in hand: Bette Davis, Meryl Streep, Renee Zellweger, Katherine Hepburn, Barbara Stanwyck, Julia Roberts, and of course, many others.
Do you have a favorite knitted or crocheted moment from television or film? Is there a project inspired by some of these costumes and knitting moments that you'd be interesting making? We'd love to hear about any crocheting or knitting that appears in something you enjoy watching.
We'll feature them here and maybe one day you'll even see a free pattern inspired by your selection!
April 27th, 2015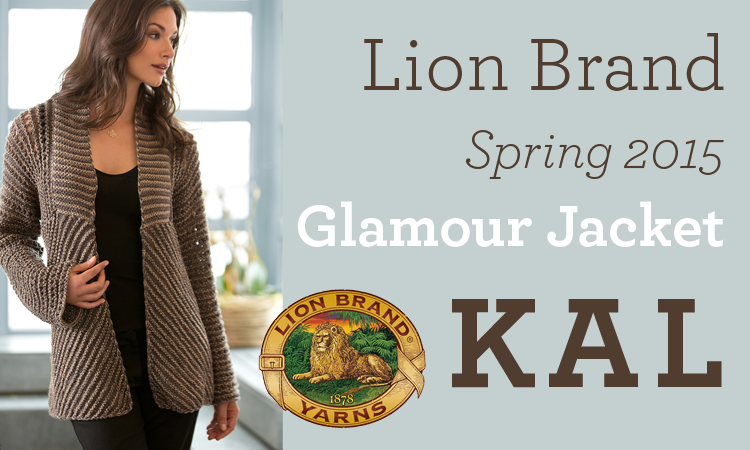 Editor's note: There's still time to get your Knit-Along Kit, get your kit here now – there are four to choose from! Also we have a hashtag for this KAL, use #LBspringKAL2015 when you share your progress on social media. Have fun!
---
Hello my fellow knitters! It's Kristy Glass here and I'm hoping you're still having fun!
I want to talk about the two lower sections for a minute.
PAY ATTENTION! After knitting SUCH a large piece (Right Lower Section), you are going to get into a groove and think you know how to repeat the lower section once more. Back in my novice days, I TOTALLY would have just knit the exact same side and ended up with 2 RIGHT lower sections instead of one of each. So I thought I would just point out the very subtle differences between the RIGHT and LEFT lower sections, with my Pink Arrows below: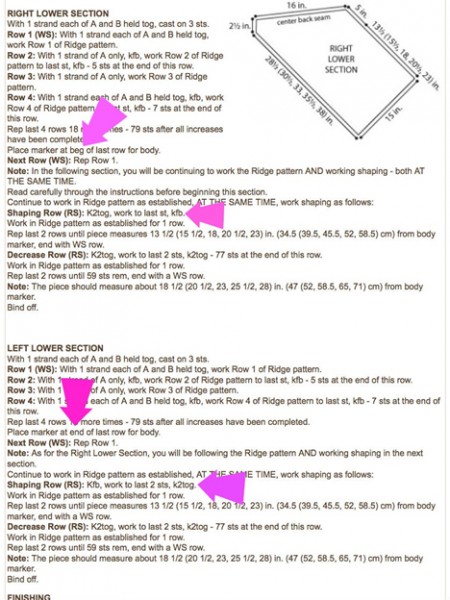 Compare your pieces as you go to make sure the bias stripes are sitting in opposite directions from each piece. After you have knitted your pieces, it's time to put it all together. This is where your SEWING AN ACTUAL GARMENT skills come into good use. Knitting and Shaping is one skill, but taking these pieces of fabric we have made and forcing them into a wearable sweater is a whole different set of skills that sometimes challenge different parts of your brain (different from the parts that were challenged while you were trying to remember your ridge pattern increases! HA!)
For all aspects of sewing this together, I highly recommend using a flat surface. We are not sitting on the couch watching our favorite tv show and knitting anymore. Now we are down to business!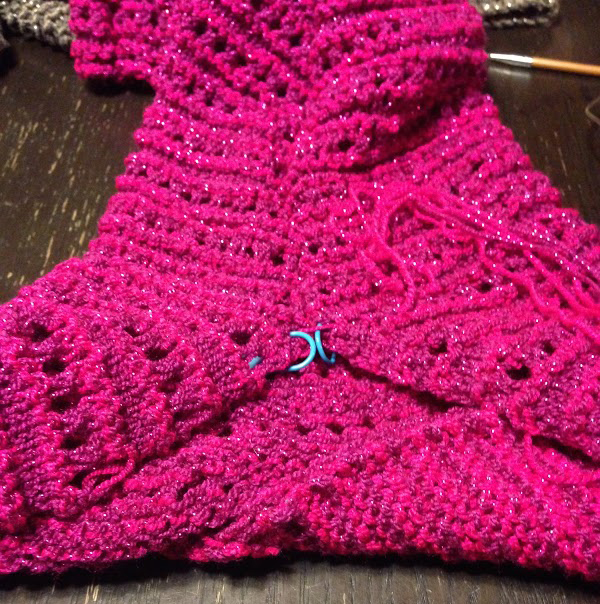 Step 1: Sleeves! If you remembered to keep your stitch markers in place, this will be easy. Fold your fabric in half (right sides together) and sew from wrist to the markers. As you sew make sure you are checking in with those markers. You might want to use one of them to pin both sides of the fabric TOGETHER so that they don't move. Try to keep tension the same on both sides while you sew it up. What stitch are you using? I used a running stitch. When you reach the markers, leave the tail of your yarn for now. Where the two sides come together will end up being a straight edge for the lower sections later.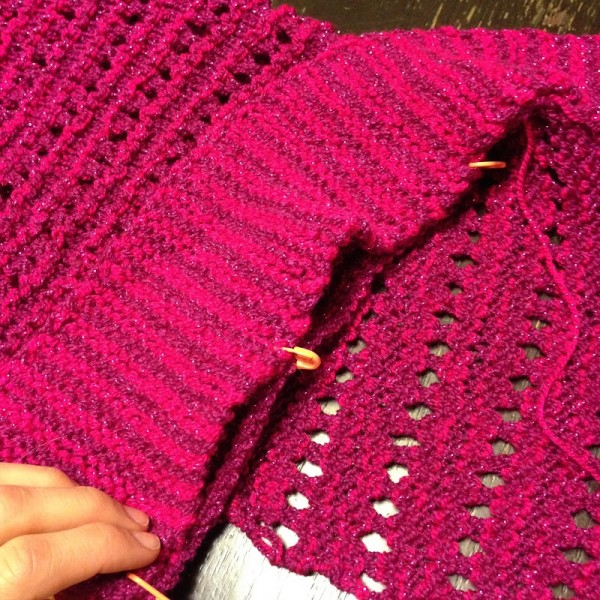 Step 2: Collar! If you left your collar live, now is the time to assess if you need to make any changes. With right sides together, pin the collar to the collar notch of the upper body. Since this is curved, it will seem a little awkward. There may be a bit of stretching here and there as you try to make it match up, but if the collar seems VERY short or VERY long, this is where you will adjust it and finish it off. I found I only needed to bind off my collar, I didn't need to change the length after all!