June 16th, 2015
You've met Mrs. Blumenthal, now meet another member of the Lion Brand family!
In this episode of Tea with Shira, our brand ambassador Shira Blumenthal sits down with her brother, Adam Blumenthal! Adam is Lion Brand's Director of Corporate Strategy.
Together, they chat about Adam's latest "22-ish minute" project — made with an addi® loom — and his favorite tea, a smokey brew called Lapsang.
::Can't see the video above? Watch it here: https://youtu.be/HwB2eeBusIo ::
Shop this video:
addi® Express Professional Knitting Machine
addi® Express Kingsize Knitting Machine
Yarn mentioned in this video:
Have a question for Shira? Wondering who'll stop by and have a bit of tea next? Tweet Shira at @shiraroars or comment below!
June 15th, 2015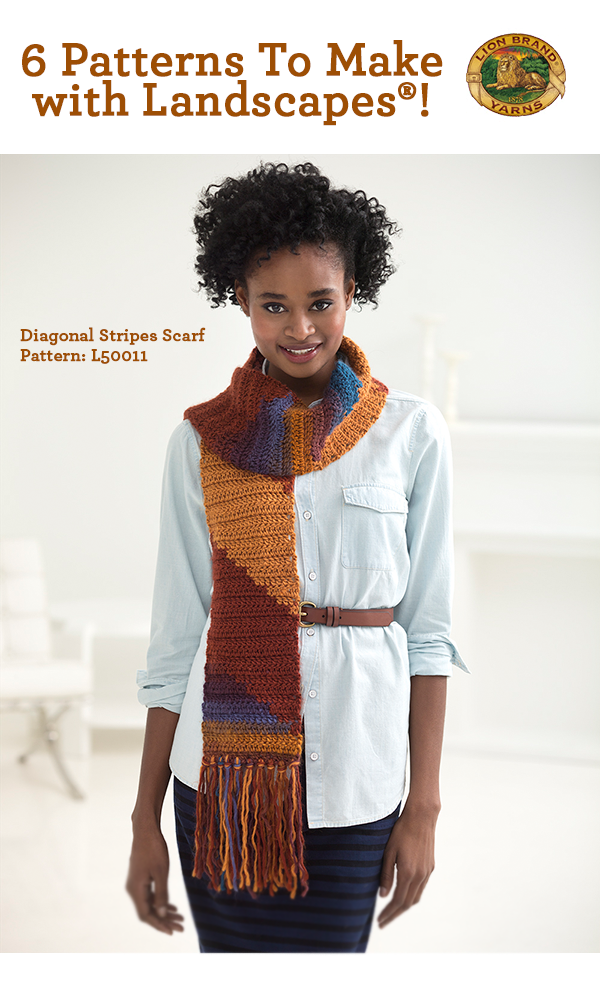 You may already know Landscapes® as a gorgeous, self-striping, roving yarn. We love how this yarn works up so much, we added a batch of solid colors!
Create stunning ombre patterns by mixing solid and multi-colored skeins — like the dewy colors chosen for the Misty Moors scarf!
We're also excited to include patterns for bright and festive wall hangings. Choose from Landscapes® and many other Lion Brand yarns to create a woven decor piece for your home.
Check out the patterns below – they each feature a mix of the new solid colors of Landscapes® and its original self-striping collection.
June 14th, 2015
Did you know? Although the most patriotic day — Independence Day — is celebrated on July 4th, Flag Day commemorates our nation officially adopting the stars-and-stripes-patterned flag on June 14th, 1777.
Natasha of Alaska Knit Hat designed this Old Glory hat – made with Woolspun® – just in time for a chilly summer in Alaska!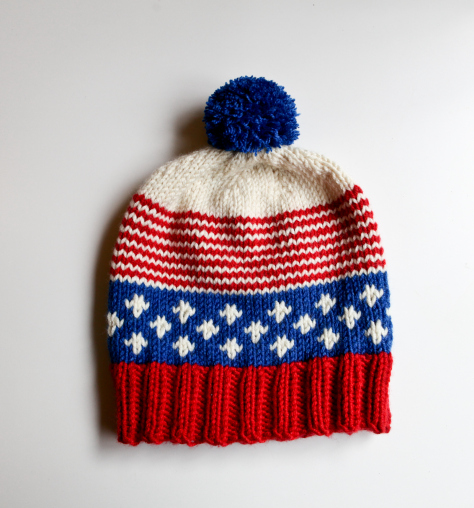 Stars, stripes, pom-poms — this pattern's got it all!
For more inspiration, check out our pattern recommendations below, as well as our Independence Day Pattern Round-Up!
Wondering which of our yarns are made here in the U.S.A.? Watch the video below or click here for a full list!
::Having trouble seeing this video? Click to watch: https://youtu.be/b_soGG0Rl-8::
*Not a Lion Brand Pattern
June 13th, 2015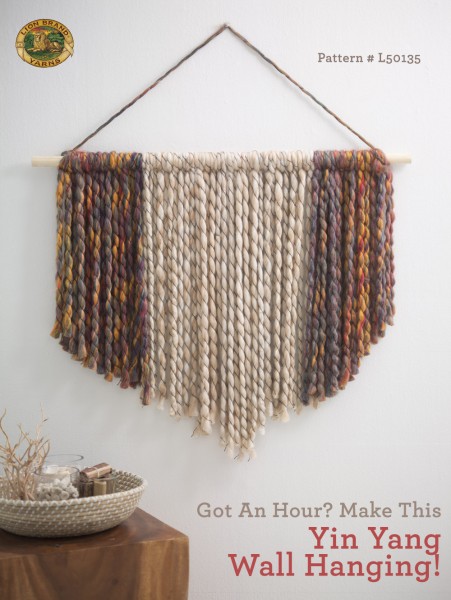 Are you looking to add a little character to your home this summer? Our Yin Yang Wall Hanging patterns are the perfect addition to any room. Our team has been so in love with the wall hangings trend, we just can't stop making them!
Yin Yang Wall Hanging
Get the pattern here.
Braided Fringe Wall Hanging
Get the pattern here.
Their popularity continues to grow and we are seeing them pop up everywhere, including Instagram and Pinterest! They are a fabulous summer yarn project. And the part we love the most?  They are so easy to create and no crafting skills are needed! We've provided instructions for the wall hanging shown in our photo – but remember this project is meant to inspire you, so feel free to experiment with other Lion Brand yarns and colors, too!
For this wall hanging we used our Quickie yarn. It's a silky soft blend of natural wool and brilliant pre-dyed acrylic fibers twisted gently with a solid strand of black. We just love the texture and color palette of this yarn.  You can use any combination of Quickie colors because they all coordinate beautifully!
This project can be completed in well under an hour and costs under $30! Love it! We hope you enjoy creating your very own Yin Yang Wall Hanging!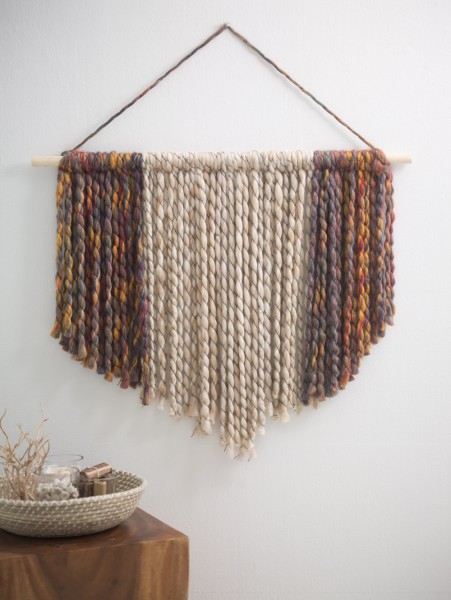 Wall hangings designed by Chelsea Carle, Lion Brand's Business Development Coordinator.
June 12th, 2015
Here is the latest installment of Lola, from its creator Todd Clark.
Lola visits the Lion Brand Yarn Studio in Manhattan and you won't believe what happens next …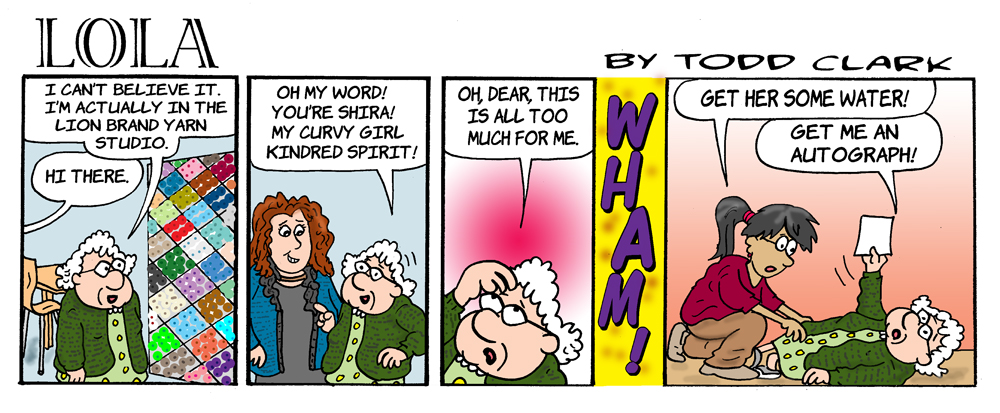 Have you checked out Lion Brand's latest pattern collection, Curvy Girl? These patterns are Lola-approved!
*** *** ***
Subscribe to The Weekly Stitch Newsletter
Get a FREE weekly email featuring patterns, articles and special offers. As a bonus for subscribing, we'd like to offer you 15% off your first order! *
:: Sign up now ::
June 11th, 2015
Too often, knitting and crocheting is seen as antiquated or "old school." As a millenial-aged knitter, I know this simply isn't true. I learned to knit because I love crafting, and knitting
was a family tradition I'd always observed, but never participated in. Once I started knitting (almost a year and a half ago now), I couldn't believe I hadn't started sooner.
I've knit on crowded subway cars, in the park, and in work breakrooms. In fact, when I knit on my lunch-break at my old job, I got several other co-workers hooked! Soon, we had a couple of round looms being passed around so everyone had a turn making hats for the winter.
What I've found with knitting public is that it opens up a dialogue. People feel compelled to tell you about the knitters and crocheters in their family and the gifts they've received. They ask what you're making, how long it takes you, what have you made previously… The list goes on! If you take your knitting out of the house, I'm sure you're familiar.
Knitting can be a social hobby, which is what makes World Wide Knit in Public Day so special! It's a day to celebrate your passion, join up with fellow crafters, and share your projects in progress. This year's WWKIP day is June 13th. Guilds all over the world are posting their meet-up spots to celebrate the occasion; chances are, there's one in your area!
Even if every day is "Knit in Public" day for you, it's fun to acknowledge a shared interest. Use hashtag #wwkip on social networks to keep up with other knitters, and post your own pics!
Where will you take your knitting to on June 13th? Where's your favorite place to knit (in public or not)? Share with us!
June 10th, 2015
Chelsea Carle is Lion Brand's Business Development Coordinator.
On Thursday, May 28th, a group of associates from the Lion Brand Yarn Company ran a 5K race organized by "Corporate Fun Run" at the Meadowlands Race Track in East Rutherford, New Jersey.

It all started when Evan Blumenthal, Lion Brand's Director of Global Business Development, put the call out with the hopes that a few people would join him in the race. Evan had just run his first 5K (3.1 miles) and thought a Corporate Fun Run would be a great group activity for the company. By the time the day arrived 28 people had signed up! As a participant, you could choose to walk or run, so it was easy enough for anyone to participate.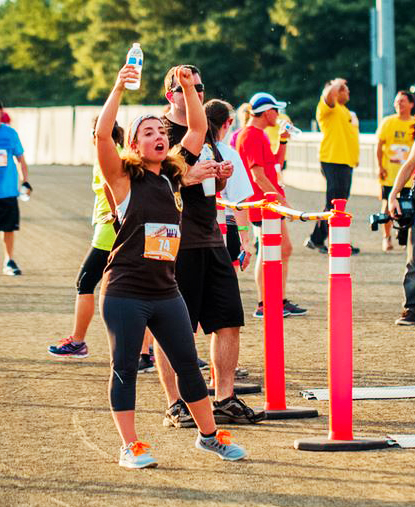 On the day of the race, the excitement and energy in the office was contagious. I've only been at Lion Brand for a few months, so for me it was a great way to connect with people in other departments. After work, everyone could not wait to change into their running clothes and get to the track. It was 92 degrees outside and it had rained earlier in the afternoon – time to sweat!
We arrived at the track and the excitement was palpable – there was a live DJ, food, and a large amount of spectators too! We all registered, pinned our race numbers to our shirts, and found our team. Everyone from the Lion Brand team was overflowing with pride! So much so that the photographers from the event were constantly coming over to take group photos of us! I think we had the most fun out of everyone there. We chugged our water and made our way to the track.
Once the race began, we encouraged each other to keep going and to finish. We were the only team whose members all waited until the entire team had finished to congratulate each person as they crossed the finish line …
All in all, the Corporate Fun Run was a great way for us Lion Brand folks to bond together, and now in the office we cheer each other on more than ever!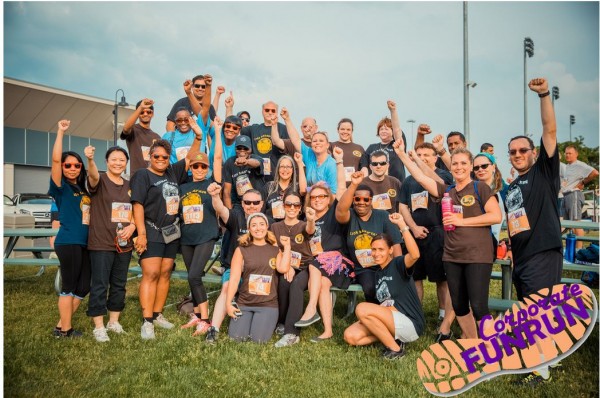 June 10th, 2015
Here's one raccoon you won't mind sharing your backyard with this summer!
Knit designer Lisa Eberhart is the designer of this adorable knit amigurumi which uses Vanna's Choice® yarn.
This is a paid pattern, available through Ravelry for $3.99.
:: Vanna's Choice® colors seen here in Grey, Black, White and Baby Pink. ::
June 9th, 2015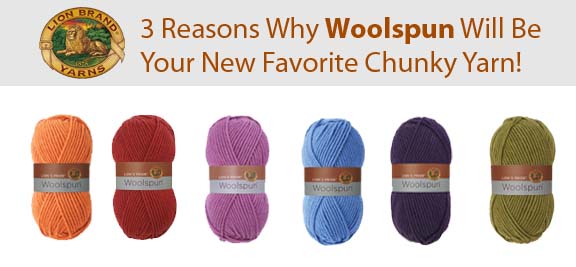 In a
recent post
, we shared a great video tutorial from
New Stitch A Day
which shows how to knit a yarn over "YO", and if you haven't been keeping up with New Stitch A Day since then, why not? Johnny and his team release a new stitch each day, PLUS there are
left-handed versions
for each tutorial as well!
We're thrilled that Johnny and his team have been using our chunky weight Lion's Pride® Woolspun® for their tutorials. Since the New Stitch A Day team enjoys working with Woolspun so much, I thought I'd touch on 3 great reasons why you'll love Woolspun too!
1. Color Range! Woolspun has 24 colors available in neutrals and brights, heathers and solids. There are many different color combinations that can be made with this yarn, which adds to its versatility. Make projects for anyone you know; you'll definitely find something to make for a man, woman, teen, child, or baby with these beautiful colors.

To hightlight, watch the following New Stitch A Day tutorial, "Two Color Interlocking Block Stitch":


:: Can't see the video above? Click here. ::


2. Stitch Definition: Stockinette stitch looks wonderful in Woolspun. Stitches look well defined and neat with this yarn – especially when working in the right gauge. The tightly plied (12 ply) construction of the yarn allows your work to truly stand out, especially if working on cables.

Take a look at the New Stitch A Day tutorial as Johnny shows you how to knit the C4B stitch (Cable with 4 stitches to the back):



:: Can't see the video above? Click here. ::


3. Easy Care: You get the warmth of wool, and the easy care of acrylic — how convenient! You can machine wash and dry your Woolspun projects for continued use, time after time, making this a great yarn to use for your next gift or baby project. No shrunken sweaters with this yarn!
We want to hear from you! Have you worked with Lion's Pride® Woolspun®? Tell us why you love it in the comments below.
June 8th, 2015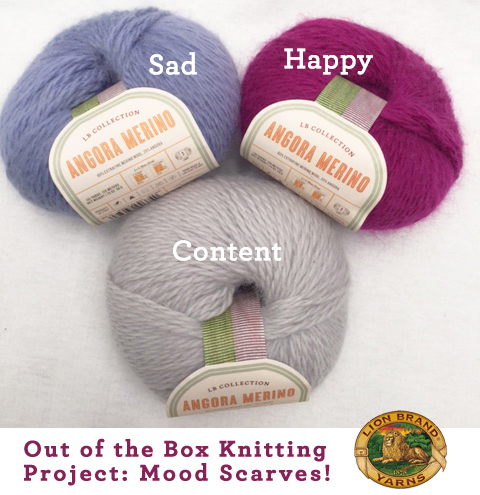 Here, three colors of LB Collection ® Angora Merino
are chosen to reflect three different moods.Knitting can incite a lot of feelings — frustration over slipped stitches, joy at a completed piece, or even fear at an overwhelming yarn stash! For most, knitting is a way of unwinding at the end of a long day, or taking some time out of our schedules to focus on "me-time."
One of my most anticipated movies this summer is "Inside Out", Pixar's take on the emotions that "live" inside everyone's head, and how they work together. With this concept in mind, I set out to find knitting projects based on moods, and found a really fantastic project!
Mood Scarves are a conceptual knitting project that take patience and reflection. Yarn colors are chosen based on what feelings you've decided to track, with each color corresponding to a specific feeling.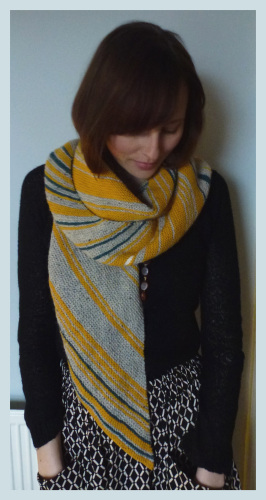 The idea is to develop the project over a set amount of time — maybe it's just a season, or the entire year! At the end of the project, you can look back at your work and see your feelings reflected.
Jem Weston shows her asymmetric mood scarf. Pattern here.*
The pattern? Knit 2 rows in the color reflecting your feelings for the day. That's it!
Of course, a little guidance goes a long way. Simple patterns, where changing yarn colors is called for, are good outlines for which to start out a project.


There's so much freedom in a project like this. Picking colors, picking the type of stitch, picking a time to reflect on… it goes on! Since the project is so personal, no two scarves will ever end up identical.
What do you reflect on when you knit? What colors would you use to track your mood? Share with us in the comments below!
* Not a Lion Brand Pattern.