October 6th, 2014
October is Breast Cancer Awareness Month, an annual campaign to increase awareness of the disease. About 1 in 8 US women (approx. 12%) will develop breast cancer over the course of her lifetime, so almost all of you are affected by breast cancer either directly or through someone you care about.
Throughout the month of October, Lion Brand Yarn Company will donate 20% of the purchase price of a selection of pink yarns (see below) and our Knit for Life and Crochet for a Cause Kits to The Breast Cancer Research Foundation®, while supplies last. BCRF's mission is to advance the world's most promising research to eradicate breast cancer in our lifetime. For more information about BCRF, please visit bcrfcure.org.
We're proud to support BCRF because 91% of the money they raise goes to breast cancer research and awareness programs. They also understand the importance of prevention and they're happy to share learning and helpful information from outside organizations such as this article from the Mayo Clinic, 9 breast cancer prevention tips from the Mayo Clinic.
Read the rest of this entry »
October 6th, 2014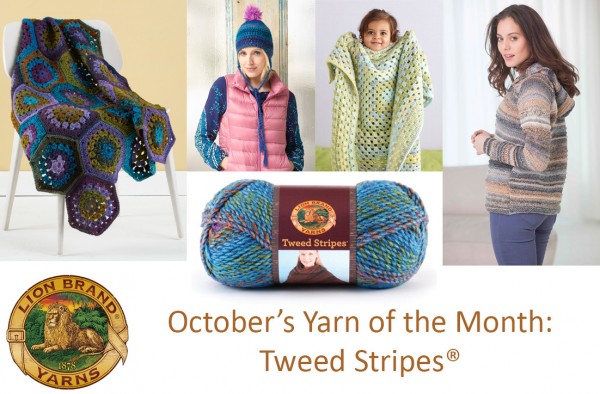 Tweed Stripes® is one of our self-striping yarns composed of radiant colorways. Though categorized as a bulky weight, you'll find it's a yarn that stitches up in a cozy, lightweight fabric — great for sweaters, scarves, accessories and more. A few simple stitches go a long way — the color gradient does most of the work, making it a great yarn for beginners.
Whether you're knitting or crocheting something for a child or an adult, there's a Tweed Stripes colorway for everyone — Mixed Berries, Tundra, Ozark Forest, Popsicle, Apple Mint, and Limeade!
And now until October 31st, you can buy Tweed Stripes for 20% off the original price.
Below are several of our favorite patterns that use Tweed Stripes — enjoy!
October 5th, 2014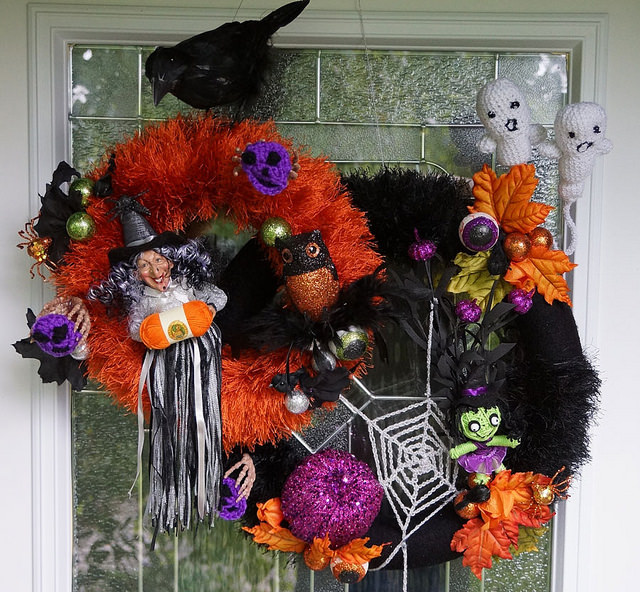 Sample Wreath by Diva Dan of the Crochet Crowd
We've partnered with The Crochet Crowd to bring you a super fun Halloween Challenge in which you use your crafting and crochet skills (or knitting) to create a spooky or fall themed wreath to adorn your door, and celebrate the season!
If you'd like to participate in this fun challenge, check out the Crochet Crowd's Grim Wreath Challenge page to find out more details.
The challenge ends on Halloween night, October 31st, and the winner will receive $150 worth of yarn from us – Lion Brand! The Crochet Crowd has created a Grim Wreather Flickr page to display the current wreath submissions, so be sure to take a look at the full collection for even more inspiration. I've selected a few images below to get you started!
| | |
| --- | --- |
| By Angel Morone | By Susan Springer |
| By Darrah Mitchell | By Amanda Weenk |
| By Diane L. Suder | By Sarah Daugherty |
Are you in the spooky spirit? How do you like to decorate for Halloween? Share with us in the comments!
October 4th, 2014
Here is the latest installment of Lola, from its creator Todd Clark.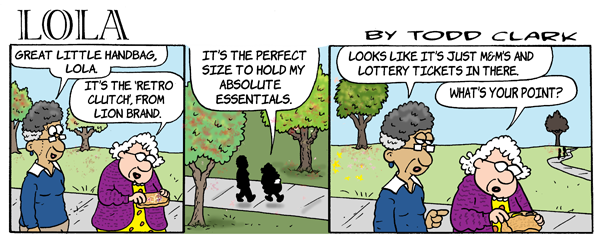 Want to go retro too? Crochet the new Retro Clutch and you'll be going back in time before you know it …

Made with Vanna's Glamour and our new thin metallic ribbon, Glitterspun®.
Try Lion Brand's free Pattern Finder and find the perfect hat and scarf from a variety of free patterns.
*** *** ***
Subscribe to The Weekly Stitch Newsletter
Get a FREE weekly email featuring patterns, articles and special offers. As a bonus for subscribing, we'd like to offer you 15% off your first order! *
:: Sign up now ::
October 3rd, 2014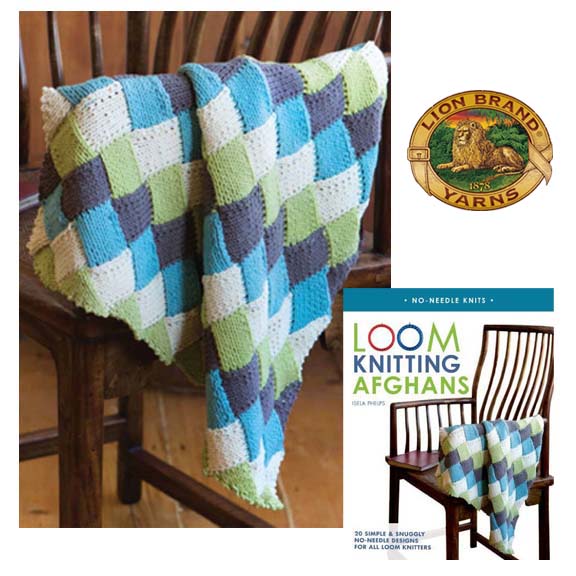 Thanks to our friends at St.Martin's Griffin, we have copies of Isela Phelps's new book, Loom Knitting Afghans: 20 Simple & Snuggle No-Needle Designs for all Loom Knitters to review and giveaway to our wonderful readers like you.
Isela Phelps, loom knitter extraordinaire, has authored more than a handful of loom knitting books with patterns for babies, socks, accessories, beginners, and more. Her newest book features beautifully designed patterns featured in high-quality photos that will amaze you. From cables to entrelac to lace — Isela has figured out how to work the loom to create beautiful techniques found in traditional knitting, and you'll see them all in Loom Knitting Afghans.
As our treat to you, St.Martin's has given us permission to reprint one of Isela's patterns from the new book, Entrelac Baby Blanket and, we've got 10 copies of the book to giveaway! Read below for the details.
Rules and Guidelines:
1. Entries must be received by October 10th, 11:59p.m. EST
2. Must be 18 and over to enter.
3. One person per entry
*All winners will be announced on the blog and social media. If you do not respond to the e-mail indicating that you were selected as the winner within 7 days, another winner will be selected to receive the prize
If the form below does not work for you, please click here to the link.
October 2nd, 2014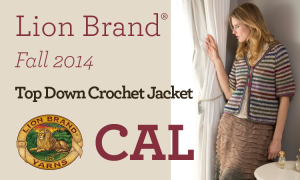 Welcome back everyone! We're getting so close, at this point our sweaters actually look like sweaters, just a few finishing touches! This week we will focus on the edging.
For the edging a surface slip stitch is used first to create a foundation then later as a design element. A surface slip stitch makes a chain appear on the surface of the fabric. This is a great technique that you can use to add embellishments to any project. Here is a couple pictures of me starting the edging:
October 1st, 2014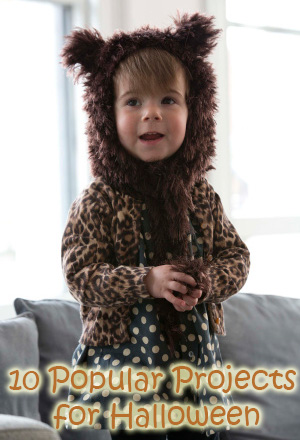 When I knit or crochet, I typically choose patterns that are very versatile – this includes themed projects like one you might make for Halloween.
So it's no surprise that I really love patterns like the Fuzzy Bear Hood – which, incidentally, is Lion Brand's most popular pattern for Halloween! Your little one could wear his/her favorite outfit with this hood and they'd be set for a night of Trick or Treating or a play date with a cherished friend. The same idea can be applied to the Cat Headband and Wrist Warmers. Stuff Genie the Ghost and the Candy Corn Amigurumi with catnip and have a treat toy  for your favorite black cat — or wait a few months to hang them on your Christmas tree!
Even the Fairy Wings and Tutu patterns are great for pretend dress up anytime!
Check out some of our most popular patterns for Halloween below:
October 1st, 2014
Easy, fold-over moccasins are a popular pattern for baby booties that we've been seeing plenty of on blogs and Pinterest – so this week, we're excited to share Audra Kurtz's new tutorial in which she shows you how to loom knit a pair.
Audra loom knitted her moccasins with our newly released Landscapes® on the Martha Stewart CraftsTM Knit & Weave Loom Kit. These cute baby moccasins make a great gift for an upcoming birthday or baby shower!
Check out Audra's easy tutorial below:

If you enjoyed Audra's tutorial, check out her YouTube channel, The Kurtz Corner!
September 30th, 2014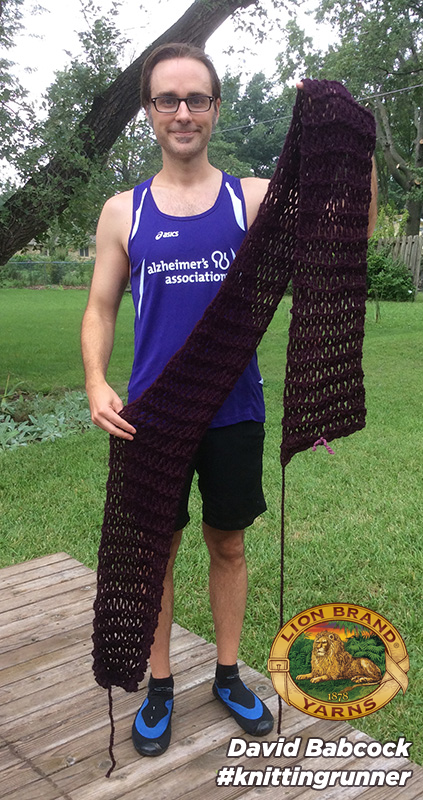 Featured in the New York Times and around the world, David Babcock is the Guinness World Record holder for knitting the longest scarf (12 feet!) while running a marathon, which he did in Kansas City last October. Coupled with a great deal of skill and endurance, David credits his choice in using Lion Brand's Hometown USA as a factor in his amazing accomplishment! Lion Brand is sponsoring David in the New York City Marathon on November 2nd, 2014 and lucky for us, he's agreed to write for us leading up to race day!
Greetings from the Knitting Runner. I have some knit-while-running scarves I want to give away, keep reading …
It's hard to believe that the fall marathons are nearly here — it's just starting to get cool enough that I'm thinking about knitting some new hats. I'll be running the Kansas City Half Marathon on October 18th and the New York City Full Marathon on November 2nd. And yes, I'll be knitting as I run! I'm deep into my training runs and testing my multi-tasking dexterity.
I've also joined the NYC Athletes To End Alzheimer's team and am actively fundraising – please donate!
So, about those scarves I mentioned …
I want to hear your stories about Alzheimer's and knitting. Are you a knitter or crocheter who has Alzheimer's? Do you care for someone with Alzheimer's and still find the time to knit or crochet? Please share your story in the comments below. If I have your stories in my head and heart as I run/knit, they will lend me more strength and purpose.
On October 30th, Lion Brand will randomly select five people who have shared stories to receive one of my scarves. At least once a week I knit a scarf while on the run and they're stacking up!
I really want to get connected with my Alzheimer's community. I know you're out there and that, like me, knitting (or crocheting) is something you do while doing other hard things too. I am cheering for you!
Sincerely,
David Babcock
knittingrunner.com
***
Since its creation in 2009, the Alzheimer's Association's NYC Marathon teams have raised well over $2 million. The Chapter offers free support and education to the more than half a million New York City residents who either have Alzheimer's or a related dementia or are caring for someone who does.
Photo: David with a recently-made scarf, finger-knit with Hometown USA while running 10 miles in 80 minutes on September 10th!
September 28th, 2014
This story is from our newsletter called Pattern Journal which brings a warm-hearted, wholesome story to your inbox to read every month. If you enjoy it and would like to subscribe, click here.
Once upon a time, fall was when everything happened. Zack and I delighted in returning to school, the glorious autumn foliage, Halloween and Thanksgiving. But years passed, and after college I worked in a series of generic offices. Day in and out, everything was the same. From windows on the fortieth floor, the world looked unreal. I felt disconnected, without a calling.
I missed my twin brother, too. Zack had moved to Seattle to design software. "I love my job, and the outdoor activities here — kayaking, biking, fishing, hiking. Come visit," he repeatedly urged.
A temp assignment ended, and I flew to Seattle for a long October weekend.
Naturally, I took my knitting — I can't imagine going anywhere without it. It was a cabled vest of the most luminous yarn, Heartland Thick & Quick®, in a shade called "Katmai," the color of pearls. "It's really great," Zack said, inspecting the cushy fabric. "Why a vest, Zoë?"
"I want a transitional piece," I said. "Something for between seasons, an extra layer to pop on when I'm chilly. Something to hug me when I'm feeling down." And I burst into tears, just like that. Apparently I was sadder than I knew.
Next thing, Zack was hugging me. He said, "Zoë, what's keeping you in Boston? You can temp anywhere. Seattle's great, and I'm here."
That was six years ago. I lived in Seattle for four years, temping and going to grad school. With my new degree in Forestry, I moved to Alaska for a career in natural resources management. I wear my Deep-V Cabled Vest year round — even in the summer you need extra layers. Warm and snuggly, it's more than clothing to me — it's like an omen that showed me my path. Because, as I later learned, its colorway honors Katmai National Park and Preserve, four million acres of pristine, awesomely beautiful Alaskan terrain.
—
All characters appearing in this work are fictitious. Any resemblance to real persons, living or dead, is purely coincidental.
A story by Selma Moss-Ward.
Selma Moss-Ward writes and knits in Rhode Island. You can find her work on our blog, as well as Lion Brand's monthly newsletter, Pattern Journal, which you can subscribe to here.