February 12th, 2014
When a non-knitter asks a questions about my knitting, that question is most often, "How long will it take you to finish that?" or the common variation, "How long would it take you to make me a [type of knitted thing]?"
So I explain that a hat may require several evenings, particularly if worked in a complicated technique or a fine yarn. I tell them the average number of stitches in a pair of socks (eight million) or a plain sweater (seven hundred trillion) and that completion of the latter may take months.
The gasps of astonishment are strong enough to suck the stitch markers right out of a raglan.
You will have noticed that we live in a world that idolizes instant gratification. What we want, we want now. (Did you scroll down to read the cartoon first? You did, didn't you?) Inevitably, the sight of a person voluntarily engaged in sustained concentration draws the sort of fascinated stares formerly reserved for lake monsters.
Not that I make any claims of superiority. During one of the first knitting classes I ever took, the redoubtable Galina Khmeleva held aloft a completed Orenburg lace shawl, roughly six feet square. The yarn was finer than a typical modern lace weight–the sort you often hear called "cobweb"–and the entire thing was absolutely riddled with yarn overs.
"How long–" one of the students (okay, me) said breathlessly.
"Six months," said Galina.
I said nothing, but my heart whispered, "Nope."
February 11th, 2014
In January, Lion Brand exhibited at Vogue Knitting Live NYC and it was such a fun-filled, "yarny" experience. We had knitwear designers Lily Chin, Franklin Habit, and Nicky Epstein stop by the booth for book signings, we sold some of our newest yarns like Keppi, Unique, Heartland and LB Collection Silk, and chatted with some Lion Brand enthusiasts who enjoyed posing for pictures. Take a look at some of the great moments we captured with folks who stopped by our booth!
February 10th, 2014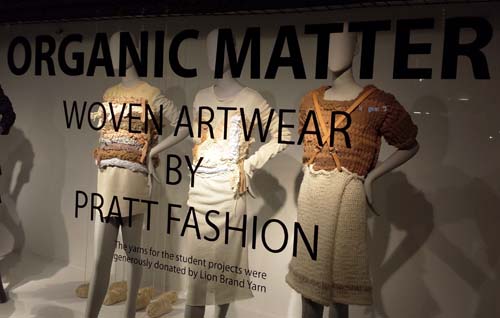 If you're in New York City this week, be sure to stop by Macy's in Herald Square for their special window in honor of New York Fashion Week. The window features selected pieces from "Organic Matter: Woven Artwork by Pratt Fashion" – a collaboration between designer Ralph Pucci and a selection of students from Pratt Institute. Lion Brand is proud to have provided the yarn used in the show and subsequent Macy's window display.
Using Pucci's signature gray mannequin as their muse, students designed and created handmade pieces faithful to Pucci's preference for clean, simple, and minimal design.
They used a variety of our neutral-colored yarns, from Homespun® to Heartland to LB Collection® Pure Wool to many of our made in America yarns. Many of the students played with texture and combined various yarns to create magnificent and astounding works of art.
Personally, I'm always amazed at the many things you can do with yarn and these students have really taken knitwear fashion to another level. Below I've included a selection of pieces that were on display at Ralph Pucci International's Gallery Nine last month.
Organic Matter: Woven Artwork by Pratt Fashion runs from February 6th to the 13th at Macy's Herald Square window displays on Broadway between 34th and 35th streets. This is a traveling exhibition with future planned destinations to Miami and Dallas.
February 7th, 2014
Join Audra Kurtz and learn how to create a 30 minute infinity scarf using a very simple arm knitting technique.
So easy, anyone can do it!
Made with Wool-Ease® Thick & Quick®. Brought to you by The Kurtz Corner.
February 7th, 2014
Our LB Collection® Cotton Bamboo yarn is a luxury fiber, now on sale at a bargain price.  Available exclusively from Lion Brand, this yarn is ideal for making garments that you can wear all year round.
The patterns shown below for Cotton Bamboo are some of our most highly rated patterns, and range from beginner to experienced.  Best of all, they  can be made for as little as about $10.
The blend of Bamboo and Cotton create a light and luscious fiber that has the soft, beautiful drape of bamboo rayon and the wearable comfort and lightweight warmth of cotton.  If you haven't tried this yarn, now's your chance to make something for yourself or a new baby expected to arrive this spring or summer.
February 6th, 2014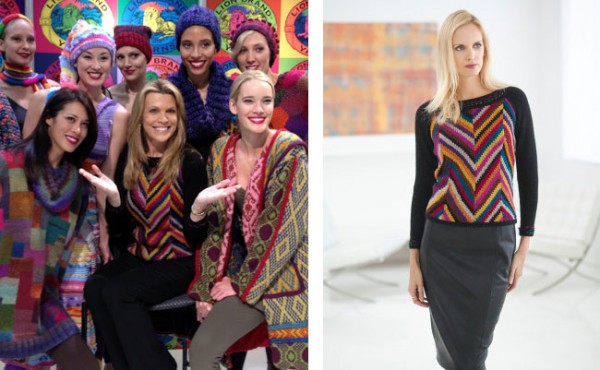 At the Craft and Hobby Association tradeshow earlier this year Lion Brand unveiled its "7 Wonders of the Yarn World," a larger-than-life art installation, designed and created by fiber artist Nathan Vincent. The response was wild – people loved it!
Then we went for the old one-two punch with a runway show to spotlight our newest line of knit and crochet fashions. Our lovely spokesperson Vanna White was on hand and people went crazy for the sweater she was wearing. Across Facebook, Twitter, and Instagram – people wanted to know, "where can I find that pattern?"
Well we have good news! We're so pleased to be able to share the pattern for our Stained Glass Sweater with you now. The dramatic use of  Vanna's Glamour® and a metallic colorway of Bonbons make the alternating chevrons on this piece really stand out against the black background.
This sweater is also very versatile – you can wear it to the office during the day and leave it on for a fancy dinner that evening. It's the perfect outfit sweater – dress it up, dress it down – wear it the way you feel best.
We'd like to say a special thanks to our fabulous Design team for the amazing details this sweater boasts – right down to the embroidered cuffs and collar – they did a fab job!
February 5th, 2014
Today, I thought it would be fun to share with you a few of my favorite crafting blogs to showcase some of the amazing talents of other creative folks. The blogs below are great resources, and feature fabulous projects which tend to range from beginner to slightly more advanced levels. Go ahead and check them out, I hope you enjoy them as well!
| | |
| --- | --- |
| | Petals to PicotsThis blog is chock full of fun ideas for crafting which ranges from crochet, needle felting, jewelry making and lots more. Last September, Kara from Petals to Picots started a Crochet Along series for her followers to work through our very own Little Boy Blue Blanket! I love her rustic color choices for the blanket, and suggest you check out the roundup of beautiful finished projects for more inspiration. |
| | Repeat Crafter MeSarah is quite the creative individual and has an extensive archive of insanely cute crocheted projects.  If you enjoy crocheting hats and small items for children/babies, I definitely suggest you check out this blog.  She also has cooking recipes and other craft ideas to share with you. |
| | Moogly BlogTamara creates such amazing accessories and garments – she truly has a knack for pairing the perfect stitch with the yarn she's ready to craft with.  For example, check out this Luscious One Skein Cowl crocheted with Unique, it's stunning.  Tamara's always got some good crochet pattern round ups as well, definitely check her out. |
| | Fiber FluxJennifer has a great array of knit and crocheted projects available on her blog. In addition to patterns, she also has plenty of tutorials and how-tos. You're sure to find something that suits your fancy on this blog. |
| | |
| | |
February 4th, 2014
Here on the East Coast we're preparing for another round of snowstorms – a good reminder that winter is not done with us yet.  To lighten the mood, I thought I'd round up some of our favorite winter patterns as a way to help keep your mind off the blistery cold.
Whether you're heading outside (to shovel, what else?) or you get to stay inside all toasty and warm, keep your mind and hands occupied! Pick up some hooks and needles and start a new project …
What have you been working on?
February 3rd, 2014

When it comes to birthday gifts, what better gift than one that's personalized based on the birth date itself?  We've created twelve scarves inspired by the zodiac signs and their meanings to make it easy for you to choose a thoughtful and worthwhile birthday gift.
Those of is with birthdays that fall between February 20th and March 20th are born under the sign of Pisces. Represented by two fish, Pisces are known for having a well-balanced mindset. They use their craft to keep stress levels low and to keep them focused on their daily tasks.  They're often shy and many like to express their creativity with a handmade knit or crochet item.
Pisces are described as compassionate and charitable. Those born under this sign love to give handmade gifts just to see the smile it brings; their selfless devotion to others and to everything they do, including their craft, is what attracts so many to Pisces people.
The colors in our Pisces scarf were inspired by the aquamarine gemstone, the birthstone for March babies. Our Pisces Zodiac scarf is composed of  "go with the flow" blues complemented with Kelly and Dusty greens.
Why not surprise a Pisces you love with this knit or crochet  scarf? It's sure to be a cherished gift for the special giver in your life …
February 2nd, 2014
Groundhog Day is the one day that gives hope that we are on the last stretch of winter and on our way into spring. To help bring some luck that he doesn't see his shadow, I crocheted a groundhog amigurumi with some Vanna's Choice.
In the meantime, think warm, happy thoughts everyone!