September 6th, 2014
Get ready for fall with a cozy and comfortable cowl. The Concerto Cowl is a great transitional piece, made with our soft, classic worsted weight, Heartland yarn.
In this tutorial, Christine walks you through the pattern step-by-step and shows you how easy it is to slip stitch.
So get out your needles and follow along with the video below!
P.S: Christine is also giving away two skeins of Heartland to make your own Concerto Cowl – Click here to enter her giveaway. (Ends 11:59 p.m EST Sunday)
If you like this video, check out more from Christine over on YouTube at iKNITS
September 5th, 2014
Knitters and crocheters really do save lives!
Earlier this year, WildCare, a wildlife rehabilitation hospital based in San Rafael, California, put out a call for knitted nests for the orphaned baby birds they care for. As of today, WildCare has received 3568 nests from 394 knitters and crocheters from all over the world, even as far away as Australia and the Ukraine!
We love this story so much because it shows the power that knitters and crocheters have when they come together to support a common cause. One ten year old featured in an NBC "Making a Difference" segment said, "I'm really glad that I made something and it's helping an animal live." His whole family – mom, dad, siblings – knitted nests together! You have to see the little girl knitting in the round on double pointed needles – already an expert at such a young age!
Even though the 2014 campaign for nests has been fulfilled, WildCare says you can make a nest for the 2015 season if you like (info here) or more preferable for right now, they suggest two projects to support for the winter season: The Mother Bear Project and the Red Scarf Project (Lion Brand friend Lily Chin is Red Scarf Project spokesperson).
To add to WildCare's suggestions, Lion Brand is involved with two great organizations that accept knitted and crocheted donations:
Warm Up America – accepts afghans and afghan sections to circulate to social service agencies, including homeless shelters, battered women's shelters, American Red Cross chapters, veterans homes, senior centers, hospices and religious organizations serving families and individuals in communities around the country.
Project Linus - accepts afghans for children who are seriously ill, traumatized, or otherwise in need. You can visit their web site for drop-off locations near you and if you're in the New York City area,  we're proud to say that until the end of November, Lion Brand Yarn Studio at 34 West 15th Street is accepting afghans on behalf of Project Linus. In fact, our Studio window is dedicated to knitting (and crocheting) for charity this month!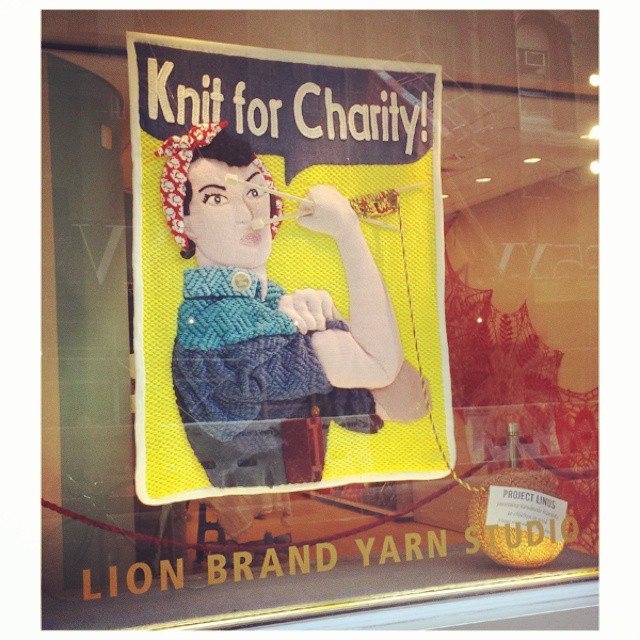 YOU CAN DO IT!
***
FREE PATTERN SUGGESTIONS
September 4th, 2014
Here is the latest installment of Lola, from its creator Todd Clark.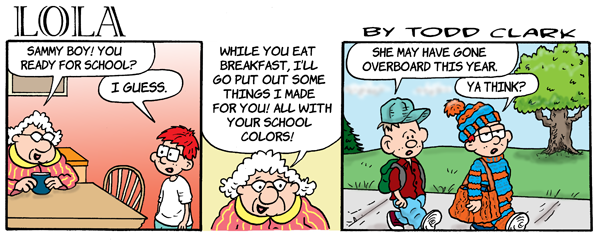 Want to knit or crochet hats and scarves for back to school too? Try Lion Brand's free Pattern Finder and find the perfect hat and scarf from a variety of free patterns.
*** *** ***
Subscribe to The Weekly Stitch Newsletter
Get a FREE weekly email featuring patterns, articles and special offers. As a bonus for subscribing, we'd like to offer you 15% off your first order! *
:: Sign up now ::
* offer valid only for first-time email subscribers, one coupon per person.
September 4th, 2014
As students get ready for school, knitters and crocheters are finishing up summer projects like the Semi-Tropical Shawl, the Poncho Pullover and the ever popular Open Air Shrug, to make room for colder weather projects that use yarns like Heartland and one of our newest yarns, Landscapes®.
In fact, our sporty and stylish Portland Poncho, made with Heartland, turned out to be the most popular pattern for August! For those who want to start their fall knitting and crochet, I recommend starting with small garments like the Multi Directional Hat or the Textured Cowl – or try a combination of both with our Asymmetrical Neckwarmer!
Here is a collection of your favorite patterns from August:
September 3rd, 2014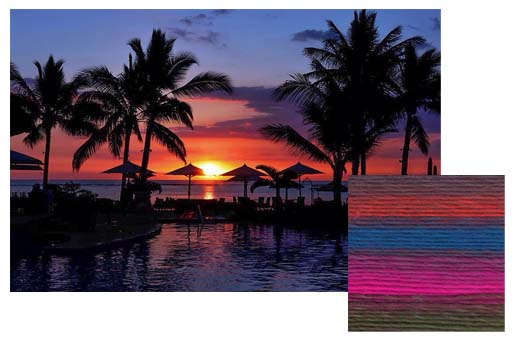 Tropics colorway// Image credit: Flickr/rich_f28
I absolutely love the color palette and feel of one of our newest yarns, Landscapes. Earlier in the year, I made a hat in Desert Spring, and my knitting went rather quickly because I was eager to see each new band of color appear. After seeing all of the beautiful garments for our patterns, and swatches of colors, I thought to myself – maybe I should go through all of the yarn names and compare real-life landscape shots, to match the colors of the yarns we have.
In my search, I came across some wonderful images on Flickr that were representative of the names and colorways of the yarn, take a look for yourself, and hopefully you'll be inspired to work with one of these gorgeous yarns!
September 2nd, 2014
Blogger and author Kathryn Vercillo is an expert in the area of using crafting to heal, having researched the topic extensively for her book Crochet Saved My Life. This is part 5 in her 6-part series for us on the topic of yarncraft health. Read her previous blog posts on the Lion Brand Notebook here.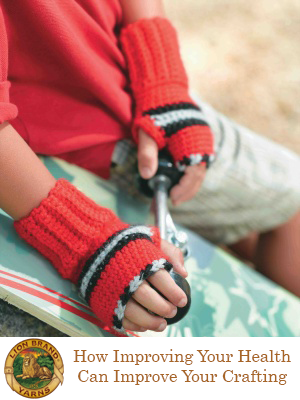 We have discussed a lot of ideas for using crafts to improve your mental and physical health. But what about the reverse – improving your health so that you can be a better crafter? It turns out that one can help the other in a cycle of ongoing self-improvement.
Hand Stretches for Easier Crafting
One of the main complaints that knitters and crocheters have is that their crafts can cause them hand pain. This includes carpal tunnel and other repetitive strain injury. You can reduce that by doing regular hand exercises. Keeping your hands limber will allow you to yarncraft for longer periods of time.
It's a case of one hand washing the other because as you do needlecrafting, you loosen certain parts of your hands. Many people have reported that crochet helps them reduce symptoms of arthritis for example. So you can do hand and finger exercises in order to crochet better and then the more you crochet, the less your hands are likely to hurt.
Here are 9 hand exercises for crafters' fingers, thumbs and wrists.
August 31st, 2014
This story is from our newsletter called Pattern Journal which brings a warm-hearted, wholesome story to your inbox to read every month. We're sharing the most recent story here in the blog. If you enjoy it and would like to subscribe, click here.
Megan loved the irony of living in Maine and knitting herself a "Semi-Tropical Shawl."
"I'm about as far from a semi-tropical climate as I am from winning the lottery," she laughed as she and Val, her best friend, sat at an outdoor café in downtown Portland, knitting and drinking iced tea. "But it's such a beautiful design."
Val said, "Well, someone always wins the lottery. Maybe this shawl is telling you something…like, maybe you'll go somewhere semi-tropical."
"It's telling me that I picked a great project," Megan replied. "I just adore the yarn—it's so soft; the colors remind me of sand dunes and sea shells." She admired the swath of lace cascading from her needles, a rich interplay of openwork stitches and soothing colors. The genius of the Semi-Tropical Shawl, Megan decided, was its alluring combination of beauty and comfort.
August 30th, 2014
We've teamed up with Todd Clark, creator of the ever-popular Lola series, to bring you "Out of the Loop," a regular one-panel comic featuring humorous takes on the world of yarn.
Enjoy and please share widely!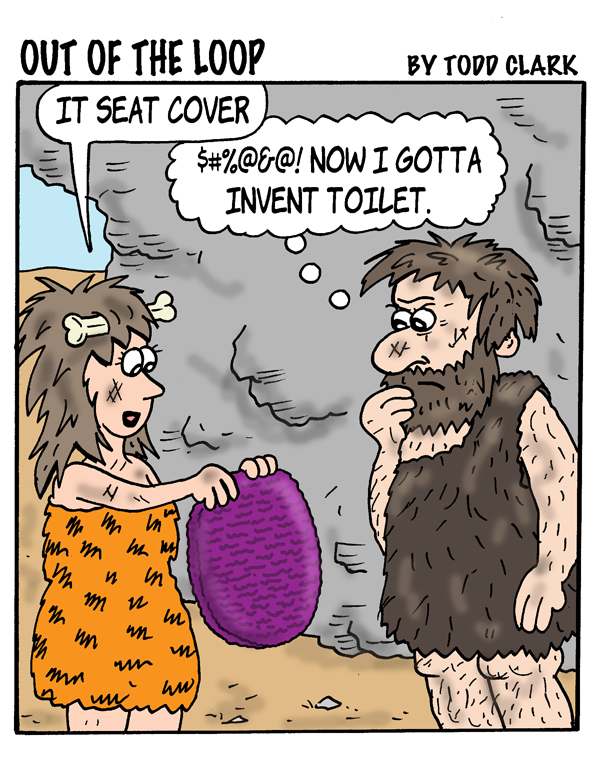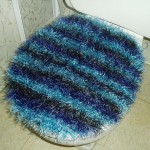 *** *** ***
Inspired to go retro and knit your own toilet seat cover? We found this Potty Mouth Toilet Seat Cover by Sarah Sumner-Eisenbraun pattern – it's FREE and it uses Lion Brand yarn!
*** *** ***
Subscribe to The Weekly Stitch Newsletter
Get a FREE weekly email featuring patterns, articles and special offers. As a bonus for subscribing, we'd like to offer you 15% off your first order! *
:: Sign up now ::
* offer valid only for first-time email subscribers, one coupon per person.
August 29th, 2014
| | |
| --- | --- |
| | |
| 32 inch Portable Amish Loom | 19 inch Portable Amish Loom |
About 12 years ago I received a call from someone who wanted to help an Amish friend sell his hand crafted looms.  It sounded like an interesting and unique way to use yarn so I decided to get in touch with him.  I was told that Joe was a carpenter who lived and worked on a farm in Mio, Michigan, where the population was somewhere under 2,000.  Joe did have a phone and I was able to call, but the phone was in the barn, since the Amish are not permitted to have telephones in their homes. So I had to call many times and let it ring a lot in order to reach Joe when he happened to be there.
Joe built his entire home himself, with help from neighbors, and made his living as a carpenter.  As a hobby, he started crafting looms from local wood.  They were beautiful works of art.  Eventually a few of his neighbors started using the looms to make shawls and blankets to sell.  The women who used the looms loved to work with Homespun® because of its silky feel and the fact that it worked so well with the loom.
Over the years we bought the looms to sell online, although the supply was not always easy to get.  There was the fact that Joe made every single one himself, which meant there was a limit to how many we could purchase, and there were life events that interfered.  One year there was a fire in the barn that put him out of commission for 6 months and one year his wife was ill so he stopped making the looms.
Joe is retired now, so there won't be any more looms. We're selling the last of the inventory, although we'll definitely be keeping one as a keepsake.  If you'd like a piece of history and a beautiful object crafted lovingly by hand, now is your chance. One of a kind made by one person in the world doesn't last forever.
(If you're interested in other looms, we have a selection which you can find here.)
August 29th, 2014
Maggie Weldon from Maggie's Crochet shows you how to make this Arm Knit Cowl with our newest super bulky yarn Quickie, which is soft, lofty, and perfect for arm knitting. Check out her video tutorial below!
If you like this video, check out Maggie's Channel at Maggie's Crochet!