August 3rd, 2014
This story is from our newsletter called Pattern Journal which brings a warm-hearted, wholesome story to your inbox to read every month. We're sharing the most recent story here in the blog. If you enjoy it and would like to subscribe, click here.
Yarn is my candy, Stella thought. Enthralled by their beautiful colors and textures, she could practically taste the yarns displayed in the neighborhood craft shop.
Close in age and interests, Stella, who crocheted, and her sister Marie, who knitted, were like kids in a candy store whenever they yarn-shopped. They bought impulsively, trusting they'd find good projects later on.
Now, almost unconsciously, Stella had grabbed two colors of delectable Sock-EaseTM, called "Lemon Drop" and "Red Hots." I could do something cool with these, she thought, feeling her yarn cravings morph into a creative buzz. But what?
For years Stella had watched her sister knit Sock-EaseTM socks as automatically as her own crochet hook created scarves and hats. The variegated colors that emerged as the sock lengthened were magical. Stella wished she could crochet something as entrancing.
"Look at this," called Marie, waving a downloaded Lion Brand pattern placed by the store's owner near the Sock-EaseTM shelf. "It's for crochet!" she practically shouted. "You could make this adorable 'Candy Color Afghan' with that yarn you're holding!"
"I was thinking I'd buy this yarn so you could make me some socks," Stella replied.
"But this is more fun, Stell. Look at those colors— they're totally edible!"
Stella examined the crochet directions. Marie was right. The afghan's granny-square grid resembled an open box of sweets. This candy-colored afghan in four colors of Sock-EaseTM—Lemon Drop, Cotton Candy, Red Hots, and Rock Candy—would be a delicious project, Stella knew.
"And if you give it to me for my birthday," said Marie, "I'd knit you socks in any of the Sock-EaseTM colors you like."
"I knew you had an ulterior motive, Marie. What if I like all fourteen colorways?"
Marie grinned. "Then you might get birthday socks for the next fourteen years."
"Okay, sister," Stella said. "That's a deal too sweet to ignore."
—
All characters appearing in this work are fictitious. Any resemblance to real persons, living or dead, is purely coincidental.
A story by Selma Moss-Ward.
Selma Moss-Ward writes and knits in Rhode Island. You can find her work on our blog, as well as Lion Brand's monthly newsletter, Pattern Journal, which you can subscribe to here.
August 1st, 2014
Amigurumi-making expert Stacey Trock, from Fresh Stitches, has just released a new book filled with adorable patterns for little ones, Modern Baby Crochet: Patterns for Decorating, Playing and Snuggling.
Stacey's Modern Baby book includes patterns inspired by famous artists and bold colors, patterns with classic neutral palettes, and even patterns based in all grays – truly modern!
We're happy to be giving away a copy of this beautifully designed book — along with 2 skeins each of Lion Brand's new yarn of the same name, Modern Baby — to three lucky winners! Be sure to enter below!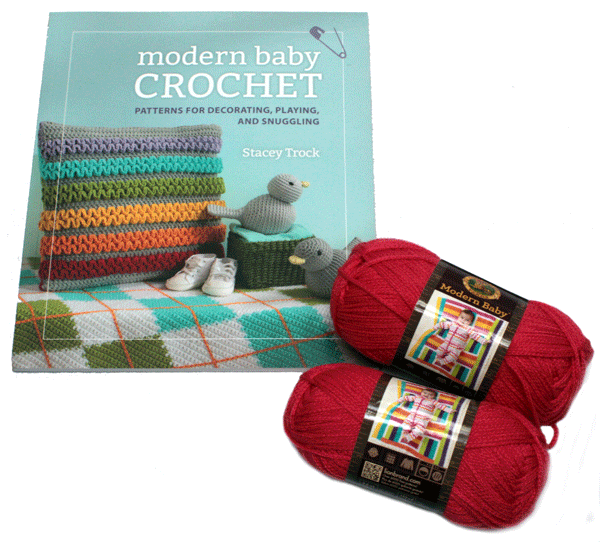 July 31st, 2014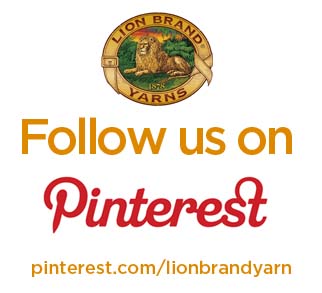 Are you addicted to Pinterest? We sure are! It's just so easy to pin and re-pin project inspirations, recipes, inspirational quotes, and so much more. We never get bored of your boards!
In case you haven't come across our boards, we'd love for you to check them out.
Lion Brand curates boards on Pinterest with you in mind. We pin hard to provide you with ideas and inspiration for knit, crochet, weaving and craft projects. We're always pinning silly anecdotes and quotes on our Yarncraft Funnies board, and we often share adorable images of animals in knit or crocheted outfits on our Cute Animals & Yarn board (cats cats cats).
I've included a few links to some of our most popular boards below, so make sure you go ahead and follow us!
| | |
| --- | --- |
| Find patterns we love from Ravelry, crochet-related blogs, and a select few patterns from lionbrand.com. | Beautiful stitch and inspirational patterns from bloggers, artists, and Lion Brand. |
| We've curated some great tips, suggestions and techniques to help you with your yarn crafting skills. Learning how to crochet cables seems to be a popular pin in this group! | If you need ideas to improve your yarn storage system, or how to contain your yarn balls as you work – this board has got you covered! |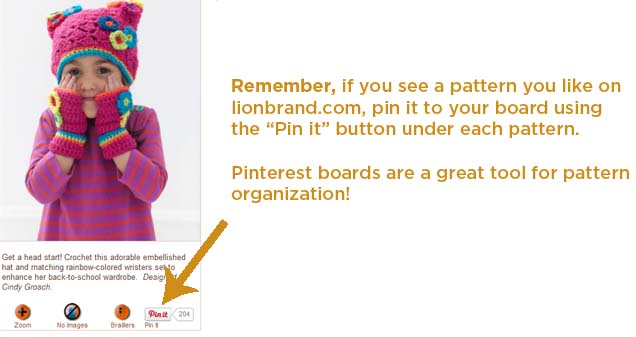 July 30th, 2014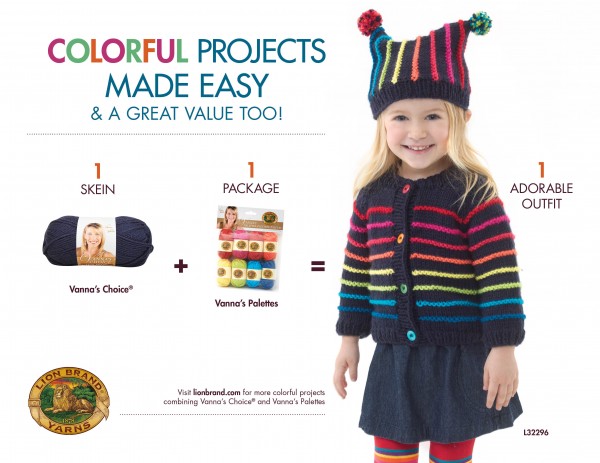 We love using lots of color in our patterns, which is why I'm excited to introduce a new Lion Brand yarn: Vanna's Palettes. Similar to Bonbons, with Vanna's Palettes you get eight mini-skeins of yarn, specifically designed to compliment each other and a coordinating skein of Vanna's Choice®. Each package of Vanna's Palettes comes with suggested Vanna's Choice® color pairings and a knit or crochet pattern. Couple Vanna's Palettes with a matching skein of Vanna's Choice® and you've got a nine-color project at an affordable price!
The
Lace Edged Poncho
(above) is a great example of how to use this yarn. Using a combination of Vanna's Choice
®
and just one package of Vanna's Palettes, you can make this project at a fraction of the cost had you bought all of the colors in nine full-sized skeins. With Vanna's Palettes, it's all about easy color coordination!
Below is a selection of Lion Brand's latest Vanna's Palettes patterns:
July 29th, 2014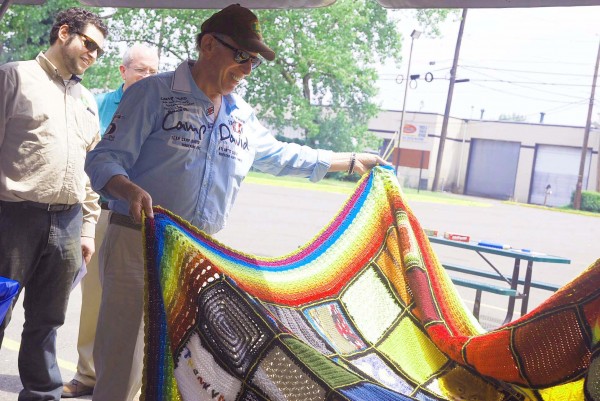 This month, our CEO, David Blumenthal, celebrated a big birthday.  We honored the day at our annual company barbecue.  As a special way of recognizing David's birthday, an afghan was created from a patchwork of knit and crochet squares created by people who work at Lion Brand, as well as some names you may know from the world of knitting and crochet.  Included among the designers and makers of squares were Nicky Epstein, author, designer and creator of one of Lion Brand's most enduring patterns, the Tree of Life; Trisha Malcolm, the editorial director of Soho Publishing; and Nathan Vincent, the fiber artist who designed the 7 Wonders Of The Yarn World.  There were also squares made by Vanna White and her daughter Gigi.
David was surprised and thrilled with his gift as you can probably tell from the smile on his face!
If you are giving a group gift to someone, why not try this idea of having a number of people contribute squares to make an afghan to commemorate the occasion?  Here are a few afghan patterns to get you started:
July 28th, 2014
This column by Barbara Breiter, author of The Complete Idiot's Guide to Knitting & Crocheting, originally appeared in The Weekly Stitch newsletter.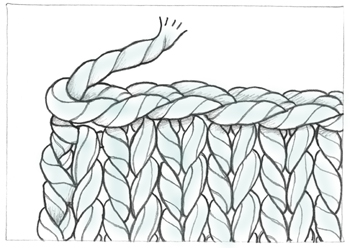 Ahhh, finally done with your latest knitting project. Now you can't wait to finish so, in a final flurry, you bind off all your stitches and…oh no. The sweater won't fit over your head or the bound off edge of the blanket is narrower than the cast on edge.
What have you done? You bound off too tightly.
I've done it myself. You might not notice if it's a scarf because a scarf is narrow. The bound off edge does not have as much "give" as the rest of the knitting. That's why it's difficult to get the neckline of that sweater to stretch enough to fit over your head.
1. Bind Off Loosely
Always, always, always bind off loosely. This includes the stitches that you are knitting or purling during the process as well as when you pass a stitch over and off. Don't tug, pull, or yank the yarn as you work each stitch. I know that it seems so loose that it's tempting. But don't. If you find you are binding off too tightly and can't manage to do it more loosely, use needles one or two sizes larger than the size you used to knit the piece.
Binding off, sometimes called casting off, actually creates a final row of fabric, so what stitches you work as you bind off does make a difference. You can simply knit across as you bind off as many people do; but upon close inspection you'll see the difference in the details.
July 26th, 2014
Here is the latest installment of Lola, from its creator Todd Clark.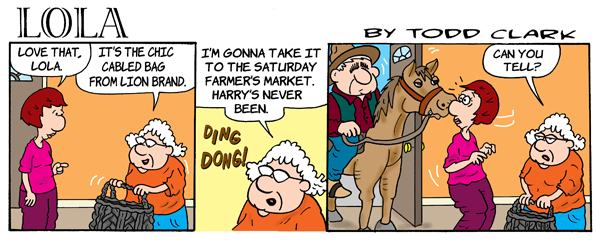 Want to knit the Chic Cabled Bag seen in this week's Lola comic? Get the free pattern here and below.
*** *** ***
Subscribe to The Weekly Stitch Newsletter
Get a FREE weekly email featuring patterns, articles and special offers. As a bonus for subscribing, we'd like to offer you 15% off your first order! *
:: Sign up now ::
* offer valid only for first-time email subscribers, one coupon per person.
July 25th, 2014
This week, Audra Kurtz shows you how to finger knit these adorable animal ears with Wool-Ease Thick & Quick. The animal ears are great props for a newborn baby photo shoot, for Halloween, costume parties, and more!

Check out Audra's easy tutorial below:
If you enjoyed Audra's tutorial, check out her YouTube channel, The Kurtz Corner!
July 24th, 2014
Sock-Ease™ is a Lion Brand finger weight yarn that is perfect for socks. The colors range from bold, vibrant solids to colorful gradients excellent for striping.  Not just for socks, Sock-Ease™  is also great for scarves, accessories, and even afghans. And that's not all. . . you may not know this but for easy-care crafting, Sock-Ease™ is also finished with aloe vera which will soften your hands as your knit or crochet! Pretty neat, don't you agree?
Make your next project the All Season Wristers, the most popular pattern for this yarn. And now until July 31st, Sock-Ease™ is on sale for 15% off the original price.
Below you'll find a selection of popular patterns that use Sock-Ease™:
July 23rd, 2014
The research is in and there's no denying it: people who knit and crochet have a much better chance at staying healthy, being happy and getting organized.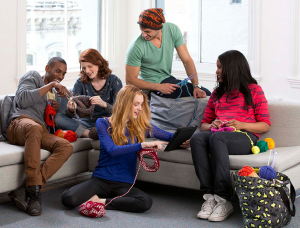 In the past few years, reports from authoritative sources such as CNN, the Huffington Post and Oxford University, cite evidence to support the fact that knitting and crochet can change your life in many ways … and for the better.
Health is a serious matter for all of us, so we took some time to compile our favorite writings on the matter; articles from Lion Brand bloggers such as Kathryn Vercillo and investigative reports from mainstream media outlets such as the Washington Post.
We hope that you find this round-up useful and that you'll include knitting and crochet as part of your personal health and wellness plan. It works!
31 Ways that Knitting and Crochet Can Change Your Life
:: Treat yourself! Here's a pattern for our Aromatherapy Eye Pillows (pattern available in knit and crochet) ::