November 8th, 2014
We've heard so many stories of how knitting or crocheting has helped people feel better.  Now's your chance to weigh in and be counted. In this quick quiz you can tell us specifically what crafting with yarn has done for you.  We're looking forward to hearing from you and to sharing what our community thinks.
If the form below does not work for you, please click here for the link.
November 8th, 2014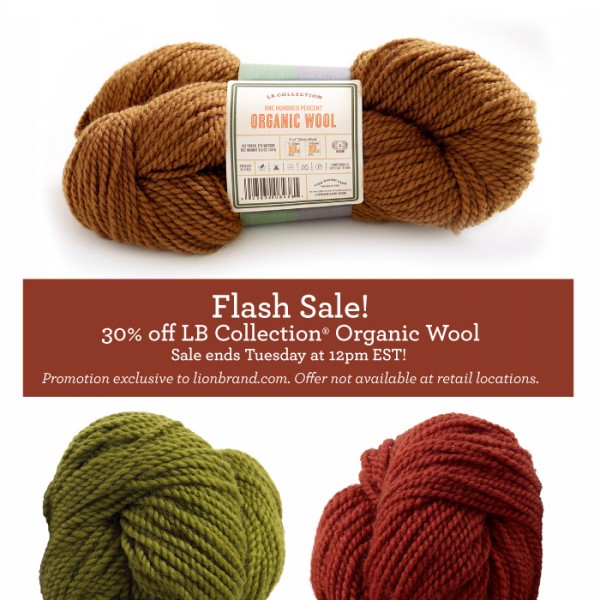 Save 30% on LB Collection® Organic Wool, now through to November 11th, 12noon EST!*
Promotion exclusive to lionbrand.com. Offer not available at retail locations.
November 7th, 2014
As featured in the the New York Daily Post, the New York Times and the Good Men Project, we're proud to share the news that David Babcock completed the New York City Marathon on Sunday, November 2nd with a great time of 3:56. All of us here at Lion Brand are proud of the #KnittingRunner! We're especially proud that David achieved his goal of running the marathon in under four hours.
While David was in New York last week, we took some time to sit down with him to discuss how he came to be a knitting runner and the challenges he's faced and overcome. Please enjoy and share widely.
:: can't see the video? click here: http://youtu.be/FFBd4HoKw3c ::
David ran the marathon to raise funds for the free care and support programs provided by the New York City Chapter of the Alzheimer's Association. You can donate to David's team up until November 30th and the best part, Lion Brand will match your donations until David reaches his fundraising goal of $3500. He's almost there – every dollar counts, so please give what you can.
November 7th, 2014
This article series was featured previously in our Weekly Stitch newsletter, which features new products, tips, and more. If you enjoy it and would like to subscribe, click here.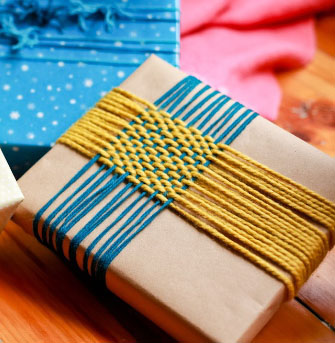 Turn any package into a mini loom! If you teach the recipient how to tie off the edges, they'll have a little coaster or place mat in addition to the gift inside.
For this gift topper, you'll need two types of yarn (the example below uses Wool-Ease® Thick & Quick® in Citron and Lion Wool® in Dark Teal*.), tape, and a tapestry needle, in addition to your wrapped gift.
*Editors' Note: Lion Wool® has been discontinued since this article was originally published. Try a color-changing yarn like Amazing® and Landscapes® or use the leftover yarn from the handmade gift inside.
Step 1
Tape the end of the first yarn to the back of your package. Wrap yarn around package lengthwise, keeping strands close together (aprox ¼" apart). Wrap about 20 times for a coaster, 50 for a placemat OR any even number of times. Once wrapped, cut yarn, remove the tape holding the other end of yarn and tie the two strands together, being careful not to distort the front lineup. Trim tails.
Read the rest of this entry »
November 6th, 2014

#Scarfie = A selfie with a scarf!
Get your crochet hooks out − because today, we've got another wonderful pattern from a blogger who participated in the #scarfie challenge! Kara, from the blog Petals to Picots, has created a beautifully textured cowl in the ever-popular Oatmeal colorway of Wool-Ease Thick & Quick. She even adorned her cowl (which only requires two balls) with a few metal buttons for a more rustic look, and we love it!
Check out Kara's pattern here: Quick and Comfy Crochet Scarf Pattern
For all the knitters, Kara has also created a lovely knit version of her cowl with the Barley color of Wool-Ease Thick & Quick: Quick and Comfy Knit Scarf Pattern
P.S − We thank you for continuing to share your #scarfie projects with us on Twitter and Facebook, it's so fun to see everyone getting in on the action. Read more about our #scarfie campaign here.
November 5th, 2014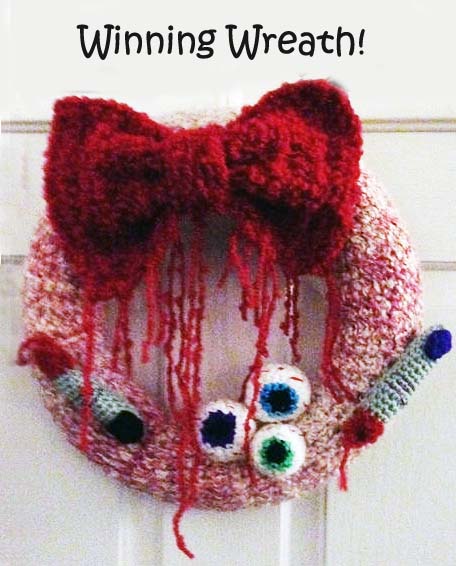 November is here and it's time to switch modes … out of spooky, Halloween decor and back into fall and Thanksgiving mode!
BUT just before we do, we want to share some news! The Crochet Crowd's Grim Wreath Challenge has just ended and the randomly-chosen, lucky winner of the $150 yarn prize goes to Crissi C. from New Hampshire! Congratulations and thank you for your entry Crissi!
There were so many great entries, we just have to share a few other great wreaths from the Grim Wreath Challenge submissions, so please take a look below!
| | |
| --- | --- |
| Fun colors, pumpkins, and other Halloween amigurumi adorn this wreath by Cristina Nelson | This is a great Autumn wreath to keep up until the holiday season starts, by Nicole Bergen |
| Love the skull couple and color combinations in this wreath by Addie Austin | An adorable family of creepy spiders by Michele Cook |
| Adorable ghostly characters in this lively wreath by Stephaney Williams | Of course, what's Halloween without an ode to A Nightmare Before Christmas, by Crissi Leigh Coko |
November 4th, 2014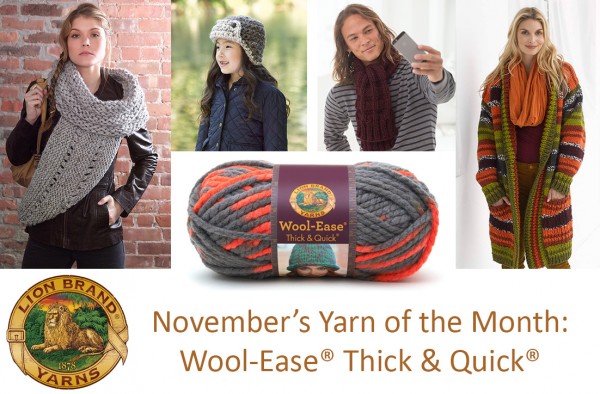 Winter is coming and Wool-Ease® Thick & Quick® is the perfect yarn for colder weather. It's a super bulky version of Wool-Ease® and it has the feel, warmth and softness of wool, with the easy care of acrylic – it's also perfect for those who are normally allergic to real wool!
This is a great yarn to use when you're learning how to knit: it works up quickly and easily for projects like sweaters, jackets, vests, slippers, hats, and, of course, scarves.
Two of our most popular projects use this yarn: our Hunger Games-inspired cowl, the District 12 Cowl Wrap, and one of our most popular sweaters, the Striped Boyfriend Cardigan!
AND For the entire month of November, Wool-Ease® Thick & Quick® is 20% off the original price!
Find some inspiration in the collection below and for more free patterns, search Patternfinder – it's time to get knitting and crocheting!
November 3rd, 2014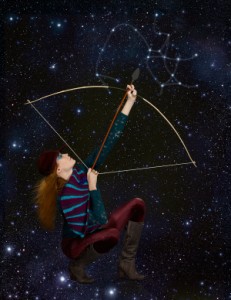 If you were born between November 23rd and December 21st, you are a Sagittarius. Sagittarians are known for being open, friendly, and outgoing, but their most outstanding trait is their love of freedom.  They tend to be innovators  in whatever they do, with imaginations that run free. They are often artists, writers, actors or entrepreneurs.
The ruling color of Sagittarius is purple. Purple is the color that represents creativity. The combination of blues and purples is perfect for those born under this sign because with such an outgoing personality, you need to balance it with colors that are not too bright and don't draw attention to yourself.
Famous Sagittarians include Willa Cather, Jane Austen, Woody Allen, Brad Pitt and John Kennedy, Jr.
If someone you care about is a Sagittarius, this scarf will be the perfect gift.  It's not just any scarf, but one that reflects their unique personality and mindset.
Looking to make a customized scarf for other birthdays?  Check out our entire collection of Zodiac scarves.
November 1st, 2014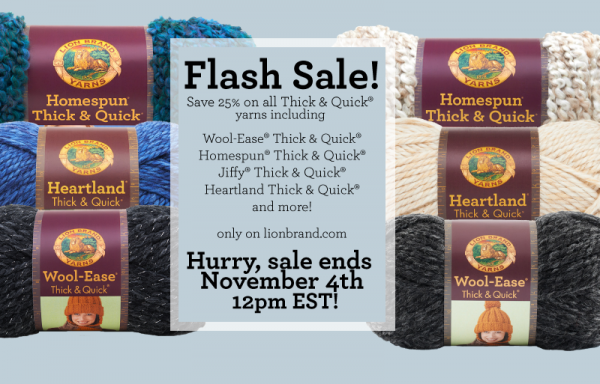 Save 25% on Thick & Quick® yarns on orders $35 or more, now through to November 4th, 12noon EST!
Coupon code 'FLASH25TQ' will be automatically filled into the coupon box at checkout on qualified orders. Only one coupon per person; cannot be combined with other coupons. ** Does not apply to Clearance Section yarns. **
October 31st, 2014
Here is the latest installment of Lola, from its creator Todd Clark.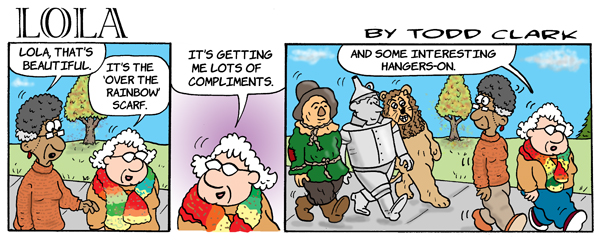 *** *** ***
Subscribe to The Weekly Stitch Newsletter
Get a FREE weekly email featuring patterns, articles and special offers. As a bonus for subscribing, we'd like to offer you 15% off your first order! *
:: Sign up now ::