February 15th, 2015
You'll impress your friends (and yourself) when you make this Simple Shrug!
The Lion Brand® design team has developed a collection of gorgeous, uncomplicated patterns based on straightforward rectangles. The Simple Shrug is the perfect project for any crocheter who's ready to graduate from making accessories!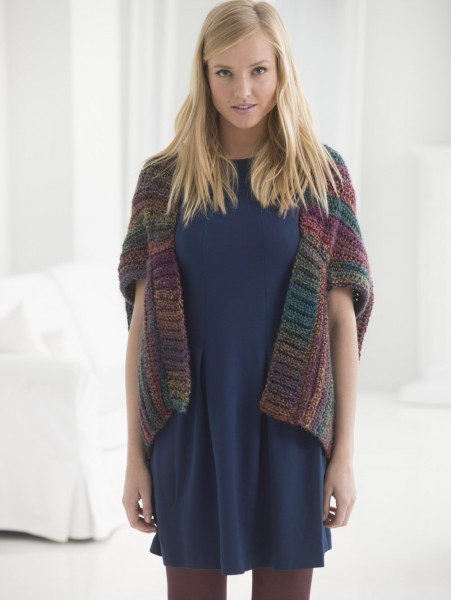 This shrug can be worn in multiple ways, so it's very versatile! Wear it over your favorite little black dress or pair it with jeans on a chilly summer night. Made with Lion Brand®'s self-striping yarn Unique, the beautiful color changes do all of the work for you!
Design Editor Susan Haviland explains the easy construction of the Simple Shrug in the video below:
::Trouble viewing the video? Click here: http://youtu.be/2Ob0aDg1E9s::
February 14th, 2015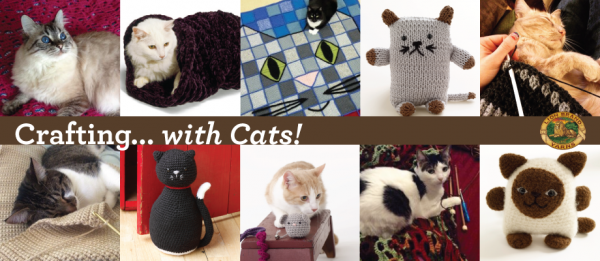 We love pets at Lion Brand. If you've any spent time browsing our patterns at
lionbrand.com
, chances are you've seen some of our canine friends modeling in projects such as
Barkley Loves His Blanket
or the
12 Dogs of Christmas
series — but what about our cats? They may not go for snuggly sweaters like our dogs do, but that doesn't mean they're not interested in what we're making. If you share your home with a cat, you've probably had your craft time turn into
cat time:
 Got a great new project on your needles? That's where the cat wants to nap. Sitting down to crochet for a couple of hours? That's when the cat wants head scratches. Ready to start a brand new project with some gorgeous new yarn? HEY, where'd my yarn go?!
Big personalities have helped some cats like Grumpy Cat, Lil' Bub and Keyboard Cat to achieve celebrity status on the internet, but we think they're ALL stars! With that in mind we've created a special gallery where you can share your favorite felines with the world. Post your pics of crafting with cats on your favorite social media site (Facebook, Twitter, Instagram) and simply include the hashtag #LBcats!
You can also upload your pics directly to our gallery here:
:: click here if you cannot see the gallery ::
Make your furry friend a special #Caturday treat with these patterns for knit and crochet!
February 14th, 2015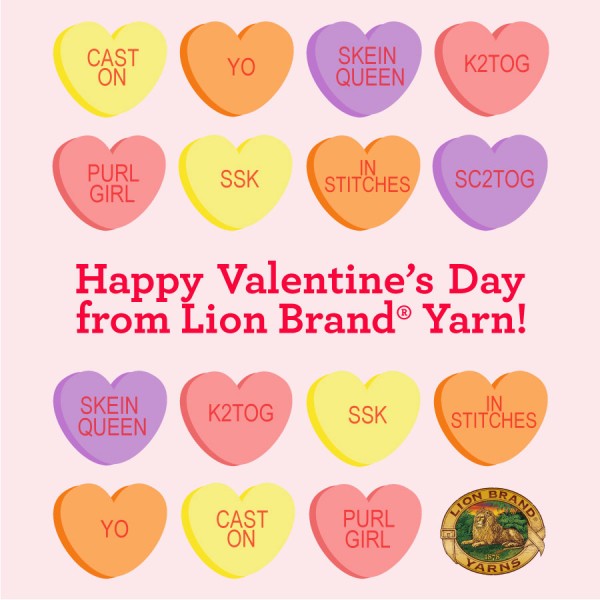 February 13th, 2015
We've teamed up with Todd Clark, creator of the ever-popular Lola series, to bring you "Out of the Loop," a regular one-panel comic featuring humorous takes on the world of yarn.
Enjoy and please share widely!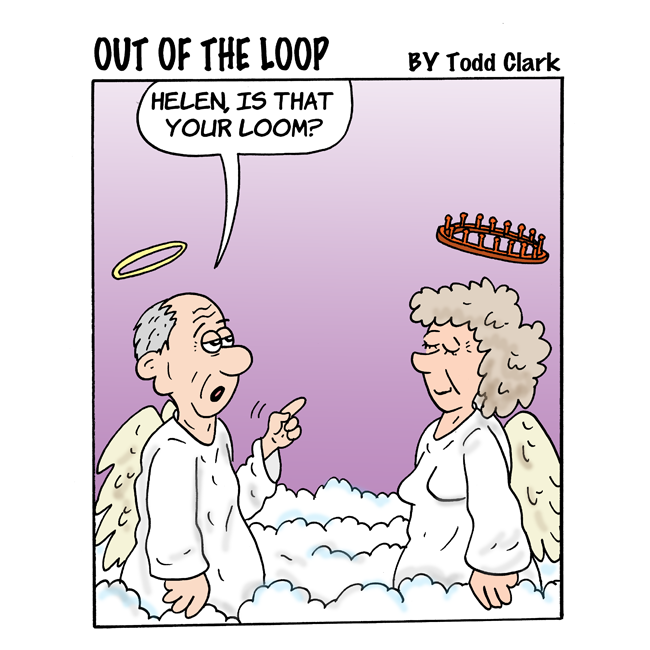 *** *** ***
Here are a few loom-knit patterns to inspire you!
*** *** ***
Subscribe to The Weekly Stitch Newsletter
Get a FREE weekly email featuring patterns, articles and special offers. As a bonus for subscribing, we'd like to offer you 15% off your first order! *
:: Sign up now ::
* offer valid only for first-time email subscribers, one coupon per person.
February 13th, 2015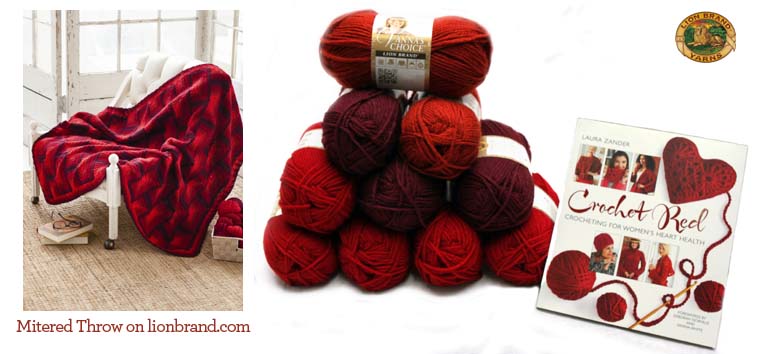 Health and wellness are topics we cover here quite often. Today we're recognizing National Heart Month with a giveaway! Enter now for a chance to win one copy of Crochet Red: Crocheting for Women's Heart Health, and 10 skeins of Vanna's Choice® to make a Mitered Throw, one of the patterns featured in the book!
Laura Zander, owner of Jimmy Beans Wool, worked with Sixth and Spring Books on the Stitch Red book series to raise awareness around heart disease and preventive heart health in general. A portion of each book sale goes towards HeartTruth®, a public awareness program sponsored by the National Institutes of Health.
Crochet Red is filled with beautiful crochet projects, each paired with a heartwarming story from a prominent face within the crochet world, including our beloved Vanna White. She wrote one of the forewords for the book, and also shares some of her healthy lifestyle tips.
One lucky winner will be chosen to win the prize pack: the book and 10 skeins of Vanna's Choice® yarn — please see below for details.
Good Luck!
Rules and Guidelines:
1. Entries must be received by February 20, 11:59p.m. EST
2. US entries only
3. Must be 18 and over to enter.
4. One person per entry
»Click Here« to enter the giveaway if the form below does not work for you.
February 12th, 2015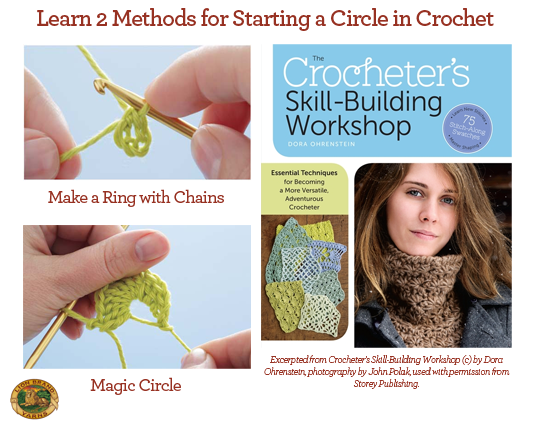 Thanks to our friends over at Storey Publishing, we're sharing a handy excerpt from Dora Ohrenstein's latest book, The Crocheter's Skill-Building Workshop (The Essential Techniques for Becoming a More Versatile, Adventurous Crocheter).
Dora's latest book features numerous tips on gauge, crochet shaping and construction, colorwork and more – so we suggest that you go ahead and check out the book in its entirety, you'll be glad you did.
In the meantime, have a look at the excellent excerpt below. Coupled with instructional photos, you'll quickly and easily learn two different methods for starting a crochet circle – a ring with chains and the magic circle.
Try them out to see which method you like best!
---
Starting the Circle
There are several different ways to begin working in the round. You can make several chains (the most common method), make an adjustable ring, or use the first chain as a ring. Let's look at the first two.
Make a Ring with Chains
To make a ring with chains, work several chains, then slip stitch in the first chain to form a ring. The number of chains is determined by how many stitches you intend to work into the ring and how tightly you want the ring to close. If you are following a pattern, the number of chains will be specified. Supposing, however, that you are working a hat pattern, and after working the specified number of chains and stitches in the first round, you find you have a larger hole at the center than you'd like. Go ahead and try again with fewer chains: it will cause no harm whatsoever. For other items worked in the round, such as motifs and flowers, the size of the "hole" at the center can make a difference, as it affects the overall size of the finished piece. In these instances, it's wise to stick with the instructions as written.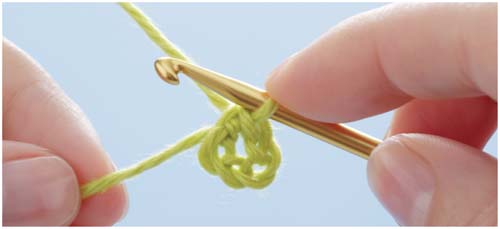 February 12th, 2015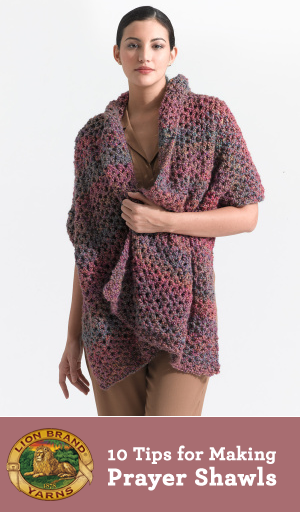 "A shawl is like a warm hug."
Giving a prayer shawl to a friend or family member going through a difficult time is an appropriate gesture when there isn't anything you can do to make their situation better. A handmade knit or crochet gift can offer comfort beyond words and the process can often have the power to heal one's self too.
Over the years we've collected wisdom and insights from our favorite writers on making and giving prayer shawls (sometimes also known as comfort or healing shawls). These four articles below capture the essence of the prayer shawl and offer ten great tips – from patterns to process to the philosophy behind them – this collection is a great starting point for anyone who'd like to learn more about making prayer shawls:
Also see
Homespun® is on sale now – save 20% at lionbrand.com and Lion Brand retail locations in February.
How have prayer shawls helped you? Share in the comments below!
February 11th, 2015
Hoy, tenemos un vídeo tutorial para usted completamente en Español de Yolanda Soto-Lopez de el canal All Crafts Channel en Youtube.  Nos dimos cuenta de lo popular que ha sido el tutorial de "Simple Crochet Shrug" con subtitulos de Yolanda, y quisimos probar un nuevo vídeo sólo en español.
Miren como Yolanda le muestra como tejer un gorro fácil  con un pompón!
~ ~ ~
Translation: Today, we have a video tutorial for you completely in Spanish from Yolanda Soto-Lopez from the All Crafts Channel on Youtube. We noticed how popular Yolanda's Simple Crochet Shrug tutorial with subtitles has been, so we wanted to try a new video only in Spanish.
Watch as Yolanda shows you, in Spanish, how to crochet an easy hat with a pompom!
February 11th, 2015
Colette Smith is passionate about teaching knitters and crocheters techniques to help keep wrists and hands pain-free. That's because she's an amazing fiber artist herself who knits for hours every day! Colette designs and creates incredible sculptures, including dragons, insects, and sea creatures. These fanciful creations can be over six feet tall and sometimes take over 15 miles of yarn to complete!
While Colette visited the Lion Brand booth at Vogue Knitting Live, I asked her about her experiences making such unique pieces of art and she shared some tips for beginners:
:: Having trouble viewing the video above? Click here: http://youtu.be/QC6O87adDJQ ::
P.S. If you live in the New York City area, you can see Colette's art in-person at the Lion Brand Yarn Studio – watch the Lion Brand Studio blog for details in the coming days.
February 10th, 2015
Writer, illustrator, and knitter Franklin Habit joins us for his monthly column featuring humor and insights into a yarncrafter's life.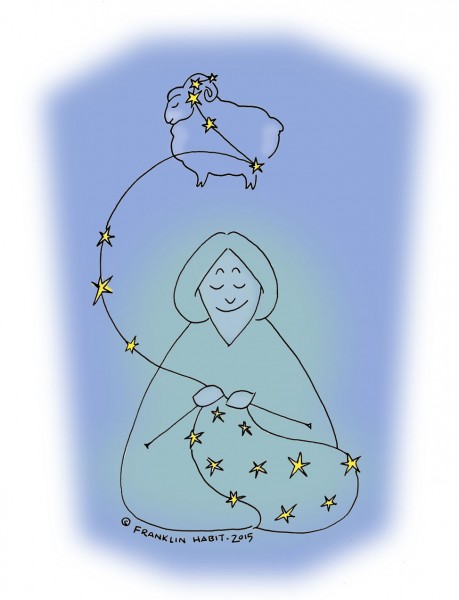 I've just this minute come in from my annual check-up with Madame Bobbie Jean, the psychic down the block. (FYI: She also repairs small electrics.) Looks like I'm in for an interesting ride. Since I was there anyhow I asked her to provide forecasts for all of you, as well. It's my pleasure, really; and she gave me a fantastic bulk discount.
Aquarius (January 20-February 18)
Yours will be a year of conclusion and fulfillment. In other words, of finishing. You need not fear the second sock. Should you undertake to knit matching hats for everyone at the family reunion, success will be yours. Yet you will ring in 2016 still not having sewn together that green cardigan whose diverse pieces you completed in March of 2006. You will never sew those together. Ever. You realize that, right? You might as well start using them as dust rags.
Pisces (February 19-March 20)
Travel is indicated; sometimes over long distances, possibly even across the sea. You'll do anything to find a skein of that discontinued yarn with the right dye lot, won't you? Cripes.
Aries (March 21-April 19)
Seek opportunities for growth in the company of potentially like-minded people. When these people try to tell you that the fiber guild field trip to the Lion Brand Yarn Outlet is not an excuse for buying fifty pounds of stash yarn, seek opportunities for growth in the company of a different group of potentially like-minded people.