July 6th, 2014
Audra Kurtz shows you how to make a baby mobile using Lion Brand's Tweed Stripes®!
If you enjoyed Audra's tutorial, check out her YouTube channel, The Kurtz Corner!
July 4th, 2014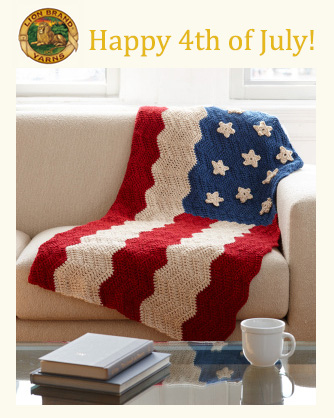 Happy 4th of July! We'll be celebrating with barbecues, watching the fireworks, getting together with friends and family, and decorating with Red, White and Blue. We wish you a safe and enjoyable day.
July 3rd, 2014
Featured in the New York Times and around the world, David Babcock is the Guinness World Record holder for knitting the longest scarf (12 feet!) while running a marathon, which he did in Kansas City last October. Coupled with a great deal of skill and endurance, David credits his choice in using Lion Brand's Hometown USA as a factor in his amazing accomplishment!
This November, David will run the New York City Marathon to raise awareness and funds for Alzheimer research, care and support. He'll be knitting for the duration of the marathon run and Lion Brand is proud to announce its support! David will use his fingers like knitting needles to work with anywhere from 10 to 16 stitches (see below for his finger knitting tutorials), using Lion Brand yarn, of course!
We're proud to support David in his mission for many reasons. Any time we can bring knitting (or the art of crochet) to the public, we're so pleased to do so because crafting with yarn promotes health and wellness, something that Lion Brand deeply supports. We're also happy to lend a hand for a good cause. More than 5 million Americans have Alzheimer's and that number is expected to grow to as many as 16 million by 2050.
So let's help David do his part – please make a donation.
---
Learn to Finger Knit with David Babcock
---
Check back often for updates about the Knitting Runner and the NYC Marathon! We'll be announcing opportunities for YOU to meet David this November and to learn finger knitting too.
July 2nd, 2014
One of my favorite things about working with yarn is that I can make amazingly textured garments with just a few strands.  That's also is why I love using slip stitches – this technique is very simple and it allowed me to create detailed colorwork and textures at the same time.
You can make detailed stripes like in our Slip Stitch Pom Scarf and Hat or experiment with stitches and patterns in our Mosaic Tote. Use a variety of colors with Vanna's Palettes or BonBons or even a color-changing yarn for a gradient effect – I recommend Landscapes®, Tweed Stripes®, and Unique.
Here are some of our new patterns that also use the slip stitch technique.
July 1st, 2014
Celebrities enjoy comfortable and fashionable knitwear just as much as we do! The celebrities below have all been spotted in knitwear that can easily be recreated with just a few knit, purl and crochet stitches.
Slouchy beanies are very popular in Hollywood and they're so  easy to recreate. Check out our Camelot Hat knit in Alpine Wool to recreate Ashton Kutcher's hip style seen here. We've got a crochet slouched beanie as well.

Photo: WENN

Use our Diagonal Mesh Pullover pattern in Cotton-Ease as inspiration to recreate Taylor Swift's airy, oversized sweater look. Recreating pockets for this look would be quite easy to do – experiment and have fun!

Photo: National Photo Group

Beyoncé looks cute wearing this dual pom-pom hat while relaxing at a basketball game. Find the inspiration to make your own version with our knit Pompoms hat in Wool-Ease Thick & Quick.

Photo: Seventeen Magazine

Olivia Wilde keeps it casual and comfortable in her flowy vest as she walks the dog. We've got the pattern to help you recreate this cozy look, check out our Unstructured Vest, knit in one of our newest yarns, Country.
June 30th, 2014
This column by Barbara Breiter, author of The Complete Idiot's Guide to Knitting & Crocheting, originally appeared in The Weekly Stitch newsletter.
Slip stitch patterns are an easy way to add color to your knitting; unlike Fair Isle and Intarsia, you knit with only one color per row so they are less complicated. When knitting slip stitch patterns, some stitches from a previous row are slipped and others are knit or purled with a new color.
When a row is completed, you will have stitches that are slipped which are a different color from the stitches that you just knit with the new color. The slipped stitches will be elongated; this will cause the stitch pattern to pull in, so check your gauge carefully if you substitute one in a pattern that calls for Stockinette or another less dense stitch pattern.
Tips to Know
Slip stitch patterns are most often knit in Stockinette but you will find some that combine knits and purls on the same row; this results in a fabric that is both colorful and textured.
Stitches can even be worked with yarn held in the front or manipulated to create "floats" (strands running across other stitches) for contrast.
Slip stitch patterns can be worked in two or more colors.
Generally you won't find a stitch pattern that calls for more then 3 stitches to be slipped.
Take caution to make sure the strand from the working yarn that results when slipping the stitch is kept loose (resist the urge to pull that "float" tight) or your fabric will pucker.
June 29th, 2014
This story is from our newsletter called Pattern Journal which brings a warm-hearted, wholesome story to your inbox to read every month. We're sharing the most recent story here in the blog. If you enjoy it and would like to subscribe, click here.
The house was left to Liza. Grammy had known she was its spiritual heir. Liza was the only one who'd never wanted to leave on Sunday nights, who adored her summer vacations there. Grammy's house — "the old place" — had been in the family for generations. There Grammy taught Liza needlework and baking; there they hand-washed dishes, drying them with Grammy's crocheted towels.
Liza still couldn't believe that Grammy was gone — quickly, as if someone had casually switched off a parlor lamp. Walking through the house, she felt Grammy everywhere. If I open the front door, Grammy will be on the porch, crocheting. When she sees me, she'll smile…
***
Moving through the quiet rooms, slowly inspecting closets and drawers, Liza found Grammy's project basket with its neat balls of yarn and metal crochet hooks. She sat in Grammy's favorite chair, embracing the basket — remembering…aching…
Then she knew what to do. She'd crochet something, just as Grammy used to.
Liza chose the Open Air Shrug pattern. Generous and lacy, it reminded her of all she loved about Grammy. Even the word "shrug" evoked feelings close to her heart — living lightly, without worry. Crocheted from soft Kitchen Cotton, the shrug had a comforting feel. Its color, Blue Ice, was like the noon sky on a cloudless day.
***
"Where'd you get that lovely thing?" Steve asked. It was Friday and he'd just arrived on a train full of passengers escaping summer in the city. Liza picked him up at the station. Steve reached across the car's front seat, fingering the openwork sleeve. "It's very charming," he said. "Nice to touch.'"
"I crocheted it," she said, "in only a few days. I'm so glad you like it!"
"I do," Steve said. "It's kind of retro and kind of modern, all at once. Just like you."
"Like me?"
"Exactly like you," he said. "Romantic, whimsical, beautiful you."
—
All characters appearing in this work are fictitious. Any resemblance to real persons, living or dead, is purely coincidental.
Selma Moss-Ward is a freelance writer who combines her love of writing and of knitting in her columns, stories, and blog posts. Selma is also an active classical musician and the caretaker of five wonderful pets. She lives with them and her husband in Rhode Island.
June 27th, 2014
The Lion Brand Yarn Company attends The Craft & Hobby Association Conference and Tradeshow every year and a highlight of the event is our fashion show, hosted by Lion Brand spokesperson Vanna White. At this year's show, we unveiled The 7 Wonders of The Yarn World – a series of sculptures designed by fiber artist Nathan Vincent. Each sculpture represented one of the 7 Wonders in yarn techniques, and we presented a fashion show where each technique was reflected in a variety of fashions.
The yarns featured in the show include Unique, Tweed Stripes®, Bonbons, Homespun, Heartland, Amazing®, Pound of Love®, Heartland Thick & Quick®, Hometown USA®, Homespun® Thick & Quick®, Wool-Ease®, Wool-Ease® Thick & Quick®, Vanna's Choice®, and Vanna's Glamour®.
Below is a selection of garments from the show – click the image to get the free pattern. All of the patterns and yarns in the collection are available at lionbrand.com.
June 27th, 2014
Here is the latest installment of Lola, from its creator Todd Clark.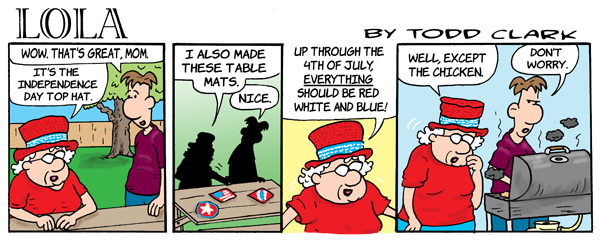 Want to crochet the 4th of July items seen in this week's Lola comic? Get the free patterns here and below.
June 26th, 2014
This column by Barbara Breiter, author of The Complete Idiot's Guide to Knitting & Crocheting, originally appeared in The Weekly Stitch newsletter.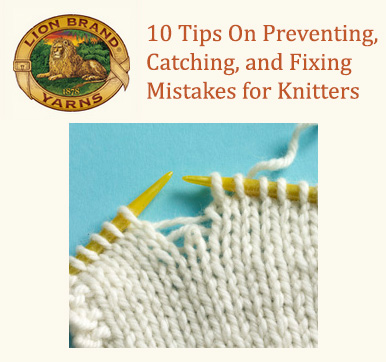 You're at the end of the row and worked all the stitches but there are still instructions for 3 stitches left. How did that happen?
Most commonly, an error occurred because the knitter failed to pay attention. Distractions are everywhere; family members are talking, the phone rings, the TV is blaring.  If you're a newer knitter, it's particularly important to find quiet time to knit so you can avoid errors. Once you become more adept, multitasking becomes easier.
Try to avoid mistakes before they happen. The row may have ended correctly with no instructions or stitches left over, but things may still be askew.
Learn to "read" your knitting. Recognize how a knit stitch looks different from a purl stitch. Watch the direction in which cables move. Look at your knitting frequently as the stitch pattern develops to see if everything appears as it should. It's easy to knit instead of purl by mistake; if you see the error now instead of 10 rows later, life will be much easier.
Count your stitches after completing every row, especially if you are a beginning knitter. This may seem like a tedious task but you will know immediately if you accidentally dropped a stitch or looped the yarn over the needle and made a stitch when you shouldn't have.
If the error is on the row you just completed (or even the row you are still working on), you can unravel the row stitch by stitch and correct the error. You'll find instructions for doing this by clicking here.
Using stitch markers to mark every 10 stitches or 20 stitches when you have a more complex stitch pattern to keep track of can make it easier for you to keep track of your work. You only have to count the stitches in between a given set of markers to know whether that section of your row is correct. 

Click here

 for our stitch markers.