August 24th, 2015

We admit it — we like to fawn over designer wear in magazines and blogs just like any other fashion-savvy person. As yarncrafters, however, we know some looks are just a few skeins away from being ours! When we spotted this Stella McCartney wrap-front cardigan, we immediately loved its high-low hem and chunky knit.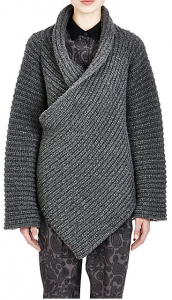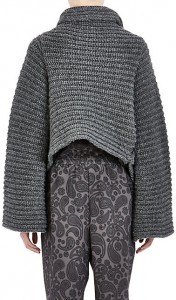 Get the look for less with a few of our coat and long cardigan patterns! Stay sleek and chic with shades of greys or mix it up with self-striping brightly colored yarns — either way, you'll turn heads this season.
August 22nd, 2015
This sweet hooded cowl, designed by Heidi May of The Velvet Acorn Designs, is the perfect fall project for little ones! Kids will love dressing up as a sneaky fox, and you'll love that they're staying warm. Knit with Wool-Ease® Thick & Quick®, this cowl will keep its wearer bundled up and cozy.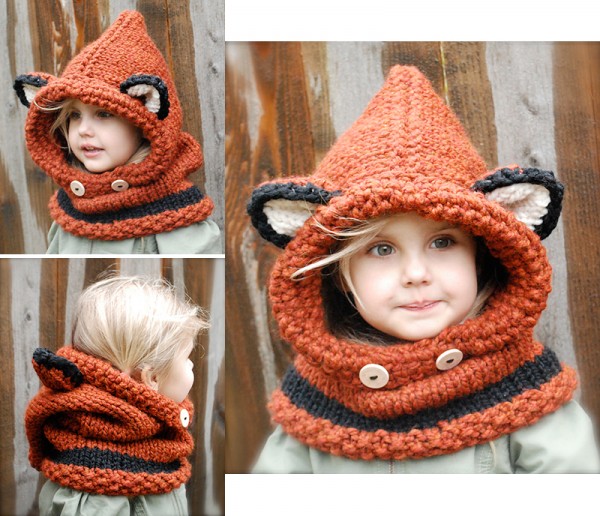 This is a paid pattern, available through Ravelry for $5.50.
:: Our line of Wool-Ease® Thick & Quick® has 67 colors!  Featured here are Fisherman, Pumpkin, and Black. ::
August 21st, 2015
Take a peek at what goes into our photoshoots! Brand ambassador Shira Blumenthal speaks with Karlye Mayer, our Photo Producer, about styling our many knit and crochet patterns for our website. We're going behind the scenes of the photoshoot for one of our newest yarns: Lights, Camera… Scarfie!
::Can't see the video above? Click here to watch – https://youtu.be/SDyfPi70-Fc::
Get the look with these free Scarfie patterns!
August 21st, 2015
Here is the latest installment of Lola, from its creator Todd Clark.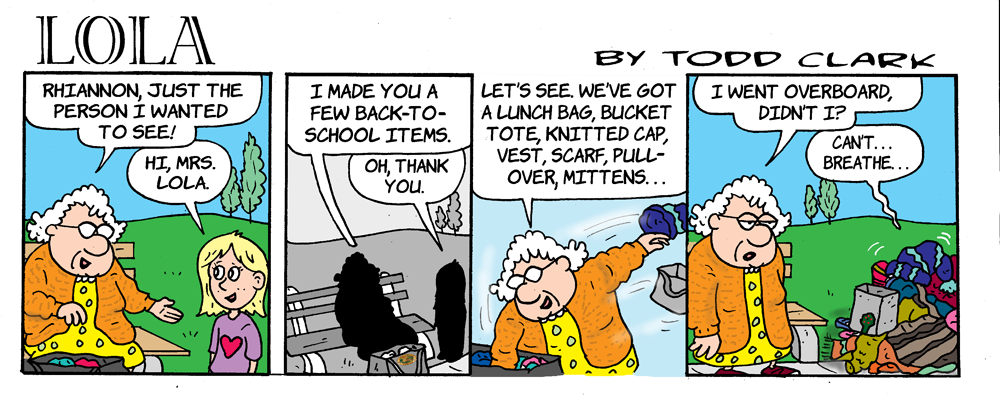 For more great loom patterns, visit PatternFinder.
*** *** ***
Subscribe to The Weekly Stitch Newsletter
Get a FREE weekly email featuring patterns, articles and special offers. As a bonus for subscribing, we'd like to offer you 15% off your first order! *
:: Sign up now ::
August 20th, 2015

We've been exploring color theory lately and asked our Facebook fans what their favorite color was. As it turned out, most of our fans loved deep jewel tones like purple, burgundy, and forest green — all beautiful, rich colors that feel right at home as the season changes to fall. If asked, I'd honestly have a hard time pinning down a single color as my favorite. My bedroom is drenched in blush pinks and deep fuchsias, but my closet is filled with a range of blues.
Lately, I've been having a moment with yellow. At first, I introduced small pops of yellow into my life, like when I made a simple knit hat using Wool-Ease® Thick & Quick® in Toucan. It was a safe choice — heathered grey flecked with pops of neon yellow. Then I moved onto mustard yellow; I didn't own a single yellow item of clothing until I found myself drawn to a button down blouse in this hue. My last knitting project was a shawlette made from LB Collection® Angora Merino in Nectarine — its friendly tone toes the line between deep yellow and mellow orange.
We all need a little color in our world. While we may proudly sport our favorite color from head to toe, some colors need slight introductions into our lives. Looking ahead to fall, when the leaves change into a range of maple reds and buttery yellows, why not add some color to your knit and crochet projects? Cowls are quick projects, and break up the monotony of neutral-colored cold weather gear. Here are nine of them, each showing off colors in their own way: