November 19th, 2015
Blogger and author Kathryn Vercillo is an expert in the area of using crafting to heal, having researched the topic extensively for her book Crochet Saved My Life. In this post she introduces us to the Craft As Therapy community on Instagram, which is a daily visual celebration of the healing capacities of crafting. Read Kathryn's previous blog posts on the Lion Brand Notebook here.
When Mandy of the RedAgape Style & Design blog started using the hashtag #craftastherapy on her own Instagram account, it was just a personal thing. She had always loved crafting but after her mother was diagnosed with brain cancer and the diagnosis worsened Mandy's own illness, she realized just how important crafting was for her health. She began to intentionally turn to crafting as a way to distract herself from the anxiety of this period, and she began to tag her photos accordingly.
#CraftAsTherapy
People immediately took notice. Others started using the hashtag widely. Mandy says, "It became apparent to me how important craft is as a form of therapy, not just for me, but for many other crafters. Many have shared their stories about why they craft for therapy. Some are suffering with mental illness, infertility issues, chronic illness, physical illness … and some craft simply because it is cheaper than (traditional) therapy and keeps them smiling!"
Mandy was surprised by how much people loved this hashtag, although looking back she says she's surprised that she was so surprised. She says, "I'm not sure why I thought I was the only one. I mean; there is a reason that coloring books for adults are so popular right now. Everyone is looking for some time out for their minds and crafting is perfect."
November 19th, 2015
We're all feeling the holiday rush! Between coordinating family and friend visits and digging up old recipes, we know crafting's a great way to unwind.
Think you're running out of time to make gifts? Think again! In the latest episode of Tea with Shira, brand ambassador Shira Blumenthal asks a few Lion Brand staff members what projects they're making. Best of all, these projects are quick-finish, so you can make them in a weekend!
:: Can't see the video above? Click here to watch — https://youtu.be/oKBlyBlyW3U :: 
Check out the patterns featured in this video below!:
November 18th, 2015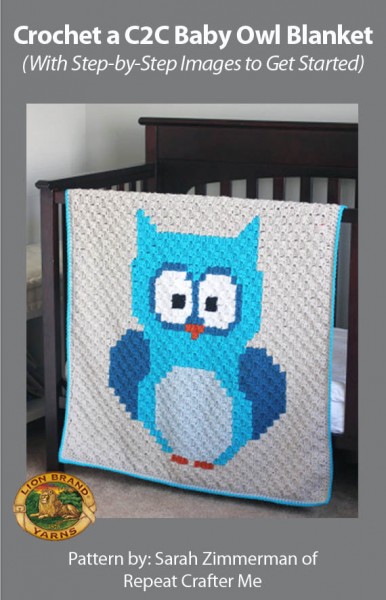 Are you familiar with the corner to corner crochet method? Corner to corner (C2C) crochet is a fun technique which involves working with a graph and crocheting your complete piece along a diagonal. In working the afghan, you start at one corner of your pixel square graph (typically the bottom right hand corner) and follow the graph row by row, building your stitches. You end up completing your afghan at the opposite corner (typically the top left hand corner).
These C2C blankets have become quite popular because of how quickly and easily they work up. They're also appealing because you can easily customize the look of your project by creating a picture graph to work off of. Today, we're excited to share with you Lion Brand®'s first crochet Corner to Corner blanket made by Sarah Zimmerman, from the popular blog, Repeat Crafter Me.
We worked with Sarah to bring you this exclusive Baby Owl pattern on lionbrand.com, so we hope you enjoy it!
Please »click here« for the COMPLETE pattern with materials needed.
Use code: BabyOwlAfghan for 20% off all of the Vanna's Choice® yarn needed to make this project.
*Good through 11/22; One coupon per person; cannot be combined with other coupons; does not apply to items already on clearance or yarn other than Vanna's Choice®. Minimum purchase quantity is 12 balls – enough to make the afghan!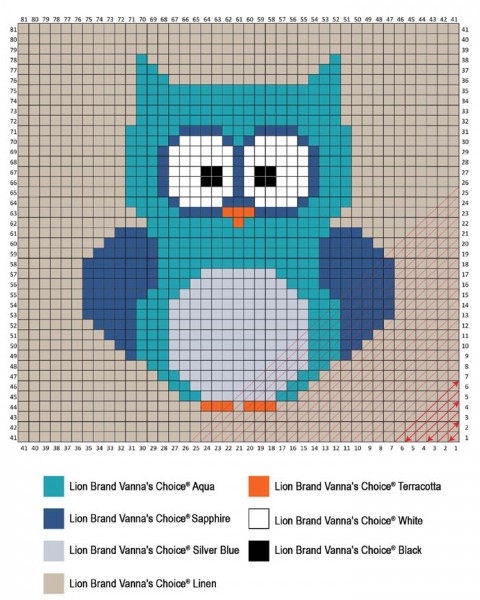 November 18th, 2015

You are probably nearing the end of your first of two panels for the Free Spirit Topper.  You have repeated the same two rows for so many inches, you may be exhaling a little sigh as you realize you have to do it all again for the second half of your Free Spirit Topper!
If you've lost steam, you could always wear the first half as a scarf until you get around to the second panel, but for those of you who are committed and determined to have a snugly sweater at the end of this knit along—I'm talking to you!
Due to the repetition of this stockinette pattern, I have found myself wondering about different knitting techniques.  I learned to knit using the English style of throwing the yarn.  Over the years I have tweaked my technique to wrapping my working yarn around my pointer finger and sort of flicking it around the needle.
This past year I have challenged myself to knit garments (as opposed to scarves or hats or smaller projects) and this has caused some knitting fatigue.  I taught myself how to knit in the continental style which involves picking the yarn instead of throwing it.  I find a row of continental style knitting goes a bit faster too—so I am that much closer to the finished product.
Though I have enjoyed experimenting by mixing my techniques when knitting for long stretches, I warn that this can mess with your tension if you are a beginner.  Be sure to do some practicing on a practice swatch to make sure your tension remains the same throughout.
If you have tried knitting before and not found your groove, trying a new technique may be the trick. One style may be better for a righty than a lefty.
I recently discovered a class on knitting techniques BEYOND English vs. Continental, from Patty Lyons.  She talks about 6 different techniques. This may be fun to explore if your skill level is beyond a level 2 (the rating for this topper).
On another note, I have found that my marker, separating the 8/9 stitch border from the rest of the project has been misplaced a few times. I don't know how this has happened! But there are a few stretches where my border ended up only being 7 or 8 stitches long instead of the correct amount! I hope it blends in when I am wearing it! Almost everything I have made has a little mistake or too—don't fret—it gives your garment some added character!
What is your favorite knitting technique? How do you prevent knitting fatigue? I would love to hear about your stretches and techniques in the comments below.
Take a look at some of our fellow Ravelry knitters as they work on their Free Spirit Toppers! All projects featured use different colors of Scarfie.
| | | |
| --- | --- | --- |
| | | |
| Tealadytoo's Free Spirit Topper in Ochre/Navy Scarfie | leaobrien95's Free Spirit Topper in Cranberry/Black Scarfie | memaw9's Free Sprit Topper in Forest/Black Scarfie |
| | | |
| Nolancleta's Free Spirit Topper in Cream/Taupe Scarfie | Aquaspir's Free Spirit Topper in Denim/Navy Scarfie | KnittedKnotion's Free Spirit Topper in Oxford/Claret Scarfie |
---
I am Kristy Glass and I am so thrilled to be infiltrating the Lion Brand blog to lead you in the 2015 Fall Knit Along! Even though I learned to knit as a girl, my passion for fiber arts has escalated at a very steep rate these past several years.

I returned to knitting and began crocheting about 8 years ago after I suffered an unexpected health setback leaving me feeling completely out of control. Hand work was a healing salve for my body and soul as I suffered through a long healing process. Thankfully I continue to use knitting to aid meditation, solace and a feeling of accomplishment. I knit year round, despite weather changes, and I am highly anticipating us all knitting together on this project.

I have completed over 100 projects including scarves, cowls, hats, hand warmers, phone cozies, afghans, pillows, sweaters and yarn bombing. My most recent passion has been making sweaters and actually wearing what I make!
November 16th, 2015
In this guest post, Lion Brand's Technical Editor Jackie Smyth shares great project ideas for traveling knitters and crocheters.
I grew up in Brooklyn, in a family known for our 'itchy feet'. Travel was our passion – whether a short local jaunt by subway or an endless flight to someplace more exotic.
I also grew up crocheting and knitting. I nearly always had a large project in progress, but I relied on smaller projects as my portable travel companions. Most every hat, shawl or scarf that I've made was created 'in transit'.
Needle crafting is not just the perfect way to fill time between flights or to keep  busy on long train trips – but also a wonderful conversation starter in a strange city.
Most of my travel was long before the age of iPhones and social media. My memory of knitting on a cloudy day in Sarphatipark in Amsterdam is preserved only in a light blue cardi that, sadly, no longer fits.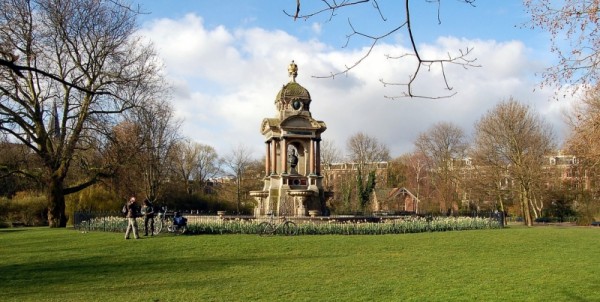 How things have changed!
Now, posting pictures to your blog, to Instagram, or other favorite site makes it easy to enjoy lasting memories of a project created in a special place.
Meanwhile, all kinds of new accessories make travelling with a project easier than ever:
My perfect portable project is something smallish in size that doesn't require super concentration.   Any of these would work well –
Afghans, when made in blocks or squares, are another favorite portable project. Here are some good ones –
We'd love to know what project you take when you travel and would especially love to see your photos!