May 12th, 2015
Today, we're sharing the third installment of our four-part video series "Fancy Stitch" featuring Staci of Very Pink Knits. In our last video, Staci showed us how to knit the Granite Relief Stitch, a stitch that can be found in the StitchFinder section of our website (under the "Learning Center" bar at the top of lionbrand.com). We were very excited to see how much you all enjoyed watching the previous videos, so we hope you also enjoy Staci's newest video – the Sugar Cubes stitch.
Like the Granite Stitch, today's Sugar Cubes stitch produces a textured fabric which is great for washcloths, garments with slight detail work, afghans and more! Check out Staci's tutorial for the Sugar Cubes stitch, which has been worked in LB Collection® Superwash Merino, Cotton Bamboo, and Cashmere to demonstrate the varying looks in each yarn.
:: can't see the video above? click here: https://youtu.be/d2HzL4kW7do ::
May 11th, 2015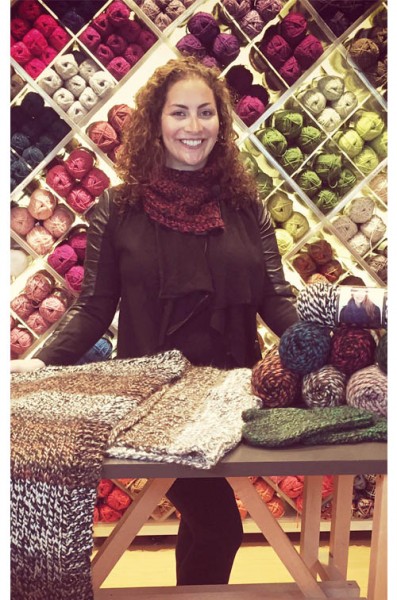 Lion Brand® Yarn, a family-owned and operated yarn company, announces the official launch of a new web series with its newly appointed Brand Ambassador, Shira Blumenthal, a fifth generation member of the family. The new web series, Tea with Shira, was created to share the story of this 137-year-old brand directly with crafters in person and online. Tea with Shira launches with three videos including a Mother's Day episode, where she interviews her mother, whose husband, David Blumenthal, is the President and CEO of the company.
Shira began working for the company in 2013 as an associate in the Lion Brand Yarn Studio, the company's Flagship retail location in Manhattan, which is a global destination for yarn lovers.  At the Studio, where customer service and education is key, she specialized in teaching children to knit and helped customers find the yarns and inspiration they were looking for.
Now, as an associate in the Marketing Department, Shira is part of a team that engages directly with consumers through conferences, email marketing and social media, including YouTube, Pinterest, Blogging, Facebook, Twitter and Instagram.  Shira will be traveling the country to speak with knit and crochet guilds, as well as appearing in videos about Lion Brand® products, behind the scenes videos about the company, and starring in a new video series called Tea with Shira.
:: can't see the playlist above? click here: http://lby.co/1KBThSq ::
Find Shira's upcoming schedule below:
2015
May 21- Atlanta, GA- North Georgia Knitting Guild and Chain Gang Crochet Guild
May 28- Long Island, NY- Eastern Long Island Knitting Guild
June 15- Greyslake, IL- Greyslake Crochet Guild
June 16- Chicago, IL- Windy City Knitting Guild
June 29- Caldwell, NJ- Caldwell Crafting Groups
July 22 – 24- San Diego, CA- Knit and Crochet Show
October 8- Merrick, NY- Long Island Knit and Crochet Guild
October 19- Chappaqua, NY – Westchester Knitting Guild
2016
February 8- Madison, WI- Madison Knitters' Guild
For further information, including how to arrange for Shira to speak, please contact Brandyce Pechillo.
About Lion Brand® Yarn Company
Lion Brand® Yarn Company is a 5th generation, family-owned and operated business, and a beloved American brand since 1878. The company is devoted to inspiring and educating knitters and crocheters with yarns, patterns, how-tos, and ideas that elevate their yarn crafting experience.
May 10th, 2015
How cute is this? Crochet designer Alyssa Voznak knocks it out of the park with this super-sweet amigurumi sunflower made with our popular Vanna's Choice® yarn.
This is a paid pattern, available through Ravelry for $5.
:: Vanna's Choice® colors seen here in Duckie, Sweet Pea, Chocolate and Rose. ::
May 9th, 2015
While you're hard at work on your project for Mom, don't forget about Dad! Father's Day is June 21st this year — leaving plenty of time for projects to be made for your loved ones.
We've rounded up a few of our favorite crafts for dads (and grandfathers!) that make for fun and useful gifts.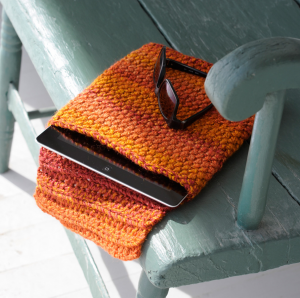 Dad always glued to his tablet? Keep all his apps handy and safe in this Digital Tablet Cozy. Made with Tweed Stripes®.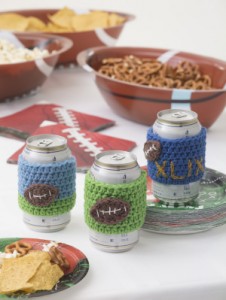 Whether he's court-side or couch-side, Dad will love this Big Game Cup Cozie. Made with Kitchen Cotton and Bonbons.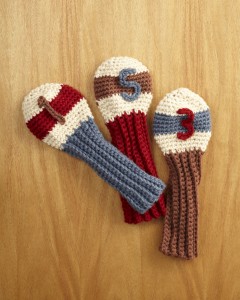 Customize these Golf Club Covers for the dad or grandpa in your life that loves to get out on the course.
Choose from a variety of colors of Hometown USA®.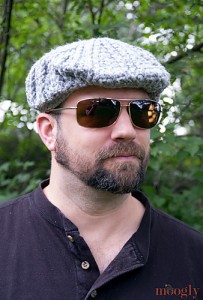 Keep the sun out of his eyes and focused on a hole-in-one with this Men's Cabled Golf Cap by Moogly.* Made with Wool-Ease®.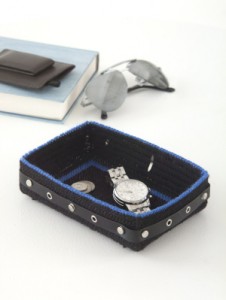 This Father's Day Catchall looks great on both Dad's dresser at home and his desk at the office. Made with Modern Baby®.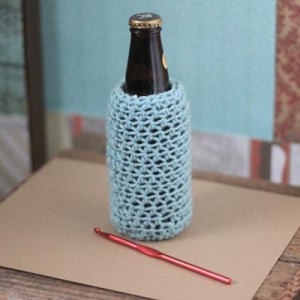 Keep the whole pack cool with these easy bottle cozies from Evermine.*
Crochet one together with Kitchen Cotton's range of bright colors.
* Not a Lion Brand Pattern
May 8th, 2015
Sara Thomas began selling her cat hats on Etsy years ago. She had no idea that her projects would become so popular! So popular in fact, that her cat hats, featured in a new book Cats in Hats (30 Knit and Crochet Hat Patterns for your Kitty), are a currently a viral sensation!
Thanks to Sara and our friends at Perseus Books, we're hosting a giveaway of this adorable book — we even have two free patterns from the book to share with you: Feline Fox (Crochet) and Dinosaur Kitty (Knit).
As we browsed through the book, we were inspired to test out one of the hat patterns for ourselves, and our wonderful Brand Ambasador, Shira (@shiraroars) tested the hat out on her kitty, Psy. Thanks to Shira, we have this awesome photo of her cat in a mohawk hat and want YOU to come up with a creative caption for this image.
Just click on the link below to enter (you'll be redirected to Facebook)!  Please note that captions in the comment section will not be considered. Contest ends May 24th, 2015.


May 7th, 2015
Writer, illustrator, and knitter Franklin Habit joins us for his monthly column featuring humor and insights into a yarncrafter's life.
There is no question that persons who make things with yarn are a superstitious lot.  This is scarcely to be wondered at–so much can go awry on the journey from winding up to casting off. Skill and vigilance are well and good as safeguards against disaster; yet much depends on luck. You cannot make luck as you can, with luck, make a mitten. And so knitting, crochet, and all their sister arts are shot through with charms and spells intended to pick up stitches before they drop.
You are likely familiar with the folk custom that one does not knit a sweater for a lover to whom one is not firmly and finally wed. So old and pervasive is this belief that it has passed into common knowledge. Few among us will have left grammar school without learning the ancient playground chant:
Mary knit a cardigan
And handed it to Gene.
He stuffed it in his bottom drawer
And ran off with Maureen.
The origins of the famous "sweater curse" are obscure, but perhaps arose from the hard-won knowledge that it is best to present him with an expensive, labor-intensive gift he doesn't want and won't use only after both of you are too exhausted by the demands of child-rearing to care about anything else.
May 6th, 2015
In this episode of Tea With Shira, I invited my mom to sit down and chat with me for Mother's Day. We talked about her adventures as a beginner knitter, her first project, and her embracing her mistakes as design elements!  Keep watching until the end of the video for a big surprise — make sure you have tissues near by!
::Have trouble viewing this video? Click here: https://youtu.be/e1I0OJtyXII::
Yarns discussed in this video:
Wool-Ease® Chunky
Do you have a question for Shira? You can leave them in the comments below or tweet her at @shiraroars and she just might answer your question in her next video!
May 6th, 2015
Do you know a special someone who's just had a baby or is expecting one? Well get your hooks out, this video is for you!
Join Melanie Ham as she shows you how to crochet the Easy Stripes Baby Throw in Tweed Stripes®. Even if you're a beginner crocheter, you'll enjoy working through this pattern. One of the best things about this pattern is that the self-striping nature of the Tweed Stripes adds a great visual color story, which works great with the simple V-stitch pattern.
Check out Melanie's video below and she'll walk you through each step, from gauge swatching through to completing blanket!
:: Can't see the video above? Click here: https://youtu.be/lqrCeSrIq0g ::
Like this video? Check out more from Melanie's Channel on YouTube, Melanie Ham!
May 5th, 2015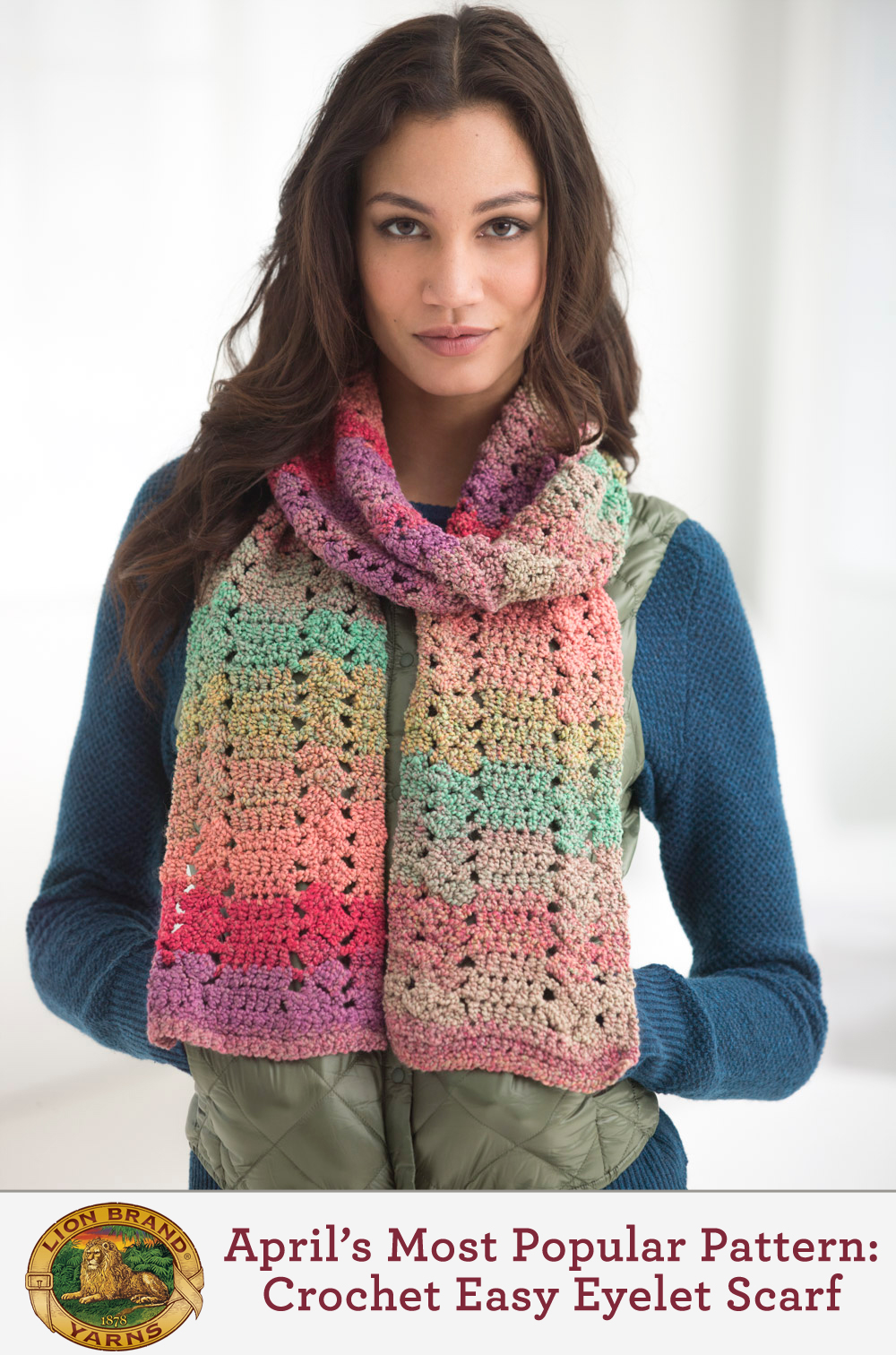 Textures® was the big hit yarn in April!
From scalloped waves, to classic stripes, to triangular patterns, Textures® looks exquisite in any geometric shape your pattern may call for. Textures® comes in eight colorways, including the deep russet of Sunset Rays and the cool tones of Enchanted Forest.
Our pick for spring? Textures® in Meadow Flowers, as featured in our Easy Eyelet Scarf pattern, the most popular pattern in April! The lace detailing of the stitches pairs well with this self-striping yarn. No matter your stitch of choice, these colors are sure to bring your project to light, just in time for spring.
Learn more about Textures® at lionbrand.com.
Below is a collection of the most popular patterns from April, as chosen by you!
May 4th, 2015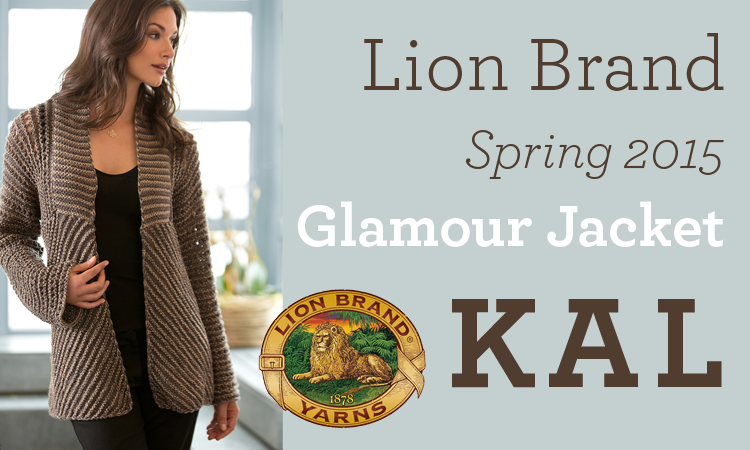 Editor's note: LAST CHANCE to get your Knit-Along Kit — get your kit here now before it's too late! There are four to choose from! Also we have a hashtag for this KAL, use #LBspringKAL2015 when you share your progress on social media. Have fun!
---
Hello my fellow knitters! It's Kristy Glass here – we're coming to the end of this KAL!
While I was knitting this Glamour Jacket in my crazy pink colors, I would NEVER have imagined how versatile this piece would end up being.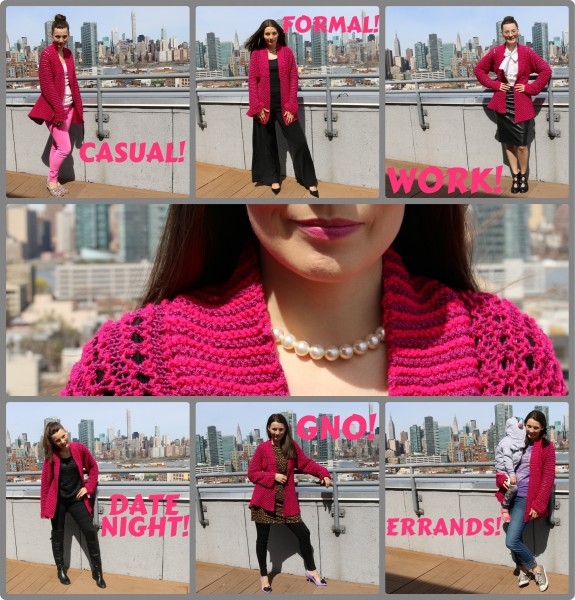 I legitimately cannot believe how many outfits this Glamour Jacket goes with, and this was just in a few minutes of scouring my closet. I honestly think I could come up with even more combinations!
:: can't see the video above? click here: https://youtu.be/Eju8uFHdAz8 ::
Since before the voting was even in, I have always been #teamtailback And look HOW awesome the back turned out: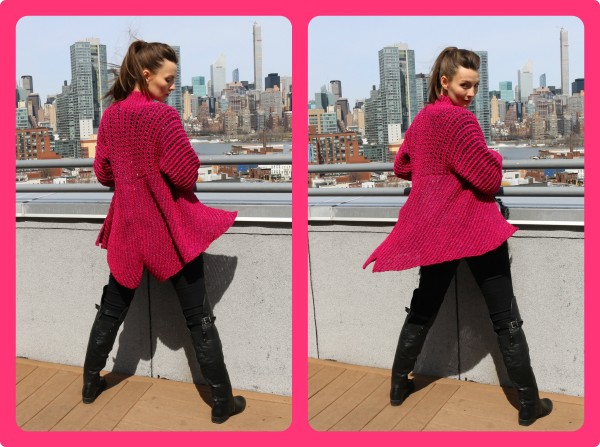 Thank you NYC wind for picking up the AWESOMENESS.
I want to see pix of your finished product and how YOU decided to style it! Post them in the comments below!
Thank you SO MUCH for participating, and if you haven't quite finished yet, don't give up! We can stay connected here and on Ravelry, Facebook, Twitter and YouTube and continue to support each other through the project.
Being your fearless leader this spring has REALLY made my year, and I look forward to knitting more together in the very near future!
NEVER STOP KNITTING!
***
I am Kristy Glass and I am so thrilled to be infiltrating the Lion Brand blog to lead you in the 2015 Spring Knit Along! Even though I learned to knit as a girl, my passion for fiber arts has escalated at a very steep rate these past several years.I returned to knitting and began crocheting about 8 years ago after I suffered an unexpected health setback leaving me feeling completely out of control. Hand work was a healing salve for my body and soul as I suffered through a long healing process. Thankfully I continue to use knitting to aid meditation, solace and a feeling of accomplishment. I knit year round, despite weather changes, and I am highly anticipating us all knitting together on this project.I have completed over 100 projects including scarves, cowls, hats, hand warmers, phone cozies, afghans, pillows, sweaters and yarn bombing. My most recent passion has been making sweaters and actually wearing what I make!