June 19th, 2015
POSTPONED! Due to thunderstorm activity in NYC today, the event in Union Square is cancelled. We will announce a rain date shortly.
***
If you're in New York City on Sunday, June 28th, drop by Union Square between 11am-4pm and add a small swatch of knitting or crochet to our mystery yarnbomb! We'll be there with world-famous yarnbomber London Kaye Crochet, who is delightful in the latest episode of Tea With Shira #5:

Can't see the video above? Click here: https://youtu.be/r7KcYktG6U8
You can make your swatch before hand if you like — our
StitchFinder
has some great knit and crochet patterns for small blocks, flowers and motifs — OR you can knit or crochet a little something on the spot. We'll have lots of yarn, hooks and needles for you to take advantage of.
Some ideas from StitchFinder:
Can't knit or crochet? No problem! Representatives from
Yarndevu
, a community of knitters and crocheters who meet in person and learn from each other, will be on hand to teach you how! Eager to learn before then? Sign up on
Yarndevu
now and connect with a local knitter or crocheter eager to teach!
Event Details:
Who: You, London Kaye Crochet, Lion Brand Yarn and Brand Ambassador Shira Blumenthal will all be there!
What: We're crowdsourcing a yarnbomb and we want you to contribute! Bring a small swatch of knitting or crochet, free-form or based on a pattern, and add it to our big yarnbomb!
Where: Union Square, New York City, by East 14th Street & Union Square West
When: Sunday, June 28th, 2015, 11am-4pm (If the gathering must be postponed due to poor weather, an announcement will be made by 9am the day of the event through Twitter and Facebook.)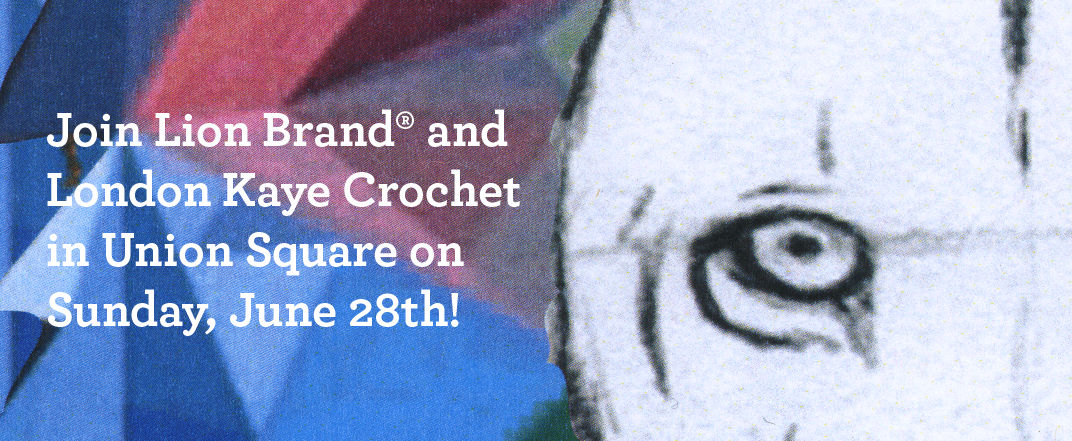 * Please note, we are not fastening any yarn to a fixed structure. We are asking participants to fasten their knitted or crochet contribution to a piece of portable mesh that we will provide that day.
June 19th, 2015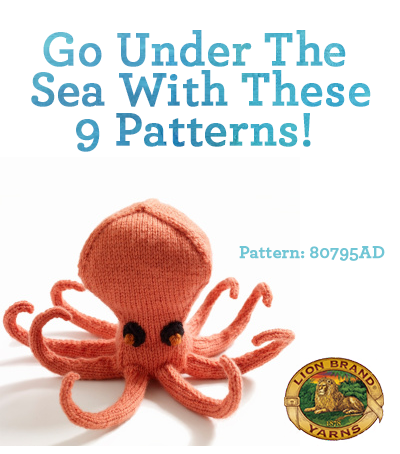 Summer is definitely the time to spot sea creatures! Head on out to a beach to find starfish, or visit your local aquarium to see an underwater world up close! We suspect not many would like a face-to-face encounter with a real jellyfish, but we find the amigurumi kind to be sweet and playful.
Little ones will love getting their hands on knit versions of their favorite ocean dwellers — let's say hello to our tentacled and finned friends with a round-up of ocean-inspired patterns!
* Not a Lion Brand pattern.
June 19th, 2015
We've teamed up with Todd Clark, creator of the ever-popular Lola series, to bring you "Out of the Loop," a regular one-panel comic featuring humorous takes on the world of yarn.
Enjoy and please share widely!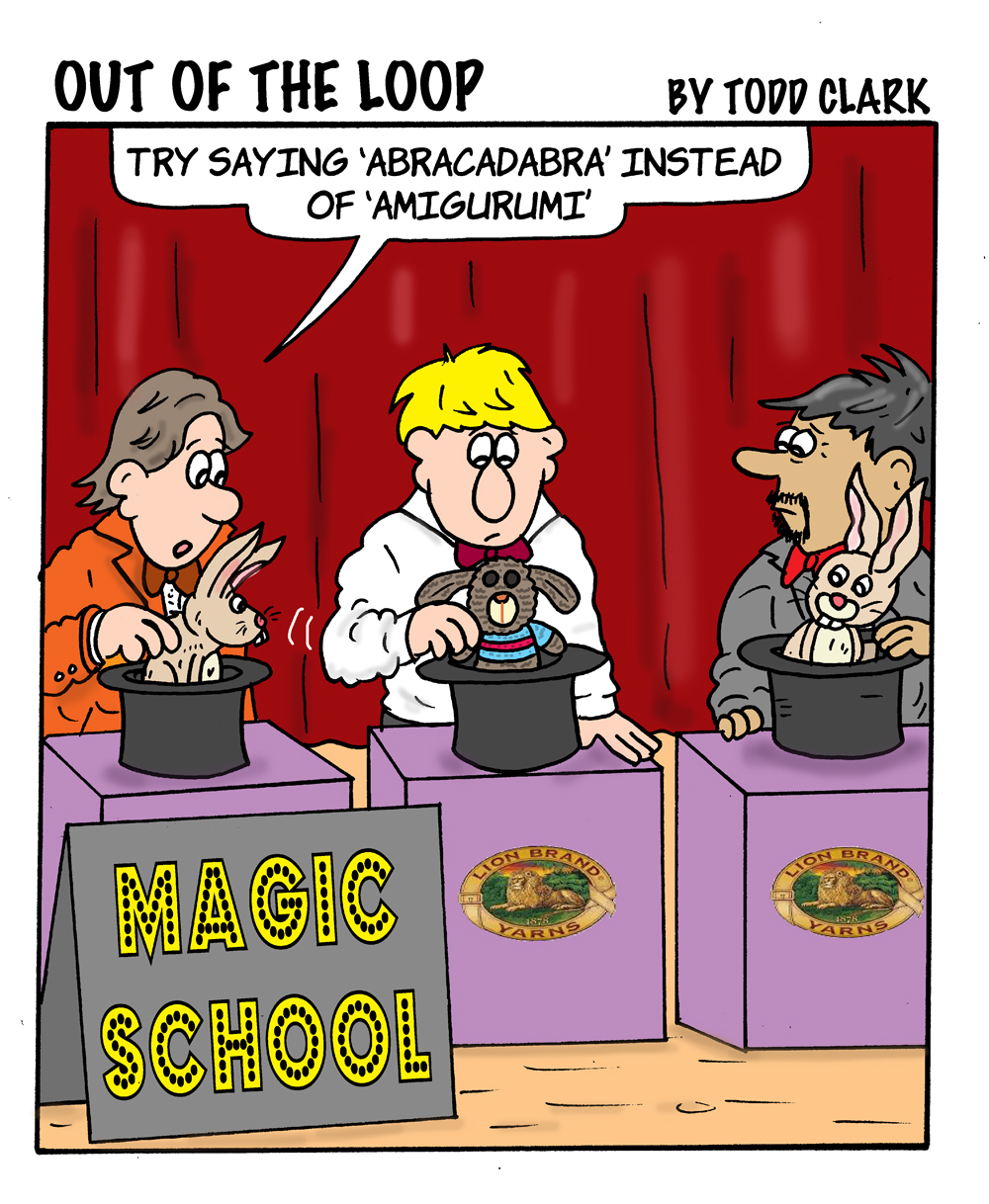 *** *** ***
Here are a few kawaii patterns to inspire you!
*** *** ***
Subscribe to The Weekly Stitch Newsletter
Get a FREE weekly email featuring patterns, articles and special offers. As a bonus for subscribing, we'd like to offer you 15% off your first order! *
:: Sign up now ::
* offer valid only for first-time email subscribers, one coupon per person.
June 18th, 2015
Several times a year we host a crochet- or knit-along, a virtual event in which knitters and crocheters come together here online to work on one pattern together, share their experiences, and to learn together. There's no need to sign up! Simply follow along with the blog posts at your own pace as you crochet your project, and feel free to share your comments and/or photos as you progress. Want to learn more? Click here for our guide.
The Votes Are In!
Thank you for voting for our crochet-along! The winning pattern is … the Sabrina Tunic!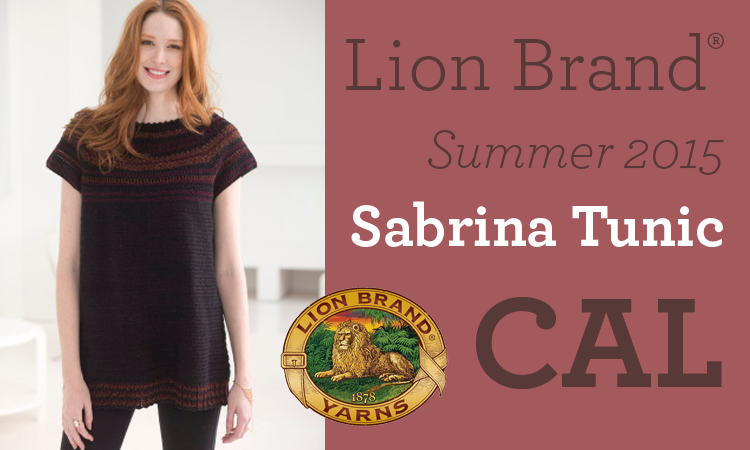 Feel free to pick up this badge to use on your blog, Ravelry, etc to show that you're participating! (Right-click on PCs or Ctrl+click on Macs to save it to your desktop and upload it to your site)
Crochet-Along Next Steps
1. This week, download the pattern (click here for the pattern) and read it through so you have a sense of how the project is going to take shape. We'll be walking you through a different element each week, so don't worry if you see anything you're not familiar with!
June 18th, 2015
Here's a fun and easy tutorial from crafty maven, Audra Kurtz. Watch as Audra walks you through the steps to create your very own woven wall tapestry using a Martha Stewart CraftsTM Knit & Weave Loom Kit and an assortment of Lion Brand® yarns.
Weaving is a great way to continue yarn crafting through the summer months, and you can use this craft to create a beautiful piece of decor for your home or for a friend!
Wall tapestries have been popping up everywhere lately, and although the process of creating them seems complicated, it's actually not; the weaving process is quite therapeutic, and you can be as creative as you'd like. We hope you enjoy the video below and get started on your very own tapestry, it's a great opportunity to play with colors, textures, and patterns!
P.S. Check out the patterns below for more tapestry inspiration from our very own PatternFinder.

Can't see the video above? :: Click here to watch Audra Kurtz's DIY Mini Tapestry ::
June 17th, 2015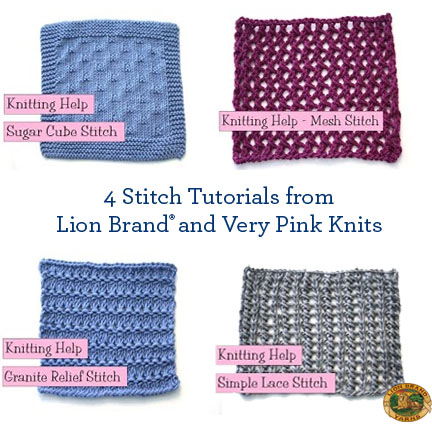 Today we share the last installment of our four video stitch tutorial series with Staci from Very Pink Knits. Below is a step-by-step which demonstrates the knit mesh stitch — an openwork pattern perfect for summer knitting. This is an easy, straightforward stitch that that's simple to master. Watch Staci's tutorial below as she highlights the stitch using LB Collection® Cashmere and Crepe Twist yarns.
The mesh stitch can be found in the Lion Brand StitchFinder library (under the "Learning Center" tab at lionbrand.com). Please explore the rest of the StitchFinder library to see what other stitches might pique your interest. There's a treasure trove of patterns waiting for you!
Can't see the video above? Please click here: https://youtu.be/zlPIOPninqE
June 16th, 2015
You've met Mrs. Blumenthal, now meet another member of the Lion Brand family!
In this episode of Tea with Shira, our brand ambassador Shira Blumenthal sits down with her brother, Adam Blumenthal! Adam is Lion Brand's Director of Corporate Strategy.
Together, they chat about Adam's latest "22-ish minute" project — made with an addi® loom — and his favorite tea, a smokey brew called Lapsang.
::Can't see the video above? Watch it here: https://youtu.be/HwB2eeBusIo ::
Shop this video:
addi® Express Professional Knitting Machine
addi® Express Kingsize Knitting Machine
Yarn mentioned in this video:
Have a question for Shira? Wondering who'll stop by and have a bit of tea next? Tweet Shira at @shiraroars or comment below!
June 15th, 2015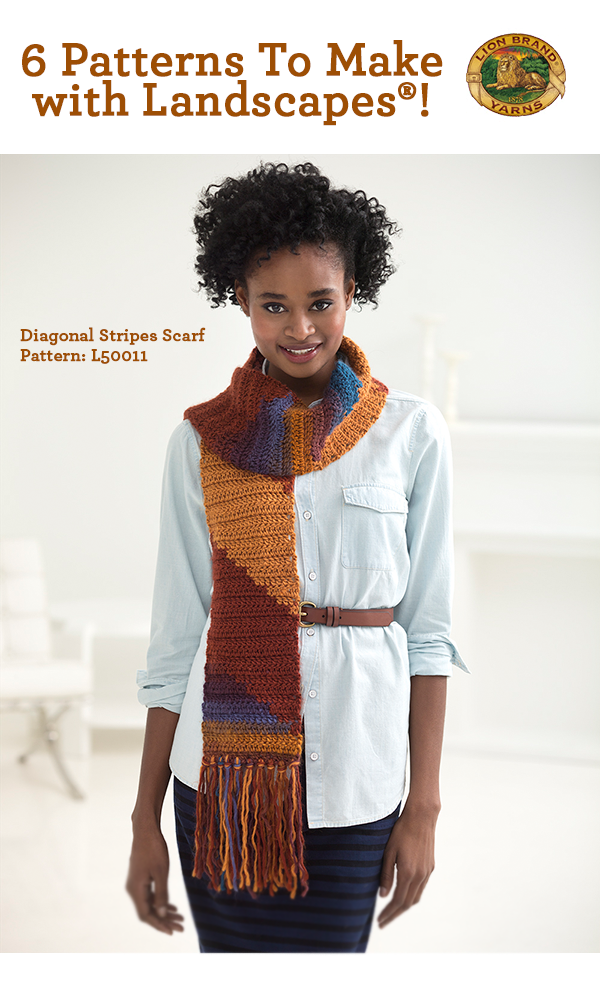 You may already know Landscapes® as a gorgeous, self-striping, roving yarn. We love how this yarn works up so much, we added a batch of solid colors!
Create stunning ombre patterns by mixing solid and multi-colored skeins — like the dewy colors chosen for the Misty Moors scarf!
We're also excited to include patterns for bright and festive wall hangings. Choose from Landscapes® and many other Lion Brand yarns to create a woven decor piece for your home.
Check out the patterns below – they each feature a mix of the new solid colors of Landscapes® and its original self-striping collection.
June 14th, 2015
Did you know? Although the most patriotic day — Independence Day — is celebrated on July 4th, Flag Day commemorates our nation officially adopting the stars-and-stripes-patterned flag on June 14th, 1777.
Natasha of Alaska Knit Hat designed this Old Glory hat – made with Woolspun® – just in time for a chilly summer in Alaska!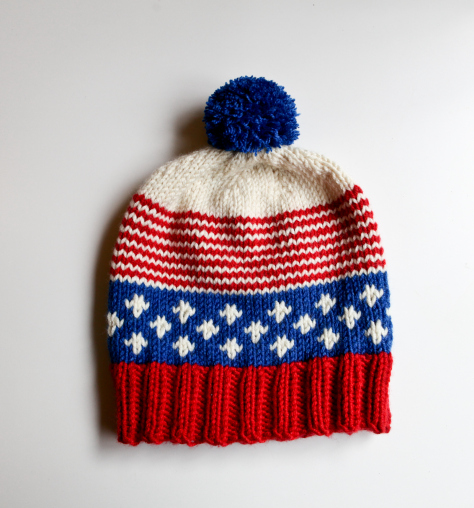 Stars, stripes, pom-poms — this pattern's got it all!
For more inspiration, check out our pattern recommendations below, as well as our Independence Day Pattern Round-Up!
Wondering which of our yarns are made here in the U.S.A.? Watch the video below or click here for a full list!
::Having trouble seeing this video? Click to watch: https://youtu.be/b_soGG0Rl-8::
*Not a Lion Brand Pattern
June 13th, 2015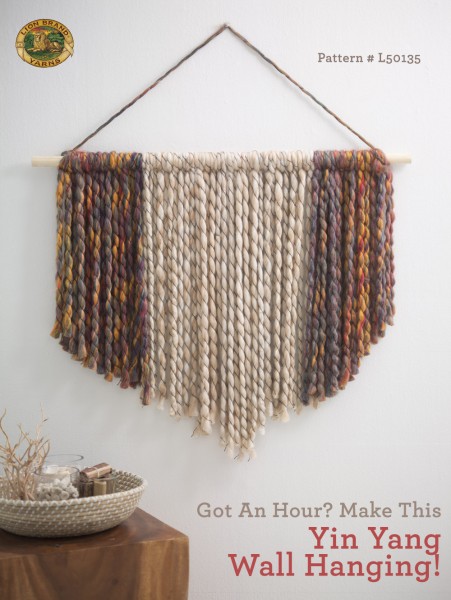 Are you looking to add a little character to your home this summer? Our Yin Yang Wall Hanging patterns are the perfect addition to any room. Our team has been so in love with the wall hangings trend, we just can't stop making them!
Yin Yang Wall Hanging
Get the pattern here.
Braided Fringe Wall Hanging
Get the pattern here.
Their popularity continues to grow and we are seeing them pop up everywhere, including Instagram and Pinterest! They are a fabulous summer yarn project. And the part we love the most?  They are so easy to create and no crafting skills are needed! We've provided instructions for the wall hanging shown in our photo – but remember this project is meant to inspire you, so feel free to experiment with other Lion Brand yarns and colors, too!
For this wall hanging we used our Quickie yarn. It's a silky soft blend of natural wool and brilliant pre-dyed acrylic fibers twisted gently with a solid strand of black. We just love the texture and color palette of this yarn.  You can use any combination of Quickie colors because they all coordinate beautifully!
This project can be completed in well under an hour and costs under $30! Love it! We hope you enjoy creating your very own Yin Yang Wall Hanging!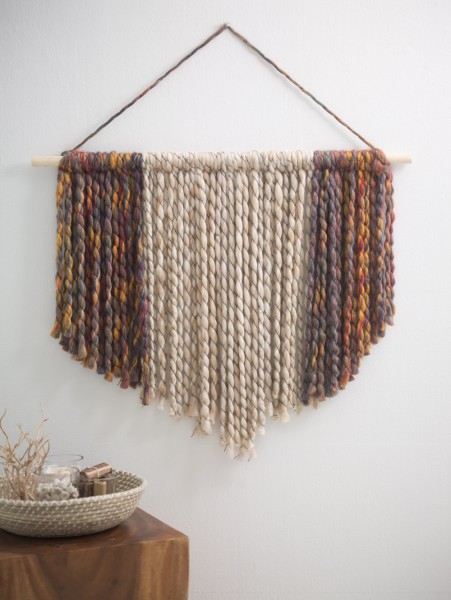 Wall hangings designed by Chelsea Carle, Lion Brand's Business Development Coordinator.