April 26th, 2016
by Tamara Kelly of Moogly


Whether you have kids, or you were a kid once (which is, well, everybody!), you probably remember those classroom art projects for Mother's Day. Clay, macaroni, paint, and maybe even a bit of yarn all combined to make something that was full of love, if not raw artistic talent. I have a whole collection of interesting clay items and glued together poems from my own three kids, and as they get older and the handmade presents dwindle, it makes me a little sad to be honest.
My own mother, who had 6 children, has a very impressive collection on her dresser top of tchotchkes and doodads, drawings and trinkets. The first thing I remember making for her was a small wooden heart, which my grandfather helped me whittle. She loved the heart – or at least pretended to – but was appalled that he let me loose with a pocket knife at only 4 years old! Thankfully, no harm done – and last I looked, she still had the heart.
Now that I'm a mother myself, I know just how special those handmade items are! And while not every mother is the kind that enjoys crafted gifts, we knitters and crocheters are fortunate enough to have the skills to continue creating for our moms, when we are lucky enough to still have them to craft for.
Of course, when we were kids, the crafts were more often than not teacher directed – I don't know any kid that would come up with the idea of printing out a slightly sappy poem and gluing it next to their hand print on a piece of construction paper. Now, as adults, it's time to step back and think about what mom would really like and appreciate – not what we just happen to want to crochet or knit for her!
So before you pick a pattern and yarn, be sure to consider these 3 factors!
1. Color
Does your mom like brights? Pastels? Jewel tones? Animal prints? Does she have neutrals around the house but always wear a pop of color? Take into account whether it's a wearable accessory or a home decor item – her favorite color might be green, but if she never wears it, use that emerald yarn to make a blanket or throw pillow.
2. Style
Is mom's style sleek and modern, fun and funky, or classic and traditional? More pineapple doily, or colorblocked cowl? Triangle shawl, or rectangle wrap – or bikini top with motorcycle leathers? You know crochet and knit patterns are out there to suit every taste with a little searching!
3. Climate
There are gorgeous crocheted and knitted afghans out there to suit any taste and style, but if mom has retired to a tropical climate, they aren't the best pick! If it's always cloudy and rainy in her locale, then a floppy yarn sunhat won't get much use.
Beyond these factors of course, hobbies and lifestyle can affect your choices as well. If she hates cooking, a set of crocheted dishcloths won't suddenly inspire her to take up baking. If she collects goat figurines, look for a goat basket pattern (I happen to know where you can find one of those…). If she is traveling the country year-round in an RV, make sure any gift is both practical and small enough to fit in relatively cramped quarters!
So don't just follow the teacher's instructions – put some thought into it! Moms are notoriously difficult to come up with gifts for – especially when they like to answer "Oh nothing, dear" to requests for ideas. And for inspiration, there are literally thousands of free patterns here in the Lion Brand Pattern Finder, as well as elsewhere around the web.
And if she's a crochet or knitter herself… well, you can always order her some gorgeous luxury yarn from the LB Collection and call it a day!
April 25th, 2016
The self-striping colors of Vanna's Tapestry create beautiful knit and crochet projects that look like intricate colorwork. This machine washable yarn does all the work for you! And you can get Vanna's Tapestry on sale during the entire month of April along with all of Vanna's yarns!
Shira modeled the patterns that you've loved the most!

Having trouble viewing this video? Click here: https://youtu.be/qKlGwFJ6Tns
April 24th, 2016
Bulky weight Wool-Ease® Tonal is perfect for afghans and chunky accessories like cowls. But it's also great for bold garments that work up quickly! The Sangria Vest adds a gorgeous pop of color to any outfit. This vest is crocheted in a hexagon making it so unique— it's sure to be a conversation piece.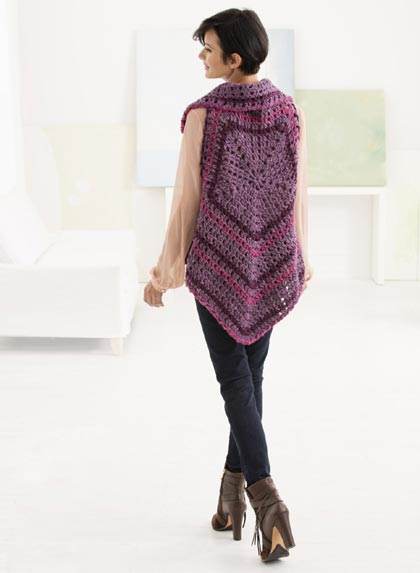 We love garments like these because they're as fun to wear as they are to make!

::Can't see the video? Click here to view it: https://youtu.be/Tv9R6_8iZBg::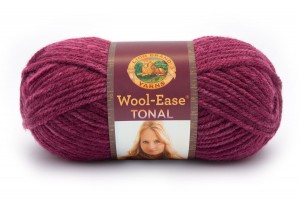 Click here to get Wool-Ease® Tonal!
April 23rd, 2016
Do you suffer from carpal tunnel?
I took one of AJ's yoga classes before Yoga with Shira and I remember she had me do this pose.  It doesn't look so intense but let me tell you, my facial expressions say it all!  I was so surprised.  I do suffer from carpal tunnel and this stretch, if done correctly, with breathing, can really help over time.
Try it out by following along!
Having trouble viewing this video? Click here: https://youtu.be/VnzoNx2MRX0
April 21st, 2016
My knitted costuming adventures continue! This time on a cosmic scale…
I'm very drawn to the moon – for its symbolism and beauty, and as a visual marker of the passage of time. When the theme of "cosmic carnival" was announced for a costume party, I jumped on the opportunity to create a moon-related costume. At first I considered trying to recreate the Moon Tarot card – a concept I might pursue at a later date. For this project, I wanted something simpler and less time-consuming to make, since (as usual) I was working on a tight deadline. I decided to knit the phases of the moon into a headpiece.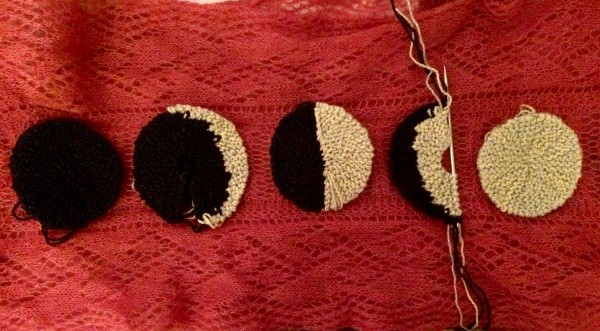 For my yarn, I chose
Vanna's Glamour®
held double. I used two strands of Onyx for the new moon and darkened portions of moon phases, and held together a strand each of Topaz and Platinum for the full moon and light sections of lunar moon phases. The champagne and silver shades combined to create a subtle marled effect.
When I'm in the brainstorming stages of a costume project, I like to chat with the knowledgeable staff at our Lion Brand Yarn Studio to hash out design ideas. What technique would work well to knit flat circles for the moon phases? They recommended a pattern using short rows, which I adapted for this project.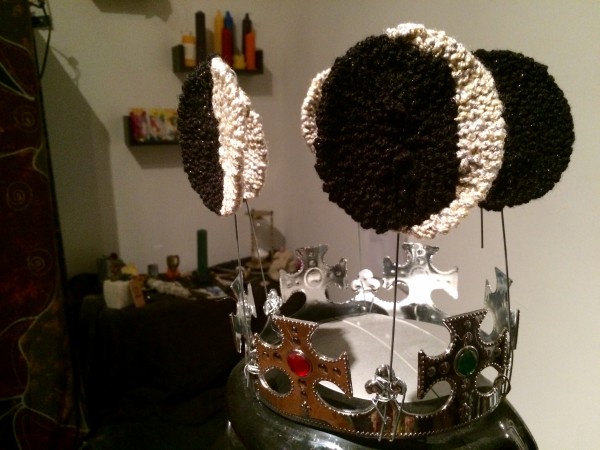 For the crescent, first quarter, and waxing gibbous moon phases, which required both the light and dark yarns, I used the intarsia technique to incorporate both colors.
Jewelry wire and floral wire have quickly become essential in my crafty costume toolbox. I used thick gauge jewelry wire to attach the circles to the store-bought crown that formed the base of my headpiece. This wire is sturdy enough to hold the circles upright. Thin gauge floral wire was perfect for wrapping around the thicker wire to fasten the components to the crown even more securely.
A silver dress from my costume stash, silver accessories, and glitter rounded out the look. With a string of LED lights wrapped around the crown, this lunar queen was all set to light up the cosmic carnival!