May 20th, 2016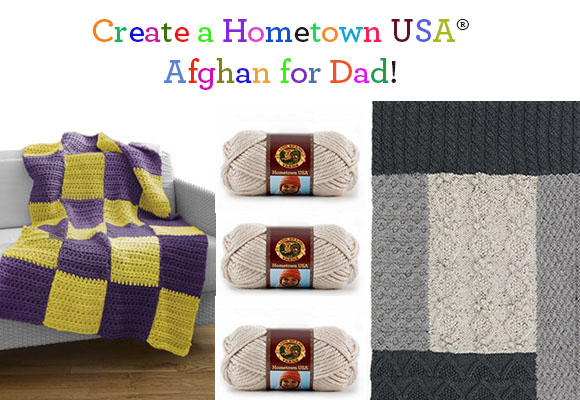 We have a public service announcement: Father's Day will soon be upon us! The day to honor dad this year is Sunday, June 19 and this week we aim to answer the eternal question What do Dad's want?  on their national day of celebration. Is it a tie? A wallet? A key chain? We think it's something more personal; a gift that not only shows you love him, but that you also know what he loves, too!
Enter: our color customizable Hometown USA® afghans. It's a simple project:
Step 1: Think of Dad's favorite colors. Perhaps his college pride hues, or his hometown sports team?
Step 2: Choose your craft. If you're a knitter, go with our Cabled Afghan pattern (below left); if you're a crocheter, the Rise & Shine Afghan is the pattern for you! (below right)
Step 3: Visit our Hometown USA® page to find Dad's favorite colors from the over 80 colorways available. Mix and match as you desire!
Step 4: Order all the yarn you need (15 balls for our knit afghan; 10 for our crochet afghan) in the colors Dad will love at 20% off!
Step 5: Knit or Crochet away, and give Dad a gift he'll never forget!
Happy crafting, Happy Father's Day, and please share your projects with us!
May 19th, 2016
Brighten your projects with new Color Waves! This variegated yarn is full of complementary colors that really pop. Designed to mimic a hand dyed look, each ball of Color Waves is richly hued with a kaleidoscopic look.
At a DK-weight, it's the ideal yarn for projects both big and small. Combine your favorite shades to create a prismatic project, or pair it with an equally weighted yarn to make it really stand out.
Meet Color Waves in the video below!:
::Can't see the video above? Click here to watch – https://youtu.be/W-QtksJ-9Y8 ::
What will you make with Color Waves? Grab three of our newest patterns below, and stay tuned for the release of many more!
May 18th, 2016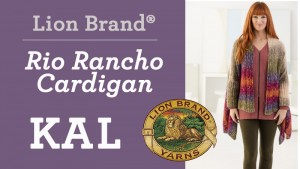 Another week, another many hours spent in seed stitch! How are you all doing with the back and forth?  I confess, I had a little wrist fatigue with this pattern—anybody have any good stretches to share?
I wanted to talk about a few spots in the pattern.
"Continue in Seed st until armholes measure about 6 in." found in CARDIGAN BACK
and
"Work in pattern as established until armhole measures about 6 in." found in the FRONT sections.
I matched gauge for this project, so if you did too, I imagine you will have found that no further knitting was required to get to the 6" mark.  In one case I even thought I was beyond 6".  The bottom line is that this is a tricky spot to measure.  For your reference I took a pic of mine: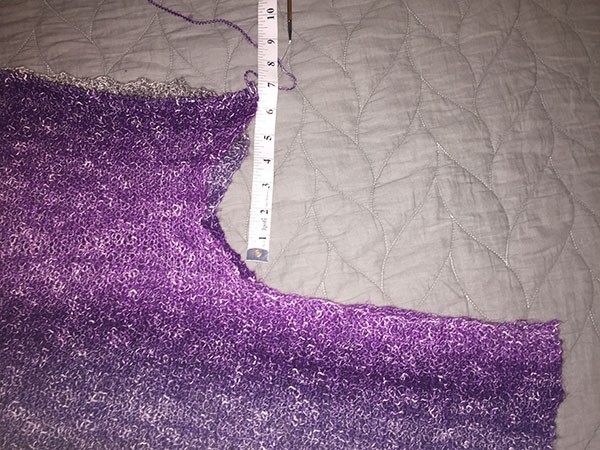 Pictured here are both the back and one of the front sections on top of the other.  It measures 6-ish inches, but I thought it was important that the two sides were very similarly OFF the 6" mark.  Hopefully they will be similar to the sleeves when it's time to construct the garment! (Fingers Crossed!)
Sleeves
I attempted to match up my sleeve colors.  The yarn I had left only had 2 almost identical sections available, so I went with the grey into white. I wish I had known I only needed a small amount of yarn, or I might have attempted more purple sleeves with the yarn I had left.  Just know, it takes about 2 color changes to make the sleeve pattern as written.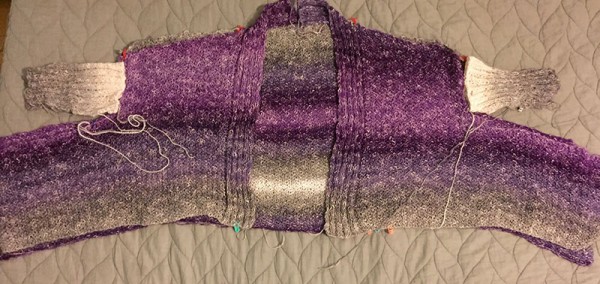 Here too, when I got to the instruction "Work in pattern as established until piece measures about 7 in." I was already at the 7" mark, so I did not need to knit any additional rows.
I experimented binding off in the established ribbing and also in knitting all.  Knitting all makes a tighter edge, than binding off in the ribbed pattern.  I think that more flexibility is better for this particular garment, so I suggest binding off in the ribbed pattern.
Next week I will talk more about construction and binding off, but in case you are far along in the project, here is a preview of how you piece the garment together: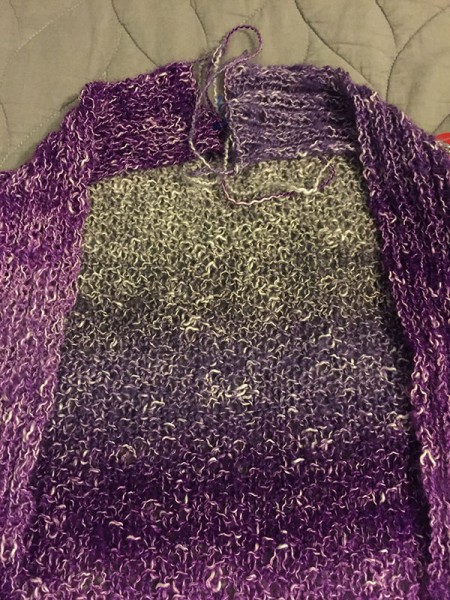 May 17th, 2016
It's the only accessory you'll ever need! The Endless Possibilities Scarf can be worn in so many different ways, you'll be able to pair it with any outfit. This scarf is constructed as a tube which makes it easy to convert it to a muff, cowl, or even a hat! Knit with Homespun® and Vanna's Glamour®, the Endless Possibilities Scarf can be made in your choice for color for even more variety.
This convertible scarf is available now in a kit!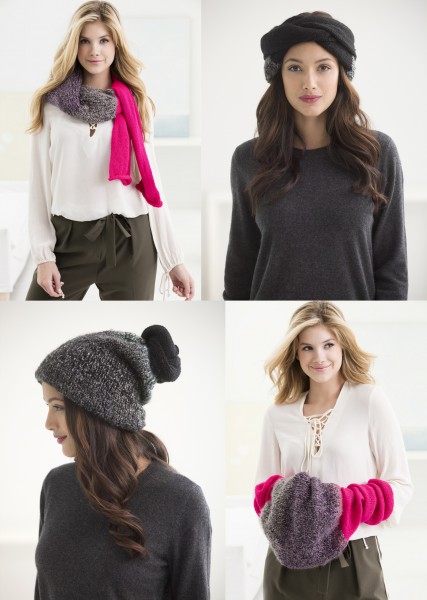 Shira modeled five ways that you can rock this scarf. How will you wear yours?



Having trouble viewing this video? Click here: https://youtu.be/w3gYWBR6u2M
May 16th, 2016
Don't let the name fool you! Kitchen Cotton isn't just for dish cloths and pot holders! This worsted weight cotton yarn comes in so many vibrant hues which makes it a great option for all of your favorite summer knit and crochet projects. Shira modeled the three patterns that you love the most made with Kitchen Cotton.
And don't forget, all of Lion Brand®'s cotton yarns are ON SALE during May! Get Kitchen Cotton 20% off all month!
Having trouble viewing this video? Click here:https://youtu.be/m-ZEfzeEDjI