December 2nd, 2014
Today, we've got a wonderful giveaway – we're giving away two copies of Megan's book, one per person. We hope you enjoy this book as much as we did. So many fun and well designed little projects in here!
Guidelines for the giveaway:
Rules and Guidelines:
1. Entries must be received by December 9th, 11:59p.m. EST
2. Must be 18 and over to enter.
3. One person per entry
»Click here« to enter the giveaway if the form below does not work for you.
December 1st, 2014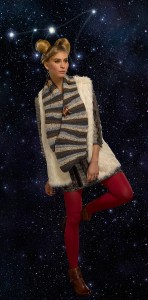 If you were born between December 22 and January 19, your zodiac sign is Capricorn. The Capricorn crafter is known to be very familiar with every stitch, their yarn stash is extremely organized, and their project wishlist is always completed.
As perfectionists, Capricorns love to try new stitches and projects and will practice their craft until they get it just right … before moving onto something more challenging.

Capricorns might appear to be private about their crafting habits, but it's actually that they are very shy. When it comes to displaying their feelings and emotions, they like to show their caring nature through handmade gifts – discreetly.
Show your favorite Capricorn how much you care with knit or crochet zodiac scarf in colors to match their amazing characteristics: charcoal grey for practicality, grey marble for ambition, barley for resourcefulness, and oatmeal for discipline.
Get the patterns for both knit and crochet!
Don't know a Capricorn?  Check out our entire collection of Zodiac scarves.
November 28th, 2014
Here is the latest installment of Lola, from its creator Todd Clark.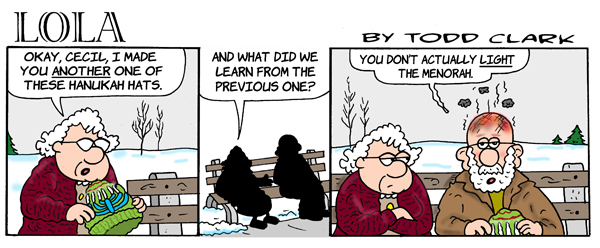 *** *** ***
Subscribe to The Weekly Stitch Newsletter
Get a FREE weekly email featuring patterns, articles and special offers. As a bonus for subscribing, we'd like to offer you 15% off your first order! *
:: Sign up now ::
November 27th, 2014
Lion Brand Yarn Company is a family owned and operated business. Currently, the fourth and fifth generation of the family are working in the company. The children below are all members of the sixth generation and they're dressed in fashions all knit and crocheted with American-made Heartland yarn. These patterns are easy to make and will delight the next generation in your family.
At this time of year, when families gather together, we wanted to share the faces that make us smile. Hoping you are fortunate enough to see the people who mean a lot to you this Thanksgiving. When you take a break from the traveling, and the cooking, and the cleaning, say hello in the comments below and tell us about your holiday meal.
November 26th, 2014
It's getting cold outside, so hats and scarves are a must-have for many of you at the moment. Since we'll spend many days, weeks, and months piling on the layers to stay warm, why not have a bit of fun with your accessorizing!
Today, we're sharing a crochet tutorial with you from Yolanda at the All Crafts Channel on YouTube. Yolanda will guide you through the adorably cute Lion Hat pattern, crocheted in our popular Wool-Ease® Thick & Quick® yarn. Sizes for this hat can be accommodated to fit adult heads as well, so it's not just for the children.
Video 1

Video 2

November 25th, 2014
The holidays are here and that means that it's travelling season! For some of us, packing knitting or crochet for a trip can be as important as bringing clothes! Travelling can provide some of the best opportunities for uninterrupted knitting or crocheting time. But these crafts involve a little bit of planning to take the show on the road. Here are some tips for travelling with your knitting or crochet!
1. Consider Your Project
While over the river and through the woods may give you enough time to stitch up a whole sweater, it may not be practical to work on complicated colorwork or bulky blankets when you're packing light. Projects that are worked in pieces like granny square afghans or single skein projects such as socks are great for travelling because they don't take up a lot of room in your luggage.
2. Keep it Simple…or Not!
When deciding on the complexity of your project, each trip is different. Ask yourself a few questions about your travels: Will you be able to devote your attention to intricate cables or should you stick to a stockinette stitch project? Will you be bored working on a simple scarf or will it allow you to chat with family and friends? Do you want to bring two projects so you're prepared for different situations?
3. Know What You Need
Now that you've picked your project, it's time to prep. Do a gauge swatch in advance so you bring the right needles or hooks. Take time to ensure that you've got everything you need for your project because you won't able to pop into a craft store if you're boarding a trans-continental flight! Read over your pattern so that you understand all of the techniques involved. Be sure to pack all of the yarns and notions required to complete your work.
4. Leave the Good Stuff at Home
Even if you're careful, things happen! Losing something you've worked hard on can be heartbreaking but it's even worse if your favorite set of needles or antique scissors go astray as well. Your time and effort is irreplaceable but those handmade crochet hooks cost a pretty penny. Plan for the worst: Bring less expensive supplies and yarns, just in case you become separated.
5. Make a Travel-Sized Notions Case
Use an empty tin (like the ones those famously strong mints come in) to store notions. Fill it with a tape measure, tapestry needle, stitch markers, and whatever else your pattern calls for. This kit is a great size to fit in a small project bag or even your purse and everything is together in one place.
6. Dental Floss is the Traveler's Best Friend!
A travel-sized dental floss can be incredibly handy on the go. The blade can be used to cut yarn and the floss can become an improvised stitch holder or even a stitch marker in a pinch!
7. Carry Extras
Back ups are key! It's always a good idea to pack away an extra crochet hook or set of knitting needles just in case one goes on its own adventure. You won't regret printing out a second copy of your pattern, either! If you like to keep your patterns on your smartphone or another electronic device, bring a printed version in case you run out of battery!
8. Knitters, Use Circular Knitting Needles
Circular knitting needles may not be your favorites but their flexibility makes them perfect for packing. You can use them the same way you'd knit with straight needles but you won't bump your seatmate's elbows. For projects knit in the round, the magic loop method can save you from bringing double pointed needles on your trip. Those double pointed sock needles love to run away!
9. Locate Your Nearest Local Yarn Shop
While you may not need to make an emergency trip to the yarn store, it's always fun to pop into the local shop when you're traveling. For a list of stores where Lion Brand is carried, search here. If you're somewhere unfamiliar, a local shop can give you a feel for the scene and the regulars are sure to have recommendations for places to visit in the area. Besides, it doesn't matter where you are in the world, you can always connect with a knitter or crocheter at the yarn shop!
What are your favorite patterns to make on the road? What tips do you recommend to make travelling easier?
November 24th, 2014
We've met more than 500,000 of you on Facebook … Now meet the people behind Lion Brand!
Thank you for being part of our family!
November 24th, 2014
This story is from our newsletter called Pattern Journal which brings a warm-hearted, wholesome story to your inbox to read every month. If you enjoy it and would like to subscribe, click here.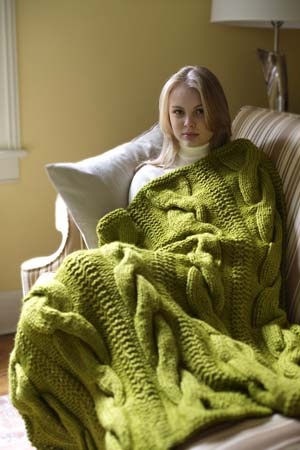 Exhausted by her stressful day at the office, Sharon, while driving home, could think only of removing her coat, suit and heels, putting on her comfiest sweats, and curling up on the sofa beneath the beautiful afghan she'd recently completed. It was called a Cable Comfort Throw, and yes, it was richly cabled and richly comforting.
Before, she'd never tackled anything bigger than a scarf. The throw taught her to cable and to manage a large piece of fabric. If you could knit stockinette, cables were a snap. Plus, the project was on large needles, and the yarn–the most squishable, chunky Wool-Ease® Thick & Quick® in a happy lemongrass green–knitted up fast, providing immediate gratification.
Sharon parked, and unlocked the front door of her home. The serenity of the hall, with its quietly ticking clock, the silk-shaded glow of table lamps as she switched them on, the scent of potpourri in a bowl on the mantel, the sight of the Cable Comfort Throw draped over the arm of the sofa–all brought soul-nourishing relief. She called it the "Sanctuary Effect."
Make-up and office uniform removed, sweats and thick socks on, a magazine and the TV remote at hand, the Cable Comfort Throw wrapped around her, Sharon sank into the sofa's deep cushions. But was she dreaming? Brian was already announcing that it was time to eat.
"Oh…I must have dozed off." She yawned, pulling the throw closer, thinking how its luscious warmth made her feel so peaceful. Even though dinner smelled wonderful, she could hardly bear to leave the Cable Comfort Throw's embrace.
Then Brian emerged from the kitchen, with a food-laden tray. "Now don't you move," he said, settling down beside her. "Dinner is served."
—
All characters appearing in this work are fictitious. Any resemblance to real persons, living or dead, is purely coincidental.
A story by Selma Moss-Ward.
Selma Moss-Ward writes and knits in Rhode Island. You can find her work on our blog, as well as Lion Brand's monthly newsletter, Pattern Journal, which you can subscribe to here.
November 24th, 2014
We've got a deal a day leading up to CyberMonday!
:: Promotion exclusive to lionbrand.com. Offers not avalable at retail locations. ::
Monday, November 24
25% off All Vanna's Yarns, Coupon Code: VANNA25 applied at checkout.
November 22nd, 2014
We've teamed up with Todd Clark, creator of the ever-popular Lola series, to bring you "Out of the Loop," a regular one-panel comic featuring humorous takes on the world of yarn.
Enjoy and please share widely!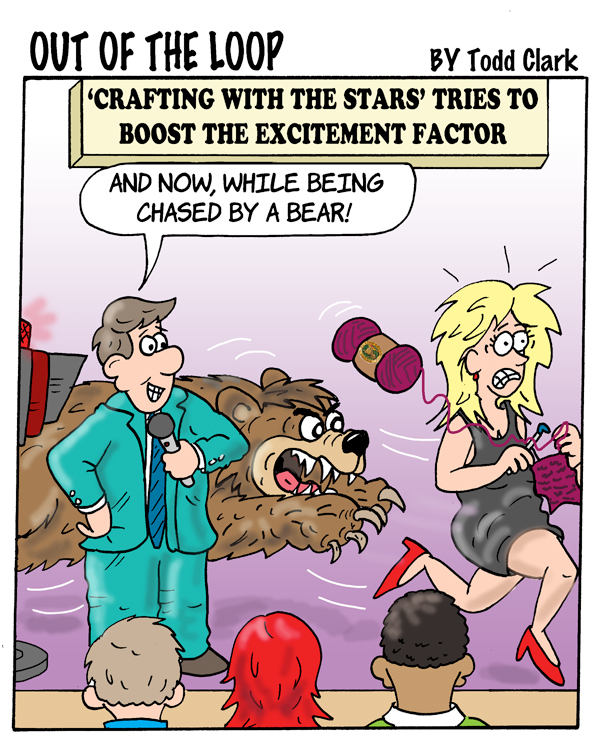 *** *** ***
Subscribe to The Weekly Stitch Newsletter
Get a FREE weekly email featuring patterns, articles and special offers. As a bonus for subscribing, we'd like to offer you 15% off your first order! *
:: Sign up now ::
* offer valid only for first-time email subscribers, one coupon per person.