April 3rd, 2013

The beginning of April means the start to a lot of things: spring blooms, warmer weather, and longer days. But as any sports fan knows, the first week of April means one thing: Major League Baseball's Opening Day. Want to show your support for your favorite team? I've compiled a palette of colors for all 32 MLB teams in one of my favorite team-spirit yarns, Hometown USA. Not only is it soft and bulky so that projects will work up in a few evenings by the fire, it also comes in every bold color you can think of to support your favorite teams and schools.
I was lucky enough to attend the New York Mets Opening Day on Monday afternoon, and I brought the Mets-inspired blanket I'm knitting in Hometown USA along, using this color palette below!
March 29th, 2013
There are a few fashion trends happening in knitwear apparel and accessories as of late, and "animal-like" knitwear is one of them. It seems that everywhere I look, whether it be online, in stores, or at street vendor stations – there are accessories with animal faces or ears on them.  The animal scoodies (scarf and hoody combined) and animal hats appear to be the most popular; it's hard to resist getting these items because they're so cute.
Lucky for you, since you know how to knit or crochet, you can make your own!  Below, I've rounded up a few of our patterns for children that incorporate animal elements for "aww" worthy projects.  If you're ambitious, maybe you could knit the Bunny Hat and Booties set just in time for Easter!
What do you think about this trend? Have you been incorporating more owl faces or ears into your projects? Share with us in the comments!
Related Items:
March 28th, 2013
We're wrapping up National Craft Month (and Crochet Month) with one more giveaway!
Today, we've teamed up with our friends at St. Martin's to bring you a great giveaway! Enter for a chance to win a copy of Loom Knitting for Babies & Toddlers by Isela Phelps PLUS 3 balls of our lovely Martha Stewart Crafts™ Extra Soft Wool Blend yarn! It's a great way to start thinking ahead to baby projects.
Loom Knitting for Babies & Toddlers Giveaway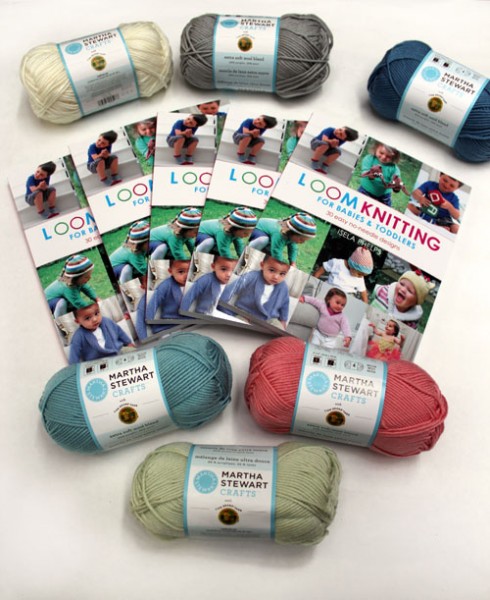 FIVE LUCKY WINNERS will each get the prize. But as an added bonus, you can check out an exclusive pattern from the book by clicking here right now!
Good luck!
Please note: Comments left on this blog post do NOT count as entries. Please click on the link above to enter.
Update (April 12): Congratulations to our winners: Gloria Webber, Joanne Wilson, Evan Bell, Grace Cumley, and Bev Gilpin!
March 25th, 2013
As you've seen over the last four weeks, there is a ton that can be done with crochet. You never have to make the same style twice with all the possibilities crochet offers! Last week, we talked about textured crochet, which is often a thick, bulky style that evokes images of sitting by a ski lodge fireplace. Though it might be hard to believe in the still-frozen Northeast, the winter is finally beginning to thaw, and in anticipation of springtime, I'm going to take you to the opposite end of the spectrum today and talk about lace.
Crocheted lace is a wide-ranging topic. Some people think anything that has enough openwork and thin enough yarn or thread counts as lace, while others see it only as tatted thread.
Today, I want to give you a brief introduction to four common types of crocheted lace: broomstick lace, filet crochet, hairpin lace, and Solomon's Knot.
Broomstick Lace
Broomstick Lace gets its name from the original tools used to create it back in the 1800s. While now crafters often use large knitting needles, like our size 50 Speed Stix, the craft began by utilizing the long, narrow top of the broomstick, along with a crochet hook. It is also known as "jiffy lace" or "peacock eye crochet" because of how speedily it works up and the texture it creates. For a detailed tutorial on broomstick lace, click here.
The lacy yet structured material this stitch creates makes it ideal for springtime blankets and shawls or unique lightweight garments. This Broomstick Lace Shell, made with LB Collection Cashmere, is a perfect project to practice your technique and create a unique garment to wear as the weather gets warmer.
March 21st, 2013
I'm sure many of you have been shedding your heavy winter jackets preparing for warmer weather ahead.  Now is the perfect time to get started on projects that will be ready for when you need just a little extra warmth for your neck and shoulders, but not a jacket.  It's the perfect time for a … shawl project!
The triangle shawl is a very popular pattern style and can be a staple piece to have because of its versatility.  Below, you'll find some basic shawl patterns to get you started, along with a video displaying 7 different ways you can wear your shawl.  My favorite is the handkerchief style; check out the video and see for yourself.
Do you tend to start your shawl projects at the beginning of spring, or do you work on them all year long? Share your preferences with us!
Related Links:
March 20th, 2013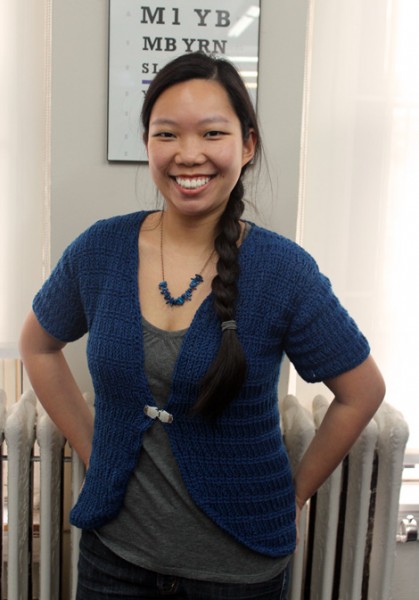 A few years ago, I met the super-talented Robyn Chachula, a crochet designer whose background in engineering gives her projects a wonderfully architectural logic. Over the years, I've had the opportunity to get to know Robyn better, and she's always making crochet easy to understand through great charts and schematics.
As an admirer both of architecture and crochet, I couldn't resist working up one of the fantastic patterns from her book Simply Crochet. Pictured is my version of Robyn's Linked Jacket, worked in our Martha Stewart Crafts™ Extra Soft Wool Blend with a clasp from Gita Maria.
I love that simply through choosing my yarn and by selecting my own closure, I've made this pattern my own–that's really one of the great joys of crocheting and knitting your own clothes.
If you're interested in learning more about Robyn's designs, check out these interviews with her:
Do you have a finished project that you want to show off? Leave a comment and a photo or click here to upload your project to our Customer Gallery.
March 19th, 2013
Spring is just around the corner, but there is still time to get some last minute Easter patterns under your belt in anticipation of the season. I've rounded up a few for you. What will you be making to fill baskets or celebrate spring this year?
March 18th, 2013
Crocheters, are you craving more ways to add texture to your projects after last week's post on crochet cables? The options for adding texture to your crochet work are seemingly endless, but I've rounded up a few good options here for this week's advanced crochet techniques feature.
For starters, have you used our StitchFinder in the Learning Center? It's a really awesome tool for when you want to learn a new technique or motif without necessarily tackling a whole larger project. Some of the sampler squares and motifs even make for perfect practice projects that can ultimately be stitched together in a sampler throw or pillow. I rounded up four of the best StitchFinder tutorials for adding texture to crochet.
March 17th, 2013
We all have knit and crochet projects that remind us of a time and a place where we were making that particular project–some happy, some not, but each one is a story that we recall each time we look at that project. If you're not already familiar with it, Pattern Journal is our monthly newsletter where we share (fiction) tales of the secret lives of patterns.
This month, writer and blogger Selma Moss-Ward joins us to tell the latest story of a pattern. Selma is a freelance writer who combines her love of writing and of knitting in columns, stories, and blog posts. Selma is also an active classical musician, and the caretaker of five wonderful pets. She lives with them and her husband in Rhode Island.
Click here to sign up for this newsletter and receive it on Monday.
In the meantime, Selma shares these photos with us from a recent trip:
My sister lives across the street from this beautiful park in the Echo Park section of LA, and when I visit her I walk with her and her dogs (two dobermans) every morning.  We were in a section of the park where there's a teaching garden/arboretum for children, and I suddenly saw this flower that someone attached to a tree.  
March 15th, 2013
As you know, it's National Crochet Month, so we're celebrating with great patterns and inspiration all month long!
Today, we've teamed up with our friends at St. Martin's to bring you a great giveaway! Enter for a chance to win a copy of 100 Colorful Granny Squares to Crochet PLUS 3 balls of our colorful Kitchen Cotton yarn! It's a bright and cheerful way to kick off the spring season!
Colorful Granny Square Giveaway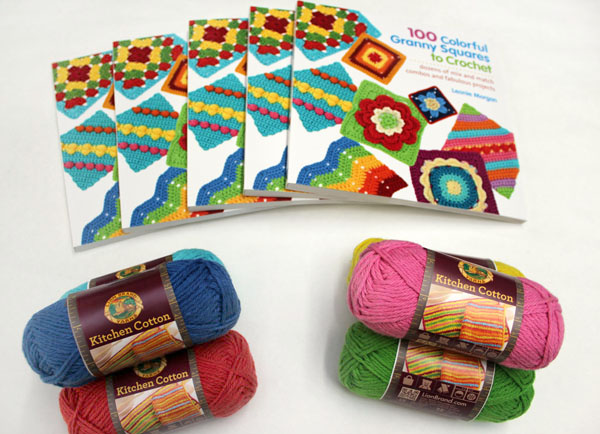 FIVE LUCKY WINNERS will each get the prize. But as an added bonus, you can check out an exclusive pattern from the book by clicking here right now!
Good luck!
Please note: Comments left on this blog post do NOT count as entries. Please click on the link above to enter.
Update (3/25): The winners are…
Nancy Ulland, Christine McFadden, Amanda Carpenter, Elsa Pimenta, and Luna Nichols! Congratulations! We'll be in touch shortly to get your prizes to you!