October 28th, 2014
Today, we've got a great tutorial for you by Vanessa from the Crafty Gemini! Vanessa will show you how to create a simple cowl in our beautiful, self-striping yarn, Amazing. This cowl works up extremely fast and will make a great gift for the upcoming holidays. Watch Vanessa's tutorial below, and check out the link for her Amazing giveaway!
Click here for: 45 Minute Cowl Pattern
Click here for: Amazing yarn giveaway
October 27th, 2014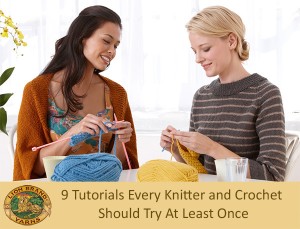 Beyond bringing you new patterns and reporting on the latest knit and crochet trends each week, Lion Brand also provides numerous tutorials on techniques and methods all knitters and crocheter should know about (and try at least once!). 
Tutorials are a great method of learning – for knitters and crocheters who are just learning the basic, to experienced crafters who want step-by-step visuals to master a new technique.
Bottom line, tutorials are a great way to learn new skills that will help you on future knitting and crochet projects!
Here is a collection of our most popular tutorials:
For more step by step instructions, look under our Tutorials and Tips & How To sections of the blog.  And for those learning how to knit or crochet, our Stitchfinder is also a great resource!
October 26th, 2014
This story is from our newsletter called Pattern Journal which brings a warm-hearted, wholesome story to your inbox to read every month. If you enjoy it and would like to subscribe, click here.
She was a homemaker. At parties, Angie sometimes said, "I'm a domestic engineer." Same difference. With three kids, two dogs, and Mike, who spent long hours at his hardware franchise, Angie often wondered how they'd manage if she didn't have great organizing skills and abundant energy.
Angie, like her husband, thrived on life's routines and complexities. But no matter what, she always took time to crochet. It wasn't just a pastime. It was the feeling that crochet preserved her. Those minutes each day, hook and yarn in hand, cleared out stress and focused her on something productive that became something beautiful.
Her newest project was a classic Granny Throw, to replace the one Mike's mom had made years before. That was now beyond repair. Yet it was the family "lovey," a comfort of their daily lives, and Angie didn't want them to do without.
The Granny Throw comprised twelve generous squares that worked up quickly on a K hook. She'd done each one in spare moments, often while waiting in the car to pick up the kids from school. Angie adored the subtly variegated yarn, called Tweed Stripes®. Earth-toned, with occasional bright accents, it had a woodsy quality that complemented their maple furniture, corduroy upholstery, and braided rugs.
Angie placed the finished throw on the couch, and waited to see who noticed first. Six-year-old Daisy, of course. It was Friday, after supper, when the kids were allowed a movie before bedtime. Daisy put on her pajamas, brushed her teeth, and raced downstairs ahead of her brothers. Leaping onto the couch, she automatically pulled down the throw. Angie heard her call, "Mommy, there's a new lovey! It's so-o-o beautiful!"
Jake and Tyler joined their sister. "Hey, let us have it!"
"What's up, you guys?" Angie asked, coming into the family room. The kids tussled some, then finally cuddled into the Granny Throw. Faces shining, slippered feet sticking out beyond their new blanket, they were eager to watch the film.
At times like this Angie knew why she loved the life she and Mike had made.
—
All characters appearing in this work are fictitious. Any resemblance to real persons, living or dead, is purely coincidental.
A story by Selma Moss-Ward.
Selma Moss-Ward writes and knits in Rhode Island. You can find her work on our blog, as well as Lion Brand's monthly newsletter, Pattern Journal, which you can subscribe to here.
October 25th, 2014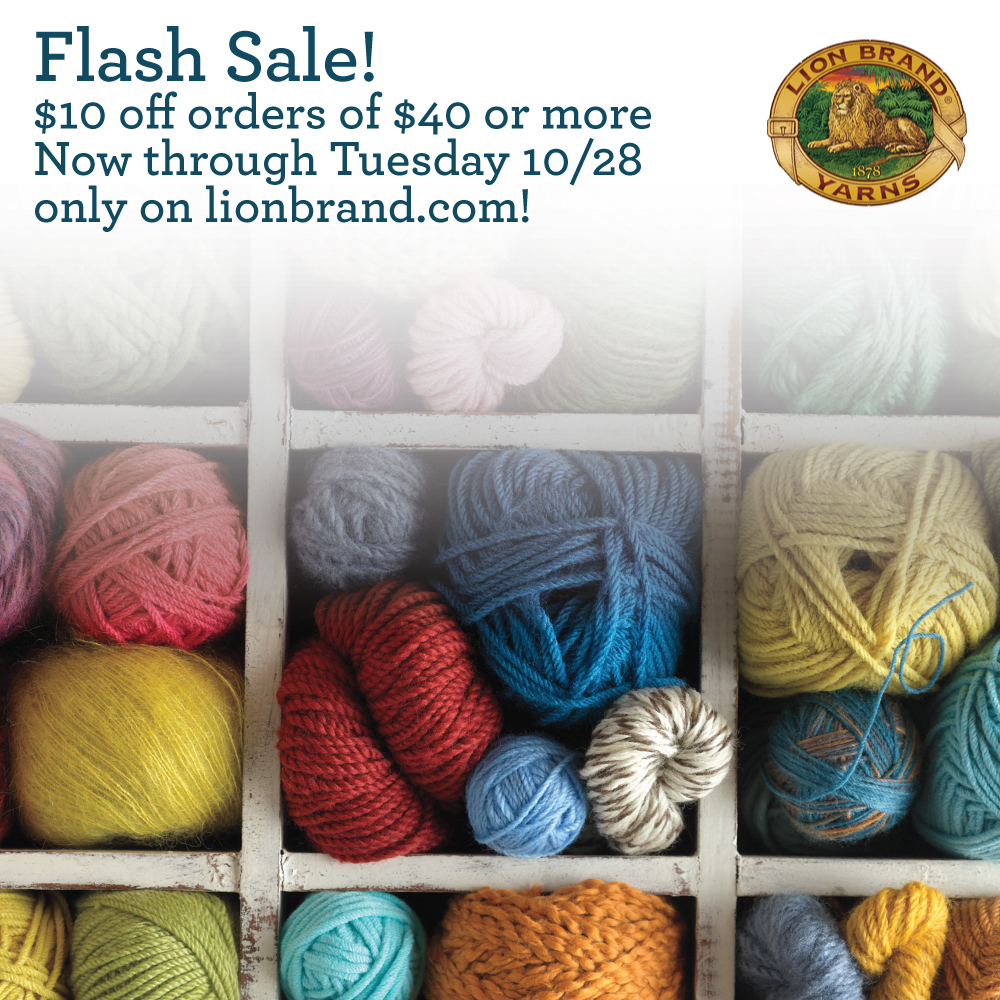 *Coupon code "FLASH40″ will be automatically filled into the coupon box at checkout on qualified orders. Only one coupon per person; cannot be combined with other coupons. Valid through 12 noon EST, Tuesday October 28th.
October 24th, 2014
We've teamed up with Todd Clark, creator of the ever-popular Lola series, to bring you "Out of the Loop," a regular one-panel comic featuring humorous takes on the world of yarn.
Enjoy and please share widely!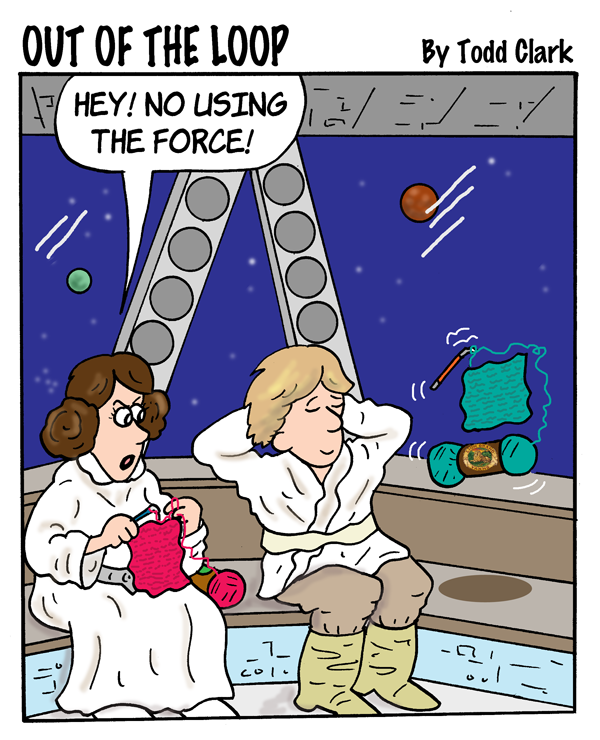 *** *** ***
Inspired to use the force too? Here are a few patterns to inspire you!
*** *** ***
Subscribe to The Weekly Stitch Newsletter
Get a FREE weekly email featuring patterns, articles and special offers. As a bonus for subscribing, we'd like to offer you 15% off your first order! *
:: Sign up now ::
* offer valid only for first-time email subscribers, one coupon per person.
October 23rd, 2014

#Scarfie = A selfie with a scarf!
We invited a few awesomely creative knit and crochet bloggers to participate in a #scarfie challenge! We asked them to design a scarf or cowl with two skeins of one of our most popular yarns, Wool-Ease Thick & Quick. The #scarfies are making the rounds on blogs and social media, and we're so excited to share them with you. Today, we're featuring a cute crochet scalloped edge cowl from Rachel at Maybe Matilda.
Rachel's pattern is easy and fast, so get your balls of Wool-Ease Thick & Quick and start crocheting!
Find Rachel's pattern here: Chunky Scalloped Cowl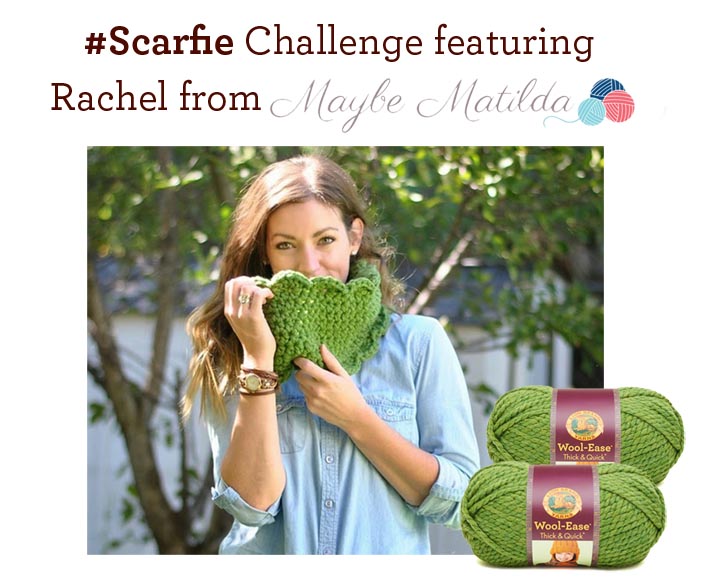 P.S: We encourage all of you to tweet us your #scarfie (@lionbrandyarn), or share them on our Facebook wall – hashtag #scarfie! Read more about our #scarfie campaign here.
October 22nd, 2014
Writer, illustrator, and knitter Franklin Habit joins us for his monthly column featuring humor and insights into a yarncrafter's life.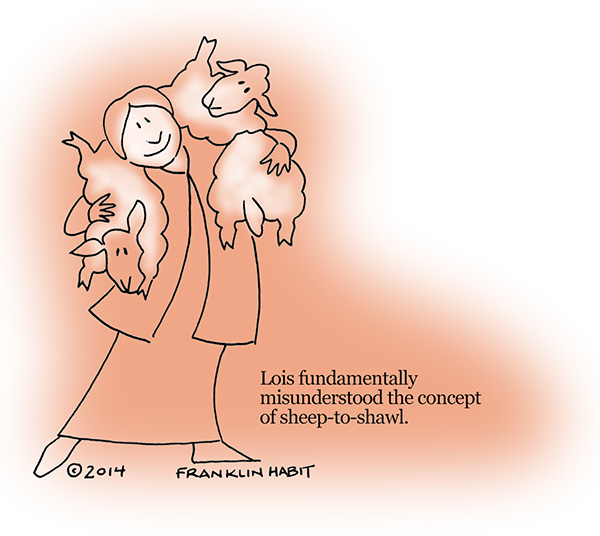 I'm terribly sorry, but I don't have time to stroll around the mall sipping a Giganto Grande Pumpkin Spice Extra Foam No Whip Latte. I have to go to a fiber festival. If you are reading this, very likely you also have to go to a fiber festival, or are getting ready to go to a fiber festival, or have just come back from a fiber festival. Possibly all three.
October for most grown-up folks means Halloween. That's cool. Dancing around and getting squiffy on Pumpkin Spice Vodka Tonics while dressed as Sexy Nurse or Sexy Ghost or Sexy Claims Adjuster isn't my idea of a zingy time, but it doesn't matter. I have no room for Halloween parties. I don't know if you've heard, but I have to go to a fiber festival.
Perhaps you have not yet visited a fiber festival. Perhaps you have only recently been inducted into the enthusiastic, international group hug that is the fiber arts community. If so, you may be confused by the unfamiliar urge to walk out the front door and follow the scent of sheep dip and fried dough.
You may find yourself standing in front of a sign that says WELCOME TO RHINEBECK and wondering where you are, what you are doing there, and how you got so far from your home in Hickory Flat, Mississippi, without even realizing it.
Keep calm. You are going to be fine. In fact, you are going to have a ball, provided you observe the following.
October 21st, 2014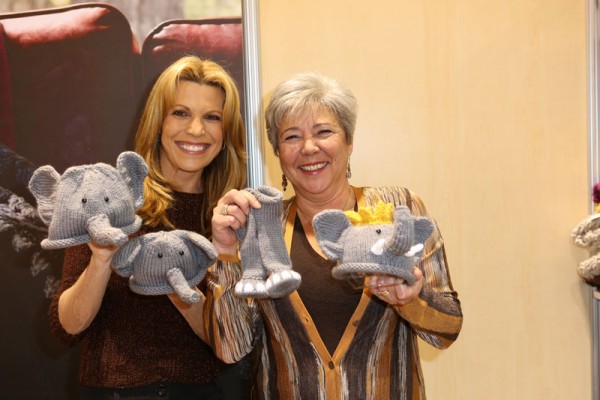 In 2012, Lion Brand sponsored a design contest to use Vanna's Choice® yarn and create an original design.  The winner was "Gramma" Nancy Nielsen, who we flew out to California to meet Vanna White as part of her prize.  Nancy's design was an irresistible baby hat that looked like an elephant head and booties that looked like elephant feet. As you can see, Vanna was charmed by the whimsy and creativity of these designs.
It turned out that Nancy also had a whole range of animal hats and matching booties that she had designed as baby gifts.  There was a Lion set (and of course we looove lions!) and sets that recreated a duck, lamb, monkey, dig, rabbit and more.
We were so taken with the wealth of designs that we spoke to a friend who edits pattern books at Random House about doing a pattern book of animal hat and bootie sets and today, the book is a reality and Nancy Nielsen is an author.
Gramma Nancy's Animal Hats (And Booties Too!) was just released.  It includes 19 animal hat patterns with many including matching booties and mittens sized for newborns to bigger kids.  In the foreword Vanna White wrote for the book she talks about the interesting reason that Nancy was inspired to have this burst of creativity. I'd like to share a quote from that foreword that we can all relate to:
"As all of us who knit or crochet know, there is nothing more special, and more appreciated than giving something handmade that comes from the heart. . . she has touched the hearts of hundreds of people at a special time in their lives. . . "
If you're a knitter, looking for ideas for your next baby gift or for a birthday gift, you'll find years' worth of affordable ideas in this book.  It includes patterns, charming photographs and the amazing stories of generosity that inspired these patterns.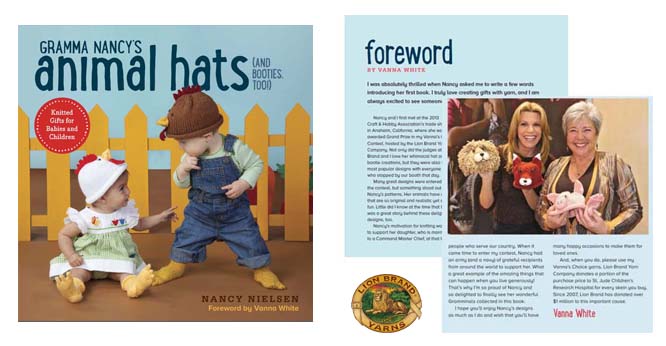 October 19th, 2014
This story is from our newsletter called Pattern Journal which brings a warm-hearted, wholesome story to your inbox to read every month. If you enjoy it and would like to subscribe, click here.
The front door slammed and Dawn, at the window, watched her teenagers board their bus. Until late afternoon, this day was hers. Now that Lexie and Mike were in high school and she wasn't driving them every afternoon to sports and lessons, Dawn's life had entered a new and interesting phase.
She hadn't formulated grand plans. Her intuition said to go with the flow. Today she'd start crocheting something just for herself. Called a "Sunset Shrug," the design displayed a golden sun amidst colorful nebulae.
Dawn loved the yarn, Heartland, for its softness, warmth, and drape. Heartland developed easily into the bands of rich hues the pattern specified, and as her hook swiftly connected one shade to another, she found herself thinking of Miss Sanchez, who'd taught Earth Science in high school.
The image was so vivid, like she was back in high school again—Miss Sanchez standing before the class, rapidly explaining atmospheric layers or volcanic activity, energetically writing on the board.
Dawn remembered Miss Sanchez's handmade shrugs and scarves as clearly as she recalled her lessons on natural forces. She loved that class. Miss Sanchez was so cool, so pretty, and so smart. She had undeniably inspired Dawn to major in geology in college.
Now, as she crocheted the Sunset Shrug in her peaceful home, Dawn thought it might be interesting to continue her education. Her kids were practically independent, and if she took two courses every term, she'd have a teaching degree by the time they left for college. She imagined standing before a group of note-taking teenagers, just like Miss Sanchez. As she turned to write on the board, the back of her Sunset Shrug would radiate an image of nature's beauty, for all to see.
—
All characters appearing in this work are fictitious. Any resemblance to real persons, living or dead, is purely coincidental.
A story by Selma Moss-Ward.
Selma Moss-Ward writes and knits in Rhode Island. You can find her work on our blog, as well as Lion Brand's monthly newsletter, Pattern Journal, which you can subscribe to here.
October 18th, 2014
Here is the latest installment of Lola, from its creator Todd Clark.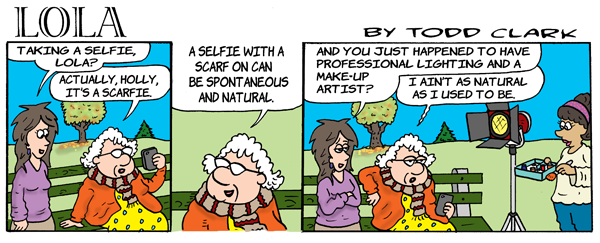 Get in on the #scarfie fun!
Try Lion Brand's free Pattern Finder and find the perfect #scarfie pattern from a variety of free patterns.
*** *** ***
Subscribe to The Weekly Stitch Newsletter
Get a FREE weekly email featuring patterns, articles and special offers. As a bonus for subscribing, we'd like to offer you 15% off your first order! *
:: Sign up now ::