November 14th, 2015
We've all got a work in progress (a WIP, if you will) — here's Shira's! An avid knitter, Shira loves making baby blankets for her friends. Check out her first crochet baby blanket and learn which yarn she chose for this project in the video below!
:: Can't see the video above? Click here to watch – https://youtu.be/F1J5mI63Tzw :: 
Yarn featured in this video:
Lion's Pride® Woolspun®
What are you working on with Lion Brand Yarn? Tag your WIPs with #lionbrandyarn on Twitter or Instagram and share your knits!
November 14th, 2015
Extend the seasonality of your knit garments by layering them! The Drop Stitch Pullover features a mesh look that looks good with a simple tank, or a long sleeved tee. Using Vanna's Glamour® makes it sparkle! Brand Ambassador Shira Blumenthal shares what she loves about it:
The Drop Stitch Pullover might be my favorite item in the collection.  Of course we made a top down sweater for you knitters as well!  I love this this can be worn fancy, casual and is super lightweight and covers everything you want to hide!  It's a super easy knit too!
See a full view of this garment in the video below:
:: Can't see the video above? Click here to watch – https://youtu.be/pLKBDV5PFyI ::
November 13th, 2015
You have time! Check in every day for the next 30 days for a new video with a great holiday project suggestion from Kristy Glass. Think of it as a virtual advent calendar for gift-giving!
She explains it all in the video below and below that you'll find links to each day's new pattern suggestion … Enjoy!
:: Can't see the playlist above? Click here: http://lby.co/HandmadeHolidayCountdown ::
Knit Blended Colors Baby Throw
in Vanna's Choice® and Vanna's Choice® Baby
Like the festive mouse amigurumi? Get the free pattern!
November 13th, 2015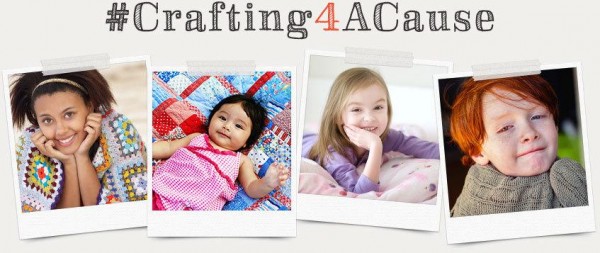 We know that many of you generous knitters and crocheters work on projects throughout the year for charity, and as winter approaches, warm blankets and accessories are especially welcomed by recipients. We've teamed up with
Craftsy
to share an important initiative supporting
Project Linus
, #Crafting4ACause. Project Linus is a 501c3 organization made up of nearly 400 chapters that span the United States, all of which are run by volunteers.
We're asking you to dedicate some time to knit, crochet, or sew a blanket for a Project Linus recipient.
These blankets go to babies, children, and teens who are in need of comfort this season, so we hope you can participate and spread the word to your crafting friends about this great cause.
We know that many of you like to get social with your projects, so please tag your photos on Facebook, Twitter, and Instagram with #Crafting4ACause so we can see what you're working on. We hope this social share will also inspire others to think about giving back this season.
»Find more details on where to ship your finished blanket here«
I've selected 3 patterns below to get you started on a nice Project Linus blanket, please feel free to browse through our Pattern Finder for more options.
November 13th, 2015
Here is the latest installment of Lola, from its creator Todd Clark.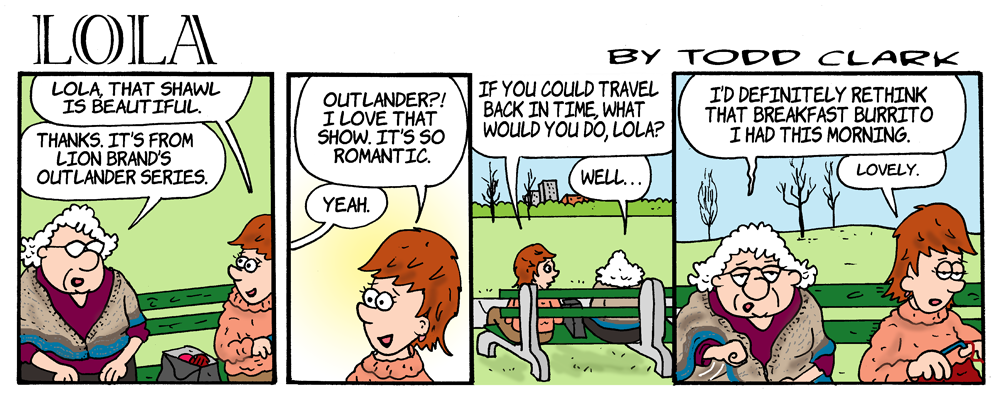 Make your own Outlander: The Series garments! Lion Brand® is the official licensee of knit and crochet kits inspired by the popular television series, OUTLANDER THE SERIES. There are seven knit and seven crochet easy-to-make designs made in your favorite Lion Brand® yarns.
*** *** ***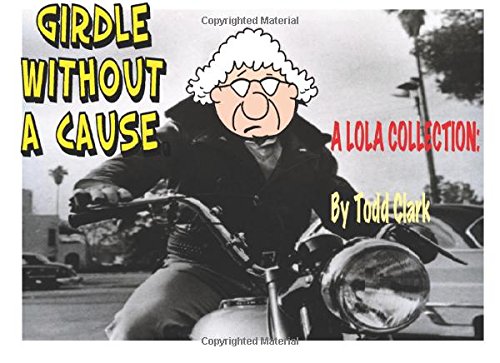 NEW from Todd Clark! Girdle Without A Cause: A Lola Collection is out now!
*** *** ***
Subscribe to The Weekly Stitch Newsletter
Get a FREE weekly email featuring patterns, articles and special offers. As a bonus for subscribing, we'd like to offer you 15% off your first order! *
:: Sign up now ::