June 27th, 2014
The Lion Brand Yarn Company attends The Craft & Hobby Association Conference and Tradeshow every year and a highlight of the event is our fashion show, hosted by Lion Brand spokesperson Vanna White. At this year's show, we unveiled The 7 Wonders of The Yarn World – a series of sculptures designed by fiber artist Nathan Vincent. Each sculpture represented one of the 7 Wonders in yarn techniques, and we presented a fashion show where each technique was reflected in a variety of fashions.
The yarns featured in the show include Unique, Tweed Stripes®, Bonbons, Homespun, Heartland, Amazing®, Pound of Love®, Heartland Thick & Quick®, Hometown USA®, Homespun® Thick & Quick®, Wool-Ease®, Wool-Ease® Thick & Quick®, Vanna's Choice®, and Vanna's Glamour®.
Below is a selection of garments from the show – click the image to get the free pattern. All of the patterns and yarns in the collection are available at lionbrand.com.
June 27th, 2014
Here is the latest installment of Lola, from its creator Todd Clark.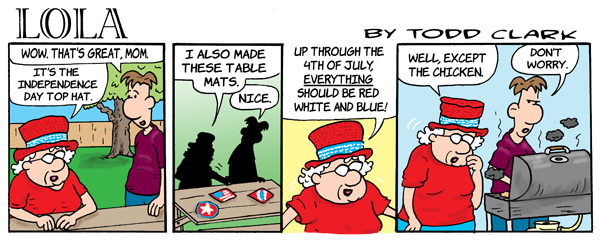 Want to crochet the 4th of July items seen in this week's Lola comic? Get the free patterns here and below.
June 26th, 2014
This column by Barbara Breiter, author of The Complete Idiot's Guide to Knitting & Crocheting, originally appeared in The Weekly Stitch newsletter.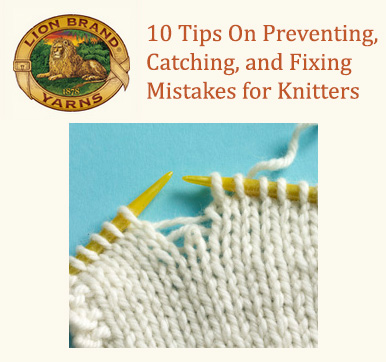 You're at the end of the row and worked all the stitches but there are still instructions for 3 stitches left. How did that happen?
Most commonly, an error occurred because the knitter failed to pay attention. Distractions are everywhere; family members are talking, the phone rings, the TV is blaring.  If you're a newer knitter, it's particularly important to find quiet time to knit so you can avoid errors. Once you become more adept, multitasking becomes easier.
Try to avoid mistakes before they happen. The row may have ended correctly with no instructions or stitches left over, but things may still be askew.
Learn to "read" your knitting. Recognize how a knit stitch looks different from a purl stitch. Watch the direction in which cables move. Look at your knitting frequently as the stitch pattern develops to see if everything appears as it should. It's easy to knit instead of purl by mistake; if you see the error now instead of 10 rows later, life will be much easier.
Count your stitches after completing every row, especially if you are a beginning knitter. This may seem like a tedious task but you will know immediately if you accidentally dropped a stitch or looped the yarn over the needle and made a stitch when you shouldn't have.
If the error is on the row you just completed (or even the row you are still working on), you can unravel the row stitch by stitch and correct the error. You'll find instructions for doing this by clicking here.
Using stitch markers to mark every 10 stitches or 20 stitches when you have a more complex stitch pattern to keep track of can make it easier for you to keep track of your work. You only have to count the stitches in between a given set of markers to know whether that section of your row is correct. 

Click here

 for our stitch markers.
June 25th, 2014
The final stop on our tour of The 7 Wonders of the Yarn World is colorwork. If you're new to the 7 Wonders series, I encourage you to start at the beginning with the unveiling of seven fiber sculptures by artist Nathan Vincent based on the 7 Wonders of The World. Each sculpture represents a yarn technique that was also incorporated into seven collections for a Lion Brand fashion show. The collections highlight all of the wonderful and sometimes unexpected things each technique can do.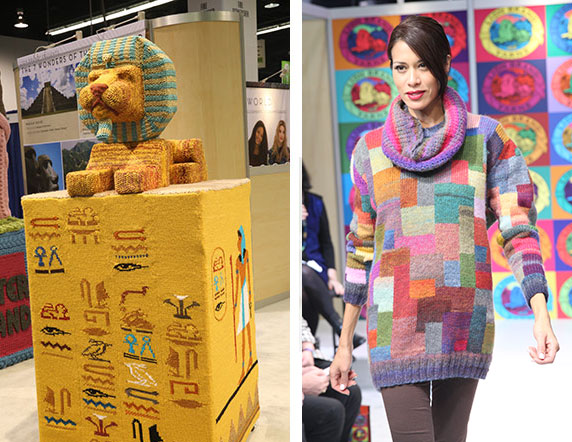 Nathan Vincent sculpture of the Lion Sphinx; model wearing knit Rhapsody of Color Dress
The Lion Sphinx is our seventh Wonder of the Yarn World. The real Sphinx (or Great Sphinx of Giza) is the largest and oldest monolith sculpture in the world. Our Sphinx's pedestal is adorned with hieroglyphics, showcasing the amazing detail that can be achieved with colorwork. The patterns associated with this technique are bright, bold, and colorful!
The yarns featured in the colorwork collection are perfect for the yarncrafter in need of colorful combinations for stranded colorwork or intarsia – like Vanna's Choice®, Heartland®, and Wool-Ease® - as well as vivid self-striping yarns like Amazing®, Unique, and Keppi.
Below you'll find several of the designs from the colorwork collection. We hope you've enjoyed your tour of The 7 Wonders of the Yarn World and that you've picked up some new patterns and techniques along the way. If you missed any of the other collections, take a look back at all of our posts on The 7 Wonders of the Yarn World: Textures, Stripes & Chevrons, Cables, Embellishments, Lace, Granny Squares, and Colorwork.
June 24th, 2014
Audra Kurtz shows you how to a fun DIY "Home" sign using Lion Brand's yarn Unique!
If you enjoyed Audra's tutorial, check out her YouTube channel, The Kurtz Corner!
June 23rd, 2014
This column by Barbara Breiter, author of The Complete Idiot's Guide to Knitting & Crocheting, originally appeared in The Weekly Stitch newsletter.
Some designs, such as the ribbing of a sweater or the brim of a hat, may use a different yarn than the rest of the project. This creates a unique look, much different than if just one yarn had been used for the entire piece – like the Snow and Sunsets Afghan (right) crocheted in Amazing® and Fishermen's Wool®.
But you can also combine two or even three or more yarns throughout, ultimately creating an entirely new yarn!
One word of caution: be sure to note the care instructions of each yarn. Be sure to care for the project using the instructions of the most delicate yarn.
1. Using Novelty Yarn
You can even combine a novelty eyelash yarn with wool in a felted project; I've designed many purses and hats combining yarns in this way. I would suggest you felt a swatch first though to ensure the novelty yarn doesn't end up with loose loops when felted.
2. Create a Tweed Pattern
Contrasting plain colors create a tweed effect.
3. Muting Colors
Adding a brightly colored yarn can enliven a muted color or adding a more subdued yarn can tone down a color you find too bright.
4. Adding Texture
You can also combine different fibers or types of yarn. Adding a metallic yarn will jazz up a plain yarn. If a yarn is too fuzzy for your taste, adding a plain strand will mitigate the fuzz.
Lastly, Experiment
Swatch and experiment with yarn you have in your stash. You may find that you can use up that yarn that you haven't known what to do with by combining it with another yarn. The yarns don't need to be in the same weight category.
Not sure how to get started? Here are a few examples of patterns that combine different yarns:
| | | | |
| --- | --- | --- | --- |
| | | | |
| This cute knit Marmalade Kimono for children is a great example of combining two solid contrasting yarns for a tweed effect. | The crochet Team Colors Scarf illustrates the same concept. | The knit Fabulous Furry Scarf shows off combining the eyelash yarn Fun Fur with Hometown USA®. | This pattern illustrates just how different colors can look when combined with others. |
For a refresher on working with multiple strands, see my previous article.
Related links: 
–-
To sign up for the Weekly Stitch and get columns like this, free patterns, how-to videos and more, click here.
June 22nd, 2014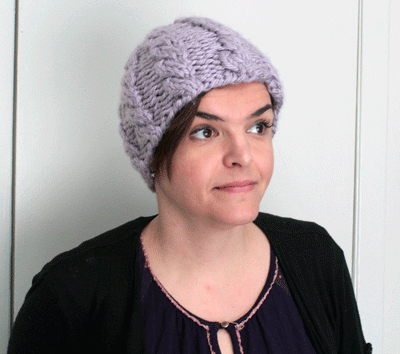 Yolanda is back with a brand new video, and this time she's working through a knit pattern. In the videos below, Yolanda helps guide you through the lovely Cabled Hat pattern in Hometown USA. Since this project calls for a super bulky yarn on big needles, it can be worked up relatively fast. Join Yolanda as she casts on with double pointed needles and shows you how to work through this pattern.
Danielle (pictured left), one of our staff members is a big fan of this quick and easy pattern and has already made multiple hats, noting that they can easily be done in an evening while watching television. Here she is modeling her version in Hometown USA Seattle Sea Mist. Watch the videos, and start knitting today!
Part 1

Part 2

June 21st, 2014
We've teamed up with Todd Clark, creator of the ever-popular Lola series, to bring you "Out of the Loop," a regular one-panel comic featuring humorous takes on the world of yarn-crafting.
Enjoy and please share widely!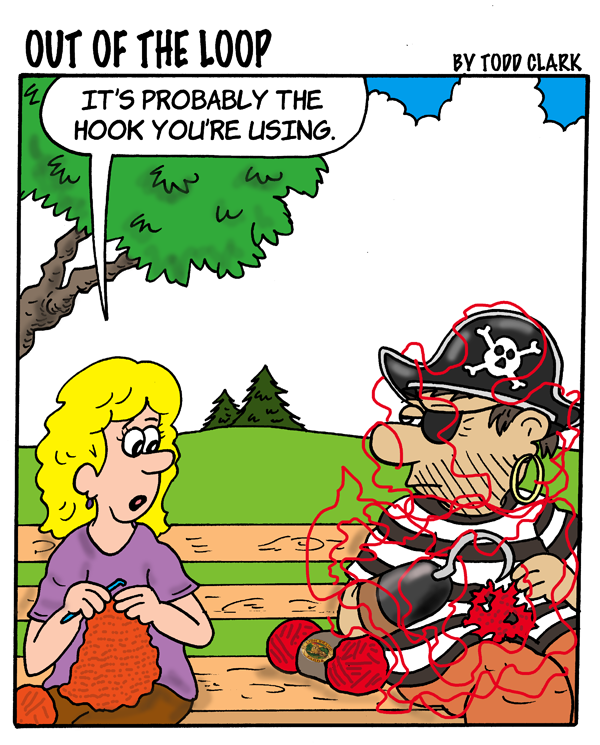 June 20th, 2014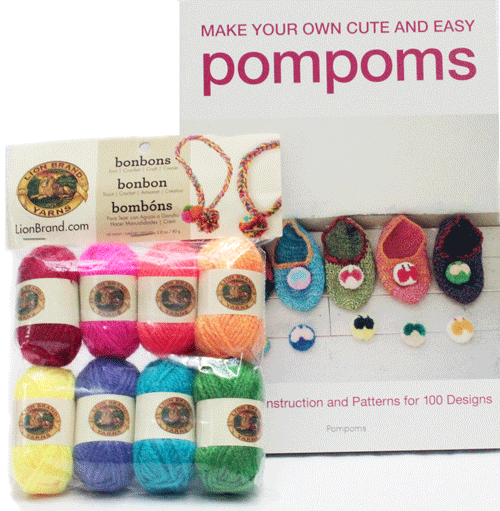 Pompoms are showing up in projects everywhere! And no wonder … it's an easy and fun craft for everyone to do, even if you don't know how to knit or crochet. Pompoms make great additions to your finished projects – you can turn them into garlands or use them for fashion accessories — the options are endless!
Now that the weather is warmer and children are out of school, making pompoms is a great summertime activity. Thanks to our friends at Creative Publishing International, we're giving away two copies of Make Your Own Cute and Easy Pompoms. Additionally, we're pairing a package of Bonbons in the Crayons colorway for you to start crafting immediately. In this book, you'll learn how to make food items, animals, and even little Matryoshka dolls out of pompoms – the designs are quite ingenious!
Congratulations to Linda E. and Jan O. for winning the giveaway!
Enter below for your chance to win a copy of Make Your Own Cute and Easy Pompoms and a package of Bonbons.
Contest ends July 3rd.
Restrictions:
1. Entries must be received by July 3rd, 11:59:59 pm, EST.
2. Must be 18 or older to enter.
3. One entry per person.
Can't see the entry form below, click here to enter.
June 20th, 2014
Blogger and author Kathryn Vercillo is an expert in the area of using crafting to heal, having researched the topic extensively for her book Crochet Saved My Life. This is part 2 in her 6-part series for us on the topic of yarncraft health. Read her previous blog posts on the Lion Brand Notebook here.
Last month we explored the top ten health benefits of yarncrafting. Many of you chimed in with great comments about how crochet and knitting have helped you to heal from a variety of different ailments. Want to get more intentional about that? This five-step guide will help you create your own yarncrafting wellness plan.
1. List The Symptoms You Want to Cure
What are the specific symptoms that you want to reduce in your life? Some of the most common health symptoms that people seek to resolve through crafting are:
Depression
Irritability
Anxiety
Restlessness
Insomnia
Physical pain including headaches, muscle aches, and chronic pain
Memory loss
Mood swings
Feelings of uselessness
Grief
Addiction including food cravings
Knitting and crochet can help with each of these things. For example, it can be a distraction that reduces physical pain and helps control diet cravings and it can provide relaxation to reduce stress-related headaches and irritability. However, not every symptom will apply to you so think about what you really want to solve. It's a lot easier to get healthy when you know what specific ailments you're trying to reduce.