May 12th, 2016
Spring is here! Time to break out the cotton yarn. And with 24/7 Cotton, you have so many amazing projects to choose from! This yarn is perfect for baby blankets, pullovers, and garments for both ladies and gentlemen!
Shira modeled your favorite patterns made with 24/7 Cotton. Which one is your favorite?
Having trouble viewing this video? Click here: https://youtu.be/Tc1b1RHb88Y
May 11th, 2016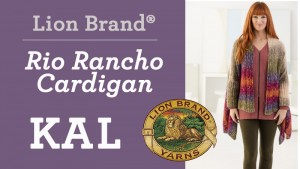 Hello Knitters! Thanks for checking in. I hope you are finding the rhythm of your seed stitch and enjoying the color changes as you work with Shawl in a Ball. You may have noticed a new video with a back view of the garment has been added to the pattern page. This will be helpful to look at when it is time to piece the items together.
Cardigan Back
The first piece you will be working is the back.  Here are a few tips and tricks for this section:
Mark your front right away so that you know when you have ended with a wrong side row. I usually just place a marker or two on my first worked row so that it stands out to me.  For the first 11 inches, it doesn't matter if you are wrong or right side, but it becomes more important when you get to the top shaping.
I suggest binding off in seed stitch. I would love to read comments regarding which bind off you used. I experimented with knitting all  and seed and I found seed to be more flexible.
When you get to the 40 stitches of bind off at the end of the 11" section, don't forget to count! So often when we bind off, it is the VERY LAST thing we do in a project and we don't have to count it. Here, we keep going for a while after the bind off.  If you get going and forget to count, it is hard to see the bound-off stitches with this crinkly yarn.
When it's time to decrease and knit two together, it's hard to tell how to treat that stitch in the seed stitch. I found looking farther along the row helpful. I found a stitch I recognized and then I followed my eye back to the k2tog stitch, saying: purl, knit, purl, okay this must be a knit, (or vice versa).  Since it is the edge, it does not really matter at all if you stay in pattern—it will never show!
Look at that BEAUTIFUL Back Section: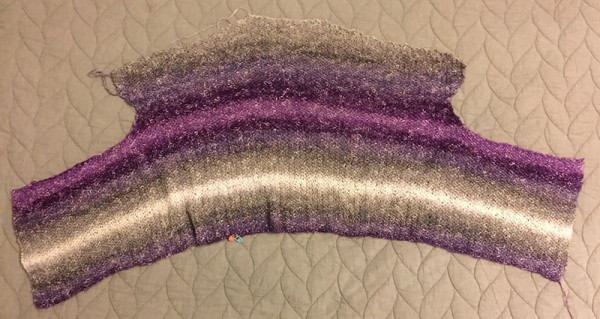 Front Sections
After you work the back you will be knitting the next half of your cardigan with two different front sections.  I found that as I settled into this cardigan, my tension got the slightest bit tighter.  If this happens to you when you knit, you may want to cast on all 3 sections (BACK and 2 FRONTS) at the same time, and then place them on waste yarn until you get back to them. Another alternative is aggressively blocking the pieces upon completion, so that they are very close in shape and size.  My pieces are only off the slightest bit, but I could see for a beginner knitter this could be a problem, so I just wanted to mention that here.
These front sections are mirror images of each other, so pay attention to "END with a RS row" verses "END with a WS row".  Another way to think about this: just know that the RIBBED side of the front stays ribbed from beginning to end.  If you find yourself going to bind off, increase or decrease when you are in the 20 stitches of ribbing, HALT! That is the wrong section.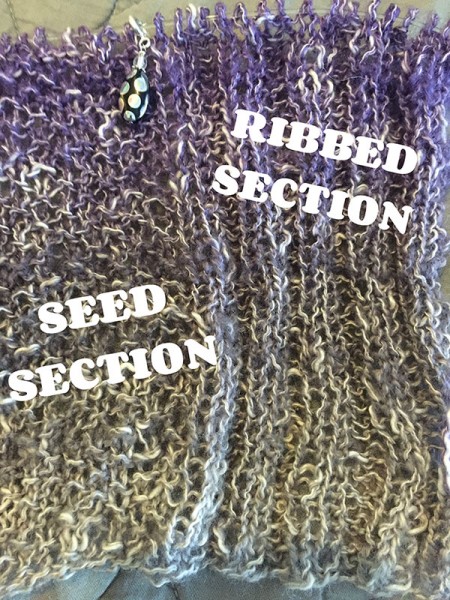 Here I also want to open the discussion up about color.  I noticed in the pattern photos, the colors of the front section are slightly off from each other, including the sleeves.  I attempted to line mine up.  It took some exploration of the skeins I purchased, but I was able to match up the color to my satisfaction.  What are your thoughts on the aesthetics of the color match up?
These three sections are the bulk of the cardigan.  These are my "two cents" after knitting them up.  What are your thoughts? How is it going? What has tripped you up? What is going great?  Did you ALMOST have your Rio Rancho Cardigan confiscated at the airport in Mexico like me? I sure hope not!  Happy Knitting!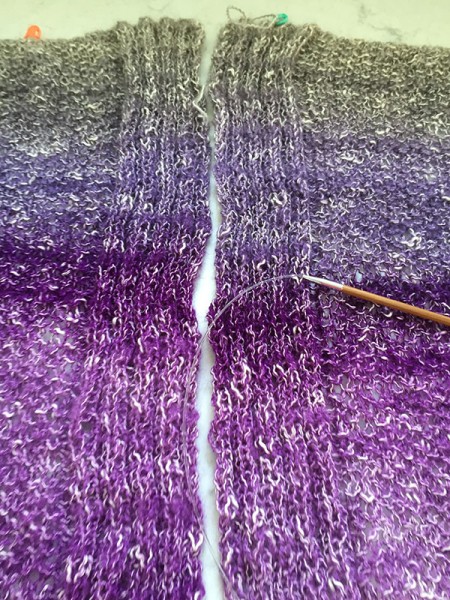 May 10th, 2016
Want to knit a sheepdog?  Or an elephant, rabbit, bear, or skunk?  Go for it!  I began knitting toys decades ago, for myself as much as for special kids.  Lately I've been knitting toys for my grandchildren.  Knit a sweater for a toddler, and she'll outgrow it in a season.  Knit a stuffed animal for a toddler, and she'll have a forever friend.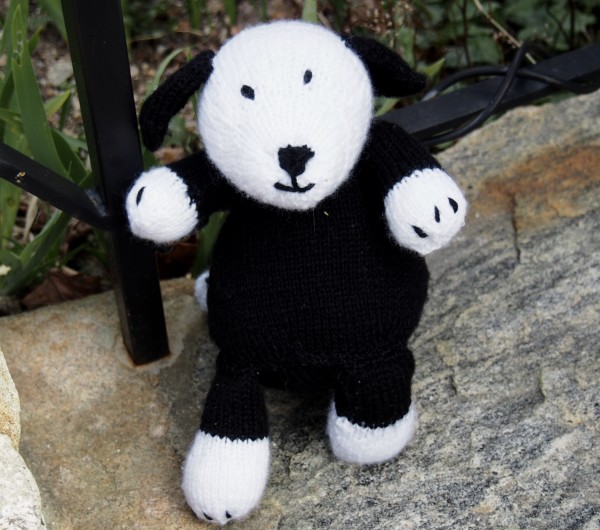 I have two rules about knitting stuffed toys.  The first:  
Always use a washable yarn that's mothproof
.  You want your animal to have a good, long life.  Acrylic is best for surviving love's energy, moths, and the dust of time. I favor
Vanna's Choice®
for its durability and clear, vibrant colors.  (I also admire that Lion Brand donates a percentage of
Vanna's Choice®
sales to St. Jude Children's Research Hospital.)
The second rule:  Assume that the toy will not look exactly like the pattern illustration. Just as expectant parents have a vague idea of how their newborn will look, so too do knitters have a general sense of a project's outcome.  But stuffed animals, like kids, have characters independent of the creator, and they always become distinctive selves. I promise that you'll be delighted by the uniqueness of your knitted pet.
Recently, when I made the Knitted Farm Animals Sheep Dog, I observed my rules, and I'm completely in love with the result.  Sheep Dog is knitted in black and white Vanna's Choice® acrylic worsted.  Even though I carefully followed the instructions, he definitely has his own look, different from the pattern photo.  Why?
Unlike many toy designs, Sheep Dog is knitted on straight needles, rather than double points. Sheep Dog has twelve flat pieces that are sewn together. That's significant sewing, and his face is embroidered, too. (Here's a tip:  leave six inches of yarn attached to each piece after binding off, and use it for seaming.) The extra steps required by the sewing, as opposed to the fewer steps required by knitting in the round, impact the toy's appearance.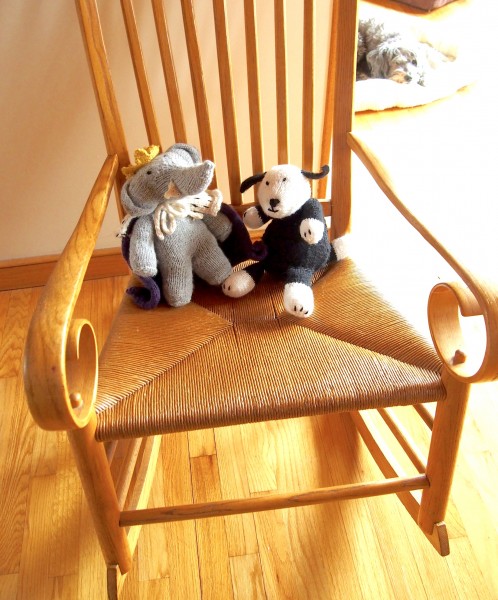 Yet Sheep Dog has a flexibility enabled by the joint-like connections of some seams. If you look at the photo of Sheep Dog next to Babar (
a free pattern on Ravelry
, also knitted in Vanna's Choice
®
), you'll see that Babar's legs—knitted on double points and integral to his torso—don't bend, but Sheep Dog can easily sit because his legs are hinged to his body by seams.
Since Sheep Dog's face is embroidered—except for his nose, which is a very small knitted triangle—each knitter will impart her own sewing "signature" to his features.  That's the main reason his individual look is guaranteed.  Gauge, and density of stuffing, will also affect Sheep Dog's appearance.  I stuffed Sheep Dog somewhat loosely, to impart a floppy "Beanie Baby" look.  Additionally, I didn't strictly follow the designer's instructions for sewing Sheep Dog's ears or tail, because I wanted him droopy.
Sheep Dog took about a weekend to knit and assemble.  If you're the kind of knitter who likes swift results, toys are good projects.  Just be aware that you might have a hard time surrendering your knitted pets for adoption.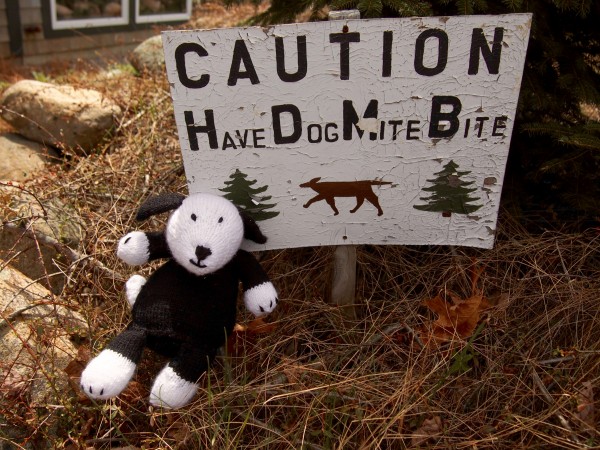 May 9th, 2016
100% mercerized cotton, 24 amazing colors, and so many patterns to choose from. What's not to love about 24/7 Cotton? This natural fiber yarn is fantastic for both knit and crochet projects including garments, accessories, and afghans. It's worsted weight and, because it's machine washable, it's also a great choice for babies!
With summer right around the corner, you're going to want to get your hands on 24/7 Cotton! And during the month of May, it's on sale! Save 20% on this yarn all month!
Having trouble viewing this video? Click here: https://youtu.be/pMWMSZS2K_g
Click here to shop 24/7 Cotton!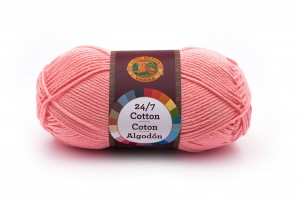 May 8th, 2016
April was all about finding the perfect lightweight yarn to work with. With Shawl in a Ball and 24/7 Cotton, we think you'll be whipping up a new project in no time! These beautiful light worsted yarns are just the right fit for the perfect spring garment.
The Key West Circle Top takes the cake — this mandala-inspired crochet poncho shows 24/7 Cotton's impeccable stitch definition! Make it in a solid color, like the model wears, or create your own color palette for a boho-look.
You know Shawl in a Ball has enough yardage to make a shawl, but the inspiration doesn't stop there. Patterns like the Hexagon Shawl/Vest were designed to be worn many ways. Check out our video series on styling shawls to see just how versatile these pieces are!
See April's Top 9 Patterns below, and subscribe to the New Patterns Alert newsletter to get a fresh batch of patterns delivered right your inbox!