March 17th, 2014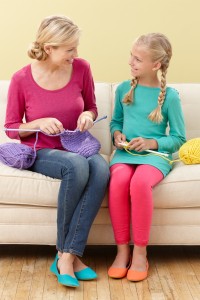 Wherever I go, when I mention I work for Lion Brand Yarn Company, people tell me they would love to learn to knit or crochet.  It's not surprising that so many more people want to learn these crafts.  Not only do you see a lot of younger people and celebrities knitting in the last couple of years, but the stress busting and health benefits of doing these crafts are beginning to be recognized by more and more people.
For people who want to learn, I suggest first finding your ideal learning method.  In many cases that will be sitting side by side with a good teacher, but when that's not possible, there are many other ways.  Here are my top four ways to learn–with and without a person by your side.
March 16th, 2014
Writer and avid knitter Selma Moss-Ward joins us for a series of blog posts about becoming a first-time grandmother and knitting toys. Click here to read her previous blog posts.
I enjoy knitting toys more than most other projects I undertake, because they're easy and fun to make. There aren't concerns with gauge or fit, as with a garment, and if a toy doesn't turn out looking exactly like the photo on the instructions, it seems individualized and special, rather than flawed.
This is to say I loved making the "Cuddly Caterpillar" from Lion Brand's vast pattern database.  It's great for any beginner just starting out or an experienced knitter like myself.
"Vanna's Choice," the  specified yarn, knits into a smooth, slightly glossy fabric, and, being washable and firm, withstands the rigors of playtime.  It's also non-allergenic and moth-proof .  As with the other Lion Brand toys I've blogged about—William the Hedgehog and Leo the Lion—there's plenty of yarn left over for another caterpillar…or two!
March 14th, 2014
As crafters we have a secret relationship with math — whether you realize it or not! You keep count of your rows, use numerical sequences to determine patterns, and you read a knit and/or crochet pattern code as good as any web designer reads html.
In honor of Pi Day, the day we irrationally celebrate this irrational number, I've collected our favorite mathematically themed patterns:
*Note: Some of these patterns require a Ravelry account. Make sure you are signed up or create a free account to access.
March 13th, 2014
Writer, illustrator, and knitter Franklin Habit joins us for his monthly column featuring humor and insights into a yarncrafter's life.
Winter in Chicago takes no more notice of the first of March than a mean-eyed general takes of boundary lines. It tramples right along, both fists swinging. Winter here is a bully, unstoppable, and knows it.
As the months drag on I always find myself growing smaller and smaller, retreating under blankets and into tighter corners. The flowers in the borders–if they ever existed, I may have dreamt them–survive the cold by shrinking, and so do I.
In the stillness I turn contemplative. I've been thinking through my early childhood, which seemed always at my fingertips until with a snap, a few weeks ago, it withdrew to a place so remote I worried I might lose sight of it completely, forever. If you have dropped a piece of complicated knitting that has fallen off the needles, you know this feeling. One moment, there is a shawl. The next, there is a tangle.
Perhaps this is how life goes, as you grow older? I must have crossed a border without noticing, like the mean-eyed general–punching away without realizing what I left behind.
So now I sit under the blankets, eyes closed, and try to gather up the threads that slipped.
This is my first memory of needlework.
March 12th, 2014
We must be feeling extra patriotic these days because the most popular pattern of the month is this beautiful crochet Flag Afghan: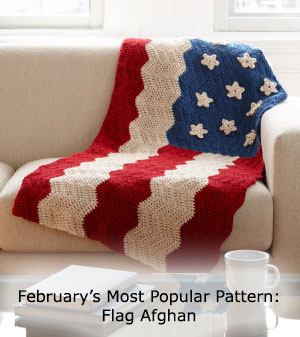 Made with
Heartland
, one of Lion Brand's most popular lines, this made-in-America yarn is easy to care for, making it perfect for garments, afghans and accessories. It's also machine washable and dryable!
Below are some of the other popular designs this month. With three market bags in the mix, it's fair to say that people are excited about getting out to open-air farmer's markets again (I know I am!) and the crochet Scalloped Cowl is right on-trend for spring!
March 11th, 2014
Shira shows you how to get the look of this Lush Plush Arm Knit Cowl without using needles! Using the simple technique of arm knitting, you can make this scarf in just half an hour!
Shop for Homespun® Thick & Quick® here: http://lby.co/1i1ccck
Update: if you're unsure of how to seam the piece, we have a pictorial walkthrough for you.
March 10th, 2014
My mother is a nurse in the neonatal department at a hospital in Boston, and is reknowned for knitting and crocheting gifts for her newborn patients. Like my mother, I have inherited her desire to craft whenever someone I know is expecting a bundle of joy. My go-to pattern is the Hooded Baby Blanket made with Pound of Love® yarn. The popcorn stitch pattern makes it very simple to make, but still incredibly detailed.
Plus, I love using this yarn because the name sounds like you are literally infusing love into your future project. Here are three versions that I'd like to share with you today:
A charity item for a local drive that collected handmade
items to send to those affected by the tsunami
in Japan in 2011. To keep it simple, I removed the hood.
(Plush toy was not included)
Her father is a big fan of the Superman franchise,
so I chose the superhero's iconic logo to put on the back.
Trimmed with Baby's First in Twinkle Toes, and the logo
was a combination of Baby's Wool in Sunflower and
Vanna's Choice in Scarlet.
A good friend of mine recently had a baby boy
and wanted something playful he could grow into.
I decided to make it look like a dragon pelt,
making the blue scales out of Baby's First in Bluebell.
What's your favorite baby item to make? Share with us below!
March 7th, 2014


(image via vogueknittinglive.com)
We're excited to be on the marketplace floor as a vendor for our first ever Vogue Knitting Live showcase in Seattle, so be sure to see us at booth 224!
We look forward to greeting our friends in the Pacific Northwest, checking out the amazing fiber art displays that will be around the marketplace, and seeing some of the hottest trends in knitwear fashion.
As usual, we'll be selling yarn at a 20% off discount, so those who haven't gotten to experience the LB Collection® in person will be able to pet and fawn over our super-soft Baby Alpaca, luxurious Cashmere, hand dyed 100% Silk and more.  In addition to selling great yarns, we'll have catalogs and some free patterns available to take home with you.
Plus, you get a free anniversary tote with your yarn purchase!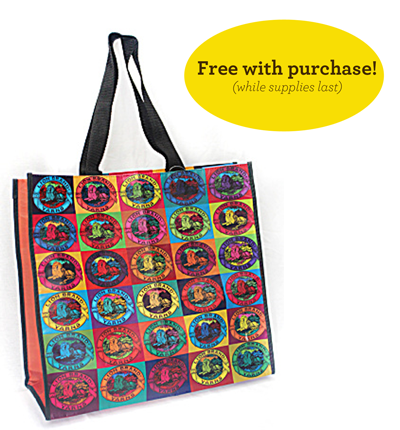 Do you plan on going to Vogue Knitting Live, Seattle? Let us know in the comments.
March 7th, 2014
There are only two kinds of people in the world, The Irish and those who wish they were.
You probably know that St. Patrick is revered as the patron saint of Ireland and that on March 17th every year many folks celebrate his life and Irish culture in general. But do you know why?
via Spoonful:
Born in Britain during the 4th century, St. Patrick was kidnapped and enslaved by Irish raiders when he was a teenager. Although he was able to escape after six years and become a priest in Britain, he later chose to return to Ireland as a missionary, in order to help spread the teachings of Christianity to pagans. According to Irish folklore, he also used a shamrock to explain the Christian concept of Trinity to the Irish. In spite of continuous opposition from pagan leaders, he continued to evangelize for thirty years while baptizing newly converted Christians and establishing monasteries, churches, and schools. He died on March 17th and was canonized by the local church.
While some folks still celebrate March 17th as a religious holiday, these days St. Patrick's Day is more often a celebration of Irish culture in general.
With that in mind, here are several St. Patrick's day patterns to help you get the festivities started and …
March 7th, 2014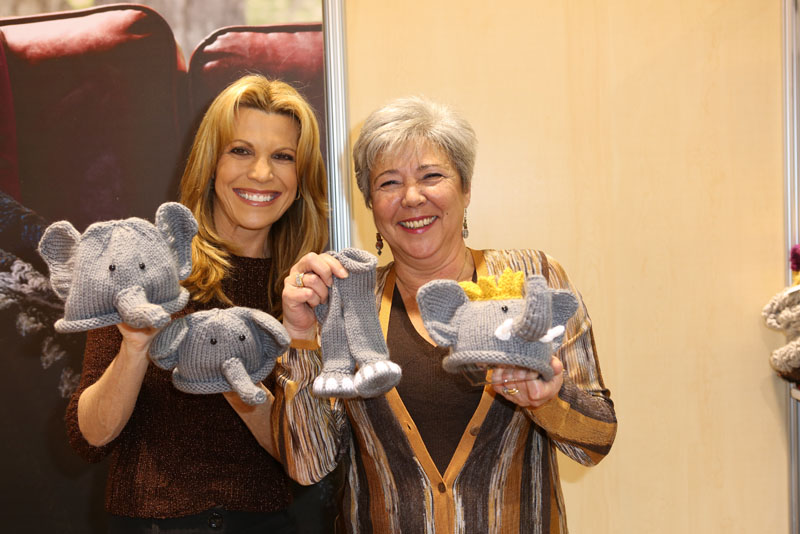 Vanna White and last year's winner, Nancy Nielsen,
with her "Gramminal" baby hat and bootie set.
It's time to vote for the winner of the Vanna's Choice Contest! The contest started in November 2013 and ran until a month ago. Entrants designed a project with at least three Vanna's Choice colors and sent us their photos.
The Grand Prize winner gets a trip for two to Los Angeles, California to meet Vanna White. There are 15 additional prize winners who will receive yarn. We've selected 27 finalists from the many entries we received. They are some of the most clever, beautiful and original ideas we've seen from our contests and we think you'll be amazed as well.
Many tell the story of what inspired them, the moment that the idea occurred to them, and why they chose their colors. Some even took pictures of themselves and their families using their creations.
Last year our prize winner not only met Vanna, but was offered a publishing contract for a book of patterns for her whimsical baby hat and booties patterns.
Help make someone's dream come true and get inspired at the same time. You can vote once a day so choose one or more favorites and vote often.


*Note: You will need to use your Lion Brand account in order to vote. If you do not have an account with us, please create one to not only vote for a winner but have access to over 5,000 knit and crochet patterns.