July 8th, 2015
I love seeing a project come together!! Last week we made our swatches to assure our gauge was correct, joined the first row without any twists (hopefully) and worked on the first few rounds of our Sabrina Tunic!! Like I said last week… Those first few rows are the hardest part… So now we are ready to kick into gear and get our Yoke made!!
Since the Sabrina Tunic is made in one piece from the top down, this project will start shaping up quickly and we will see a hint of how it will look by the time our Yoke is complete. I love working with Vanna's Glamour Yarn… The small amount of shimmer and sparkle will make this a perfect piece to wear this fall, and the nice bounce the yarn provides is also going to make the garment fit nicely. It's still not too late to join us and make a Sabrina Tunic for yourself. You can even have the yarn shipped right to your doorstep… Click here to view and order your yarn kit!! If you are ready… Let's get our hooks and get the party started!!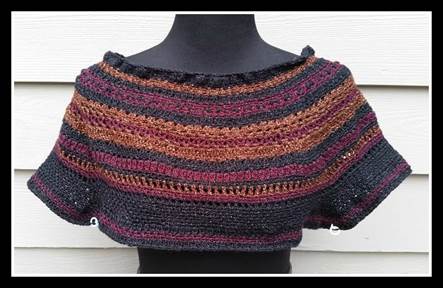 Read the rest of this entry »
July 8th, 2015
In this latest episode of Tea with Shira, I'm honored to chat with Emeric Harney!
Emeric Harney is a 3rd generation member of the tea company, Harney & Sons.  Of course we had many stories to share, both being part of family businesses and all, but get this: he's a knitter too!
Emeric and I discuss what's on his needles currently, who he's making it for and, of course, TEA!
So, grab your needles and/or hooks, your tea, and enjoy the latest episode of Tea with Shira!
:: Can't see the video above? Click here to watch: https://youtu.be/nZ0lg5O4ook ::
Yarn mentioned in this video: LB Collection® Superwash Merino
July 7th, 2015
Writer, illustrator, and knitter Franklin Habit joins us for his monthly column featuring humor and insights into a yarncrafter's life.
I spend about half my time these days away from home, standing in front of classrooms full of knitters, teaching them how to do things. That's my job. I have an awesome job.
I teach these knitters to do all kinds of stuff: how to knit lace, how knit with color, how to put colors together, how to cut knitting, how to sew knitting. And that's just the top of the list. If you want to make a living in this business, it pays to have many strings to your bow.
No matter what I'm teaching, one sort of question always comes up.
"What if I…?"
For the ellipsis, read any of the following:
…do the opposite of what you are telling me to do?
…try doing the same thing in a way I just thought up?
…try doing something that is not at all this thing we are talking about, but is some other thing I think might be kind of cool?
Or variations thereupon.
I grin, because one über lesson underlies all my lessons:
Play around. Whatever you're doing, play around.
July 6th, 2015
There's nothing quite like finishing up a project, stepping back, and admiring your handiwork. Perhaps that's why our two 5 1/2 Hr Afghans were the top patterns in June! These projects both used bulky yarns, which certainly help when you want a pattern to work up quickly. Their simplicity makes for a fast and easy project — and a beautiful housewarming gift!
Our Yarn of the Month for June — Babysoft® — provided a lot of inspiration for those of you knitting gifts for babies and toddlers. The bright pastels of this yarn collection created a variety of combinations perfect for little ones!
Lastly, airy shawls were a huge hit. These pieces are the perfect addition to a summer wardrobe. They provide the right touch of flair to any outfit, and keep us warm when the summer breeze gets a little chilly!
Below are the top patterns for June. Even as the weather warms up, we hope you'll keep knitting and crocheting pieces for you and your loved ones!
July 5th, 2015

The summer is here so it's time to plan a big getaway! I don't like air travel but I do like that it provides me with uninterrupted time to knit and I like that knitting keeps me calm and stress-free while I'm on board! When I tell people that the meditative qualities of knitting have seen me through many journeys, they're often surprised that I'm allowed to bring my needles on board. While the TSA guidelines can be tricky, knitters and crocheters can put their minds at ease! I've collected some frequently asked questions on the subject so you can be in the know about what you are permitted to take on the plane.
Are knitting needles and crochet hooks allowed in carry-on luggage?
Knitting needles and crochet hooks are permitted by the TSA in carry-on luggage on domestic flights in the US. Savvy travelers suggest that you carry wooden or plastic needles over metal and bring circular knitting needles instead of straights which might seem more obtrusive. If you are travelling internationally be sure to check the guidelines of your airline and security agencies abroad. You may be allowed to fly into a country with knitting needles in your carry-on but be required to check them on your return flight.
What about scissors?
You might be surprised to find out that you can bring scissors in your carry-on as long as they have blades that are shorter than four inches. Although they may seem innocuous or be advertised as airplane-approved, thread cutter pendants like these are prohibited by the TSA and should be kept in checked luggage. Don't have any small scissors? Nail clippers are a good, travel-sized alternative for cutting yarn and they are permitted in carry-ons. If you have questions about other items, the TSA has made a handy search tool.

What if my knitting needles are confiscated?
If you're worried you might have your needles confiscated, bring a print out of the most recent TSA rules. But keep in mind, screeners can confiscate any items they do not feel are safe regardless of these guidelines. It's best to leave supplies that are costly to replace or hold sentimental value at home in case you have to part with them. Carry dental floss in your carry-on. You can use the blade to cut yarn and the floss is great for holding stitches in a pinch if you're asked to surrender your needles.
The security checkpoint is, for many travelers, the most stressful part of a trip. Pack your supplies together in a project bag so that they can easily be inspected and use clear, zip-top bags for smaller notions. Remember to have a back up plan and be courteous!
What should I bring on my trip?
Check out this post for more ideas on what projects and notions to pack and how to prepare for travel crafting. And don't forget, you can leave your yarn diet home while you're on vacation!
Have you ever had trouble with your knitting or crochet at the airport? What's your favorite thing to knit or crochet on a flight?
July 4th, 2015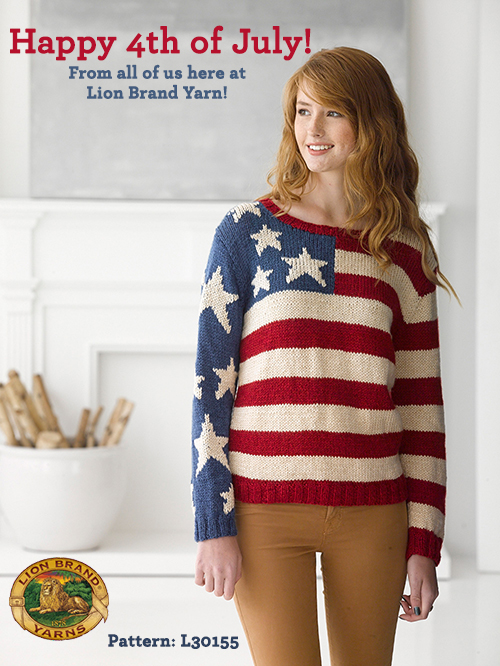 Happy 4th of July! We'll be celebrating with barbecues, watching the fireworks, getting together with friends and family, and decorating with Red, White and Blue. We wish you a safe and enjoyable day.
Celebrate the day with a few U.S.A.-inspired patterns!:
9 Patriotic Patterns for Independence Day!
Lola Gets Crafty for the Fourth … Life, Liberty and the Pursuit of Yarn!
Celebrate the Stars and Stripes With These Flag Day Patterns!
July 3rd, 2015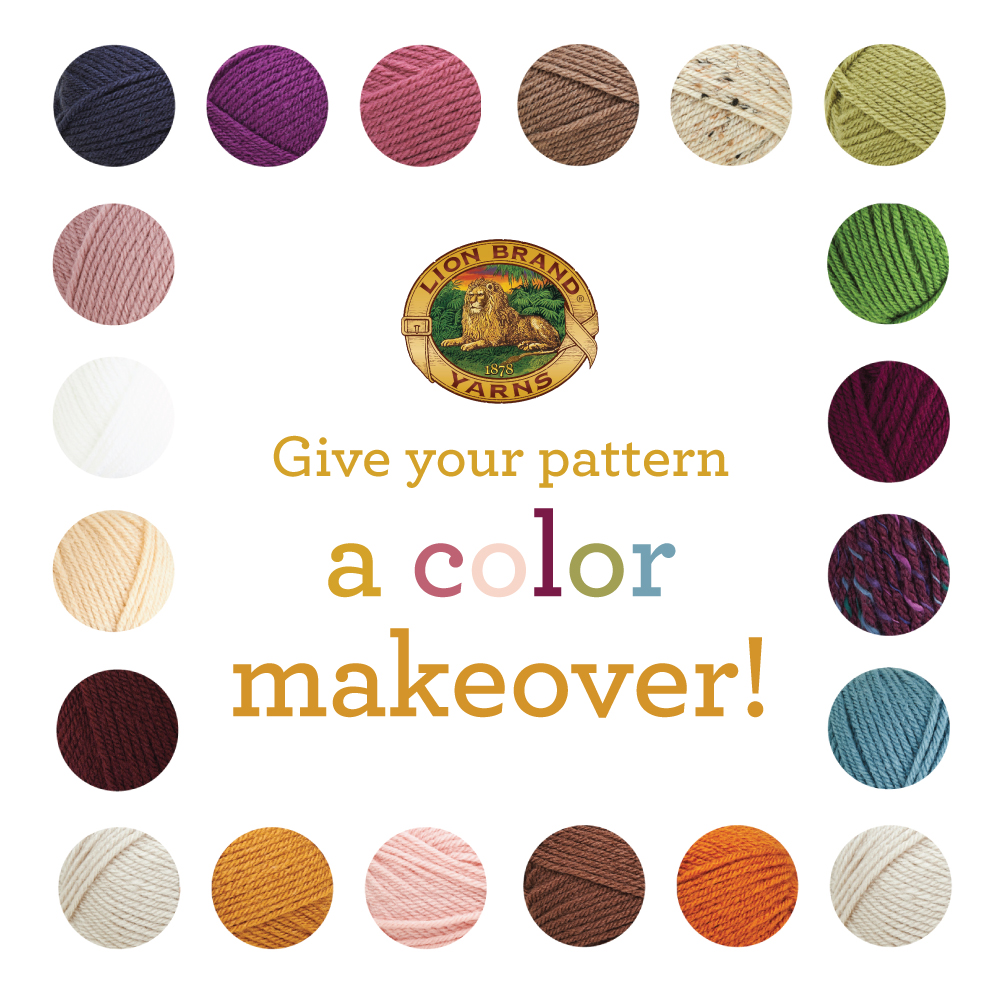 Crafters are often intimidated by straying from pattern instructions, but one of the easiest ways to customize a project is by simply changing the colors! Pattern designers do a great job picking colors for their samples, but sometimes you'll find that although they look lovely, they aren't your colors. For patterns that are written for one solid color, it's an easy swap, but what happens when the pattern includes color work? Choosing a whole new color palette need not be daunting!
Vanna's Choice® is an excellent yarn to work with if you are looking to create a custom palette. With 66 colors currently in the main line, you've got a lot to choose from. Add double-stranding into the mix, and you've got a whopping 2,145 color options! Vanna's Choice® is also expertly designed with color matching in mind, so customize your creation with confidence – Vanna's Choice® colors work together no matter what your desired palette!
To help get you started, we've created four kits based on some of our favorite color combinations:
Each kit contains 6 skeins of yarn, one in each color pictured. Try combining them in one of these 6 ball patterns, or pick a favorite pattern from your own library. You'll be amazed at how simply changing the colors can give a familiar project a new look! Did you notice that the two ripple afghans below are actually the same pattern?
If you're ready to create your own palettes, there are lots of tools online to help you. Here are just a couple to get you started:
Coolors has an excellent color palette generator (free to use on the web) which allows you to choose a base color and generate matching color schemes with the click of the spacebar. Drag to reorder the swatches, click the lock to keep colors you like, and use the sliders to tweak colors manually.
Photocopa is another nifty color palette helper (also free to use). Upload a photo or choose one from their gallery and Photocopa will generate a palette based on the photo! Choose the ones you like and use the sliders to change the proportions of the swatches.
July 2nd, 2015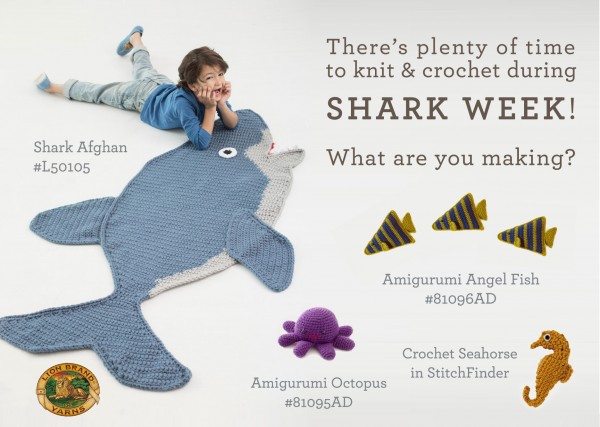 Shark Week
 starts Sunday! Shark Week is an annual, week-long programming block on the
Discovery Channel
which features shark-based programming, real and fictional.
We think it's the perfect time to combine one cultural phenomenon with another, knitting & crochet with Shark Week! Here are some fun patterns to get you started:
July 1st, 2015

I am so excited to host this summer's Lion Brand Crochet Along!  I love the project you all voted for… The Sabrina Tunic.  To kick off the first week I will be talking about the yarn, gauge, sizing and getting started with the first few rows.  I hope you are as excited as I am… Let's get crocheting!!!
Let's start with the yarn.  This pattern called for Vanna's Glamour®  in 3 colors.  This yarn is a light weight yarn and is categorized as a size 2 in yarn standards.  The thing I love about this yarn is the hint of sparkle; this will make our project really special!  It's important to use the same weight yarn that the pattern calls for to keep our tunic looking and fitting just right.  This yarn also has a nice easy stretch to it which will make our garment keep its shape. It's not too late order your yarn and join us… Lion Brand Yarn will ship it straight to your door.  Click here to view & order the kits at 20% off.
Now it's time to move on to the most important part of the pattern… Gauge!!!  I know it's tempting to skip the gauge and just start crocheting.  Since everyone crochets a little differently, uses different style hooks and working with light weight yarn can change our tension, it is extremely important to check your gauge.  It only takes a short amount of time and I promise it will pay off by giving you a better fitting garment.
July 1st, 2015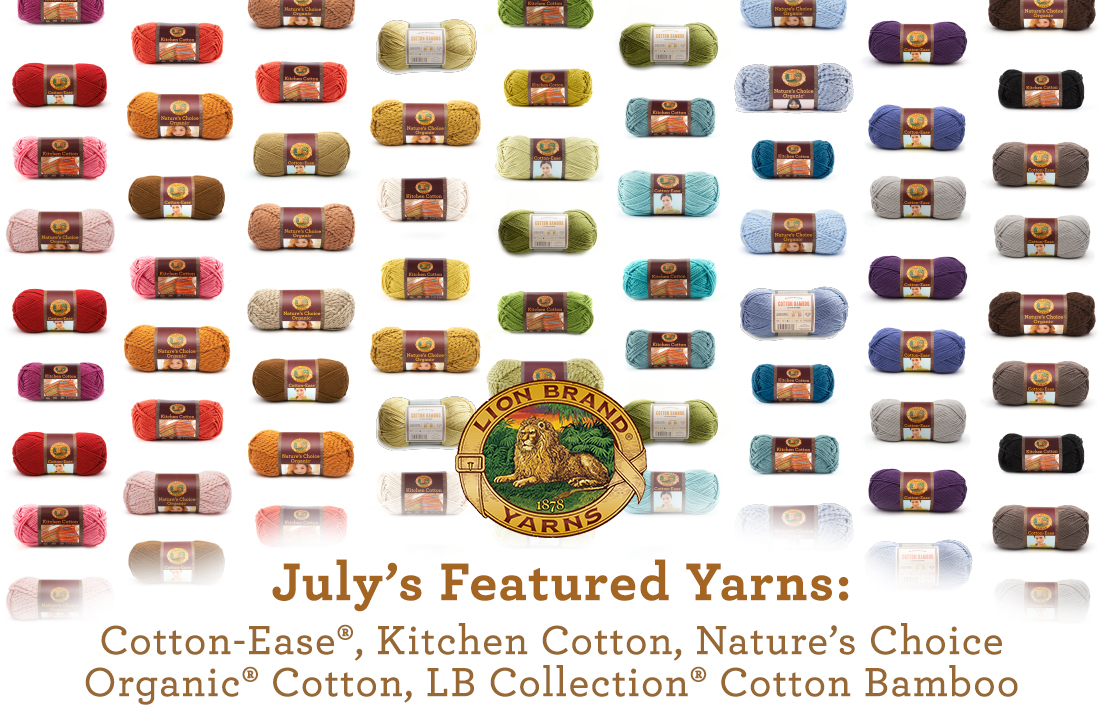 Kitchen Cotton
: Made in the USA, this classic worsted-weight cotton is perfect for kitchen items and bath accessories.
Cotton-Ease®
: Combining the absorbency of cotton with the lightweight of acrylic, it is ideal for making year-round garments and accessories for the entire family.
LB Collection® Cotton Bamboo
: Combining the softness and drape of bamboo rayon with the durability of cotton, our beautiful Cotton Bamboo yarn is great for year-round projects, such as clothing and baby items.
Nature's Choice Organic® Cotton
: Nature's Choice is grown and spun without the use of pesticides, herbicides or other chemicals. Nature's Choice is a soft, versatile yarn that's so easy to work with and perfect for everything from baby blankets to fashion items. It's good for your crafting and good for the planet.
All of these amazing yarns are on sale now – SAVE 20% off for the entire month of July!
Below is collection of our most popular patterns using these popular cotton yarns: