October 31st, 2014
Here is the latest installment of Lola, from its creator Todd Clark.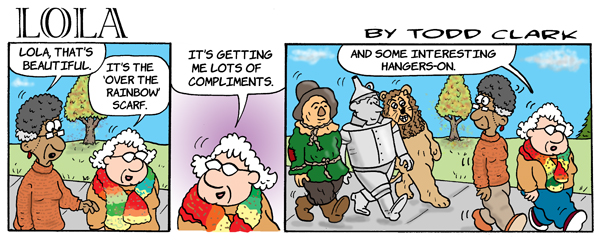 *** *** ***
Subscribe to The Weekly Stitch Newsletter
Get a FREE weekly email featuring patterns, articles and special offers. As a bonus for subscribing, we'd like to offer you 15% off your first order! *
:: Sign up now ::
October 30th, 2014

#Scarfie = A selfie with a scarf!
As you may have seen already, our #scarfie program is underway and plenty of you have been tweeting your #scarfies and sharing them with us on Facebook, so thank you!
Today, we've got a pattern from the amazingly talented Tamara over at Moogly. Tamara's Stormy Weather Cowl has been a big hit on her blog, and we're excited to share her pattern with you. Only 2 balls of Wool-Ease Thick & Quick are required for this project, so get your hooks and yarn ready!
Find Tamara's pattern here: Stormy Weather Cowl
October 29th, 2014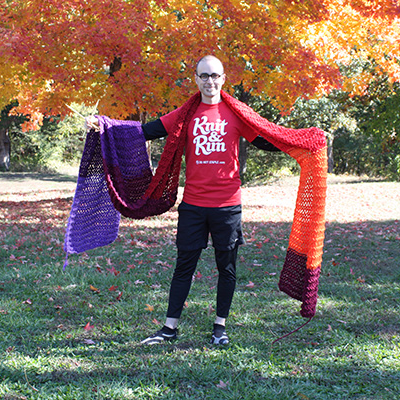 Featured in the New York Times and around the world, David Babcock is the Guinness World Record holder for knitting the longest scarf (12 feet!) while running a marathon, which he did in Kansas City last October. Coupled with a great deal of skill and endurance, David credits his choice in using Lion Brand's Hometown USA as a factor in his amazing accomplishment! Lion Brand is sponsoring David in the New York City Marathon on November 2nd, 2014 and lucky for us, he's agreed to write for us leading up to race day! Plus, you can meet David while he's in New York City!
This Sunday, I'll be running the New York City Marathon while knitting a scarf. I'm doing it to raise funds and awareness for Alzheimer's. While training for the New York City Marathon, I was faced with a problem. Due to security concerns I was told that I would not be allowed to bring knitting needles or a crochet hook with me on the run. I respect the great service that the New York Police Department provides and want to support their efforts. So I had to come up with a way to knit on the run without needles.
I tried arm knitting, but a 15 minute scarf doesn't fill my target 4 hour finish time and the giant loose gauge would not hold up well on the run. I was aware of what is commonly called finger knitting but I didn't feel that a 4 stitch stockinette would work well either. So I did a little experimentation of my own and in the process I learned more about knitting.
Knitting at its simplest level is just a series of loops inside of loops. Knitting needles are a very helpful tool for holding stitches and picking up and pulling loops through, but learning where to insert them and how to twist them was quite a challenge for me as a beginner.
October 29th, 2014
"… Go to the Fair, Templeton. You will find that the conditions at a fair will surpass
your wildest dreams. Buckets with sour mash sticking to them, tin cans
containing particles of tuna fish, greasy paper bags stuffed with rotten …"
"That's enough!" cried Templeton. "Don't tell me anymore. I'm going."
E.B. White, Charlotte's Web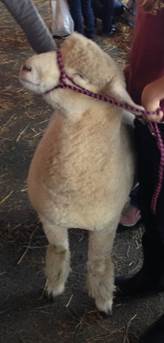 Convincing my cousin Janet to go to The New York State Sheep and Wool Festival wasn't hard. Unlike Templeton the rat in Charlotte's Web, she didn't need the lure of sour mash, stray particles of tuna fish, or even greasy paper bags. The mere mention of sheep and wool and she was on board.
I had been to Rhinebeck, as the event is known in the fiber world, when I was promoting my knitting book, A Knitter's Home Companion. My fair days back then were spent almost entirely signing books. This summer, after attending a small Iowa sheep and wool festival, I got the itch to go back to the big one, to Rhinebeck, to see what I had missed.
Rhinebeck is not only about wool. Among the offerings there were a bred ewe auction, an angora goat show, and an exotic breeds parade. In addition, there were demos of "blue ribbon hearth" cooking, canine Frisbee, sheepdog herding and more. Not to mention classes like Weave a Williamsburg Basket, Art and Science of Natural Dyeing, Needle Felting in 2-D and 3-D, Made in the Moment Jewelry, Double Knitting, Beginning Rug Hooking and Spinning for Socks.
Of course, Janet and I went straight for the wool. We cruised booth after booth, discussed the merits of projects and yarns on display. Often our eyes were drawn to the handwork worn by other fair attendees. We admired lacy shawls, cabled sweaters and the stunning green baby blankets covering a pair of adorable twins in their side-by-side stroller.
Read the rest of this entry »
October 28th, 2014
Today, we've got a great tutorial for you by Vanessa from the Crafty Gemini! Vanessa will show you how to create a simple cowl in our beautiful, self-striping yarn, Amazing. This cowl works up extremely fast and will make a great gift for the upcoming holidays. Watch Vanessa's tutorial below, and check out the link for her Amazing giveaway!
Click here for: 45 Minute Cowl Pattern
Click here for: Amazing yarn giveaway
October 27th, 2014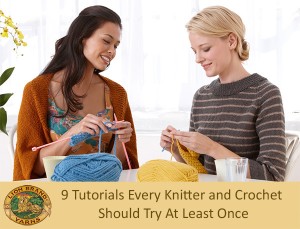 Beyond bringing you new patterns and reporting on the latest knit and crochet trends each week, Lion Brand also provides numerous tutorials on techniques and methods all knitters and crocheter should know about (and try at least once!). 
Tutorials are a great method of learning – for knitters and crocheters who are just learning the basic, to experienced crafters who want step-by-step visuals to master a new technique.
Bottom line, tutorials are a great way to learn new skills that will help you on future knitting and crochet projects!
Here is a collection of our most popular tutorials:
For more step by step instructions, look under our Tutorials and Tips & How To sections of the blog.  And for those learning how to knit or crochet, our Stitchfinder is also a great resource!
October 26th, 2014
This story is from our newsletter called Pattern Journal which brings a warm-hearted, wholesome story to your inbox to read every month. If you enjoy it and would like to subscribe, click here.
She was a homemaker. At parties, Angie sometimes said, "I'm a domestic engineer." Same difference. With three kids, two dogs, and Mike, who spent long hours at his hardware franchise, Angie often wondered how they'd manage if she didn't have great organizing skills and abundant energy.
Angie, like her husband, thrived on life's routines and complexities. But no matter what, she always took time to crochet. It wasn't just a pastime. It was the feeling that crochet preserved her. Those minutes each day, hook and yarn in hand, cleared out stress and focused her on something productive that became something beautiful.
Her newest project was a classic Granny Throw, to replace the one Mike's mom had made years before. That was now beyond repair. Yet it was the family "lovey," a comfort of their daily lives, and Angie didn't want them to do without.
The Granny Throw comprised twelve generous squares that worked up quickly on a K hook. She'd done each one in spare moments, often while waiting in the car to pick up the kids from school. Angie adored the subtly variegated yarn, called Tweed Stripes®. Earth-toned, with occasional bright accents, it had a woodsy quality that complemented their maple furniture, corduroy upholstery, and braided rugs.
Angie placed the finished throw on the couch, and waited to see who noticed first. Six-year-old Daisy, of course. It was Friday, after supper, when the kids were allowed a movie before bedtime. Daisy put on her pajamas, brushed her teeth, and raced downstairs ahead of her brothers. Leaping onto the couch, she automatically pulled down the throw. Angie heard her call, "Mommy, there's a new lovey! It's so-o-o beautiful!"
Jake and Tyler joined their sister. "Hey, let us have it!"
"What's up, you guys?" Angie asked, coming into the family room. The kids tussled some, then finally cuddled into the Granny Throw. Faces shining, slippered feet sticking out beyond their new blanket, they were eager to watch the film.
At times like this Angie knew why she loved the life she and Mike had made.
—
All characters appearing in this work are fictitious. Any resemblance to real persons, living or dead, is purely coincidental.
A story by Selma Moss-Ward.
Selma Moss-Ward writes and knits in Rhode Island. You can find her work on our blog, as well as Lion Brand's monthly newsletter, Pattern Journal, which you can subscribe to here.
October 25th, 2014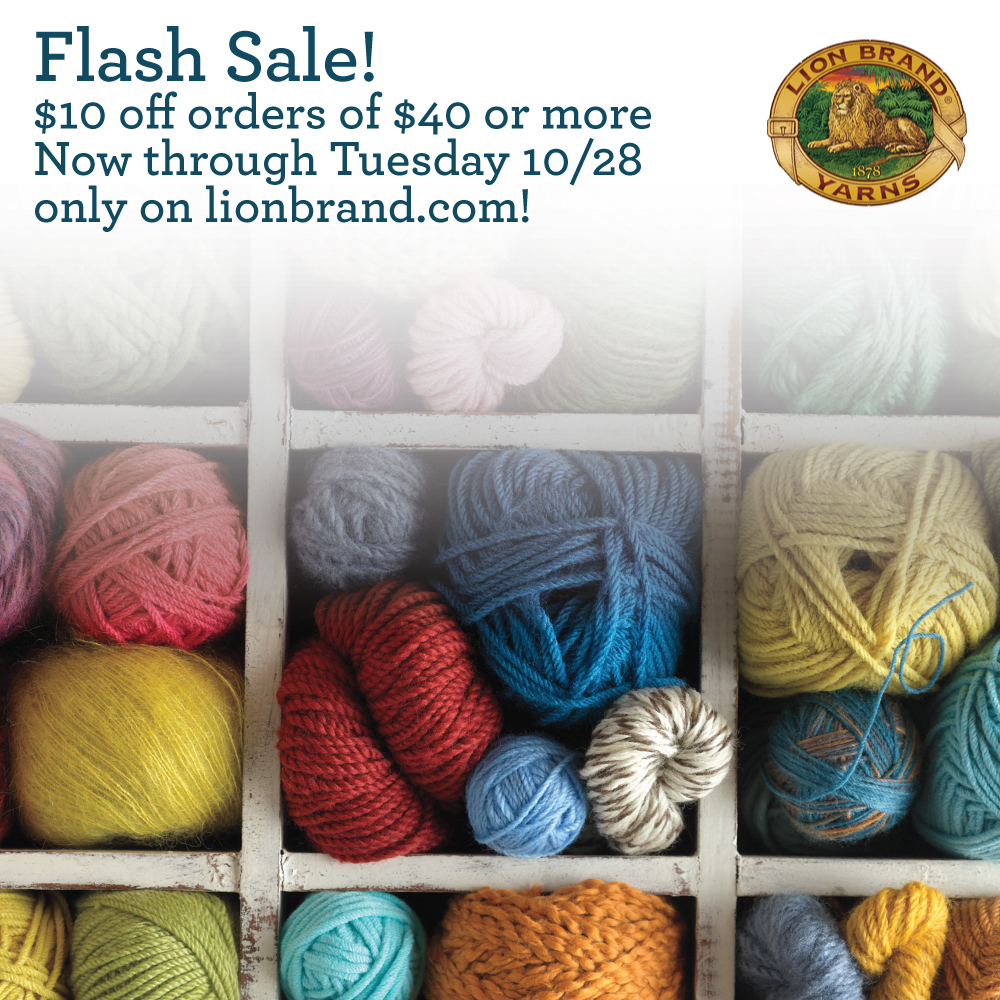 *Coupon code "FLASH40″ will be automatically filled into the coupon box at checkout on qualified orders. Only one coupon per person; cannot be combined with other coupons. Valid through 12 noon EST, Tuesday October 28th.
October 24th, 2014
We've teamed up with Todd Clark, creator of the ever-popular Lola series, to bring you "Out of the Loop," a regular one-panel comic featuring humorous takes on the world of yarn.
Enjoy and please share widely!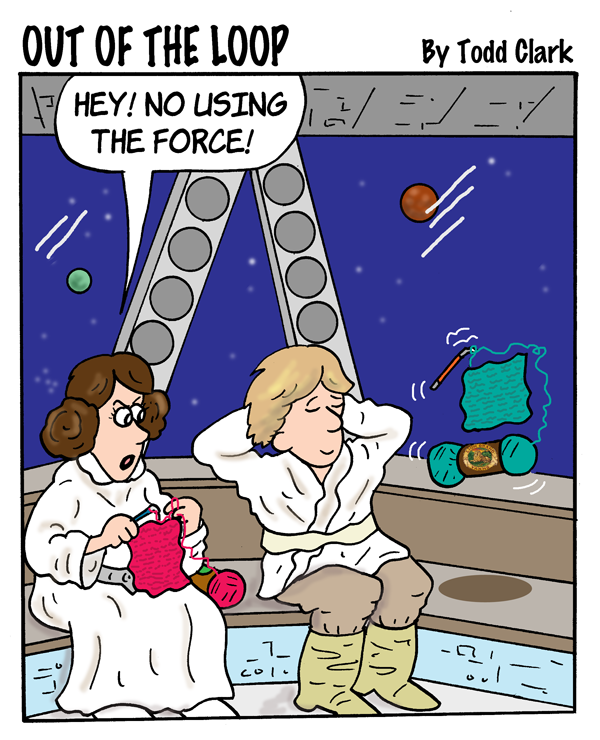 *** *** ***
Inspired to use the force too? Here are a few patterns to inspire you!
*** *** ***
Subscribe to The Weekly Stitch Newsletter
Get a FREE weekly email featuring patterns, articles and special offers. As a bonus for subscribing, we'd like to offer you 15% off your first order! *
:: Sign up now ::
* offer valid only for first-time email subscribers, one coupon per person.
October 23rd, 2014

#Scarfie = A selfie with a scarf!
We invited a few awesomely creative knit and crochet bloggers to participate in a #scarfie challenge! We asked them to design a scarf or cowl with two skeins of one of our most popular yarns, Wool-Ease Thick & Quick. The #scarfies are making the rounds on blogs and social media, and we're so excited to share them with you. Today, we're featuring a cute crochet scalloped edge cowl from Rachel at Maybe Matilda.
Rachel's pattern is easy and fast, so get your balls of Wool-Ease Thick & Quick and start crocheting!
Find Rachel's pattern here: Chunky Scalloped Cowl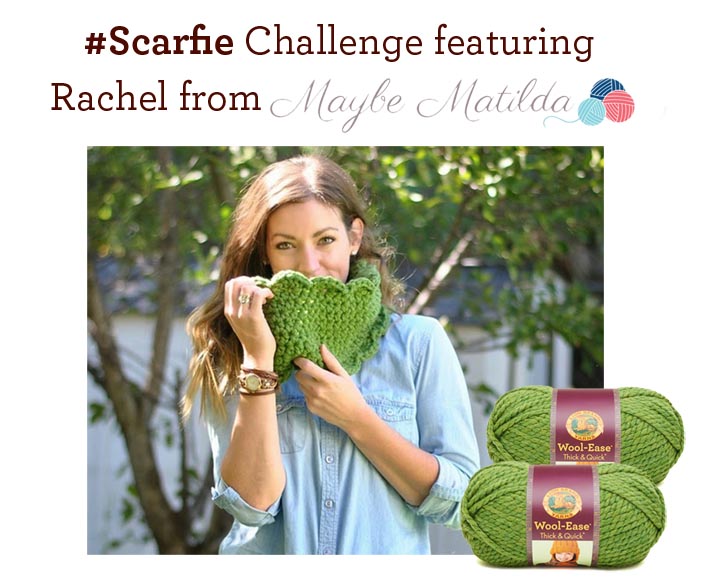 P.S: We encourage all of you to tweet us your #scarfie (@lionbrandyarn), or share them on our Facebook wall – hashtag #scarfie! Read more about our #scarfie campaign here.