August 20th, 2015

We've been exploring color theory lately and asked our Facebook fans what their favorite color was. As it turned out, most of our fans loved deep jewel tones like purple, burgundy, and forest green — all beautiful, rich colors that feel right at home as the season changes to fall. If asked, I'd honestly have a hard time pinning down a single color as my favorite. My bedroom is drenched in blush pinks and deep fuchsias, but my closet is filled with a range of blues.
Lately, I've been having a moment with yellow. At first, I introduced small pops of yellow into my life, like when I made a simple knit hat using Wool-Ease® Thick & Quick® in Toucan. It was a safe choice — heathered grey flecked with pops of neon yellow. Then I moved onto mustard yellow; I didn't own a single yellow item of clothing until I found myself drawn to a button down blouse in this hue. My last knitting project was a shawlette made from LB Collection® Angora Merino in Nectarine — its friendly tone toes the line between deep yellow and mellow orange.
We all need a little color in our world. While we may proudly sport our favorite color from head to toe, some colors need slight introductions into our lives. Looking ahead to fall, when the leaves change into a range of maple reds and buttery yellows, why not add some color to your knit and crochet projects? Cowls are quick projects, and break up the monotony of neutral-colored cold weather gear. Here are nine of them, each showing off colors in their own way:
August 19th, 2015
At the Knit and Crochet show in San Diego, I had the chance to sit down with blogger Moogly a.k.a. Tamara Kelly.
We drank some iced tea, chatted about her loving crochet, and the amazing patterns she has worked on. (She makes something almost every week! Check out her latest project at the end of this post.)
Do you know about our LB Collection ®? Well, Tamara does and she uses it for a bunch of patterns! The best part of this interview — besides me wanting to steal some of the amazing garments she's made — was finding out "Why the name Moogly?" Check out our chat in the video below!:
:: Can't see the video above? Click here to watch – 
https://youtu.be/EmReiKEYC-4
 ::
Yarns mentioned in this video:
What is Moogly working on now? The Easy Log Cabin Afghan featured in the video! Check out the pattern over on her blog, and order all the Textures® you need to make one yourself!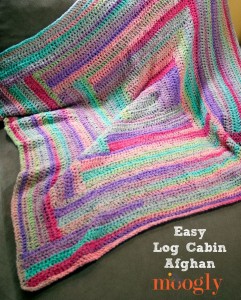 August 18th, 2015

You may already know about our thousands of free patterns, but did you know about the many resources Lion Brand® offers beyond the website?
Here on our blog, we've shared some great tutorials that are both fun and useful. If you're looking to try a new stitch, or just need a place to look up a quick technique, we've got it!
Today, we've rounded up some of our most popular How-To posts for knitters, crocheters, and weavers. Maybe you're wondering…
How to Invisibly Seam Granny Squares
How to Crochet Broomstick Lace
How to Choose the Best Yarn for Your Next Project
How to Cable Without a Cable Needle
---

Don't forget — August's featured product is the Martha Stewart Crafts™ Knit & Weave Loom Kit! There's still time to snag this kit for only $29.95. Not sure how to use the loom or what to make? We've got a few tutorials here on our blog, and on our YouTube channel!:
How to Knit on the Martha Stewart Crafts™ Loom
How to Warp the Martha Stewart Crafts™ Loom
How to Loom Knit a Baby Blanket
How to Make Baby Moccasins on the Martha Stewart Crafts™ Loom
August 17th, 2015

Crochet garments and accessories have been spotted everywhere throughout summer this year, and the look is carrying over to fall. We've seen crocheted pieces in fashion magazines, in clothing stores, and on our favorite celebrities. Isn't it rewarding, then, when you realize you're capable of making your own crochet pieces to wear?
Introduce this trend into your everyday wear by adding crocheted accessories to your wardrobe — it's not time for sweaters and pullovers just yet! Small clutches can be swapped out for times when you don't want to carry a large purse; wristers are the solution to cold hands at the office. Now's the time to crochet a capelet or cowl that can easily transition into colder months.
Adding small pieces like these are a subtle way to dress up your outfits. Best of all, it's handmade by you; let your unique pieces stand out this season and stay fashionable, friends!
August 16th, 2015
Don't you just love this hat? Ruth Brasch says, "Ode to Summer is a very stretchy hat that features a textured lace stitch as well as a lace flower panel that covers 25% of the hat. This hat will fit snuggly on the head of the wearer, and is fantastic for children as it stretches with growth!"
Made with Vanna's Choice®, the paid pattern includes suggestions to create a slouchy hat as well!
This pattern is available for $5 via Ruth's
Ravelry page
.
:: Vanna's Choice® comes in 71 different colorways. ::