January 23rd, 2014
We're well into 2014 and many of you have since made (and perhaps broken) resolutions and goals for this year. You've shared with us some amazing goals like knitting a pair of socks a week, to learning Fair Isle knitting, to even learning how to knit your very first sweater. Besides the usual "organize my stash," I really want to improve my knitting skills beyond the basic knit and purl and maybe try to learn how to cable. As a pretty skilled crocheter, I'd also like to try Irish lace crochet.
This topic of resolutions inspired me to asked some of the writers and staff at Lion Brand if they had any goals they'd like to accomplish for this year. Here's what some of them had to say:
Kathryn Vercillo, who writes for our blog told us
"I want to play more with free-form crochet, try techniques I've never done and push my crochet writing in new ways."
Close-up of coral from
the Lion Brand Yarn Studio's Under the Sea

" window last summer.
January 22nd, 2014
Featured in the New York Times and around the world, David Babcock became the Guinness world record holder for knitting the longest scarf (12 feet!) while running a marathon in Kansas City last October. Along with a whole lot of skill and endurance, David credits his choice in using Lion Brand's Hometown USA as a factor in his accomplishment!
1. Which came first knitting or running?
It's not an easy answer — it's a timeline of failure and discovery for both with middle-aged knees, toys no one wants to play with, and hats no one wants to wear. I started trying to run for exercise in 2009 at age 37, but had a lot of knee pain, so it was an off-and-on thing. I watched the NYC marathon that year and noticed some barefoot runners but it would take almost two years to figure out how to manage the knee pain for myself. The end of that same year a student of mine made a crochet hat for me. Over Christmas break I decided that the hat was too short and learned how to crochet to extend it myself. By February 2010 I had some basic skills and discovered amigurumi-style toy-making. Over the next Christmas break I bought a beginning knitting kit but didn't get into knitting until that fall in 2011.
By the following spring I had found that minimal-style running resolved my knee issues and by mid-April 2012 I was running in water socks and had found Susie Hewer's blog. (Editor's note: Susie Hewer is a runner/knitter as well. She held the world record for knitting the longest scarf while running a marathon before David!)
January 21st, 2014
Blogger and author Kathryn Vercillo shares tips for using knitting or crochet to relieve the restlessness of cabin fever this winter. Read her previous blog posts on the Lion Brand Notebook here
We've survived the Polar Vortex but winter is really just beginning. There are a lot of days ahead when we might be stuck in the house because of the weather. You might get gripped by cabin fever; that restless, anxious, irritable feeling that we all sometimes get when we're stuck inside for too long. Crocheting or knitting can be the best way to alleviate that feeling.
What is Cabin Fever?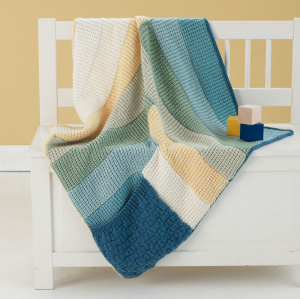 The first thing to do is recognize that you have cabin fever! Cabin fever, which typically happens when you're inside for an extended period of time, often due to extreme outdoor weather conditions, is characterized by:
Extreme irritability
Extreme feelings of restlessness
A strong desire to get away from the people
who are with you
Frustration, defensiveness and annoyance
with those people
Extreme boredom; nothing feels like fun to do
Changes in sleep patterns
Feelings of depression
It helps to be aware that these feelings might be caused by cabin fever because then you can recognize what it is and do something about it!
January 19th, 2014
One of our friends on Facebook called it "the original pig in a blanket" The Mangalista is a breed of pig that was developed in Hungary in the 1930s to provide a fattier meat.   The delicacy of Mangalista meat was initially reserved for the Habsburg Royalty, but the rich, fatty flavor made it a popular choice by the end of the 19th century.
Times have changed and tastes and health concerns make the Mangalista a much less desirable pig to eat.  It also takes twice as long to raise a super fatty Mangalitsa as it does to raise other pigs, taking over a year for them to reach 300 pounds, rather than 175 pounds.
The curious look of this animal is what we love. Like a character out of Star Wars that sprung from the imagination of a yarn-loving film-maker, the Mangalista post on Facebook turns out to be one of your favorites this year.  If you'd like to discover more extraordinary images, stories and ideas, we welcome you to join us on Facebook.
January 17th, 2014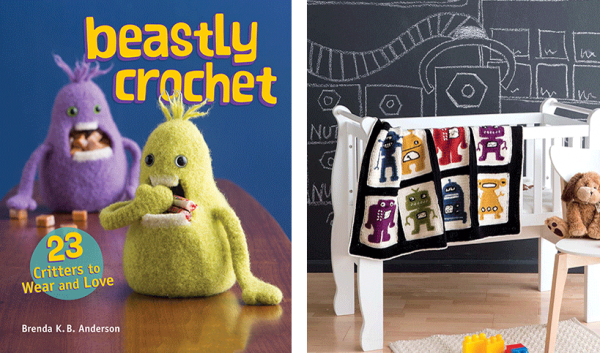 We're starting the new year by teaming up with Interweave Knits and Brenda K.B. Anderson to bring you a giveaway of monstrous proportions. Beastly Crochet is filled with "silly monsters, evil bunnies and killer robots" that you'll just love to add to your evergrowing project wishlist. Filled with everything from robot toys to monster slippers to skull-shaped totes and many more, you'll love to have this book on your coffee table for people to admire.
To celebrate Brenda's latest book, we have an exclusive pattern to share with you: the Robo-Blanky is perfect for that future engineer or science fiction writer. Check it out here.
We'll be picking ten lucky winners who will receive a copy of the book.
*Contest ends January 31st.
*Update 2/8/2014*:  Congratulations to Eva Johannes, Tina Cole, Doris Ackman, Tina Sullivan, Sarah Friedman, Stephanie May, Carolyn Thai, Heather Vanderheiden, Claire Davidson, and Karen Burns! We'll be in touch shortly to get your prizes to you!
January 16th, 2014
:: Re-printed with permission, Craftsy writer Ashley — aka "The Feisty Redhead" — offers these tips for knitting your first sweater. If you'd like a little more help with the leap to sweater knitting, Lion Brand and Craftsy have partnered to bring you the online class: "My First Sweater". Keep reading … ::
The step from knitting a scarf to knitting a sweater is a big one, but it's necessary if you want to avoid knitting rectangles for the rest of your life. Knitting your first sweater can be frustrating, but it can also be a lot of fun. If you're looking for a winter project, why not knit a sweater? Here are a few things to keep in mind before you even start knitting that sweater.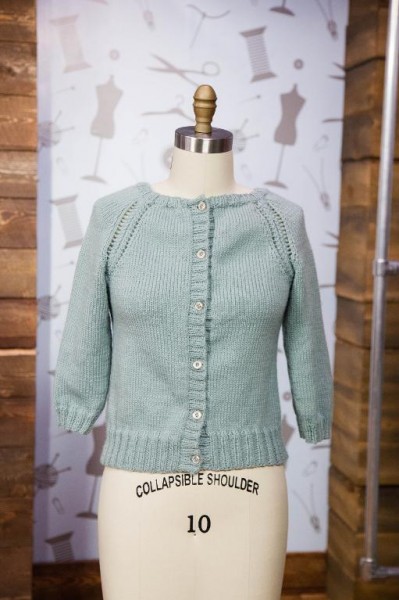 Sweater cardigan on a mannequin.
Photos via Craftsy instructor Amy Ross
1. Know the basics
No need to have a PhD in knitting (if only!) to knit a sweater. If you can knit and purl, you can knit a sweater. The cardigan above is one of the sweater patterns from Craftsy's My First Sweater class with Amy Ross. Enroll in the class and Amy will walk you through everything you need to know about knitting your first sweater, from body measurements to sleeves and seaming. You can even ask Amy questions if you get stuck!
January 13th, 2014
Do you want a personalized gift for someone with an upcoming birthday?
How about a scarf that is designed for their sign of the Zodiac? The word Zodiac literally means "Circle of Life." The twelve signs of the Zodiac offer believers insights into their personalities, qualities, and talents. Whether you consider the traits of your Zodiac sign to be light entertainment or a determining force in your life, as a knitter or crocheter, you'll find that making a scarf designed with a specific birthday in mind is the perfect gift to create something made with them in mind.

Aquarius birthdays are from January 20th through February 18th, and are people who are both generous and known for their charity yarn crafting. If you're born during this period you have a drive to make the world a better place. You may be involved in your local community or a religious organization and you are a very social person, so knitting or crochet groups are probably part of your life. You love to engage others, so you most likely enjoy teaching people the craft that has given you so much satisfaction.

The symbol of Aquarius is the Water Bearer and Aquarians bring creativity and ideas into the world. As an Aquarius you like to make things your own. What a perfect way to start the year we've designated as "You Shine Through."
These creative people may be a bit quirky but that often goes along with being creative. The colors of the Aquarius scarf are the colors of water and creativity (purple).
We have both knit and crochet versions. Start now and you'll have the scarf for the late January to mid-February birthdays finished in time!
January 10th, 2014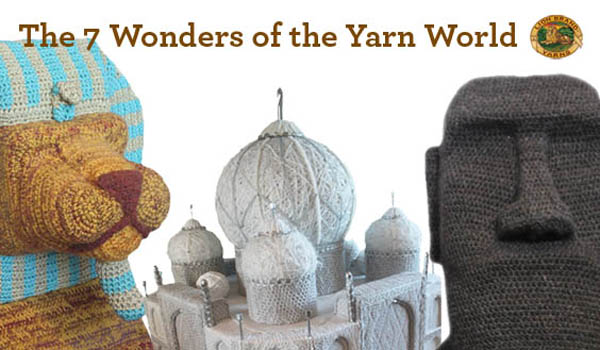 Lion Brand Yarn Company Showcases "The 7 Wonders of the Yarn World" at CHA Winter Tradeshow
We're at the Craft Hobby Association (CHA) Winter 2014 tradeshow in Anaheim, CA this weekend and our big secret is now out! Keep watching here as we reveal "7 Wonders of the Yarn World" — a fiber art installation that includes large-scale yarn sculptures representing the 7 wonders of the world.
The 7 Wonders of The World sculptures were designed by fiber artist Nathan Vincent. Each sculpture represents a different technique found in knit or crochet. The installations that represent the "7 Wonders of the Yarn World" theme stand about 5 feet high or taller, and include marvels such as the Great Wall of China crocheted with granny squares, an embellished knit Taj Mahal, a lace crocheted Leaning Tower of Pisa, a crocheted Lion Sphinx, and more.
Keep watching here as more photos get added to our gallery.
January 10th, 2014
Come see us at Vogue Knitting Live NYC next weekend!! Stop by booth 518, say hi — and check out the great selection of yarns we'll be carrying at 20% off, including new yarns Keppi, Unique, Heartland, and LB Collection Silk.
Additionally, we'll be hosting signings from some of your favorite designers such as Franklin Habit, Lily Chin and Nicky Epstein!
.
| | |
| --- | --- |
| | Franklin Habit, designer, illustrator and contributing author to Lion Brand's blog The Notebook, will be signing copies of select illustrations from posts he's written for us over the past two years on Saturday at 12:30 p.m. at booth 518. Check out Franklin's witty posts here. |
| Lily Chin, a master knitter and one of the world's fastest crocheters, will be at the Lion Brand booth signing copies of her book, "Crochet Tips & Tricks: Shortcuts and Techniques Every Crocheter Should Know" on Saturday at 2:30 p.m. at booth 518 | |
| | Love our Bonbons and want more ideas for projects? Nicky Epstein will be at the Lion Brand booth signing copies of her adorable "Knits for Dolls and Crochet for Dolls (25 Fun, Fabulous Outfits for 18-Inch Dolls)" books which has some great patterns utilizing Bonbons and other Lion Brand yarns on Sunday at 1 p.m. at booth 518. |
Vogue Knitting Live NYC takes place at the Marriott Marquis in the heart of Times Square from Friday, January 17th through to Sunday, January 19th.
January 8th, 2014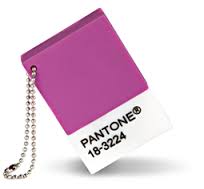 At the beginning of every year Pantone appoints one color to inspire world trends for the months ahead. A regular practice since 2000, Pantone recently announced this year's color: "Radiant Orchid." According to the leading color authority, Radiant Orchid "inspires confidence and emanates great joy, love and health," and was chosen to influence fashion, personal style and all creative matters in 2014.
Purple is a color that's often associated with encouraging individual creativity and used in meditation to help visualize a harmonious, spiritual balance. Expect to see this purple popping up on  inspiration and mood boards everywhere—and of course yarn projects.
With personalization becoming a bigger aspect in fashion this year, we find that purple a great color to work with because of its complexity. While it is a simple combination of blue and red, the variety of shades you choose to use in a project can vary, depending on the mood you wish to reflect.