March 21st, 2014
And the winners are Susan N. of Lindenhurst, Sally N. of Fennville, Carol L. of Hillsdale, Sheila W. of Sumner, Margaret E. of Millinocket, and Jennifer M. of Oceanside – you will be notified shortly! Congrats and thanks to all who entered!
+++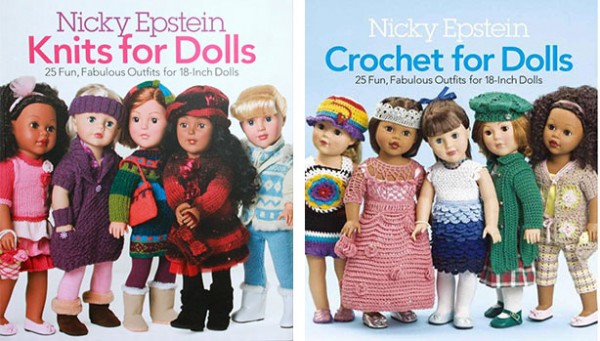 A doll is often a child's best friend – dolls are good listeners and they're even better at keeping secrets. To celebrate Nicky Epstein's latest books, we have an excellent giveaway that your child and her best friend will love!
Both of  Nicky's  books feature 25 patterns and outfits (fitted for an 18-inch doll) that any child will love for playtime dress-ups and tea parties.
We'll be picking 6 lucky winners to receive a copy of their choice, either Knit for Dolls: 25 Fun, Fabulous Outfits for 18-Inch Dolls or Crochet for Dolls: 25 Fun, Fabulous Outfits for 18-Inch Dolls! Each winner will also receive a package of Bonbons to accompany one of two Lion Brand patterns featured in each book: the Modern Masterpiece (knit) or the Cowl and Critters (crochet).
»CONTEST IS NOW CLOSED«
March 21st, 2014
I'm thinking about Spring, even as winter continues to dig its claws into us here in New York City.  It's still light out when we leave work, which is at least one sign that the rest will surely follow.
This spring, not only can you keep knitting and crocheting seasonally appropriate garments and gifts, but you can also help support a great cause.  For the months of March and April, we will donate 10% of the proceeds of all LB Collection yarns to Krochet Kids International.  If you're not familiar with their incredible work, empowering women to help them escape the cycle of poverty for themselves and their families, you can read about it on their site or here in this blog.
We've selected 9 of our most popular Cotton Bamboo patterns to inspire you to start dreaming of and working toward your spring wardrobe and spring gifts.  Plan for Mother's Day, graduations, anniversaries and new baby gifts with this selection of knit and crochet patterns and help make a difference with your purchase of LB Collection, Cotton Bamboo yarn.
March 20th, 2014
Voting ended on Thursday, March 27th, 2014. Thanks to all who voted!
And the winner is … The Spring Lace Shawl!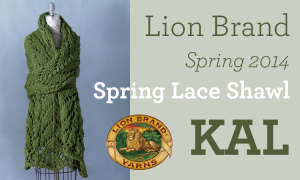 It's that time of year again! Come knit-along with us as we make one of the garments below.
But FIRST you have to help us pick the pattern! Learn more about the patterns by clicking on their photos/names or by visiting LionBrand.com.
Ready? Cast your vote!
(Can't see the voting tool above? Click here to vote.)
___
A knit-along is a virtual event, where all the participants make the same project together. Follow along with knit-along host Grace here on the blog and share your comments and photos. There's no need to sign up, and it's free to join! (New to knit-alongs? Check out our guide here.)
The winning pattern will be announced Friday, March 28th, 2014 here on the blog and at that time we'll also give you details on picking up your supplies and getting started on the project!
—
Votes must be cast by 11:59pm Eastern Standard Time, March 27th, 2014. You must use the voting tool above to vote; comments here on the blog do NOT count as votes.
Crocheters, look out for a crochet-along later this year, here on the Lion Brand Notebook.
March 18th, 2014
Blogger and author Kathryn Vercillo shares how to make a healing, relaxing craft space. Read her previous blog posts on the Lion Brand Notebook here.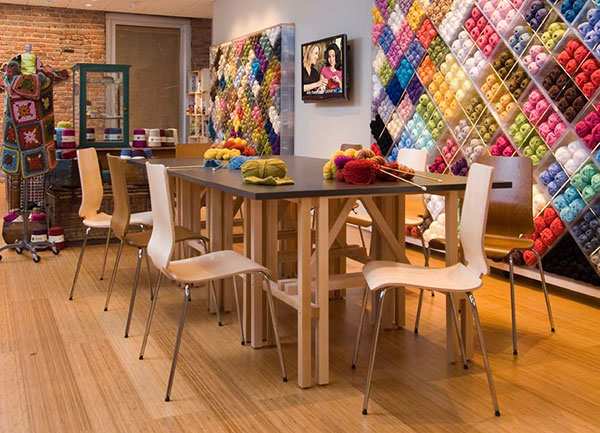 Lion Brand Yarn Studio in New York
Yarncrafting is healing. Knitting is relaxing. Crochet is meditative. Honoring that makes our crafting even more productive, beneficial and special in our lives. Make your crafting space a sacred space to help you drop more easily into the creative / spiritual/ healing aspects of your craft time each time that you work.
Select a Space
Start by designating a crafting space, even if it's just a chair in the corner of a room. Make it your comfiest favorite chair that you really want to spend time in!
Create a Craft Altar
Altars can be religious but they don't have to be. In her book Happier at Home, Gretchen Rubin explores ways to make every little display in the home an altar to something (an altar to toys, an altar to books). This encourages us to pick our favorite things to celebrate what we love in each spot in our home. A crafting altar might include:
Vintage crochet hooks / knitting needles on display. See display tips here.
Favorite luscious yarns; in episode 22 of YarnCraft Zontee talks about creating yarn vignettes
1-2 handmade items
Photos of favorite crafters. Family photos of the older generations of needleworkers in your family are perfect!
Special craft books and magazines
You can create a small altar even if you don't have a craft room. A bookshelf, tabletop or even drawer near the chair or bed where you usually craft will work just fine.
March 18th, 2014
Ekat shows you how to get the look of this 3 Strand Arm Knit Cowl without using needles! Using the simple technique of arm knitting, you can make this scarf in just half an hour!
Shop for Unique here: http://lby.co/1i2sGRN
March 17th, 2014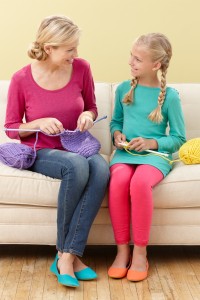 Wherever I go, when I mention I work for Lion Brand Yarn Company, people tell me they would love to learn to knit or crochet.  It's not surprising that so many more people want to learn these crafts.  Not only do you see a lot of younger people and celebrities knitting in the last couple of years, but the stress busting and health benefits of doing these crafts are beginning to be recognized by more and more people.
For people who want to learn, I suggest first finding your ideal learning method.  In many cases that will be sitting side by side with a good teacher, but when that's not possible, there are many other ways.  Here are my top four ways to learn–with and without a person by your side.
March 16th, 2014
Writer and avid knitter Selma Moss-Ward joins us for a series of blog posts about becoming a first-time grandmother and knitting toys. Click here to read her previous blog posts.
I enjoy knitting toys more than most other projects I undertake, because they're easy and fun to make. There aren't concerns with gauge or fit, as with a garment, and if a toy doesn't turn out looking exactly like the photo on the instructions, it seems individualized and special, rather than flawed.
This is to say I loved making the "Cuddly Caterpillar" from Lion Brand's vast pattern database.  It's great for any beginner just starting out or an experienced knitter like myself.
"Vanna's Choice," the  specified yarn, knits into a smooth, slightly glossy fabric, and, being washable and firm, withstands the rigors of playtime.  It's also non-allergenic and moth-proof .  As with the other Lion Brand toys I've blogged about—William the Hedgehog and Leo the Lion—there's plenty of yarn left over for another caterpillar…or two!
March 14th, 2014
As crafters we have a secret relationship with math — whether you realize it or not! You keep count of your rows, use numerical sequences to determine patterns, and you read a knit and/or crochet pattern code as good as any web designer reads html.
In honor of Pi Day, the day we irrationally celebrate this irrational number, I've collected our favorite mathematically themed patterns:
*Note: Some of these patterns require a Ravelry account. Make sure you are signed up or create a free account to access.
March 13th, 2014
Writer, illustrator, and knitter Franklin Habit joins us for his monthly column featuring humor and insights into a yarncrafter's life.
Winter in Chicago takes no more notice of the first of March than a mean-eyed general takes of boundary lines. It tramples right along, both fists swinging. Winter here is a bully, unstoppable, and knows it.
As the months drag on I always find myself growing smaller and smaller, retreating under blankets and into tighter corners. The flowers in the borders–if they ever existed, I may have dreamt them–survive the cold by shrinking, and so do I.
In the stillness I turn contemplative. I've been thinking through my early childhood, which seemed always at my fingertips until with a snap, a few weeks ago, it withdrew to a place so remote I worried I might lose sight of it completely, forever. If you have dropped a piece of complicated knitting that has fallen off the needles, you know this feeling. One moment, there is a shawl. The next, there is a tangle.
Perhaps this is how life goes, as you grow older? I must have crossed a border without noticing, like the mean-eyed general–punching away without realizing what I left behind.
So now I sit under the blankets, eyes closed, and try to gather up the threads that slipped.
This is my first memory of needlework.
March 12th, 2014
We must be feeling extra patriotic these days because the most popular pattern of the month is this beautiful crochet Flag Afghan: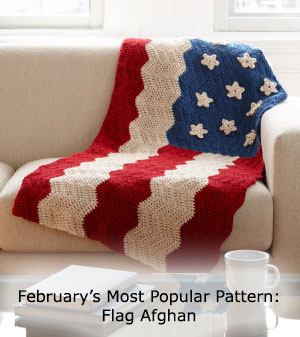 Made with
Heartland
, one of Lion Brand's most popular lines, this made-in-America yarn is easy to care for, making it perfect for garments, afghans and accessories. It's also machine washable and dryable!
Below are some of the other popular designs this month. With three market bags in the mix, it's fair to say that people are excited about getting out to open-air farmer's markets again (I know I am!) and the crochet Scalloped Cowl is right on-trend for spring!