April 8th, 2015
Today is the final installment featuring our 2015 fashion show collection. Over the past few weeks we've visited four groups of patterns all based on simple rectangles and easy construction – 1) Simple Rectangles; 2) Rectangles Sewn Together; 3) A Bit of Technique; and 4) Color & Textture. The finale of the show is called Achievable Wow. These patterns are all about jaw-dropping looks that you can knit or crochet yourself— and you'll be impressed by just how easy they are to make!
Many of the projects from this section — such as the Cosmic Rainbow Afghan and Jewel Box Pullover — use self-striping yarns Unique and Landscapes® to create gorgeous palettes with little work. Others, such as the Sparkle Slipon and Filet Mesh Top, use simple stitching to create an off-the-runway look!
And for our grand finale, the pièce de résistance, here is our You Can Do It Afghan, featuring a Rosie the Riveter!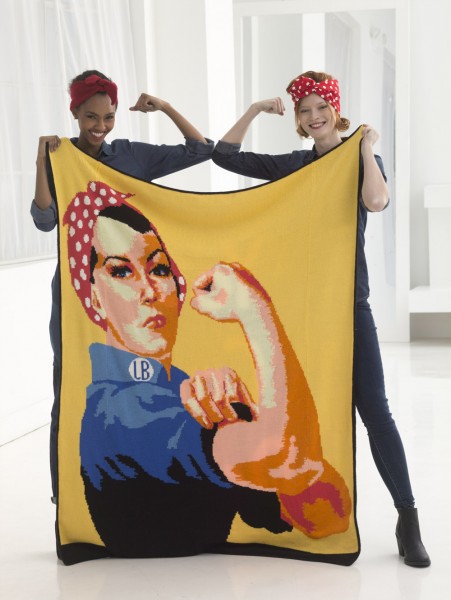 See all of the Achievable Wow patterns below!
And take a look back at the rest of the collection: Simple Rectangles, Rectangles Sewn Together, A Bit of Technique, and Color and Texture.
April 7th, 2015
Writer, illustrator, and knitter Franklin Habit joins us for his monthly column featuring humor and insights into a yarncrafter's life.
I couldn't sleep a few nights ago so I pulled out a copy of After the Thin Man, the second of the classic MGM films with William Powell and Myrna Loy as socialite detectives Nick and Nora Charles. Have you seen them? You really ought to.
Start at the beginning, with The Thin Man. It was based on a crime novel by Dashiell Hammett, and all the installments are mysteries; but they wear that badge lightly. You don't really watch a Thin Man film to find out who killed who; you watch it to see Powell and Loy bounce absolutely perfect wisecracks off one another in the highest possible style. Even their romantic moments are agreeably tart.
NICK: Did I ever tell you that you're the most fascinating woman this side of the Rockies?
NORA: Wait 'til you see me on the other side.
Nick, Nora, and their dog, Asta, form the family unit in the first and most of the second installments. But in the closing minutes of After the Thin Man, Nick notices that Nora is knitting something.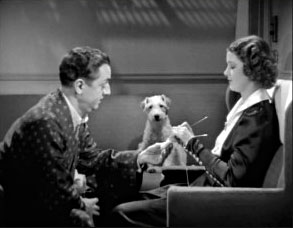 He leans in to take a closer look. "Looks like a baby's sock," he says.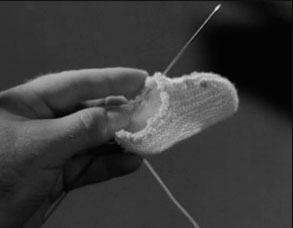 A pause.
"And you call yourself a detective," says Nora.
He gasps. They kiss. Asta wails. The End, until Another Thin Man.
April 6th, 2015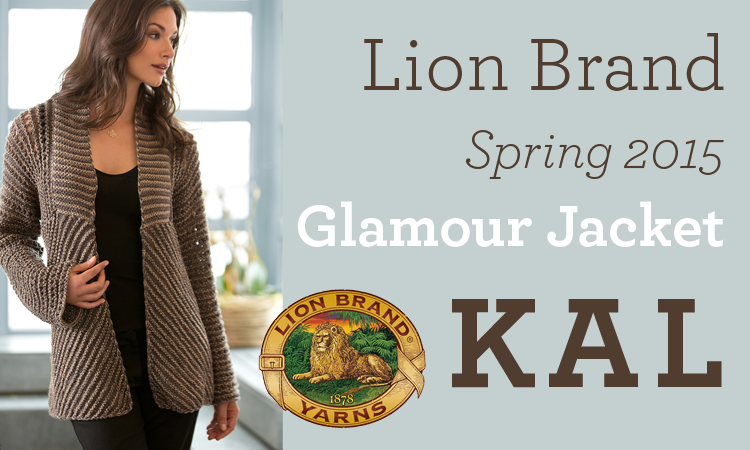 Editor's note: There's still time to get your Knit-Along Kit, get your kit here now – there are four to choose from! Also we have a hashtag for this KAL, use #LBspringKAL2015 when you share your progress on social media. Have fun!
---
Hello my fellow knitters! It's Kristy Glass here and I'm hoping you have all received your yarn and are anxiously waiting to get started!
As I have been studying this pattern, I want you to keep in mind a few things.
1) GAUGE. I have learned too many times that making a gauge swatch is WORTH YOUR TIME. This pattern calls for 15 sts + 30 rows = 4 in. (10 cm) in Ridge pattern. If you feel lost like I STILL do almost every time I am presented with knitting a gauge swatch, here is a link to help you understand what to do!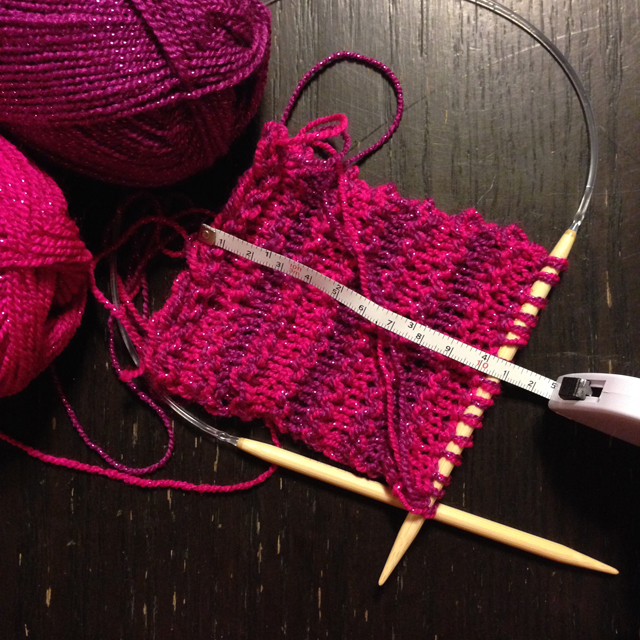 A TIP! When you finish your gauge, instead of binding off or frogging it, take an opportunity to practice any new stitches you haven't encountered yet, or brush up on stitches you haven't done in a while. For example, after reading this pattern, I noticed a highlighted portion called EYELET PATTERN. Since the gauge was done in Ridge Pattern, I may practice the eyelet pattern on my swatch before I cast on FOR REAL!
2) Avoiding the TANGLE! Last year's KAL leader suggested putting your yarn in plastic baggies and feeding the yarn through the snipped off corner of the bag. Let me know if that works for you!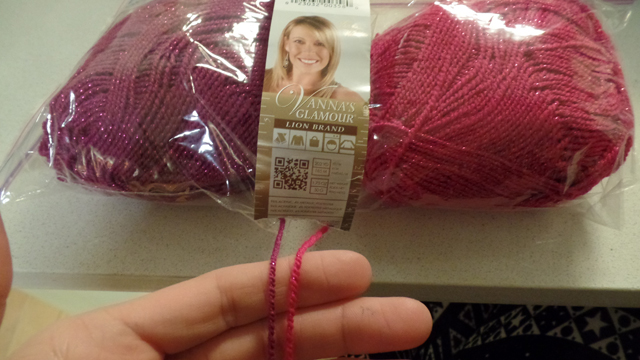 I prefer putting one of my skeins inside a ceramic yarn bowl or placing yarn on either sides of my body while I sit and knit. This may not be the best ON-the-Go project if you don't have the tangle under control.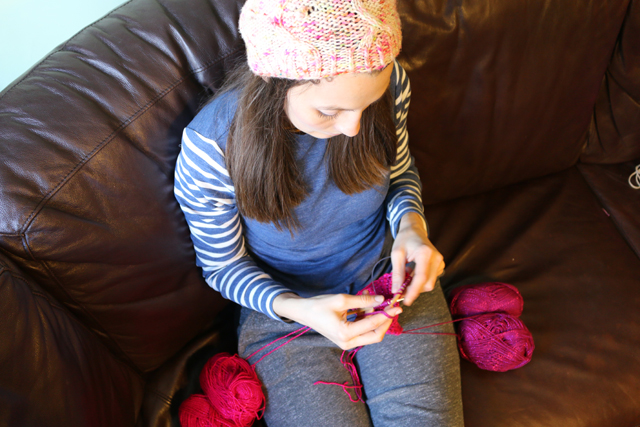 3.
Casting On.
It's time to get started! This pattern presents new challenges for me. Very often, after reading a pattern with new skills, I feel overwhelmed by the whole thing and need a little motivation to get me started. I found my motivation for this project by starting with the collar. It's easy garter stitch stripes. Seeing the fabric work up made me so thrilled! It looks Bolder and Brighter than I even imagined it could be and now I want to see the whole jacket so badly, that I don't want to stop knitting! I have been stopped by strangers working on this because the colors are so provocative!
4. Pattern Note: A few of you expressed interest in an alternate pattern for the back. I have investigated this and it's not a pattern alteration the design team can offer at this time. One thought I had, after looking at it, was to tack up the back—-it's just a small triangle that you can fold under and tack if you don't like the mermaid look. I am so sorry we couldn't accommodate the suggested pattern change! If anybody has a solution, please share it in the comments below or in our Ravelry group.
Let me know if you have any questions or issues and what colors you ordered! Is ANYONE out there doing pink with me??? I want to know! Post pics in the comments below! See you next week for a progress report!
UPDATE – Ridge Pattern demonstration:
If you're having trouble with the Ridge Pattern, here is a little clarification for you!
***
I am Kristy Glass and I am so thrilled to be infiltrating the Lion Brand blog to lead you in the 2015 Spring Knit Along! Even though I learned to knit as a girl, my passion for fiber arts has escalated at a very steep rate these past several years.
I returned to knitting and began crocheting about 8 years ago after I suffered an unexpected health setback leaving me feeling completely out of control. Hand work was a healing salve for my body and soul as I suffered through a long healing process. Thankfully I continue to use knitting to aid meditation, solace and a feeling of accomplishment. I knit year round, despite weather changes, and I am highly anticipating us all knitting together on this project.
I have completed over 100 projects including scarves, cowls, hats, hand warmers, phone cozies, afghans, pillows, sweaters and yarn bombing. My most recent passion has been making sweaters and actually wearing what I make!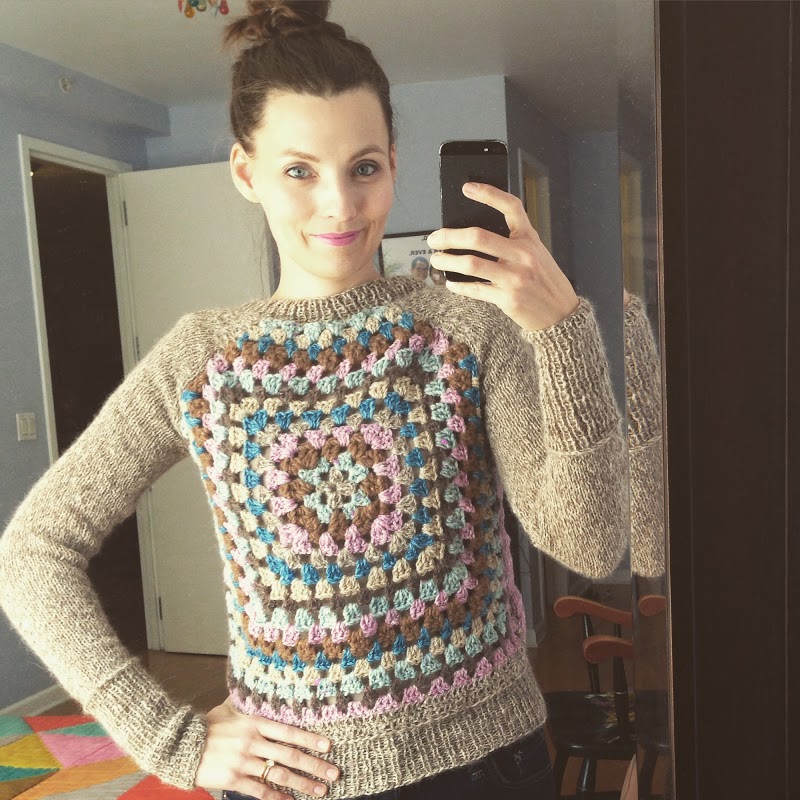 April 5th, 2015
Summer festival season is upon us! As it gets warmer, music fans turn out for some of the biggest shows like Sasquach, Bonnaroo, and Lollapalooza. These events are no longer just a venue to hear your favorite bands— festival attendees are also showing off their chic street style. Coachella begins April 10th and has become synonymous with summer festival style. Summery boho styles including lace tanks, fringe vests, and floral accessories are caught in every street style photo from this star-studded event.
And you can make these pieces yourself! I've put together a few patterns inspired by the festival trends!
April 4th, 2015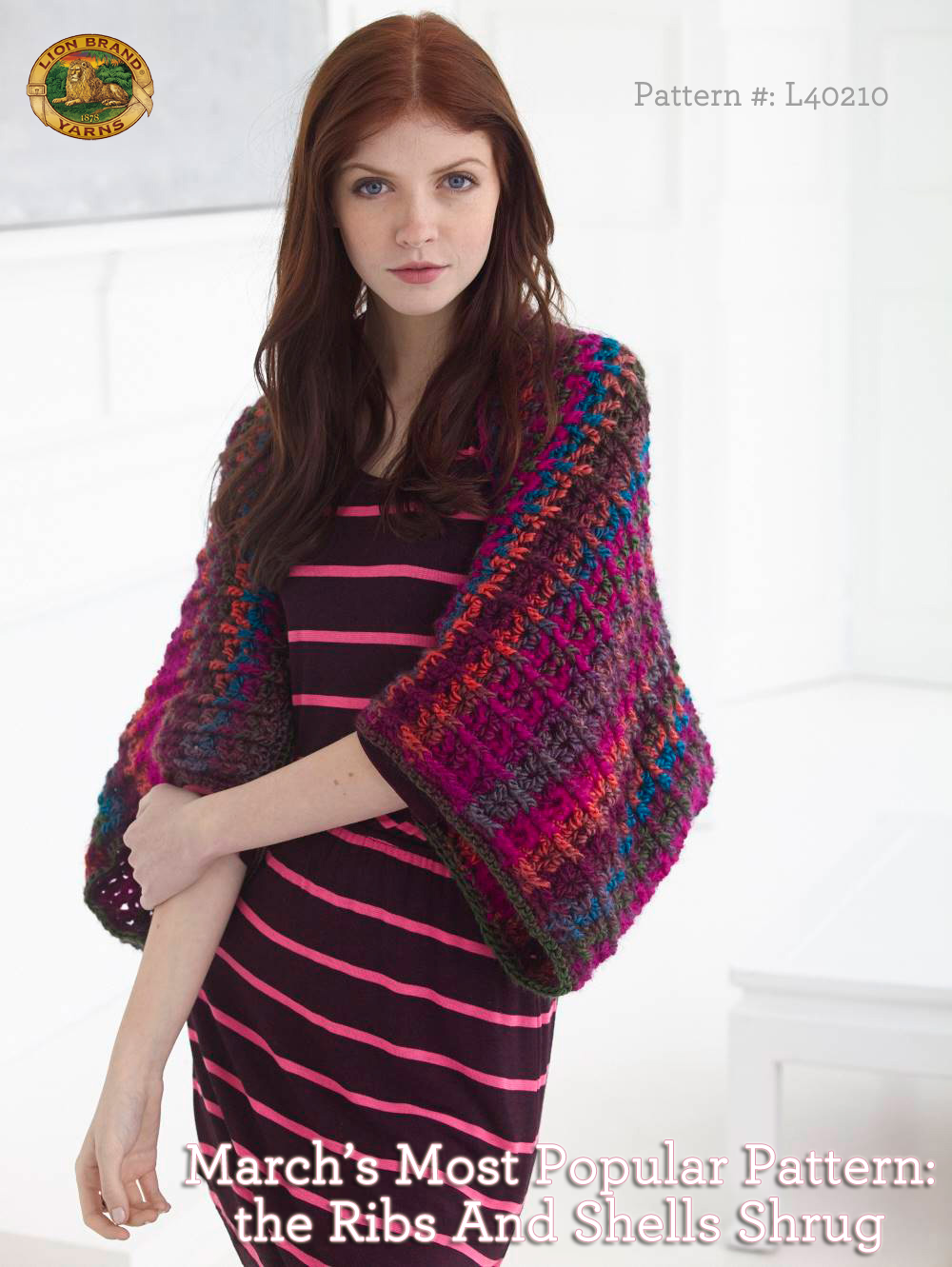 The big winner last month was the Ribs and Shells Shrug and it's no wonder. With it's simple rectangular construction in one of our most popular yarns, Landscapes, this garment is a dream come true.
It also looks like you're in good shape for Mother's Day this year (Don't worry if not, there's still time! Mother's Day is May 10th this year). The Knit Blooming Teapot Cozy and the Simple Crochet Shrug are top favorites for Mom.
Enjoy our selection of the most popular patterns from last month:
What have you been making this past month? Share with us below!
April 3rd, 2015
We love hearing from our customers and our Brand Ambassador Shira is on standby to answer your questions! First up, she reports on which Lion Brand yarns are made right here in the USA.
Check out the video below to learn more and bookmark our updated list of made in America yarns our right here.
::Have trouble viewing this video? Click here: https://youtu.be/b_soGG0Rl-8::
Do you have a question for Shira? You can leave them in the comments below or tweet her at @shiraroars and she just might answer your question in her next video!
April 3rd, 2015
Here is the latest installment of Lola, from its creator Todd Clark.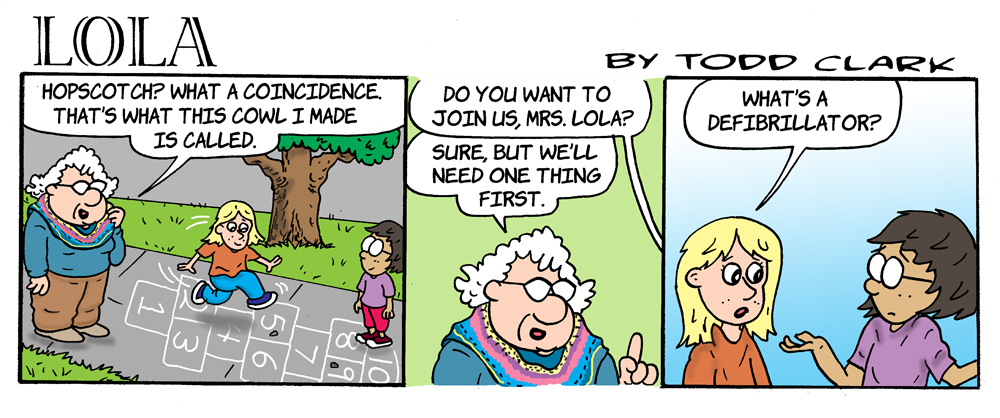 *** *** ***
Subscribe to The Weekly Stitch Newsletter
Get a FREE weekly email featuring patterns, articles and special offers. As a bonus for subscribing, we'd like to offer you 15% off your first order! *
:: Sign up now ::
April 2nd, 2015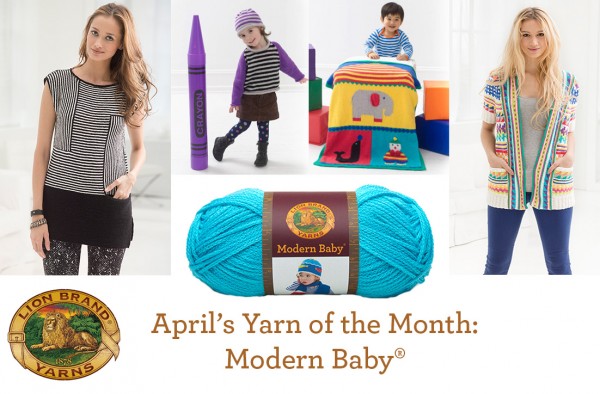 We debuted Modern Baby® last year as a yarn inspired by today's child: bright, bold and full of life. It's an easy-care yarn with a unique chainette construction that has a similar feel to merino, alpaca and cashmere blends but with an anti-itch, non-allergenic, easy-care fiber blend of premium acrylic and nylon.
The palette consists of crayon-like primary shades, along with rich pastels and neutral tones – this is a great yarn for babies, toddlers, and even adults!
Best of all, for the entire month of April Modern Baby® is 20% off – which gives you a great head start on those summer baby shower gifts!
Check out our look book below for more inspiration:
April 1st, 2015
If I told you that you could make a knitted dress from just two rectangles, would you believe it? If you've been following our 2015 fashion show collection, you know that you can make stunning garments from simple shapes. Get ready for the next chapter of our exciting collection — Color and Texture!
This part of this collection focuses on rectangles to make dramatic looks from scarves to pullovers to dresses. These patterns are a great place to practice techniques like fair isle and entrelac. Since they're such easy shapes, you can focus on your stitching. With projects like the Color Infused Afghan and Color and Stitch Sampler Afghan, you can try out bobbles and ripples in small pieces and create a beautiful blanket for your home. You'll be amazed by how easy these beautiful patterns can be!
You can see all of these projects on the runway here! And, in case you missed them, take a look back at the rest of the collection: Simple Rectangles, Rectangles Sewn Together, and A Bit of Technique.
March 31st, 2015
We've noticed that many of you are interested in loom knitting and would like more videos demonstrating the use of the Martha Stewart Crafts Knit & Weave Loom kit, so we're happy to share a brand new loom knitting video! Today's video comes from Kristen Mangus of the Good Knit Kisses channel on YouTube.
Kristen will show you how to work through our Loom Knit Diagonal Blanket pattern, which requires 4 skeins of the Martha Stewart Crafts Extra Soft Wool Blend yarn. In this video, Kristen will show you how to cast on, work the pattern, and cast off. So, check out the video and get your looms ready!
:: can't see the video above? click here: https://youtu.be/Q2LCoufw-Rs ::