November 6th, 2013
Writer, illustrator, and knitter Franklin Habit joins us for his monthly column featuring humor and insights into a yarncrafter's life.
Life in a city apartment means experiencing the joys of child rearing even if you haven't produced or acquired children of your own. The thundering grade-schoolers who used to live above my workroom have moved out and been replaced by an infant of six months. Said infant has colic. A baby with colic doesn't make for pleasant listening, but she pales in comparison to the toddler across the courtyard–who is suffering through an extended Riddle Phase. No, suffering is not the right word. She's having the time of her life. The rest of us are suffering.
Toddler (not her real name) has two volumes, "bellow" and "roar." So shut your windows, you say to me. It's autumn in Chicago. The windows are shut. Toddler has the lungs, but alas not the artistry, of a young Beverly Sills.
On any given day she can outclass my white noise machine, Gustav Mahler's Symphony No. 8, expensive sound-canceling headphones, and jet aircraft on the final approach to O'Hare.
Between bellowed demands to her nanny for snacks, toys, and trips to the bathroom, she has taken to roaring selections from an apparently inexhaustible supply of riddles and jokes. How one so young can have amassed such a wealth of material surpasses understanding. Perhaps she is Henny Youngman, reincarnated with pigtails. Stranger things have happened, especially on my block.
The nanny has to listen to the riddles and jokes, but she is being paid to listen to the riddles and jokes. I also have to listen. I am not being paid.
Prolonged exposure has caused me to begin dreaming and thinking in riddles and jokes. I mention this as alert readers may discern faint echoes in this month's ruminations about knitting, yarn, and the creative life.
Now, as I was saying about my knitting…
November 5th, 2013
I've learned a ton of new skills and tricks from working at Lion Brand. One of my favorite tips comes from crochet designer Robyn Chachula. (I've interviewed her several times for our podcast, YarnCraft—check out the first and second episodes featuring Robyn.)
Robyn says that you should create a schematic based on YOUR favorite sweater so that whenever you come across a pattern for a sweater that you like, you can check it against your reference schematic to see which areas of the pattern you might need to modify to fit your body better. I love it!
Need more help? Here are some resources on measuring your body:
[Schematic pictured: Knit Classic Nordic Pullover]
November 4th, 2013
Technical editor and yarncrafting expert Kj Hay joins us for a series on understanding the different elements of patterns. Click here to read her earlier blog posts.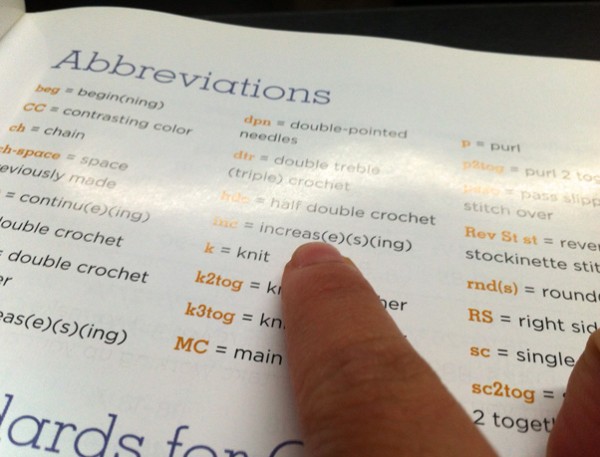 The extensive use of abbreviations can make knit and crochet patterns appear to be written in Klingon or Elvish rather than a human language. There are two sources of abbreviations used in pattern instructions; 1) Standard abbreviations, and 2) Special abbreviations.
Standard Abbreviations
The meaning of standard abbreviations and the unabbreviated forms are widely known and understood in the knit/crochet world. Accordingly, standard abbreviations are simply listed at the beginning or end of pattern instructions or in the reference section of magazines and books. Further explanation and illustration of such abbreviations can be found in any basic book about knit or crochet, or by searching the web. Examples of standard abbreviations include: st(s) = stitch(es), rep = repeat, RS = right side, and yo = yarn over.
Editor's note: You can find abbreviations on LionBrand.com in our Learning Center, and when you click on the individual term, a brief explanation will open. Click here for the Abbreviations page.
November 3rd, 2013
Over the last 5 years, the Lion Brand Yarn Studio has had some phenomenal displays. Every season, we feature a different fantastical scene, almost all created with yarn (and sometimes knitting needles and crochet hooks!). Watch this short video to take a look.
If you're reading this blog post in your email or an RSS reader, please click on the title to view the full blog post and video on our website.
Join Us for a Celebration!
The store celebrates its 5th anniversary with a party on November 17th, and throughout the month of November, it will be offering special discounts. Visit its website for more details.
Lion Brand Yarn Studio
34 West 15th Street, between 5th and 6th Aves.
New York, New York 10011
LionBrandYarnStudio.com
November 1st, 2013
One of the most important things we do at Lion Brand is offer education through tips, techniques and step-by-step how-tos. That's because we know that learning will enhance your ability to enjoy working with yarn.
This year, we asked ourselves how we can get more deeply involved in teaching knitters and crocheters all over the world to grow their skills in a way that can mimic the classroom setting. That's where Craftsy came in. Craftsy is the premiere online education platform for crafters. We are combining Lion Brand's beautifully designed patterns and quality yarns with Craftsy's know-how in online education and their sophisticated, interactive technology.
October 30th, 2013
New York Comic Con has been over for more than two weeks and I'm still suffering from the post-con depression (i.e. that listless, nostalgic feeling you get when you've just returned from Disneyland). However I'm still going through all the photos I took from the event.  To my surprise, I saw quite a few yarn crafts and couldn't help but share them with you.
They were all impressively creative because the majority required no pattern, just a lot of imagination.
 
 
This girl crocheted her entire
Ruby Rose (RWBY) cosplay.
Doctor Who wristwarmers
found on Etsy.
An adorable Boo costume from Monsters, Inc.
 
 
 
This needle felted R2D2
took at least 6 months to make.
She just started to learn crochet and wanted to show off her skills with
this Magikarp (Pokemon) hat.
She said she didn't know how to sew, and crocheted her props for
her Little Sister cosplay (Bioshock) instead.
Ever tried to crochet or knit an entire costume? Or ever seen one that totally impressed you? Tell us!
October 30th, 2013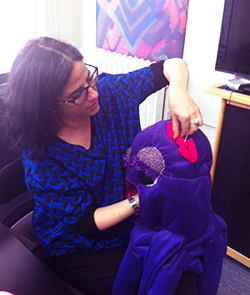 My daughter loves octopuses (or is it octopi?) and is almost never caught without holding one of her 7 stuffed octopuses or wearing one of her growing closet of socks and tees.  When I saw this pattern for an octopus costume there was no contest as to what she wanted to be.  She got so excited and immediately asked that it be made in her favorite colors: purple and "lellow" (yellow) with pink spots.
Crocheting the entire thing would be a feat that would've taken more than a month's planning.  And while I could quilt, the pattern was beyond my skill level.  Thankfully Jackie, our Technical Editor, was an expert seamstress and offered to help out.   Since I love creating new things using yarn, I wanted to add some personal handmade touches.
But I also didn't want it to be just handmade – I wanted it to sparkle and glitter.
When I first saw the pattern I immediately wanted crocheted medallions for the suckers and the spots.
Vanna's Glamour fit perfectly with what I wanted, and her mustard gold yarn went well with the deep purple velvet fabric.  Soon I was swept up in a creative moment and started picking out more colors like light gold and pink, which would give the costume a cool, colorful, and textured look.  Even Michala, our Design intern, found it so adorable that she also wanted to assist.  Since I knew she was fast crocheter, I asked if she could make some medallions whenever she had free time.
By the time I looked away, I found a pile of medallions of varying sizes already on the table.  She even had extra time to crochet the eyes and a pink bow too!
Then I saw Martha Stewarts CraftsTM/MC Glitter Eyelash yarn and it all came together.  The sparkly polka dots, the giant eyes with purple eyelashes, even the pink bow on its head. When I showed my daughter the finished product she couldn't wait to get it on her.
| | | |
| --- | --- | --- |
| | | |
| Michala crocheting away | The growing pile of octopus spots | Sewing it altogether. |
The only bad (or good) part will be trying to take it off her once Halloween's over.
October 29th, 2013
Learn to use your Martha Stewart Crafts™ Knit & Weave Loom Kit to make a basic rubber band bracelet.
Click here to get the written instructions for this project.

If you're reading this blog post in your email or an RSS reader, please click on the title to view the full blog post and video on our website.

October 29th, 2013
One of the big color trends for Fall 2013 has been burgundy. Burgundy is in the deep red color family and is a rich, stylish color for both day and night.  It pairs nicely with with neutrals like beige, gray and brown – even with animal prints like leopard and cheetah.  Make a nice chunky cowl or statement piece with one of the yarns in the selections below, and enjoy the regal color of burgundy.
Patterns featuring burgundy:
 Burgundy yarn selections: 
What do you think of this color trend, would you incorporate it into one of your new projects?
Related Links:
October 28th, 2013
Technical editor and yarncrafting expert Kj Hay joins us for a series on understanding the different elements of patterns. Click here to read her earlier blog posts.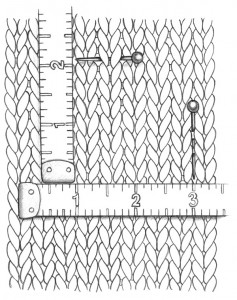 Gauge is very important in all but the simplest designs. The gauge at which you work determines the finished size of the piece and the firmness of the fabric. If your gauge is off your afghan may barely cover a doll, or your slippers may fit the Jolly Green Giant quite comfortably. On the other hand, if your gauge is accurate but the yarn inappropriate for the gauge your sweater may be so firm you can't lower your arms or so "holey" you could only wear it at home with the curtains drawn.
Gauge is the measure of the number of stitches and rows worked to yield a piece of fabric of a specific size. Gauge is usually given in terms of the numbers of stitches and rows worked to yield a piece of fabric that is 4 x 4 in. (10 x 10 cm) square.
If the size or drape of a finished project is important (and most of the time size and drape are important) take the time to check your gauge. To check your gauge, begin by using the size hook or needles listed. If more than one size of hook or needles is listed, the gauge statement should indicate which of the sizes is intended. Work a piece of fabric (known as a swatch) in the indicated pattern stitch that is at least 4 x 4 in. (10 x 10 cm) square or at least the size specified in the gauge statement, whichever is larger. Lay the piece flat without stretching or bunching it, place a ruler on the piece and count the number of stitches and number of rows over 4 in. (10 cm). Compare these numbers with the numbers in the gauge statement. If the number of stitches in 4 in. (10 cm) of your swatch is less than the number of stitches indicated by the gauge statement, you need to make another swatch using a smaller hook or needles. If the number of stitches in 4 in. (10 cm) of your swatch is more than the number of stitches indicated by the gauge statement, you need to try again using a larger hook or needles. Continue to make swatches using a larger or smaller hook or needles as needed until you achieve the gauge.