February 9th, 2015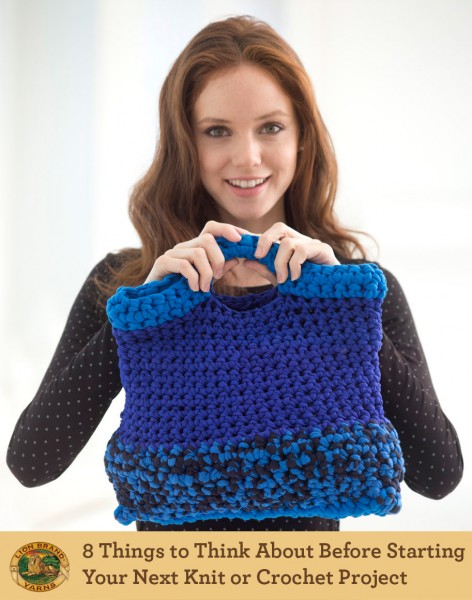 So you've finished a project and are ready to a start new one – congratulations!
Whether you plan to knit a hat or crochet your first vest or tackle a new stitch, there are a few things you can think about before you pick up a hook or needle.
A great place to get started is reading Lion Brand's nine-part series Cracking the (Pattern) Code. You'll learn about choosing the right yarns and tools, how to check your gauge, how to read patterns and more.
From there, you may want to continue on to more advanced topics and helpful tips like the ones below:
Are there any pre-planning ideas you recommend before starting a project? Share with us below!
:: Pattern seen in the picture above is the Moody Blue Bag made in Fettuccini® Yarn.
February 6th, 2015
Here is the latest installment of Lola, from its creator Todd Clark.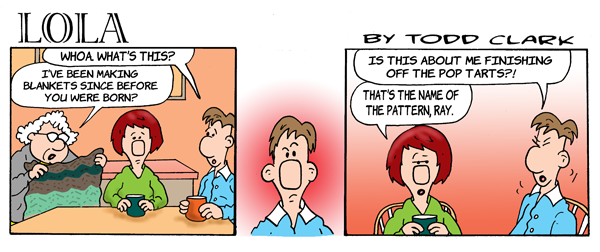 *** *** ***
Subscribe to The Weekly Stitch Newsletter
Get a FREE weekly email featuring patterns, articles and special offers. As a bonus for subscribing, we'd like to offer you 15% off your first order! *
:: Sign up now ::
February 5th, 2015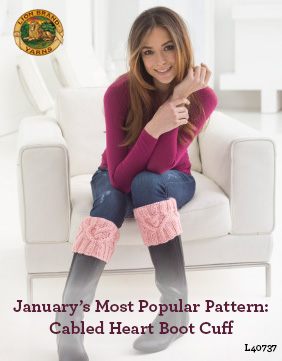 January was all about gorgeous garments and beautiful blankets!
Valentine's Day projects are in full-swing with the Cabled Heart Boot Cuff coming in number one for the month – are you living the dream and getting ahead of your holiday knitting and crocheting? Tell us your secret!
Many of the patterns that were popular in December are still holding court. You're still loving the Fresh Bloom Circle #Scarfie and the stunning Open Knit Cardigan made in Gold Leaf®. With the Chelsea Morning Cowl and the Popover Top also not too far behind in popularity, 2015 continues to be be about big, bold knit and crochet!
Your favortie yarns in January included Vanna's Choice®, Vanna's Glamour®, Wool-Ease® Thick & Quick®, Country®, Homespun® and Fishermen's Wool®.
Below is a collection of the most popular patterns from January:
February 4th, 2015
Gorgeous garments don't have to be complicated! The Design department at Lion Brand has created a number of stunning new patterns based on simple rectangles, and let us be the first to show you that these projects are easy for any beginner to make, plus they're super-stylish and fun to wear.
One of these garments is the Vegan Fur Poncho made from our newest faux-fur, Pelt. We love it because it's so elegant — it's the perfect accessory for any winter outfit. And, since it's made from one rectangle, this poncho is a great project for knitters of all skill levels.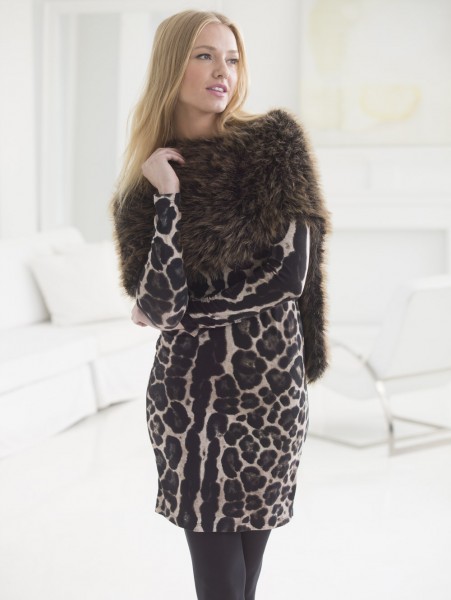 Susan from our design team shows off a 360° view of this beautiful accessory! Take a look!
::Trouble viewing this video? Click here: http://youtu.be/8FsDGuch5To::
February 3rd, 2015
May your blessings outnumber
The shamrocks that grow,
And may trouble avoid you
Wherever you go.
– Irish Blessing

March is only a few weeks away, which means St. Patrick's Day is upon us! You're still in luck, there's plenty o' time to get a couple of these brand new knit and crochet projects on the hooks and needles.

 Knit Pot O' Gold Afghan
 Knit Shamrock Rainbow Scarf
 Knit Shamrock Hat
 
 Crochet Shamrock Booties
 Crochet Top of the Morning Hat
 Crochet Shamrock Cup Cozy
For more St. Paddy's Day patterns, visit lionbrand.com!
February 1st, 2015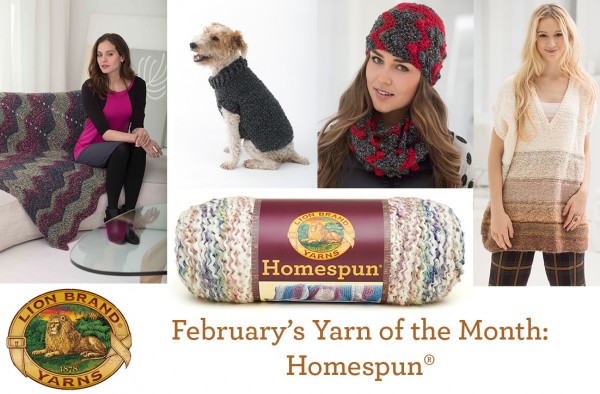 Homespun® is a soft, silky roving textured yarn that works up quickly and easily. From shawls to sweaters to throws, this yarn can't be beat for softness and sheer touch-ability. With solids, heathers, and beautiful self-striping 'painterly' colors, Homespun® comes in gorgeous shades you'll love.
With names like Clouds, Herb Garden, Parfait, Sundae Stripes, Abalone, Fiesta, and Mixed Berries it's hard to choose just one. Best of all for the entire month of February you can purchase Homespun® for 20% off the original price!
Check out our lookbook below for project inspiration:
January 31st, 2015
Dora Ohrenstein is a crochet master! She's designed patterns and written many books, including her latest, The Crocheter's Skill-Building Workshop. When I spoke to her at Vogue Knitting Live, she told me that even experts have trouble with gauge. Her advice? Watch the video below to find out!
::Trouble viewing this video? Click here: http://youtu.be/IepzyLVK-SA::
If you're interested in meeting Dora, she'll be visiting the Lion Brand Yarn Studio for a book signing event on Thursday, February 19th from 6:30 – 7:30pm. Find out more here.
January 30th, 2015
In the Round, In Style: Crochet Cowls Made Easy Cowls are quite the craze amongst crocheters, and it's easy to see why! They're small projects that make a big impact in any wardrobe — plus, they're quick, easy and fabulously fun to work. Join me, Tamara Kelly, the mind behind Moogly, in my online Craftsy class, Quick and Easy Crochet Cowls, to create quick and captivating cowl projects that will work up with ease, and open up a brand new world as you crochet in the round! During class, we'll work our way through three dazzling cowls. Start with the easiest, then turn your sights to a lace cowl, getting acquainted with lace charts as you crochet. And finally, create something a little more advanced, adding fabulous granny square embellishment to the final cowl. Plus, throughout class, you'll get tips and tricks for blocking and finishing to really make those cowls pop! And, did I mention that the first 1,000 students to enroll get a heavenly, heathered treat? That's right — enroll today and get a free skein of Lion Brand Amazing® yarn!
For our first lesson, we'll make the aptly–named 45–Minute Cowl. I'll show you how to work two strands at once from the same skein, and we'll start our foundation row, learning to properly measure gauge. As we move on, I'll give you tips for joining the beginning row in the round, including a more professional way to start the round, and take you through each stitch used. Then, we'll complete this cowl with fabulous finishing tips that will help you take care of those ends!In our third lesson, we explore lovely lace in the round. You'll improve your chart–reading skills as I walk you through the pattern and show you how it translates to the chart. Join your first round, and enjoy my nifty trick you can use in all your in–the–round projects so that your chain doesn't get twisted! While we crochet, I'll explain how the stitch pattern develops round by round, and you'll learn which loops to work into to create the beautiful shells of this stunning cowl.
We'll finish lesson four by flipping the cowl once we've worked it half way, working into the foundation chain once more to build fabric out in the opposite direction. Once we're finished, it's time for the beautiful Brompton Abbey Cowl! This more advanced cowl is still very approachable — it just takes a few special stitches, like picots, which I'll show you step by step. Plus, I'll share some advice on adjusting length and width, so you can customize for the fit you crave! Then, we'll create our cowl's dazzling centerpiece by crocheting and attaching the granny squares. I'll show you how to make the center spiral, square–off corners for a traditional look and attach the squares to the neck piece. For our final lesson, we'll add finishing touches with a beautiful picot edge and functional snaps, and end class with blocking tips for all your projects! Get three incredible designs, plus a FREE skein of Lion Brand Amazing yarn, when you sign up for Quick and Easy Crochet Cowls today.
For me, as much as I've fallen in love with crochet over the years, it's the aspect of community and sharing with other crocheters that has truly become my passion. That's why I started Moogly, a crochet website, and made it my mission to connect with crocheters, sharing my knowledge by blogging, designing, curating pattern collections, crafting tutorials and more! Now, I get to connect with you too — thanks to Craftsy! With Craftsy you get expert instruction and ample support, with me and the crochet community by your side. Plus, with online lessons you can watch when you want and where you want, you get to learn on your terms, in crystal clear high–definition!So, join me, and get ready to cowl with delight! Learn all the skills you need to start creating cowls and other in–the–round projects with complete confidence.
Join me in for only $19.99 — that's 33% off today!
January 30th, 2015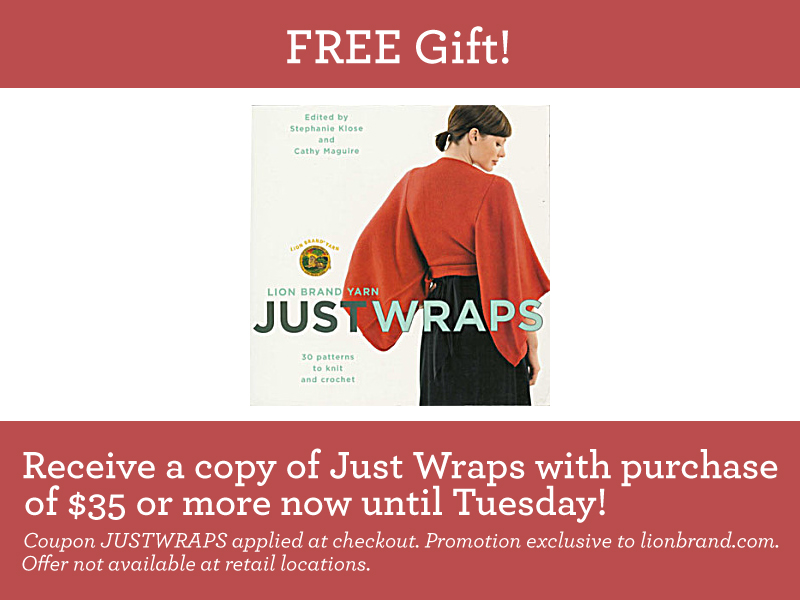 * Coupon JUSTWRAPS will be applied on qualified orders at checkout. This promotion is exclusive to lionbrand.com and not available at retail locations. Offer good while supplies last.
January 29th, 2015
This column by Barbara Breiter, author of The Complete Idiot's Guide to Knitting & Crocheting, originally appeared in The Weekly Stitch newsletter.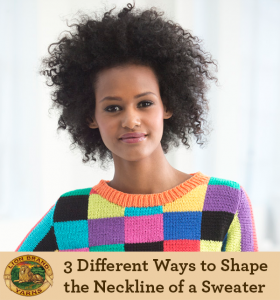 When making a pullover sweater in either knitting or crochet, there are many different ways to construct a sweater. In some cases, you will be working from the top-down in one piece (working from the neckline downwards, adding stitches for your raglan sleeves, and then coming back in for the body); you might also work in the round from the bottom edge, splitting the stitches at the arm holes and then working on the front and back separately.
Often you'll see instructions like this:
Shape Neck
K14 (15, 16, 16) sts, join a 2nd ball of yarn and bind off next 6 (8, 8, 10) sts, k to end. Working both sides at once with separate balls of yarn, dec 1 st at each neck edge every other row 3 times – 11 (12, 13, 13) sts. Work until same length as Back to shoulders.
When you shape the neck of the front of a pullover, in particular a crew neck or a v-neck, you are ensuring that the neck opening will be large enough so that it fits over the head. There are two components: the width and the depth.
The depth is generally several inches. This is why the neckline shaping begins before the front armhole reaches the depth of the back armhole (where usually only width is of consequence to the total neck opening).
To begin, stitches are eliminated in the center and then decreasing takes place on each side of these center stitches to further widen and shape the neck opening. When the depth is completed, the shoulder stitches are usually bound off.
We'll be discussing how to shape a neckline when you work the sweater in pieces, starting from the bottom edge and working up towards the neckline.