June 23rd, 2014
This column by Barbara Breiter, author of The Complete Idiot's Guide to Knitting & Crocheting, originally appeared in The Weekly Stitch newsletter.
Some designs, such as the ribbing of a sweater or the brim of a hat, may use a different yarn than the rest of the project. This creates a unique look, much different than if just one yarn had been used for the entire piece – like the Snow and Sunsets Afghan (right) crocheted in Amazing® and Fishermen's Wool®.
But you can also combine two or even three or more yarns throughout, ultimately creating an entirely new yarn!
One word of caution: be sure to note the care instructions of each yarn. Be sure to care for the project using the instructions of the most delicate yarn.
1. Using Novelty Yarn
You can even combine a novelty eyelash yarn with wool in a felted project; I've designed many purses and hats combining yarns in this way. I would suggest you felt a swatch first though to ensure the novelty yarn doesn't end up with loose loops when felted.
2. Create a Tweed Pattern
Contrasting plain colors create a tweed effect.
3. Muting Colors
Adding a brightly colored yarn can enliven a muted color or adding a more subdued yarn can tone down a color you find too bright.
4. Adding Texture
You can also combine different fibers or types of yarn. Adding a metallic yarn will jazz up a plain yarn. If a yarn is too fuzzy for your taste, adding a plain strand will mitigate the fuzz.
Lastly, Experiment
Swatch and experiment with yarn you have in your stash. You may find that you can use up that yarn that you haven't known what to do with by combining it with another yarn. The yarns don't need to be in the same weight category.
Not sure how to get started? Here are a few examples of patterns that combine different yarns:
| | | | |
| --- | --- | --- | --- |
| | | | |
| This cute knit Marmalade Kimono for children is a great example of combining two solid contrasting yarns for a tweed effect. | The crochet Team Colors Scarf illustrates the same concept. | The knit Fabulous Furry Scarf shows off combining the eyelash yarn Fun Fur with Hometown USA®. | This pattern illustrates just how different colors can look when combined with others. |
For a refresher on working with multiple strands, see my previous article.
Related links: 
–-
To sign up for the Weekly Stitch and get columns like this, free patterns, how-to videos and more, click here.
June 22nd, 2014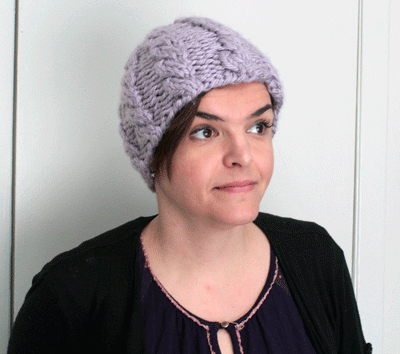 Yolanda is back with a brand new video, and this time she's working through a knit pattern. In the videos below, Yolanda helps guide you through the lovely Cabled Hat pattern in Hometown USA. Since this project calls for a super bulky yarn on big needles, it can be worked up relatively fast. Join Yolanda as she casts on with double pointed needles and shows you how to work through this pattern.
Danielle (pictured left), one of our staff members is a big fan of this quick and easy pattern and has already made multiple hats, noting that they can easily be done in an evening while watching television. Here she is modeling her version in Hometown USA Seattle Sea Mist. Watch the videos, and start knitting today!
Part 1

Part 2

June 21st, 2014
We've teamed up with Todd Clark, creator of the ever-popular Lola series, to bring you "Out of the Loop," a regular one-panel comic featuring humorous takes on the world of yarn-crafting.
Enjoy and please share widely!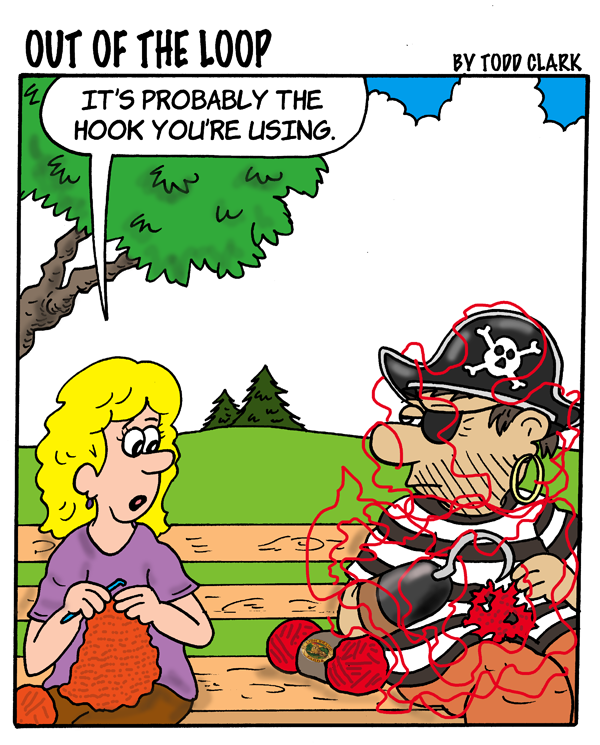 June 20th, 2014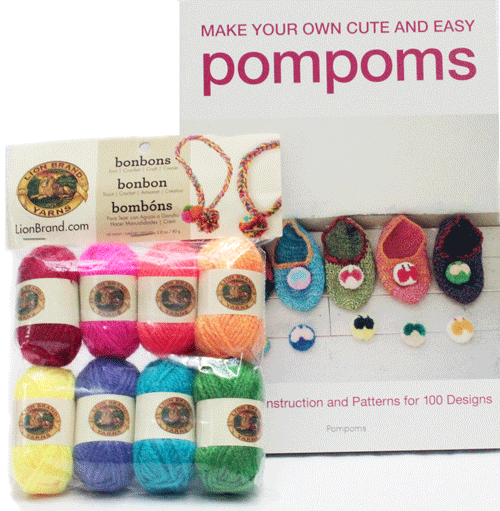 Pompoms are showing up in projects everywhere! And no wonder … it's an easy and fun craft for everyone to do, even if you don't know how to knit or crochet. Pompoms make great additions to your finished projects – you can turn them into garlands or use them for fashion accessories — the options are endless!
Now that the weather is warmer and children are out of school, making pompoms is a great summertime activity. Thanks to our friends at Creative Publishing International, we're giving away two copies of Make Your Own Cute and Easy Pompoms. Additionally, we're pairing a package of Bonbons in the Crayons colorway for you to start crafting immediately. In this book, you'll learn how to make food items, animals, and even little Matryoshka dolls out of pompoms – the designs are quite ingenious!
Enter below for your chance to win a copy of Make Your Own Cute and Easy Pompoms and a package of Bonbons.
Contest ends July 3rd.
Restrictions:
1. Entries must be received by July 3rd, 11:59:59 pm, EST.
2. Must be 18 or older to enter.
3. One entry per person.
Can't see the entry form below, click here to enter.
June 20th, 2014
Blogger and author Kathryn Vercillo is an expert in the area of using crafting to heal, having researched the topic extensively for her book Crochet Saved My Life. This is part 2 in her 6-part series for us on the topic of yarncraft health. Read her previous blog posts on the Lion Brand Notebook here.
Last month we explored the top ten health benefits of yarncrafting. Many of you chimed in with great comments about how crochet and knitting have helped you to heal from a variety of different ailments. Want to get more intentional about that? This five-step guide will help you create your own yarncrafting wellness plan.
1. List The Symptoms You Want to Cure
What are the specific symptoms that you want to reduce in your life? Some of the most common health symptoms that people seek to resolve through crafting are:
Depression
Irritability
Anxiety
Restlessness
Insomnia
Physical pain including headaches, muscle aches, and chronic pain
Memory loss
Mood swings
Feelings of uselessness
Grief
Addiction including food cravings
Knitting and crochet can help with each of these things. For example, it can be a distraction that reduces physical pain and helps control diet cravings and it can provide relaxation to reduce stress-related headaches and irritability. However, not every symptom will apply to you so think about what you really want to solve. It's a lot easier to get healthy when you know what specific ailments you're trying to reduce.
June 19th, 2014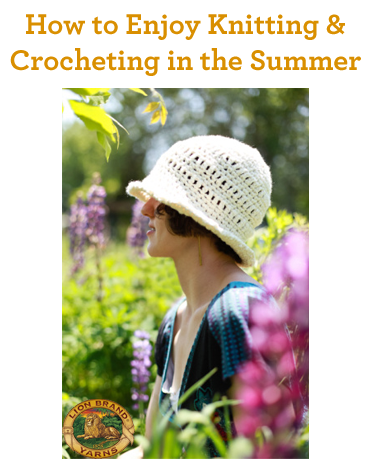 The sun is shining, it's warm outside and you're enjoying frozen and iced drinks – must mean summer is here!
Summer is a great time to work on projects you may not otherwise tackle because you're busy working on a sweater, afghan, or holiday gifts, etc. With the arrival of warm weather, small and portable projects like washcloths, dishcloths, scrubbers, and coasters are ideal. Find yourself frequenting the farmers market for fresh produce? Knit or crochet yourself a reusable market bag!
There are so many great ways to enjoy your yarncrafting this summer. Check out some of our previously posted blog posts for some summertime inspiration.
June 18th, 2014
As the weather gets warmer, we often make the switch to working on smaller, light-weight projects like market totes, kitchen items, and lacy shrugs.  Kitchen Cotton is a great summer yarn to use when it's too warm for wool. It's made of 100% cotton that's super absorbent, and exceptionally durable – perfect for kitchen and bath accessories that need to be more sturdy.
Best of all, it's on sale at 15% off for the month of June.
See below for our most popular Kitchen Cotton projects!
For more information on Kitchen Cotton and other cotton yarns, we've also have some great tips when you're working with this yarn.
June 18th, 2014
Join Shira at the Lion Brand Yarn Studio in Manhattan as she walks you through a selection of yarns great for arm knitting a summer scarf.
The yarns that Shira mentions are: Vanna's Choice®, Tweed Stripes®, Nature's Choice Organic® Cotton, Cotton-Ease®, LB Collection® Superwash Merino, Kitchen Cotton, and Romance®.
For a selection of arm knit patterns, click here or search "arm knit" at lionbrand.com.
June 17th, 2014
Writer, illustrator, and knitter Franklin Habit joins us for his monthly column featuring humor and insights into a yarncrafter's life.
* 6–7 a.m. Twisted Pearl. Early morning yoga for knitters and crocheters with Pearl Cotton.
7–9 a.m. Morning Wound Up. Who's making news? Who's making socks? Cast on for the perfect day with Tencel Washington, Angora Blends and the whole Wound Up team. Plus: weather and color forecasts for your area.
9–10 a.m. Sesame Street. Brought to you by the letters K and P and the number 2.
10 a.m.–11 a.m. The Price Is Right. Contestants guess the retail prices of various yarns, then buy all of them.
11–noon. Swatch Game. Contestants don't actually play, they just tell everyone they did.
Noon-1 p.m. The Selvedge of Night. Wrench returns from his secret mission to find that Veracity has run away with his size four needles. Dolores discovers a baby in a pile of discounted merino.
1–2 p.m. All My Mill Ends. Stricken with amnesia after falling into the spinning machine, Clarice struggles to remember which clue of the mystery shawl she was working on.
2–3 p.m. Stitch and Kvetch. Today's discussion topics include What Are You Working On, What Yarn Is That, Where Did You Buy It, and Do You Think This Is Going to Fit Me.
3–3:30 p.m. The Brady Bunch. The kids attempt to knit a sweater for Carol's birthday; everyone but Jan is able to get gauge.
3:30-4 p.m. Gilligan's Island. At Mary Ann's request, the Professor develops a primitive version of Ravelry made from coconut shells and old clothing. When Gilligan posts a question about copyright, the island descends into madness and bloodshed.
June 16th, 2014
This column by Barbara Breiter, author of The Complete Idiot's Guide to Knitting & Crocheting, originally appeared in The Weekly Stitch newsletter.
Buttonholes are commonly used in cardigans but you may also find the need to make one for purses, shawls, or scarves.
Many patterns will have an instruction to make a basic buttonhole by working a yarn over and then knitting the next 2 stitches together. This buttonhole is functional but it's not very stable and it can look a little sloppy. Moreover, the size of the buttonhole is totally dependent on the weight of the yarn and the needle size. The thinner the yarn and the smaller the needle, the tinier buttonhole will be.
So what if you want to create an extra large button?
Vertical Buttonhole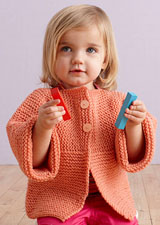 A vertical buttonhole can be made any length. It can be used in many situations when you would usually work a horizontal buttonhole. If you are working a 6 stitch buttonhole band on a cardigan however, it's not practical to use this type of buttonhole.
Work across the row to where you want to place the buttonhole.
Drop the yarn, add a second ball and continue across the row.
On the next row, work across until you come to the other ball of yarn, pick it up and complete the row.
Continue until the buttonhole is the length you wish.
Work all the stitches across the next row with one ball of yarn only and this will close the gap.
Horizontal Buttonhole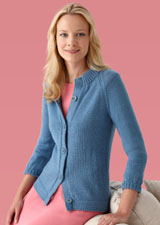 This horizontal buttonhole can be made any size you wish. You'll need to count your stitches and carefully determine the placement as this buttonhole requires 1 extra stitch…a 3 stitch buttonhole requires 4 stitches total to knit it.
Work to the point where you want the buttonhole.
With yarn in front, slip the next stitch purlwise.
Place the yarn in back and leave it there.
Slip the next stitch purlwise and pass the first slipped stitch over it.
Continue to bind off in this way for the required number of stitches (if you want a 3 stitch buttonhole, do this 3 times total).
Slip the last stitch you bound off back to the left needle and turn. Place the yarn at the back of the work.
Using the Knit Cast-On or the Cable Cast-On, cast on the number of stitches you bound off plus 1. Turn.
With yarn in back, slip the first stitch from the right to the left needle and knit these 2 stitches together.
With a little practice, you'll master buttonholes in no time!
Try a baby sweater (like the Fresh Melon Sideways Cardigan shown above right) or an accessory pattern like our Embroidered Hood for practice, then graduate to an adult project (like the Modern Raglan Cardigan shown above left)
–-
To sign up for the Weekly Stitch and get columns like this, free patterns, how-to videos and more, click here.