August 27th, 2014
Writer, illustrator, and knitter Franklin Habit joins us for his monthly column featuring humor and insights into a yarncrafter's life.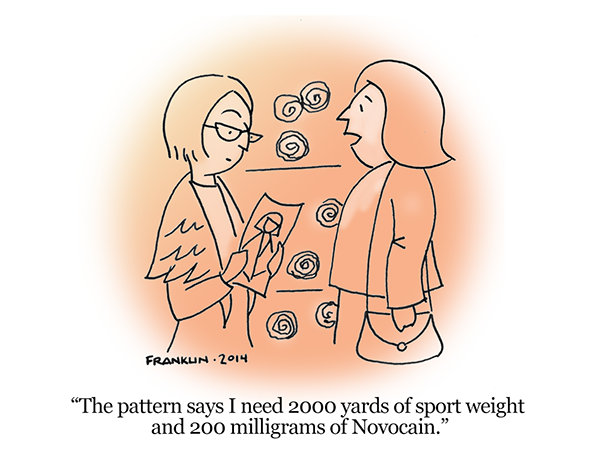 When at work, we all have our pet aggravations. Some folks grow tetchy when stuffed into a necktie or panty hose. Some folks hate office parties. Some would rather eat a bowl of broken glass than go to one more budget meeting. Me, I flinch when I'm asked to assign skill levels to needlework patterns.
I understand the rationale behind the practice of branding a project as easy, beginner, intermediate, difficult, complicated, spicy, yikes, @#!$%*, and so on. The goal, I recognize, is to pilot needleworkers (especially beginners) into safe harbors. There is such a thing as too much ambition. If you are as yet unsure of the difference between knit and purl, perhaps a project full of orders to "p5tog tbl" may not be for you. Perhaps it would make you cry, and flail, and kick people. If the pattern throws up a five-star flag to steer you away from torment, it will have done you a service.
In practice, however, I find that skill ratings tend to encourage the rank and file of the yarn world to be overly cautious, to grow bored, and–in the worst cases–to then drift entirely away from needlework.
I spend about half my life on the road, surrounded by knitters. Most of them wildly underestimate their levels of expertise.
"Is that your work?" I ask a woman whose exuberantly cabled sweater would look at home in a couture showroom. She says that yes, it is, and in the following breath tells me she doesn't feel ready to take on a certain pattern of mine because it was labeled by the magazine as being "intermediate," and she's just a beginner.
It happens all the time. Nervous crowds flock to patterns labeled "easy" because they fear they won't be able to cope with anything more. They cut their pleasure short because they fear failure. They doom themselves to hanging around at the bottom of the ladder. And that is silly.
What happens when a knitting project goes horribly, horribly wrong? What is the aftermath of a total crochet disaster? You grind your teeth. You glare at the cat. You rip out. You ball up the yarn and shove it back in the stash closet to wait for a happier day. You go to the store and just this once you buy a shower present like a normal person.
Nobody has died. Nobody has lost a limb. Nobody has taken your favorite bamboo needles and fashioned them into a wicker man and put it out on the front lawn and locked you into it and set it on fire.
So what, really, are you so worried about?
August 26th, 2014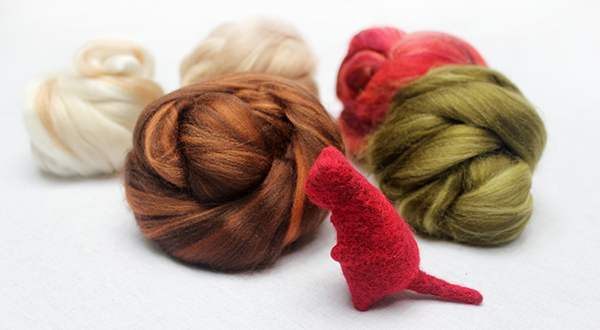 Felting and acrylic aren't usually words that go together, so when the opportunity arose to try out some of Lion Brand's "Spinnables" 100% acrylic fiber, I was skeptical. You might recognize this fiber because it's our Homespun® before it's spun into yarn! (We wrote about how Homespun® is made HERE.)
| | |
| --- | --- |
| Here is a look at the fiber. It's incredibly soft and silky. I frequently felt with superfine Merino wool, but even that does not compare to the softness of this fiber! It reminds me more of silk than of wool. | |
| | Next step was to try felting a simple object. I picked a cat, although I think the result looks more like a gummy bear. So let's say it's a gummy cat. The acrylic fiber felted surprisingly quickly and densely! The gummy cat feels very solid, although the surface texture retains some of the fiber's silky smoothness. I started with a coarse felting needle and moved on to a finer one as the fiber began to firm up. |
| All finished! I only had one color to work with, but with multiple colors it would be possible to add details like eyes if desired (of course, a gummy cat doesn't need them). Because of its extreme softness, this fiber is better suited to projects with simple shapes and rounded edges. | |
| | All-in-all, I think acrylic fiber is an excellent alternative to wool and a great way for those who forgo animal products to get into needle felting. I look forward to experimenting with it further and to seeing what others come up with. |
"Spinnables" fiber is available in 3 oz packages of assorted colors – more than enough for several small projects like this. You can find it at the Lion Brand Outlet and on our website. If you are new to needle felting, we also have everything else you need to get started. We hope you'll give it a try!
August 25th, 2014

August 22nd, 2014
Here is the latest installment of Lola, from its creator Todd Clark.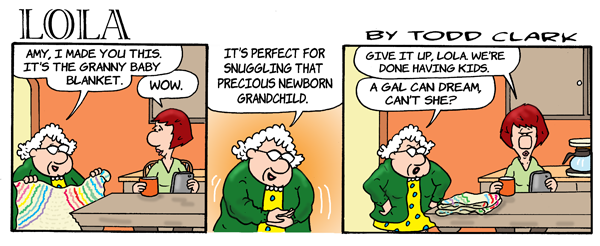 Want to crochet the Granny Baby Blanket too? Get the free pattern here and below.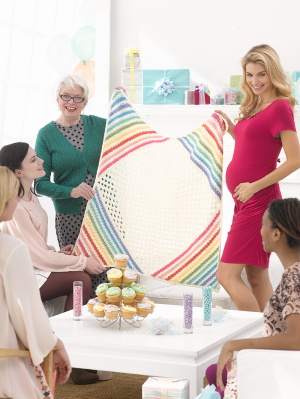 *** *** ***
Subscribe to The Weekly Stitch Newsletter
Get a FREE weekly email featuring patterns, articles and special offers. As a bonus for subscribing, we'd like to offer you 15% off your first order! *
:: Sign up now ::
* offer valid only for first-time email subscribers, one coupon per person.
August 22nd, 2014
In her newest Lion Brand tutorial, crochet expert Yolanda Soto-Lopez guides you through the Little Super Hero Blanket pattern with one of our newest yarns, Hometown USA®.
Check out the video tutorials below!
VIDEO #1

VIDEO #2

If you like this video, check out more tutorials from Yolanda at All Crafts Channel!
August 20th, 2014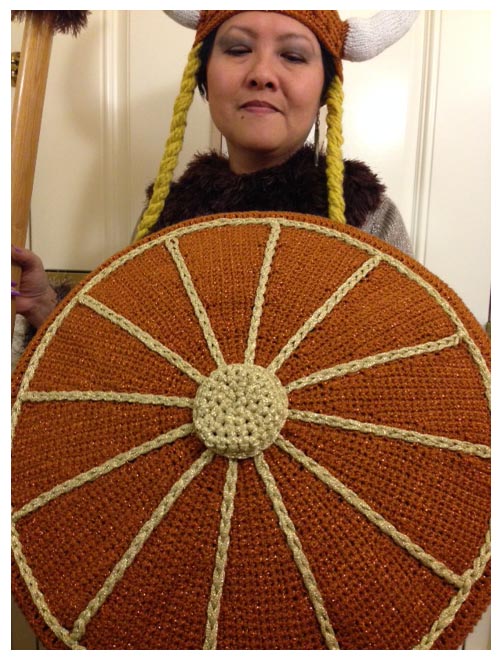 Almost 20 years ago at a Stitches East conference, Lily Chin conceptualized a unique and inspiring way to make her grand entrance at the Stitches student banquet… she wore a handmade costume!
Rather than just wear her "best" knits and crochets for the event, Lily thought that with the show being close to Halloween (Stitches East happens in mid-October), she would surprise everyone with a knit or crochet costume. Now a tradition years later, as of this past Stitches Midwest (August, 2014), Lily is proud to have created her 50th costume – that's 5-0, fifty! Interestingly enough, she seldom wears her outfits again … except for on Halloween, and even then only occasionally. For now, they mostly sit in storage. We'd love for Lily to compile her fabulous costume designs into a book. Come on, Lily!
Through her wonderful costumes, the creative maven has portrayed many characters: Ariel the Little Mermaid, Morticia Adams, Cleopatra, and even Scarlet O'Hara from Gone with the Wind (noting that going to the bathroom with a hoop skirt isn't exactly the easiest thing to do). Along with Scarlet O'Hara, her other favorites are the Statue of Liberty, which she made after 9/11, and last year's dramatic "Brunhilde" (pictured below).
Everyone needs a creative outlet right? This happens to be Lily's. Since she designs patterns for a living, this form of needle-crafting allows her to just have fun and not worry about pattern writing.
I personally love all of the detail that went into her Brunhilde, and even her Raggedy Ann doll outfit, which for Lily, evokes warm memories of childhood and good times. Her latest outfit, debuted at Stitches Midwest, is called "Tacky Tourist" (see below), and is knit entirely with Cotton-Ease.
I can't wait to see what she comes up with next. Be sure to look out for Lily Chin and her amazing costume designs whenever you're at a Stitches show, especially the night of the student banquet – she never ceases to amaze!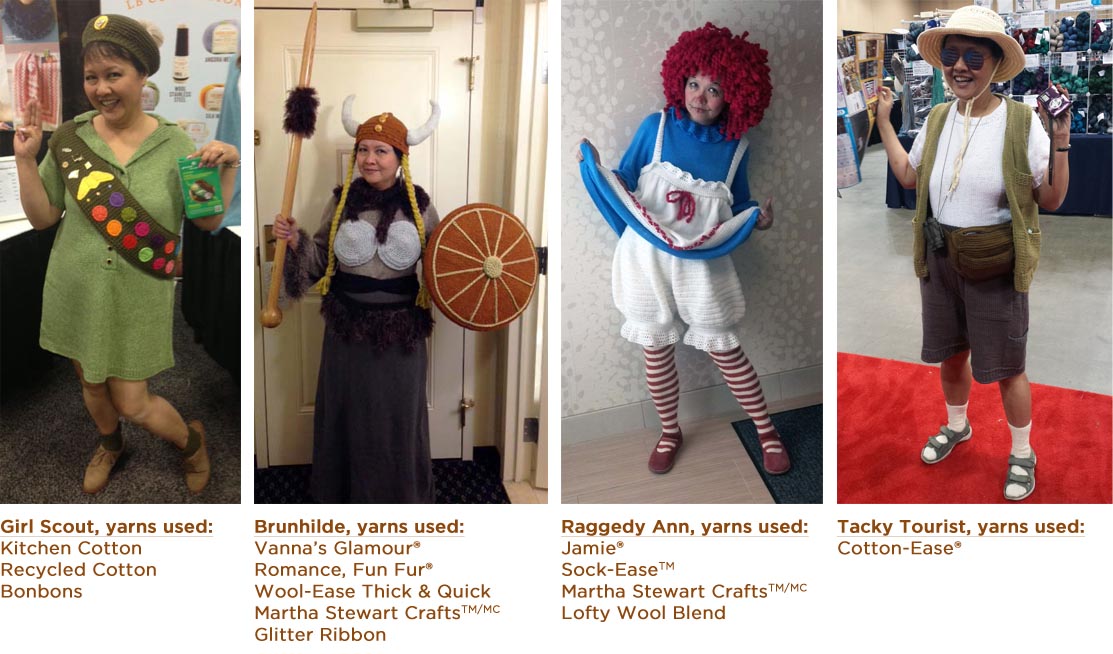 August 19th, 2014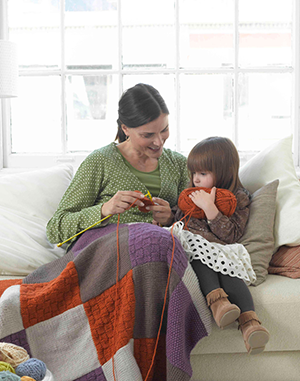 I learned to knit when I was eight. It was summer, school was out. For entertainment I explored a rarely opened closet. There was a shopping bag stuffed with maroon yarn, and a cylindrical leatherette case which, unzipped, revealed a jumble of colored metal knitting needles. I dragged everything into the light.
"What is this?" I asked my mother.
"Oh," she said. "It's my knitting. A sweater….I think."
How amazing. I'd never seen her knit—did she knit while I slept?—and, naively, couldn't imagine why she'd abandon the project. It seemed sad that the yarn had languished in obscurity.
"Why don't you finish it?"
I've forgotten her answer. Probably her "I'm too busy" mantra, accompanied by a giant exhale of cigarette smoke. I do remember thinking this yarn deserved a kinder fate.
"Will you teach me to knit?" I asked.
So it began. I knitted blankets for my dolls, then scarves. Later, I learned to read patterns, saved babysitting money for yarn, knitted hats and sweaters. As a teenager, I commuted between school and home on the New York subway, carrying textbooks and knitting. Knitting gave me something to do in transit, and as I walked through dicey neighborhoods between the subway station and our apartment, the needles, tucked under my arm and pointing forward, protected me from aspiring muggers.
Read the rest of this entry »
August 18th, 2014
This column by Barbara Breiter, author of The Complete Idiot's Guide to Knitting & Crocheting, originally appeared in The Weekly Stitch newsletter.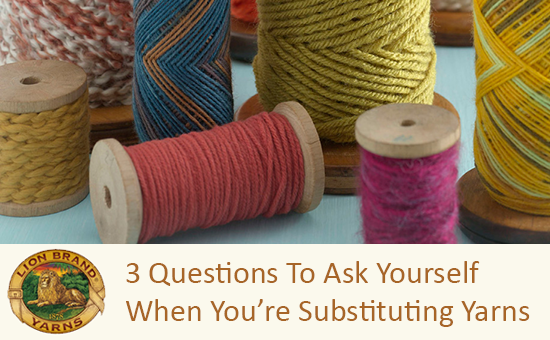 The time will come when you need or want to substitute a yarn in a pattern. The reasons for this are varied. Perhaps the yarn recommended is discontinued; perhaps it's too expensive, or perhaps it's a fiber you don't wish to use.
1. What is the weight of the yarn?
Worsted? Bulky? You need to select a yarn in the same weight class. If you don't, you won't be able to obtain the correct gauge and your project will not be the correct size. You may eventually be able to obtain the gauge of the pattern but it will be as stiff as cardboard or very loose (depending on if you selected a lighter or heavier weight). For a project such as a sweater, this will have a huge impact.
For a listing of Lion Brand yarns by weight click here.
You can often combine multiple strands of a lighter weight yarn to achieve the same weight as a heavier one. Be sure to check your gauge very, very carefully when doing this. Yarns within the same weight class still work to various gauges. For example, a worsted weight yarn is usually classified as one that works between 16 and 20 sts per 4 inches.
These are approximate equivalents:
2 strands fingering = one strand sport.
2 strands sport = one strand worsted.
2 strands worsted = one strand super bulky.
August 17th, 2014
This story is from our newsletter called Pattern Journal which brings a warm-hearted, wholesome story to your inbox to read every month. If you enjoy it and would like to subscribe, click here.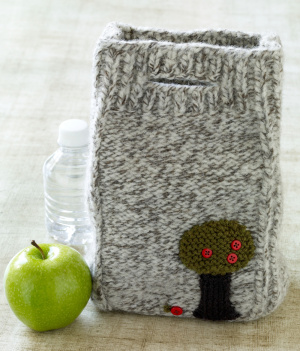 Meredith sometimes wondered how life would be if she could travel back in timeand change just one thing. What if a seemingly random choice had been different? Like, why had she craved bright pink everything when she was a kid? She'd had the pink lunchbox, backpack, pencil case, flip-flops, barrettes…even a bright pink toothbrush!
Now, in college, she absolutely couldn't fathom why she'd adored that color. She wondered, though, if she'd have become a different person had her early taste run to earth tones.
An ecology major, Meredith loved studying organisms and their environments. Similarly, she loved living in the balance–this was how knitting came in. The beautiful simplicity of two sticks and a ball of yarn offset the high-tech essentials of 21st century life. The subtle yarns she favored evoked country roads, open fields, dunes, rocky shores. Like the rugged, marled Fishermen's Wool she'd recently used–it conjured up a time when handwork was honored, and things made to last.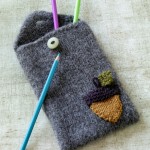 Especially pleasing were the useful lunch bag and pencil case she'd knitted of Fishermen's Wool® in only a few hours, then felted (magical!), then appliqued with a beguiling acorn and rustic apple tree. Afterwards, she showed them to Paige, her roommate.
"These are totally adorable!" Paige exclaimed. "How'd you find such great projects?"
Meredith flashed onto her younger self and suddenly realized it was actually because of that Pink Phase that she'd become everything she was, here and now.
"Oh," she smiled, "someone I used to know pointed me towards them."
—
All characters appearing in this work are fictitious. Any resemblance to real persons, living or dead, is purely coincidental.
A story by Selma Moss-Ward.
Selma Moss-Ward writes and knits in Rhode Island. You can find her work on our blog, as well as Lion Brand's monthly newsletter, Pattern Journal, which you can subscribe to here.
August 14th, 2014
We heard you loud and clear — you're looking for a bigger challenge!
Thanks to all of your feedback, we revisited our selections for this year and picked out a more challenging line-up to choose from!
So let's do a hard reset and try that again — vote for the Fall Crochet-Along now! Voting ends Wednesday, August 27th, 11:59pm EST!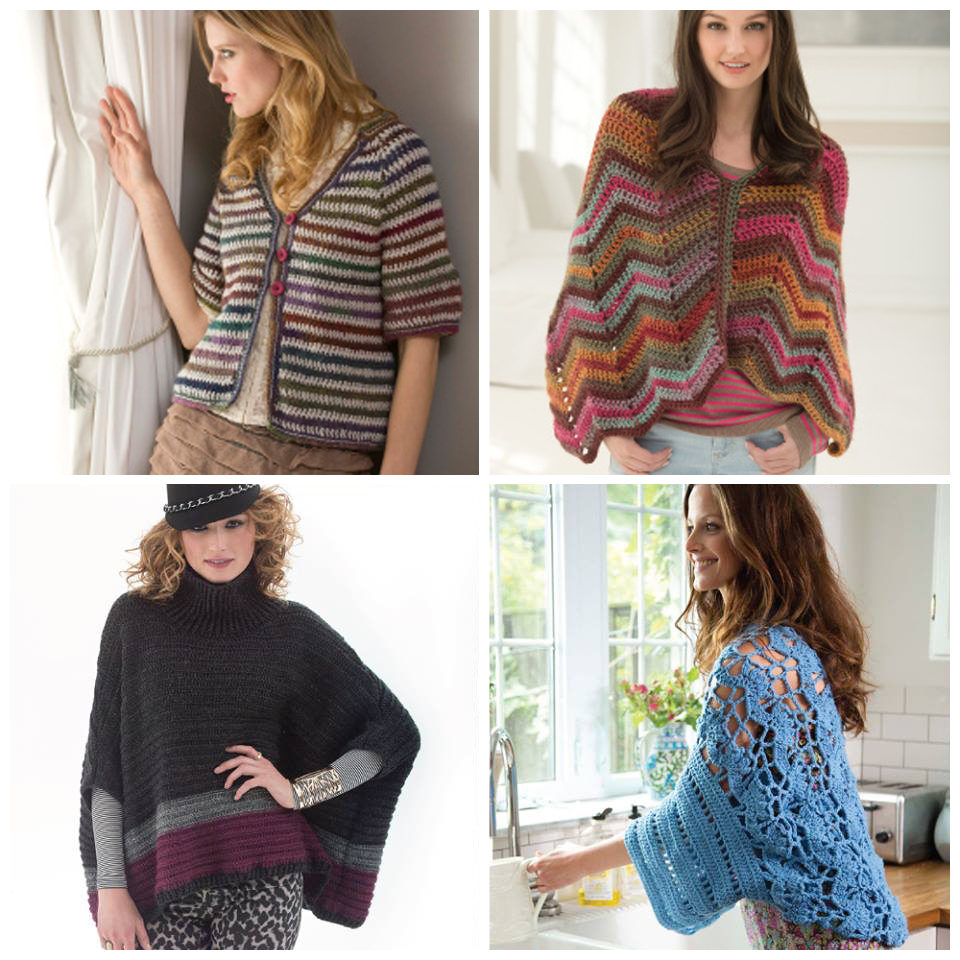 Clockwise from top left:
« Voting is now closed. »
The winner is the Top Down Crochet Jacket! Thanks to everyone who voted!
A crochet-along is a virtual event, where all the participants make the same project together. Follow along with our crochet-along host Grace DiLorenzo here on the blog and share your comments and photos. There's no need to sign up, and it's free to join! (New to crochet-alongs? Check out our guide here.)
The winning pattern will be announced Thursday, August 28th here. At that time we'll also give you all the details you need to pick up your supplies and get started on the project!
—
Votes must be cast by 11:59 am Eastern August 27th, 2014. You must use the link above to vote; comments here on the blog do NOT count as votes.
Knitters, look out for a knit-along later this year, here on the Lion Brand Notebook.