September 25th, 2015

Back in May, we launched a collection of patterns tailored just for Curvy Girls. The response was overwhelming — so many of our fans loved seeing beautiful new patterns in a wide range of sizes!
We're happy to add seven new patterns — three crochet, four knit — to this collection. We've also adapted a few of the patterns from our debut collection. Loved the knit Cabled Cardigan from last time? It's now available as a crochet pattern!
Brand Ambassador Shira Blumenthal shares more on the expansion of the collection — check out the video below!
:: Can't see the video above? Click here to watch – https://youtu.be/FJDM3NpcE0c ::
Stay tuned for more on the inspiration and design process of these new patterns!
September 24th, 2015
Facebook, Twitter, Instagram… not that you need another app in your life, but Pinterest is a must-have for crafters! Like other social media applications, you can use this platform as a way to showcase your own work. However, Pinterest thrives by connecting content from all over the internet in a single place. Think of it as a your new virtual vision board!
I like to think of Pinterest as a 'stashbook' – a place where I can stash ideas and inspiration I can revisit when I need to.
Primarily, I use Pinterest to save outfit ideas — I often find myself scrolling through my Style board on days when I'm not sure what to wear. Recently, I've been using Pinterest to gather inspiration for new knitting projects I'm interested in.
Here's what my knitting Pinterest board looks like: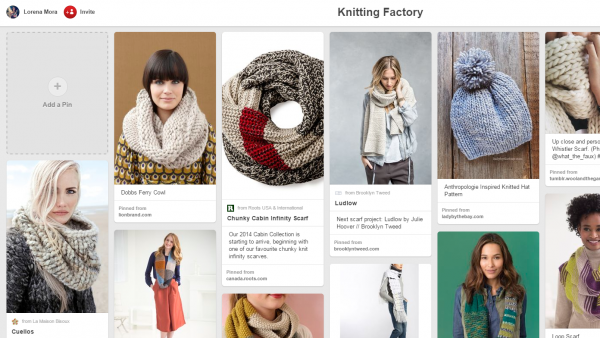 Right now, I'd say I'm inspired by chunky knits, neutral/light colors, and self-striping and variegated yarns.
I'm especially drawn to that chunky cowl (bottom left, model with blonde hair), but that Pinterest link led to a fashion blog in another language, with no pattern — tough luck for me! Using Pinterest's search bar, I was able to find a similar cowl with a pattern — Lion Brand®'s Dobbs Ferry Cowl (top left, model with brown hair) made with Wool-Ease® Thick & Quick®. Using both photos as inspiration, I know all I need to do is mix up the yarn I use and follow the pattern to get the look.
Here's how to use Pinterest to get what you really want:
September 23rd, 2015
One of the best things I get to do is teach kids how to knit and crochet.  The greatest feeling is when a student really takes to the craft and falls in love with it.
Meet CC — I taught her how to knit a year ago when she was 7 and she fell in love with knitting! She loved it so much she got her friends involved in the knitting program at camp this past summer.
Join CC and I for some tea! We talk about what she is making and what is like to be an 8 year old and know how to knit!
:: Can't see the video above? Click here to watch – https://youtu.be/_JTPjURodiI ::
Yarns mentioned in this video:
September 22nd, 2015
In this guest post by Gali Beeri, she rounds out the summer with a splash of a costume! Read on to learn more on how she created a beautiful mermaid-themed costume.
With summer coming to an end, I'm looking back fondly to long sunny days, visits to the beach, and lots of mermaid themed costuming events! With the Mermaid Parade and another sea-inspired party taking place back-to-back in NYC, a coral headpiece seemed like the perfect costume project to tackle.
Coral is so gorgeous! I spent many delightful moments captivated by its beauty and variety as I searched through coral reef images online. Certain kinds of coral looked like trees to me, with their little branches reaching out like tendrils into the water… I wanted my headpiece to feature this "tree coral".

Vanna's Glamour continues to be my favorite yarn for sparkly costume pieces! This time around the Jewel colorway felt like the perfect fit. Pipe cleaners inserted into the coral helped the "branches" keep their shape and stick upright, adding the height I wanted for the ensemble.
For added texture, I wanted to knit pieces that look like the traditional "brain coral". I vaguely remembered hearing about crocheted coral being used to teach some mathematic concept…hyperbolic space, that's it! A little searching produced a recipe for knitted hyperbolic surfaces. Two large pieces knitted with Hometown USA in Neon Orange served as the base for my headpiece. A few small pieces in Vanna's Glamour and LB Collection Superwash Merino in Peony rounded out the "brain coral" collection.

When I first envisioned this project, I had dreams of knitting tiny fish and shells as part of the ensemble. As always, the reality of time set in and I knew I wouldn't have enough hours to knit it all. So instead I turned to a party superstore and found a collection of plastic sea creature toys. I'm fond of turtles, and decided to add one to the coral. I pierced holes through the turtle's limbs using a safety pin heated by candle flame – you need something hot enough to melt the plastic. Then I stitched the turtle to the coral with sewing needle and thread. The rest of my sea creature toys became gifts for friends at the Mermaid Parade and subsequent costume parties!
After spending so much time assembling the headpiece, I found myself speeding through putting the rest of my costume together the night before the Mermaid Parade. I made a tutu using strips of sparkly lace knotted around a piece of elastic, and attached sparkly fish cutouts to the lace. A blue top, whale necklace, and glitter on my eyes completed the look.
Check out photos of fabulous costumes from the Mermaid Parade, and scroll down to see a photo of me and my friends on in the news! (We're 5th from the bottom.)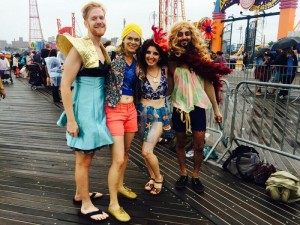 What costumes are you planning to craft this season? Let us know in the comments below!
September 21st, 2015

With a brushed mohair-look and a dazzling color palette, you'll want to grab Vanna's Complement for your next project!
As a soft worsted weight yarn, Vanna's Complement is the easy choice for snugly cowls like the Cocoon Cowl and Milbrook Cowl.
You can also use this yarn to add a plush texture to your afghans. We're big fans of the sand dollar-like hexagons that make up the Shoreline Afghan. Make it in the suggested colors for an oceanic-themed throw, or mix and match your favorite colors!
Learn more about this yarn as our brand ambassador, Shira Blumenthal, walks us through this great addition to Lion Brand®'s Vanna collection.
:: Can't see the video above? Click here to watch – https://youtu.be/VaRXHwe8nho ::
Below, find 9 new patterns for this yarn!: