July 15th, 2015
Do you have some free time this summer? In our Christmas in July series, we'll be rounding-up our favorite gifts to make and give, including ones you can get started on now. Trust us – you'll be thanking yourself between holiday parties when you've got all your gifts blocked and wrapped.
The only people I have made hats for are my nephews and my niece why you might ask? Well, because every hat I make I really want for myself. I find hats the easiest and ultimate fun knitting project because they range in skill level and allow you to get your project done really fast! A perfect holiday gift for anyone!
I have picked out a bunch of hats that I think are some good gifts for the stylish, laid back and everyday friend. Always read through the pattern and make sure you are able to do all the stitches. And if you see a knit pattern chances are we might have something similar in crochet. Hats are fun and a great way to spruce up your winter look.
1) Easy Eyelet Hat – This is a great pattern and uses our new yarn Textures® but, you can always substitute another worsted weight yarn.  Whenever I show this hat off at guilds they love it! It has that slouch effect so definitely for your friend who has slouchy hats galore!
2) I like this Aviator Earflap Cap because it's unisex and is a simple pattern. This hat is for the friend who doesn't want too much going on around their face.
3) I happen to know the person who designed this Easy Tam and I have seen many variations of it.  It's like a piece of artwork.  (Maybe make this one for yourself!) Definitely allow time for this one because of the color work but, it's totally worth it in the end.
4) I still have yet to make this Vintage Glam Turban. It's a real easy one, too! For your very stylish friend who is always looking "together," this is perfect!
5) I know from personal experience the Woolspun Level 3 knit hat is a great way to work on cables! That was my first cable hat and I was pretty impressed with my finished project.  It worked up really fast and is a great all day accessory.
6) This Amelia Earflap hat is for your friends who are forever cold!  Give them this hat for the holidays and they will be nice and toasty as it uses LB Collection®. Natural Wool.
BONUS:
How could I not put a pattern for a cat hat — your cat needs a holiday present too!

I want to know what hat catches your fancy, which one do you plan on making? Let me know in the comments below.
July 14th, 2015

Every year some of us from the Lion Brand® team head to the annual
Summer Knit and Crochet Show
, which is held in various cities across the country. This year, we're headed to sunny San Diego at the
Town and Country Resort
, and we're taking
Tea with Shira
on the road!
The Knit and Crochet Show is a great conference that'll be taking place from July 22nd through July 25th. The show offers classes for learning and improving your skills, a marketplace for shopping, and many opportunities for meeting and chatting with other fellow crafters. Speaking of meeting and chatting with folks, you can come by the Tiki Pavilion Lounge (a public meeting space) within the resort, and the Lion Brand/Tea with Shira team will be present with tea, surprise goodies, and new yarns and garments for viewing!
Tea with Shira at the Tiki Pavilion Lounge:
Wednesday 7/22: 12-3pm
Thursday 7/23: 12-3pm
Friday 7/24: 10-12pm
We will have some lovely teas on hand thanks to the great folks at Harney and Sons, a family-owned and operated business that sells affordable, quality, fine tea. In fact, Shira sat town with Emeric Harnery, a 3rd generation family member and manager of the Harney & Sons shop in SoHo, New York City, for her 6th episode of Tea with Shira. Check it out here.
We look forward to seeing you!
*Please note we will not be selling yarns at the show*
July 13th, 2015
Looking through Ravelry and various crafting blogs is always such a pleasure, because you come across so many creative and talented people. These sources are great places to find inspiration for projects you want to work on, or new skills to learn and master. So today, I'm happy to share six projects made in our supremely soft cotton yarns, LB Collection® Cotton Bamboo and Nature's Choice Organic® Cotton, by various designers and bloggers.
Check out the patterns below, which includes an adorable pouch to keep your accessories in, and precious designs for the little one(s) in your life.
July 12th, 2015
Did you know that our Sabrina Tunic Crochet-Along leader Elena Ramshaw Hunt is also a talented designer?
It's true! Using Vanna's Choice®, she designed this bright and starry granny square, perfect for a sampler afghan:
This is a FREE pattern, available through beatriceryandesigns.com.
:: Vanna's Choice® colors seen here in Magenta, Kelly Green and Mustard. ::
July 10th, 2015
Tell us which one you think is crocheted, the Mosaic Cowl & Hat or the Sabrina Tunic, and you'll be entered into a draw to win a 2-in-1 Tote Lion Brand Bag and six (6) balls of LB Collection® Superwash Merino. *
Mobile users, click here if you can't access the voting tools below.
* Only one entry per person. Promotion ends Friday, July 31st, 2015 at 11:59m EST. One (1) winner will be randomly selected and contacted by email before August 5th, 2015. Open to residents of the USA and Canada. No purchase necessary. Retail value of prize is approximately $65 USD.
July 10th, 2015
Here is the latest installment of Lola, from its creator Todd Clark.
The caption with the most votes will receive $250 to spend at lionbrand.com!
* Can't see the entry form? Visit: http://lby.co/1G9NUFL
*** *** ***
Subscribe to The Weekly Stitch Newsletter
Get a FREE weekly email featuring patterns, articles and special offers. As a bonus for subscribing, we'd like to offer you 15% off your first order! *
:: Sign up now ::
July 9th, 2015

Today we're featuring patterns that use either
Kitchen Cotton
or
Cotton-Ease®
to keep you crafting through the warm summer months
. Many of these patterns are small enough to work on while waiting for appointments, hanging out at BBQs, or even while enjoying those lovely summer road trips as you relax with your feet up
. Take a look below and get inspired!
July 8th, 2015
I love seeing a project come together!! Last week we made our swatches to assure our gauge was correct, joined the first row without any twists (hopefully) and worked on the first few rounds of our Sabrina Tunic!! Like I said last week… Those first few rows are the hardest part… So now we are ready to kick into gear and get our Yoke made!!
Since the Sabrina Tunic is made in one piece from the top down, this project will start shaping up quickly and we will see a hint of how it will look by the time our Yoke is complete. I love working with Vanna's Glamour Yarn… The small amount of shimmer and sparkle will make this a perfect piece to wear this fall, and the nice bounce the yarn provides is also going to make the garment fit nicely. It's still not too late to join us and make a Sabrina Tunic for yourself. You can even have the yarn shipped right to your doorstep… Click here to view and order your yarn kit!! If you are ready… Let's get our hooks and get the party started!!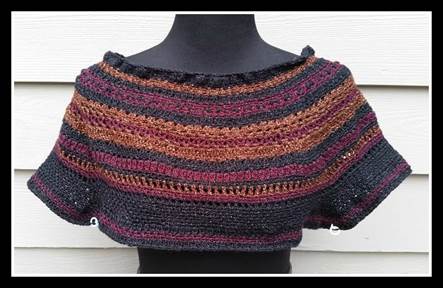 Read the rest of this entry »
July 8th, 2015
In this latest episode of Tea with Shira, I'm honored to chat with Emeric Harney!
Emeric Harney is a 3rd generation member of the tea company, Harney & Sons.  Of course we had many stories to share, both being part of family businesses and all, but get this: he's a knitter too!
Emeric and I discuss what's on his needles currently, who he's making it for and, of course, TEA!
So, grab your needles and/or hooks, your tea, and enjoy the latest episode of Tea with Shira!
:: Can't see the video above? Click here to watch: https://youtu.be/nZ0lg5O4ook ::
Yarn mentioned in this video: LB Collection® Superwash Merino
July 7th, 2015
Writer, illustrator, and knitter Franklin Habit joins us for his monthly column featuring humor and insights into a yarncrafter's life.
I spend about half my time these days away from home, standing in front of classrooms full of knitters, teaching them how to do things. That's my job. I have an awesome job.
I teach these knitters to do all kinds of stuff: how to knit lace, how knit with color, how to put colors together, how to cut knitting, how to sew knitting. And that's just the top of the list. If you want to make a living in this business, it pays to have many strings to your bow.
No matter what I'm teaching, one sort of question always comes up.
"What if I…?"
For the ellipsis, read any of the following:
…do the opposite of what you are telling me to do?
…try doing the same thing in a way I just thought up?
…try doing something that is not at all this thing we are talking about, but is some other thing I think might be kind of cool?
Or variations thereupon.
I grin, because one über lesson underlies all my lessons:
Play around. Whatever you're doing, play around.