January 27th, 2016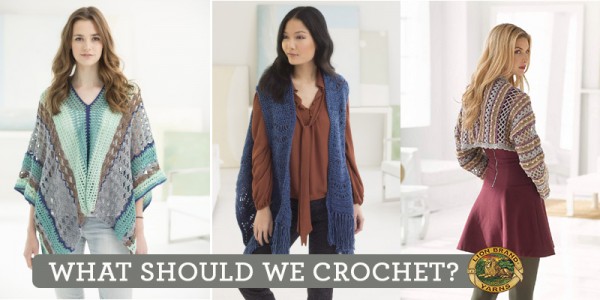 It's that time of year again! Crochet-along with us as we make one of the following garments:
The Clement Canyon Poncho
,
The Sorrento Shrug
, or
The Lacey Picot Shrug
 —
VOTE BELOW
!
A crochet-along is a virtual event, where all the participants make the same project together. Follow along with crochet-along host Kristy Glass of the Glass Posse here on the blog and share your comments and photos. There's no need to sign up, and it's free to join! (New to crochet-alongs? Check out our guide here.)
Votes must be cast by 12:00 midnight EST Sunday, February 7th. You must click on the photo you like to cast your vote; comments here on the blog do NOT count as votes. The winning pattern will be announced here on the blog on Wednesday, February 10th — we'll also give you details on picking up your supplies and getting started on the project!
Vote for your favorite pattern now by clicking on one of the photos below and following the steps to submit your vote:
On a mobile device and can't see all three choices below? Click here.
January 26th, 2016
'Tis the season for Wool-Ease® Thick & Quick®! This yarn has always been a fan favorite, and we think it's safe to say that the Hudson Bay colorway is the reigning skein this season!
We spotted this sweet matching set over on Repeat Crafter Me: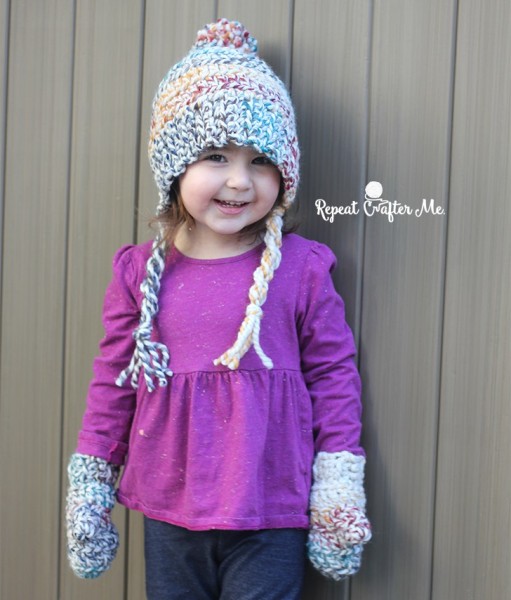 Blogger Sarah Zimmerman offers patterns for multiple sizes, from baby to adult! With 4 classic colors blending into neutral cream, these mitts will go with just about any winter wear. Top the hat off with a large pom-pom to add some fun!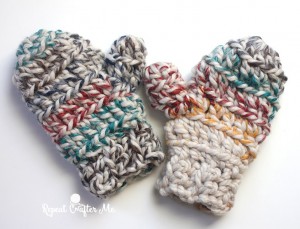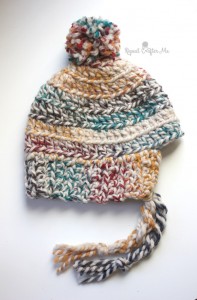 Get the pattern here. // Grab this yarn here.
January 25th, 2016
Grab your pencils, markers, and crayons – it's time to color again!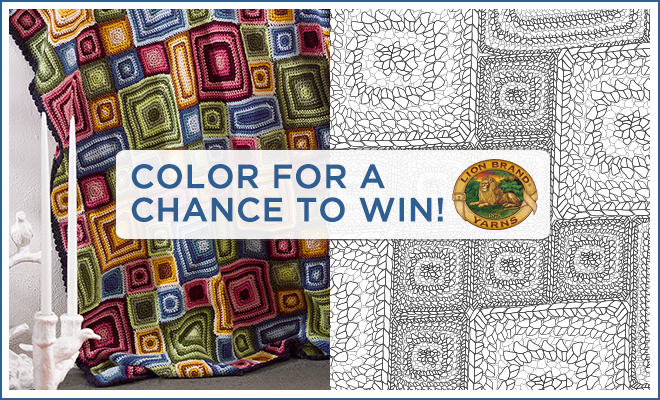 January 22nd, 2016
Here is the latest installment of Lola, from its creator Todd Clark.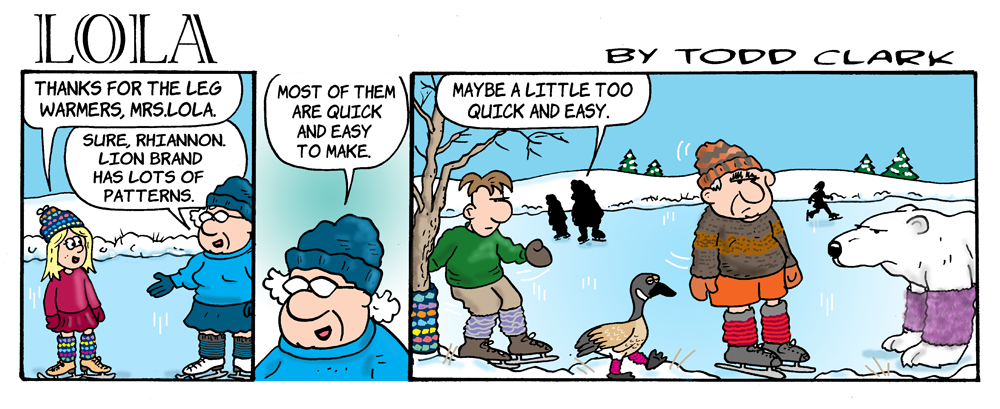 For more great pet patterns, visit PatternFinder.
***
Subscribe to The Weekly Stitch Newsletter
Get a FREE weekly email featuring patterns, articles and special offers. As a bonus for subscribing, we'd like to offer you 15% off your first order! *
:: Sign up now ::
January 21st, 2016
We had a blast at Vogue Knitting Live here in New York City!
#VKLive saw the debut of one of Lion Brand Yarn Studio's most magnificent window displays — the Fruit Stand! Lion Brand president David Blumenthal has always envisioned a fruit stand display and the result is a cornucopia of yarncrafting. Fans who stopped by couldn't stop marveling at the details, which included hand-felted apples, amigurumi vegetables and an ingenious use of textures!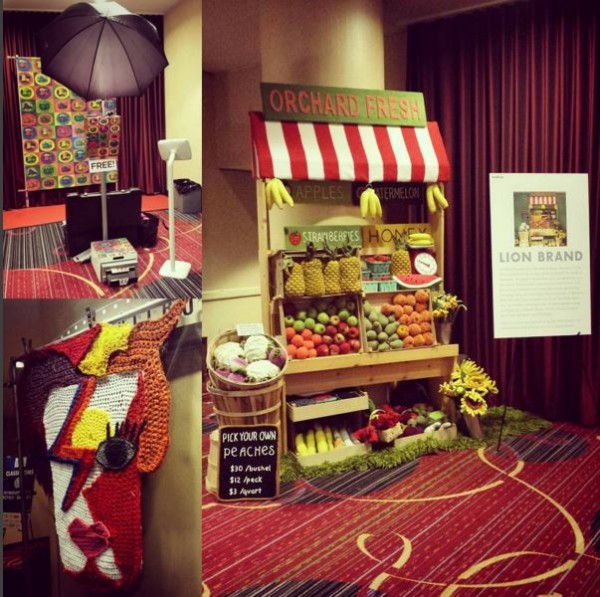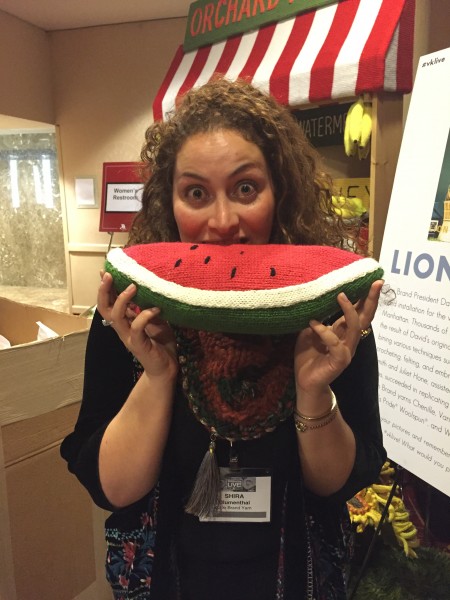 Fans of Lion Brand got a good laugh in our photobooth, where attendees were able to take home snapshots of their weekend! One of our featured writers Franklin Habit stopped by to join in: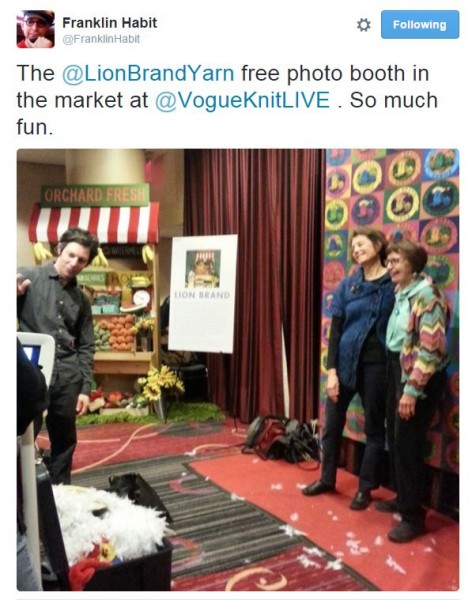 Our friend London Kaye was right at home with other yarn artists as she crocheted a piece commemorating David Bowie. Here's the finished piece!: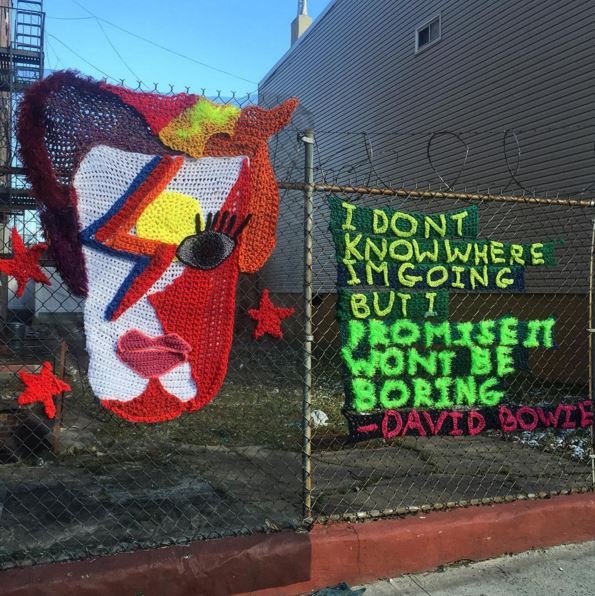 We brought some of our new favorite yarns to sell at Vogue Knitting Live. Yarn fans were able to grab
Color Clouds
,
LB Collection® Wool
, and
24/7 Cotton
!
 That's a wrap for us at Vogue Knitting Live.  We can't wait to see where we'll end up next!