October 5th, 2015

The love for Lion's Pride® Woolspun® continued on into September! Popular patterns included several of the coordinating hat & scarf sets, as well as two autumnal-hued afghans — all fantastic projects for fall.
Knit and crochet projects for pets were also among your favorite patterns. The crocheted Curl-Up Kitty Cat Bed offered a fun way to give your cat a place to play and purr, while adding vibrant decor to the room they stay in! Large dogs got fashion updates with our newest sweater projects, including one made with Scarfie® — one skein of it really does make a whole project! This and the other sweaters are perfect for those fall walks outdoors.
Check out the most popular patterns for September below, and don't forget to use our Pattern Finder to find your next project!
October 4th, 2015

October marks Breast Cancer Awareness Month, and we're turning our thoughts to sharing comfort and sympathy to those in our lives who need it most. Breast cancer is the most common form of cancer for women worldwide, and the second most common in the United States.
Whether you walk or run for the cure or donate to a chosen charity, support for breast cancer awareness is strengthened when we unite for a cause worth fighting for.
One of the best ways to support awareness of breast cancer is to support those around us who have been affected. Making a prayer or healing shawl is a thoughtful way of reminding someone that you have them in your thoughts.
Here are six of our favorite shawl patterns, all beautiful ways to show your support to whomever the receiver may be. Make one in pink, the color used to recognize breast cancer awareness, or use your favorite soft yarn in the color of your choice. No matter the look, the message and meaning of the shawl is what counts most.
*Please note, this is not a Lion Brand pattern.
Looking for more ways to support breast cancer research and raise awareness? Here are three products whose purchase also includes a donation to the Breast Cancer Research Foundation.
October 3rd, 2015
We just added seven new patterns to our Curvy Girl Collection! Brand Ambassador Shira Blumenthal shares her thoughts on the expansion:
A few months ago when I offered to be the Curvy Girl model, I had no idea how everyone would feel about the patterns. Well, after the launch two weeks later, it was decided that we would be expanding the collection! You all loved it so much we wanted to give you more! We really tried to change up the patters with knit and crochet tops, different lengths and different looks. The design team and I worked from beginning to end to make these garments the most flattering and fashionable for Curvy Girls. I hope you all love them as much as I do and that you share your finished projects with me!
Get a closer look at the Curvy Girl Cabled Cardigan in the video below — it's now available as a knit and crochet pattern!
:: Can't see the video above? Click here to watch – https://youtu.be/znYuZWN-vrM :: 
October 2nd, 2015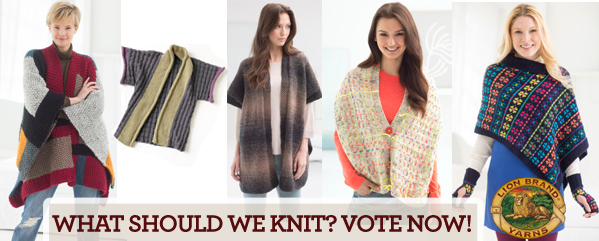 Hurry, voting ends this Sunday, October 11th!

Can't see the video above? Click here: https://youtu.be/-R2gh3iMA-E
Here we go again! Come knit-along with us as we make one of the garments featured in this post. So let's get started, shall we?
FIRST you have to help us pick the pattern! Learn more about each of the patterns by clicking on their photos/names below and then come back to cast your vote. Kristy Glass, your KAL leader, has a favorite but she'll never tell … well, at least not until the votes are in! In the meantime she has her fingers crossed …
In any case, they're all so good, we predict a very tight race!
Votes must be cast by 11:59pm Eastern Standard Time, Sunday, October 11th, 2015. You must use the voting tool below to vote; comments here on the blog do NOT count as votes.
THE PATTERNS
TIME TO VOTE!
(Can't see the voting tool above? Click here to vote.)
___
This knit-along is a virtual event, where all the participants make the same project together. Follow along with knit-along host Kristy Glass here on the blog and share your comments and photos. There's no need to sign up, and it's free to join! (New to knit-alongs? Check out our guide here.)
Remember, the winning pattern will be announced the week of Monday, October 12th, 2015 here on the blog and at that time we'll also give you details on picking up your supplies and getting started on the project!
—
Votes must be cast by 11:59pm Eastern Standard Time, October 11th, 2015. You must use the voting tool above to vote; comments here on the blog do NOT count as votes.
Crocheters, look out for a winter crochet-along early next year, here on the Lion Brand Notebook.
October 2nd, 2015
Here is the latest installment of Lola, from its creator Todd Clark.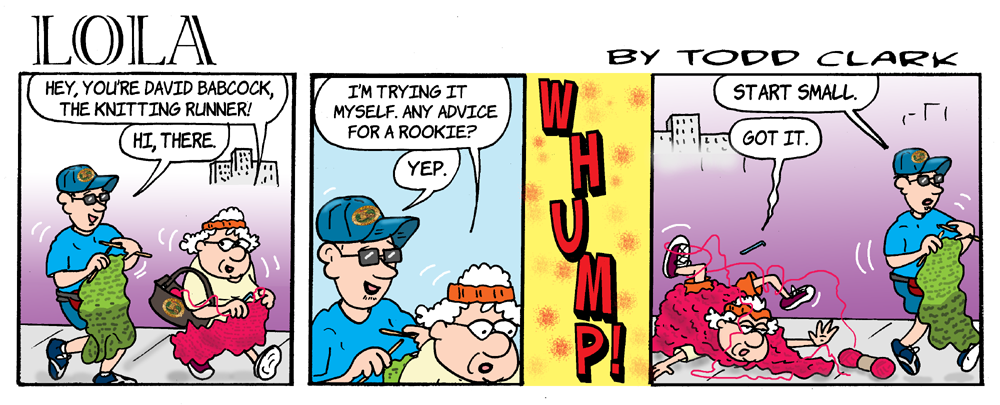 Please donate $10 to the Alzheimer's Association in support of David Babcock's upcoming New York City Marathon race. If every Notebook reader gives just $10, we'll reach our goal of $3500 before the race!
*** *** ***
Subscribe to The Weekly Stitch Newsletter
Get a FREE weekly email featuring patterns, articles and special offers. As a bonus for subscribing, we'd like to offer you 15% off your first order! *
:: Sign up now ::