October 1st, 2015
Our friend Kristy Glass from the Glass Posse channel talks up a few of her favorite costume patterns!

:: Can't see the video above? Visit https://youtu.be/vFrPxeA2Fs0 ::
Get the FREE patterns here:
For more great FREE costume patterns, visit Pattern Finder.
October 1st, 2015
The ease of acrylic with the warmth of wool — our Wool-Ease® collection has both! This month, save 20% on Wool-Ease®, Wool-Ease® Thick & Quick®, and Wool-Ease® Chunky!
The original Wool-Ease® is so popular (supported by over 400 FREE patterns), it inspired a whole family of blended yarns. With the additions of Wool-Ease® Chunky (supported by 82 FREE patterns) and Wool-Ease® Thick & Quick® (supported by over 500 FREE patterns), you get the same quality yarns in three different weights! Use the entire collection to dress your family and home this fall and winter; make afghans, socks, sweaters, cardigan, hats… the list goes on! With heathers, tonals, neons, and every color in between, you'll always find new ways to use these yarns.
Feeling inspired? Check out the look book below to see a sampling of what you can knit and crochet:

:: Can't see the look book above? click here. ::
September 30th, 2015

Before the rush of Halloween, Thanksgiving and — is it too early to say Christmas? — take a moment and enjoy the fall! The changing of the leaves, the urge to wrap up in our coziest knits… we're already there.
Maybe you've already picked out the perfect sweater pattern to work on, but, why not knit and crochet for your home? Fall-ify your home with touches of orange, browns and deep burgundies to bring that crisp outdoor feeling indoors.
Afghans are one of the easiest (and comfiest!) ways to dress up your living area for the season. We've also rounded up smaller projects, like yarn-bombed branches and napkin rings, that can be done in a single weekend.
Dress up your home with these 9 autumnal patterns!
September 28th, 2015
Two stitches, one piece — that's the Reading Room Cardigan in a nutshell! This cardigan knits up easily and in little time thanks to Wool-Ease® Thick & Quick®. With a brilliant variety of solids, heathers, and tweeds to choose from, this yarn is a go-to for sweater weather.
Design Editor Susan Haviland walks Brand Ambassador Shira Blumenthal through the simplicity of this pattern. Check out the video below and see just how easy it is to make this cardigan!
:: Can't see the video above? Click here to watch – https://youtu.be/m0DN-lApP58 ::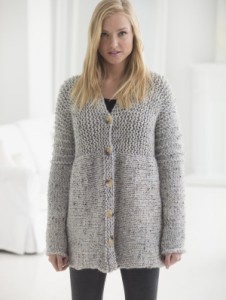 Knit Reading Room Cardigan made with Wool-Ease® Thick & Quick®
Click for the FREE pattern.
September 27th, 2015
Here in the marketing department at Lion Brand, we talk a lot about knitting and crocheting and yarn and magic loops and swatches and yarn weights (we know our DK from our super bulky) and and and … bottom line is that we're all experts in one way or another when it comes yarn. We can talk about it all day — and we do! You may however be surprised to know that we're also fairly well-rounded with an excess of interests, hobbies and obsessions that go beyond the hooks and needles.
We thought you might enjoy a peek into our inner worlds. Have fun and please share some of your own personal interests outside of knitting and crocheting in the comments below.
---
Zoe – I'm going to Seattle for a few days to spend some time with friends and family (I'm originally from New Orleans, but my family relocated to Seattle after Katrina). Some of my favorite spots to visit when I'm in the Emerald City are Genki Sushi, Espresso Vivace, Ghost Gallery (I show artwork there regularly, but I also love to shop in their boutique!), Fusion Beads, and the Fremont Sunday Market.
Shira – I come from a musical family; I'm the singer and I love Broadway shows. One of the highlights for me in high school was being the lead in Guys and Dolls as Sarah. This Broadway season there have been some really great shows! This past month I have seen a few shows. A good friend of mine came in from out of town and we went to see Something Rotten which was VERY funny and the music and acting was awesome!  The other weekend I went with my mother and nephew went to see Aladdin.  Aladdin is my all-time favorite Disney movie! My nephew was not a fan of the romantic story line (there was a kiss, he's almost 7, not his thing) but otherwise he giggled and danced in his seat!  Next up Hamilton!
Margaux – I spent a nice family weekend in Long Island by the beach to make the most of the last sunny and warm days. It was my first getaway to the Hamptons and I must admit I was impressed! The beaches are beautiful and absolutely unspoiled. During a Sunday walk at the Greenwood Cemetery (which I believe is my favorite place in Brooklyn) I noticed Fall colors showing up and felt very happy… Fall is my favorite season and I can't wait to wear long sleeves!
Brandyce – I recently went to Playa Del Carmen, Mexico for a mini vacation and had an amazing time exploring the Mayan Ruins. I thoroughly enjoyed learning about the ancient culture, relaxing by the beach, and swimming in natural Mexican sinkholes. I went to see the ruins at Tulum , climb the Ixmoja pyramid at the ancient city of Cobá (which I didn't realize until later, is actually the tallest pyramid in the Yucatan Peninsula!), and visit Chichén Itzá. I was thrilled to see the infamous Pyramid of Kukulkan. There's just so much to do in Eastern coast of Mexico, I definitely look forward to going again at some point for more explorations!
Ilana – I'm planning trips to see fall foliage in the Northeast over the next three weeks.  I looked at a fall foliage map of the East Coast to decide where and when to go. Trips Upstate New York, New England, the Poconos and the Catskills.  I'm combining the leaf peeping trips with visits to family and friends.  When I'm not staying with people I know, I love to explore AirBnB or Homeaway to find interesting places to stay en route.   I've met interesting people and found some unique lodging by doing this–everything from homes filled with antiques to a castle-like house on a river to a renovated modern loft.
Lorena – This past Labor Day weekend, I headed out to Philadelphia with my roommates for the Made in America music festival. We're all huge Beyonce fans (she was headlining), and seeing her all together was a real treat, considering she's on heavy rotation in our house. I was pleasantly surprised by Philadelphia as a whole! I ate a cheesesteak at Pat's King of Steaks, stopped by the Liberty Bell, and took in the gorgeous architecture of City Hall. My only regret is not having more time to explore the rich history of this city — I'll need to go back soon!
Sarah – Last month I read The Martian by Andy Weir. The novel is about astronaut Mark Watney who is stranded on Mars and believed dead after the crew of his mission evacuates. I don't usually read the book before I see a movie but the trailer and ARES: live videos intrigued me and I couldn't wait. I can see why the book has gotten such good reviews. I couldn't put it down, squeezing in pages whenever I could. I was dying to know what would happen to Mark! It was very exciting and surprisingly funny considering it was filled with detailed science. I'm really looking forward to seeing the movie when it comes out in October.
Danielle – Last weekend my son Finn and I went to the Brooklyn Museum to check out a street-art inspired exhibit called, "FAILE: Savage/Sacred Young Minds". The name "FAILE" comes from an anagram of "a life," and also represents the spirit of experimentation apparent in the work of these two artists, Patrick McNeil and Patrick Miller. Our favorite area was the "Deluxx Fluxx Arcade" created in collaboration with Brooklyn artist Bäst. Totally interactive and hands-on, the retrofitted arcade games are like mini cut-up machines that use movement and collage to allow the user to playfully experiment and create their own art experience. If you're in the New Your area in the next week, you can catch this show until October 4th and while you're there, check out another show, "The Rise of Sneaker Culture".