April 12th, 2016
At 312 yards, you only need one ball of Scarfie to make a beautiful scarf. And now, with seven brand new colors, you've got even more to choose from! These new additions have the same gradient effect and soft feel that you love but include bright, fun hues. Choose from hot pink, aqua, or teal and you'll have an exciting scarf for all of the vibrant people in your life.
Take a look at the new colors of Scarfie in the video below!

Having trouble viewing this video? Click here: https://youtu.be/Sk0Xkre4oAk
April 11th, 2016
With all of Vanna's yarns on sale in April, it's easy to add a little sparkle to your knit and crochet projects! Vanna's Glamour® is inspired by the glitz of Vanna's signature look! It's lightweight and machine washable making it the perfect yarn for spring weather, especially those projects that deserve a little bling.
Shira modeled the 5 most popular patterns made with Vanna's Glamour® to give you some inspiration!

Having trouble viewing this video? Click here: https://youtu.be/Nr42cBkPYqk
April 10th, 2016
Get ready to turn heads! When you crochet this Popover Top, you are sure to grab attention. This oversized pullover is incredibly comfy and Wool-Ease® Thick & Quick® makes this glitzy top sparkle!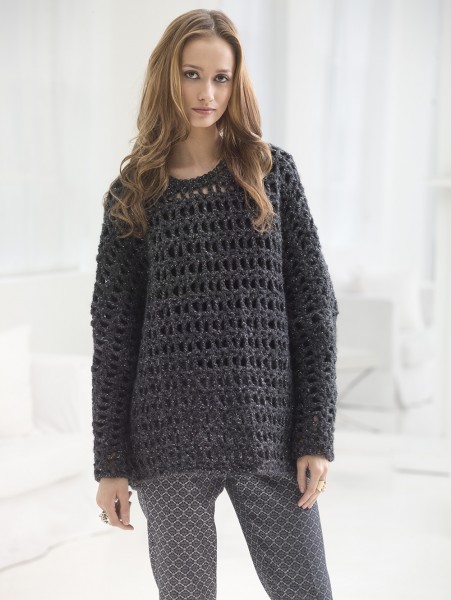 Having trouble viewing this video? Click here: https://youtu.be/wTjrOwb6Q-Q
April 9th, 2016
There is no question I am a big fan of sighing! When I am stressed I am like the big bad wolf, blowing houses down with my sighs. So I was so excited when AJ told me about this breathing technique! Lion's Breath helps to stretch your face which is so important for us knitters and crocheters. You may not even be aware of it, but it's easy to tense up your face and neck when doing repetitive, precise needlework.
So, if you are one of those tense knitters or crocheters, or just want to get out your everyday frustrations, Lion's Breath is Perfect for you!
Having trouble viewing this video? Click here:https://youtu.be/tFhE29HVF_c
April 8th, 2016
This month all of Vanna's yarns are on sale! Vanna's Choice® has been one of your favorite yarns for years and your purchase helps to support St. Jude Children's Research Hospital. It's a great yarn for everything from afghans to baby booties because it's colorful, soft, and machine washable.
Shira modeled 3 of your favorite patterns that are made with Vanna's Choice®. Which one is your favorite?
Having trouble viewing this video? Click here:https://youtu.be/r8hIS54KdHk