February 20th, 2015
We can't stop! There are just so many ways to turn a simple rectangle into a gorgeous garment. The Simple Shrug and Vegan Fur Poncho are perfect examples of that! Now we're taking it to the next level with the Tribeca Tunic.
This top is made from two rectangles seamed together at the sides. Although the pattern is for intermediate knitters, there's no shaping at the armholes or neck so it works up in a breeze! The front and back pieces are made up of smaller rectangular panels which a bold, geometric look that's very trendy right now.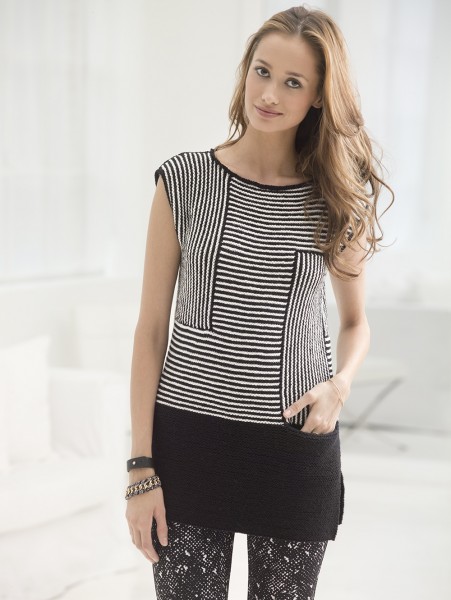 Made with Modern Baby®, you can see that the eye-catching contrast makes this yarn a fun choice to use for garments for children and adults alike! Plus, you'll love the sparkly detailing done with Vanna's Glamour®!
Design Editor Susan Haviland describes the construction of this unique piece in the video below:
:: Having trouble viewing the video above? Click here: http://youtu.be/nupttLNWYwQ ::
February 20th, 2015
Here is the latest installment of Lola, from its creator Todd Clark.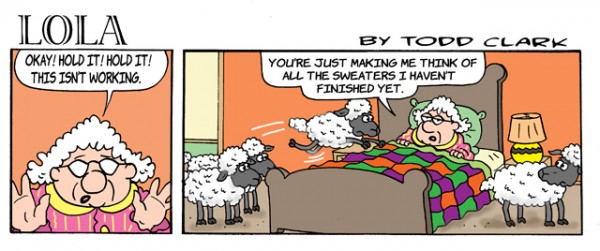 *** *** ***
Subscribe to The Weekly Stitch Newsletter
Get a FREE weekly email featuring patterns, articles and special offers. As a bonus for subscribing, we'd like to offer you 15% off your first order! *
:: Sign up now ::
February 19th, 2015
It's the middle of February, and many of us in the Northeast are still getting plenty of snow, cold, and wind – so it's the perfect time to get out those hooks (or needles) and work on something warm and cozy.
The Flattering Cowl is a popular pattern that's easy to make, and super snuggly because it's made with Lion Brand's plush Homespun® Thick & Quick® yarn. It's definitely a gratifying project because it works up quickly; you can easily finish this cowl in one day.
You'll love the feel of Homespun® Thick & Quick® as it keeps you nice and toasty in this super bulky cowl. Watch the video below for a tutorial that's great for beginners. Vanessa, from the Crafty Gemini, shares tips and tricks for working on this cowl, and offers advice for creating different variations. Enjoy!
:: can't see the video above? click here: http://youtu.be/lsuM-bx7f6o ::
February 18th, 2015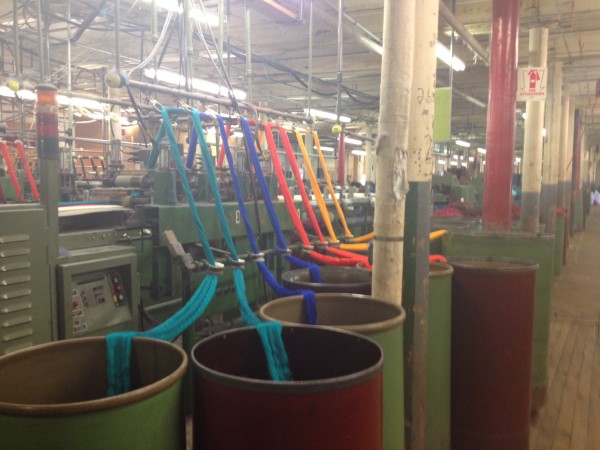 Did you know that many of Lion Brand®'s yarns are American-made? Some of them — Homespun®, Homespun® Thick and Quick®, Quickie, Country® and Spinnables — are all related because they're all made in the same mill in New Hampshire. I've had the pleasure of seeing these yarns being created first hand – it's magical!
When I first walked into the mill, I could envision what it looked like 135 years ago – the same. Even though the mill is so old, it still works, making lots of yarn each day. To make it run, there are many employees from the town. That's one of the most wonderful things about the mill — it supports hundreds of families!
I am so passionate about yarn and claim I have yarn for veins, so watching the whole process come to life was very exciting! I had the opportunity to see how the different colors come together to create a popular Homespun® color, Tudor, along with finding out how the dying process works. There were barrels of Quickie getting ready to be put into skeins. Near the Quickie were barrels of different colors of unspun yarn, used for Spinnables. It took a lot to hold myself from jumping in!
February 18th, 2015
In 2003, Colette Smith was told by a doctor that due to the pain in her hands, she would need eight hours of surgery and she would never be able to knit again.  But for Colette, knitting is an essential part of her life.  She is a fiber artist and designer and simply loves to knit.  When she heard those words from her doctor, she took matters into her own hands (literally) and decided to find a way to heal her hand pain without surgery. Today she is pain free and knits eight to fifteen hours a day – you read that right – she knits 8-15 HOURS A DAY!
If you're a knitter or crocheter with hand pain, Colette has some great advice based on her own research and experience.  Here's her story, plus suggestions for those of you who have hand pain, including some surprising tips about how to sit, how to sleep and exercises that could make help you continue to enjoy the crafts you love so much.
:: Having trouble viewing the video above? Click here: http://youtu.be/LOpDVR4UGTs ::
February 17th, 2015
It's official: I'm making my first sweater.
I've worked at the Lion Brand Yarn Studio in New York City for two years and now that I am the Brand Ambassador for the company I thought I would take on a knitting fear: making my own sweater.  I've been a knitter for a good portion of my life and I have yet to conquer knitting a sweater.  How is it that I have knitted plenty of socks and not a sweater? This makes no sense to me, so I am going to rectify the situation.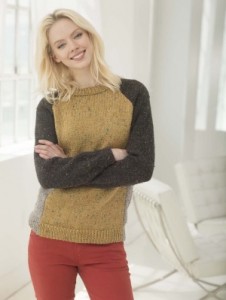 Every Wednesday night, from February 11th – March 18th, I'm taking part in a Knit-Along at the Lion Brand Yarn Studio in New York City.  In an ideal situation, I'd finish my sweater by the 18th of March, but this is my first sweater so give I'll give myself a little slack.  The pattern I'm following is  The Essential Fall Pullover made with Heartland®.  I decided to get a little creative and instead of doing the three colors that the pattern calls for, I will be doing two. I'll be using Black Canyon for the front and back, and for the side panels and sleeves I'm going to be using Biscayne.  I chose Black Canyon as the main color for the sweater because, like many people who live in NYC, black is a prominent color in my wardrobe.  On the other hand, I'm also trying to get a little more colorful, so I decided to incorporate Biscayne for the sleeves and side panels.  It will give it a nice "pop" and allow me to dress it down and up!
Since I worked in the studio for two years, I had the chance to really get to know my co-workers, and I got to see how talented and creative they truly are.  Ann, who is the instructor for the KAL, is a machine knitter and teaches machine knitting at the studio, but she also is so creative when it comes to knitting garments.  When I found out that Ann would be the instructor for the KAL, I was sold,  it would guarantee that for at least once a week for the next month, I would get to see her.  Her creativity is infectious and it inspired me to take this sweater making to another level.
For the first meeting she showed up with sketches (that she had made) of what her sweater would look like with the colors she chose.  She also suggested going to Pinterest for color inspiration. I thought that was a really clever idea and plan on using that for other projects as well!
As you can see I started the ribbing for the back of my sweater. But the main reason for writing this is because I need your support in completing this project. There have been so many times that I have wanted to make a sweater and I've second guessed myself even though I know I have the skills.
So, I Need You – You Wise Knitters And Crocheters – Give Me Your Best Sweater Advice And Support!
Before I really get into the nitty-gritty of the back portion of the sweater – do you have any good tips for me as I embark on this journey? What did your first sweater look like?  Is there something you are too nervous to make because it's just overwhelming?
Please use the comments below.  You can keep track of my sweater making exploits here on the blog and by following me on Instagram and Twitter.
February 17th, 2015
Blogger and author Kathryn Vercillo is an expert in the area of using crafting to heal, having researched the topic extensively for her book Crochet Saved My Life. In this post she shares how the Waldorf schools incorporate knitting and crochet into their curriculum, benefiting children in a variety of ways. Read Kathryn's previous blog posts on the Lion Brand Notebook here.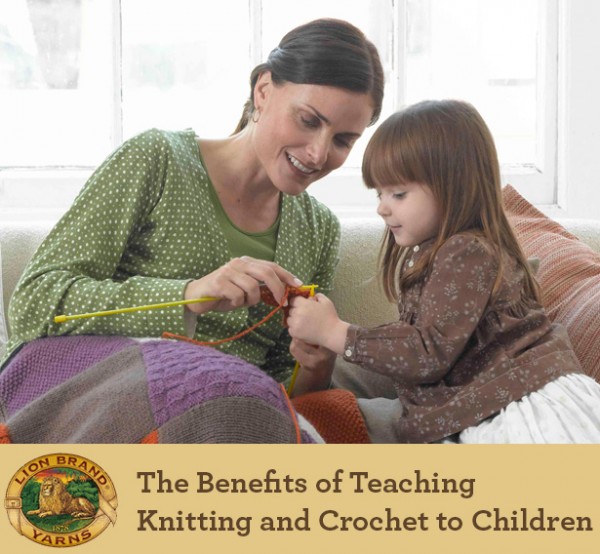 I have to confess that I was a little intimidated when I first walked into the 3rd Grade Handwork Class at Sebastopol Charter School in California. The children seemed so magical and creative as they prepared to work on their crochet projects. Before they began, they sang a song, led by teacher Kristen McLaughlin, about the cotton plant that grows to become the yarn they work with.
Today, in fact, the kids were working with wool. Kristen, who's been teaching at the school since 1997, used to have the kids work with double-worsted cotton yarn but has recently switched to wool. The kids don't seem to mind as their hands wield the hooks to create the shapes that will become water bottle cozies, hats and granny squares. With half of the school year behind them, these kids are well-versed in the basics of crochet.
By third grade, the students have a couple of years of handwork under their belts — a critical component of the Waldorf curriculum. They begin with knitting in first and second grades, starting with finger knitting, and then knitting with two needles. In third grade, the handwork is crochet. In fourth grade they return to knitting, learning to knit on four needles. In later grades, they add cross-stitch and sewing to their handwork skills set.
Read the rest of this entry »
February 16th, 2015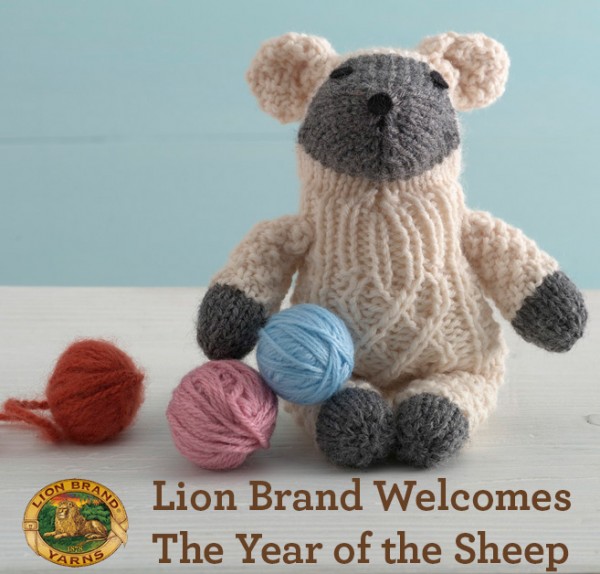 The Chinese New Year is represented by a rotating cycle of twelve animals. There are years named for dragons, and others named for dogs, snakes, and even rats!  This new year, which begins on February 19th, is the Year Of the Sheep!  It's the cutest animal and the yarniest animal … definite reasons to celebrate. If you're giving a baby gift to a baby born in the next twelve months, this is the gift – try our Little Lamb Sock Critter as your first project for the new year!
Below are a few of our favorite sheep-inspired patterns for your knitting and crochet enjoyment this year!
February 15th, 2015
This past week I had the pleasure of visiting the Big Apple Knitters Guild to unveil some of our newest offerings, live and in person. As the new Brand Ambassador, and a fifth generation member of the family business at Lion Brand, I was bursting with excitement to meet about eighty knitters and to talk about the yarn world that I love so much.
I was SO energized by their enthusiasm that I want to share with you their top 5 "oohs and aahs" of the evening:
| | |
| --- | --- |
| | 1. The Penelope Poncho – made with Country®, who doesn't love this snugly, cozy great easy knit project? |
| | 2. Artisan Gift Wrap – I need it and I need it now! I just want to wrap my cats in it. |
| | 3. LB Collection® yarns – These yarns are really well-priced, stunning, and they are not going to make me broke. Can I have some more please? |
| | 4. 2-in-1 Tote – This invention is genius! Always searching for your sunglasses and hoping they don't get tangled with your yarn? Perfect, this one's for you. |
| | 5. Hudson Riverfront Hat – There is nothing bad about some glitz and faux-fur – Pelt and Gold Leaf® create the magic here. I love this hat and I need to make it myself. |
I look forward to speaking to more groups in the New York, New Jersey and Connecticut area so if you would like me to visit, please contact me at Shira@lionbrand.com. In the meantime, I share the inside scoop about what it's like living the yarny life at Lion Brand on Intagram and Twitter, where you can follow me @Shiraroars
February 15th, 2015
You'll impress your friends (and yourself) when you make this Simple Shrug!
The Lion Brand® design team has developed a collection of gorgeous, uncomplicated patterns based on straightforward rectangles. The Simple Shrug is the perfect project for any crocheter who's ready to graduate from making accessories!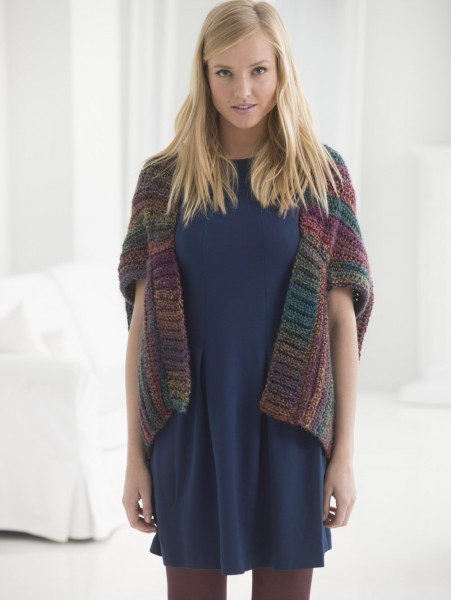 This shrug can be worn in multiple ways, so it's very versatile! Wear it over your favorite little black dress or pair it with jeans on a chilly summer night. Made with Lion Brand®'s self-striping yarn Unique, the beautiful color changes do all of the work for you!
Design Editor Susan Haviland explains the easy construction of the Simple Shrug in the video below:
::Trouble viewing the video? Click here: http://youtu.be/2Ob0aDg1E9s::