June 17th, 2014
Writer, illustrator, and knitter Franklin Habit joins us for his monthly column featuring humor and insights into a yarncrafter's life.
* 6–7 a.m. Twisted Pearl. Early morning yoga for knitters and crocheters with Pearl Cotton.
7–9 a.m. Morning Wound Up. Who's making news? Who's making socks? Cast on for the perfect day with Tencel Washington, Angora Blends and the whole Wound Up team. Plus: weather and color forecasts for your area.
9–10 a.m. Sesame Street. Brought to you by the letters K and P and the number 2.
10 a.m.–11 a.m. The Price Is Right. Contestants guess the retail prices of various yarns, then buy all of them.
11–noon. Swatch Game. Contestants don't actually play, they just tell everyone they did.
Noon-1 p.m. The Selvedge of Night. Wrench returns from his secret mission to find that Veracity has run away with his size four needles. Dolores discovers a baby in a pile of discounted merino.
1–2 p.m. All My Mill Ends. Stricken with amnesia after falling into the spinning machine, Clarice struggles to remember which clue of the mystery shawl she was working on.
2–3 p.m. Stitch and Kvetch. Today's discussion topics include What Are You Working On, What Yarn Is That, Where Did You Buy It, and Do You Think This Is Going to Fit Me.
3–3:30 p.m. The Brady Bunch. The kids attempt to knit a sweater for Carol's birthday; everyone but Jan is able to get gauge.
3:30-4 p.m. Gilligan's Island. At Mary Ann's request, the Professor develops a primitive version of Ravelry made from coconut shells and old clothing. When Gilligan posts a question about copyright, the island descends into madness and bloodshed.
June 16th, 2014
This column by Barbara Breiter, author of The Complete Idiot's Guide to Knitting & Crocheting, originally appeared in The Weekly Stitch newsletter.
Buttonholes are commonly used in cardigans but you may also find the need to make one for purses, shawls, or scarves.
Many patterns will have an instruction to make a basic buttonhole by working a yarn over and then knitting the next 2 stitches together. This buttonhole is functional but it's not very stable and it can look a little sloppy. Moreover, the size of the buttonhole is totally dependent on the weight of the yarn and the needle size. The thinner the yarn and the smaller the needle, the tinier buttonhole will be.
So what if you want to create an extra large button?
Vertical Buttonhole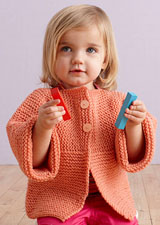 A vertical buttonhole can be made any length. It can be used in many situations when you would usually work a horizontal buttonhole. If you are working a 6 stitch buttonhole band on a cardigan however, it's not practical to use this type of buttonhole.
Work across the row to where you want to place the buttonhole.
Drop the yarn, add a second ball and continue across the row.
On the next row, work across until you come to the other ball of yarn, pick it up and complete the row.
Continue until the buttonhole is the length you wish.
Work all the stitches across the next row with one ball of yarn only and this will close the gap.
Horizontal Buttonhole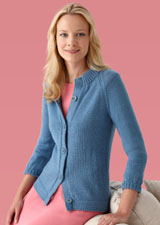 This horizontal buttonhole can be made any size you wish. You'll need to count your stitches and carefully determine the placement as this buttonhole requires 1 extra stitch…a 3 stitch buttonhole requires 4 stitches total to knit it.
Work to the point where you want the buttonhole.
With yarn in front, slip the next stitch purlwise.
Place the yarn in back and leave it there.
Slip the next stitch purlwise and pass the first slipped stitch over it.
Continue to bind off in this way for the required number of stitches (if you want a 3 stitch buttonhole, do this 3 times total).
Slip the last stitch you bound off back to the left needle and turn. Place the yarn at the back of the work.
Using the Knit Cast-On or the Cable Cast-On, cast on the number of stitches you bound off plus 1. Turn.
With yarn in back, slip the first stitch from the right to the left needle and knit these 2 stitches together.
With a little practice, you'll master buttonholes in no time!
Try a baby sweater (like the Fresh Melon Sideways Cardigan shown above right) or an accessory pattern like our Embroidered Hood for practice, then graduate to an adult project (like the Modern Raglan Cardigan shown above left)
–-
To sign up for the Weekly Stitch and get columns like this, free patterns, how-to videos and more, click here.
June 14th, 2014
Here is the latest installment of Lola, from its creator Todd Clark.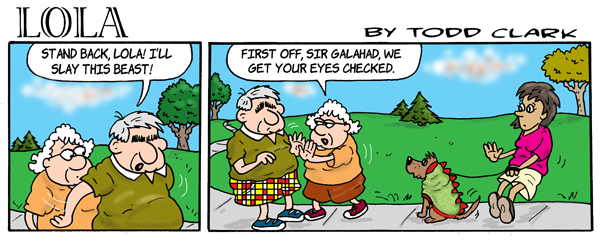 Want to knit the Dragon Slayer Dog Sweater seen in this week's Lola comic? Get the free pattern here. There's also a Dragon Slayer Hood too!
June 14th, 2014
Designated by President Woodrow Wilson in 1916, Flag Day is celebrated in the United States on June 14. It's observed to commemorate the adoption of the flag of the United States, which happened on that day in 1777.
Although not an official federal holiday, it is at the President's discretion to proclaim its observance.
We don't want to step on anyone's toes or anything, but here at Lion Brand we're calling it … it's time to celebrate Flag Day and do it in style. In fact, all of Lion Brand's American-made yarns like Heartland, Hometown USA® and Kitchen Cotton are 20% off for a limited time!
Here are some of our favorite patriotic patterns in red, white and blue:
Crochet Flag Headband
Knit Flag Pullover
Crochet Flag Afghan
Knit Team USA Mittens
click for crochet version
Crochet True Colors Scarf
Loom Woven Placemats
Crochet Little Super Hero Blanket
Knit Americana Afghan

Crochet Independence Day Mats
June 13th, 2014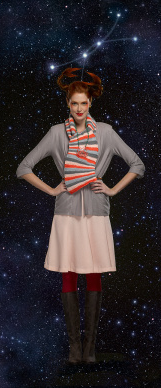 If you were born between June 22 and July 22, your zodiac sign is Cancer, the fourth sign of the Zodiac represented by the crab. Folks born under this sign are often gentle souls who take great pleasure in the comforts of their home and family life. Traditionalists by nature, Cancers also tend to be patriotic. Another thing to know about Cancer, those born under this sign definitely wear their hearts on their sleeves and they have no shame about it!

The colors in this scarf match the essence of the sign of Cancer: pink for hopeless romanticism, orange for strength and endurance, silver blue for water (the element Cancers are ruled by), and silver grey for the Moon (also Cancer's ruler).
If you have a friend who has a birthday coming up, a handmade gift is perfect anytime, but being Cancers are so caring and affectionate, there's no doubt your friend will appreciate the sentimental value of a gift that's come from your own hands. If you are a Cancer yourself, make two – one for you and one for a friend!
The Cancer zodiac scarf is available for both Knit and Crochet (pictured). Not your sign? Check out our other zodiac scarves here.
June 13th, 2014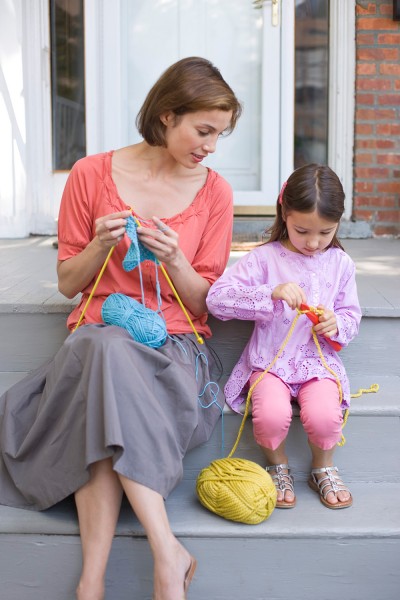 World Wide Knit In Public Day takes place June 14-June 22 this year. Now, you might think, "Why do I need a holiday to knit (or crochet) in public?" The reason is that in many peoples' brains, knitting  and crocheting still reside in a section labeled "old fashioned." Believe it or not, 10-15 years ago, people were actually ridiculed for pulling out their yarn, needles and hooks in public and they hesitated to do it.
We've come a long way. But we're not there yet.  I was knitting at an airport a couple of weeks ago and a man watching intently spoke up after a while and said, "I haven't seen anyone do that since my grandmother."  The man was in his 60s! I wanted to ask him where he's been but obviously, he hasn't been anywhere where he has seen people who don't look old fashioned knitting or crocheting in public.
That's where you come in.  Make your presence known. Promote your hobby on the train, the subway, the airport, the doctor's office, the beach, the park,  the hockey game, the local coffee shop or bar. You know how great it is that you have this craft.  It helps you relax. It offers you the opportunity to give meaningful gifts. It allows you to be creative and productive in a tangible way.  Go out. Knit in public.  People will talk to you and you'll have an opportunity to tell them what they're missing.
Visit World Wide Knit (&Crochet) In Public Day's Facebook page to find or lead a group and use the hashtag #wwkipday to find information and share images and info about knitting in public.
Then, let us know how it goes.  We'd love to hear your stories!
June 12th, 2014
Today we're highlighting four awesome kits to inspire you to get you started on your next project! Two knit and two crochet, each kit includes all of the yarn you need to complete the project, and since everything is bundled for a specific pattern, you get a bargain deal!
Be sure to check out the links below the images for more kits, including options for babies, afghans, adult garments and more.
Interested in kits for baby related patterns? Click here.
Looking for more garment and accessory pattern kits? Click here.
Want to check out more afghan and blanket kits, then click here.
June 11th, 2014
There's something about the color combination of red, white, and blue.  It has the power to make you feel bold, confident, and most of all, proud. With the 4th of July coming up in a few weeks, we're celebrating the American spirit in the best way we know how - by crafting up a storm!
To represent your love for American-made items (and ours too!), we're offering a 20% discount on all of our Made in the USA yarns like Country®, Heartland, Hometown USA®, Kitchen Cotton, and, one of our newest yarns, Quickie!
You can check out more of our American-made yarns here.
Below you'll find some of our favorite Lion Brand patterns that capture the American spirit best:
What will you be making that's red, white, and blue?
June 10th, 2014
As we continue on the journey of The 7 Wonders of the Yarn World – a spectacular series of handmade, yarncrafted sculptures by fiber artist Nathan Vincent – our next stop is an exploration of the beautiful motifs of granny squares. The 6th yarn wonder in our collection features a small scale Great Wall of China, assembled with hundreds of granny squares to compose the wall itself and the hilly landscape it sits on.
Sometimes thought of as old-fashioned, granny squares are experiencing a revival of sorts and being refashioned into numerous different styles and shapes. In fact, you'll find they're quite popular in "hippie-inspired" spring and summer collections. Granny squares, which are crocheted, can be formed into different shapes like hexagons, flowers and stars. Crocheting a granny square motif is done by crocheting in multiple rounds from the center starting point, moving outwards.
The granny squares created in the Granny Square Coat pictured above are a harmonious blend of jewel tones found in our color-changing yarn Unique. The modern construction of this granny square jacket is slightly oversized and cozy, making it ideal for pairing with skinny or bootcut jeans and a basic top. Check out more granny square fashions below!
June 9th, 2014
This column by Barbara Breiter, author of The Complete Idiot's Guide to Knitting & Crocheting, originally appeared in The Weekly Stitch newsletter.
As you work on shaping a project, a pattern may ask you to increase or decrease a specific number of stitches evenly across a row or round. But it won't tell you how often to do this…just to do it evenly.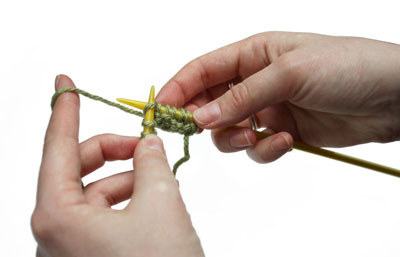 You don't want the increases or decrease bunched up together at one point because it would make your piece lopsided. To avoid this, you want them spaced as evenly as possible across the row or round.
So you'll need to do some simple math in order to determine how often to increase or decrease so they are spread out evenly.
Getting Started
You should know the number of stitches you currently have. The pattern will indicate how many stitches you need to increase or decrease.

Example: Let's say you have 100 stitches and the pattern calls for 10 increases. Dividing 100 by 10 equals 10, so you would increase once every 10th stitch.

If you're knitting in rows, you'll need to add one to the number of stitches you are to increase. Otherwise, in the above example of 100 stitches and 10 increases, the first increase would occur on the 10th stitch and the last increase would occur on the 100th stitch (10, 20, 30, 40, etc.).

Example: Suppose you have 110 stitches and you're to increase 10 stitches. Adding 1 to 10 equals 11. Dividing 110 by 11 equals 10, so you would increase one stitch every 10th stitch.

Whether knitting in the round or back and forth, the numbers don't always work out exactly even, and you will get a fraction instead.