January 15th, 2016
Your head may already be topped off due to the winter chills, but, today, wear your hats with pride — it's National Hat Day!
This winter staple is always a great go-to project for colder seasons, and is the ideal portable project. Play up your pattern with decorative stitches, yarn substitutions, or embellishments like crocheted motifs or pom-poms!
Snowy or sunny, you're sure to get use out of a beanie or toque. Celebrate by starting on a new hat (or two!) for the new year — see a few of our favorites below!
January 14th, 2016
New year, new works in progress! With a collection of yarns all made here in the U.S.A featured for the month of January, now's a great time to get started on a new project.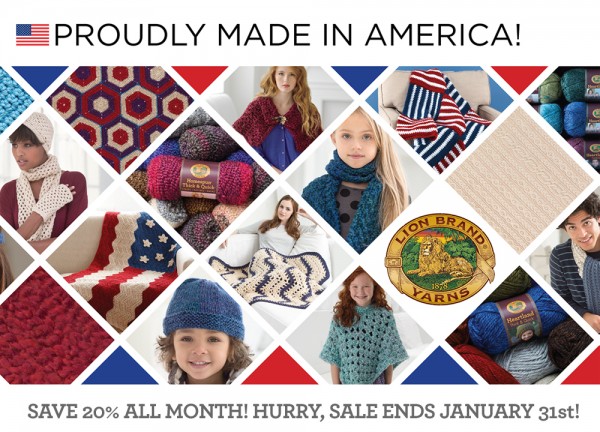 Through January 31st, save 20% on Homespun®, Homespun® Thick & Quick®, Country®, Hometown USA®, Heartland®, and Heartland® Thick & Quick®!
See some of our newest patterns for our featured yarns below!:
January 13th, 2016
For every Tea with Shira, there are a few Outtakes with Shira.
We love making videos here at Lion Brand Yarn for you all to enjoy!  Sarah, who films, and edits all of these Tea with Shira episodes (among so many other videos) does such an awesome job of making everything look amazing. What you don't see all the times I mess up!
While we make more episodes, enjoy these outtakes! I can't wait to have tea with you in the new year!
:: Can't see the video above? Click here to watch – https://youtu.be/ayaSRsG1Dok ::
---
Looking for a project to start on? Check out the Tea with Shira Cowl, designed by Shira herself!
January 12th, 2016

It's a new year and we're looking at our overflowing stashes with simultaneous glee and fear. In this edition of How-To Tuesday, we've rounded up ways to declutter and much more — you'll thank us next season when Spring Cleaning is in full gear!
First off, let's learn to read a yarn label.
Organizing by yarn weight? Check out our guide!
See which household items you can re-purpose to store your yarn in.
If you're short on space, learn how to edit your stash to a manageable size.
While you're at it, organize all your notions too!
Learn how to wind a center-pull ball by hand — it makes a difference when storing and working with yarn, really!
Fastest way to stashbust? Hold multiple strands of yarns together and create chunky knits with big needles.
Phew! You did it! Now that you're organized, here are 8 things to think about before starting your next project.
January 11th, 2016
December saw a the beginning of a mild winter, but that didn't stop you from seeking out projects to stay warm in!
The ever-popular Level 2 Easy Knit Cardigan topped the list with its wide size selection (5 sizes!) and easy-level pattern, available as a Lion's Pride® Woolspun® Brandagram.
We introduced Color Clouds! Looking to get those big, chunky stitches you've been seeing in fashion lately? This jumbo-weight yarn is the answer! Incorporate the trend into your winter wear with projects like the Devon Scarf or Cliff Rose Cowl.
Cuddle up quickly with fast afghan projects like the 5 1/2 Hour Afghans and Cromwell Court Afghan. Whether you're using a super bulky-weight yarn or double-stranding, you'll have a new home decor piece in little time!
See the full list of December's top patterns below!: