March 7th, 2014


(image via vogueknittinglive.com)
We're excited to be on the marketplace floor as a vendor for our first ever Vogue Knitting Live showcase in Seattle, so be sure to see us at booth 224!
We look forward to greeting our friends in the Pacific Northwest, checking out the amazing fiber art displays that will be around the marketplace, and seeing some of the hottest trends in knitwear fashion.
As usual, we'll be selling yarn at a 20% off discount, so those who haven't gotten to experience the LB Collection® in person will be able to pet and fawn over our super-soft Baby Alpaca, luxurious Cashmere, hand dyed 100% Silk and more.  In addition to selling great yarns, we'll have catalogs and some free patterns available to take home with you.
Plus, you get a free anniversary tote with your yarn purchase!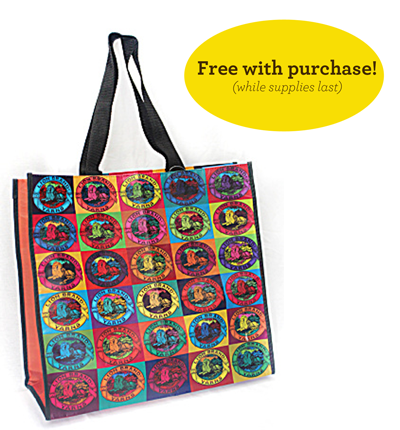 Do you plan on going to Vogue Knitting Live, Seattle? Let us know in the comments.
March 7th, 2014
There are only two kinds of people in the world, The Irish and those who wish they were.
You probably know that St. Patrick is revered as the patron saint of Ireland and that on March 17th every year many folks celebrate his life and Irish culture in general. But do you know why?
via Spoonful:
Born in Britain during the 4th century, St. Patrick was kidnapped and enslaved by Irish raiders when he was a teenager. Although he was able to escape after six years and become a priest in Britain, he later chose to return to Ireland as a missionary, in order to help spread the teachings of Christianity to pagans. According to Irish folklore, he also used a shamrock to explain the Christian concept of Trinity to the Irish. In spite of continuous opposition from pagan leaders, he continued to evangelize for thirty years while baptizing newly converted Christians and establishing monasteries, churches, and schools. He died on March 17th and was canonized by the local church.
While some folks still celebrate March 17th as a religious holiday, these days St. Patrick's Day is more often a celebration of Irish culture in general.
With that in mind, here are several St. Patrick's day patterns to help you get the festivities started and …
March 7th, 2014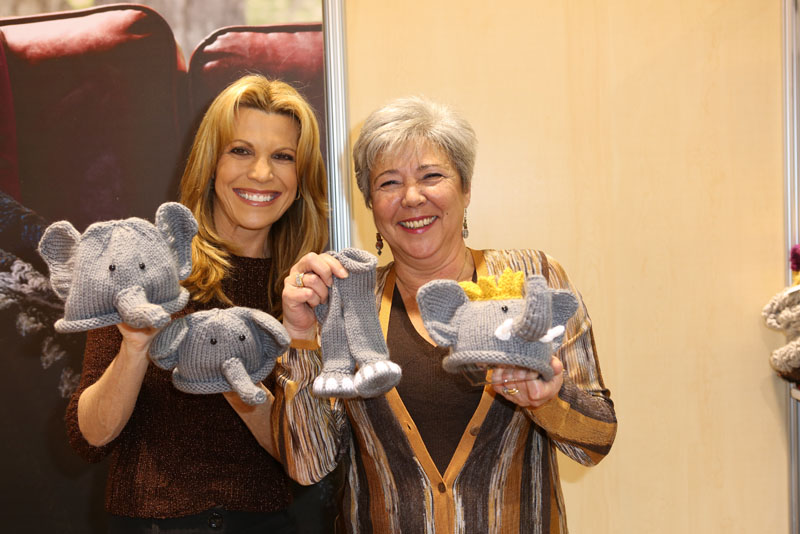 Vanna White and last year's winner, Nancy Nielsen,
with her "Gramminal" baby hat and bootie set.
It's time to vote for the winner of the Vanna's Choice Contest! The contest started in November 2013 and ran until a month ago. Entrants designed a project with at least three Vanna's Choice colors and sent us their photos.
The Grand Prize winner gets a trip for two to Los Angeles, California to meet Vanna White. There are 15 additional prize winners who will receive yarn. We've selected 27 finalists from the many entries we received. They are some of the most clever, beautiful and original ideas we've seen from our contests and we think you'll be amazed as well.
Many tell the story of what inspired them, the moment that the idea occurred to them, and why they chose their colors. Some even took pictures of themselves and their families using their creations.
Last year our prize winner not only met Vanna, but was offered a publishing contract for a book of patterns for her whimsical baby hat and booties patterns.
Help make someone's dream come true and get inspired at the same time. You can vote once a day so choose one or more favorites and vote often.


*Note: You will need to use your Lion Brand account in order to vote. If you do not have an account with us, please create one to not only vote for a winner but have access to over 5,000 knit and crochet patterns.
March 7th, 2014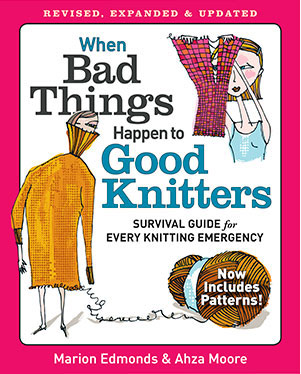 Sometimes when we craft we have other things on our mind. Things that contribute to thoughtless mistakes like: forgetting a row, dropping a stitch, forgetting to change needles, etc. Honest simple mistakes . . . and they can happen to the best of us.  Before giving up and calling it quits, take a look through When Bad Things Happen to Good Knitters by Marion Edwards and Ahza Moore. It's a great read and it remind us that even though bad things happen, you can easily correct them.
Providing helping hints and advice, this book is great for all levels of knitters — this updated version also features six great patterns to try!
We've partnered with Taunton Press to bring you an excellent giveaway:  we'll be picking 3 lucky winners who will each receive  a copy of When Bad Things Happen to Good Knitters!  
Contest ends March 14th, so enter now and good luck!
CONTEST NOW CLOSED.
Winners are: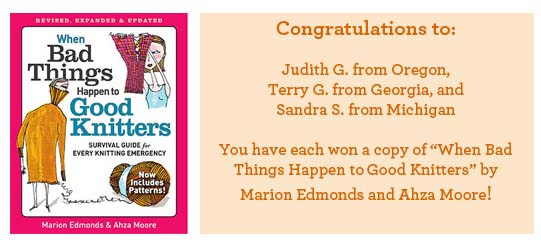 Winners will be notified by email!
March 6th, 2014
Kohl Crecelius and two of his friends from high school wanted to do something meaningful with their lives and they decided to use their crochet skills to make it happen. When I first heard their idea five years ago — California surfer guy who loves to crochet beanies and wants to use that skill to lift people out of poverty — I could not have imagined how that story would develop.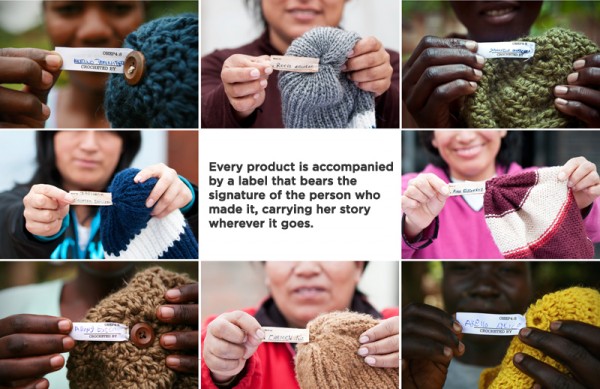 They weren't exactly sure how they would use their crochet skills for good until one of the friends took a trip to Uganda. There he met people who had been living in government camps for over 20 years. Rebels had attacked their villages and these people had no other means of survival.  They were poor, uneducated and had little hope for their future.  A generation of children had grown up in the camps knowing no other life.
The "Krochet Kids," as they were later described by their local newspaper, taught the women in the camps how to crochet hats, and they then helped them sell those hats back in the U.S.  That's when we got the request in 2009 to help get them started with a donation of yarn.
March 5th, 2014
As a typical excitable Aries I usually like for my accessories to match my inner fire. I found myself gravitating towards crimson hues this winter and was surprised to discover how well the zodiac scarf for my sign meshed with my wardrobe. I could definitely see myself rocking this scarf with a flared red dress, black leggings, and knee-high riding boots for a night out with friends.
Click here to find the pattern for your zodiac sign. Don't forget to share pictures with us to show us how you make the look uniquely yours!
March 2nd, 2014
In honor of National Craft Month, we're sharing several truly awe-inspiring projects from our Customer Gallery–perhaps one was even made by you! The following customer creations will have your imagination running wild about your next project (after you've finished your current one of course).
Have you recently made a project using Lion Brand yarns? Please share with us in the Customer Gallery!
February 28th, 2014
This article originally appeared in TreeHugger and is reprinted with permission from Katherine Martinko.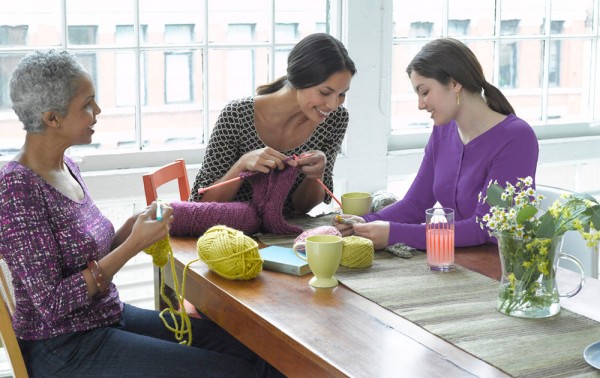 Last month I wrote an article called "Why bother knitting a scarf?" Much to my surprise, I received thousands of positive reactions from readers who share my love of homemade, local, and beautiful "slow fashion" items. Clearly, knitting is being embraced by people from all walks of life who benefit from its peaceful, relaxing repetition. It got me wondering – what's really going on when people knit? Why is it so tremendously popular?
It turns out that knitting has incredible health benefits. It makes people feel good in just about every way. A bit of research has revealed a wide range of ways in which knitting helps humans cope, physically and mentally.
1. Knitting is used for therapy. It's a powerful distractant, helping people manage long-term physical pain. For those who are depressed, knitting can motivate them to connect with the world. It is a conversation starter, allowing people to interact politely without making eye contact. It builds confidence and self-esteem.
2. Knitting is supremely relaxing, which is extremely important for reducing stress and anxiety. Dr. Herbert Benson, founder of Harvard's Mind/Body Medical Institute, wrote The Relaxation Response, in which he recommends the repetition of a word, sound, phrase, prayer, or muscular activity to elicit "the relaxation response" – decreased heart rate, muscle tension, and blood pressure. Knitting is likened to meditation, sometimes described by knitters as "spiritual" and "Zen-like."
3. Knitting connects people. By joining a knitting group, a solitary activity turns into a social one. One study, called "The Benefits of Knitting for Personal and Social Wellbeing in Adulthood" and published in the British Journal of Occupational Therapy, found that "knitting in a group impacted significantly on perceived happiness, improved social contact, and communication with others."
February 27th, 2014
Gabby Blumenthal, 20 year old college student and the daughter of Jack Blumenthal, Senior VP of Lion Brand Yarn Company, shares her story of growing up in the family that started Lion Brand Yarn Company. She recently attended the annual Craft and Hobby Association trade show with her Dad, and talks about her experience.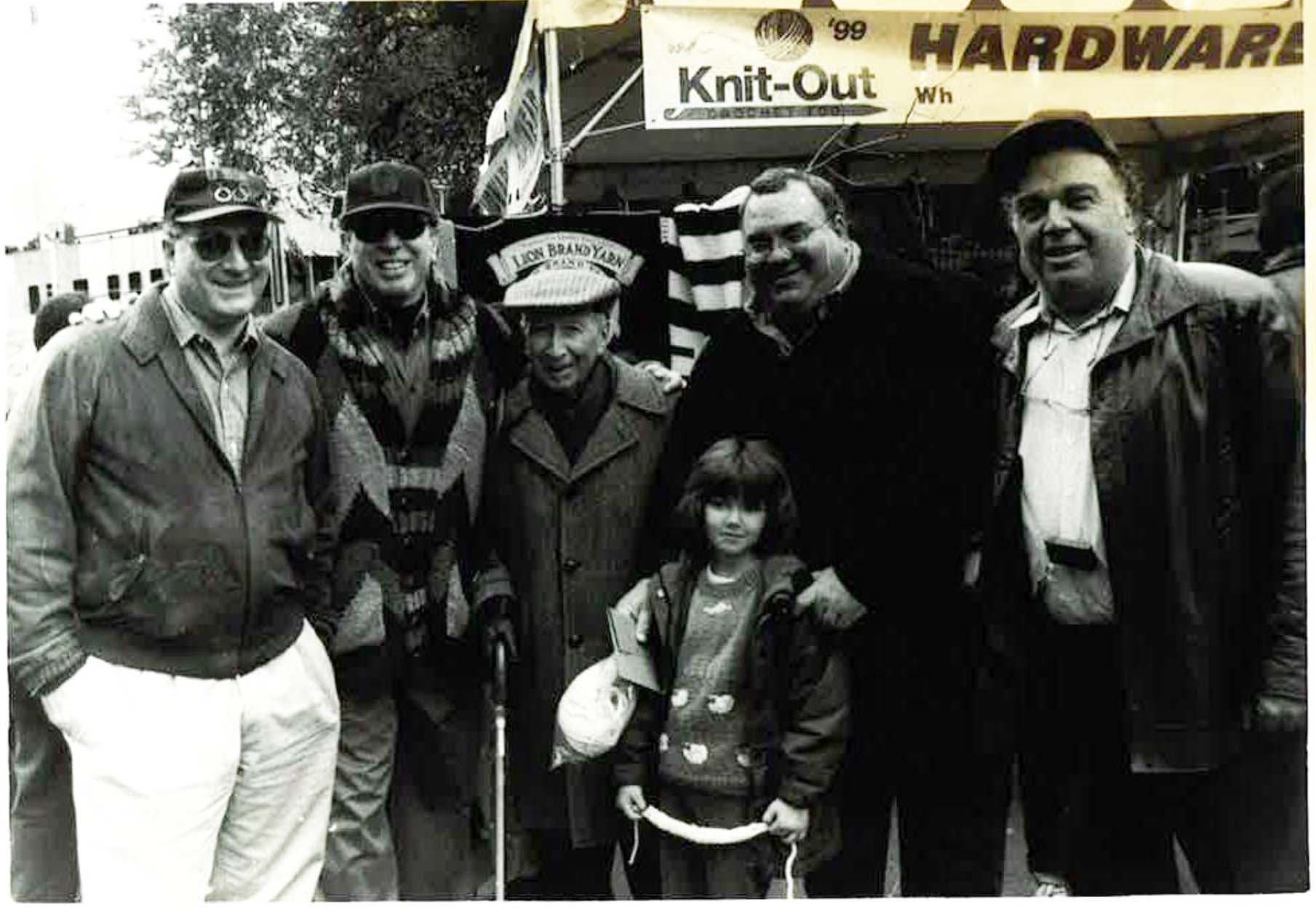 Family picture taken in 1999.  Pictured from left to right: Dean, David, Isidor, Gabby, Jack, and Reuben Blumenthal.
When I was a little girl, my Dad would come home from work, loosen his tie and tuck me into bed with a story. Now, my Dad's stories were far from conventional. For one thing, he was terrible at make-believe and couldn't tell a princess from a portal. So, telling me all he knew how to tell, my Dad would talk at length about his own life-long adventures. I can't tell you how many times I heard about how he got stuck in an international airport, or when he was babysitting a cat and, not to ruin the story or anything, but the poor cat died.
When these "epic" tales wore thin, my dad started on the family tree. I heard about everyone from Great, Great Grandpa Reuben to my own Grandfather, George, whom I never had the chance to meet and am honored to be named after. I heard about how Dad wanted to go into Lion Brand since he was four years old, always knowing that he was passionate about having a career in the yarn industry.
February 26th, 2014
Every year, Lion Brand presents an exciting booth display and fashion show at the Craft and Hobby Association Convention in Anaheim California. Past booths have included a Viennese table filled with yarn crafted cakes, cookies and other deserts and a menagerie of giant animal sculptures created with yarn.
Last month, we ramped up the excitement with the 7 Wonders of The World sculptures which were designed by fiber artist Nathan Vincent. Not only did each sculpture represent one of the 7 Wonders in yarn techniques, but we presented a fashion show where each technique was reflected in a variety of fashions.  Vanna White was there to emcee the show and all of the patterns we presented are now available on our website.
Our first highlighted wonder of the world is Stonehenge, which was designed to reflect texture and it's importance to knitting and crochet design, including felting.  There was even life-like looking moss around the base of the monument.
One of the best things about knitting and crocheting your own garments is the rich texture you can achieve by using yarns that are super bulky, sparkly, or furry.  You'll find that exceptional look in the yarns that these fashions were made of including Imagine, Homespun® Thick & Quick®, Vanna's Glamour®, Wool-Ease® Thick & Quick® and Romance®.
We hope you enjoy the ideas and unique designs represented in the popular textured fashions from our show. In the coming weeks we'll be present all of the 7 Wonders of the Yarn World — from lace to chevrons, granny squares to modern color work, you're sure to find inspiration in this amazing collection.
*Patterns coming soon