August 7th, 2015
Here is the latest installment of Lola, from its creator Todd Clark.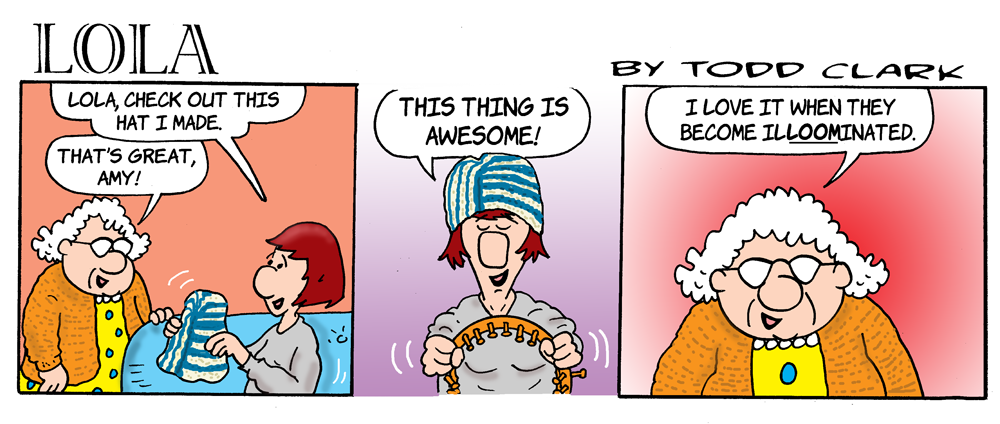 For more great loom patterns, visit PatternFinder.
*** *** ***
Subscribe to The Weekly Stitch Newsletter
Get a FREE weekly email featuring patterns, articles and special offers. As a bonus for subscribing, we'd like to offer you 15% off your first order! *
:: Sign up now ::
August 5th, 2015
Go behind the scenes with our brand ambassador, Shira Blumenthal, as she speaks with our Design Editor, Susan Haviland, about the new additions to our Landscapes® line! We took the colors you love from our self-striping skeins, and added them to our collection as solid colors! You'll love the way this roving wool works up in knit or crochet — see our pattern suggestions below!
::Can't see the video above? Click here to watch – https://youtu.be/1nCpjTKIVXw::
Get the look! Try out these patterns, which use variegated and solid colors of Landscapes®!:
August 4th, 2015
Writer, illustrator, and knitter Franklin Habit joins us for his monthly column featuring humor and insights into a yarncrafter's life.
If my words look slightly lopsided today, it's because my desk is gently pitching and rolling…side to side…up and down. So is the floor. And the rest of the room. No, I have not been in the pantry nipping at the vanilla extract again. I'm on a ship.
About a yard past my right elbow and down eleven decks are the chilly blue waters of the North Pacific. We are en route to Alaska. I came aboard in Seattle with two suitcases (one for clothes, one for yarn) and fifty knitters.
We, the knitters, constitute a Cruise Within a Cruise, vastly outnumbered by the 2,800 passengers who are not knitting.  As such, we are a curiosity. We knit fore and aft, port and starboard, day and night. We knit by the pool and we knit in the lounges. The library–well lit, central, and full of excellent chairs–has through steady and regular occupation become our special domain.
This is not, I am happy to say, my first experience of group travel with fellow yarn fanciers. It is the first, though, to give me sufficient leisure hours to reflect on the particular joys of moving about in a great knitterly herd. I'm surprised to find I like it so much–being at heart a lone wolf.*
August 3rd, 2015

July was certainly a scorcher for some — but that didn't stop you from yarncrafting! This month paved the way for some of our favorite wrap projects to make the top patterns list. Dress it up, dress it down, any way you wear your summer shawl, it will remain a wardrobe staple as we switch gears and head into fall.
Our top pattern for July was the #Love Shrug. Made with Textures®, this shrug's simple construction fits many sizes, and will delight fans of colorful self-striping yarns! Two gorgeous patterns made with yarns from our LB Collection® also made the list. These high quality yarns won't break the bank, and add a luxurious touch to wraps and shawls.
Find the rest of the list below. Have you started on one of these or any of our free patterns? Let us know in the comments!
August 2nd, 2015

In this guest post by Phyllis Alberici, we discover how we perceive color, and how it affects us.
I'm wearing my bright yellow sweater today. The sun is shining and the daises are blooming. I'm loving life. Yellow does that to me. How do different colors affect you?
In the Fifties, as America emerged from two wars, color was making a comeback. Remember those big saucer sized clip on earrings in bright yellow, red lipstick, and poufy skirts and pedal pushers in summer colors? If you don't, that's OK because the Sixties were just ahead.
The Sixties were a time of tremendous change in the way we looked at color palettes. Colors were thrown together in the same paint pot and the result was an eye melting psychedelic interpretation of the color wheel. Tie dyed red, pink, purple, teal, yellow and orange walked the fashion runway together. Color had gone wild.
Color theory, which gained popularity in the Fifties and Sixties, along with Technicolor films and glossy movie star magazines, tells us that certain colors affect us more than others. Yellow is cheerful, red sparks strong emotion, peach is sublime, blue is calming and lifts our spirits, green centers us, black is sophisticated.
But what if there is no such thing as color? What if I told you that color is just a bunch of light wavelengths that hit the back of our eyes? It can't be!
It's all about physics. Light travels in wavelengths and those waves hit the back of our eyes in an area where the cones are gathered. These tiny receptors are each color coded so that one "sees" red, the other blue and so on. Our brain gets involved by interpreting the signals the cones send to it and the brain says, "Hey, that's red."
Our brains give us some pretty sophisticated data to work with and we interpret what it sent out as bright red, maroon, or even pink. All that really exists is those light waves. There isn't any color. Color is a product of our amazing neurological system.
The light source under which we view color signals is important. If we're in low light colors darken until navy blue looks like black. Our system shuts down. If we're in fluorescent light then everything seems to wash out. How many crafters say, "I wish we had better lighting so you could see these colors better?" Artificial light causes colors to shade and confuses our color perception so that white might have a pink or blue hue. But it's not real. If it wasn't for the cones in our eyes we wouldn't see color at all.
And this is where memory comes in. We carry a memory of color from our childhood, from clever marketing, from memorable events in our lives. We gravitate toward certain colors and shun others. Our brains store color memory in an intricate filing system that we can pull out when we buy clothes, decorate our homes, buy a car, or buy yarn. So go ahead, try new colors. Remember, you're making memories.
Have you ever had a change of heart when it comes to color preferences? What colors do you gravitate to when selecting a pattern?