October 25th, 2013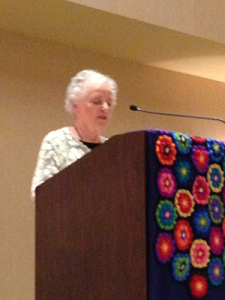 One of my favorite shows to attend has always been the Knit and Crochet Show.  And earlier this month during Crochet Guild of America's Professional Development Day, I got to hear my fellow colleagues and peers in the yarncraft industry speak about what we've all learned this past year.  What always excited me about this show was hearing other people, who were just as passionate as I was about yarn, talk about what they love.
It always felt like a family coming home for the holidays, reuniting and catching up what everyone has been doing since the last show. It was this experience I always look forward to the most.
Crochet Hall of Fame
This year was particularly special because I got to see Rita Weiss be inducted into the Crochet Hall of Fame. It reminded me of the reason why I work in this business and at Lion Brand. She has served as my role model, and was the reasons why Lion Brand got involved with the Crochet Guild of America. How she has become a household name and what she has done for the yarncraft industry is what I hope that Lion Brand will one day become.
Lion Brand Home Movies
Not only that but because I travel so much it also gives me a chance to see what Lion Brand has been working on this past year. When videos of my family and I talking about Lion Brand and Vanna White giving Lion Brand's annual proceeds to St. Jude's Children's Hospital, it brought a tear to my heart knowing I was seeing on screen what I always want our customers to know about Lion Brand. Just like a family, we are taught to be generous and to care about others, but most of all that family comes first.
Knit and Crochet Fashion Show
This year I also got to see I got to see Lauren and Brandyce model for the Lion Brand segment of the Crochet Fashion show. It always impresses me how much our employees go above and beyond when it comes to showing their love for Lion Brand. Whether it's working behind a desk or working the runaway to model this year's designs.
I can hardly wait what the next show will bring but I do hope to see some of you in July…
Want to check out a Lion Brand booth near you?  We'll be in Hartford, Connecticut for Stitches East from November 10-11!
October 24th, 2013
One of my favorite things about working at our New York offices is that the Lion Brand Yarn Studio is just a short jaunt down the stairs—on the ground floor.
If you haven't had a chance to visit, I highly recommend that you add it to your visiting-New-York-City to-do list. A showpiece space featuring fiber art, hundreds of shades of Lion Brand yarns, artisan tools, and dozens of classes—the Studio is more than a yarn store, it's a love note to yarncrafters from Lion Brand, a haven from the busy New York City streets.
If you're reading this blog post in your email or an RSS reader, please click on the title to view the full blog post and video on our website.
Join Us for a Celebration!
The store celebrates its 5th anniversary with a party on November 17th, and throughout the month of November, it will be offering special discounts. Visit its website for more details.
Lion Brand Yarn Studio
34 West 15th Street, between 5th and 6th Aves.
New York, New York 10011
LionBrandYarnStudio.com
October 23rd, 2013

Have you noticed that we've changed our label? Over the past year, we've updated the Lion Brand yarn labels to be more helpful for you and your crafting needs.  New additions such as a ruler grid, project icons, and care icons have been added to help you select the perfect yarn for your project. You can find the following label icons under the project image on various Lion Brand yarns.
 Project Icons indicate what kind of project a particular yarn is ideal for:
| | |
| --- | --- |
| | From left to right: scarf, hat, garments, and baby items. |
| | From left to right: afghans, amigurumi/toys, accessories/purses, and socks. |
October 22nd, 2013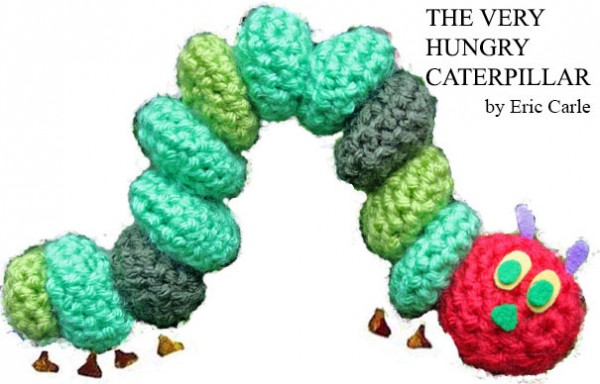 When I heard a friend of mine had crocheted her own version of the "Tickle Monster" for her daughter,
I immediately thought of The Very Hungry Caterpillar.
It was one of my favorite books growing up. I would read it over and over, gobbling all the words just like the Caterpillar eating all food.  As result, I've become a voracious reader.
I've also become a voracious crocheter.
When I saw this pattern by Twinkie Chan (I'd recommend using Amazing® yarn in Rainforest for a gradient look), I was immediately taken back to my childhood and my favorite book. Make one yourself, along with everything the Very Hungry Caterpillar ate, and pick out items as you read the book together with the children in your life.
For those unsure how much he actually ate:
Although he ate so much … remember he did eventually turned into a beautiful butterfly.  Are there any books that have inspired you to knit or crochet the main character?
October 21st, 2013
Technical editor and yarncrafting expert Kj Hay joins us for a series on understanding the different elements of patterns. Click here to read her earlier blog posts.
Hooks and Needles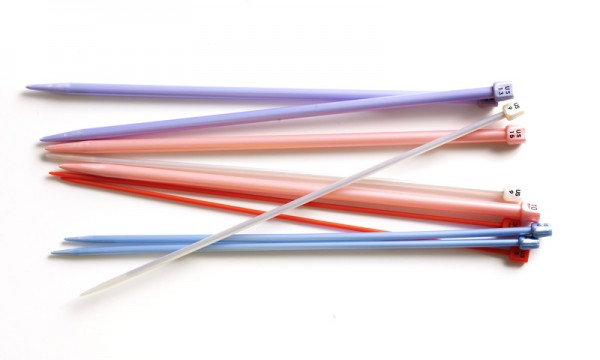 The sizes of the hooks or needles listed in a pattern indicate the size used by the designer to achieve the listed gauge and to complete the item shown. Gauge is the number of stitches and rows worked in a piece fabric of a certain size. The hook or needle size helps determine the gauge and the gauge determines the size and drape of the fabric. Different knitters and crocheters, even when they use the exact same size hook, yarn, and pattern stitch, will often create fabric of different gauge. Accordingly, you may need to use different size hooks or needles to achieve the same results as the designer. Begin with the listed size, but check your results and be willing and prepared to change to a different size (see Gauge section below for more details).
Hooks and needles of different types may also be indicated. Knitting needles come in straights of different lengths, circulars of different lengths, and double-pointed. Crochet hooks can be standard, Tunisian, or double-ended. Be sure that you have (or are willing to acquire) the skill needed to use specific hooks and needles, especially double pointed knitting needles or Tunisian or double-ended crochet hooks.
Pro Tips
The hook and needle sizes listed may or may not be the same as the recommended size listed on the yarn ball band. The recommended size listed on a ball band is a size needed for a fabric of average drape (or firmness) made from the most basic of pattern stitches (single crochet or Stockinette st). A specific project is likely to warrant a different drape and the use of pattern stitches other than the basics, thus needing a different size hook or needles.
October 19th, 2013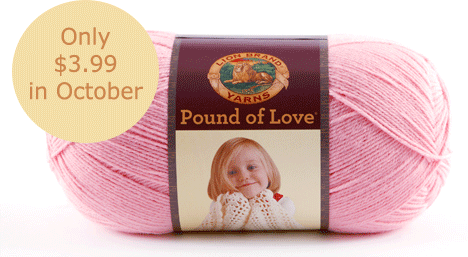 I try to keep in touch with my college friends as much as possible. But it's hard when they don't live near you—especially when they live as far way as the Virgin Islands. When my friend Amanda told me her mother was passed away due to breast cancer, it pained me that I couldn't be there for her.
Since then, I've been motivated to regularly email her, and send care packages every Christmas, which includes one handmade item. Since Lion Brand has marked down their Pink (#103) Pound of Love® to honor Breast Cancer Awareness Month, I thought it would be the perfect time to think about her holiday care package.
Here are some patterns that can be used with Pound of Love:
Click here for more patterns that use Pound of Love.
October 18th, 2013
In the first weekend of October, myself, and a few Lion Brand team members attended the Fall 2013 Knit & Crochet Show in Concord, North Carolina. We had a great time chatting with designers in the industry, discussing yarns and patterns, and making new connections. One of my favorite parts about the show is seeing the many different projects people have worked on using Lion Brand yarns.  Below, you'll see some creative patterns from talented crocheters who were at the show – go ahead and check them out.
| | | |
| --- | --- | --- |
| Knit & crochet designer Brenda Bourg in her Betsy's Shawl pattern made in LB Collection Silk: Pluto | Deborah Bagley's Owl Bean Bag chair in Vanna's Choice won 3rd place in the "Artistic Expression" category at the annual CGOA design competition.  You can find more designs from Deborah and her sister at Yarnovations. | This Vintage Christmas Afghan was designed by Sue Solakian in Heartland, and the pattern will soon be available at Mainly Crochet. |
October 17th, 2013
If you loved designer and artist Anna Hrachovec's books of teeny adorable mochimochi (her little knitted creatures and creations), you'll love her newest book of giant buddies—just released!
To celebrate, we're sharing a super-sized version of her popular Petite Pencil, excerpted from the book. Click on the image for the pattern and click on the book cover for more info about it!
Want your own copy of the book? Look out for a giveaway in next week's issue of The Weekly Stitch!
October 16th, 2013
Halloween is 2 weeks away, and there's still plenty of time to make yourself, a pet, or someone you know, a fun item for a costume or disguise. Today's pattern round up includes simple designs that are sure to be gratifying projects because they can be completed before it's time to celebrate. Be sure to check out the "Related Links" at the bottom of the page for more Halloween ideas and inspiration!
October 15th, 2013

passing time by ollesvensson, on Flickr
Over the last few months, we've been sharing stories from you, our readers, about your experiences knitting and crocheting in public. Today, I want to share a few crafting-in-transit stories that we've received:
I almost always crocheted when commuting to work on the Long Island Railroad. One day, the man sitting next to me said, "Wow, I haven't seen anyone knitting in years!"
I replied, "You still haven't—I'm crocheting."
– Hazel in NY
Once I was knitting on the Long Island Rail Road when the conductor took my ticket without saying much. He came back a little while later, however, during a long stretch between stations. This burly guy wanted to show me his crocheting! I kept a straight face and admired his work, which was the kind of lacy doily that used to go on furniture. He must have learned this art at his grandmother's knee.
– Ellen