November 12th, 2015
We've all been there — we reach out for a skein of yarn, allured by its softness, drawn to its color, dreaming up ways to use it… but how can you get the most out of this yarn?
By reading a yarn label, you'll be able to make more informed decisions about your yarn purchases. Can you machine wash and dry it? What size needle or hook should you use? Will it be enough for your whole project?
Watch as Brand Ambassador Shira Blumenthal walks through the wealth of knowledge found on yarn labels. You'll learn about yarn weights, fiber content, gauge, and so much more!
:: Can't see the video above? Click here to watch – https://youtu.be/mY9j9SC5GoE :: 
Click here to learn more about:
Yarns mentioned in this video:
November 11th, 2015
While you are knitting, do you ever find yourself asking these questions:
What did I just do, a knit or a purl? Okay, what did I finish when I last put this down? What am I doing?  Why did I just knit a knit, but it seems like I should be doing a purl? Why are there 2 purls in a row? Etc. etc.
Let's talk about READING your knitting.  When knitting a project like this it is easy to make mistakes if you are not reading your knitting as you go.  I was knitting along on my seed stitch border when I found myself needing to do two knits in a row and so I had to pause and look for my mistake!  I had dropped a stitch! HORROR! Luckily I drop stitches so often I am getting good at rescuing them!
When you find a dropped stitch, quickly insert a needle into the stitch so it doesn't drop down anymore, then grab a crochet hook and pass it up the ladder of dropped stitches until it gets back in it's proper spot. There are many online tutorials about this that show good visuals to help you picture what I just described.
Once I had rescued my stitch I could get back to seeding. Here is how to read seed stitch. First things first! When you see many V stitches in a group or a row, which will be the look of the RIGHT SIDE of the bulk of this garment, it looks like this: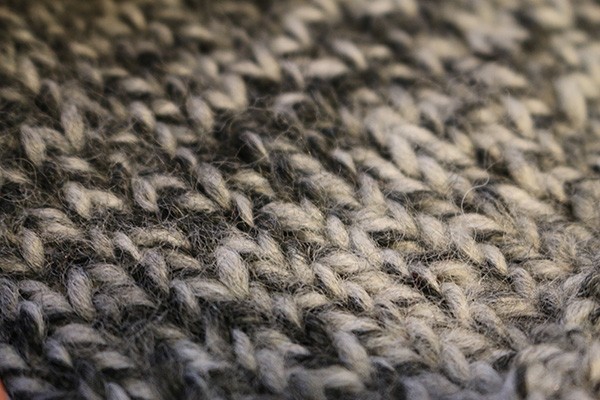 And if you were to flip this fabric over, you would see bumps like this for our WRONG SIDE: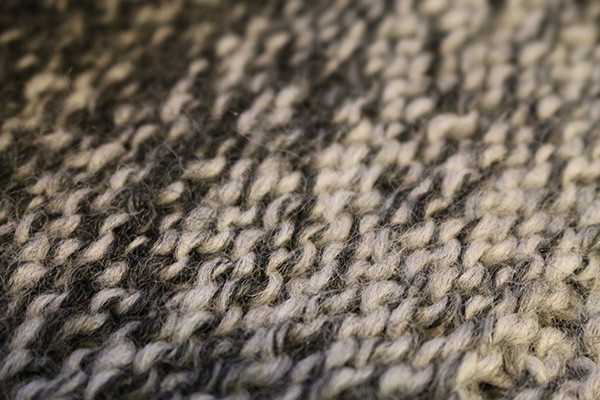 Now, these two stitches come together to make SEED STITCH. When you are looking at it, the bumps are the purls, and the v's are the knits.
BUMP/Purl: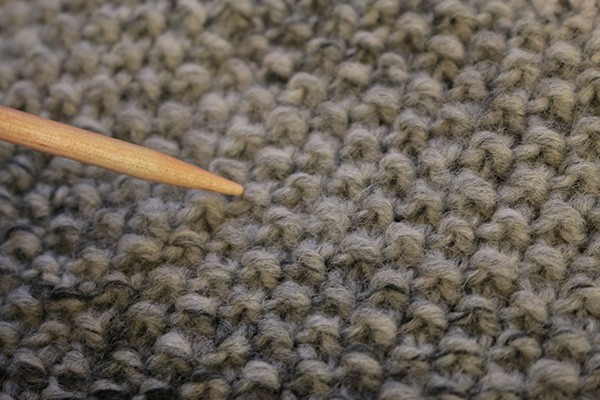 V-stitch/Knit: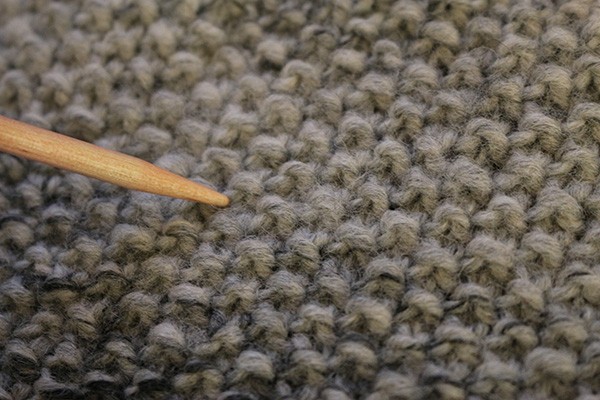 As you are knitting seed stitch, you KNIT the bumps, and PURL the V's. This is how you read your stitching. If you get to a V, you purl that one, and the NEXT should be a bump that you Knit.  This way you don't have to think about the pattern: (k1, p1) but just read your stitches and you know whatever you are seeing, you do the opposite on that stitch.
When you have finished the border and you are working on the main part of the garment, you only seed stitch for the first and last 8 stitches.  Pay attention to which side you are on—RIGHT or WRONG. If you see a sea of V's it's RIGHT, a sea of bumps, it's WRONG….Knit all on the Right Side and Purl all on the Wrong side.  You will get the hang of reading your stitches in NO TIME. It's all about practicing and repetition. And of course mistakes! But that's okay… a mistake or too, especially in seed stitch, is easy to blend in….all is not lost!
This tutorial can be helpful if you can identify a place where you purled instead of knit or vice versa.
For those of you participating who are masters at reading your stitches and knitting, this may become a monotonous project for you. I suggest tapping into audiobook land. Most audiobooks you can borrow for free through the overdrive app and your public library account on your smart phone.  Recently I have enjoyed listening to Room by Emma Donoghue, The Unlikely Pilgrimage of Harold Fry by Rachel Joyce and The Girl on the Train by Paula Hawkins. All 3 were performed so well by the actors (for me, this is a huge aspect of what makes an audiobook good), and the stories were incredibly engaging.
Happy Knitting!
---
I am Kristy Glass and I am so thrilled to be infiltrating the Lion Brand blog to lead you in the 2015 Fall Knit Along! Even though I learned to knit as a girl, my passion for fiber arts has escalated at a very steep rate these past several years.

I returned to knitting and began crocheting about 8 years ago after I suffered an unexpected health setback leaving me feeling completely out of control. Hand work was a healing salve for my body and soul as I suffered through a long healing process. Thankfully I continue to use knitting to aid meditation, solace and a feeling of accomplishment. I knit year round, despite weather changes, and I am highly anticipating us all knitting together on this project.

I have completed over 100 projects including scarves, cowls, hats, hand warmers, phone cozies, afghans, pillows, sweaters and yarn bombing. My most recent passion has been making sweaters and actually wearing what I make!
November 10th, 2015
Deck the halls with a whimsical twist when you make these Christmas stockings by Kristy Glass!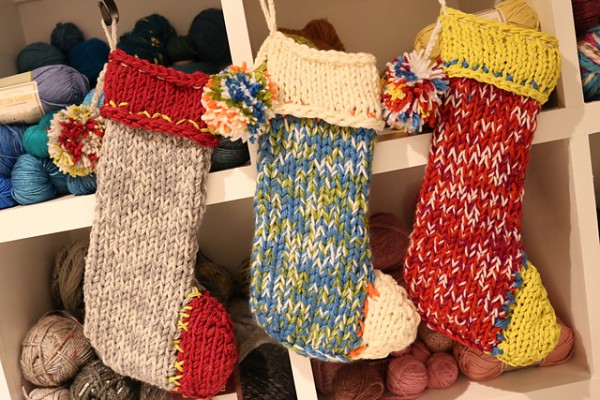 Kristy dug into her yarn stash for some Vanna's Glamour®, Hometown USA®, Woolspun®, and Vanna's Choice® to make these chunky stockings. They're a great stashbuster project, and you can make a unique one for every member of your family!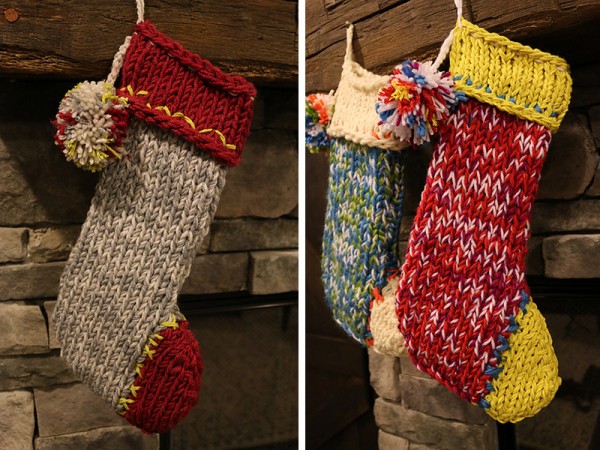 :: Chunky Stockings by Kristy Glass – Click here to get the pattern! ::
November 9th, 2015
Ask your resident Instagram-loving Tweeter — fringe and ponchos are in. Gone is the idea of a poncho being just a toss-on-and-go garment. Now, you can dress it up with a belt, experiment with plaids and tweeds, or choose one with long fringe. Wear them with boots (make matching boot cuffs!) or dress it up with heels. It's a new must-have for cold weather fashion, and an accessory that's sure to get more use than traditional cardigans.
Not sure what to get the girl that has plenty of knit hats and scarves? Consider a wrap or poncho, fringed or not, for her to accessorize. The good news is that this new trend extends beyond young women and is versatile for women of all ages. Use neutral tones for the more fashion-forward type, or play up a bright color palette with stripes or different stitches.
If a pattern doesn't call for fringe, but you'd like to add it, we've got a tutorial for how to make and attach fringe.
Find some of our favorite poncho and wrap patterns below:
*Please note, this is not a Lion Brand Pattern
November 8th, 2015
October's top pattern searches were all about looking for cozy ways to wrap up. Stay on trend and warm with patterns for the Petrona Poncho, the Canyon Shrug, and the Free Spirit Topper — your choice for the Fall Knit Along!
Two of October's Featured Yarns, Wool-Ease® and Wool-Ease® Thick & Quick® made a comeback, ushering in the season with warm knits. The Ladylike Pullover and Striped Boyfriend Cardigan were popular patterns for those planning out winter WIPs.
In conjunction with the release of our book, Healing Shawls, the stunning Striated Triangles Shawl was a top pick for shawl patterns. This hexagonal shaped shawl shows off the brilliant colors of self-striping Landscapes®.
Check out October's top 9 patterns below: