September 16th, 2014
The three little kittens, they lost their mittens,
And they began to cry,
"Oh, mother dear, we sadly fear,
That we have lost our mittens."
"What! Lost your mittens, you naughty kittens!
Then you shall have no pie."*
If you're a parent, you understand Mother Cat's exasperation: kids, like kittens, have a way of repeatedly losing mittens—and many other things. And if you're a knitter—which undoubtedly Mother Cat was—you feel especially aggrieved because you painstakingly made three pairs of mittens, and those little miscreants lost them!
Few poems portray feelings of frustration in such truthful, charming terms. With some kids, no matter how firmly mittens are clipped to coat sleeves, no matter how many nametags affixed to hats and jackets, these items inevitably disappear into the Black Hole of Loss.
I recall searching for my son's mittens in his grade school's Lost and Found bin. It was shocking how much unclaimed clothing was there. Saddest were the hand-knitted mittens, scarves and hats, crushed at the bottom. Some loving person had made each one, and little Johnny couldn't have cared less. I felt like grabbing his shoulders, shaking him, and saying in my steeliest voice: "And YOU shall have…no…pie!"
Oh wait…that would be my kid, the son who could never retain a pair of mittens longer than a day. This situation was ultimately resolved, not by depriving him of pie, but by buying him the cheapest gloves I could find at the dollar store, reasoning that since I had nothing invested in them financially or emotionally, I didn't care about their fate. (Ironically, they rarely disappeared.)
September 15th, 2014
Sometimes there is nothing you can actually do when someone you care about is going through a difficult time.  Perhaps a friend is grieving the loss of a loved one. Or, maybe you know someone who is suffering from a serious illness. As much as we'd like to, it isn't always possible to do much. But there is value to letting that person know that she is cared for and supported.
That's why so many people who knit or crochet have discovered how helpful it is to use their skills to create a physical sign of caring in the form of a comfort shawl.  A person who receives a handmade gift understands this. A shawl is like a warm hug.
And, there's an extra benefit to giving something of yourself away. Why? Because it's difficult to feel poor or deprived when you are giving. People who knit and crochet shawls to comfort others say that they feel better as well.
So, when there isn't anything you can do to make things better for someone in need, there is something you can knit or crochet to offer comfort beyond words.
Here are a few patterns to inspire you when you want to knit or crochet a comfort shawl:
September 15th, 2014
We've teamed up with Todd Clark, creator of the ever-popular Lola series, to bring you "Out of the Loop," a regular one-panel comic featuring humorous takes on the world of yarn.
Enjoy and please share widely!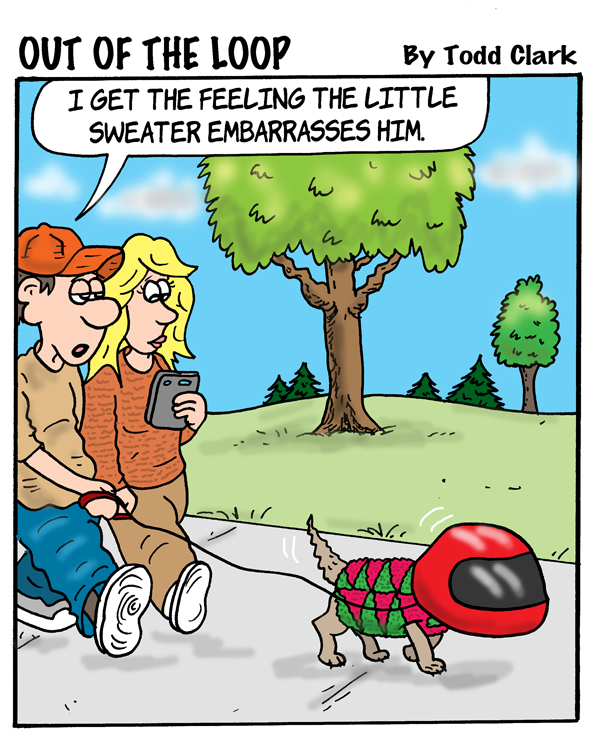 *** *** ***
Inspired to dress up your dog? Here are three of our newest doggy sweater patterns:
Click here for more dog sweater patterns.
*** *** ***
Subscribe to The Weekly Stitch Newsletter
Get a FREE weekly email featuring patterns, articles and special offers. As a bonus for subscribing, we'd like to offer you 15% off your first order! *
:: Sign up now ::
* offer valid only for first-time email subscribers, one coupon per person.
September 14th, 2014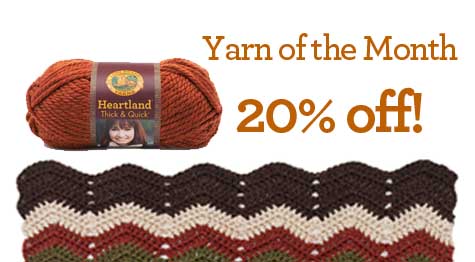 To get you ready for your fall and winter knitting and crocheting, we're featuring Heartland Thick & Quick® for our Yarn of the Month selection. For some inspiration, check out our knit and crochet patterns.
We've even got this great tutorial from Yolanda Soto-Lopez at the All Crafts Channel on YouTube to guide you through this Ripple Afghan pattern, check out the video below!
Have you tried working with Heartland Thick & Quick® yet? Share your experiences with us!
September 14th, 2014
This story is from our newsletter called Pattern Journal which brings a warm-hearted, wholesome story to your inbox to read every month. If you enjoy it and would like to subscribe, click here.
My mom always says, "Teach someone to knit, and they're warm for life." She taught me to knit, of course. Mom's saying is like my dad's. Dad taught me to fish. At the lake he'd always say, "Give someone a fish, and you feed them for a day. Teach someone to fish, and you feed them for life."
When Mom says, "Teach someone to knit, and they're warm for life," I feel close to my parents. It helps me remember Dad. (Like me, he always wore the things she knitted.) My parents' kindness taught me so much.
When I was eight, I knitted Mom a red garter-stitch scarf for Mother's Day. She burst into tears.
"I thought you liked red," I said. "I love red, sweetie," she sobbed. "This is the best scarf ever."
That's how I learned you could cry when you were happy.
So, when the day came that Joe asked my permission to marry Mom, I was, first, speechless, then I felt tears start. That he asked me before asking her was totally amazing. I certainly saw that Mom loved Joe. They'd met years before at a bereavement support group. They knew about loss.
"Teach someone to knit, and they're warm for life."
They knew about happiness, too. Together, we'd had good times, whether just at home, or taking hikes, or yes, going to the lake to fish. But it wasn't until last year, when I was fifteen, that Joe proposed.
Mom accepted, of course.
The afghan, of lusciously thick yarn, was so textured and interesting, I could hardly stop knitting. The cool part was it looked intricate, but worked up fast. As the panels flowed from my needles, the bobbled trees of life at the center, flanked by rich vertical cables, reminded me of everything about Mom and Joe that was strong and good. They were positive people. Despite their losses, they wanted to make a future together–and with me.
Just before the wedding, I gave them the afghan. "I love you both so much," I said, handing it over. I burst into tears, and so did Mom and Joe.
And we were all incredibly happy.
—
All characters appearing in this work are fictitious. Any resemblance to real persons, living or dead, is purely coincidental.
A story by Selma Moss-Ward.
Selma Moss-Ward writes and knits in Rhode Island. You can find her work on our blog, as well as Lion Brand's monthly newsletter, Pattern Journal, which you can subscribe to here.
September 12th, 2014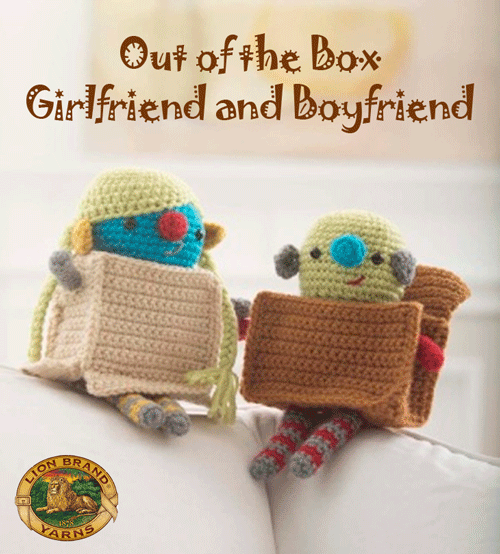 In celebration of the fun new movie Boxtrolls, which will be in theaters on September 26th, we've got these cute little critters for you to crochet for (or with) your children. You've even got enough time to make some and bring along to the movie premiere!
Boxtrolls are shy trolls who live and hide in boxes (similar to turtles with their shells). Despite living in the sewers, these boxtrolls are actually just peculiar, yet sweet little characters who are more than what their name implies. The story of this movie originated from the beloved children's book series, Here Be Monsters! by Alan Snow, so it will be exciting to see this story come to life.
This boyfriend and girlfriend set (pictured) will be the perfect companion for anyone who is just as shy and quirky as the boxtrolls in the movie. Check out the Out of the Box Girlfriend and Out of the Box Boyfriend, and get started on a fun and unusual project.
P.S:  Make it super special by customizing it to for the person you're making it for! Check out our previous post on making monograms.
September 12th, 2014
Today, we bring you a great tutorial by Vanessa from The Crafty Gemini. Watch as Vanessa works through the Serene Spa washcloth pattern with Kitchen Cotton, showing you just how easy it is to crochet a quick project and learn a new stitch.
Vanessa is also hosting a giveaway with a chance for one lucky person to win 3 skeins of Kitchen Cotton. Find more information on the giveaway by clicking here!
Check out more from Vanessa by visiting and subscribing to her channel, The Crafty Gemini.
September 11th, 2014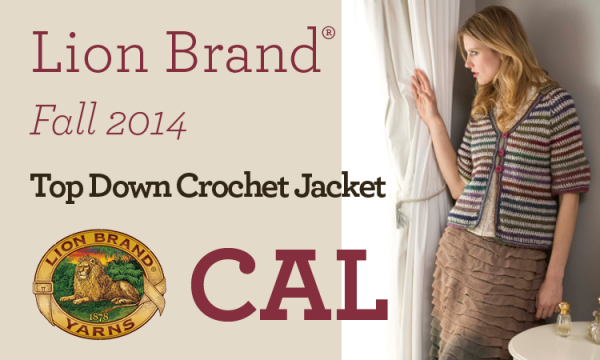 Welcome all to the 2014 Fall Crochet Along! I'm Grace and I will be guiding you through the Top Down Crochet Jacket. This is a great project that should give most a little challenge. (If you haven't acquired your materials yet, you still can: http://lby.co/1liJ1a1.) Throughout the next 5 weeks we will explore swatching, raglan shaping, working with multiple colors and much more. If you are a beginner don't let the skill level discourage you. We are all here to support each other. Throughout the project post your questions and I'll be here to help. I also invite other experienced crocheters to share their knowledge so we can all learn from each other.
There are so many things that excite me about this project. I love wooly yarns like Fisherman's Wool®. While at first is may seem a little rough it softens up wonderfully with wear, the longer you wear it the cozier it gets, perfect to cuddle up with this coming winter! The self-striping colors of Amazing® are beautiful and add so much interest without the extra work. For those of you who don't need such a warm wooly sweater there are plenty of yarns that you could substitute. For something wool-free and machine-washable I would suggest substituting Vanna's Choice® for the Fisherman's Wool® and Landscapes® for the Amazing®. For my project I will be using Fisherman's Wool® in Nature's Brown and Amazing® in Strawberry Fields .
September 11th, 2014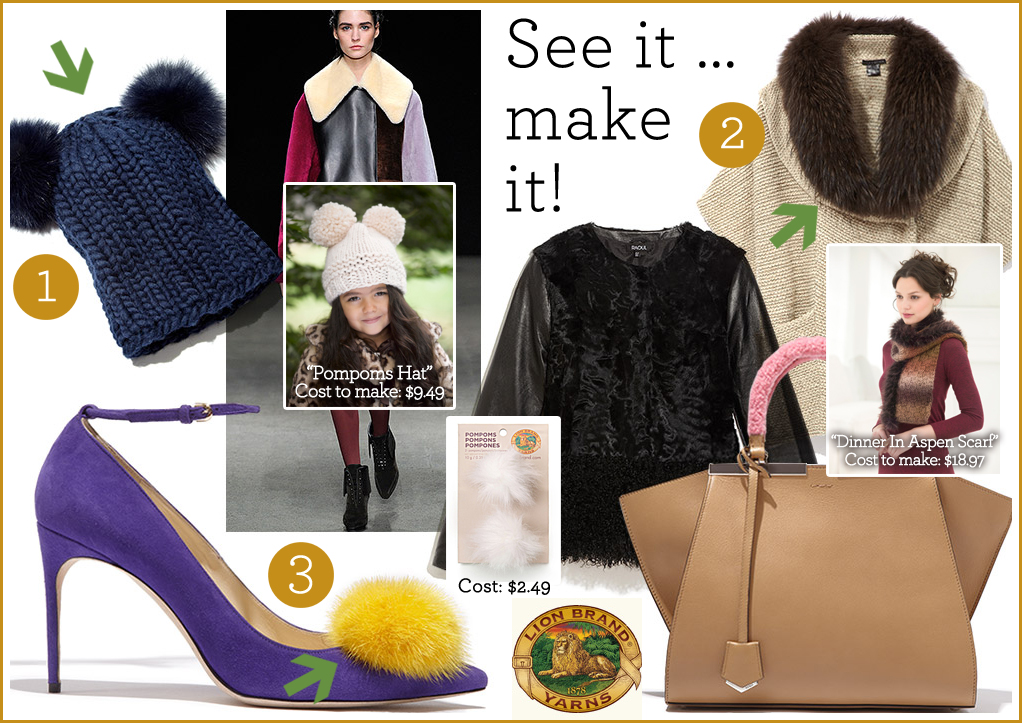 Saks Fifth Avenue recently released the latest edition of The Trendcaster, their monthly report on what's hot for the upcoming season.
We love all of the pieces they recommend and we realized gleefully that many of the furry fashion trends could be recreated with Lion Brand® products and patterns.
1) If you're inspired by the Eugenia Kim Pom-Pom Hat, knit your own version for just $9.49 using Lion Brand® yarn Wool-Ease® Thick & Quick® — available in 65 colors! Enjoy the FREE pattern, "Pompoms Hat (L32106)" and make the pompoms yourself, or try one of our faux-fur Poms in a variety of colors for $1.99 each.
2) Fur accents are a big trend this fall and no doubt that's why the Alice + Olivia Fur-Collar Jacquard Poncho is a big seller! To stay on trend and save money, we recommend Lion Brand®'s free pattern "Dinner In Aspen Scarf (L40312)," which uses two skeins of Pelt and one ball of Landscapes®, for a grand total of $18.97.
3) Easy, easy, easy … for $2.49, you can embellish any pumps or shoes you like with a set of Lion Brand® Pompoms.
Who says you can't be fashionable on a budget?
September 10th, 2014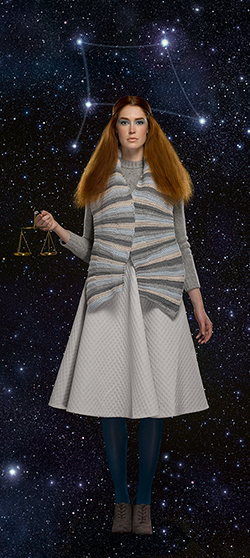 People who have birthdays which fall between September 23 and October 22 are born under Libra, the seventh sign of the zodiac. Commonly represented by scales, Libras are considered to be social and level-headed people.

Libra crafters will stick with their favorite go-to patterns: they might change colors, make it a larger size, or use a different yarn, but they like making the same pattern over and again with repeated pleasure.
They can sometimes be mistaken for shy and reserved, but their feelings tend to come through in their handmade gifts. They love to socialize and can often be found crafting in public or at their local knitting (or crochet) circle.
The colors used in Libra's zodiac scarf are inspired by opal, a gemstone associated with September birthdays. The scarf is composed of four shades of grey to complement Libra's harmonious and balanced nature: silver heather for grace, linen for idealistic, silver blue, silver grey for dependability.
Tip the scales for a change- reward your favorite Libra for all their generous crafting with a personalized gift and crochet or knit them a zodiac scarf. They deserve it!
Don't know a Libra? Check out our other zodiac scarves.