June 28th, 2015
This Pattern Journal comes to us from Anne B. in New Hampshire. Anne shares this story about one of her favorite Lion Brand patterns, the Honest Warmth Shawl.
---
Erica cast on the three stitches to begin the Honest Warmth Shawl. This would be the third one she had knit. The first, knit in Lion Brand's Homespun® in Rococo, was for Mum. The soft golds and whites were the perfect color that Mum always liked to wear, and brought out the healthy rose of her skin. The second shawl, for Gram, was Baroque, the purples and blues the colors Gram always loved best. She had knit the shawls one after the other, consciously infusing each stitch with warm memories and love, imagining with each row how the warmth would envelop them like a hug, keeping the cold drafty breezes of New Hampshire off their hips and shoulders. But this shawl was a little different. This one was for Mum's Japanese sister.
Mariko was visiting in two months time, and her visit was very special. Erica wanted this shawl to show the respect and honor the family felt at receiving this visit. She had researched color meaning in Japan. Mariko was a doctor, and she knew that Japanese culture associated white with the medical profession, referring to nurses as "angels in white". She also knew that Mariko might appreciate the warmth on a cool New Hampshire evening. She saw the Homespun® in Deco, and knew the light cream was perfect.
As Erica knit this shawl, she thought of the hard work Mariko had done to become a doctor. And she thought of the bonds forged when Mariko had visited the United States as a teenager, living with her host American family for a whole year. Mariko had returned many times to visit over the decades, sometimes bringing her own family to meet her. One time, when she was a little girl, Erica had played for a weekend with Mariko's daughter and son.
As the shawl grew over the evenings of knitting, Erica recalled the times she had met Mariko as she grew up. The last time she had seen her, Mariko had given gifts to Erica's own daughters, enchanting the little girls with beautiful origami paper and clever pens. She hoped her gift would show the appreciation and love the families had forged over the years and generations.
Once finished, Erica wrapped the Honest Warmth Shawl in beautiful paper, tied it carefully with a bow and added a fabric flower. It was perfect.
—
A story submitted by Anne B. from New Hampshire.
Enjoy 20% off the Honest Warmth Shawl kit for a limited time!
Would you like to be featured in an upcoming Pattern Journal? Submit a story, click here.
June 27th, 2015
If you're looking for a lightweight, easy care yarn, look no further than Babysoft®. Between its pastel palette and the fact that it's machine washable and dry-able, it's a go-to yarn for our favorite patterns for little ones!
We just love how some of our favorite designers use Babysoft®, so we're sharing six adorable projects from knitters and crocheters who share their patterns on their blogs and on Ravelry — these designes really show off how gorgeous this yarn looks when worked up.
Take a look below, and get inspired to make your next baby project with Babysoft®!
*Please note, these are not Lion Brand patterns.
June 26th, 2015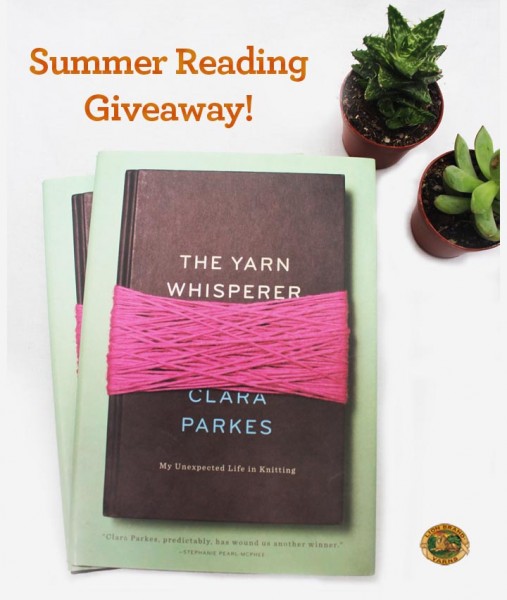 Clara Parkes is well-known for her role as editor and chief yarn critic at Knitter's Review — a biweekly Internet magazine for fiber enthusiasts comprised of yarn reviews, happenings in the yarn world, tutorials, and lots more. Knitter's Review is a great place for resources and information regarding topics that knitters hold dear to their heart.
Additionally, Clara is also a well-known author who has penned classic and popular knitting books such as: The Knitter's Book of Wool, The Knitter's Book of Yarn, and The Knitter's Book of Socks. And today, we're giving away 2 copies of her latest book, The Yarn Whisperer. In The Yarn Whisperer, Clara shares various personal essays about her yarn musings and the different ways knitting has impacted her life. The Yarn Whisperer is a great way to still have knitting and yarn on the brain during the hot months of summer!
For a chance to win a copy of The Yarn Whisperer, please see guidelines and entry form below.
Congrats to Liz C. of California and Renee L. of South Carolina!
If you do not respond to your notification e-mail within 7 days, a new winner will be chosen.
(CONTEST IS NOW CLOSED) Rules & Guidelines:
1. Entries must be received by July 6th, 11:59p.m. EST
2. US entries only.
3. Must be 18 and over to enter.
4. One entry per person.
»Click here« to enter the giveaway if the form below does not work for you.
June 26th, 2015
Here is the latest installment of Lola, from its creator Todd Clark.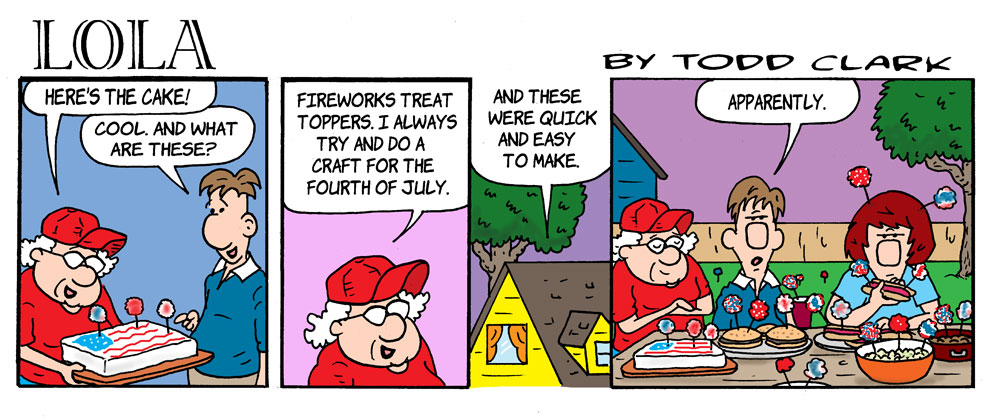 You can get crafty too!
*** *** ***
Subscribe to The Weekly Stitch Newsletter
Get a FREE weekly email featuring patterns, articles and special offers. As a bonus for subscribing, we'd like to offer you 15% off your first order! *
:: Sign up now ::
June 25th, 2015
One of my most cherished childhood memories is reading the Laura Ingalls Wilder's classic "Little House on the Prairie" series — seeing what adventures Laura would get into always had me coming back for more. Throughout the series, the Ingalls family lived in a sod house, in the "big woods" of Wisconsin… but perhaps most memorable was the series' eponymous little house on the Kansas prairie.
Log cabins, like the one in Wilder's series, are a true American icon. Log Cabin Day — typically celebrated the last Sunday in June — is an event for many in the Midwest states to celebrate a simpler time and help preserve a part of history. Among traditions that date back to prairie times is Log Cabin quilting, named for its construction. Log Cabin patterns in knitting and crocheting are a great way to make use of a wide color palette, as well as a way to get through a stash of yarn!
Log Cabin afghans make beautiful housewarming gifts. Make one for your family, or someone you know! Here, we round-up a few of our favorite Lion Brand patterns for Log Cabin throws, blankets, and lapghans:
* Not a Lion Brand pattern.
June 24th, 2015

Susan Haviland is Lion Brand's Design Editor. She loves to knit and crochet in the company of her favorite films and televisions shows.
Thank you to everyone who wrote in with knitting and crochet sightings from film and television.  We discovered some new and inspiring work and we welcome more — leave a sighting in the comments below!
A number of the items you mentioned are very much at the forefront of design right now.  The large, colorful crocheted blanket on the back of the wagon in Like Water for Chocolate is one and the dramatic multi-hue scarf from the fourth Doctor Who series is in line with the recent "mood scarves" trend.
---
The "Doctor Who" scarf has a neutral beige color that acts like a canvas for the joyful stripes throughout the scarf.  Put together a group of colors based on a photograph or painting that you love and begin!  Design your scarf as you go – it keeps the knitting/crocheting very interesting.  If you feel shy about choosing your own colors, Bonbons or Vanna's Palettes® have shades that are pre-selected to work together.
Kiera Knightley's shawl/afghan in "Seeking a Friend For the End of the World" has a cheerful improvised quality.  The colors are warm and the yarn looks cozy in this square, afghan style shawl.  A great combination of circles and squares can be found in a more symmetrical layout in Lion Brand's Crochet Kaleidoscope Afghan pattern.
You can turn an afghan pattern like this one into a shawl by making fewer motifs.  Using light yarns always give an afghan a shawl–like quality.  Experimenting is a lot of fun and patterns may be used as guides to start you on your own creative journey.
An afghan similar in feeling to the Like Water for Chocolate style can easily be created from Lion Brand patterns:
These basic granny square patterns can be made as large as you wish.  If you have a lot of leftovers, use them, adding a "main color" or two.  Neutrals often work well for "base colors" which hold many complicated multi-colored schemes together. Or consider using several different packs of Vanna's Palettes® as we did.  The colors can be arranged in any way that pleases you.
In recent weeks, the Lion Brand design team has had a lot of fun interpreting some terrific knitted and crocheted styles from the "Outlander" TV series.  The designs will be available soon and we think you will enjoy them as much as we do!
June 23rd, 2015
Well, it's only appropriate that I write a little tea round-up, seeing as I have become a "Tea Maven" here at Lion Brand. As I search the internet for patterns, the first thing that comes to mind is, "why do such warm things need to be cozied?" But, I'm getting off track.
I've realized that with my new web series — Tea with Shira — the perfect gift for my friends this holiday season will be Mug Cozies. You can get super detailed and go all out or do a simple single crochet or garter stich. So I'm going though and checking out which ones are my favorites. The first thing that comes to my mind is "aww" when I see those amigurumi tea-cups; they would make a great keychain or earrings! And that lion-themed cozy? Being the Brand Ambassador of Lion Brand, I have to get on this!
Thinking about making one of these? Wondering what's next on Tea with Shira? Let me know in the comments!
Of course, that Brain Freeze cozy may not be for tea.. but it's a cozy for ice cream… cold things need cozies too!
* Not a Lion Brand Pattern
June 22nd, 2015
This Friday is a special day for dog lovers — it's Take Your Dog to Work Day! If your place of work allows it, consider bringing along your pup to hang out for the day.
Here at Lion Brand Yarn, we're pretty fond of dogs — two in particular, in fact!
Barkley and Harold are two sweet peas that belong to our Art Director, Janeen, and our Yarn Development Coordinator, Gail.
Both have modeled a few of our dog patterns — Barkley even has a pattern named after him! The two of them come into the office a couple of times of month, but are eager to celebrate officially on Take Your Dog to Work Day.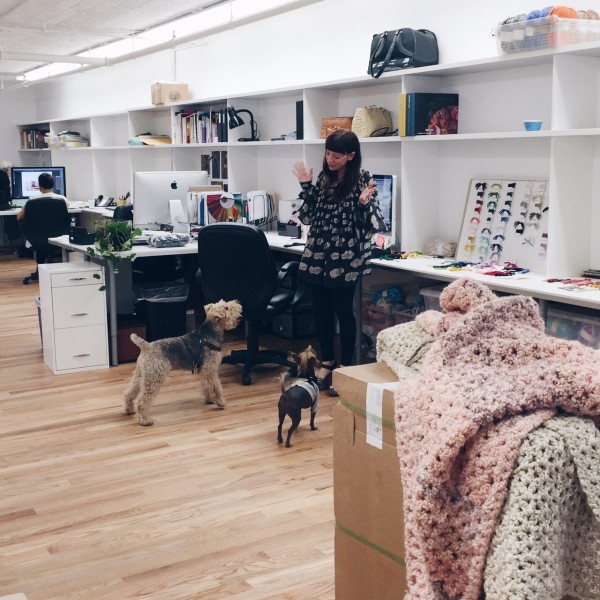 The day was first developed as a way to help boost dog adoption by celebrating the special bond between people and their pets. We know knitting and crocheting can be healing and relaxing; having your dog with you during the day can do the same!
Gail shared that having Harold in the office is "a benefit for everyone. The dogs get a lot of attention, and it helps us with office camaraderie."
Janeen seconded this, saying that having her dog, Barkley, around is therapeutic. "They change the energy," she added.
Whether they're headed to the office with you or not, keep your doggie stylish with these six patterns just for dogs!
June 21st, 2015
Here in the marketing department at Lion Brand, we talk a lot about knitting and crocheting and yarn and magic loops and swatches and yarn weights (we know our DK from our super bulky) and and and … bottom line is that we're all experts in one way or another when it comes yarn. We can talk about it all day — and we do! You may however be surprised to know that we're also fairly well-rounded with an excess of interests, hobbies and obsessions that go beyond the hooks and needles.
We thought you might enjoy a peek into our inner worlds. Have fun and please share some of your own personal interests outside of knitting and crocheting in the comments below.
---
Zoe: I am planning a trip to Scandinavia with stops in Helsinki, Stockholm, Oslo, and Bergen. Stockholm is one of my all-time favorite cities, so I'm getting ready by learning some Swedish with Duolingo! Jag älskar Sverige! I'm also a big fan of Slow TV, so I'm super excited to ride the Bergen Line and experience the journey made famous by the Norwegian Broadcasting Corporation. You can watch a recording of the broadcast here, but perhaps you'd prefer to watch 12 hours of non-stop knitting – 1 million people tuned in for National Knitting Night when it was originally broadcast in 2013!
Sarah: I'm still a novice sewist but I've just tackled my toughest project yet! I made the Alder Shirtdress which was a big challenge since I've never attached a collar before. After spending some quality time with the seam ripper, I have an even deeper appreciation for the work that went into each piece of store-bought clothing I own! This dress doesn't fit perfectly and the seams are uneven but I learned so much and built a lot of confidence making this garment!
Danielle: I recently went to see Yoko Ono's "Ono Woman Show" at the Museum of Modern Art here in New York. It was a larger retrospective than I expected and it did a fine job of showing her long history as a provocative artist across so many mediums — she's even been known to crochet! Some people also don't know that she was already fairly well-known before she met John Lennon. In fact, it was through her work as an artist that the two were connected in the mid-1960s. My school-aged son really enjoyed the music room, he insisted on listening to everything – I was really surprised! I definitely recommend seeing this show and you have lots of time, it's on through to September 7th. Tip: stay for the mini-doc about her 1971 MOMA exhibition, also called "Yoko Ono: One Woman Show" – the show's subversive nature and subsequent person-on-the-street interviews are a riot.
Margaux: I'm currently reading Patti Smith's memoir, Just Kids. I really love getting in this arty though sometimes disturbing atmosphere. It's fascinating to imagine New York in the 1970's, when it was becoming the culture capital. Red Hook being my favorite place, I make sure I go every weekend. Last Saturday was the Red Hook Fest where we could watch great dance performances while wandering on the water front. There is so much going on in New York over the summer, it's hard to make choices but I will definitely check one or two concerts out at the Prospect Park Bandshell.
Brandyce: Summer in NYC is amazing, so lately I've been trying to do as many outdoor activities as possible. I recently went exploring the Brooklyn Bridge Park for Jeppe Hein's "Please Touch The Art" exhibit. The park has 6 piers on the Hudson River waterfront, and there are fun interactive art exhibits in each of the pier parks. I had the most fun in the Appearing Rooms section at Pier 1. In this exhibit, you stand on a platform, and water jets sprouts up from the floor and disappear – which turns your space into a room with water walls – but you never get wet! (okay, maybe a few sprinkles). You can run from "room" to room, hoping that the water doesn't appear again as you transition. There's so much to do at the Brooklyn Bridge Park, so if you're in the area, I highly suggest you check it out.
Ilana: Since I found myself on airplanes more than usual in the last month, I've had a chance to read more fiction than  usual. It's hard to find the perfect summer read but when you do, you know you'll be transported to another world and never bored as long as you're reading.  I particularly enjoyed a book by  Haruki Murakami called Colorless Tsukuru and His Years Of Pilgrimage.  The book had just come out in paperback but was first released last year, when it sold 1 million copies in its first week out in Japan.  What's great about finding this book is that Murakami, the author has written several much-loved books and now I've got a great list of follow-up reads for the summer.  It's a coming of age novel that's a page-turner.  All loose ends are not tied up by the conclusion of the book but that's the way life really is.
Lorena: My friend Jared and I are film buffs to the max — so much so that our friends opt out of seeing movies with us due to our post-viewing discussions about story, cinematography, narrative structure… all the "nerdy" things film lovers chat about. That being said, we recently saw Me, Earl, and the Dying Girl. It was sweet, witty, and had us laughing out loud in the theater. If you're looking to opt out of summer block busters (I can't say I did; I also saw Jurassic World a couple of days before,) this is one to catch.


Shira: Working in New York City, while very cool, sometimes you just need to get away.  I find myself escaping to Upstate NY better known as Woodstock to many for some weekends.  My family has a house up there and there is something so nice about just getting away and "being one with nature."  Sometimes I go up with friends,with family or even bring Psy and Thai (my cats) it' s just such a special place- it's so quiet, phones don't work, for two days you are disconnected and I am totally ok with it because it is so beautiful.  With all the travel that I am doing lately sometimes it nice to take a minute and — no need for a sound machine —  just open my window in my room upstate and ta-dah: Nature!


June 20th, 2015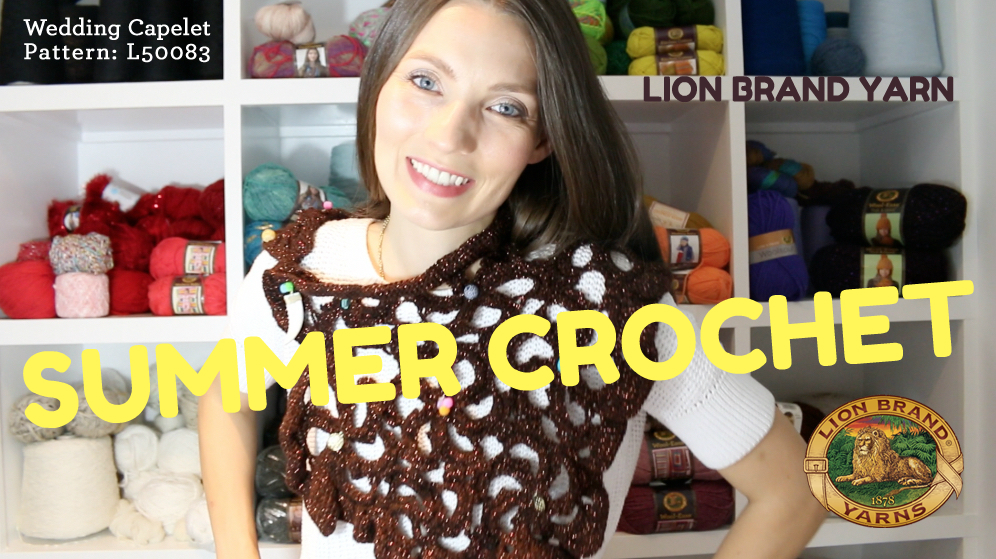 Our friend Kristy Glass, leader of the Glass Posse, spotted one of our newest and most popular crochet patterns — the Wedding Capelet — and saw it could be something more than a formal garment. Made with Vanna's Glamour®, Kristy chose to use the Copper colorway for her version of the Wedding Capelet … let's let her share her inspiration – take it away Kristy!

★★★

Can't see the video above? Click here: https://youtu.be/f2xhFLh_wkQ
Get the pattern: http://lby.co/1MJ3Wvr
Get the yarn: http://lby.co/1INwRxT