January 13th, 2014
Do you want a personalized gift for someone with an upcoming birthday?
How about a scarf that is designed for their sign of the Zodiac? The word Zodiac literally means "Circle of Life." The twelve signs of the Zodiac offer believers insights into their personalities, qualities, and talents. Whether you consider the traits of your Zodiac sign to be light entertainment or a determining force in your life, as a knitter or crocheter, you'll find that making a scarf designed with a specific birthday in mind is the perfect gift to create something made with them in mind.

Aquarius birthdays are from January 20th through February 18th, and are people who are both generous and known for their charity yarn crafting. If you're born during this period you have a drive to make the world a better place. You may be involved in your local community or a religious organization and you are a very social person, so knitting or crochet groups are probably part of your life. You love to engage others, so you most likely enjoy teaching people the craft that has given you so much satisfaction.

The symbol of Aquarius is the Water Bearer and Aquarians bring creativity and ideas into the world. As an Aquarius you like to make things your own. What a perfect way to start the year we've designated as "You Shine Through."
These creative people may be a bit quirky but that often goes along with being creative. The colors of the Aquarius scarf are the colors of water and creativity (purple).
We have both knit and crochet versions. Start now and you'll have the scarf for the late January to mid-February birthdays finished in time!
January 10th, 2014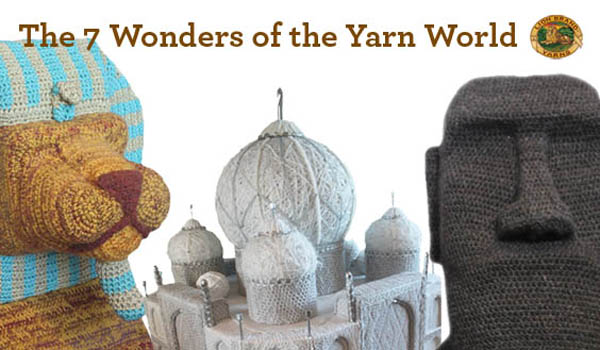 Lion Brand Yarn Company Showcases "The 7 Wonders of the Yarn World" at CHA Winter Tradeshow
We're at the Craft Hobby Association (CHA) Winter 2014 tradeshow in Anaheim, CA this weekend and our big secret is now out! Keep watching here as we reveal "7 Wonders of the Yarn World" — a fiber art installation that includes large-scale yarn sculptures representing the 7 wonders of the world.
The 7 Wonders of The World sculptures were designed by fiber artist Nathan Vincent. Each sculpture represents a different technique found in knit or crochet. The installations that represent the "7 Wonders of the Yarn World" theme stand about 5 feet high or taller, and include marvels such as the Great Wall of China crocheted with granny squares, an embellished knit Taj Mahal, a lace crocheted Leaning Tower of Pisa, a crocheted Lion Sphinx, and more.
Keep watching here as more photos get added to our gallery.
January 10th, 2014
Come see us at Vogue Knitting Live NYC next weekend!! Stop by booth 518, say hi — and check out the great selection of yarns we'll be carrying at 20% off, including new yarns Keppi, Unique, Heartland, and LB Collection Silk.
Additionally, we'll be hosting signings from some of your favorite designers such as Franklin Habit, Lily Chin and Nicky Epstein!
.
| | |
| --- | --- |
| | Franklin Habit, designer, illustrator and contributing author to Lion Brand's blog The Notebook, will be signing copies of select illustrations from posts he's written for us over the past two years on Saturday at 12:30 p.m. at booth 518. Check out Franklin's witty posts here. |
| Lily Chin, a master knitter and one of the world's fastest crocheters, will be at the Lion Brand booth signing copies of her book, "Crochet Tips & Tricks: Shortcuts and Techniques Every Crocheter Should Know" on Saturday at 2:30 p.m. at booth 518 | |
| | Love our Bonbons and want more ideas for projects? Nicky Epstein will be at the Lion Brand booth signing copies of her adorable "Knits for Dolls and Crochet for Dolls (25 Fun, Fabulous Outfits for 18-Inch Dolls)" books which has some great patterns utilizing Bonbons and other Lion Brand yarns on Sunday at 1 p.m. at booth 518. |
Vogue Knitting Live NYC takes place at the Marriott Marquis in the heart of Times Square from Friday, January 17th through to Sunday, January 19th.
January 8th, 2014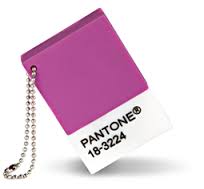 At the beginning of every year Pantone appoints one color to inspire world trends for the months ahead. A regular practice since 2000, Pantone recently announced this year's color: "Radiant Orchid." According to the leading color authority, Radiant Orchid "inspires confidence and emanates great joy, love and health," and was chosen to influence fashion, personal style and all creative matters in 2014.
Purple is a color that's often associated with encouraging individual creativity and used in meditation to help visualize a harmonious, spiritual balance. Expect to see this purple popping up on  inspiration and mood boards everywhere—and of course yarn projects.
With personalization becoming a bigger aspect in fashion this year, we find that purple a great color to work with because of its complexity. While it is a simple combination of blue and red, the variety of shades you choose to use in a project can vary, depending on the mood you wish to reflect.
January 7th, 2014
I was sitting in an airport, waiting for the flight to a teaching engagement, winding yarn. Travel with a swift being sadly impractical, I was making do with the back of an empty chair. Without warning, a screeching ninny plunged into view and grabbed at the unwound skein.
"So cute!" she screamed, jangling a fistful of wool in one painted claw. "Are you, like, doing some crochet or something?"
"That was the plan," I said.
But it was too late. The skein had become a tangle so dense not even light could escape from it.
Working out occasional small snarls is part of knitting. There's no avoiding it. But really big messes like this? Forget it. I've always taken them as a sign that I wasn't supposed to knit with that yarn, anyway.
When I got to the guild I mentioned what had happened and displayed the ruined skein.
"It was so pretty, too," I said. "But now it's dead."
"No it's not," said the Chief Guild Lady. "Somebody get Eileen."
There was a general chorus of agreement: Eileen must be got.
January 3rd, 2014
We are creators. In our everyday lives, we prepare our own version of recipes for our families, plant colorful or edible gardens to fit our outdoor spaces, and of course knit, crochet and craft with yarn. We start with some basic components—a washable or exotic fiber in a range of heathers or brights that we couldn't resist—and turn them into something completely our own.
With everything you make, you shine through.
From the colors you choose to the length of a scarf to the initials you embroidered on the baby blanket—the completely original way your knit or crochet creations unfold is how you share your own unique personality to the world.
In the coming year, we are going to celebrate your shining moments and share with you many ideas to customize and personalize everything you make so it perfectly suits the person you are making it for and in every way possible, you shine through in the finished piece.
January 1st, 2014
All of us at Lion Brand want to wish you a Happy New Year!
While most resolutions revolve around good health, life, and a better you, we wonder what your yarncrafting resolutions will be for 2014? Are you looking to learn a stitch or try a new pattern or will you finally organize your yarn stash?
December 30th, 2013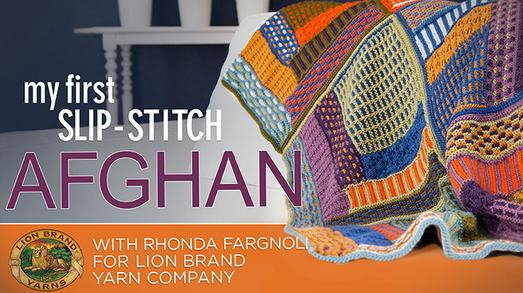 Now that the holiday season is coming to a close, you may be thinking of ways to improve your knitting skills in the new year.  If you're wondering where to start we have the perfect opportunity for you.
Whether you're a beginner just learning to knit or you're a stitch afficionado looking take your afghan knitting to the next level, you'll want to try "My First Slip-Stitch Afghan," one of four classes that Lion Brand offers on Craftsy.
Slip stitch knitting is such a beautiful method that creates a woven colorwork effect. It's an easy but complex looking stitch, but even a novice knitter can handle it. One of the best qualities of this stitch is that you work with just one color per row, no changing colors or stranding. With "My First Slip-Stitch Afghan," knitwear designer Rhonda Fargnoli, will teach you how to create our Slip Stitch Sampler Throw, which is composed of six different slip stitch patterns.
The great thing about buying a Craftsy class, it's yours to own; you can watch it as often as you want until you'll have a newly completed slip stitch afghan.
Order now at $19.99 (original price of $29.99)*
*Price is for a limited time only
December 29th, 2013
The fourth season of Downton Abbey premieres next Sunday, and I'm getting ready by working on another Tea Wrap for a friend of mine who loves vintage fashion.
Like her, some of my crochet and knitting projects are heavily inspired by vintage eras.  My copy of Vintage Styles for Today, featuring vintage Lion Brand patterns, is well-worn from extensive use, and I'm constantly on the hunt to find patterns that evoke a "vintage but modern" feel. Whether you are finalizing plans for your Downton Abbey premiere party or looking for a project to bring the local historical society's craft circle, here are some modern Lion Brand patterns suited for everyday, modern life but have a vintage-inspired twist.
December 27th, 2013
We're gearing up for 2014 with lots of surprises ahead, but I wanted to take time to reflect on 2013.

I'm always amazed at how many patterns we have in Patternfinder—I'm often asking myself "how could I have not noticed this one?" Our Design department has been working very hard this year, and we think they've really outdone themselves with all new patterns they've created.

Now that the holidays are over, you can start working on projects for yourself again; the projects you dreamt about while you knitted or crocheted gifts for loved ones. Or maybe you're ready to start fresh and you're looking for ideas!

With that in mind, I've collected the most popular patterns of this past year, including our District 12 Cowl Wrap, which turned out to be the most popular pattern of all!