April 18th, 2015
Starring Robert Downey Jr. as Iron Man, Chris Evans as Captain America and Scarlett Johansson as Black Widow, this Joss Whedon-directed epic is already buzzing with great reviews. Avengers: Age of Ultron hits theaters on May 1st and we thought it would be fun to round up a few of our favorite superhero-inspired knit and crochet patterns.
Who's your favorite Avenger?
* not a Lion Brand pattern
April 17th, 2015
Here is the latest installment of Lola, from its creator Todd Clark.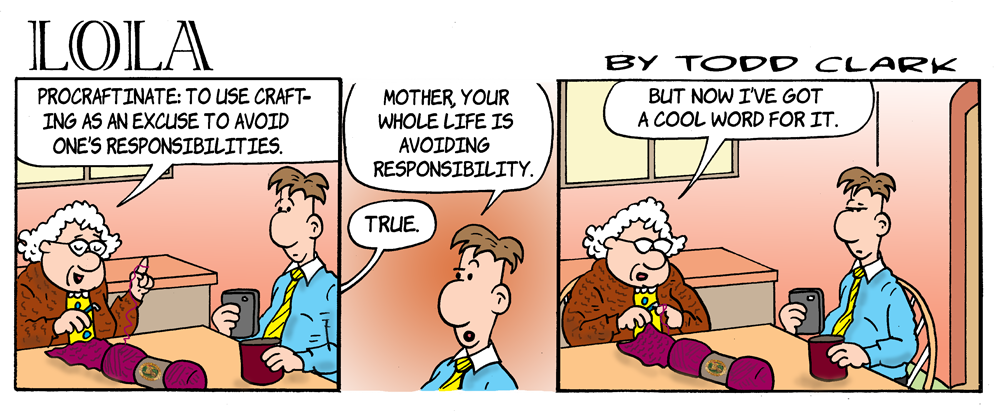 *** *** ***
Subscribe to The Weekly Stitch Newsletter
Get a FREE weekly email featuring patterns, articles and special offers. As a bonus for subscribing, we'd like to offer you 15% off your first order! *
:: Sign up now ::
April 17th, 2015
We have another great stitch video from Staci of Very Pink Knits. Staci previously demonstrated how to knit the Lace Stitch, a stitch that can be found in the stitch finder section of our website (under the "Learning Center" bar at the top of lionbrand.com). It was a popular video, so we're excited to share her tutorial for the Granite Relief stitch, which is also available on the stitch finder.
The Granite Relief stitch produces a lovely texture which is great for washcloths and just as great for afghans with a garter stitch border, as Staci shows in the video below. Check out Staci's tutorial for the Granite Relief stitch, which has been worked in LB Collection Superwash Merino, Cotton Bamboo, and Silk to demonstrate the varying looks in each yarn.

** can't see the video above? click here: https://youtu.be/KZqMOvVdnZQ **
April 16th, 2015
"You will find, as you look back upon your life, that the moments when you have truly lived are the moments when you have done things in the spirit of love." – Henry Drummond
Presenting 12 gorgeous new patterns to help you make it a handmade wedding!
For our whole wedding pattern collection, visit lionbrand.com.
April 15th, 2015

:: Trouble viewing the video above? Click here: https://youtu.be/vQVydwU5Zlo ::
April's featured yarn is Modern Baby®! This chainette yarn was designed with fun baby projects in mind but the Lion Brand design department has also used Modern Baby® in runway-inspired patterns for adults! In the video above, Design Editor Susan Haviland joins our Brand Ambassador Shira Blumenthal for a behind the scenes chat to discuss how customers like you inspired these beautiful patterns.
Take a look at more Modern Baby® patterns for adults below!
April 14th, 2015
In 2005 this pattern was downloaded well over 1 million times! A cultural icon wore it on an auspicious occasion and everyone who could crochet grabbed their hook and a few balls of Homespun® yarn and made one of their own. It turns out that this design is extremely flattering on lots of different body types and has an elegant, feminine flow to it that has kept it popular for the last ten years.
We've redesigned and recolored the poncho for 2015 and it's more fashionable than ever with the latest trend in Boho style. Ponchos are also perfect for this time between seasons when you need to add a layer to lighter clothing or stay warm in your home or office when it's a bit cooler than you'd like.
There have been lots of fads in crochet over the years but very few involved a single pattern. We hope you like this updated version. You can crochet it for under $30, the sizing is simple and you'll enjoy this flattering look almost year round.
Get the free pattern: Boho Poncho
April 13th, 2015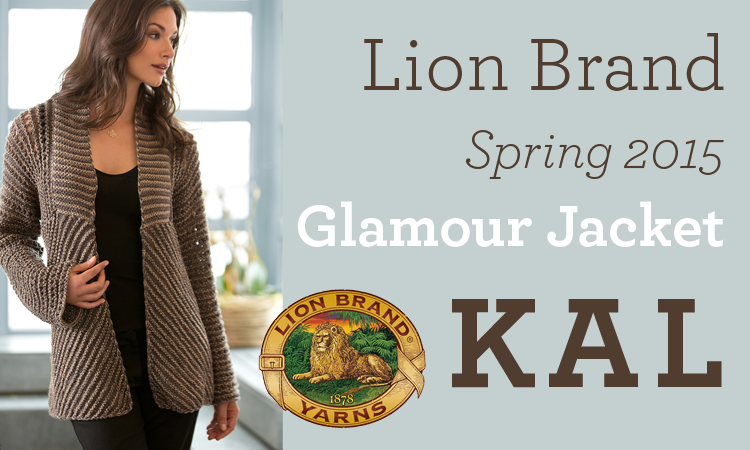 Editor's note: There's still time to get your Knit-Along Kit, get your kit here now – there are four to choose from! Also we have a hashtag for this KAL, use #LBspringKAL2015 when you share your progress on social media. Have fun!
---
Hello my fellow knitters! It's Kristy Glass here and I'm hoping you're having fun so far!
Even though I have completed several sweaters, I still consider myself a newbie in the sweater department. I love to choose patterns that have something new or something challenging so that my skills get better.
After I read through this pattern I noticed that the main piece — sleeves and neckband — was a shape that I had not knit before! Immediately I felt intimidated, so I took comfort in beginning with the collar. There is nothing like some lovely garter stitches to get me feeling comfortable! I am very glad I started here for two reasons: 1) I made an entire piece of the project without having to frog anything and; 2) seeing the fabric I made motivated me to want to move on to the next part of the pattern!
I am new to swatching, and even though my last few sweaters have fit me correctly (after taking the time to correctly swatch), I still doubt myself as a knitter. For this reason, I chose to leave my collar live, instead of binding off. I have fears that when I go to put it all together it will be too long or too short. Rather than unpick the bind-off (which I have had to do before and MAN that is a pain!), I chose to slip my stitches onto a stitch holder and leave a long tail. Now I can quickly bind off when the time comes to construct my sweater, or rip out a row or two if I need to! If you lose steam on this project, at least you know that you now have a nice striped scarfie complete! HA!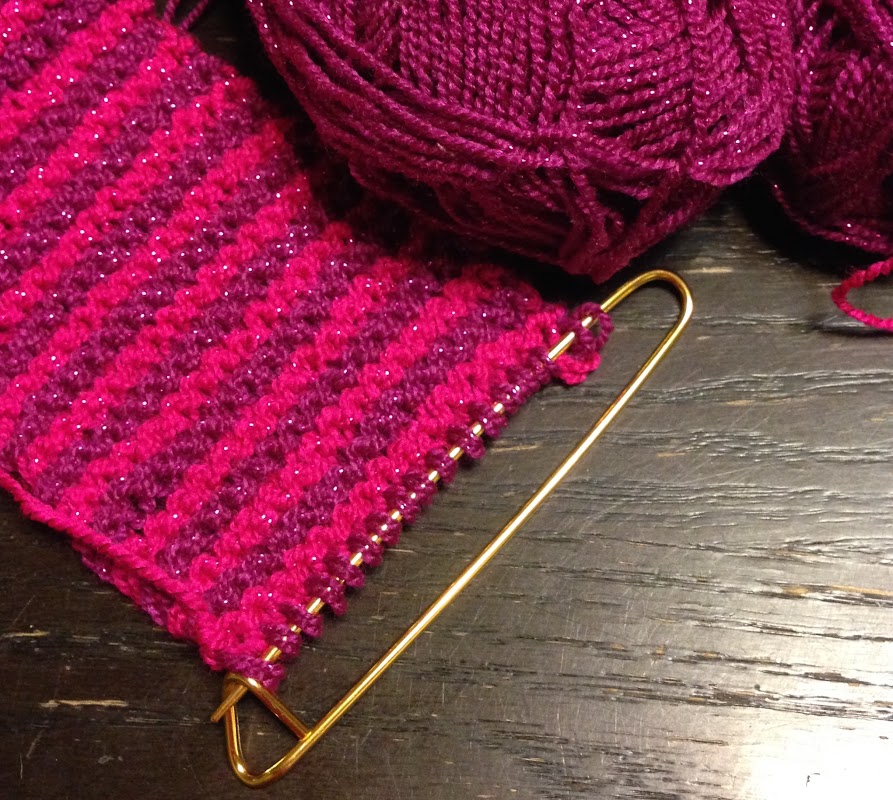 Do you like how my crazy pink and purples are coming together? As I knit this collar I kept thinking of the cheshire cat in Alice in Wonderland! I have a feeling I am going to be returning to these two Vanna's Glamour colorways for future costume work!
I knit the collar on some circular 9 needles I had lying around, but have resolved to complete the rest of the sweater on 14" straights. I am enjoying the straight needles very much as I rarely knit on straights anymore, it has been a nice change.
I would love to hear from you! How did the swatching go? What needles are you using? What colors did you order? Don't forget to head over to the Ravelry group where we are doing a lot of chatting! See you soon! Never stop Knitting!
***
I am Kristy Glass and I am so thrilled to be infiltrating the Lion Brand blog to lead you in the 2015 Spring Knit Along! Even though I learned to knit as a girl, my passion for fiber arts has escalated at a very steep rate these past several years.

I returned to knitting and began crocheting about 8 years ago after I suffered an unexpected health setback leaving me feeling completely out of control. Hand work was a healing salve for my body and soul as I suffered through a long healing process. Thankfully I continue to use knitting to aid meditation, solace and a feeling of accomplishment. I knit year round, despite weather changes, and I am highly anticipating us all knitting together on this project.

I have completed over 100 projects including scarves, cowls, hats, hand warmers, phone cozies, afghans, pillows, sweaters and yarn bombing. My most recent passion has been making sweaters and actually wearing what I make!
April 13th, 2015
As a knitter I always wonder when I travel, "can I bring my knitting needles with me?" That's a question that maybe you ask yourself too.  My co-worker Sarah wrote this post which offers some helpful tips for traveling with knitting and what handy dandy tools we're allowed to use. I always use it as a guide, and this past trip I traveled to Montego Bay, Jamaica with no reason to worry, but I guess who doesn't worry a little about getting their needles taken away from them.
Well now to the tale…
As I mentioned, I was just on vacation in Jamaica and  I stayed in beautiful Montego Bay. Of course, being who I am — a diehard knitter —  I brought my knitting along as I always do. I love to knit on the beach. I find it creates an ultra-calming feeling; the ocean, the knitting, no way to be stressed! I was working on my sweater and a gift for my friend. Everything was great.
But then it was time to go home.
I was going through security in Jamaica and I usually never have a problem with my bag, but this time I did. She asked if she could check my bag and I said, "of course." What do I have to hide? But then as she went through my make-up and other bags inside, I realized "MY NEEDLES!" I started to get really nervous, not only nervous, but a slow-motion anger was building inside my belly!
 I thought I was going to need to fight someone!
Thank goodness I didn't have anything on my needles, but she was looking at them in question, like "what are these?" She then went to her supervisor and asked if they were "ok?" I felt like she was talking about my children. I mean she was holding at least $60 worth of needles in her hands … needles I hold like they're new borns!! I was standing there thinking, "How could she be treating them like this?!" Not to mention the fire in my belly that was growing faster and faster…. These are my identity! Don't you …. And then she threw them back in my bag and attempted to be neat, but wasn't. I closed my bag up and it took about five breaths to bring me back down to this planet.
Tell me I'm not the only one!
 I know I can't be the only one who has been through this scare. Have your needles or crochet hooks ever been taken away from you? What did you do? How did you feel?
April 12th, 2015
It's almost the end of the school year for thousands of students across the country, and with the end of the school year comes prom! Many juniors and seniors in high school will be getting dressed up and made up for this amazing night of fun and dancing with friends. To celebrate this joyous occasion, we've rounded up a few patterns to add a touch of handmade to you or your date's outfit for prom. Check out the selections below!
April 11th, 2015
We can't help but fall in love with this cardigan sweater designed by Bonnie Marie Burns. Knit with Lion Brand's classic Fishermen's Wool, undyed pure virgin wool with natural lanolin oil, the IBA sweater features top-down construction, no seaming, built-in neckband, and a relaxed fit.
This is a paid pattern, available through Ravelry for $6.
:: seen here in Oatmeal which the designer refers to as "light taupe" ::