October 18th, 2014
SAVE 25% on all Vanna's yarns including Vanna's Choice®, Vanna's Glamour®, Vanna's Tapestry, and Vanna's Palettes! – TODAY, SATURDAY, OCTOBER 18 THROUGH TUESDAY, OCTOBER 21ST – SALE ENDS 12NOON EST!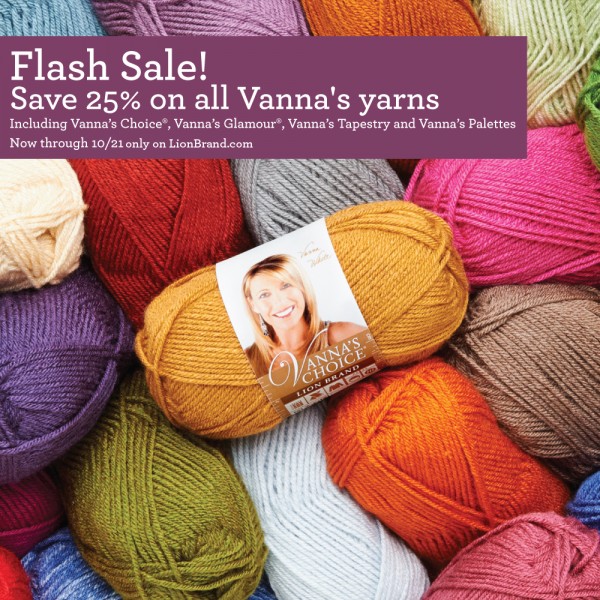 Here are all of the yarns included in the Flash Sale!
Enjoy 25% off all Vanna's yarns from 10/18-10/21 only on LionBrand.com!
October 17th, 2014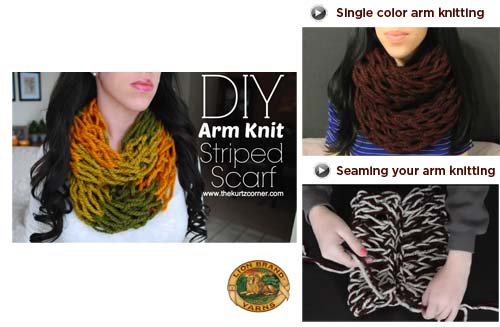 Today, we've got a brand new Arm Knitting video for you from Audra Kurtz! Watch as she shows you how to achieve a color blocked scarf in the super popular, Wool-Ease Thick & Quick. Follow the video to the end and check out the rest of her fantastic Arm Knitting tutorials!
If you like this tutorial, check out the rest of Audra's videos on her YouTube channel!
October 16th, 2014
Do you or your friends love taking selfies?
The "selfie" is a viral phenomenon.  Who knew that with camera phone in hand, people would turn the social media spotlight on themselves? It does make sense, though. It's an age in which we share what we're doing 24/7 and what better way to tell that story than to show our selves in the act?
But for those of us who knit and crochet, it's not just about us. It's also about what we make, how it looks on us, who we make things for and how it feels to wear something of our own creation.
So we're asking knitters and crocheters everywhere to photograph that experience. Make a scarf and show us your work. Share it on Facebook, Instagram, YouTube, Twitter, your blog, or any other social site – tag your post with @LionBrandYarn and remember to use the hashtag #scarfie.
We'll share your #scarfie on our site in a beautiful mosaic along with #scarfies shared by other members of the knit and crochet community.
What you make is one-of-a-kind. Started from a simple strand of yarn, your creation is a reflection of you in color, style, and literally in the shape and size of every single stitch.
If you'd like some inspiration for your #scarfie (see some examples above or on Pattern Finder), we'll be sharing pattern ideas and themes over the coming weeks and months.  Stay close and keep a look out for your fellow knitters and crocheters by searching for #scarfie on your favorite social networks.
Can #scarfie become a trending topic?
Below are some #scarfie pics that have been shared with us!
Find more inspiration, try Lion Brand's free Pattern Finder and find the perfect #scarfie pattern just for you.
October 15th, 2014
Tweed Stripes® is a bulky yarn that works up in a lightweight fabric – it's great for a transitional project for fall, like a hat and scarf set!
Lion Brand's yarn of the month for October is Tweed Stripes® – which you can currently buy now for 20% off the original price.
In addition, we're also offering a great giveaway for you too! We're picking 3 winners who will receive enough Tweed Stripes® yarn of their choice to crochet the Easy Peasy Hat and Scarf Set or knit the Rustic Ribbed Hat and Scarf Set.
Contest ends October 31st, so enter now and good luck!
Rules and Guidelines:
1. Entries must be received by October 31st, 11:59p.m. EST
2. Must be 18 and over to enter.
3. One person per entry
*All winners will be announced on the blog and social media. If you do not respond to the e-mail indicating that you were selected as the winner within 7 days, another winner will be selected to receive the prize
If the form below does not work for you, please click here to the link.
Looking for more patterns to make with Tweed Stripes®? Click here.
October 14th, 2014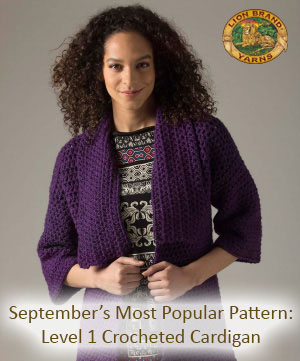 You can tell a lot by the popularity of our patterns – it's like palm reading (or pattern reading, in this case). With the weather getting colder we've noticed people are leaning towards heavier cover-ups like the Glamour Jacket and the Simple Shrug. The garments are made with our loftier yarns: Heartland Thick & Quick®, Homespun®, and Wool-Ease® Thick & Quick®. One of our new yarns, Lion's Pride® Woolspun® (exclusively sold at Micheals and Lion Brand) was a big hit – the Level 1 Crocheted Cardigan was our most popular project!
A big surprise in September: people still loved our District 12 Cowl Wrap! Inspired by the Hunger Games films, this pattern (in knit and crochet versions) was a big hit last year.
For more inspiration, we're featuring your favorite projects from Steptember:
October 13th, 2014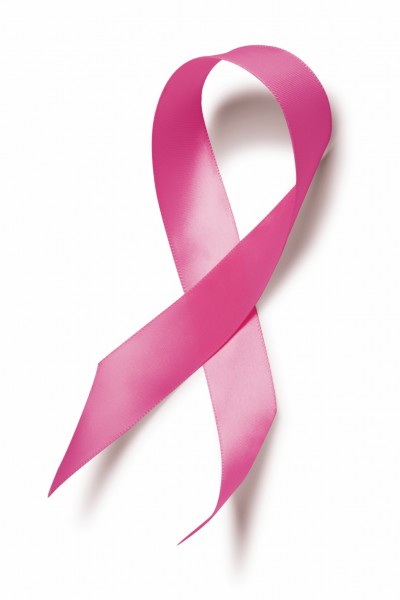 October is Breast Cancer Awareness Month, an annual campaign to increase awareness of the disease. Breast cancer is the second most common cancer in women and men worldwide — in 2012, it represented about 12 percent of all new cancer cases and 25 percent of all cancers in women — so almost all of you are affected by breast cancer either directly or through someone you care about.
Throughout the month of October, Lion Brand Yarn Company will donate 20% of the purchase price of a selection of pink yarns (see below) and our Knit for Life and Crochet for a Cause Kits to The Breast Cancer Research Foundation®, while supplies last. BCRF's mission is to advance the world's most promising research to eradicate breast cancer in our lifetime. For more information about BCRF, please visit bcrfcure.org.
You can help make a difference!
October 12th, 2014
This story is from our newsletter called Pattern Journal which brings a warm-hearted, wholesome story to your inbox to read every month. If you enjoy it and would like to subscribe, click here.
Hunter clasped Jill's hand at the bus stop, talking excitedly—his teacher, Ms. Randall, said he could hold the flag for the Pledge; a turtle lived in the science corner; could he buy lunch when there was pizza?
As the bus arrived, he wrenched away before the doors opened—so no one would know he liked to be close to his mom—then melted into the rambunctious cargo of school-bound kids.
She'd thought she'd feel wistful when Hunter started first grade, but sitting in the quiet kitchen with a cup of coffee, Jill was surprisingly cheery. Six open hours lay ahead—a gift! Her plan, formed during the summer, was to progress in knitting—to grow beyond the scarves and caps that had given her confidence. She'd knit her first sweater in this new-found time.
The pattern, a classic raglan of wheat-colored Wool-Ease® Chunky, was precise and clear. As the fabric swiftly grew on her needles, Jill wondered why she'd been timid. Sweater knitting was absorbing and fun! Already she was thinking about making herself another, and one for Jack. The yarn came in such luscious colors…
One evening she modeled her achievement for husband and son. "Looks great on you!" Jack exclaimed. Hunter, busy with crayons and paper at the kitchen counter, agreed.
Later, they tucked Hunter into bed, and went downstairs to talk over the day. Jack picked up Hunter's drawing. "Did you see this?"
Three stick figures represented the family holding hands. Hunter, the smallest, wore his favorite baseball cap and a red sweater, Jack, a brown sweater; Jill, the new wheat-colored raglan.
"There's a message here," said Jack.
"And a compliment," Jill added.
—
All characters appearing in this work are fictitious. Any resemblance to real persons, living or dead, is purely coincidental.
A story by Selma Moss-Ward.
Selma Moss-Ward writes and knits in Rhode Island. You can find her work on our blog, as well as Lion Brand's monthly newsletter, Pattern Journal, which you can subscribe to here.
October 11th, 2014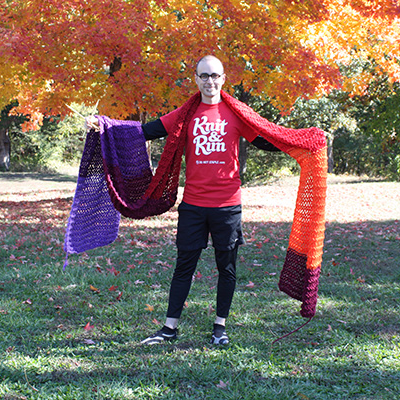 Featured in the New York Times and around the world, David Babcock is the Guinness World Record holder for knitting the longest scarf (12 feet!) while running a marathon, which he did in Kansas City last October. Coupled with a great deal of skill and endurance, David credits his choice in using Lion Brand's Hometown USA as a factor in his amazing accomplishment! Lion Brand is sponsoring David in the New York City Marathon on November 2nd, 2014 and lucky for us, he's agreed to write for us leading up to race day!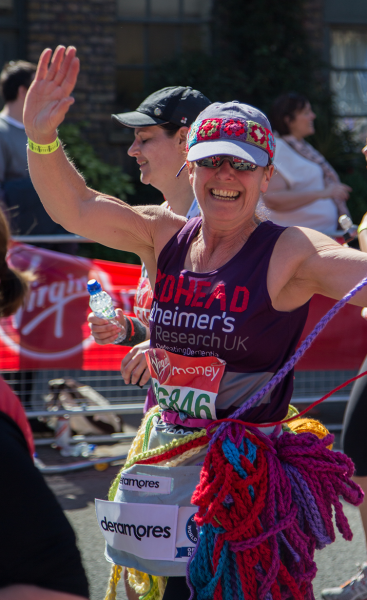 When someone discovers a person who knits or crochets while running, they're understandably surprised by the incongruous pairing, even more surprised when they learn that it's a phenomenon not limited to one person AND even has a bit of a history!
David Babcock interviews the pioneer of yarn-on-the-run, the original knitting runner, Susie Hewer. Susie held David's record previously and currently she is the Guinness World Record holder for the longest crochet chain made while running a marathon, achieved at the 2014 London Marathon in London, UK, on April 13, 2014.
David: On your blog you share the story of wanting to do something special for the 2005 London Marathon while running for the charity Alzheimer's Research UK when a friend said that you should 'act your age and stay at home with your knitting!'. Did you take this as a challenge? What was your process in figuring out how you would use your knitting with the marathon? Had you heard of anyone else that had tried anything like it?
Susie: I most certainly did take it as a challenge! I didn't act upon it immediately but I turned the thought over and over in my mind, thinking perhaps I'd run in fancy dress as a ball of yarn or a giant knitting needle or even running it dressed entirely in knitted garments, until the idea of actually taking my knitting with me on the run popped into my head. Of course I dismissed that idea straight away as that would be plain silly now wouldn't it! But the idea festered away in the back of my mind until I decided that I would in fact take my knitting with me with the intention of running for a bit and then stopping to chat to the crowd whilst knitting.
This concept caught the attention of the media and I was featured in a few articles in the Press which was spotted by the people from Guinness World Records who contacted me to suggest that I could turn it into a record attempt. After much tooing and frooing of ideas we came up with the concept of me knitting a scarf whilst running. This of course meant that I would actually have to knit whilst running. Oh my!
October 10th, 2014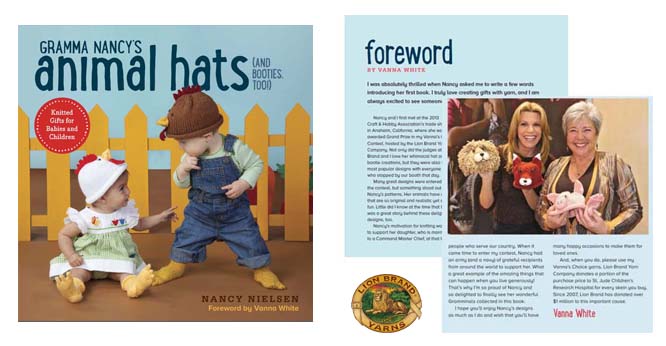 Every year, Lion Brand Yarn Company hosts the "Vanna's Choice Contest" in which participants submit a creative knit or crochet design made with Vanna's Choice yarn for the chance to travel to California to meet Vanna White. Our 2012 contest winner was "Gramma" Nancy Nielsen, who made adorable matching animal hat and booties sets as baby gifts.
October 10th, 2014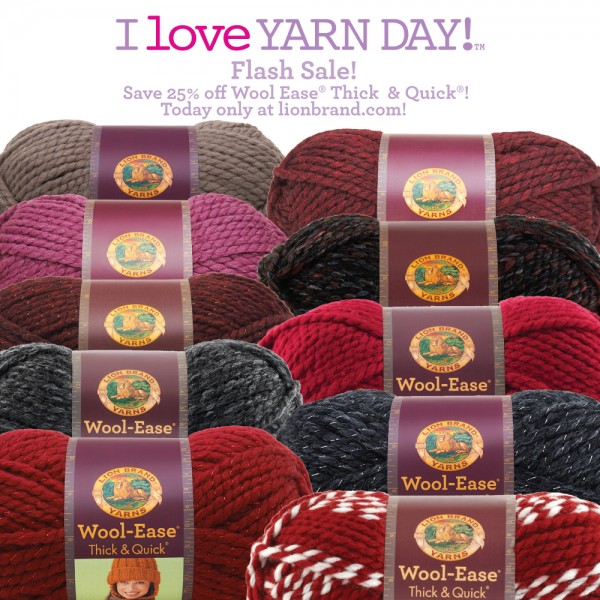 Here are some Wool Ease® Thick & Quick® patterns to inspire you on I Love Yarn Day!