January 29th, 2015
This column by Barbara Breiter, author of The Complete Idiot's Guide to Knitting & Crocheting, originally appeared in The Weekly Stitch newsletter.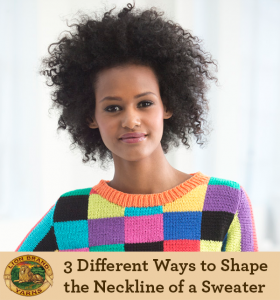 When making a pullover sweater in either knitting or crochet, there are many different ways to construct a sweater. In some cases, you will be working from the top-down in one piece (working from the neckline downwards, adding stitches for your raglan sleeves, and then coming back in for the body); you might also work in the round from the bottom edge, splitting the stitches at the arm holes and then working on the front and back separately.
Often you'll see instructions like this:
Shape Neck
K14 (15, 16, 16) sts, join a 2nd ball of yarn and bind off next 6 (8, 8, 10) sts, k to end. Working both sides at once with separate balls of yarn, dec 1 st at each neck edge every other row 3 times – 11 (12, 13, 13) sts. Work until same length as Back to shoulders.
When you shape the neck of the front of a pullover, in particular a crew neck or a v-neck, you are ensuring that the neck opening will be large enough so that it fits over the head. There are two components: the width and the depth.
The depth is generally several inches. This is why the neckline shaping begins before the front armhole reaches the depth of the back armhole (where usually only width is of consequence to the total neck opening).
To begin, stitches are eliminated in the center and then decreasing takes place on each side of these center stitches to further widen and shape the neck opening. When the depth is completed, the shoulder stitches are usually bound off.
We'll be discussing how to shape a neckline when you work the sweater in pieces, starting from the bottom edge and working up towards the neckline.
January 28th, 2015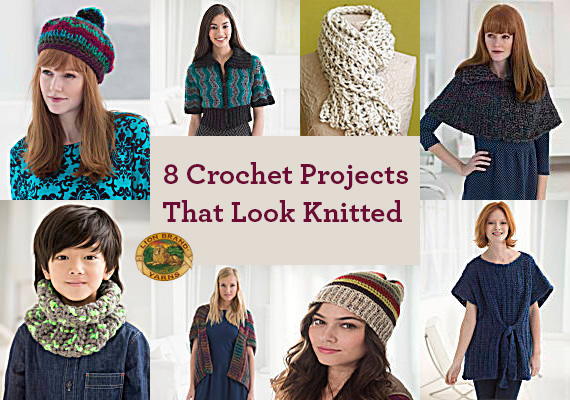 As a crocheter, I've always wanted to knit because I love ribbed and welted textures. I'm learning, but it'll be awhile before I'm confident enough to knit a sweater … so in the meantime, I'll share some recent crochet projects from Lion Brand's Patternfinder that I initially mistook for knit — perfect projects for a crocheter like myself!
There are a two common techniques you can use to create a knit effect in crochet.  You can work horizontally, like in the Tiered Tunic, to give the fabric-like appearance you often see in knitting. Or, another technique is to use front and back post stitches to create the ribbed look you see in the Split Collar Capelet.
Below is a collections of my favorite patterns to get you started:
January 27th, 2015
Over the past few months, we've shared #scarfie projects from many of our favorite bloggers who all used Wool-Ease® Thick & Quick® to design beautiful cowls, most of which require only one or two balls.
I put together a collection of their wonderful #scarfie projects in case you missed any. They're all simple crochet patterns that even a beginner crocheter will be able to understand and work through. So take a gander and see which one fits your style!
P.S: We encourage you to share photos of your handmade scarf or cowl projects by tagging @LionBrandYarn and using the hashtag, #scarfie. You'll have the chance to be featured in our #scarfie gallery on Facebook!
January 26th, 2015
When it comes to sports and knitting to show team spirit, I immediately think of Hometown USA®. The bright, bold primary color palette is right for any sports fan. Whether cheering for your NFL favorite or your local Pop Warner team – this easy care, machine washable yarn is perfect for team-supporting projects.
Our Winning Team Cowls are here, just in time for the BIG GAME on February 1st!
Arm-knit a scarf to support the Seattle Seahawks!
Arm-knit a scarf to support the New England Patriots!
Which team are you knitting for?
January 26th, 2015
Margaret Hubert has written over 30 books about knitting and crochet! With so many years in the yarncrafting industry, I just had to sit down with Margaret to hear about her career as a designer and author. She loves her fans and shared a fun story with me about one of her favorite pieces of fan mail!
:: Can't see the video above? Click here: http://youtu.be/CYLNYcPhKOA ::
Here are some of Margaret's great patterns!
January 25th, 2015
This story is from our newsletter called Pattern Journal which brings a warm-hearted, wholesome story to your inbox to read every month. If you enjoy it and would like to subscribe, click here.
Helen didn't mind her nighttime schedule at Children's Hospital, but after hours of sick kids and distraught parents, decompressing was hard. That's where knitting came in.
Mom, herself a pediatrician, had suggested it. "Knitting clears your brain," she said. "You see results."
During the time she'd been at Children's, Helen had knitted constantly, not for herself, but for the kids. She made what was needed — chemo caps, security blankets, stuffed animals. Now she was knitting a throw with a cheery design of trucks and cars.
It was almost done, just a few rows left. Helen loved that the "Traffic Throw" was knitted with Vanna's Choice®. For every skein purchased, St. Jude's Research Hospital, dedicated to curing childhood diseases, received a donation. Knowing that made Helen feel she was doubling the benefit of her knitted gifts. She loved everything else about the yarn, too–its softness and clear, bright colors. On break, she'd sit in the lounge and knit away. When others asked, Helen answered, "Oh…it's for someone I haven't met yet."
Then one of the surgeons told her about Charlie. "Helen," he said. "Check out room 102." He pointed down the hall, where the post-op kids were monitored." Charlie pulled away from his mom in a mall parking lot, into the path of a car backing out. Every parent's nightmare, right?"
Charlie was four; he'd sustained contusions, a concussion and a broken arm. He looked incredibly small, his head bound with gauze, a rigid cast on his arm. On his bed were a teddy and small toy trucks. His exhausted dad sat in an adjacent armchair.
"I'm Dr. Chen," said Helen, on entering. "How ya feeling, Charlie?"
Charlie looked away.
Dad said, "I think Charlie's feeling as bad about disobeying his mom as he is about getting hurt. Aren't you, son?"
Charlie said nothing.
Helen said, "Everybody makes mistakes." She went to Charlie's bedside. "I guess you like trucks, right?"
Charlie nodded. "I have more at home," he whispered.
"I think there might be some around here," Helen said. "I'll look for them, okay?"
Charlie nodded again, then closed his eyes.
When he woke up, he was covered with something warm and soft. As Charlie and his dad counted the cars, trucks, and traffic lights, their hands found a note:
Dear Charlie,
Get well soon.
Your friend,
Dr. Chen
Save 20% off Vanna's Choice® until the end of January!
—
All characters appearing in this work are fictitious. Any resemblance to real persons, living or dead, is purely coincidental.
A story by Selma Moss-Ward.
Selma Moss-Ward writes and knits in Rhode Island. You can find her work on our blog, as well as Lion Brand's monthly newsletter, Pattern Journal, which you can subscribe to here.
January 24th, 2015
Here is the latest installment of Lola, from its creator Todd Clark.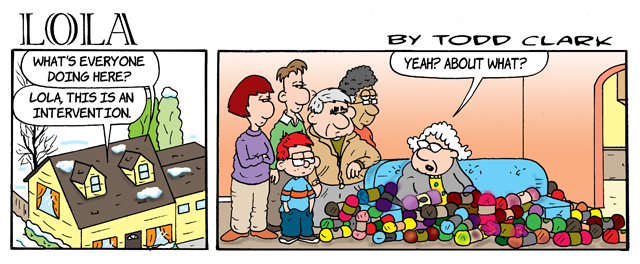 *** *** ***
Subscribe to The Weekly Stitch Newsletter
Get a FREE weekly email featuring patterns, articles and special offers. As a bonus for subscribing, we'd like to offer you 15% off your first order! *
:: Sign up now ::
January 23rd, 2015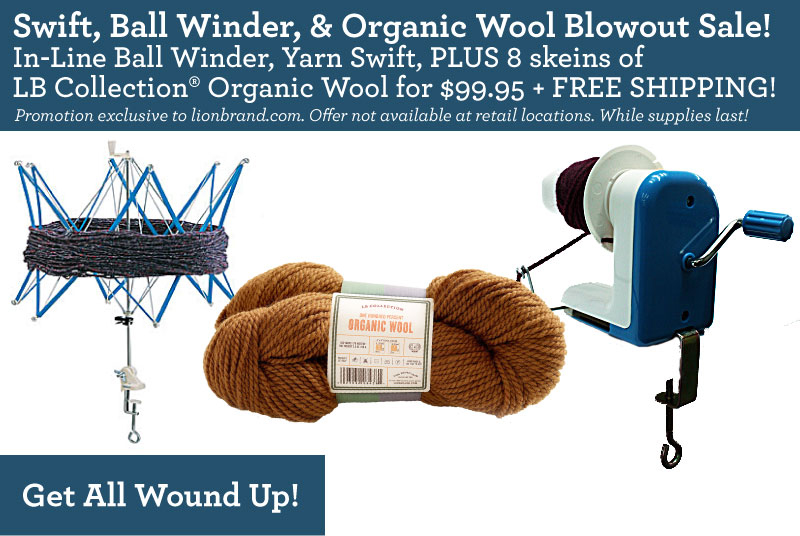 Swift, Ball Winder, Organic Wool Blowout Sale
* Domestic orders only. Free shipping applied on qualified orders at checkout. Promotion exclusive to lionbrand.com while supplies last. Offer not available at retail locations.
January 23rd, 2015
Lily Chin always has great stories to tell. Known for her speedy crochet skills and her impressive hand-knit costumes, she's knit and crocheted it all!
I recently had the opportunity to catch up with Lily at Vogue Knitting Live and here's what she had to say:
::Can't see the video above? Click here: http://youtu.be/_0YhiyvBWjs::
Now that you know Lily LOVES to knit dresses, maybe you're inspired to make one for yourself. Browse through our collection of dress patterns, we're certain that you'll find one you like!
Here are several of Lily's own beautifully designed patterns for you to knit and crochet:
January 22nd, 2015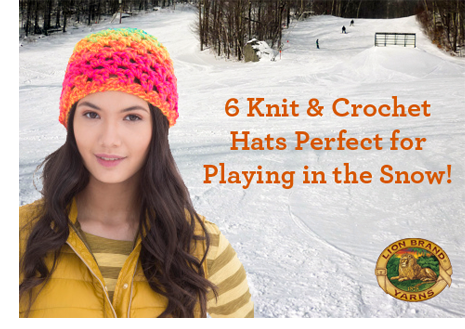 We haven't had much snow here in NYC, but plenty of folks throughout the country and in Canada have already woken up to blankets of it. If you're lucky enough to simply enjoy a snow day, why not bundle up, grab your sled, board, or skis, and have fun in snow!
January is peak ski season, so it's a safe bet that many of you are hitting the slopes or out tobogganing. As knitters and crocheters, I'm sure you've donned some form of handmade knitwear while enjoying winter activities. Hats are great accessories for snow activities because they keep you warm, and can help friends and family spot you in a crowd or at the bottom of a hill.
To celebrate winter and having fun in the white, vibrant snow, I've rounded up six hat patterns that'll help you stand out from the masses.
Bright and Cheery: You'll be easy to spot in these vibrant colors!
Stylish & Sophisticated: Neutral Colors with Fun Details
What type of handmade items do you like to wear (or make for others) for enjoying snow activities? Share with us in the comments!