January 1st, 2015
From all of us at Lion Brand, Happy New Year!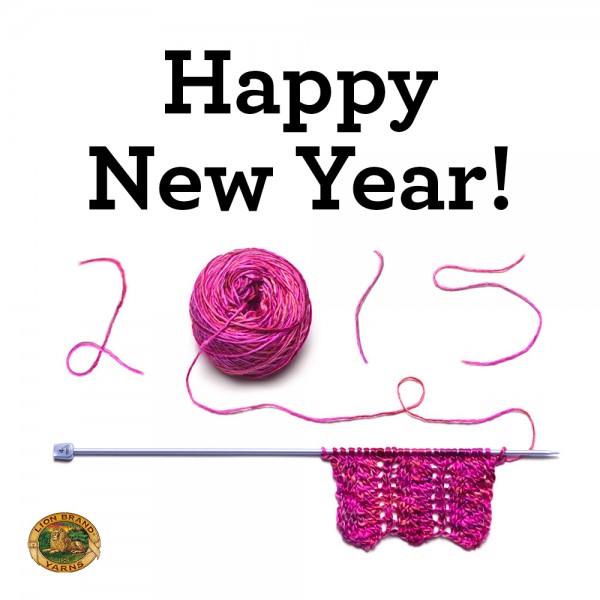 Tell us about your knitting and crochet resolutions for 2015 in the comments below.
December 31st, 2014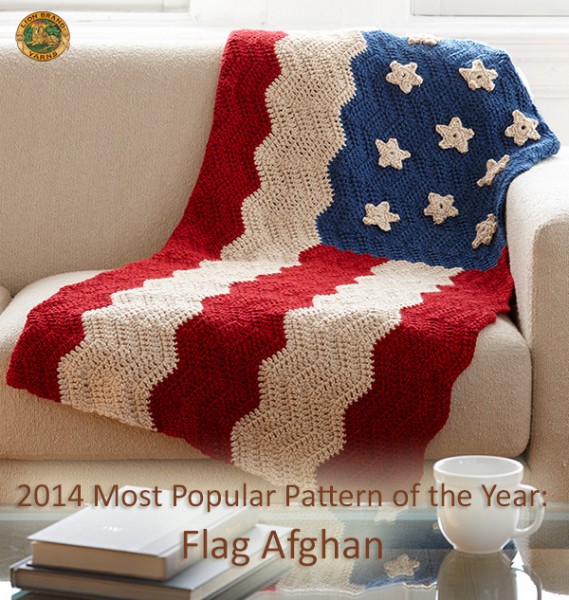 As we wrap up 2014, we noticed this past year was the "year of the afghan" for crafters.  Whether it was knit or crochet, a lot of you found afghans to be the best project to satisfy your knitting or crochet urges. You preferred creative patterns like the Zig Zag Throw and Slip Stitch Afghan, as well touchable textures like the Classic Cable Throw and Animal Talk Throw.
Last year we made a yarn prediction that crafters would use more American-made yarns. True to our prediction, our most popular pattern for 2014 was the Flag Afghan made with our American-made yarn, Heartland!
Another big surprise was you still loved our District 12 Cowl Wrap, a pattern inspired by the Hunger Games movies, which was our most popular pattern from 2013.
Check out below for all of our popular patterns from 2014 to inspire you in the new year!
December 29th, 2014
Blogger and author Kathryn Vercillo is an expert in the area of using crafting to heal, having researched the topic extensively for her book Crochet Saved My Life. In this post she stresses the importance of self-care for caregivers and offers suggestions for using yarncrafting to stay healthy. Read her previous blog posts on the Lion Brand Notebook here.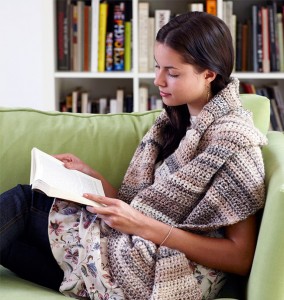 Many of us are caregivers. The Family Caregiver Alliance reports, "44 million Americans age 18 and older provide unpaid assistance and support to older people and adults with disabilities". Research shows that caregivers themselves are at high risk for a variety of health issues. Whether you are the parent of a special needs child, the adult child caring for an elderly parent with Alzheimer's or the spouse of someone with a severe disability or chronic illness, it is critical that you make sure to take time for your own self-care. You cannot continue to help those you love if you aren't first well yourself. Knitting and crochet can help.
Knitting and Crochet Reduce Depression
Caregivers are at major risk of developing depression. Various studies show that up to 70% of caregivers suffer from this condition. Knitting and crochet have both been proven to help reduce depression. Learn more here.
Craft Away Caregiver Stress
Stress is the major complaint of most caregivers. It leads to numerous other health concerns. The stress is totally understandable. You are worried about your loved one, concerned that you aren't doing enough for them, dealing with medical care and making medical decisions, and probably trying to set your own personal issues aside to make theirs the priority. All of these things are stressful. Knitting and crochet significantly reduce stress. Learn about meditative crafting here.
Read the rest of this entry »
December 28th, 2014
This story is from our newsletter called Pattern Journal which brings a warm-hearted, wholesome story to your inbox to read every month. If you enjoy it and would like to subscribe, click here.
"You don't have to do everything yourself," Tom said. "No one will mind if you buy a present, instead of making one."
How could Lynn explain? There were some people she just needed to knit for. Like Beth, her BFF. They'd been together through violin lessons, music camps, statewide youth orchestra. They'd been music majors at the same college–and they'd been in each other's weddings. That's how close they were — like sisters. Lynn just couldn't buy Beth a present. She deserved something lovingly handmade.
During the summer, Lynn had planned to knit Beth a vest. Then in September, she changed that to a scarf. Now Christmas was just weeks away, and she still hadn't begun knitting. Where had time gone? Guilt was setting in, and with it, stress. Maybe she'd counted too much on Beth's relaxed nature. Lynn knew that whatever she gave her, Beth would be fine with it. Their friendship wasn't about stuff.
The next day Lynn visited her local craft store, wandering around, looking for inspiration. She passed the yarn — Heartland – on display, surrounded by swatches and samples . . . and stopped. She reached up and squeezed a skein. It was luxuriously soft. Heartland's nuanced colors reminded her of Beth — elegant, luminous, subtle. Lynn placed two skeins in her basket.
She knew this was the beginning.
The beginning of what? Thank goodness for Lion Brand's Patternfinder! Smartphone in hand, Lynn used the Lion Brand app to search for patterns. There were more than a hundred for Heartland. Then she saw the Concerto Cowl, a composition in exactly the yarn colors — ebony and ivory, like printed music — she'd just pulled off the shelf.
* * *
Tom, coming into the living room, saw her curled on the sofa, knitting away.
"So you found something to make for Beth?"
"Definitely," Lynn replied. "Except it was actually the other way around — I think this project found me."
It was the first of many Concerto Cowls she'd knit — including one for herself. Quick to complete, and stunning in a variety of color combinations, the classic pattern was, like a beautiful piece of music, something she'd always love to replay.
—
All characters appearing in this work are fictitious. Any resemblance to real persons, living or dead, is purely coincidental.
A story by Selma Moss-Ward.
Selma Moss-Ward writes and knits in Rhode Island. You can find her work on our blog, as well as Lion Brand's monthly newsletter, Pattern Journal, which you can subscribe to here.
December 27th, 2014
Here is the latest installment of Lola, from its creator Todd Clark.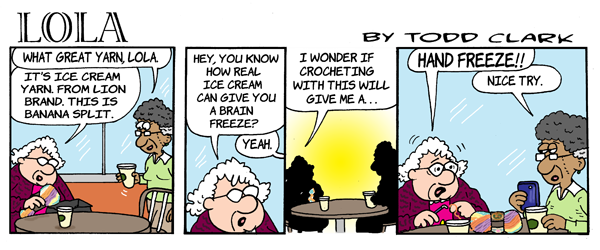 Visit lionbrand.com for more Ice Cream patterns.
*** *** ***
Subscribe to The Weekly Stitch Newsletter
Get a FREE weekly email featuring patterns, articles and special offers. As a bonus for subscribing, we'd like to offer you 15% off your first order! *
:: Sign up now ::
December 27th, 2014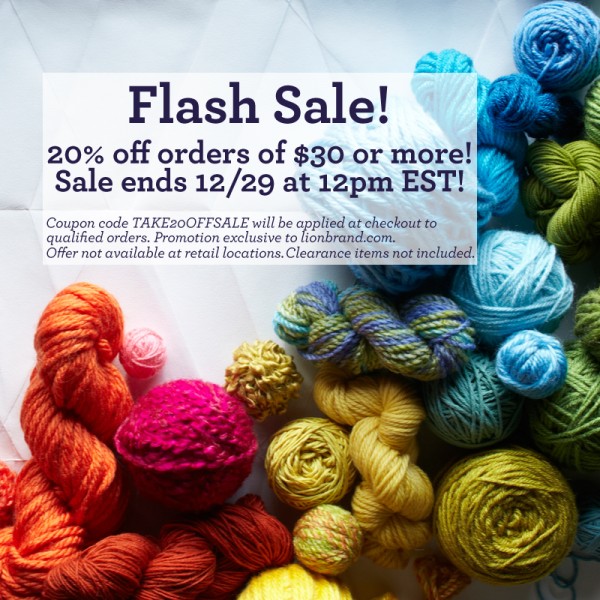 December 26th, 2014
The World Amigurumi Exhibition is happening at Resobox, now through to February 28th, and I had the chance to stop by this past weekend.
Resobox is a Japanese cultural center in Long Island City and their mission is to share and celebrate Japanese influence in the arts. The World Amigurumi Exhibition features over 4,000 amigurumi contributed by over 140 artists from 32 different countries — and it's something else.
Among my favorite finds – Star Wars Kewpie dolls, Frida Kahlo dolls and colorful ninjas!
I took my six year son and my husband and they both loved the show – there really is something for everyone – and because it's all for sale, make plans to visit sooner rather than later!
p.s. If you're going to be at Vogue Knitting Live in NYC this January, Resobox curators Takashi Ikezawa and Helen Moss are giving a FREE lecture on Sunday, January 18th at 11:15am–12:00 noon. I'm planning to be there – hope to see you too! I also understand that VKLive is hosting a pop-up shop – great news for those of you who can't make it out to Queens.
Below is a selection of photos I took at the show – photography is encouraged at Resobox!
***

December 25th, 2014
From our family to yours, have a safe and happy Christmas!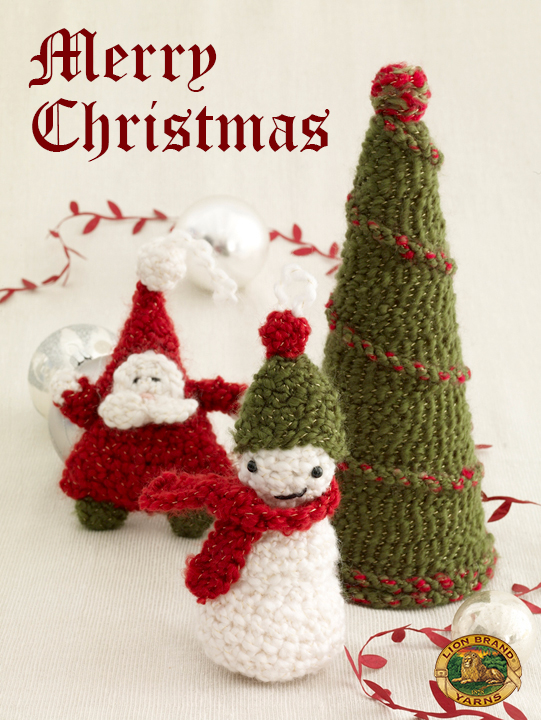 December 24th, 2014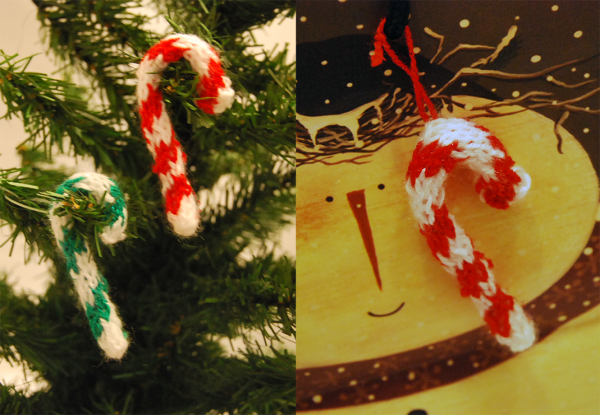 The holidays are here and I just managed to put up my tiny Christmas tree. Much to my dismay, I somehow lost all of my candy cane ornaments! With some quick, last-minute thinking, I came up with the idea to make these cute knit candy canes using a package of Bonbons.
Check out my tutorial below to make your own.
P.S. Since I have a small Christmas tree, it only took two episodes of Downton Abbey to make about six candy canes! Which means an entire package could make at least two dozen!
December 23rd, 2014
1. Big Yarns: Fast Finish Projects
Our number one trend prediction for 2014 (Big, Bigger, Better) was right on target and will continue to be one of the most important trends in 2015. This year we'll be seeing more chunky knits and fast-finish crochet projects as the most popular yarns of the last year continue to be important. In our line, Wool-Ease® Thick & Quick®, Homespun® Thick & Quick®, Heartland Thick & Quick® and Country® are all category 6 super bulky weight yarns that make your projects work up quickly while being on-trend with lush, big stitches. Big yarns not only work up quickly but they also have rich texture and great stitch definition that you don't usually see in store bought items. With the maker revolution in full swing, crafters want show that their work was made by a human being!