May 1st, 2015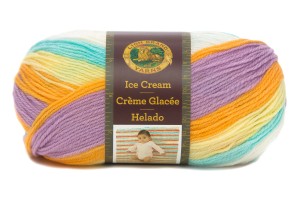 Already a popular baby yarn, Ice Cream® is a soft and easy care yarn that works up to create delightful, self-striping colorways that blend unique and cheerful color combinations.
It comes in eight delightfully tasty colors like Lemon Swirl, Tutti Frutti, Banana Split, and Cotton Candy. There's even Cookies & Cream, a sophisticated, tonal grey shade for the gender neutral projects.
This will be your go-to yarn for baby shower gifts, your own baby project and even big, bright and beautiful blankets like the Charleston Garden Blanket.
Best of all, you'll save 20% on purchases of Ice Cream® for all of May!
:: Can't see the video above? Click here: https://youtu.be/GZAouicErik ::
We've selected a few of our favorite Ice Cream patterns below. For the full selection, visit lionbrand.com.
April 30th, 2015
Here is the latest installment of Lola, from its creator Todd Clark.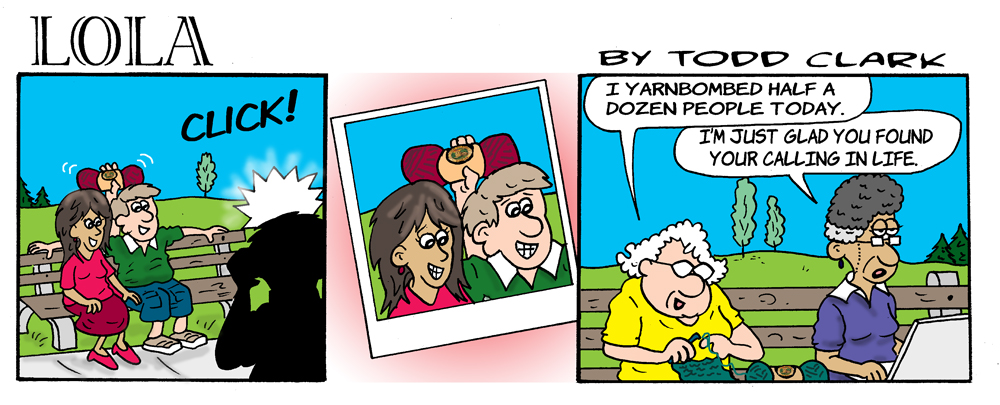 *** *** ***
Subscribe to The Weekly Stitch Newsletter
Get a FREE weekly email featuring patterns, articles and special offers. As a bonus for subscribing, we'd like to offer you 15% off your first order! *
:: Sign up now ::
April 29th, 2015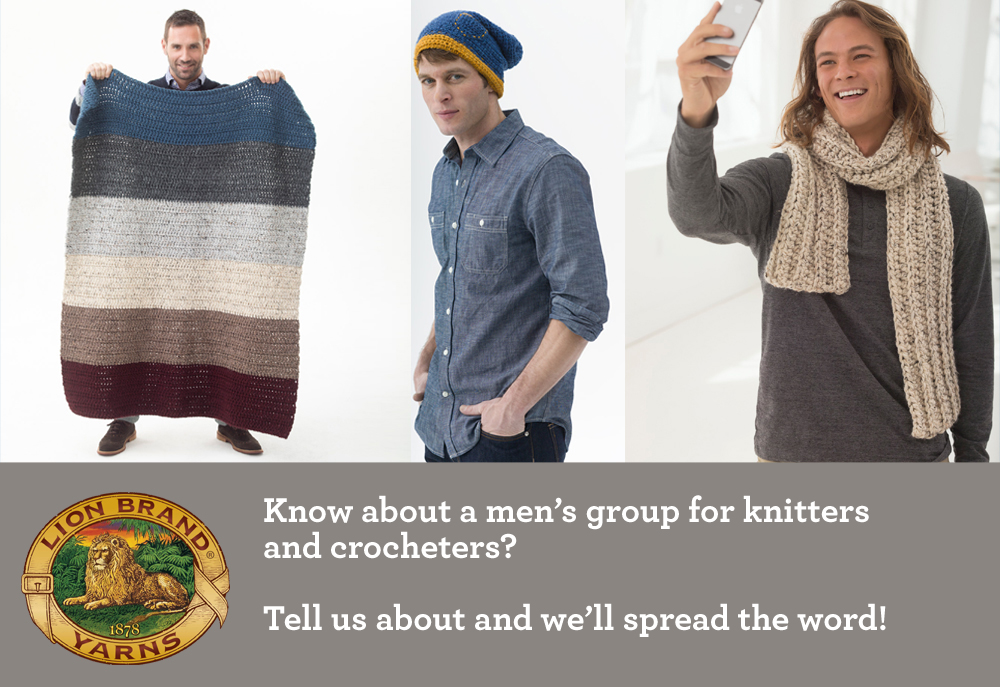 Here in New York City, the Lion Brand Yarn Studio hosts a monthly get together for men who knit and crochet – all skill levels welcome!
Hosted by Darrin Morris, it's a great group for beginners who want support and inspiration from their fellow men. If you live in the New York City area, rsvp to join in the fun!
For those of you not in New York City, tell us about the knitting and crocheting groups for men in your area in the comments below.
Let's get the word out!
Here's a round-up of five our favorite posts that feature patterns and stories for men:
April 28th, 2015
Susan Haviland is Lion Brand's Design Editor. She loves to knit and crochet in the company of her favorite films and televisions shows.
Do you find it impossible to sit in front of the television without knitting or crocheting? Are you attracted to projects with many mindless sections so you can stitch and watch the screen?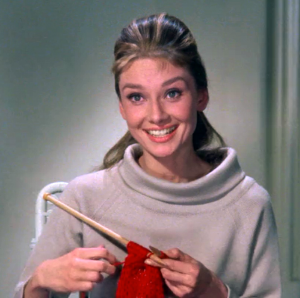 I find my appreciation of television entertainment increasingly linked to my daily stitching. And by that I mean watching movies and streaming reruns of my favorite television series surrounded by bags and baskets brimming with easy projects.
Costumers may rejoice – I am appreciating your work! How can one forget the countless knitted vests in "All Creatures Great and Small", the terrific crocheted shawls in "Babette's Feast", Holly Golightly's work in progress in "Breakfast at Tiffany's", Faye Dunaway's pullover in "Bonnie and Clyde", Greer Garson's bed jacket in "Random Harvest", the knitting hidden in the office drawer in "How to Succeed in Business Without Really Trying", Miss Lemon's outfits in "Poirot", Mr Ingelby's jumper in "Murder Must Advertise" … I could go on …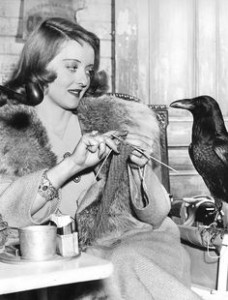 And then there's the thrill of the shared moment of catching a star with needles in hand: Bette Davis, Meryl Streep, Renee Zellweger, Katherine Hepburn, Barbara Stanwyck, Julia Roberts, and of course, many others.
Do you have a favorite knitted or crocheted moment from television or film? Is there a project inspired by some of these costumes and knitting moments that you'd be interesting making? We'd love to hear about any crocheting or knitting that appears in something you enjoy watching.
We'll feature them here and maybe one day you'll even see a free pattern inspired by your selection!
April 27th, 2015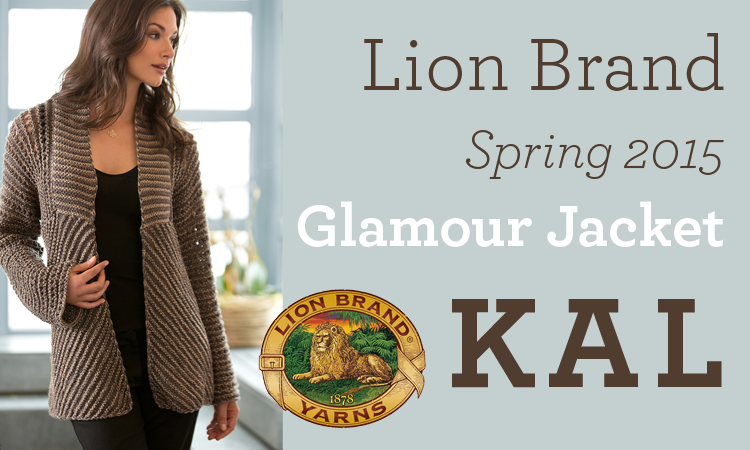 Editor's note: There's still time to get your Knit-Along Kit, get your kit here now – there are four to choose from! Also we have a hashtag for this KAL, use #LBspringKAL2015 when you share your progress on social media. Have fun!
---
Hello my fellow knitters! It's Kristy Glass here and I'm hoping you're still having fun!
I want to talk about the two lower sections for a minute.
PAY ATTENTION! After knitting SUCH a large piece (Right Lower Section), you are going to get into a groove and think you know how to repeat the lower section once more. Back in my novice days, I TOTALLY would have just knit the exact same side and ended up with 2 RIGHT lower sections instead of one of each. So I thought I would just point out the very subtle differences between the RIGHT and LEFT lower sections, with my Pink Arrows below: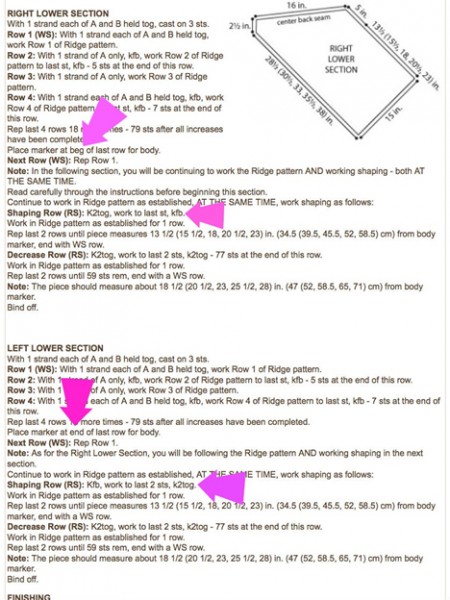 Compare your pieces as you go to make sure the bias stripes are sitting in opposite directions from each piece. After you have knitted your pieces, it's time to put it all together. This is where your SEWING AN ACTUAL GARMENT skills come into good use. Knitting and Shaping is one skill, but taking these pieces of fabric we have made and forcing them into a wearable sweater is a whole different set of skills that sometimes challenge different parts of your brain (different from the parts that were challenged while you were trying to remember your ridge pattern increases! HA!)
For all aspects of sewing this together, I highly recommend using a flat surface. We are not sitting on the couch watching our favorite tv show and knitting anymore. Now we are down to business!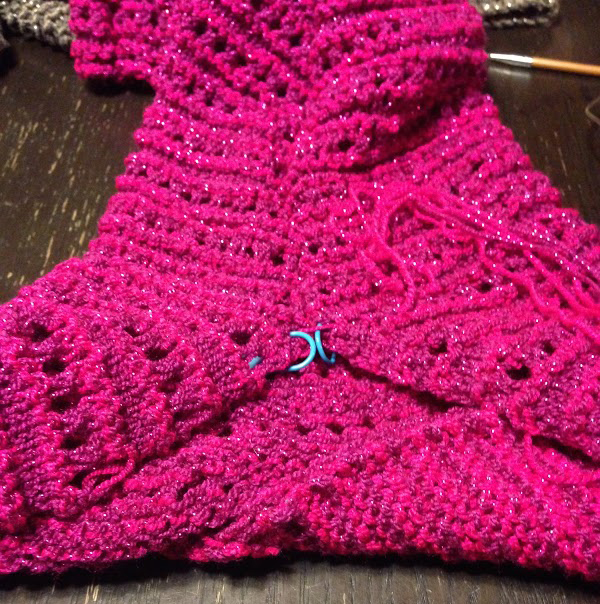 Step 1: Sleeves! If you remembered to keep your stitch markers in place, this will be easy. Fold your fabric in half (right sides together) and sew from wrist to the markers. As you sew make sure you are checking in with those markers. You might want to use one of them to pin both sides of the fabric TOGETHER so that they don't move. Try to keep tension the same on both sides while you sew it up. What stitch are you using? I used a running stitch. When you reach the markers, leave the tail of your yarn for now. Where the two sides come together will end up being a straight edge for the lower sections later.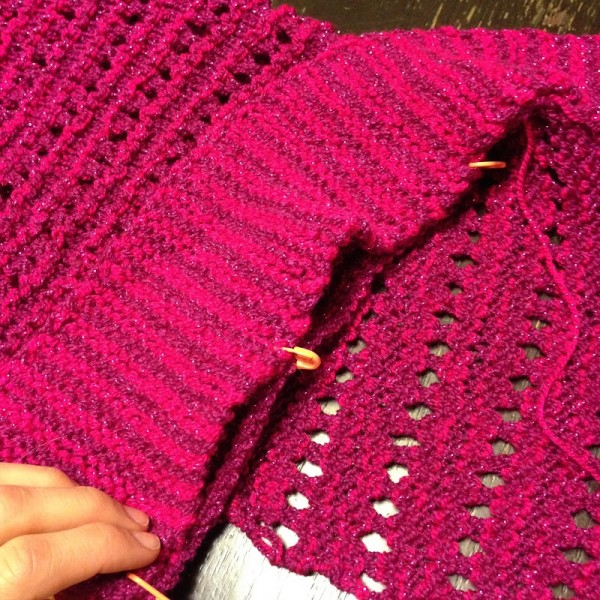 Step 2: Collar! If you left your collar live, now is the time to assess if you need to make any changes. With right sides together, pin the collar to the collar notch of the upper body. Since this is curved, it will seem a little awkward. There may be a bit of stretching here and there as you try to make it match up, but if the collar seems VERY short or VERY long, this is where you will adjust it and finish it off. I found I only needed to bind off my collar, I didn't need to change the length after all!

April 26th, 2015
This story is from our newsletter called Pattern Journal which brings a warm-hearted, wholesome story to your inbox to read every month. If you enjoy it and would like to subscribe, click here.
One Thing Leads to Another
If Kathy's sister hadn't been named Dorothy, and if Dorothy hadn't been expecting a baby, and if Kathy hadn't crocheted a blanket for Dorothy's baby, Kathy would never have knitted herself the most sophisticated sweater ever. It was as simple as that.
| | |
| --- | --- |
| | She'd gone to the crafts store, where the blanket was on display. Its upbeat colors–cream and soft grey, vivid yellow and purple–immediately appealed. She also loved the whimsical layout of squares, diamonds, and circles, as rhythmic and happy as a children's song. When Kathy saw the pattern was titled "Dotty Dots," that clinched it! The family had called her sister Dorothy "Dottie" since forever. A Dotty Dots blanket for Dottie's baby—the coincidence was pure serendipity! |
It was crocheted from a subtly-chained, petal-soft yarn, Modern Baby®, which had a lively, bouncy quality that her fingers loved. The Modern Baby® palette was joyous, the yarn a pleasure to use. After finishing the blanket, Kathy wondered what else she could do with it. Too much fun to stop now!
Maybe, she thought, it's time to focus on me. Making something just for her — that was when her creativity peaked. She could play with color, shape, and structure. She could express herself.
| | |
| --- | --- |
| | The Tribeca Tunic, a sophisticated look in two shades of Modern Baby® and one of sparkle-inflected Vanna's Glamour®, was the perfect next project, Kathy discovered. Its construction appeared complicated, but was surprisingly straightforward. Yet there were enough changes in direction and color to keep things interesting. Knitting that sweater was as fascinating as crocheting the Dotty Dots afghan had been. She marveled at Modern Baby®'s versatility—it worked equally well for adults' and kids' clothing. |
At the baby shower, Kathy wore the chic Tribeca Tunic, worked in cream and two shades of black, over velvet leggings. She gave Dottie the Dotty Dots Afghan, and her sister was enchanted. "Thank you so much!" Dottie enthused. "I've never seen anything as adorable! And by the way, that's a fabulous sweater you're wearing. Is it new?"
Kathy smiled, and considered how lucky she was to be a sister and an almost-aunt, as well as someone who loved to crochet and knit. It had been so rewarding to follow her intuition from baby blanket to Tribeca Tunic, as one creative project led to another, in natural succession — just like life itself.
Nothing is more fashionable than a handmade accessory you've made yourself. Save 20% off these kits for a limited time:
1) Tribeca Tunic
2) Dotty Dots Afghan
—
All characters appearing in this work are fictitious. Any resemblance to real persons, living or dead, is purely coincidental.
A story by Selma Moss-Ward.

Selma Moss-Ward writes and knits in Rhode Island. You can find her work on our blog, as well as Lion Brand's monthly newsletter, Pattern Journal, which you can subscribe to here.
April 25th, 2015
Blogger and author Kathryn Vercillo is an expert in the area of using crafting to heal, having researched the topic extensively for her book Crochet Saved My Life. In this post she explores how prayer shawls help both the maker and the recipient of the handmade item. Read Kathryn's previous blog posts on the Lion Brand Notebook here.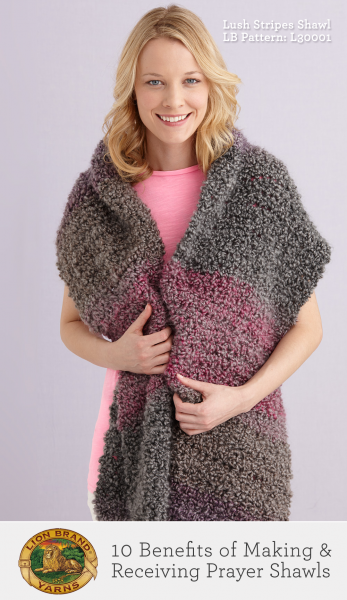 A knit or crochet prayer shawl is intended as a gesture of warmth and comfort for the person who receives the item. The maker prays (or sets their intention) for that person with every stitch. When the item is done, a special prayer or ritual may be done to add emotional value to the item before it is sent to charity or given to the person in need. However, it's not just the person receiving the shawl who benefits from the act; the crafter also heals.
Benefits of Receiving a Prayer Shawl
People who receive prayer shawls often consider them to be special items that they will keep forever. A prayer shawl can be given to help someone who is going through a difficult illness, grieving the loss of a loved one or reeling from a disaster. The item provides physical comfort, actual warmth and a tangible reminder that there are others in the world that care for them.
Wrapped in the snug hug of a prayer shawl, the person can feel the love that went into those stitches. Barbara, who commented on a previous post we did about prayer shawls shared, "When I had surgery the pastor brought one to the hospital and prayed for me and wrapped it around me. It was very comforting. When I feel anxious I wrap myself in it and I feel the love that was knit into each stitch."
Benefits of Making a Prayer Shawl
Making a prayer shawl has as many benefits as receiving one. Oftentimes when someone we care about is hurting, we desperately want to help but don't know how. Making a prayer shawl is a way to channel that stressful energy into something positive. Other benefits people cite of making a knit or crochet prayer shawl include:
It takes your mind off of your own stress as you help someone else.
It can heal old wounds. For example, someone who has been through cancer herself might crochet prayer shawls for chemo patients and heal their own pain with each stitch.
Prayer shawl crafting can be done in groups, which offer camaraderie and companionship to the maker.
Some people find it easier to make time for crafting when they have a purpose, such as charity crafting, which allows them to reap many health benefits.
It is a way to bring prayer or meditation into your daily life. Research shows that there are numerous benefits to prayer.
Making a prayer shawl is a great way to connect you to your own community. Linda Kennedy finds this is true as she makes baby blankets for the women at her church. (Although we call them prayer shawls, intentional crafting items can be anything at all!) She shares, "I know them and think about them often as I am working on theirs. I have heard some of the women talking about how they can't wait to get their blanket for their baby. It makes me so happy!" Linda put special attention into a white crochet baby blanket that she made for a mother whose baby had heart problems and they weren't sure whether or not she would make it and found that this was a way to connect to her during a difficult time. Each experience of prayerful crafting is unique and special. Speaking of another item she made for someone from church, Linda says, "When they gave it to her, she cried because she didn't think anyone would do something like that for her. Seeing how I can touch someone's heart is so comfort to me!"
Anja's Squares: A Story of Making and Receiving
Katinka Steyn shared a story about the healing power of both making and receiving intentionally crafted items. It all began in December 2013 when her eldest daughter Anja had to undergo open-heart surgery after a stent lodged in her heart. She posted in her South African Facebook Group Ons Hekel (which means "we crochet") about what was happening and "countless messages of prayers and encouragement started pouring in". Anja made it through surgery and was discharged but continued to have chest pain. On January 22, 2014, Anja passed away in her home.
April 24th, 2015



Mother's Day happens on May 10th this year – that's a little over two weeks away!


Still wondering what to do for Mom?

Below is a collection of crafty items we know Moms would love this year – all at great prices!

Free Pattern: Amigurumi Momma Bird

April 24th, 2015
Spring has officially sprung, which means warmer weather and longer nights – and we're excited! With the warm breezy days and cool nights, finding the right outfit can be a little tricky. The key to staying comfortable in this fickle weather is to dress in layers.
Shawls are a great layer to have when you want to go out in a cute dress or maybe just short or long sleeves with no jacket. Throw a shawl over your shoulders, and you'll certainly be comfortable and cozy on a spring day or night – while showing off your handiwork. The openwork in the Daylight Tweedy Shawl in Heartland yarn is perfect for spring because it lends itself to being light and airy, perfect for those "in between" weather stages.
We're happy to share this tutorial with you today in which Yolanda Soto Lopez shows you how to crochet this easy shawl that you'll be able to work up in no time!
April 23rd, 2015
There's something irresistible about baby booties! Their tiny size means they work up fast (and who doesn't love a fast-finish project?), but I think we love to make them because they are just so cute! Baby Day is May 2nd. Even if you don't have a baby or grandbaby to celebrate, chances are you know someone who does. Those little feet need booties! Of course, booties make fantastic shower or new mom gifts too, and if you're feeling extra crafty, why not make a whole baby set? We've rounded up some of our favorite free patterns to get you started.
* not a Lion Brand pattern