October 28th, 2015
Today's guest post is brought to us by Tamara Kelly, author and designer of Moogly Blog. Today, Tamara's sharing some inspirations for fall color palettes based on the various regions of the country. She has brought this information to us with the help of her crocheting friends who live in different parts of the country: Jessie Rayot, Kim Guzman, and Andee Graves.
Autumn has to be the very best season for crocheters and knitters! Getting comfy on the couch with hooks and yarn, snuggled under a handmade blanket, yummy drink by your side – what could be better? But Fall also provides inspiration in the beautiful colors that show up every time we leave the house. Here in Iowa, the leaves are turning – and falling – at an incredible rate!
And… there's just something about the beautiful colors, the quality of the light, and the scent in the air — it's all a little different in various parts of the country. With that thought, I asked three of my best blogging friends from all over the USA to send me their favorite fall photos, and I matched them up with some of my favorite Lion Brand yarns for a little extra autumn fun!
First up is my friend Jessie Rayot, knit and crochet designer at Jessie at Home. Jessie lives in the Northeast, and she sent me a gorgeous photo – You can practically hear the crunch of the leaves! You can bring these colors home with Wool-Ease® Thick & Quick®, for extra cozy!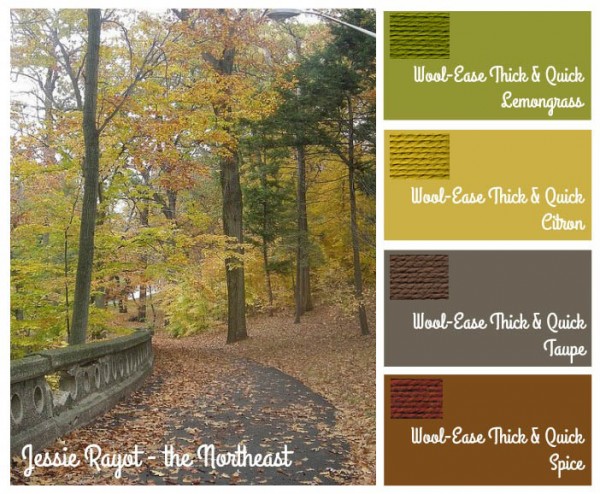 The lovely Kim Guzman, designer at 
CrochetKim.com
 is a hobby nature photographer, so I had to ask her as well. She lives in the Southwest, so her autumn has some colors we don't see too often here in the Midwest!
Wool-Ease®
pairs perfectly with her pretty pumpkin scene, and the yarn is light enough for winter use even down south!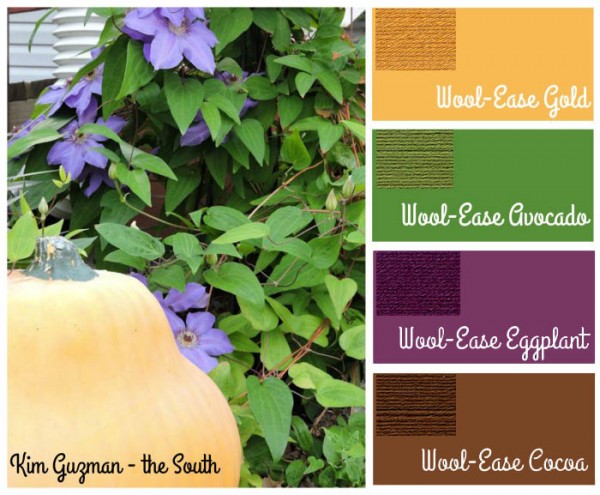 Way out west, like in Colorado, they'll be gearing up for the busy ski season, but first — they enjoy some gorgeous fall foliage. The amazing Andee Graves, designer at 
Two Hands Healing and Creative Arts
, sent me this photo from her home in the Rocky Mountains, and I found some complimentary colors in
Vanna's Choice®
– great for a mama of active boys living on a mountain, like Andee!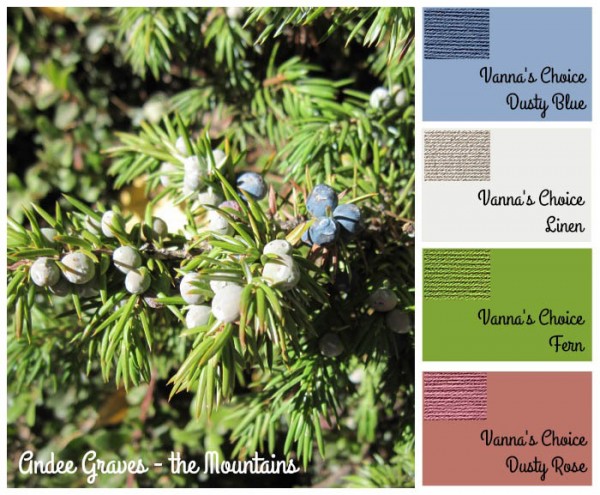 And last but not least, is my home in the Midwest US, 
Moogly
 headquarters! The trees here look much like the trees in the Northeast and in the Mountains… but there is this breathtaking bush out in front of my house that I look forward to seeing every autumn! Over the next month it will start looking as if it's on fire! Right now it's just begun.. and matches perfectly with LB Collection Superwash Merino!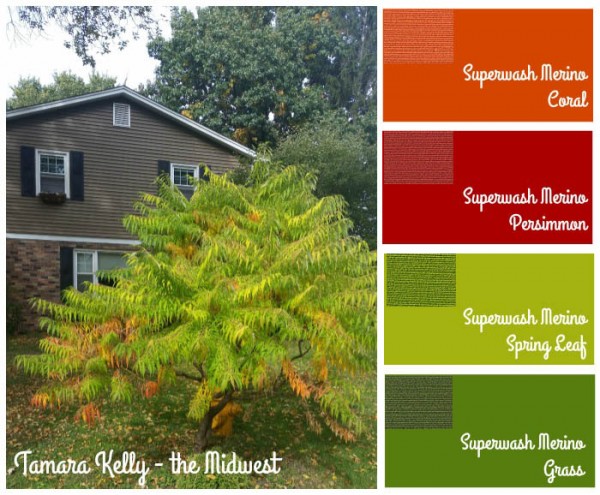 I hope these gorgeous photos have gotten you in the Autumn crochet and knitting mood!
Taking cues from nature is always a great way to get inspired
, and Lion Brand has the right yarns to translate what you see into works of yarny art! If you'd like to learn how to make your own collages like those seen above, check out 
the tutorial on Stitch11
! Thank you to Jessie, Kim, and Andee for sharing your lovely photos!
October 28th, 2015
Ghouls and goblins have got nothing on… dropped stitches?! We know what's really scaring you this Halloween; Brand Ambassador Shira Blumenthal spins a spooky web of a tale in the video below!
:: Can't see the video above? Click here to watch – https://youtu.be/Yk7OaCDFFxM :: 
Happy Halloween, from all of us here at Lion Brand®!
October 28th, 2015
Editor's note: There's still time to get your Knit-Along Kit, get your kit here now and use coupon code FALLKAL2015 to save 20% (until November 1st)! Don't forget to join our Ravelry Forum; share your progress with us along the way!
---
Welcome to the Fall Knit Along! Your votes have spoken and our project is the Free Spirit Topper using the new Lion Brand Yarn — Scarfie.
I have been wanting to work with this yarn since the first moment I saw it!  I love the way the color changes throughout the skein.  I am a huge fan of knitting with yarn that changes as you go—it makes for a fun surprise around every corner.
I love this pattern because the level of difficulty is just right for a scarf-only knitter to take it to the next level and knit their first garment.  And for you experienced knitters out there, this is an opportunity for you to mentor those taking on a new challenge, and effortlessly end up with a beautiful, on trend garment.
:: Can't see the video above? Click here to watch – https://youtu.be/W9XM2N1SuTQ :: 
As is always the case when knitting a garment, it is very important to take the time to knit a gauge swatch before beginning a project. I know, I used to think this was a waste of time too. I got so excited about my new project I just wanted to jump right in! I learned my lesson when I made my first cable-knit project—a hat for myself—and it fit my 2 year old. Whoops!
It doesn't take that much time to knit a gauge, and if you don't frog it to use in the final product, you have a little coaster that matches your sweater!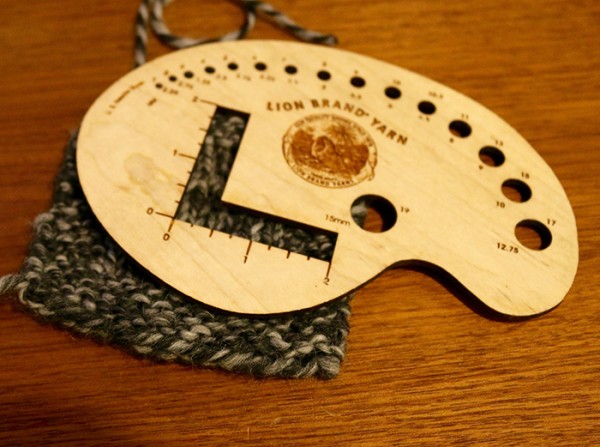 :: A gauge palette can be super helpful! Get this one here – http://lby.co/1PUyLlX ::
For this project I am using size 9, 14" Brittany needles. I love how my yarn slides so nicely on these super-sanded, strong needles.  I also love this length because each side is meant to be 15" wide, so when they fit nicely on my needle, I get constant affirmation that I'm knitting it in the right size!  Brittany needle company is so stellar, they even replace lost or damaged needles, no questions asked.
Just one last cheer for those of you considering this but are hesitating because you have only knit a scarf up to this point. You can do this. I will hold your hand through the whole process, and then we will be twins in our Scarfie Free Spirit Toppers!
---
I am Kristy Glass and I am so thrilled to be infiltrating the Lion Brand blog to lead you in the 2015 Fall Knit Along! Even though I learned to knit as a girl, my passion for fiber arts has escalated at a very steep rate these past several years.

I returned to knitting and began crocheting about 8 years ago after I suffered an unexpected health setback leaving me feeling completely out of control. Hand work was a healing salve for my body and soul as I suffered through a long healing process. Thankfully I continue to use knitting to aid meditation, solace and a feeling of accomplishment. I knit year round, despite weather changes, and I am highly anticipating us all knitting together on this project.

I have completed over 100 projects including scarves, cowls, hats, hand warmers, phone cozies, afghans, pillows, sweaters and yarn bombing. My most recent passion has been making sweaters and actually wearing what I make!
October 27th, 2015
The weather is chilly, the leaves are changing, and many of you are casting on to get started with some fall weather patterns! I'm excited to share a range of patterns with you from bloggers you may already be familiar with, so please check out the knit and crochet patterns below — and think about projects for friends, family, and maybe even yourself.
Enjoy!
Crochet Gingerbread Dress by Repeat Crafter Me
(Vanna's Choice®)
Knit Lace Top by iKNITS
(Pound of Love®)
Crochet Stripes and Blocks Scarf by Moogly
(Heartland®)
Knit Gold Leaf Hat by Gina Michele
(Gold Leaf®)
Crochet Hooded Cowl by
Jessie At Home
(Scarfie)
Faux Cable Cowl by Margo Knits (Heartland®)
Macchiato Slouch Hat by
Little Monkey's Crochet
(Scarfie)
Black and White Color Block Beginner Infinity Scarf by Mama in A Stitch
(Wool-Ease® Thick & Quick®)
October 26th, 2015

In conjunction with launching Project Knitwell Presents: The Comfort of Knitting, we asked members of Project Knitwell to share their stories on how knitting helped them through a difficult time. Here, executive director of Project Knitwell Michelle Maynard shares how knitting a pair of socks for husband came to mean much more.
When my husband Matt, then a fit, healthy 53 year-old called me from our home in Virginia to tell me he had been diagnosed with a rare form of cancer, one of the first things I did was head for the yarn store.
It was December 2009, and I was in Rhode Island helping my mom who had undergone a lumpectomy.  After hanging up the phone, I left my mom in my dad's care and headed for a Providence yarn store.  I was looking for a dose of "yarn therapy."  I knew I would feel calmer after squishing some alpaca and merino, and that I would walk out of the shop with some yarn ready to tackle a project and be productive.  And I knew that project would be a pair of socks for Matt.
I had been promising Matt handknit socks for several years – ever since he started teasing me about how he was going to give me $5 for a package of store bought socks so I didn't have to spend hours knitting them.
But my need to turn to my knitting in the wake of this news wasn't just about the socks.  For me and many others, knitting is a way to cope with stress, increase focus, and engender a sense of accomplishment during uncertain times.  Scientific research has started to back up what we knitters already know about the positive effects of knitting on the brain.
I am a life-long knitter.  My mom taught me when I was a girl, and I have turned to knitting during times of stress:  I knit Icelandic sweaters during during exam study breaks in college.   I made scarves and baby sweaters for friends in the 1990s as I traveled to international hotspots for work.  A year or so after adopting our daughter from Russia, I started an evening knitting group at a local coffee shop to help deal with the stress of being home all day with a very active, headstrong three year-old who had spent her first 17 months in an orphanage.  In those years, I knit mostly fun fur scarves and little girl ponchos.
During Matt's cancer journey, I knit a lot of thank you gifts: hats, shawls, cowls, and fingerless gloves for friends who offered meals, rides, and other support.  Of course, I knit several pairs of socks for Matt, who after receiving that first pair, never again offered me $5 for a store-bought pair.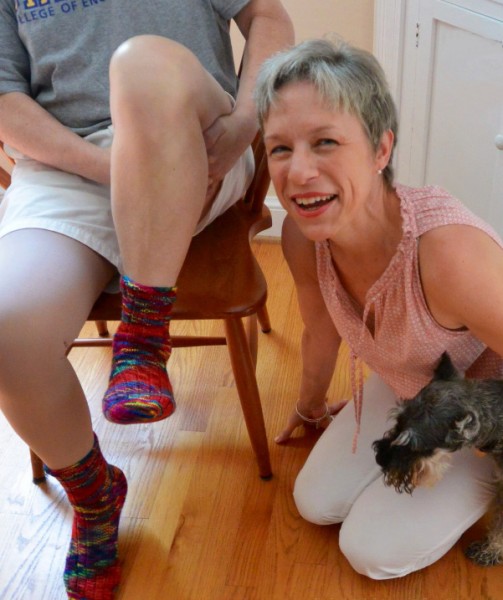 I did a lot of knitting over the last 5 plus years in medical waiting rooms where inevitably from a screen overhead the local news is issuing a live report on the latest shooting, or the talking heads are screaming about health care or a fake judge is yelling at some guy about how he needs to pay his child support.  Knitting never failed to calm me during those waits.  I could always count on someone to start up a conversation about the color of the yarn or how they'd like to learn some day.
Medical staff usually got in on the conversation too:  "What are you knitting?"  "Is that knit or crochet?"  "How can you do that without looking?" "My wife makes fingerless gloves."  Amid conversations about test results and scans and surgery, it was reassuring and calming  for both my husband and me  to have these humanizing, equalizing encounters with the doctors and caregivers.  I think it was to the doctors too.  My knitting provided an icebreaker, and leveled the playing field a bit.  It helped me be a quiet, supportive presence to my husband.
In Matt's final weeks, I didn't knit much because of the demands on my time that his care entailed.  In those last couple of days of his life, however, there were more quiet moments.  I picked up the needles again as I sat by his bedside, and clicked away on a pair of socks.  It gave us both great comfort.
Michelle Maynard is the Executive Director of Project Knitwell, a Washington, D.C. area non-profit that provides knitting instruction and quality knitting supplies to people facing stressful situations  in hospital, community, and other settings. Her husband Matt Sunter died in May 2015.
---

Project Knitwell Presents: The Comfort of Knitting, is a unique book that focuses on  how to alleviate stress and offer comfort to families and caregivers facing difficult situations. More on Project Knitwell's mission, as well as 7 new patterns are included in this publication. All proceeds from Lion Brand's sale of this book go directly to Project Knitwell and the Alzheimer's Association.