August 19th, 2014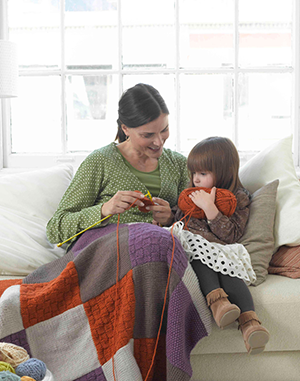 I learned to knit when I was eight. It was summer, school was out. For entertainment I explored a rarely opened closet. There was a shopping bag stuffed with maroon yarn, and a cylindrical leatherette case which, unzipped, revealed a jumble of colored metal knitting needles. I dragged everything into the light.
"What is this?" I asked my mother.
"Oh," she said. "It's my knitting. A sweater….I think."
How amazing. I'd never seen her knit—did she knit while I slept?—and, naively, couldn't imagine why she'd abandon the project. It seemed sad that the yarn had languished in obscurity.
"Why don't you finish it?"
I've forgotten her answer. Probably her "I'm too busy" mantra, accompanied by a giant exhale of cigarette smoke. I do remember thinking this yarn deserved a kinder fate.
"Will you teach me to knit?" I asked.
So it began. I knitted blankets for my dolls, then scarves. Later, I learned to read patterns, saved babysitting money for yarn, knitted hats and sweaters. As a teenager, I commuted between school and home on the New York subway, carrying textbooks and knitting. Knitting gave me something to do in transit, and as I walked through dicey neighborhoods between the subway station and our apartment, the needles, tucked under my arm and pointing forward, protected me from aspiring muggers.
Read the rest of this entry »
August 18th, 2014
This column by Barbara Breiter, author of The Complete Idiot's Guide to Knitting & Crocheting, originally appeared in The Weekly Stitch newsletter.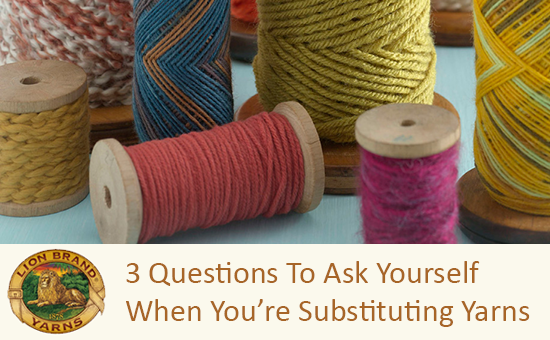 The time will come when you need or want to substitute a yarn in a pattern. The reasons for this are varied. Perhaps the yarn recommended is discontinued; perhaps it's too expensive, or perhaps it's a fiber you don't wish to use.
1. What is the weight of the yarn?
Worsted? Bulky? You need to select a yarn in the same weight class. If you don't, you won't be able to obtain the correct gauge and your project will not be the correct size. You may eventually be able to obtain the gauge of the pattern but it will be as stiff as cardboard or very loose (depending on if you selected a lighter or heavier weight). For a project such as a sweater, this will have a huge impact.
For a listing of Lion Brand yarns by weight click here.
You can often combine multiple strands of a lighter weight yarn to achieve the same weight as a heavier one. Be sure to check your gauge very, very carefully when doing this. Yarns within the same weight class still work to various gauges. For example, a worsted weight yarn is usually classified as one that works between 16 and 20 sts per 4 inches.
These are approximate equivalents:
2 strands fingering = one strand sport.
2 strands sport = one strand worsted.
2 strands worsted = one strand super bulky.
August 17th, 2014
This story is from our newsletter called Pattern Journal which brings a warm-hearted, wholesome story to your inbox to read every month. If you enjoy it and would like to subscribe, click here.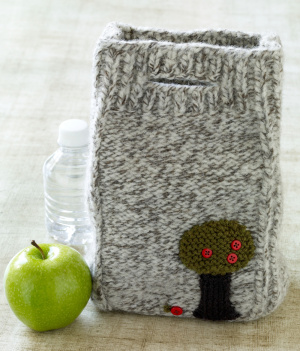 Meredith sometimes wondered how life would be if she could travel back in timeand change just one thing. What if a seemingly random choice had been different? Like, why had she craved bright pink everything when she was a kid? She'd had the pink lunchbox, backpack, pencil case, flip-flops, barrettes…even a bright pink toothbrush!
Now, in college, she absolutely couldn't fathom why she'd adored that color. She wondered, though, if she'd have become a different person had her early taste run to earth tones.
An ecology major, Meredith loved studying organisms and their environments. Similarly, she loved living in the balance–this was how knitting came in. The beautiful simplicity of two sticks and a ball of yarn offset the high-tech essentials of 21st century life. The subtle yarns she favored evoked country roads, open fields, dunes, rocky shores. Like the rugged, marled Fishermen's Wool she'd recently used–it conjured up a time when handwork was honored, and things made to last.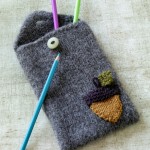 Especially pleasing were the useful lunch bag and pencil case she'd knitted of Fishermen's Wool® in only a few hours, then felted (magical!), then appliqued with a beguiling acorn and rustic apple tree. Afterwards, she showed them to Paige, her roommate.
"These are totally adorable!" Paige exclaimed. "How'd you find such great projects?"
Meredith flashed onto her younger self and suddenly realized it was actually because of that Pink Phase that she'd become everything she was, here and now.
"Oh," she smiled, "someone I used to know pointed me towards them."
—
All characters appearing in this work are fictitious. Any resemblance to real persons, living or dead, is purely coincidental.
A story by Selma Moss-Ward.
Selma Moss-Ward writes and knits in Rhode Island. You can find her work on our blog, as well as Lion Brand's monthly newsletter, Pattern Journal, which you can subscribe to here.
August 14th, 2014
We heard you loud and clear — you're looking for a bigger challenge!
Thanks to all of your feedback, we revisited our selections for this year and picked out a more challenging line-up to choose from!
So let's do a hard reset and try that again — vote for the Fall Crochet-Along now! Voting ends Wednesday, August 27th, 11:59pm EST!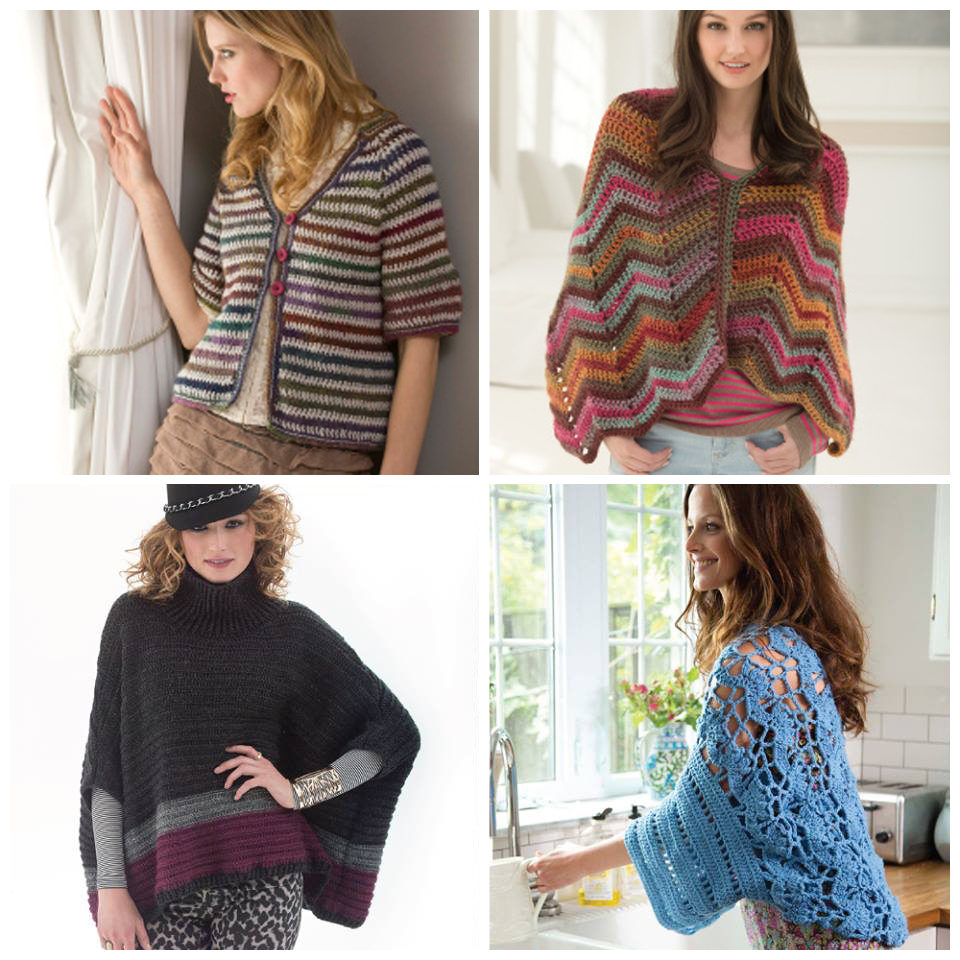 Clockwise from top left:
« Voting is now closed. »
The winner is the Top Down Crochet Jacket! Thanks to everyone who voted!
A crochet-along is a virtual event, where all the participants make the same project together. Follow along with our crochet-along host Grace DiLorenzo here on the blog and share your comments and photos. There's no need to sign up, and it's free to join! (New to crochet-alongs? Check out our guide here.)
The winning pattern will be announced Thursday, August 28th here. At that time we'll also give you all the details you need to pick up your supplies and get started on the project!
—
Votes must be cast by 11:59 am Eastern August 27th, 2014. You must use the link above to vote; comments here on the blog do NOT count as votes.
Knitters, look out for a knit-along later this year, here on the Lion Brand Notebook.
August 13th, 2014
Do you love sharks? We do! In celebration of Shark Week on the Discovery Channel we're bringing you a roundup of some of our favorite shark-themed patterns to knit and crochet while you watch.
August 12th, 2014
Wool-Ease® is one of our classic, wool-blend yarns that's perfect to use when you're just learning to knit or crochet. It's soft and versatile for all sorts of projects, big and small — our Tree of Life Afghan being the most popular! It's a great yarn to use for your first sweater, as well as for smaller sized projects like amigurumi and fall accessories like wristwarmers.
The best part is that Wool-Ease® is on sale now through August 31st!
Below is a selection of our most popular patterns that use this yarn.
August 12th, 2014
Today, we're sharing a tutorial from the talented Vanessa from popular YouTube channel, The Crafty Gemini. Vanessa's tutorial shows you how to easily create a Crochet Flower using Bonbons yarn! Whether for fun embellishments, or to enjoy all on their own, crochet flowers are quick and customizable, and only require a little bit of yarn.
Watch Vanessa's video below to get started!
Get pattern here: Crochet Flower
P.S! Although Vanessa's giveaway has ended, we've got a new giveaway for you, find more details below the video.
If you like Vanessa's tutorial, check out her YouTube, The Crafty Gemini!
Enter for a chance to win 3 packages of Bonbons.
Two winners will have the chance to select three packs of Bonbons as a prize, colorways of their choice! (8/15-8/22)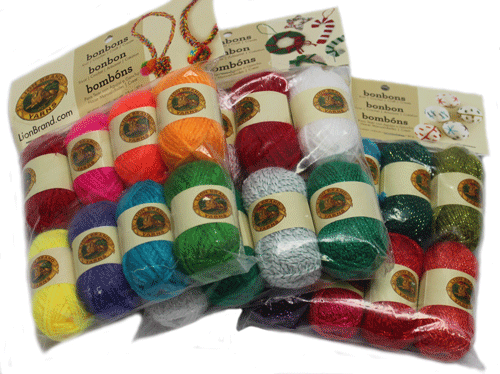 Restrictions:
1. Entries must be received by August 22nd, 11:59:59 pm, EST.
2. Must be 18 or older to enter.
3. One entry per person.
4. Shipping only within U.S and to Canada
»Click here« to enter if the form below doesn't work.
August 11th, 2014
This column by Barbara Breiter, author of The Complete Idiot's Guide to Knitting & Crocheting, originally appeared in The Weekly Stitch newsletter.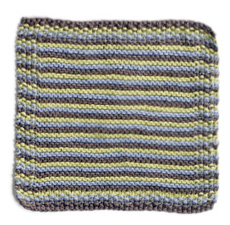 When working a pattern in stripes, sometimes you'll see an instruction "Carry the yarn not in use along the side" (as with the Knit Shell Beach Washcloth shown at right); other times you won't see an instruction at all.
When to Carry the Yarn Along
What should you do then? "Carry the yarn along the side" means nothing more than leave the color you are currently not using at the side of your work without cutting it. You'll pick it up again later when you are to use that color again. If you are not going to use the color for 4 more rows, the next time you are at the edge where the unused yarn is, you will need to twist it with the color you are using. This will keep a loose loop from forming (the loose loop might get snagged or look unattractive if it isn't twisted into the other yarn).
If you're working 2 rows of one color followed by 2 rows of a second color, carrying the unused yarn makes sense, because all the color changes are on one edge of the piece, meaning that you can simply pick up the next color at the side and proceed.
If you're alternating three colors, working 2 rows each, you will need to twist both colors not in use. Drop the color you just finished behind the other two, twist the other two, pick up the next color you need and continue.
When to Cut the Yarn
If the pattern is anything other than 2 rows of color A followed by 2 rows of color B, even though you've been told to carry it, you still have a personal choice to make and should consider several factors that may lead you to cutting it every time instead. The down-side to cutting the yarn is that you will have many more ends to weave in (but if you weave in as you go, this task will not be as daunting). The upside? The row edges will be much neater. This should be especially considered when you are making a scarf or a throw where the edges will be seen (as with the Quintessential Country Afghan, shown left). In a sweater, the edges will be hidden in a seam; however, the seams will be bulkier because you've carried the yarn so that's a negative factor to consider.
There is no hard and fast rule but generally if you are going to be working more than 4 rows before needing the color again, strongly consider cutting it. Some people will stretch this to 6 rows. Every time you twist the yarns, you are adding more bulk to the edge.
And you can always weave in those ends while watching TV.
–-
Subscribe to The Weekly Stitch Newsletter
Get a FREE weekly email featuring patterns, articles and special offers. As a bonus for subscribing, we'd like to offer you 15% off your first order! *
:: Sign up now ::
* offer valid only for first-time email subscribers, one coupon per person.
August 10th, 2014
This column by Michelle Edwards, author of A Knitter's Home Companion, originally appeared in The Weekly Stitch newsletter. To sign up for the Weekly Stitch and get columns like this, free patterns, how-to videos and more, click here.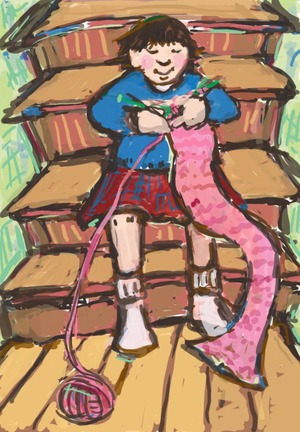 My mother, Lillian Edwards, was a life-long knitter. She was an attractive, well-dressed woman: tall and thin with dark black hair and almond-shaped brown eyes that almost looked Asian. She called them "laughing eyes," and that is how I like to remember them.
I'm told that as a young woman my mother knit socks, argyle ones. It was in the days before I was born, perhaps before she was married … maybe even as a young, single, working woman, living in Manhattan with her parents in a tiny apartment on Mermaid Avenue in Coney Island.
My mother grew up poor. Her parents were both Russian immigrants. My grandma Yetta, with a handkerchief soaked in vinegar, wrapped around her head, rested a lot. She suffered from migraines and was always carrying a large purse with her — as if she was waiting to be uprooted again. This time she would be prepared. I would often seen her stuffing sugar packets in her purse when we were at HoJo's.
My grandfather, Samuel, was as a quiet man. Hard to reconcile my gentle grandpa with the gangster he used to be. My grandfather and his brothers were the strongmen for a liquor smuggling ring during prohibition. When they double crossed the boss, two of my uncles were murdered in broad daylight at a Philadelphia street corner. My grandparents, my mother, and my uncle fled Philadelphia in a hurry and slipped into Coney Island where they could meld and blend into the mass of Russian Jews like themselves.
I don't know who taught my mother to knit. Maybe my grandmother did, when she was not resting. It wasn't a question I ever thought to ask my mother when she was alive. I know that she taught me how to knit and that she knit like a Russian Jew, with her yarn in left hand, wrapped around second finger, picking open the stitch and pulling the yarn through with her right hand needle. It is a very fast and efficient way to knit and I am often asked by knitters out here in the Midwest to teach them "my way" of knitting.
August 9th, 2014
Here is the latest installment of Lola, from its creator Todd Clark.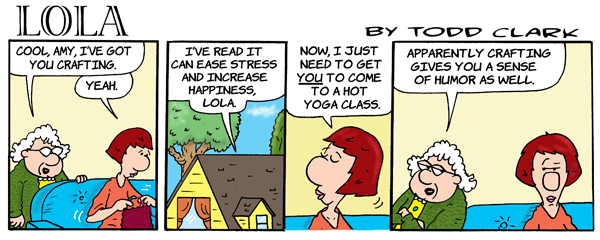 Want to relax? Knit a Neck Pillow using Lion Brand's luxurious LB Collection® Cashmere and LB Collection® Bamboo. Get the free pattern here and below.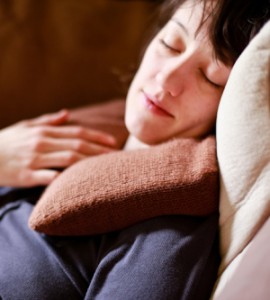 *** *** ***
Subscribe to The Weekly Stitch Newsletter
Get a FREE weekly email featuring patterns, articles and special offers. As a bonus for subscribing, we'd like to offer you 15% off your first order! *
:: Sign up now ::
* offer valid only for first-time email subscribers, one coupon per person.