April 25th, 2016
The self-striping colors of Vanna's Tapestry create beautiful knit and crochet projects that look like intricate colorwork. This machine washable yarn does all the work for you! And you can get Vanna's Tapestry on sale during the entire month of April along with all of Vanna's yarns!
Shira modeled the patterns that you've loved the most!

Having trouble viewing this video? Click here: https://youtu.be/qKlGwFJ6Tns
April 24th, 2016
Bulky weight Wool-Ease® Tonal is perfect for afghans and chunky accessories like cowls. But it's also great for bold garments that work up quickly! The Sangria Vest adds a gorgeous pop of color to any outfit. This vest is crocheted in a hexagon making it so unique— it's sure to be a conversation piece.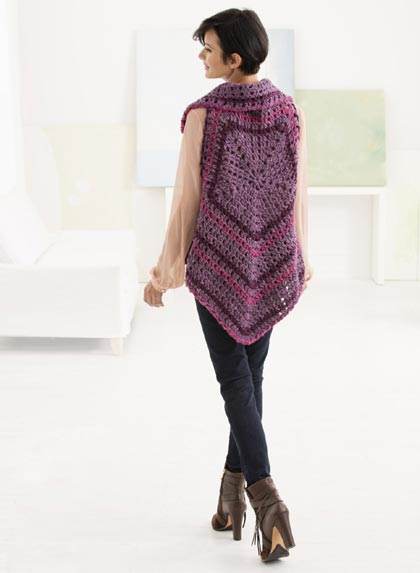 We love garments like these because they're as fun to wear as they are to make!

::Can't see the video? Click here to view it: https://youtu.be/Tv9R6_8iZBg::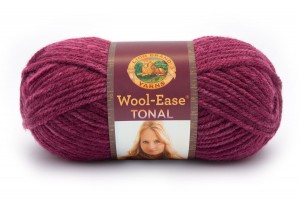 Click here to get Wool-Ease® Tonal!
April 23rd, 2016
Do you suffer from carpal tunnel?
I took one of AJ's yoga classes before Yoga with Shira and I remember she had me do this pose.  It doesn't look so intense but let me tell you, my facial expressions say it all!  I was so surprised.  I do suffer from carpal tunnel and this stretch, if done correctly, with breathing, can really help over time.
Try it out by following along!
Having trouble viewing this video? Click here: https://youtu.be/VnzoNx2MRX0
April 21st, 2016
My knitted costuming adventures continue! This time on a cosmic scale…
I'm very drawn to the moon – for its symbolism and beauty, and as a visual marker of the passage of time. When the theme of "cosmic carnival" was announced for a costume party, I jumped on the opportunity to create a moon-related costume. At first I considered trying to recreate the Moon Tarot card – a concept I might pursue at a later date. For this project, I wanted something simpler and less time-consuming to make, since (as usual) I was working on a tight deadline. I decided to knit the phases of the moon into a headpiece.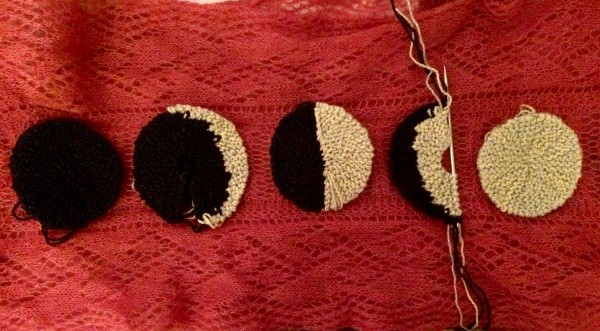 For my yarn, I chose
Vanna's Glamour®
held double. I used two strands of Onyx for the new moon and darkened portions of moon phases, and held together a strand each of Topaz and Platinum for the full moon and light sections of lunar moon phases. The champagne and silver shades combined to create a subtle marled effect.
When I'm in the brainstorming stages of a costume project, I like to chat with the knowledgeable staff at our Lion Brand Yarn Studio to hash out design ideas. What technique would work well to knit flat circles for the moon phases? They recommended a pattern using short rows, which I adapted for this project.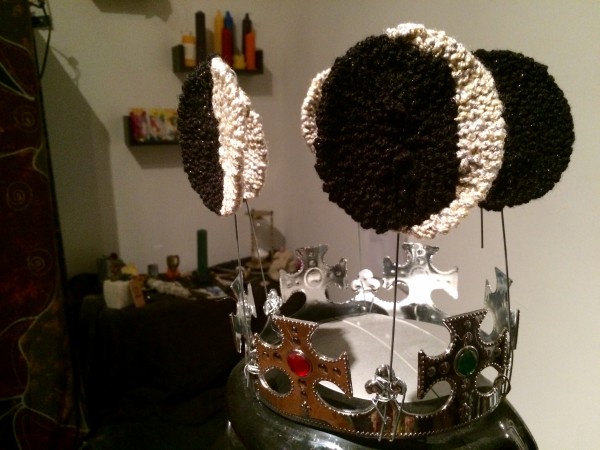 For the crescent, first quarter, and waxing gibbous moon phases, which required both the light and dark yarns, I used the intarsia technique to incorporate both colors.
Jewelry wire and floral wire have quickly become essential in my crafty costume toolbox. I used thick gauge jewelry wire to attach the circles to the store-bought crown that formed the base of my headpiece. This wire is sturdy enough to hold the circles upright. Thin gauge floral wire was perfect for wrapping around the thicker wire to fasten the components to the crown even more securely.
A silver dress from my costume stash, silver accessories, and glitter rounded out the look. With a string of LED lights wrapped around the crown, this lunar queen was all set to light up the cosmic carnival!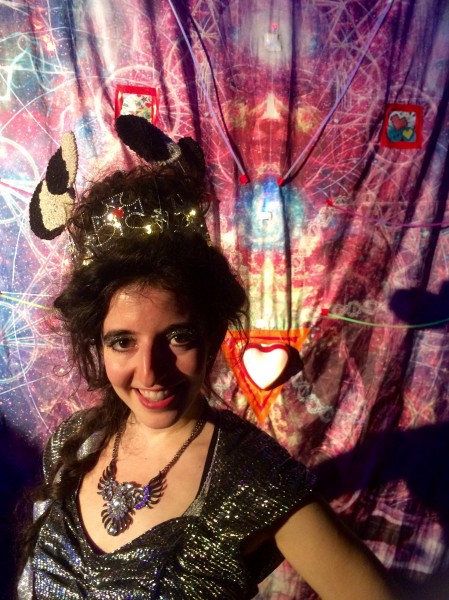 April 20th, 2016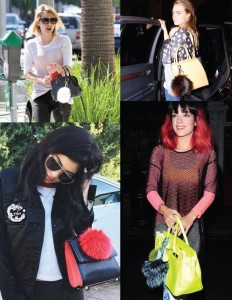 Jumbo pom pom bag charms are the must-have accessory for spring. We're seeing them on celebrity purses everywhere – Emma Roberts, Cara Delevigne, Kylie Jenner, and Lily Allen are all fans, just to name a few! We love this trend because it's so easy to DIY – all you need is a ball of yarn and a jumbo pom pom maker. Give it a try with our easy to follow photo tutorial!
Materials:
1 ball of Vanna's Choice® (pictured in NEW Shocking Rose)
Clover Jumbo Pom Pom Maker
Keyring with chain (you can find keychain parts on Amazon, or get thrifty and repurpose the parts from an old keychain!)
PS –  this look is vegan-friendly!