July 18th, 2014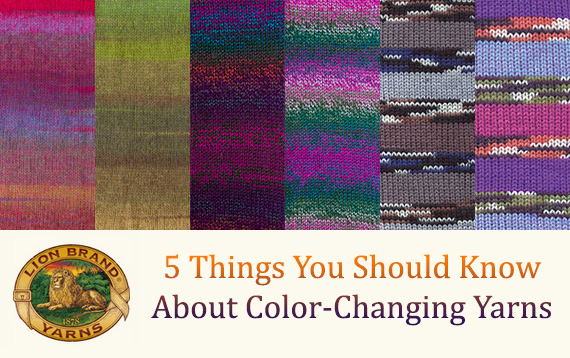 Yarn that is dyed so it changes colors is great fun to knit or crochet. Watching the color pattern reveal itself as you work is a joy. Simply work a project in rows or in the round and what was once a plain project magically turns into something special!
When you run out of yarn and add a new skein, if you begin the second skein as you normally would it will likely not match where you left off. You will see a noticeable color change in your work that could be jarring. To avoid this, you need to unwind the new skein until you find the exact place in the color scheme where the old one ended. This does waste some yarn, but it's the only way to get the skeins to match up.
1. Prints vs. Stripes
Yarn that is dyed with short lengths of color before it changes is often referred to as a "print" (Wool-Ease®  and Vanna's Choice® comes in print colors). Generally the color changes every 3 to 4 stitches and combines perhaps 3 total colors. Lion Brand also offers yarns we call "stripes" (Wool Ease® Thick & Quick®, Homespun® Thick & Quick®, Jamie®, and Fun Fur® all come in stripe colorways). The color changes are longer and create distinct stripes with no work at all!
July 17th, 2014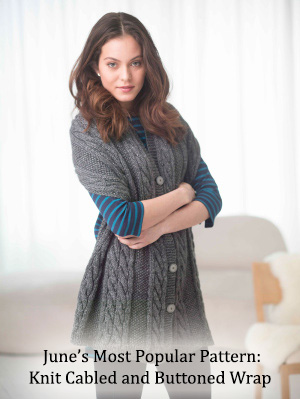 This past June it seems everyone was knitting and crocheting with our American-made yarns like Heartland and Kitchen Cotton. We also noticed through the month may of you prepared for July 4th with Americana-inspired projects like our Independence Day Table Mats and Flag Afghan.  It was also a great month for shrugs and shawls, like our Cabled Buttoned Wrap in Heartland , our most popular pattern for June. It's a great garment for air-conditioned offices by day and dinners out by night!
Below is a collection of our most popular patterns in June:
Were you working on anything in June? Share with us!
July 16th, 2014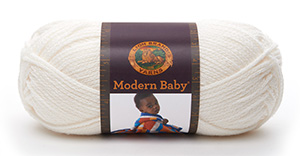 We're excited to bring you a completely new kind of yarn for the modern baby or child.  Your newborn, toddler or young child will delight in the lively colors of this unique yarn. It's an easy-care yarn with a chainette construction for an extra-soft, downy feel. The palette consists of crayon-like primary shades, along with rich pastels and neutral tones. You like soft? This yarn has a similar feel to merino, alpaca and cashmere blends but with an anti-itch, non-allergenic, easy-care fiber blend of premium acrylic and nylon.
A yarn like Modern Baby® deserves a collection of patterns that make the most of its softness, comfort and color options.  Choose from a selection of free, whimsical knit and crochet patterns — from Easy to Intermediate — that fit your child's personality.  Animal lover? Choose the Fishy Wishy Hat and Scarf or the Circus Afghan.  Drawn to brights? Choose one of our patchwork style throws.
Don't be surprised when a Modern Baby blanket becomes the one your child can't live without!
July 15th, 2014
Every summer Lion Brand invites all the associates to a barbecue.  There's a lavish spread of food from barbecued steaks and other grilled favorites to a delicious array of salads and yummy desserts.  We also let our competitive stripes show with sports contests (do water balloon fights count?) a scavenger hunt, and guessing games.  You'll always find plenty of people working on their knit and crochet projects as they wait for the next activity to begin, and to top it all off, we are treated to a chair massage!
July 14th, 2014
This column by Barbara Breiter, author of The Complete Idiot's Guide to Knitting & Crocheting, originally appeared in The Weekly Stitch newsletter.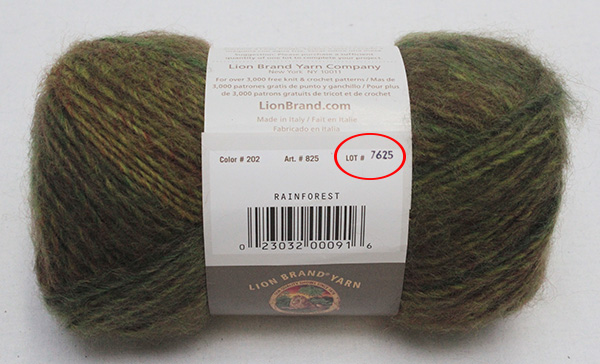 What is a dye lot?
Almost all yarn has a dye lot. Yarn is dyed in batches. When a batch is dyed, the dye lot number is assigned; you'll find this number on the label. When the next batch is dyed, a new dye lot number is assigned. Even though the same dyes are used, there may be noticeable color variations.
Why it's important for crafting
It's important that you always purchase enough of the same dye lot in order to complete your project. Before you leave the store, check and make sure the lots are the same. Just because the yarn is on the same shelf, doesn't mean all the skeins are from the same dye lot.
If you're not sure you'll have enough, buy one extra. Check the return policy of the store you're purchasing from. Many allow returns of unused yarn within a certain time frame. If you don't finish within that time and have one skein left over, just add it to your stash. You will find a good use for it eventually (or so they say!).
My yarn doesn't have a dye lot
Occasionally, you'll find a yarn that does not have a dye lot; this will be indicated on the label. A no dye lot yarn does not necessarily mean that all skeins will be exactly the same color. The yarn is dyed in much bigger batches but eventually it's sold out and more must be produced and this will be a different dye lot. So proceed with caution.
What if I run out of yarn and can't find the same lot number?
If you do run short, it's difficult, if not impossible, to find more of the same dye lot. The longer the amount of time that goes by, the more difficult may will be. If you need more yarn for the trim of a project, such as an edging of a throw, consider a contrasting color.
If there's no way around it and you can find more of the same color but not the identical dye lot, take the original yarn with you (even if it's already worked up in a project) to the store. You may be lucky enough to find several different dye lots to choose from. If so, you'll notice that some may be closer to the original than others. Look carefully at the original and the lot you're considering in natural light if possible (fluorescent lights can fool the eye).
Editor's Tip: Lucky for us, the internet age has made it easier to track down yarn in specific dye lots. With a little determination and patience, you may be able to contact other knitters & crocheters on websites like Ravelry.com or Crochetville.org to see if they have the same yarn in a specific dye lot.
Ready? Set? Craft!
When you've made your choice and are ready to return to knitting or crocheting your project, work alternating rows with the old and new dye lot (unravel the project to retrieve some of the old yarn if necessary). This will lessen the noticeability of the contrast of the two dye lots.
–-
To sign up for the Weekly Stitch and get columns like this, free patterns, how-to videos and more, click here.
July 13th, 2014
Blogger and author Kathryn Vercillo is an expert in the area of using crafting to heal, having researched the topic extensively for her book Crochet Saved My Life. This is part 3 in her 6-part series for us on the topic of yarncraft health. Read her previous blog posts on the Lion Brand Notebook here.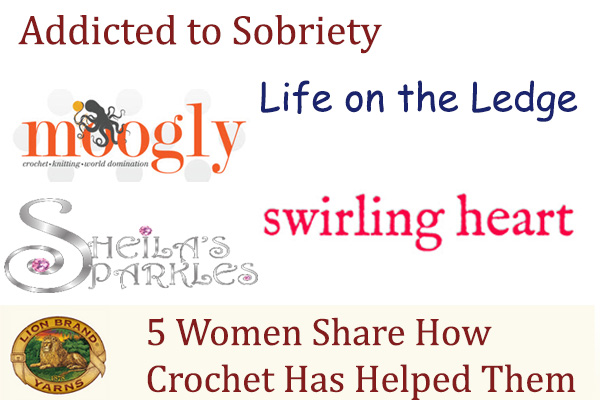 We recently explored the top ten health benefits of yarncrafting. Many of you chimed in and it was amazing to see how many different ways we can be helped and healed by knitting and crochet. Here we have five different women with five different stories illustrating how much crafting can help us. I already knew Tamara of Moogly blog because we support each other's crochet blogs online. The other four women responded to my ongoing request to hear from anyone who wants to share their stories about how crochet helps them.
1. Diane: Traumatic Brain Injury and Life Transitions
Diane Stavros is a Massachusetts-based crafter and mother of three. She discovered how helpful crochet and knitting could be for her during a really difficult divorce. She reduced her anxiety, centered herself and found peace by sitting down and losing herself in craft projects. However, the craft really came to save her life after she experienced a traumatic brain injury in 1997.
She shares: "There's a long list of all the ways in which the mental and physical actions of crocheting assist with recovering from that. Very briefly, it helps with focus, sequential thinking, planning, seeing patterns, restoring faith in one's self, and hand-eye coordination.
July 10th, 2014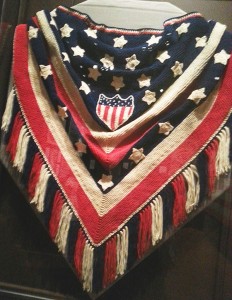 I spent my July 4th at the New York Historical Society to see an exhibit on Civil War Textiles. While most of the exhibit was quilts, I was quite surprised to find this very patriotic crochet shawl. It was made in 1861 (that's older than Lion Brand!) and was presented to the Massachusetts governor and his wife to thank them for their support in the Civil War and abolitionist reforms.
I was most impressed by its simplistic design and could actually imagine someone making something similar today. It's really amazing to see how the art of crochet (and knitting) has been an integral part of American history, don't you think?
July 10th, 2014
Here is the latest installment of Lola, from its creator Todd Clark.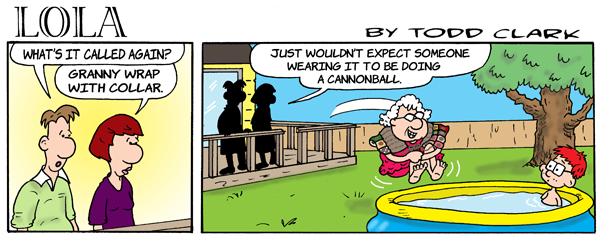 Want to crochet the Granny Wrap With Collar seen in this week's Lola comic? Get the free pattern here and below.
*** *** ***
Subscribe to The Weekly Stitch Newsletter
Get a FREE weekly email featuring patterns, articles and special offers. As a bonus for subscribing, we'd like to offer you 15% off your first order! *
:: Sign up now ::
* offer valid only for first-time email subscribers, one coupon per person.
July 9th, 2014
Today, I'm happy to share a new pattern and video tutorial with you, which comes from a popular blog you might be familiar with, Moogly!
The Kisses Pouch made with Bonbons, is a wonderful portable project to work on during the summer. The great thing about this pattern is that it features a lot of stitch repeats, so once you get the hang of it, it's quite easy to work through. Make one for yourself to hold change or knick-knacks, or make one for the little girl in your life. Go ahead and give this pattern a try, Tamara's tutorial is extremely helpful and will guide you along the way, view the video below.
July 8th, 2014
Writer, illustrator, and knitter Franklin Habit joins us for his monthly column featuring humor and insights into a yarncrafter's life.
You're toodling blithely through a normal day when suddenly WHAM! A memento of forgotten love hits you right between the eyes.
I was wriggling around under the work table trying to retrieve an errant ball of silk when among the thriving community of dust bunnies I found a crumpled lump that turned out to be a mitten pattern bought in a shop seven years ago.
It was an impulse purchase. I remember the impulse. I was only buying stitch markers, thank you. Then the shop owner was saying, Have you seen these? Then I was buying the stitch markers and the pattern for the mittens and the needles for the mittens and the yarn for the mittens, thank you.
If you would like to know how the mittens came out, please see "crumpled lump," above.
I can't recall why I abandoned them, but I can see why I snapped them up. They have an unusual, slightly tricky thumb. I get a kick out of slightly tricky knitting. It makes me feel dauntless and clever, like a lion tamer who has not yet had his head bit off.
Yet I don't think I finished the cuff, let alone the thumb. Today the yarn is (probably) in one of my stash boxes and the pattern is wadded up like old Kleenex, covered with dust. It is likely to remain so. The passage of time has not been kind to these mittens. They now remind me uncannily of the shapeless peacock blue suit that I wore to a high school debate banquet in 1987.