November 24th, 2014
This story is from our newsletter called Pattern Journal which brings a warm-hearted, wholesome story to your inbox to read every month. If you enjoy it and would like to subscribe, click here.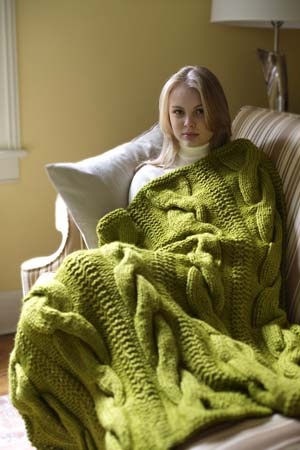 Exhausted by her stressful day at the office, Sharon, while driving home, could think only of removing her coat, suit and heels, putting on her comfiest sweats, and curling up on the sofa beneath the beautiful afghan she'd recently completed. It was called a Cable Comfort Throw, and yes, it was richly cabled and richly comforting.
Before, she'd never tackled anything bigger than a scarf. The throw taught her to cable and to manage a large piece of fabric. If you could knit stockinette, cables were a snap. Plus, the project was on large needles, and the yarn–the most squishable, chunky Wool-Ease® Thick & Quick® in a happy lemongrass green–knitted up fast, providing immediate gratification.
Sharon parked, and unlocked the front door of her home. The serenity of the hall, with its quietly ticking clock, the silk-shaded glow of table lamps as she switched them on, the scent of potpourri in a bowl on the mantel, the sight of the Cable Comfort Throw draped over the arm of the sofa–all brought soul-nourishing relief. She called it the "Sanctuary Effect."
Make-up and office uniform removed, sweats and thick socks on, a magazine and the TV remote at hand, the Cable Comfort Throw wrapped around her, Sharon sank into the sofa's deep cushions. But was she dreaming? Brian was already announcing that it was time to eat.
"Oh…I must have dozed off." She yawned, pulling the throw closer, thinking how its luscious warmth made her feel so peaceful. Even though dinner smelled wonderful, she could hardly bear to leave the Cable Comfort Throw's embrace.
Then Brian emerged from the kitchen, with a food-laden tray. "Now don't you move," he said, settling down beside her. "Dinner is served."
—
All characters appearing in this work are fictitious. Any resemblance to real persons, living or dead, is purely coincidental.
A story by Selma Moss-Ward.
Selma Moss-Ward writes and knits in Rhode Island. You can find her work on our blog, as well as Lion Brand's monthly newsletter, Pattern Journal, which you can subscribe to here.
November 24th, 2014
We've got a deal a day leading up to CyberMonday!
:: Promotion exclusive to lionbrand.com. Offers not avalable at retail locations. ::
Monday, November 24
25% off All Vanna's Yarns, Coupon Code: VANNA25 applied at checkout.
November 22nd, 2014
We've teamed up with Todd Clark, creator of the ever-popular Lola series, to bring you "Out of the Loop," a regular one-panel comic featuring humorous takes on the world of yarn.
Enjoy and please share widely!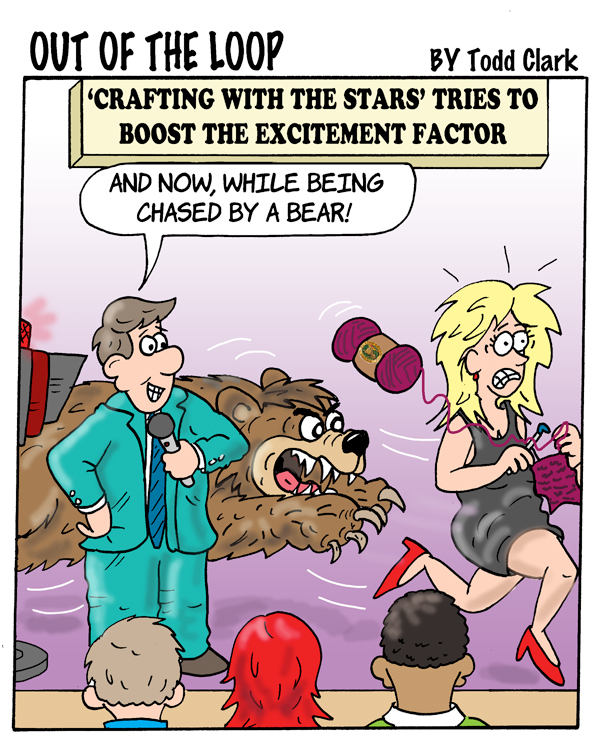 *** *** ***
Subscribe to The Weekly Stitch Newsletter
Get a FREE weekly email featuring patterns, articles and special offers. As a bonus for subscribing, we'd like to offer you 15% off your first order! *
:: Sign up now ::
* offer valid only for first-time email subscribers, one coupon per person.
November 22nd, 2014
Save 25% on select bags – perfect gifts for the knitters and crocheters in your life!
November 21st, 2014
The slouchy hat is a popular style of headwear loved by knitters, crocheters, and non-crafty types alike. Slouchy hats add style to your cold weather accessorizing and they're great for protecting your hair from the harsh elements. If you want to learn how to make one of these highly sought after hats, we've got a treat for you!
Today's tutorial is by Vanessa from the Crafty Gemini YouTube channel, and she's going to show you how to crochet the Metropolitan Ave hat, one of our most popular slouch-style patterns. This easy-to-crochet hat is worked in one of our beautiful color changing yarns, Unique and because Unique is a bulky, category 5 yarn, the hat works up quickly — you'll be done in no time.
So get your supplies ready and check out the video below.
November 21st, 2014
This time of year many of us will be traveling for the holidays.  It's a stressful time and we need our knitting needles and crochet hooks now more than ever.  The time you spend at airports waiting for your flight and on the plane won't be wasted if you've got your yarn with you to make gifts or to simply enjoy the meditative feeling you get when you knit or crochet.  One thing you don't need is to worry about whether you can take the tools you need a plane.   Here are some frequently asked questions on the subject so you can be in the know about what you are permitted to take on the plane.
Are knitting needles and crochet hooks allowed in carry-on luggage?
On domestic flights in the US, knitting needles and crochet hooks are permitted by the TSA in carry-on luggage. The TSA suggests that you carry wooden or plastic needles over metal. Circular knitting needles are preferred over straight. Each country is different, though. If you are travelling internationally be sure to check the guidelines of your airline and security agencies abroad. You may be allowed to fly into a country with knitting needles in your carry-on but be required to check them on your return flight.
What about scissors?
Scissors with blades shorter than four inches are permitted in carry-on luggage on domestic flights. Although they may seem innocuous, thread cutter pendants like these are prohibited by the TSA and should be kept in checked luggage. Nail clippers are a good, travel-sized alternative for cutting yarn and are permitted in carry-ons. If you have questions about other items, the TSA has made a handy search tool.

What if my knitting needles are confiscated?
It's always handy to carry a print-out of the TSA policies but keep in mind, screeners can confiscate any items they do not feel are safe regardless of these guidelines. If you're able to confirm ahead of your trip that the airport has mail facilities or a service such as
Airport Mailers
, you may be able to send prohibited items home instead of losing them for good. You may want to carry a padded, self-addressed, stamped envelope just in case you are not permitted to bring your needles or scissors on board. It's best to leave supplies that are costly to replace or hold sentimental value at home in case you have to part with them. Carry dental floss in your carry-on. You can use the blade to cut yarn and the floss is great for holding stitches in a pinch if you're asked to surrender your needles.
While it can be frustrating, remember that this season can be stressful for everyone. It's helpful to have a back up plan and always be courteous!
What's your experience been? Have you ever had trouble with your knitting or crochet at the airport?
November 20th, 2014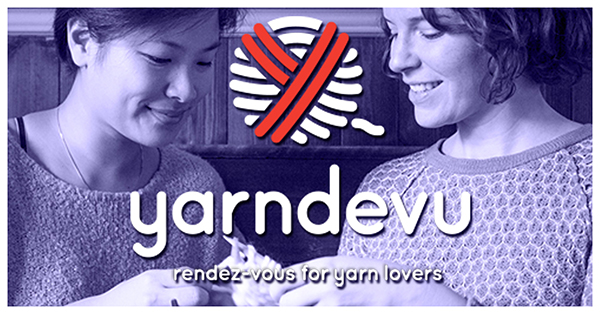 When you think about the people who have made a lasting impression on your life, who do you remember?  I remember my great-grandmother who made holiday dinners for twenty people in a house built for two. I remember every one of my teachers from first to sixth grade.  I remember my mother's best friend who taught me to knit.
Learning to knit or crochet is a lifelong skill and giving the gift of these skills is a meaningful, useful, special ability that has the power to change our lives and the lives of others.  If you know how to knit or crochet, you probably are an ambassador for these crafts.  Wouldn't it be great if more people could create handmade sweaters, afghans and scarves? Wouldn't it be great if more people could give their work to charity and to loved ones?  Now's your chance.
There's a new website that's launching in the New York City area that helps people arrange in-person meet-ups so they can either teach, learn or improve their knitting and crochet skills.  It's called Yarndevu and is described as "Rendez-vous for yarn lovers."  Right now you can sign up for a limited test in the New York area and be part of the first wave of people invited to the site.
If you're interested in being a part of this or in learning more, sign up and tell your friends.  The friends who don't know how to knit or crochet will remember you for it!
November 20th, 2014

#Scarfie = A selfie with a scarf!
Brr! It hit 32 degrees or below in all 50 states on Tuesday¹, November 18th, can you believe that? That means that plenty of you knitters and crocheters have been piling on the layers and grabbing your cozy hats, gloves, and scarves. Now that everyone is in full cold-weather crafting mode, more and more #scarfie projects are popping up, and we're so delighted to see them! And today, we've got another fabulous #scarfie from our friend Stephanie at All About Ami.
Stephanie's cowl is both simple and quick, and uses about a ball and a half of Wool-Ease Thick & Quick, leaving you with enough yarn to work on a smaller project, like a cute earwarmer to match your cowl. Not only does Stephanie share her written pattern, but she walks you through it with a step by step tutorial that's easy to understand as well. Check out Stephanie's post and see for yourself!
Find Stephanie's pattern here: Crochet Twist Cowl
P.S: We encourage all of you to share your #scarfie on social media and tag us! Read more about our #scarfie campaign here.
¹ – source reference: NPR
November 19th, 2014
Blogger and author Kathryn Vercillo is an expert in the area of using crafting to heal, having researched the topic extensively for her book Crochet Saved My Life. In this post for Alzheimer's Awareness Month she shares how crafting can be used to prevent and treat age-related memory loss. Read her previous blog posts on the Lion Brand Notebook here.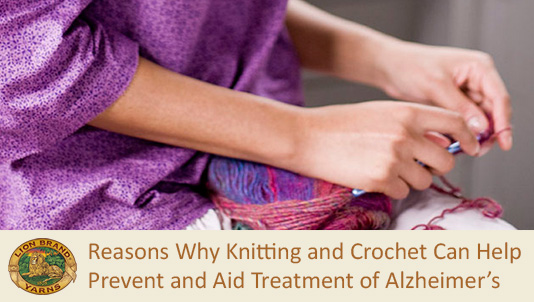 November is National Alzheimer's Disease Awareness Month. Many crafters are doing their part to raise awareness around this awful disease. In this post I'll share some research and information about how knitting and crochet may be used to prevent dementia in some people and improve quality of life for those who already have this condition.
November 18th, 2014
When I'm invited to someone's home for Thanksgiving, I like to bring a gift. On Thanksgiving there's often such an abundance of food that bringing more food sometimes seems like overkill.  I prefer to contribute to the festivities by making something for the table or for the hosts' home. If you're the one hosting the meal this year, there are many ideas here for your own festive table.
These twelve gift ideas are super easy and most can be made by someone who doesn't know how to knit or crochet.  Get other family members into the spirit by working on them together.
We'd also love to hear your ideas for hand crafted Thanksgiving gifts and table decor.