December 24th, 2015
What will you get this Stitchmas?
Watch as we count down three Wool Hats,
two Lace Shawls,
And a pattern for some booties!
:: Can't see the video above? Click here to watch – https://youtu.be/y-K9V1XTwMk ::
December 23rd, 2015
That moment when you put your work-in-progress through X-ray machine at the airport and you fear they might take away your  project because… they simply don't even know what it is!
It happens, and it's happened to me.
In this episode of Tea with Shira, I'm going to give you some quick easy travel tips that will help you as you travel with your projects this holiday season!
:: Can't see the video above? Click here to watch – https://youtu.be/3eHjwJSuTts ::
Learn more about TSA guidelines: http://lby.co/1QX7dM4
Get more travel tips: http://lby.co/22pYYh1
December 22nd, 2015
Today's guest post comes from Tamara Kelly author and designer of Moogly Blog. Tamara is sharing 6 diverse crochet patterns that you can complete just in time for your New Year's celebration.  Whether going out, or staying in, you're sure to find something here to suit your celebration needs!

The last holiday of "Happy Holidays" tends to be overlooked for crafting – but crochet might be just the touch your New Year's Eve needs! And after the big gift-making rush, settling in with something sparkly, something fast, and something fun is very appealing! Ring in the new year with these fast (and free!) crochet patterns – all featuring Lion Brand® Yarn!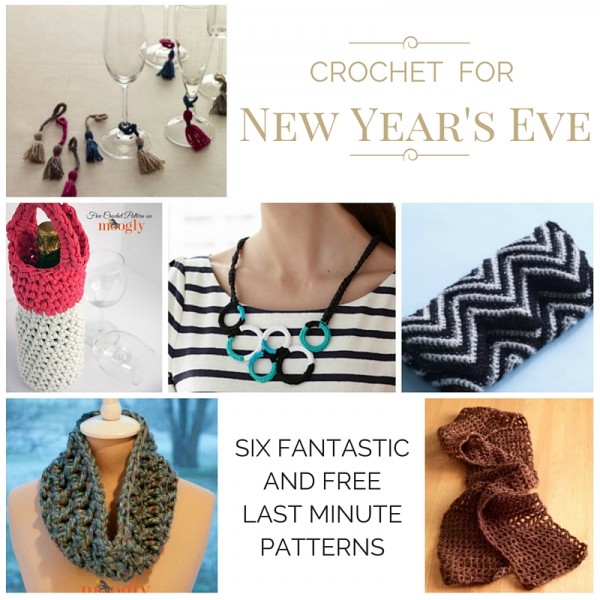 Raise a glass to welcome 2016 – and put it back down again without worrying about which one is yours! These 
Champagne Glass Tassels
 made with 
Vanna's Glamour®
are a perfect touch at your party – or a wonderful hostess gift if you're the guest!
Of course, you need something to fill those glasses with! Bring a bottle along for the party in the Girls Night Out Champagne Carrier – make it up in under an hour with Fettuccini and a big hook!
Bonbons® come in a wide variety of looks and colors – from seaside to glam! Use your favorite palette to make the Crochet Rings Necklace, and give yourself a new look for the new year!
A sparkly new handbag never goes amiss at New Year's either – and the Moon Water Clutch, another eye catching Vanna's Glamour® pattern, will hold all your essentials for a hot night on the town!
Whether you're going out or staying in, the Glitzy Accent Scarf in Vanna's Glamour® is fun to make and wear – and thin enough to wear indoors or where New Year's Eve doesn't require layers to leave the house!
On the other hand, if you are celebrating outside, you might need something warmer – and the Hurry Up Holiday Cowl will do the job! Made with Hometown USA®, it takes under an hour and just one skein to make, so it's the ultimate last minute pattern! (You can also try Wool-Ease® Thick & Quick® in a sparkly color like Starlight or Celebration)
Going out, staying in, cozying up under a crocheted blanket – whatever your plans are, I wish you all a happy, safe, prosperous, and yarny new year!
December 21st, 2015
Heartland® is wonderfully versatile! With 33 brilliant tones, you'll reach for this yarn for both bright and neutral-hued projects. Create a color palette and watch as this yarn's fine stitch definition creates accessories, garments, and afghans you'll treasure for years. As an added bonus, Heartland® is an easy-care acrylic yarn and is machine washable.
See the top 4 patterns for this yarn as modeled by our brand ambassador, Shira Blumenthal, in the video below!
:: Can't see the video above? Click here to watch – https://youtu.be/gfzr3rl_iwM :: 
December 20th, 2015
By now you might know that a single ball of Scarfie makes a whole scarf. Don't let the name stop you — we've seen amazing garments made of several Scarfie skeins, and each one is fabulous!
Ravelry user Kristin Jones of We All Knit Here designed this Zona Sweater featuring the Oxford/Claret colorway of Scarfie, and we love it! It features faux-cables and an elaborate zig-zag pattern that's constructed of simple knit and purl stitches.
Available in four sizes, you'll want to get started on this sweater for next year!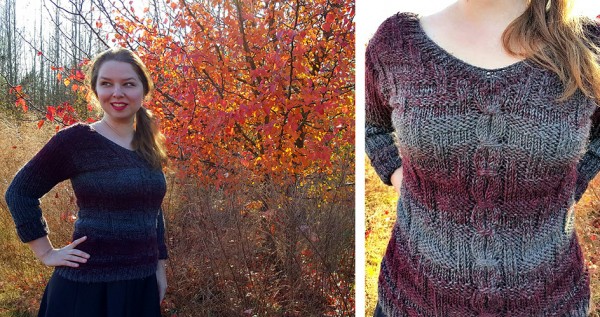 :: Get the knit pattern on Ravelry – click here! ::