March 27th, 2016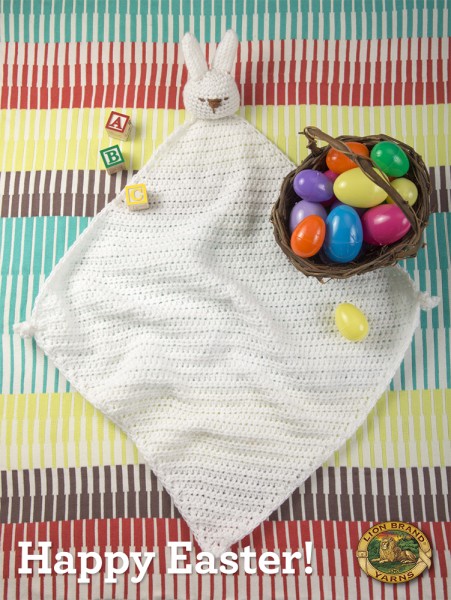 Get the free pattern for the Hippity Hop Blankie
here
.
March 26th, 2016
You only need one ball of Shawl in a Ball to create a gorgeous shawl. But did you know that you could make a beautiful cowl from one ball? This self-striping yarn means that making a colorful cowl is absolutely effortless!
Shira modeled the Misty Haze Cowl and showed off a few ways that she likes to wear it!
Having trouble viewing this video? Click here: https://youtu.be/jwnb7IOwCdc
Get the pattern!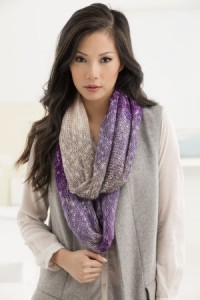 March 25th, 2016
It was pure serendipity and a welcome distraction when three skeins of Shawl in a Ball arrived in the mail.  Frequently faced with interruptions, demands, and pressurized decisions, I constantly long for peace and simplicity in my life.  Especially for the peace of knitting.
Knitting is how I escape from the daily barrage—it feels like a protective bubble around me.  As I swatched the colorways called Community Coral, Soothing Blue, and Mindful Mauve, I sensed the calming properties of this yarn.  The more I knitted, the more I discovered about Shawl in a Ball, the better I felt.  Why?  Let me count the ways….
First, it's an honest yarn.  I love that Shawl in a Ball is exactly what it claims to be—just one skein does it all.  As warmer weather approaches, I'm not inclined to tackle big projects.  I don't want to deal with weight or bulk.  I want something simple and light—something to occupy my hands when sitting outdoors, or chatting with a friend.  Shawl in a Ball is streamlined:  one skein equals one garment.  Everything fits in a small tote bag.  No measuring required, since the patterns designed for this yarn (in the Lion Brand database) are one size, so no worries about running out of yarn.  This is stress-free knitting at its best.
Second:  the calming colorways of Shawl in a Ball.  Have I mentioned that  I'm often overwhelmed by too many choices, by too many demands for my attention?  And that I crave simplicity?
Each of the eight magical colorways prompts the serene contemplation of one gorgeous shade melting into the next.  The yarn is the palette.  You are the hands.  The free patterns from Lion Brand are basic shapes—triangles, rectangles, semi-circles, circles.  Not complicated, just classic and universally flattering.  They facilitate yarn meditation of the highest order.  Just breathe, and go with the flow.
Third, the texture and drape created by
Shawl in a Ball
are fabulous.  The yarn consists of two different strands plied together—one cotton, one a fluffy thick-and-thin acrylic. Watching density and coloration change as stitches add up—it's simply mesmerizing!  Although a worsted, when knitted on size eight or ten needles, the yarn becomes a fabric that's fine and lacy.  Yet it drapes well—with body, and without curling edges.  Shawls won't slip off your shoulders.  And if you want to turn your shawl into a heavier scarf, just fold the finished garment to make it thicker.
Perhaps you've already experienced the joy of crafting with a gradient yarn, and you know how the yarn's shifting colors do much of the work.  The same is true for Shawl in a Ball, but just as important, this yarn creates art.  You could knit or crochet a skein into a large rectangle, frame it, and hang it on your living room wall—it's that beautiful.  So, besides all the simplifying, de-stressing and mood elevating qualities contained in just one ball, you can consider the shawl you make a wearable work of art.
What's not to love?
March 24th, 2016
You already love Pound of Love® because each ball has over 1000 yards of worsted weight yarn! While it's a great choice for baby blankets, we've added six new colorways including a gorgeous grey that's just perfect for grown ups!
The Camber Top is crocheted with one ball of Pound of Love®. It's a stylish addition to any wardrobe and perfect for springtime!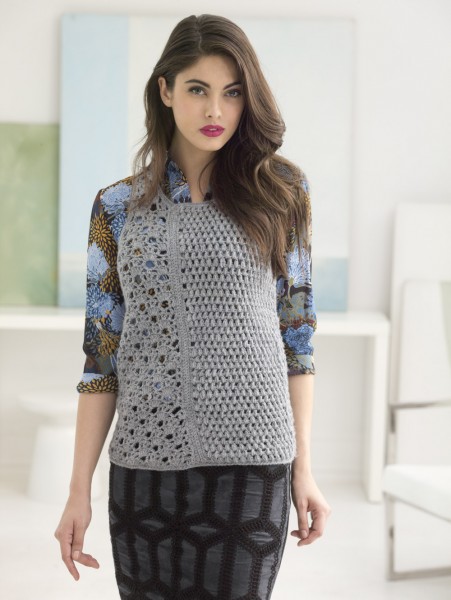 Check out a 360 degree view of this top in the video below!

Having trouble viewing this video? Click here: https://youtu.be/Q87TuUnGcXk
March 22nd, 2016
In the latest episode of Tea with Shira, our brand ambassador teams up with a friend to learn how yoga pairs well with yarn crafting. This guest post was written by AJ Wolbrum.
Hi #roarers! I'm AJ, a yoga instructor based in NYC and Shira's childhood friend. I am not here to convert you to buy a mat, get some new gear and call yourself a yogi, but I am here to tell you that yoga can enhance what you already love to do. And what I can gather as to why you are reading this post is what really makes your heart sing is the sacred art of knitting and crocheting. I do not use the word 'sacred' lightly. Knitting and crocheting tap into an ancient ritual (like yoga) of coming together for a common purpose; to achieve a specific goal; and a direct side effect is an opportunity for introspection. Yes, you can potentially achieve enlightenment from knitting your afghan.
Now, here's the thing; You don't need to do much to receive the benefits of yoga, but you do have do something. My recommendation is to just get on the floor. Once you're on the floor your body will want to move. Another suggestion is to lift your arms in the air. Let the blood flow in a new way. This has very therapeutic benefits and will give your wrists and hands a needed flush of oxygen. One more easy addition to your practice is simply observing your breath. Notice if your mind starts to wander and all of a sudden you've forgotten to exhale. If you could add an awareness of breath and thread it into your knitting/crocheting routine, you will immediately see a change in mood and the integrity of your work.
:: Can't see the video above? Click here to watch — https://youtu.be/_dugK70nihA ::
How does yoga relate to crafting? Simply put, the repetitive action of knitting/crocheting causes similar bodily reactions as yoga. Knitting or crocheting, like yoga, slows down the brain, tells the body to go into restore mode and allows time for the body to heal from the inside out. They both reduce levels of cortisol — the stress hormone — and shut down overactive brain noise. Mindfulness will allow you to stitch longer with deeper awareness and a sense of ease. We're talking about connection here. Connection to self. Connection to the material you are working with and connection to each other. About cultivating inner peace and a sense of community through activities that bring people together.
So grab a friend, get on the floor and do what you love because this life is all about one thing, working from heart and whenever you come from that place magical things will happen.
Find me at Yoga By AJ on Facebook, Instagram and Twitter. Follow Shira on Instagram or Twitter, and don't forget to check out our YouTube playlist of all the yoga poses we did in this episode!