September 24th, 2013
Love discovering the latest thing? Be sure to check out these 4 yarns that are part of our fall 2013 line. You'll be seeing them in our upcoming catalog and in stores, but in the meantime, they are already available on LionBrand.com!
Romance®

Ultra-soft and feathery Romance is a luxurious faux fur yarn you're going to love for collars, scarves, and trim on your projects.

Click here for a video featuring just a few project ideas.

Click here to see all 15 colors and order online.

Unique

Create stunning, colorful projects with this new bulky-weight yarn. Each colorway is bold, making it perfect for statement pieces.

Click here to see knit samples of each colorway.

Click here to see all 6 colors and order online.

Martha Stewart Crafts™ Glitter Ribbon

This shimmery, metallic yarn is great for craft projects, as well as quick knit and crochet projects. Try it in a drop-stitch design or an openwork stitch for a cool effect.

Click here to see all 9 colors and order online.

LB Collection® Silk Yarn

A prized fiber for centuries, 100% silk is lustrous and soft. Discover this hand-dyed version from our exclusive LB Collection (only available from LionBrand.com and our own retail locations). Learn more with our earlier blog post.

Click here to see all 8 colors and order online.
September 23rd, 2013
Throughout this season, we're reposting some of our favorite columns by Barbara Breiter, author of The Complete Idiot's Guide to Knitting & Crocheting, previously featured in our Weekly Stitch newsletter.
Last week, I wrote about pattern terms and concepts people often find confusing. This week, I am covering a couple more concepts that you will often encounter.
Parentheses, brackets, asterisks, and phrases are commonly found in patterns; they are intended to make it easier to follow, and they also decrease the chances of a typographical error in a pattern. Here's some help on deciphering what you are being asked to do.
Parentheses
You will find parentheses or () used in two ways:
The first is to indicate you are to repeat everything in parentheses the given number of times. For example:
(k2tog, yo) twice
What it means is that you should work k2tog, yo two times or k2tog, yo, k2tog, yo.
The second way they are used is to show a grouping or sequence of stitches that are related to each other in some way. You might see (2 dc, ch 3, 2 dc) in next ch-1 sp. The pattern is telling you that everything in the parentheses is all worked into the next ch-1 space.
Brackets
Brackets or [] indicate either to repeat something or a sequence of stitches, just as parentheses do; however, a bracket is needed when a set of instructions within the brackets are already in parentheses. Occasionally, you will brackets used instead of parentheses.
In this example, brackets are being used to indicate you are repeating instructions:
[k2, (yo, k2tog) 3 times] twice
The above means that you would repeat everything in the brackets twice while making sure you also repeat yo, k2tog 3 times in the order written.
September 23rd, 2013
You, our readers, asked for it and we're happy to oblige! Designer and teacher Heather Lodinsky joins us for a new article on understanding the fundamentals of your knitting.
Knowing exactly where you are in a knitting project requires knowing where you have been. "Reading" your stitches by identifying a knit versus a purl stitch is helpful in showing you where you are in a stitch pattern. In the last article I wrote, I showed how to identify the stitches already worked to know where you are in your knitting.
Sometimes no matter how hard I try, I can easily lose track of which row I am working in a pattern. Life happens—the phone rings, we get talking or we just have to leave our knitting for some reason.  Then I come back to my knitting and…what row was I working? There are various tools out there to help us keep track of our rows. Row counters exist that either attach to your needle, or need to be clicked and there are even "counting boards" where pegs are moved to show what row we are working. Even the simple "hash mark" on a piece of paper works well, but there is still  that human element of just plain forgetting to mark the paper, move the peg or click the counter to the next number. As a knitting teacher, one of the most common questions I am asked is: "What row am I on?"
A skill as important as identifying your stitches is the ability to count your rows without a "counter". The best way to count stitches is by first identifying a stitch and then being able to count stitches up and down, which will tell us how many rows we have done and what row we need to work next.
Counting Rows in Stockinette Stitch
Lets's first look at stockinette stitch – which, when we are working a flat piece, is knitted on the right side  of the fabric and purled on the wrong side.  First, we have to be able to identify a "knit" stitch.  Look closely at the right side of stockinette stitch and see that a knit stitch looks like a "V".   This is what we are looking for in order to help us count our rows.
September 19th, 2013
Throughout this season, we're reposting some of our favorite columns by Barbara Breiter, author of The Complete Idiot's Guide to Knitting & Crocheting, previously featured in our Weekly Stitch newsletter.
A pattern is a blueprint for a project. A well-written pattern doesn't intentionally confuse you. If you find something confusing, keep in mind that sometimes the pattern is simply trying to convey information to help you. The term might be an industry standard, but one that you've never come across before.
Here are some terms and concepts, commonly used but also commonly confusing to many knitters and crocheters.
Work even
Work even means to work in the pattern stitch over the number of stitches you have at the present time. It often follows a sequence where you have just completed increasing or decreasing.
Turn
Although crocheting often uses this term at the end of every row (for example, chain 1, turn), it's also used in places that, at first glance, don't appear to make sense. When working short rows, or partial rows of knitting or crocheting, you will see an instruction to turn while not at the end of the row. Simply complete the instructions for that row, and when the pattern states turn, prepare to work in the other direction and the next row by turning your work around just as if you were at the end of the row. It may seem wrong to do so, but sometimes you have to have faith that a pattern works out in the end!
September 18th, 2013
We asked our customers on Facebook what lessons they've learned from crafting over the years. I was so inspired by the responses we got that I created an animated series! Share your story and you might get animated!
Subscribe to our Youtube channel here to make sure you don't miss the next episode!
September 17th, 2013
Blogger and author Kathryn Vercillo joins us for the third installment of her series on prayer shawl crafting. Click here to read her previous blog posts.
I don't consider myself someone who prays. My spiritual path has been varied and complicated and it's been a long journey to the point of even being able to comfortably say that I have a spiritual path so it's still another leap to be okay with saying I pray. Nevertheless, I do believe in the value of setting an intention and asking for help, strength, hope … and so I am comfortable making prayer shawls.
Suggested Prayer Shawl Practices for People Who Don't Pray
There is no right or wrong way to craft a prayer shawl. Whatever you feel comfortable with is enough. It can be as simple as setting the intention to heal the recipient at the start of the project.
Here are some additional options:
Repeat a short phrase in your mind as you work. An example: "I wish you strength."
Pause at the end of each row or round to think positive thoughts about the prayer shawl recipient.
Stitch with love. Intentionally focus on love and compassion as you craft.
When the project is complete, take a moment to say an affirmation or blessing. You may also want to include a sentiment card with the gift.
[Pattern pictured: Crochet Serene Comfort Shawl]
Which prayers, affirmations or thoughts do you use when crafting for others? Share in the comments below!
September 16th, 2013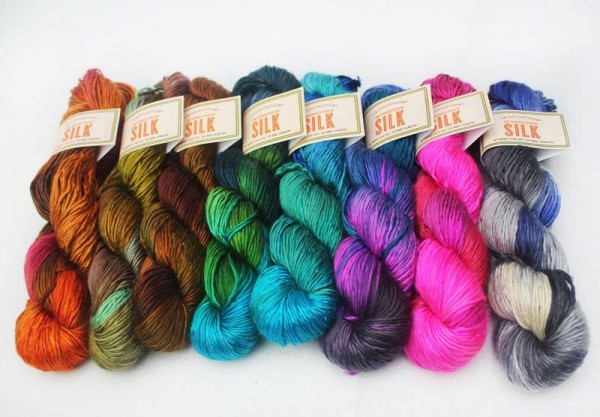 In 2010, we introduced the first of our exclusive LB Collection®, a line of luxurious fibers—from 100% cashmere to a kid mohair/silk blend—available at affordable prices directly from LionBrand.com and our own retail store and outlet. Since then, we've added new yarns like Angora Merino as well as new colors to our Cashmere and Wool Stainless Steel lines.
A New Addition: 100% Silk
Today, I'd like to tell you about our newest LB Collection® yarn—100% Silk, hand-dyed in 8 rich colorways. We worked with a US-based dyer to create this beautiful line of sportweight yarn, perfect for delicate lace and detailed projects that stand the test of time.
Click here to learn more & order.
This luxurious yarn is ideal for luxurious shawlettes, scarves, wristers, and other accessories that you wear against your skin. It's a perfect splurge for a special occasion project or gift. (Or maybe a "just because" treat for yourself!)
September 13th, 2013
Throughout this season, we're reposting some of our favorite columns by Barbara Breiter, author of The Complete Idiot's Guide to Knitting & Crocheting, previously featured in our Weekly Stitch newsletter.
You've found the perfect sweater pattern. It's just challenging enough to keep your interest. You think you'll be able to wear it a good part of the year for many occasions. The yarn is something you can afford.
But before you can begin, you need to answer one question: What size do I make?
Studying the size information, you note there are 4 sizes: small, medium, large, and extra large. Usually you wear a medium. But wait. The pattern states for the medium size, the finished chest measurement is 50″. That does not seem right at all, you think. In fact, it seems like the sweater will be way too large!
Before deciding the pattern is wrong or what size you'll make, there are a number of considerations to take into account. Ask yourself how you like your sweaters to fit. Do you like them tight? If you do, perhaps you will want to choose a smaller size. Do you like them loose? Do you layer them with lots of other pieces or with just a camisole underneath? Do you wear your cardigans more like jackets or buttoned up as a top? Keep all of your preferences in mind as you consider the size.
Generally a sweater is not worn skintight. The difference between your bust measurement and the finished chest measurement of a sweater is referred to as "ease." Some garments have more ease than others, depending upon a number of factors.
September 12th, 2013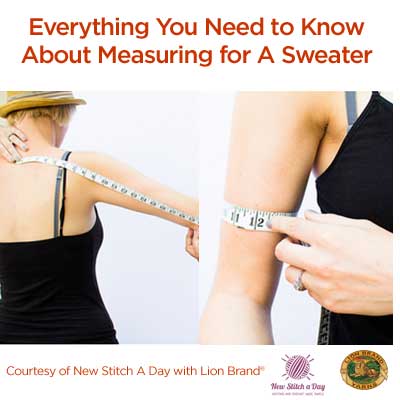 Today, we have a guest post from Johnny Vasquez, a knitwear designer, and "Head Honcho" over at the New Stitch A Day blog.  Johnny will be sharing some important tips to help you learn how to get proper measurements to ensure the perfect fit for your sweater!
One of the most important parts of knitting a sweater is being honest with your body and gauge measurements. If either your body or gauge measurements are even the slightest bit off, you risk having a sweater that doesn't fit as well as you'd hoped. Taking the time to take accurate measurements before you begin your project will pay off in the long run with a great fitting sweater!
Measuring Gauge
I'll be honest, when I started knitting I didn't even know that you were supposed measure gauge. I figured they just put it in the pattern as a given fact – you knit with a specific size needles to correspond to the yarn, and you end up with the given gauge. Right? Not so much.  Gauge varies by person, as it depends on your style of knitting or crocheting (if you have a tight or loose style of crafting, it will affect the gauge)
Your gauge (that is the number of stitches and rows per inch) is incredibly important because it will determine how big or small your sweater will be. This also means that knowing how to measure your gauge is key. To learn how to accurately measure gauge, check out Lion Brand's information on gauge swatching here.
Taking Body Measurements
Let's take a look at how to properly take all of the measurements that you will ever need to make a great sweater!
September 11th, 2013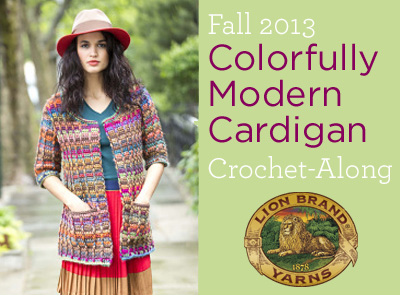 Hi guys! I see a lot of you have finished your cardigans already. Looking good! Don't forget to post pictures.
[Editor's Note: Click here to see photos in our Ravelry group, and if you'd like to leave a photo here on the blog, click in the commenting box and you'll see a little "mountain range" icon. Click it to browse to your photo on your computer and upload it to your comment.]
I considered making the sleeves a little longer, but in the end, I decided in the end to make them the same length as in the pattern. However, if you'd like to lengthen your sleeves, it should be pretty easy to do.
Lengthening the Sleeves
The easiest way to lengthen the design is to just work the number of chains for your size and work even until your sleeve has however much longer that you'd like than the one in the pattern, then follow the pattern as set.
The pattern schematic tells us that the sleeve-to-armpit measurement is 9 inches for all sizes. Let's say that I want my sleeve to be 16.5 inches (16 to 17 inches is a standard length for women's sleeves). That's 7.5 more inches. Our pattern gauge tells us that each row is 0.31 inches (4 inches ÷ 13 rows = 0.31 inches per row).
7.5 inches ÷ 0.31 inches per row = 24.19 rows
Our color repeat is ABCDED and each color is used for 2 rows, so 24 rows is two full sets of all of the colors. Therefore, I'd do 24 rows straight, before following the pattern as set. (If you want to make your sleeves longer or shorter, you may need to do a partial repeat of the color pattern, so be sure to plan for that.)
Tips on Blocking
After the sleeves,  I had all the pieces finished, so it was time to block. Don't skip this step! It can make your garment look much more professionally-made and neaten up any uneven stitches. While you can block after your entire garment is done, many people find it helpful to block your garment before sewing it together, as this way you can correct the measurements of any part where your tension may have changed a little.