June 3rd, 2015
UPDATE JUNE 18, 2015: Let's crochet a Sabrina Tunic … announcing your 2015 Summer Crochet-Along with host Elena Ramshaw Hunt! http://wp.me/pMON4-89F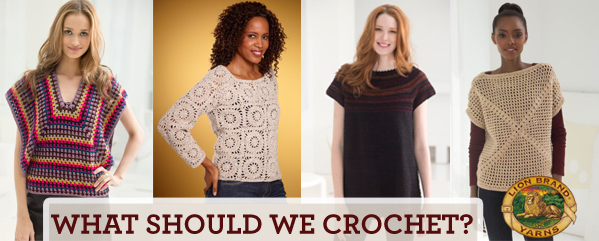 It's that time of year again! Crochet-along with us as we make one of the following garments: The Sparkle Slipon, The Driftwood Pullover, The Sabrina Tunic or The Filet Mesh Top — VOTE BELOW!
A crochet-along is a virtual event, where all the participants make the same project together. Follow along with crochet-along host Elena Hunt of Beatrice Ryan Designs here on the blog and share your comments and photos. There's no need to sign up, and it's free to join! (New to crochet-alongs? Check out our guide here.)
Votes must be cast by 12:00 midnight EST Sunday, June 14th, 2015. You must click on the photo you like to cast your vote; comments here on the blog do NOT count as votes. The winning pattern will be announced here on the blog on Wednesday, June 17th — we'll also give you details on picking up your supplies and getting started on the project!
Vote for your favorite pattern now by clicking on one of the photos below and following the steps to submit your vote:
On a mobile device and can't see all four choices below? Click here.
Knitters, look out for a knit-along later this year, here on the Lion Brand Notebook.
June 3rd, 2015
Whether you call it the Felted Join or the Spit Splice, this way of adding on a new ball of wool is perfect when you want to avoid having to weave in ends.
A few drops of water help wool fibers bind together — the result is seamless! Please note that this method is for wool yarn only! If you are interested in an invisible join for other types of yarn, check out our Russian Join tutorial.
Take a look at how we've done it:
June 2nd, 2015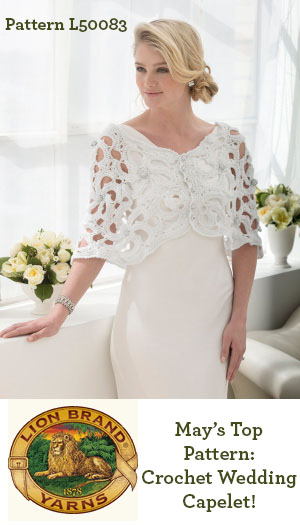 Wedding season is in full swing — no wonder our Wedding Capelet made the top of the list! Its sophisticated lace details are an elegant touch to any dress, bridal or formal. Vanna's Glamour® yarn gives it just the right touch of shimmer for a special day.
Shawls were a huge hit in May. Spring's unpredictable weather had us longing for sleeveless tops, yet needing something to cover-up in those breezier moments of the day.
Two of our newest patterns, the Knit Graduated Eyelets Shawl and Knit Shaded Eyelets Shawl used yarns from our LB Collection®. If you were looking for a lighter yarn to use for spring and summer garments, look no further! We're just as in love with the feel of these yarns as we are their bright colors. With names like Nectarine and Peony, these yarns have us longing for trips to the farmer's market, afternoons spent on the porch, and the sweet smell after a rainstorm.
Here's a look at what patterns you loved most this May:
June 2nd, 2015
Tell us which one you think is crocheted, the Mosaic Cowl & Hat or the Sabrina Tunic, and you'll be entered into a draw to win a
2-in-1 Tote Lion Brand Bag
and six (6) balls of
LB Collection® Superwash Merino
. *
Mobile users, click here if you can't access the voting tools below.
* Only one entry per person. Promotion ends Sunday, June 14th, 2015 at 11:59m EST. One (1) winner will be randomly selected and contacted by email before June 19th, 2015. Open to residents of the USA and Canada. No purchase necessary. Retail value of prize is approximately $65 USD.
June 1st, 2015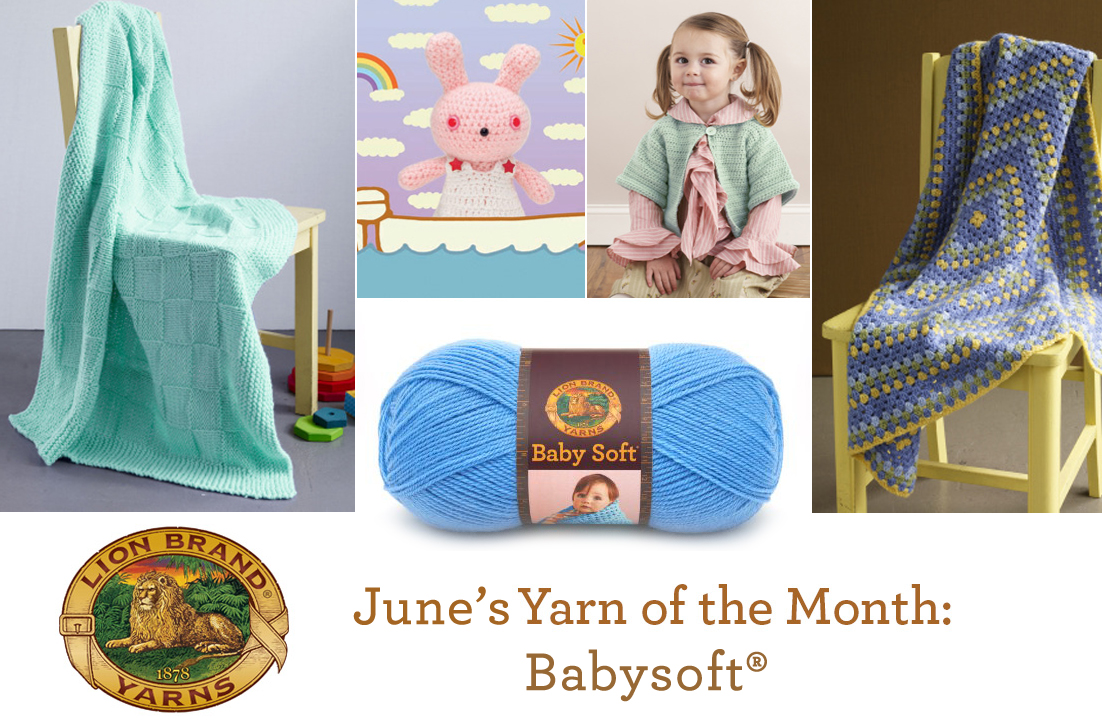 A special, soft acrylic blend in a generously-sized ball, Babysoft® is a medium sportweight yarn that comes in in classic pastel colors and prints – it makes precious, long-lasting items.
Babysoft® is on sale now – SAVE 20% off for the entire month of June!
Below is collection of our most popular Babysoft® patterns:
May 31st, 2015
This story is from our newsletter called Pattern Journal which brings a warm-hearted, wholesome story to your inbox to read every month. Would you like to be featured in an upcoming Pattern Journal? Submit a story, click here.
Patterns We Keep Coming Back To: Shira Loves to Knit the Octavia Blanket for New Babies!
Shira Blumenthal is Brand Ambassador for Lion Brand Yarn Company, a family-owned and operated business for 137 years. A fifth-generation member of the family, Shira shares a personal story about one of her favorite Lion Brand patterns, the Octavia Blanket.
I learned to knit when I was nine years old and while I often knit special things for myself, there's nothing better than making something special for someone and seeing them wear it or use it.
About two years ago my "big sister" Jasmine (our moms grew up together) told me she was expecting. As unofficial auntie, I decided to up my game from the usual hat or scarf. I searched the Lion Brand PatternFinder to see what I could comfortably knit in a month or two.
I found the Octavia Blanket which uses Baby's First®. The pattern is super-easy to knit – just garter stitch with some yarn overs and knit-two togethers … "I can handle this," I reassured myself and I did!
I really love Baby's First®. It's so soft and it comes in a great selection of beautiful pastels! I love it for babies too because it's an easy care yarn – machine washable and dryable!
Did I mention it's a fast knit? I added cute labels that say, "Made with love by Shira", giving it an extra touch of love.

I visited the week before the baby was due to hand deliver the blanket. As luck would have it, he was born while I was there! In fact, I was one of the first people to meet Zen and witness the blanket I made for him in action.
Then about a year ago my brother and sister-in-law told me that they were expecting. I had my usual cry-fest for joy when someone tells me they're expecting. They decided that they were not going to find out if they were having a boy or girl beforehand. So besides being super-excited, I also had to figure out what I was going to make. Of course, I chose the Octavia Blanket, but this time instead of just one color, I decided to get fancy and use two gender-neutral colors, Honey Bee and Beanstalk.
| | |
| --- | --- |
| On June 30th she was born. At the time of her birth, I was on a business trip with my dad – she was probably delivered while we were mid-air, between NYC and Germany. Girls do not happen often in my family so this was a big deal. Alas, like most knitters and crocheters, I suffer from a mild case of procrastination … the blanket wasn't even started and here she was. | |
No problem, it's such a quick knit I knew if I started it on my way back from the trip, it would get done in good time.
My life took an unexpected turn when I returned but looking back a year later, I realize that everything happens for a reason. Knitting this blanket became about healing for me. I could not wait to see my niece use it, but also the amount of love, tears and strength that went into knitting it meant a lot to me. This blanket marked a point when my life changed and just knowing that it would keep her warm and protect her and it could one day turn into her "blankie" eased my heart.
I think of that blanket as strength, I hope to share with my niece one day what that blanket means to me. It kept me focused and allowed me to say "onward and upward."
After that, the Octavia Blanket has just been my go to for both beginners and experts. It's one of those blankets that you really can make your own because the pattern is that simple it allows for simple modifications.
Thanks for reading my story.
—
A true story by Shira Blumenthal.
Enjoy 20% off the Octavia Blanket kit for a limited time!
May 30th, 2015
Memorial Day weekend has passed, we're jumping in pools and beach waters, and thinking about… vacation! With all of the summery goodness happening, don't forget to keep those needles and hooks going. To keep you crafting through the summer, we've got this great crochet Beach Cover Up tutorial for you today, from Yolanda Soto Lopez (All Crafts Channel). Watch below, and start crocheting your summer garment! (pattern is completed in 3 videos).
P.S – We've got a great sale on select colors of Cotton-Ease® right now, so be sure to check that out as well.
Can't see the video below? Click here to watch.
May 29th, 2015
Here is the latest installment of Lola, from its creator Todd Clark.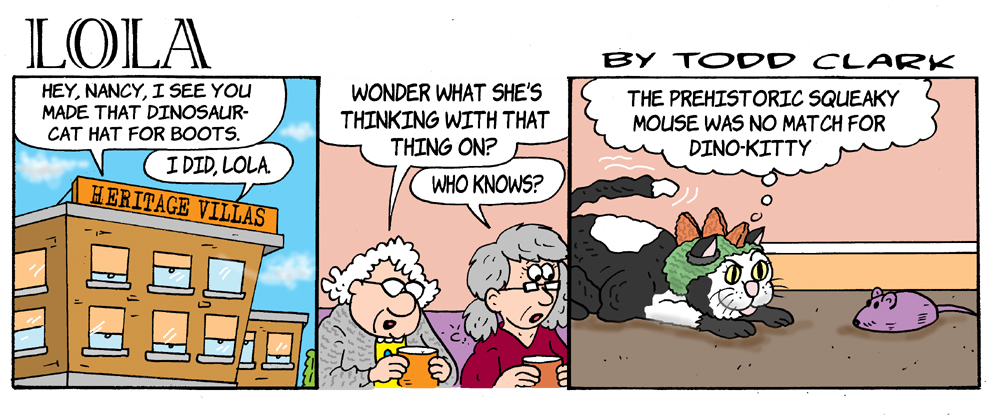 *** *** ***
Subscribe to The Weekly Stitch Newsletter
Get a FREE weekly email featuring patterns, articles and special offers. As a bonus for subscribing, we'd like to offer you 15% off your first order! *
:: Sign up now ::
May 28th, 2015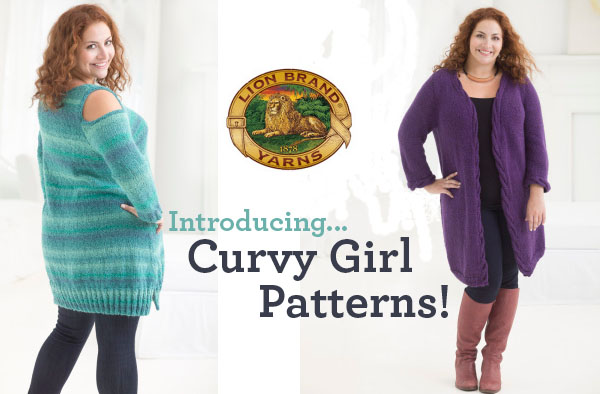 In my life I've modeled for Lion Brand a total of three times. The first two times I was a little girl and I didn't care much about the garments I modeled. I really love the floppy hat I wore when I was seven-ish but the bobbly cardigan before that — not so much.
The third time, just recently as a fashion-conscious adult, I had the opportunity to give input into the garments beforehand and let me tell you, I'm thrilled with the results. Today, I'm ecstatic to share the new Curvy Girl collection! With Susan Haviland, Lion Brand's Design Editor, the Design team and some of my own clothes as inspiration, I really believe we hit the nail on the head with this fabulous collection.
:: Can't see the video above? Watch here: https://youtu.be/uRyjXmNboxI
When I get dressed in the morning, as much as I am a proud curvy girl, there are parts I want to cover up. My tush, my stomach — muffin top anyone? And I have to admit, I'm never the first to go sleeveless …
There are four new patterns designed especially for women like us, women who have curves — two knit and two crochet — and I think you'll be excited to knit and crochet these garments. We're confident you'll feel good and comfortable in your finished products. Since I was the fit model as well, they were designed to look great on a real-world curvy girl, not just a size 10-12 the fashion industry often uses for plus-size garment modeling.
I love the tunic and the open shoulder tops. The tunic is crochet and the open shoulder is knit. It was also really important in this process to make the patterns easy, yet intricate. The patterns are simple enough for beginners while allowing for pro- knitters and crocheters to add pizzazz with more complex finishing touches!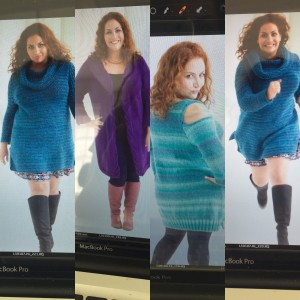 :: these are some of my favorite action shots from the shoot ::
I hope that you all love this as much as I do! It was a pleasure to model these garments and I hope that we continue making more
Curvy Girl
patterns because I like ice cream and chocolate and I am not willing to give those up!
May 28th, 2015
In this episode of "Tea with Shira", our brand ambassador Shira Blumenthal sits down with two Lion Brand Studio regulars, Patricia and Verna! They've been visiting our studio since 2008, participating in classes & workshops, gushing over new yarn releases, and just hanging out with the staff. They share their latest projects, favorite yarns, and even favorite teas!
:: Having trouble viewing this video? Click here to watch on YouTube ::
Yarns discussed in this video:
Lion's Pride® Woolspun®
Heartland® 
Hometown USA®
Do you have a question for Shira? You can leave them in the comments below or tweet her at @shiraroars and she just might answer your question in her next video!