May 18th, 2014
Lion Brand's Patternfinder is filled with gift ideas for that special dad in your life. Whether he loves watching the game on Sunday or spending quiet time with a good book, we have a craft project that you can make just for him. And like most dads, he will appreciate a handmade gift because it's made with love.
Father's Day is June 15th. I've gathered some of my favorite ideas that would suit any type of dad, so start browsing now and get started crafting for dear old dad.
If you still stumped at what to make, we have some great tips to help you brainstorm.
May 16th, 2014
Here is the latest installment of Lola, from its creator Todd Clark.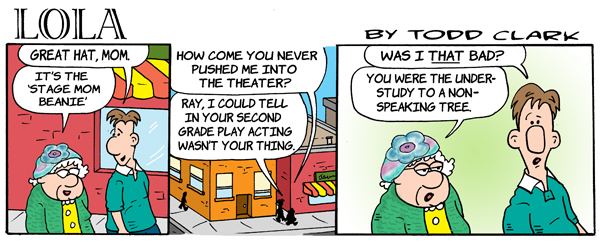 Want to crochet the Stage Mom Beanie? Get the free pattern here.
Enjoy other installments of Lola here.
May 15th, 2014
Writer, illustrator, and knitter Franklin Habit joins us for his monthly column featuring humor and insights into a yarncrafter's life.
It has been my pleasure and privilege over the past several years to be interviewed by a few knitting magazines in America and abroad. The experience is always a little jarring, as for the first three-quarters of my life even those who knew me well were less than interested in my life and opinions. In some ways, it's easier. When nobody cares to ask you about your creative process, you don't have to worry about admitting that it mostly involves watching funny dog videos on YouTube and taking naps.
But interviewers, even the clever ones, always ask at least a few common questions that quickly become familiar and are easily answered. What's it like to be a man who knits?* Who taught you knit? What's your ideal yarn? What's on your needles right now? You learn quickly that you'd better ready for those.
Once in a while, though, even a softball question will throw you a curve. For me, that question was, "What music do you listen to while you work?"
My answer was that if the work requires concentration–designing a lace motif, say, as opposed to knitting merrily along a sample–I work in silence. No music, no television, no funny dog videos. Silence.
The writer wasn't terribly pleased with that response. It upset her data. She told me that every other designer she'd spoken to had obligingly offered the name of a recording artist, or at least a musical genre. Would I please do likewise? Or would I prefer she picked something for me?
So I told her to say I was physically unable to knit a single stitch in the morning until I had listened to the whole of Erich Korngold's opera Die Tote Stadt while sitting in a bubble bath. She cut me out of the article.
May 14th, 2014
Earlier this year Lion Brand unveiled The 7 Wonders of The World – a series of sculptures designed by fiber artist Nathan Vincent. Not only did each sculpture represent one of the 7 Wonders in yarn techniques, but we presented a fashion show where each technique was reflected in a variety of fashions. In the last post in this series we visited embellishments and their importance to knitting, crochet, and yarncrafting in general. Today we present part five: "Lace."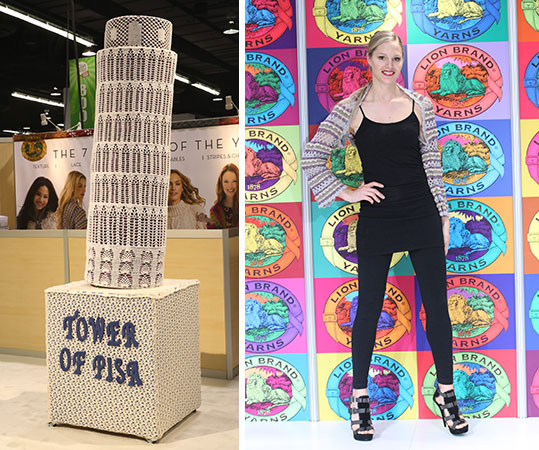 Nathan Vincent sculpture of the Tower of Pisa; model wearing crochet Lacy Picot Shrug
The Leaning Tower of Pisa (or just The Tower of Pisa) is our fifth Wonder of the Yarn World. Its openwork architecture, patterned with open holes, mimics a lace pattern. Chosen to represent combinations of open spaces and texture-formed designs, you'll find that the patterns associated with this line are bold, yet elegant and detailed.
Boasting charming colorways, two-way ribbing and simplicity – these pieces are well-suited to the yarncrafter who's looking to spin lace in an unconventional way. The yarns featured include Homespun, Heartland, Amazing®, Pound of Love®, Unique, Vanna's Glamour®
Below we've chosen several of the striking designs from the lace collection from our fashion show. In the coming weeks we'll feature the remaining two of the 7 Wonders of the Yarn World — from lace to granny squares to modern color work, you're sure to find inspiration in this amazing collection.
May 13th, 2014
College students are gearing up for graduation this month, with high school students soon to follow, and lucky for you there's still enough time to knit or crochet something sweet for that dedicated student. Take a look at the suggestions below and find the best fit for your grad!
Cute Commemorative Gifts: These little guys are a cute accompaniment to a graduation card, bouquet of flowers, or set of balloons. The graduate can place it in their room, or on their desk at work (or internship), and always remember that milestone moment and the person who gave it to them.
Dorm Life: Give that new grad a special handmade gift to bring with them to their dorm room. A personalized gift in the student's new school colors might get them excited to go to games and show off team spirit, and comforting afghans and pillows in fun colors will keep them cozy on those cold winter nights when they can't be with family.
For a Student on the Go!: Technology meets handmade: make a soft protective cover for a tablet or iPad cover for the student who wants to look stylish while transporting their hi-tech gear across campus. Since college students tend to consume plenty of coffee, why not make a set of coffee cozies, a more eco-friendly alternative to the cup sleeves they give you at the store.
May 12th, 2014
This column by Barbara Breiter, author of The Complete Idiot's Guide to Knitting & Crocheting, originally appeared in The Weekly Stitch newsletter.
Although there are many lovely scarf patterns available, a scarf is relatively simple to design, and it's a great way to venture into your very first custom design. By understanding a five simple concepts, you'll be able to design and knit or crochet beautiful scarves on your own.
While most basic crochet fabrics are relatively flat, many knitters venture into their own scarf pattern by simply working in stockinette stitch, and then they see it rolls and have knit what amounts to a big tube. Stockinette rolls. You can't stop it. It's the nature of the fabric that is produced when you knit one row and purl the next. What you can do is work the first and last 3 or 4 rows in garter stitch or seed stitch as well as the first and last 3 or 4 stitches in each row. This will usually keep a stockinette scarf from rolling.
May 11th, 2014
We've teamed up with Todd Clark, creator of the ever-popular Lola series, to bring you "Out of the Loop," a regular one-panel comic featuring humorous takes on the world of yarn-crafting.
Enjoy and please share widely!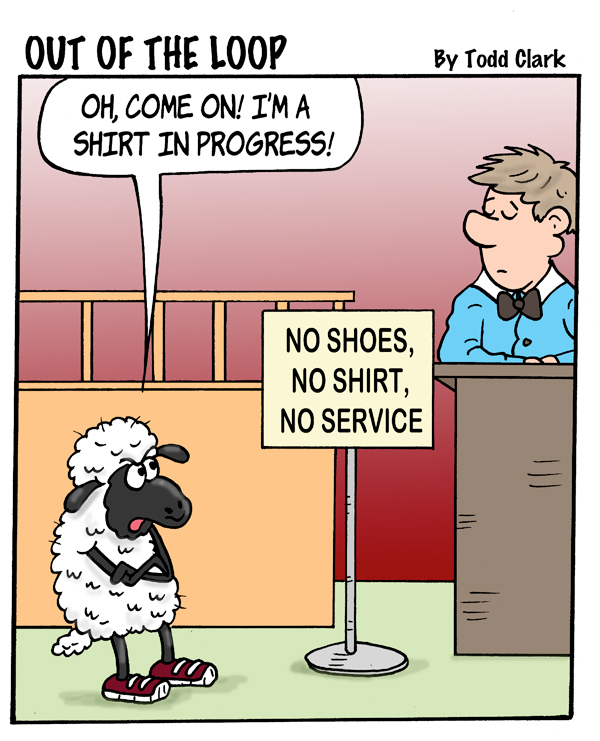 May 9th, 2014
One of our most popular patterns, the Simple Shrug, is an easy project that's perfect for beginners. Many of you have requested that we provide Spanish language support for our patterns, so we are very pleased to bring you this great tutorial by Yolanda Soto-Lopez, now with added Spanish subtitles!
Spanish readers, here are Yolanda's instructions on how to begin:
En este video aprendera hacer esta linda prenda de dama. Esta prenda es un nivel facil. El patron escrito esta disponible gratis en ingles solamente en el website de lionbrand.com Yo estare traduciendo las instrucciones en los Subtitulos en Español. Necesita bajar el patron numero: 90689D Necesita 4 madejas de estambre de LionBrand Homespun color: Manzana adulzada, un gancho N/13 (9mm) un avuja para estambre. Yo tambien use clips para detener mi prenda para coser los lados. Los materiales estan disponibles en tiendas como Joanne's, Michael's, y otras tiendas de lanas/estambres.
Check out the new video with Yolanda Soto-Lopez of "All Crafts Channel", now with Spanish subtitles!
May 9th, 2014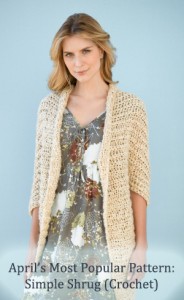 April showers bring May … projects? It seems so! Rainy days are perfect for crafting, and by the looks of it you loved working on the Simple Shrug, which is a great accessory for any kind of weather and the most popular pattern for April!
With the warmer weather we also think about soft and lacy things, as you can see below. Browse below for other patterns that were popular during the month of April.
Happy Crafting!
May 8th, 2014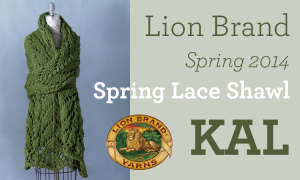 It's our final week of the knit along. Time to talk about finishing up and showing off our projects! I hope that throughout the knit along you have been able to pick up skills and tricks that have not only helped you in this project, but that will carry over into others and help you approach lace with more confidence.
So who feels like that 90 inches is just too far away?
Rather than letting the shawl hibernate in your works in progress basket you may be able to modify it and finish up early. If it's too short for a shawl it might make a great cowl. Just sew the two ends together and you'll have a stylish accessory that will carry you right into the winter!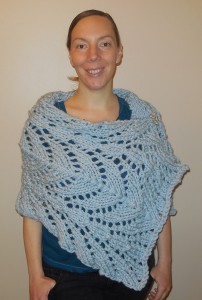 If it is long enough to wrap around your shoulders you can use a shawl pin to keep it closed and wear it like a stole like I did.
Now if you made it all the way to 90 inches you might find the shawl a little unruly at times. To keep it in place, try sewing a few buttons along one edge of the shawl. You'll then be able to wrap the shawl around you any way you like and secure it by using the yarn overs as button holes.
No matter how you style it you'll have a beautiful project that everyone will be so impressed that you made! I hope you all have had fun and learned a lot. Keep your questions coming this week as your projects move toward the finish line!
| | |
| --- | --- |
| About Grace: Grace DiLorenzo has been knitting for the last 10 years. What started as a hobby quickly grew into a passion. Her favorite things to make are garments and lace. As a teacher at the Lion Brand Yarn Studio in New York City she has been able to share her love of yarn crafting teaching beginning through advanced knitting and yarn dyeing classes. She has lead the first four in studio knit alongs and is excited to do it again! | |